County Connections

La Pata Avenue Extension Project: Improving Orange County Mobility

The Orange County Board of Supervisors on December 10, 2013 unanimously voted to authorize execution of the construction contract for the La Pata Avenue Extension Project. This $126.5M project will provide a critical link between the communities of San Juan Capistrano and San Clemente. Commuters traveling this route should expect a 20 to 30 minute reduction in their travel time after all improvements are completed. This project provides distinct benefits to Orange County residents including:

Improved public safety – redundancy to I-5 freeway for emergency vehicles
Enhanced air quality – reduction of congestion
Enriched economy – faster transport of goods and services, north-south connector
The La Pata Avenue Extension Project is the most significant County roadway improvement remaining in South Orange County.

CONSTRUCTION UPDATE

There are three phases to this project:

Gap connector (currently underway);
Widening of the existing La Pata stretch from Ortega to just south of Vista Montana, and;
Extension of Camino Del Rio.
The project celebrated its one-year construction milestone in April of 2015. The first phase of the project, the gap connector, is 75% complete and is on schedule to be completed fall of 2016. The remaining two phases are scheduled to begin spring of 2016. The County and the construction crews have been working hard to enhance connectivity for our south county communities.

COLLABORATIVE EFFORT

Due to the uniqueness of this project and number of invested stakeholders, the project is fully funded via a combination of funding sources from Rancho Mission Viejo, Communities Facilities Districts (CFDs), Measure M, State Proposition 1B Funds, La Pata Road Fee Program, OC Waste & Recycling, County Road Fund (State gas tax) and utility reimbursements. The total estimated cost for all three phases of the La Pata project is $126.5 million.

This project has been years in the making and is the result of the collaboration of many stakeholders, including the City of San Juan Capistrano, the City of San Clemente, Rancho Mission Viejo and OCTA, who have worked very hard to make the vision of this project into reality.

WHAT'S NEXT

During the next few months, the La Pata gap connector phase will progress as crews continue earthwork, bridge construction, paving, sidewalk, traffic signals and landscaping activities. La Pata Avenue is anticipated to open and help ease your drive by fall of 2016. I am excited to be part of this project and I look forward to improving mobility within the County and region at large.


OC Parks Help Keep Beaches Safe and Clean

Starting Monday, October 13th, OC Parks conducted the salvage and removal of a derelict sailboat that had been run aground and was abandoned on a private beach adjacent to the County's Capistrano Beach.

Although the vessel was beached on a private beach, the County arranged to remove the vessel as a courtesy to resolve this community issue, as it provides benefits to visitors who utilize the beach and the adjacent County beach facilities.

Due to higher-than-normal storm surge tides, the vessel's structure became compromised and debris began to scatter before the contractor hired to salve the boat could state the appropriate equipment.

Members of OC Parks Coastal Operations group immediately stepped into action to help prevent the debris from polluting the ocean and our beautiful shoreline. OC Parks Maintenance Workers, Groundskeepers, and Park Rangers put in tremendous effort over the course of three days in a wet and rocky environment along what is a rather narrow shoreline, to collect debris and equipment from the vessel by hand. The staff's efforts continued on Tuesday, when the tides were optimal for the contractor to use heavy equipment to remove the large portions of the vessel.

OC Parks' Coastal Operations group truly went above and beyond their regular duties to keep the beaches safe and clean!

Fifth District Policy and Legislative Affairs Internship Opportunities Available

Internships with Supervisor Lisa Bartlett's Fifth District Office bridge the gap between school and the world of work and offers students and recent graduates an environment in which to explore career options, apply academic knowledge to the workplace, and network with professionals who are dedicated to making a positive difference in Orange County.

Fifth District interns are involved in a variety of assignments that may include assisting staff in the day-to-day operations within a Supervisor's office; answering inquiries by phone and through written communications; preparing letters, memos, certificates, resolutions, proclamations and reports; researching and analyzing policy-related issues; helping with special projects; and attending meetings and community events.

For more information and to apply for the Policy and Legislative Affairs Internship with Supervisor Bartlett's Fifth District Office, please click here.

Safety First

DUI Enforcement Operations Planned this Weekend

Deputies from the Orange County Sheriff's Department's DUI Task Force will be deploying this weekend to stop and arrest alcohol and drug-impaired drivers in the department's ongoing traffic safety campaign. DUI Saturation Patrols will deploy on Friday, October 16th at 7:00 p.m. and continue until Saturday, October 17th at 3:00 a.m. in the cities of Aliso Viejo, Laguna Woods, Laguna Niguel and Laguna Hills.

Over the course of the past three years, DUI collisions in areas contracted by the Orange County Sheriff's Department have claimed 21 lives and resulted in 497 injuries of our friends and neighbors. After falling dramatically for five straight years, figures for 2012 show an increase to 802 deaths because someone failed to designate a sober driver.

DUI can impact the economy in addition to the pain and suffering of those immediately affected. Conservatively, a fatality has a $1.4 million impact, an injury $70,000 and a crash that only damages property, averages nearly $9,000.

Funding for this program is from a grant from the California Office of Traffic Safety, through the National Highway Traffic Safety Administration. Report Drunk Drivers, Call 911.

Healthcare Advisory

Ad-Hoc Committee Will Address Mental Health Services

At the September 22nd Board meeting, I requested that an Ad-Hoc Committee be created to formally review and analyze long-term policy solutions for the delivery of public psychiatric services. Input and collaboration will be sought from County agencies, hospital representatives, the medical community, and law enforcement. The ad-hoc committee will be comprised of two members of the Board of Supervisors, Supervisor Do and myself, to examine gaps within the County's mental health system and present recommendations to our colleagues early next year.

Finding solutions to help those with mental illness is a County priority and we are fully committed to implementing innovative mental health initiatives. We have an opportunity to effect change and improve the lives of Orange County residents by providing access to essential services.

Overall, the County will spend about $119 million this year on treatment programs funded by the Mental Health Services Act (MHSA) with another $21 million from MHSA carry over funds. The statewide ballot measure was approved by state voters in November 2004 to provide increased funding, staffing and other resources to support county mental health programs and monitor progress toward meeting statewide goals.

This past year, the County provided 62 programs to help those with mental illness and their families, with another 56 programs offered through contract providers. Each program's success is measured and monitored.

A variety of programs exist for adults, older adults, children and youth, including treatment, outreach, and engagement services. For routine requests for service, 99 percent are offered an appointment within five working days of the initial call. For urgent needs, all callers are offered an appointment within one day of the initial call.

The Health Care Agency also is implementing an open-access program for immediate assistance where clients who are discharged from hospitals can be seen within 24 hours. Clients who miss a doctor appointment or who cannot be seen the same day also can take advantage of this "open access" program.

The County ended Fiscal Year 2014-15 on June 30, 2015, with about $158.6 million in funds available, as well as another $70.4 million required by the act to be kept as Prudent Reserves in case revenues drop sharply in any given year. Of the $158.6 million in usable reserves, $108.6 million is needed to sustain existing programs, while another $50 million is available for program enhancements based on needs and gaps in services. The Health Care Agency is currently in the planning process to identify those needs.

OC Pet of the Week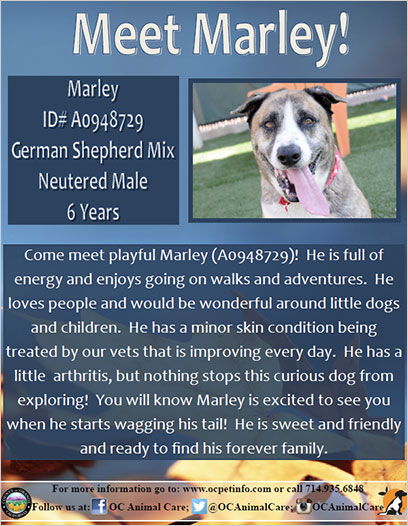 Click on the image above to view a PDF version.

Out and About South County

Aliso Viejo: Fall Harvest Festival

The Aliso Viejo Community Association (AVCA) will host its annual Fall Harvest Festival from 10:00am to 12:00pm on Saturday at Grand Park. The fun filled event features children's crafts, carnival games, balloon twisters, DJ entertainment and more. Kids can get an early start on Halloween by sporting their favorite costumes in the costume parade at 10:30am. AVCA will also host a canned food drive to benefit South Coast Outreach, a nonprofit organization that helps provide needy residents with food, housing, counseling, computer training, clothing, rent, utility assistance and more. For children to enjoy pony rides, parents must bring 5 or more canned food items, pet food or make a donation to South County Outreach to receive a pony wristband. For more information click here.

Dana Point: SoCal Woodie Show

OctoberWood is free to all Woodie owners and enthusiasts. In addition to the wonderful wooden cares, the event draws many beach and ocean-minded vendors for the shopping experience only found at SoCal coastal events. The show will be held at Lantern Bay Park on Saturday, for more information click here.

Lake Forest: Haunt at Heritage Hill

Dare to be a part of the 8th Annual Haunt at Heritage Hill, with a double dose of fright! The park will once again transform into a Haunted Adventure. This Halloween teen/adult friendly event will include: The Haunted School House Fright Maze, and the scream zones including The Joker's Side Show Maze, the return of "La Carnivora," and Riding Hood's Revenge featuring more monsters than ever. Be sure to hit the dance floor with ghouls and goblins for the extreme DJ and light show. There will also be screenings of classic horror film and guest appearances. Feel free to join in the fun and come dressed as your favorite character or in costume but no masks please. Open October 16-17 6:00 pm- 10:30 pm at Heritage Hill Historical Park. For more information click here.

Mission Viejo: 27th Annual Walk against Drugs

The 27th annual Walk against Drugs and community fair will be held Saturday from 8:00 am until 12:00 pm. For more information click here.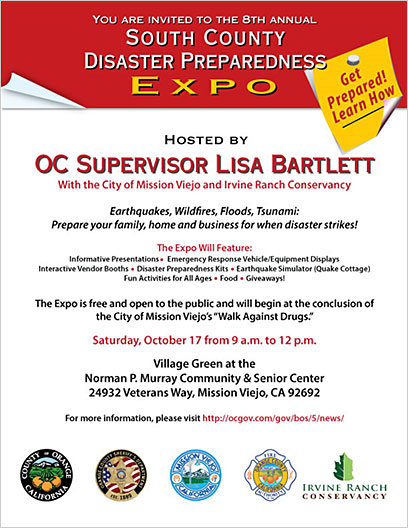 San Clemente: San Clemente Readiness Festival

October 17ths is San Clemente Readiness Day to raise awareness of the importance of being prepared for emergencies of all kinds including earthquakes, floods, fires and other disasters. The Readiness Festival is a free event that will provide a fun family friendly atmosphere to learn how to prepare your family to be ready for an emergency or disaster. It will be held from 10:00 am until 2:00pm at the Church of Jesus Christ of Latter Day Saints. For more information click here.

Last but not least this week I:

Attended the Orange County Japanese American Association 29th Senior Citizen Appreciation Day Luncheon.
Presented a certificate at the Marine Monument 10-Year Anniversary.
Attended the San Clemente Republican Womens Federated Fall Event.
Participated in Orange County Transportation Authority (OCTA) Board meeting.
Hosted a South County Homeless Roundtable follow-up meeting.
Attended the 2015 Annual Women of Character awards dinner.
Participated in the LAFCO Board meeting.
Participated in OCTA Legislative and Communications committee.
Delivered a resolution to commemorate the 25th Anniversary of OC Forum at their luncheon.
Attended the Aliso Viejo State of the City.
Attended the Dana Point Civic Association Coffee Chat.
Met with City of Laguna Beach Mayor Bob Whalen and Councilman Robb Zur Schmiede.
Attended the 10-year anniversary celebration on the Marine Monument at Semper Fi Park in San Clemente. To view photos, please click here.
Attended the Aliso Viejo "State of the City" event to present certificates of recognition to their Youth (Travis Mooney), Senior (Stacey McWatters), and Citizen of the Year (Heidi Stoopes). To view photos, please click here.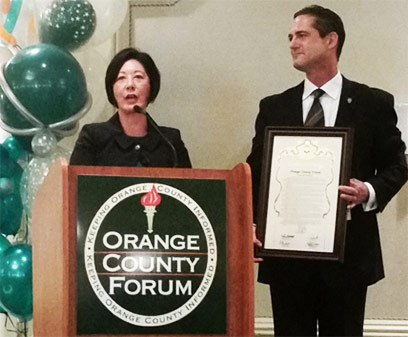 25th Anniversary of OC Forum luncheon.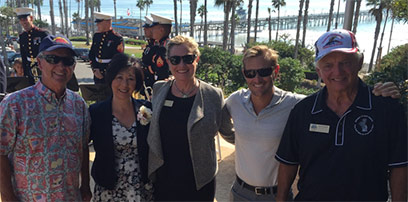 With former San Clemente Mayor Jim Dahl (left), Councilwoman Kathy Ward, Mayor Chris Hamm, and Mayor Pro Tem Bob Baker at 10-year anniversary celebration of the Marine Monument at Semper Fi Park.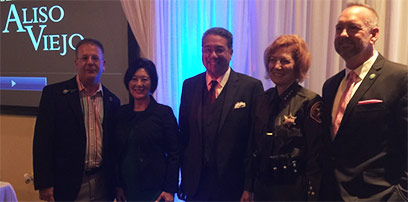 Aliso Viejo "State of the City" reception with Mayor Bill Phillips (left), Councilman Ross Chun, OC Sheriff Sandra Hutchins, and Councilman Dave Harrington.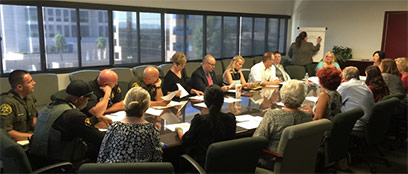 Hosting my quarterly South County Homeless Roundtable.



My Staff:

Attended the Orange County Sanitation District State of the District
Attended the 2015 Active Transportation Forum.
Participated in the Great ShakeOut earthquake preparedness.
Attended Orange County Fire Service Memorial.
Presented a certificate of recognition in honor of the 40th anniversary celebration of Rainbow Sandals in San Clemente.
Staffed a County Information Booth at the Fall Fest community event in Rancho Santa Margarita.
Presented a proclamation in honor of Mike Conte, Regional Vice President of South County Bank, upon receiving the Ethics in Business Award from the Rotary Club of Coto de Caza & Rancho Santa Margarita del Sol.
Presented a certificate of recognition in honor of the ribbon cutting ceremony for Park Terrace Senior Living in Rancho Santa Margarita.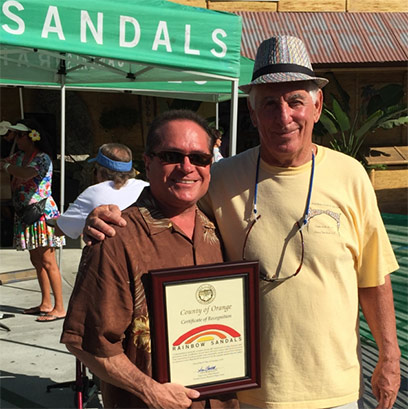 Rainbow Sandals 40th anniversary celebration in San Clemente.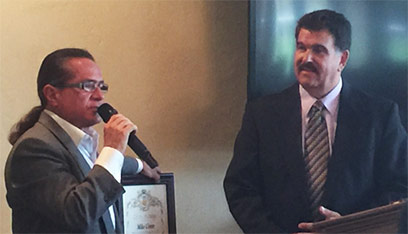 Presenting proclamation to Mike Conte upon receiving Ethics in Business award.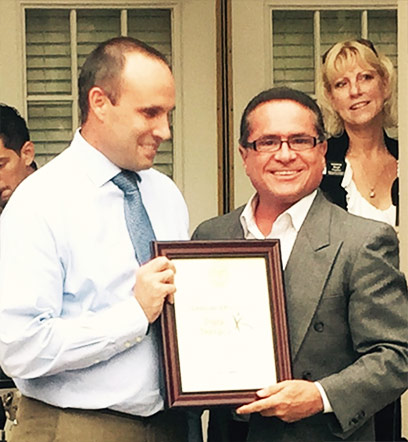 Park Terrace ribbon cutting in Rancho Santa Margarita.

South County Elected Officials in the Community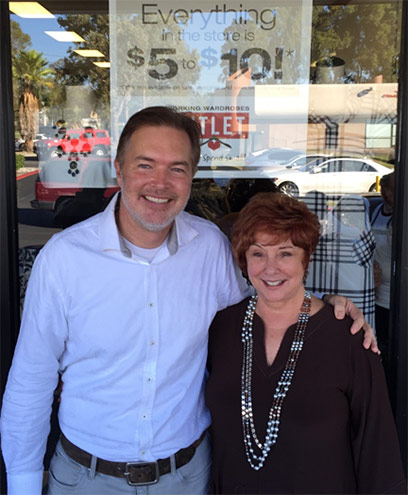 Laguna Hills Councilman Don Sedgwick at Working Wardrobes Outlet ribbon cutting.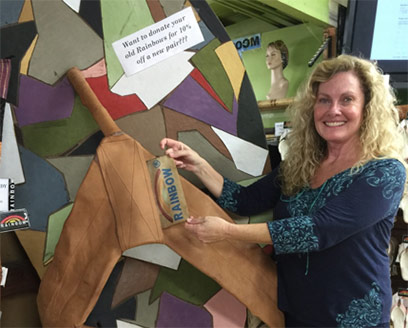 San Clemente Councilwoman Kathy Ward at Rainbow Sandals 40th anniversary celebration.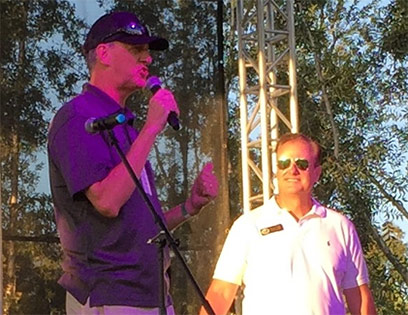 Rancho Santa Margarita Mayor Brad McGirr and Mayor Pro Tem Tony Beall at Fall Fest.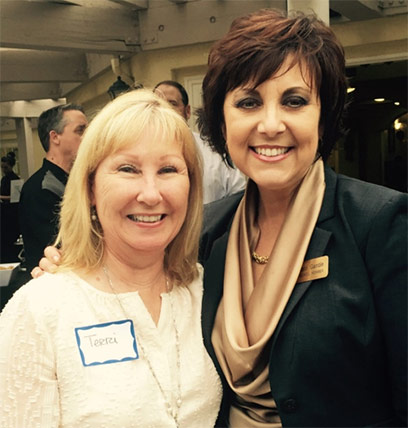 Rancho Santa Margarita Councilwoman Carol Gamble at Park Terrace ribbon cutting.

For questions or comments regarding Supervisor Bartlett's E-Newsletter please contact the Supervisor's office staff at: (714) 834-3550 or Kelley.Jimenez@ocgov.com.