County Connections

County Programs Receive Recognition from California State Association of Counties

On Tuesday, the County Board of Supervisors recognized four County of Orange programs regarding their recognition for innovation and cost-effectiveness by the California State Association of Counties (CSAC) through its 2015 Challenge Awards program.

The noteworthy programs recognized are (pictured in order):

Orange County Community Services' Vets Helping Vets Work Study Program received a Challenge Award for providing training and work experience for veterans. The program assists full or part-time veteran students or eligible dependents enrolled in a college degree or vocational trade school to gain practical experience working at the Orange County Veterans Service Office while receiving GI Bill benefits. The program has been a win-win for veterans and the County—the program has augmented existing resources while helping post-9/11 veterans with employment opportunities.


The OC Public Libraries received a Merit Award for OC Stories: Keeping History Alive. The goal was to corral historical images scattered throughout the county's 53 historical societies as well as websites belonging to various libraries, archives and community groups. OC Stories created a centralized platform for images and video recordings, including reaching out to individuals and groups to share their personal photo albums at six public digital scanning events at libraries throughout the county.


The Health Care Agency and Probation Department won a Merit Award for their team effort to remove barriers to behavioral health services by stationing HCA staff at Probation locations to create a continuum of services. Services include detoxification, residential treatment, psychiatric treatment and medication, and behavioral health counseling. HCA staff works at three Probation sites, which allows offenders engaging in treatment to be better prepared for success upon their re-entry into the community.
The Social Services Agency received a Merit Award for "Orange County Teen Collaborative Inspires Hope for Foster Youth." The program brings together community partners with SSA to provide strength-based, innovative and collaborative programs and services that build a sense of purpose, community and inspiration among abused and neglected foster youth. Youth are mentored and exposed to positive experiences and opportunities such as visits to colleges, museums, sporting and cultural events.
I would like to congratulate County staff for their contribution to bringing creative and cost-effective services to County residents. These efforts contributed to Orange County's statewide recognition of multiple County programs.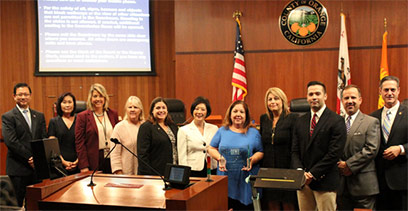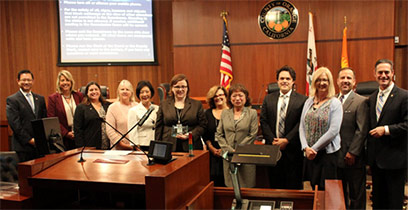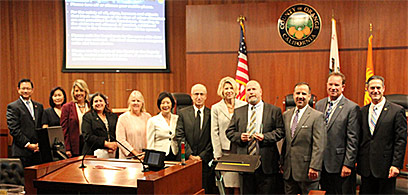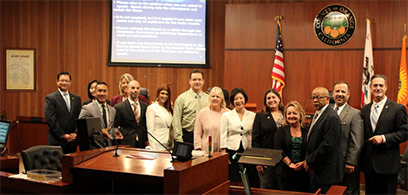 Board Approves Phase 1 of Dana Point Harbor Revitalization

On Tuesday, the Board of Supervisors approved Phase 1 of the Dana Point Revitalization Project (Item S24A), which addresses intersection and roadway improvements. The project includes the intersection and roadway improvements at Casitas Place and Dana Point Harbor Drive and Puerto Place and Dana Point Harbor Drive. The project will improve infrastructure related to traffic signals and to intersection alignments, the addition of turn lanes, utility work, and driveway/sidewalk improvements.

Phase 1 improvements represent the first milestone for the revitalizing Dana Point Harbor. As articulated in the Coastal Development Permit, there are a total of five phases. Concurrent with the improvements, the Board has authorized pursuit of a public-private partnership for the entire project to assist in the successful development of Revitalization.

Dana Point Harbor is truly a magnificent County resource as it facilitates public access to the coast, stimulates economic development, and enhances quality of life. Orange County residents have eagerly waited 18 years to start the project. Having secured Board approval, I am delighted to report that Dana Point Harbor Revitalization has begun.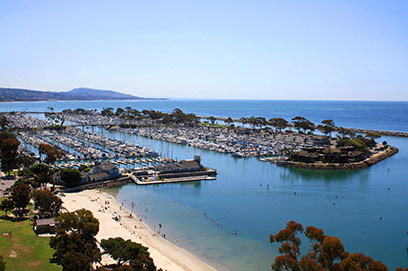 Fishing Continues at Laguna Niguel Regional Park

Laguna Niguel Regional Park will continue to welcome anglers to its popular lake. However, visitors may notice some changes beginning Nov 1.

Starting Nov. 1, there will no longer be a concession operating the lake. Fishing will be free for children 15 years and younger. A California fishing license will be required for individuals 16 years and older. Such fishing license can be obtained from Walmart or Sport Chalet, located close by to Laguna Niguel Regional Park. All California Department of Fish and Wildlife rules apply, as do the parking fees of $3 weekdays and $5 weekends.

The lake will be available for shoreline fishing only, with future float tube and fishing derbies which will be schedule at a later date. Trout season will take place as usual, and is slated to begin in January to ensure cooler water temperatures and the proper permits to stock fish.

Park hours will be 7 a.m. to 6 p.m. fall and winter, and 7 a.m. to 9 p.m. spring and summer. Fishing will be 7 a.m. to sunset or close of the park, whichever comes first. Fishing will be year round. If you have any further questions please contact the park office at (949) 923-2240 or email lagunaniguel@ocparks.com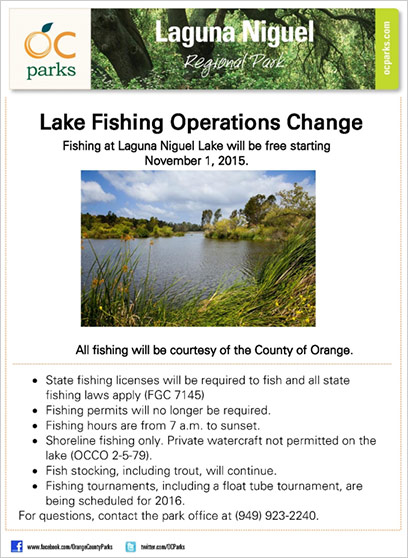 County Department Highlights

New John Wayne Airport Director Named

Just recently the Board of Supervisors selected Barry Rondinella as the new Director of John Wayne Airport. Barry Rondinella replaces Alan Murphy, who retired in February and Deputy Director of Facilities Lawrence Serafini, who has served as acting Director during the nation-wide search for a permanent replacement. Barry Rondinella has previously served as the Director of Operations for Los Angeles World Airports (LAWA), Deputy Director for Operations at Sacramento Airport and as Airport Director for Stockton Metropolitan Airport and Santa Maria Public Airport.

The Airport Director develops airport policies and is responsible for business development, facilities, finance and administration, public affairs, and operations. Appointment of the Airport Director by the Board is required by County ordinance, and I had the pleasure to serve with my colleague Supervisor Andrew Do on an ad-hoc committee to complete the task.

OC Moves

I-5 South County Closures and Detours

The first of two 54-hour closures at the southbound I-5 Avenida Pico ramps in San Clemente is set to begin Nov. 6.

The purpose of the closures is to shift traffic to new ramps that are being constructed adjacent to the existing ramps. The closures require an entire weekend (Friday night to Monday morning) because they involve major drainage work, asphalt paving, striping and resetting concrete barriers.

The work will be split across two weekends. The first closure, for the southbound I-5 Avenida Pico off-ramp, is set for 11 p.m. Friday, Nov. 6, to 5 a.m. Monday, Nov. 9. The second closure, for the southbound I-5 Avenida Pico on-ramp, is set for 11 p.m. Friday, Nov. 20, to 5 a.m. Monday, Nov. 23.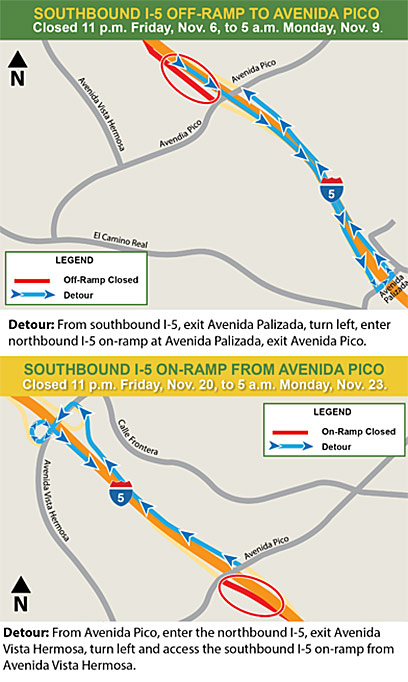 In addition, daytime pile driving for the new bridge abutments on the southbound side of I-5 is scheduled to begin Nov. 17. Crews will begin driving steel piles adjacent to Avenida Pico to support the bridge footings. This work is necessary to widen the bridge and accommodate new freeway lanes.

The work will take place intermittently, between 7 a.m. and 5 p.m., Monday through Friday, through December. Please be advised, this work may be loud and disruptive.

OCTA Wins Grand Prize at APTA Award Ceremony

The American Public Transportation Association (APTA) announced the winners of its annual AdWheel Awards at the APTA Annual Meeting in San Francisco this month. The awards recognize public transportation systems across the country for excellence in advertising, communications, marketing, and promotion.

More than 500 entries competed this year in the five categories including print, electronic, campaigns, special events, and social media. OCTA received the grand prize for the 3 Feet for Safety bicycle video and a first-place award for Angels Express marketing.

This is the fourth award for our bicycle-safety campaign video. The video humorously reminds people that California law, AB 1371 (2013), requires drivers to leave 3 feet of space when passing cyclists. The video increased awareness about the new law, capturing the attention of motorists, cyclists, advocacy groups, and publications. In a few short months, it generated 87,500 views on YouTube and 336,621 views on Facebook. It was also featured in multiple print publications, including "American Bicyclist" from the League of American Bicyclists – the largest bicycling advocacy group in the United States.

The other winning APTA entry was for digital display ads at Angel Stadium, which reached more than 45,000 committed fans to encourage consideration of the Angels Express Metrolink service as an alternative to driving.

I would like to commend OCTA staff for their creativity in educating the public about this important law.

Safety First

OC Sheriff Begin Overdose Prevention Pilot Program

As of October 7, 2015 Orange County Sheriff Deputies in three cities, Stanton, Mission Viejo, and Laguna Niguel have been trained and equipped with Naloxone Kits. Naloxone is a prescription medicine that is utilized to reverse an opioid overdoes which can occur from overdosing on heroin or prescription medication such as morphine, hydrocodone, and oxycodone.

Naloxone is seen as an antidote to opioid drugs, as the medication which is either sprayed into the victim's nose or injected into the muscle helps the person wake up and continue breathing. The medication acts within 2-5 minutes and has little no side effects, no street value, less adverse reactions than an Epi-pen, antibiotics or Aspirin, and cannot be abused or misused.

In 2014, 70 percent of drug overdoses in Orange County were opioid-related. Naloxone has been regularly utilized by all OC Fire Department Paramedics when responding to an opioid overdose. Deputies within Stanton, Mission Viejo, and Laguna Niguel have been trained and will be equipped with Naloxone Kits as part of a 6-month pilot Overdose Prevention Program. Once the pilot program is complete, OC Sheriff will evaluate the implementation throughout the department's jurisdiction.

Just recently on October 27th, OC Sheriff Deputies were able to deploy and administer Naloxone to a 51 year-old male suffering from an opioid-related overdoes in Stanton. Upon locating the individual it was apparent from the surroundings that the man was suffering from an opioid-related overdoe and the Deputies utilized their Naloxone kit which immediately improved the individual's breathing rate. OCFA paramedics arrived on scene and continued care before transporting the individual to the hospital. The individual's condition improved and ultimately he survived the potentially fatal overdose due to the actions of the Sheriff Deputies, OCFA Paramedics, and Hospital. This account is simply one demonstration of the benefits of the 6-month pilot Overdose Prevention Program.

Healthcare Advisory

Orange County Flu Season Confirmed

The Orange County Health Care Agency has confirmed our county's first cases of influenza signaling that flu season is officially here. The best way to prevent the flu is by getting vaccinated. Anyone who has not already received the flu vaccine should get it now before influenza season peaks.

The Health Care Agency is offering free seasonal influenza vaccinations for people 6 months of age and older who do not have a medical provider or health insurance coverage. They are available on a walk-in basis:



Every Thursday beginning November 5, 2015
8:00 to 11:30 a.m. and 1:00 to 4:00 p.m.
Public Health Clinic, 1725 West 17th Street, Santa Ana, CA 92706
The clinic will be closed on Thanksgiving


Flu vaccine is recommended for everyone six months of age and older, and is especially important for infants, young children, pregnant women, adults over 50, and for those with chronic medical conditions. Close contacts and caregivers of these high risk people should also be vaccinated.

Influenza is a seasonal contagious respiratory illness which can be caused by influenza A or B viruses. Flu symptoms may include fever, cough, sore throat, runny or stuffy nose, headaches, body aches, chills and fatigue. Flu illness can be severe, leading to missed school or work, hospitalization and even death. The flu vaccine provides protection against both influenza A and B viruses.

Flu virus is mainly spread through droplets from coughs and sneezes. Remember these important steps to help stop the spread of germs:

Cover your cough or sneeze with a tissue (or sleeve if you are caught by surprise)
Wash your hands often with soap and warm water (or alcohol-based sanitizer if not available)
Stay home if you are sick (at least 24 hours after your fever is gone)
Flu vaccine is available from health care providers, clinics, and pharmacies throughout Orange County. The most current local information, including vaccination locations, is available at www.ochealthinfo.com/flu or by calling the Health Referral Line at 800-564-8448, Monday through Friday from 8:00 a.m. to 5:00 p.m.

OC Public Works

Ready for El Niño? Take a look at how OC Public Works prepares all year long to keep you safe and steps to prepare for the El Niño storm season.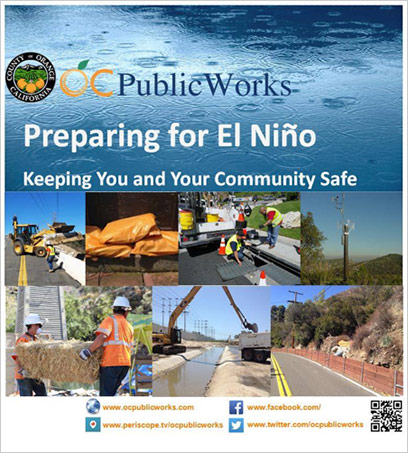 OC Pet of the Week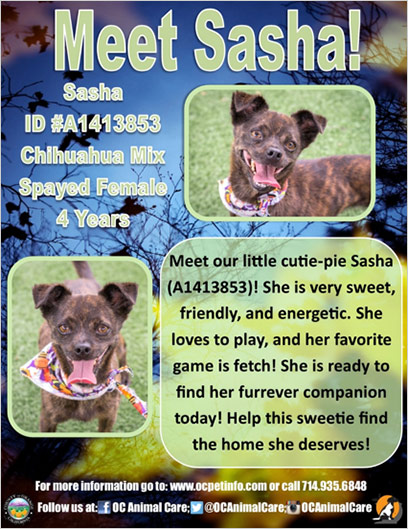 Click on the image above to view a PDF version.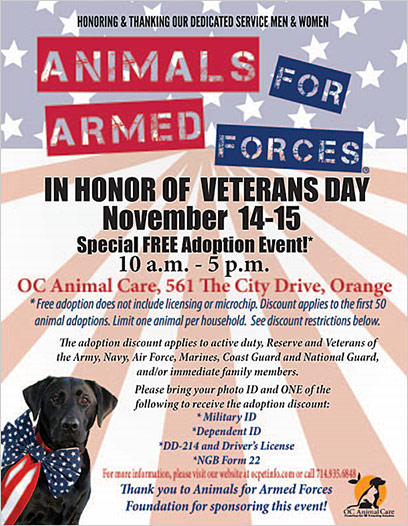 Click on the image above to view a PDF version.

Out and About South County

Aliso Viejo: Free Native American Flute Music & Stories Presentation

On Wednesday, November 4th, you are invited to a free multi-media Native American flute performance from the times of the Lewis and Clark Expedition. The city of Aliso Viejo and Soka Performing Arts Center are joining forces to hose the "Along the River" musical event with flutist Gary Stroutsos from 1:30pm to 3pm at the Aliso Viejo Conference Center. For more information, please click here.

Dana Point: Farmer's Market & Craft Fair

Each Saturday, California farmers bring fresh produce to sell at the Dana Point Farmer's Market from 9AM to 1PM. The Dana Point Farmer's Market is located in La Plaza Park on Pacific Coast Highway near the Clock Tower. This Saturday will also feature a Craft Fair that runs until 3PM.

Lake Forest: Sports Park One Year Anniversary and Shop & Dine Kick-Off Celebration

This Sunday, November 1st come to the Lake Forest Sports Park. The first 200 people to stop by the baseball clubhouse will receive free hot dogs and popcorn. For more information, please click here.

Also, this Sunday join the Kick-Off Celebration at the Orchard Shopping Center. The first 500 in attendance will receive a FREE giveaway bag filled with more coupons and giveaways from participating businesses. Everyone will also receive a raffle ticket to enter and win great prizes. Raffle prizes will include Oakley sunglasses, $100 Visa gift cards, restaurant gift cards, and more. Show a receipt from any Lake Forest business dated November 1 and receive an additional raffle tick per receipt! Maximum of 20 raffle tickets. For more information, please click here.

Mission Viejo: Howlin' Halloween Party Children's Program, Bears About Town Exhibit and Wheelchair Tennis Exhibition

This Saturday, October 31th, Ken Frawley from Dreamshapers will present a fun and only slightly spooky look at one of America's most popular holidays through stories and songs. Costumes welcome! For more information, please click here.

Two artists – Joy Aldrich and Aileen May –led this collaborative community-based art project as well as the more than 1,000 volunteers. Over the past three years, friends, neighbors and strangers shared in the creation of nine unique, life-sized mosaic bears representing the richly diverse ethnic and cultural heritage of the Mission Viejo community. For many participants, the "Bears About Town" project has been a life-changing experience of discovery and fellowship – a celebration of diversity that fosters unity. The exhibit is on display through November 6th at UCI in the Student Center Gallery. I can send you a city press release. For more information, call 949-470-8440.

Leading up to the 2015 UNIQLO Wheelchair Doubles Masters in Mission Viejo November 3-7, exhibition games of professional wheelchair tennis will take place inside The Shops at Mission Viejo on Saturday, October 31. In the center of the mall, the 30-minute exhibitions at 11 a.m. and 3 p.m. will showcase some of the top male and female wheelchair tennis athletes on the planet. The public is invited to see the free exhibition on Halloween at The Shops at Mission Viejo and year-end matches November 3-7 at the Marguerite Tennis Pavilion, 27474 Casta Del Sol. For more information, visit http://www.wheelchairdoublesmasters.com.
Rancho Santa Margarita: Holiday Boutique
On Thursday, November 5th, come to the Holiday Boutique-hosted by the San Francisco Solano MOPs (Mothers of Preschoolers) for a community shopping event for the Holidays. For more information, please click here.

San Clemente: The Taste of San Clemente 2015

Today, Friday October 30th, from 6PM to 10PM, The Taste will be held at the historic and beautiful Casino San Clemente, which will mark the 25th Annual Taste of San Clemente. In addition, the event will include a fabulous Silent Auction with over forty wonderful baskets and gifts. The Taste will include live music and dancing. For more information, please click here.

Last but not least this week I:

Attended the 25th anniversary celebration of Laguna Canyon Foundation to present a proclamation in honor of the occasion and tour the Nix Nature Center. To see a photo album, please click here.
Participated in the Orange County Transportation Authority Board of Directors meeting.
Participated in the Orange County Board of Supervisors meeting.
Attended the South County Women's Elected Officials dinner.
Participated in the Transportation Corridor Agencies Joint Procurement Ad Hoc and Joint Finance and Investment Committee.
Participated in the Orange County Sanitation District board meeting.
Participated in the dedication the Gobernadora Multi-purpose Basin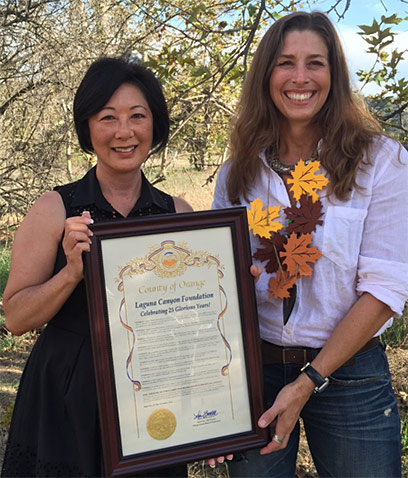 Presenting a proclamation in honor of the 25th anniversary of Laguna Canyon Foundation.

My Staff:

Toured CalWORKS South County.
Toured the South Orange County Family Resource Center.
Presented a certificate at the Suspended Animation Ribbon Cutting in Rancho Santa Margarita.
Presented a proclamation to the For Kids' Sake Workshop at the Boys and Girls Club of the South Coast Area during the Red Ribbon Week Celebration.
Attended the Orange County Business Council 2015 Economic Forecast Conference.
Attended the LAFCO Community meeting on Orange County Sanitation District Service Area 7.
Presented a certificate of recognition in honor of the ribbon cutting ceremony for Gems N' Loans in Dana Point.
Attended The Funders Forum at First American Trust in Santa Ana to be briefed on gaps in services for Orange County's seniors.
Presented a certificate of recognition in honor of the 25th anniversary celebration for Blue Lantern Inn in Dana Point.
Attended Laguna Niguel Mayor Jerry McCloskey's Supper Club event at Allen Cadillac in Laguna Niguel.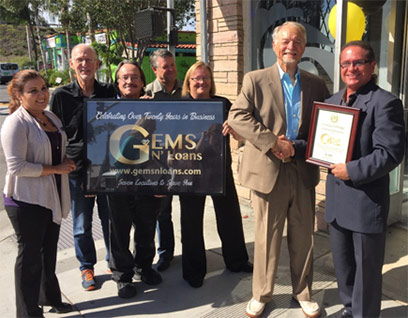 Gems N' Loans ribbon cutting in Dana point.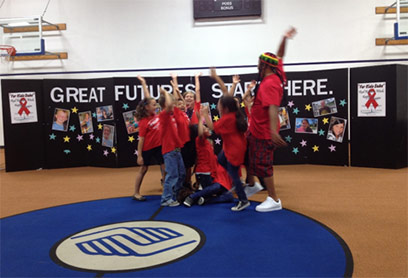 For Kids' Sake Workshop performance at the Boys and Girls Club in San Clemente

South County Elected Officials in the Community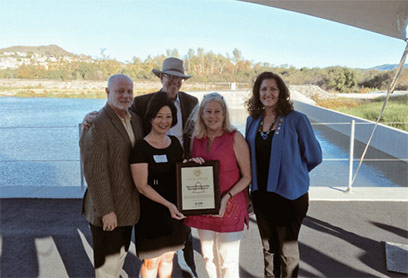 Front row: Vice Chair Lisa Bartlett (County of Orange), SMWD President Betty Olson, and Director Sandra Jacobs. Back row: Director Charley Wilson and Director Charles Gibson Honoring Santa Margarita Water District for their work on the Gobernadora Multi-purpose Basin, which will recycle up to 220 million gallons of water annually.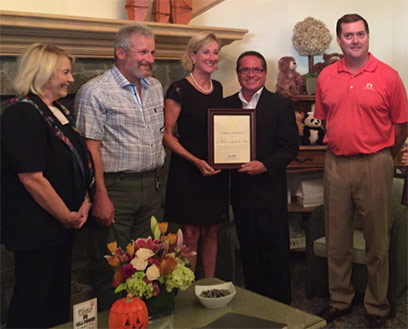 Assemblyman Bill Brough (right) at Blue Lantern Inn's 25th anniversary celebration in Dana Point.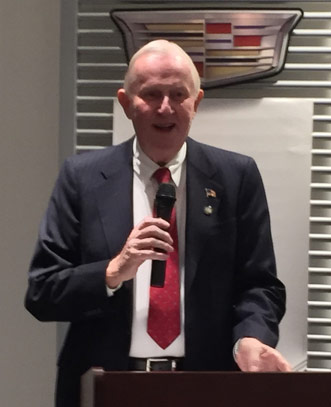 Laguna Niguel Mayor Jerry McCloskey at his Supper Club event.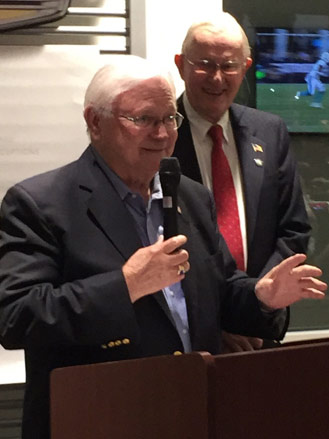 Former Supervisor Bill Steiner (left) at Laguna Niguel Mayor Jerry McCloskey's Supper Club event.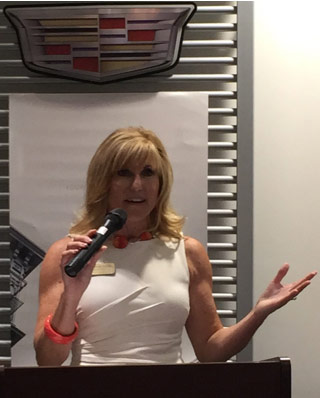 Laguna Niguel Mayor Pro Tem Laurie Davies at Mayor McCloskey's Supper Club event.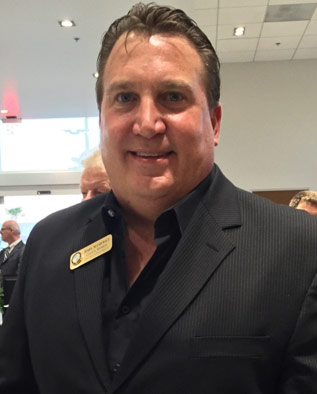 Laguna Niguel Councilman Jerry Slusiewicz at Mayor McCloskey's Supper Club event.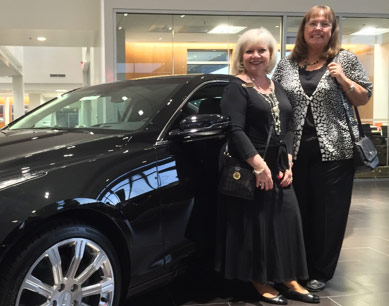 Laguna Niguel Councilwoman Elaine Gennawey (left) and CUSD Trustee Martha Mc Nicholas (right) at Mayor McCloskey's Supper Club event.

For questions or comments regarding Supervisor Bartlett's E-Newsletter please contact the Supervisor's office staff at: (714) 834-3550 or Kelley.Jimenez@ocgov.com.