County Connections

OC Parks Project Receives 2015 Project of the Year Award from APWA


OC Parks has been chosen to receive a 2015 Project of the Year Award from the Southern California Chapter of American Public Works Association (APWA) for Aliso and Wood Canyons Wilderness Park Entry Improvements project. The project was funded through a grant from the Safe Neighborhood Parks, Clean Water, Clean Air and Coastal Protection Bond Act of 2000 which was administered by the State Coastal conservancy. The improvement began in late 2014 and included native landscaping, parking and trailhead improvements, and new trails. The Coastal Conservancy recognized the value of the Aliso and Woods Canyon Entry improvements, and has awarded OC Parks $1 million in grant funding for the next phase of the work. The Southern California Chapter of the APWA covers Los Angeles, Orange, Riverside, and San Bernardino Counties, and the chapter's awards program is to recognize public agencies for their outstanding projects and programs and to share the wealth of good ideas.

Orange County Public Works Bracing for El Niño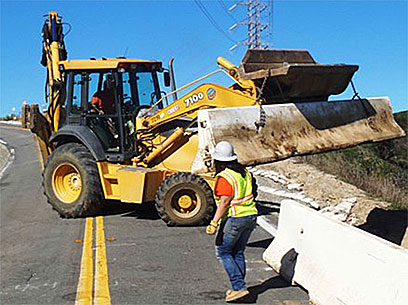 With El Niño storms on the horizon, OC Public Works officials are bracing and ready. Forecasters predict this year's El Niño could be the strongest to hit the state since 1950 – stronger than the "Godzilla" El Niños of 1982-83 and 1996-97. In 1982-83, storms killed 36 people and created $1.2 billion in damages when mudslides wiped out houses and flooded coastal areas. In February 1998, nearly 14 inches of rain fell locally – about a year's worth in a single month.

During such heavy storms, the top priority for OC Public Works is to protect property and lives. Among the strategies is assuring that the deluge of water safely reaches the ocean. That means cleaning and clearing gutters along 320 miles of County roads and 380 miles of flood channels.

OCPW crews also are removing sediment from river channels, including the Santa Ana River. Debris flows could impact flood-prone areas abutting the Santa Ana Mountains, such as Silverado Canyon, Modjeska Canyon, Live Oak Canyon and other rural communities.

In the past two months, OCPW installed preventative barriers where needed on public land, such as sandbags, hay bales, silt boards and k-rails, to redirect the flow of excess water, mud and debris during storm events.

Another way OC Public Works remains prepared is through maintaining and monitoring an advance flood warning system called "ALERT" (Automated Local Evaluation in Real Time), which is a network of rainfall and water level sensors that enables real-time tracking of storms. Find the link to ALERT information here and here for the OCPW fact sheet.

Kids in Disasters Working Group Receives Two State Awards

The Kids In Disasters (KIDS) Working Group engages emergency management professionals, public agencies, hospitals, schools, health care organizations, pediatricians and private individuals to promote coordinated efforts and partnerships to ensure that infants' and children's needs are met before, during, and after disasters. Their success is tied to the broad coalition of high-level professionals and active participation of Orange County hospitals, Social Services Agency, Orange County Department of Education, Orange County Children's and Families Commission, American Red Cross and others who have enabled KIDS activities to boldly move forward.

The KIDS' working group has provided contributions and service to children in disaster preparedness, response, mitigation, and recovery by identifying needs, conducting surveys, providing education and training, developing and managing pediatric injects in exercises, and ensuring real change in disaster planning and response for our pediatric population. This group defines teamwork and collaboration, working together across the spectrum of the pediatric population. Their efforts have been recognized by receiving the 2015 California Emergency Services Award and the 2015 California Department of Public Health Promising Practice Award along with outstanding achievement from the American Red Cross Disaster Preparedness Academy.

County Department Highlights

Orange County Superior Court Service Center Opens in Mission Viejo

Orange County Superior Court now accepts payments for criminal, traffic, and collection cases at its Mission Viejo facility. Payments can be made at the public windows only on Wednesdays and Thursdays from 8:00 a.m. to 12:30 p.m. and 1:30 p.m. to 4:00 p.m. Appointments are not necessary and walk-ins are welcome. Drop box payments and mail are not accepted at this facility.

The Superior Court Service Center is located at 27573 Puerto Real, Mission Viejo, in a commercial shopping center accessible from the Crown Valley Parkway exit off the 5 Freeway. The Court opened this facility to provide access to court services to the more than 600,000 residents who live in south Orange County.

The Superior Court Service Center continues to offer assistance to self-represented litigants in various case types. Self-Help services include providing legal information and procedural assistance, offering workshops, providing document review of Judicial Council of California forms and Orange County approved local forms, public computer use, and legal library use. Please visit www.occcourts.org/self-help/shworkshops.html for workshop schedules. The Mission Viejo facility is open Mondays to Thursdays from 8:00 a.m. to 4:00 p.m. and Fridays from 8:00 a.m. to 3:00 p.m.; it is closed from 12:30 p.m. to 1:30 p.m. For courthouse locations and more information, go to www.occourts.org.

County Collaborations

Help spread the holiday cheer to those in need by donating to or volunteering for Operation Santa Clause and Senior Santa & Friends! Multiple County departments are working together to gather toys, funds, and volunteers to make everyone's season a bit brighter. See the flyer to find out ways you can help support this team effort.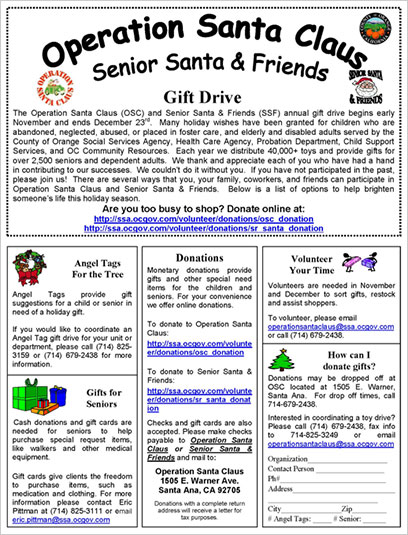 Click on the image above to view a PDF version.

The 21st Annual Report on the Conditions of Children in Orange County

This year, the Orange County Children's Partnership released the 21st Annual Conditions of Children Report, which provides valuable information about the state of Orange County in the areas of health, the economy, educational achievement, and public safety. The report offers statistics and trends of each indicator based on different geographic areas. To view an electronic version of the report, click here.

OC Moves

I-5 South County Closures and Detours

The I-5 South County Improvement Project is underway. This month, crews will be working at Avenida Pico. Commuters can expect two full weekend closures during the month of November. Plan accordingly with this detour map.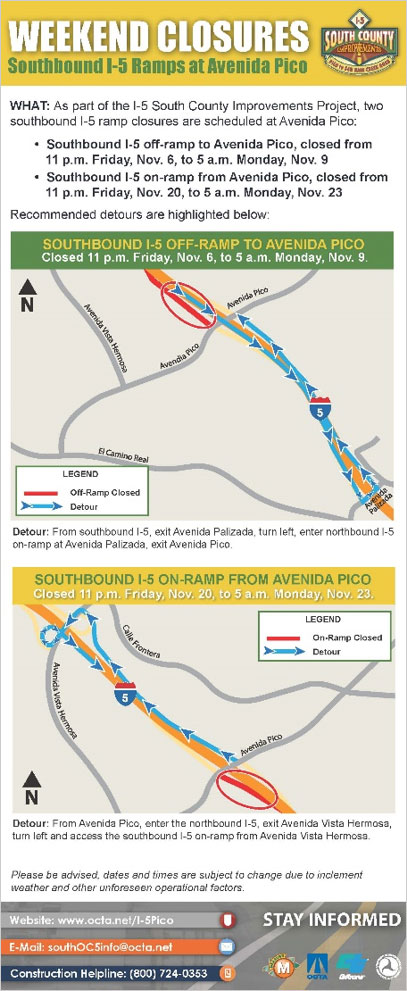 Healthcare Advisory

Orange County's Approach to Working with AB 109 Offenders.

The AB 109 Program was developed and implemented as a result of the passing of the California Public Safety Realignment Act in April 2011. Orange County Health Care Agency, Adult and Older Adult Behavioral Health (HCA) and Probation joined in a collaborative effort to create unprecedented access to care, and a continuum of treatment for offenders being released from custody. This collaborative approach has been recognized and has received awards this year from the National Association of Counties (NACo) and California State Association of Counties (CSAC).

HCA and Probation's partnership created a groundbreaking program that removed barriers to treatment and promoted access to care for offenders upon their release. The program includes a continuum of treatment services comprised of several services that are available to offenders who have untreated substance use and/or mental health disorders. These services are provided directly by County staff as well as by community-based providers through contract. Through the placement of HCA staff at Probation sites, offenders have access to treatment and resources where they first report to their probation officers. These clients are better prepared for success upon their reentry into the community. Staff facilitates client engagement into treatment which promotes independence, reduces recidivism, and increases public safety. Services are available to all individuals under Orange County AB 109 which includes Post release Community Supervision (PCS) and Mandatory Supervision (MS).

The AB 109 behavioral health program has demonstrated successful outcomes since it came into formation in November 2011. The program has a 91% success rate with clients being referred and receiving screenings for treatment services with a total of 4,898 being referred and 4,459 being assessed. 1,440 clients have successfully terminated PCS in one calendar year, the minimal allotted supervision time, due to non-recidivism or violations and did not require the maximum three year supervision time. This program provided unprecedented access to care with removal of barriers and a continuum of treatment that was unlike any other with clients being released from both county and state custody. The AB109 healthcare team provides a comprehensive level of service and treatment options that is client-centered and is customized to a client's motivators, needs, and objectives. Clients are provided with the resources and tools for successful reintegration back into the community. They are afforded the opportunity to gain independence and sustainability as they move forward in their lives.

OC Pet of the Week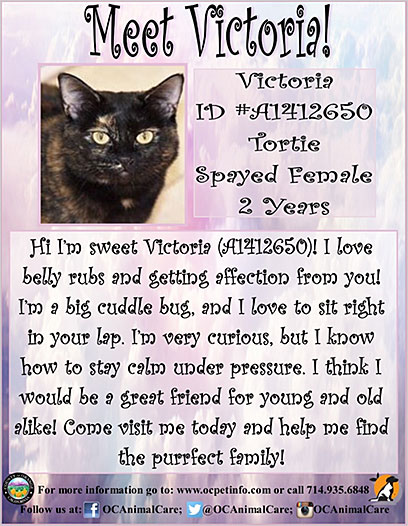 Click on the image above to view a PDF version.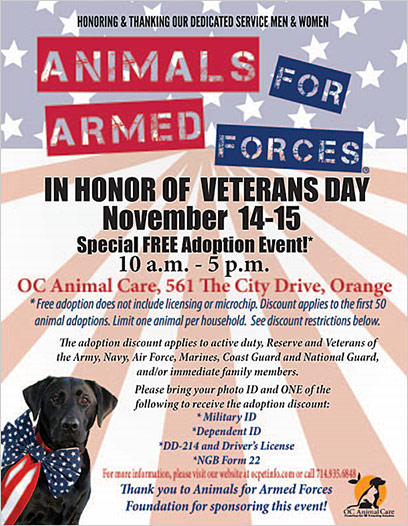 Click on the image above to view a PDF version.

Out and About South County

Aliso Viejo: Veterans Recognition

Aliso Viejo veterans of the Armed Forces are invited to the City's Eighth Annual Veterans Recognition Program on Tuesday, November 10 at 6:00 p.m. at the Aliso Viejo Conference Center, 31 Santa Barbara. A dinner and special program will be offered along with a celebration of the 240th birthday of the Marine Corps.

Dana Point: Sponsor a Marine for Thanksgiving Dinner

Let's celebrate our Marines & their families with a festive, fully plated Thanksgiving dinner and desserts! Come join in the celebration with our Marines, Sailors, Wounded Warriors and their families. The meal, desserts, drinks, raffle prizes and entertainment are our way of saying Thank You and all are complimentary for our 5th Marines thanks to your support.

On Thanksgiving Day, November 26, 2015, Waterman's Harbor Restaurant will again be hosting for the 5th year a complete plated Thanksgiving Dinner, Open Bar, Dessert and Coffee for our Marines and their Families at Waterman's Harbor Restaurant in Dana Point.

Donate today! The cost to Sponsor a Marine or Family Member is only $35/Person. To Sponsor a Marine(s) and their Family Member(s) please visit and to learn more about this event, visit: http://DanaPoint5thMarines.com/2015-thanksgiving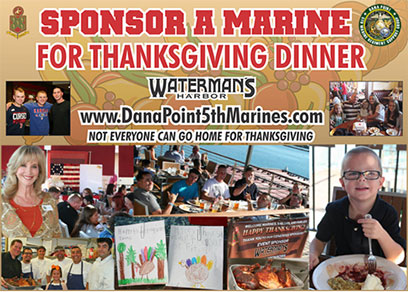 Lake Forest: Veterans Day Memorial Program

The El Toro Memorial Park Committee invites you to their annual Veteran's Day Program on November 11, from 11:00 a.m. to 2:00 p.m. The program will feature speaker David Hayward, WWII U.S. Army Air Corps Pilot and author of "A Young Man in the Wild Blue Yonder."

Rancho Santa Margarita: Veterans Day Recognition

The Rancho Santa Margarita City Council will honor local veterans on Thursday, November 12th, at 6 p.m. at the Rancho Santa Margarita Civic Center. The city invites all veterans, families, and friends to take part in this special recognition reception.

Conditions of Children Report Community Forum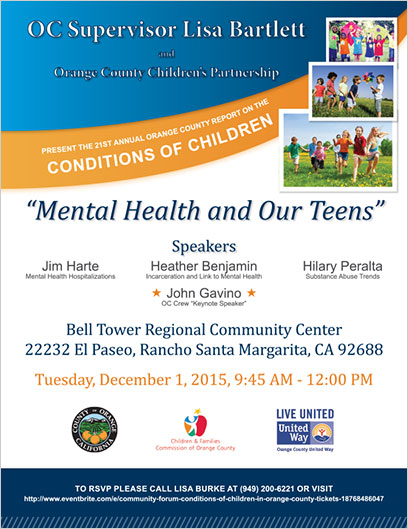 Click on the image above to view a PDF version.

Last but not least this week I:

Participated in a presentation and Q&A session with senior Economics and Government classes at Trabuco Hills High School.
Participated in an Orange County Transportation Authority (OCTA) Regional Planning & Highways meeting.
Participated in a joint OCTA and Transportation Corridor Agencies leadership meeting.
Participated in a TCA Executive meeting.
Took a tour of the Orange County Data Center.
Participated in a TCA Mobility Ad-Hoc.
Participated in an OCTA Environmental Oversight Committee meeting.
Participated in an Orange County Sanitation Operations meeting.
Served as the honorary Co-Chair and attended the Trauma Intervention Program's (TIP) Annual Heroes with Heart Gala.
Presented a certificate of recognition in honor of the ribbon cutting ceremony for SkyLoft Restaurant in Laguna Beach. To view photos, please click here.
Hosted my inaugural South County Veterans Summit in partnership with OC Community Services, OC Veterans Advisory Council, 2-1-1 OC, and Saddleback College.

At SkyLoft Restaurant ribbon cutting in Laguna Beach with (left to right) City Manager John Pietig, Mayor Pro Tem Steve Dicterow, Mayor Bob Whalen, and SkyLoft owner Ivan Spiers.

My Staff:

Took a tour of the Orange County Data Center.
Participated in the "Raising of America" Screening and Forum at Brandman University.
Attended a San Onofre Decommissioning Community Engagement Panel Regular Meeting.
Attended an I-405 public information meeting.
Attended the VETNET Graduation.

For questions or comments regarding Supervisor Bartlett's E-Newsletter please contact the Supervisor's office staff at: (714) 834-3550 or Sara.May@ocgov.com.