County Connections

Board of Supervisors Approves Year Round Homeless Shelter

This week, after much consideration, the Board of Supervisors unanimously approved the acquisition of the 1000 N. Kramer site to be used as a Year Round Emergency Shelter and Multi-Service Center. The Board had researched this item extensively and listened to over eighty public comments prior to reaching their decision.

The County will pay $4.25 million for the 1.87 acre parcel, which was previously occupied by a commercial heating and air conditioning contractor. The purchase includes a 24,384 square-foot industrial warehouse and 12,842 square feet of office space, with 68 parking spaces.

Several cities agreed to support the project. The cities of Anaheim and Fullerton contributed $500,000 each, and the City of Brea contributed $100,000. Further, the city councils of Anaheim, Brea, Buena Park, Fullerton, Orange and Placentia adopted resolutions to document their support.

The 1000 N. Kramer site is a positive start to addressing the critical needs of the County's most vulnerable population. The 200 bed facility will be accessible 365 days a year, 24 hours a day, to single men, women, and families with children. To ensure the safety of all parties, each client will be screened for sex offender and active felony warrant status before admission. Clients will only be able to arrive after the screening process through direct transportation services.

While clients are at the site, breakfast, lunch, dinner and snacks will be provided in a central dining area. Meals will be cooked in an on-site kitchen. There will also be bathrooms, showers, and laundry facilities for clients. Toiletries will be provided as needed. All clients will have access to a storage space for their belongings.

This project will not only serve as a shelter for those in need; it will also help facilitate self-sufficiency. During the daytime, clients will have access to on-site services through the Multi-Service Center, which are designed to help clients move toward and achieve permanent housing. Some of the programs include life skills classes and workshops, indoor and outdoor recreational activities, access to an on-site computer lab, and full access to services providers.

The County has operated a seasonal armory shelter program in Fullerton and Santa Ana for the past 28 years. However, the armories were only open part of the year and only at night. The year round emergency shelter will be a monumental step in the County's 10 Year Plan to End Homelessness.

Laguna Woods Resident's Paintings on Display at John Wayne Airport

Through December 16, John Wayne Airport (JWA) is displaying a collection of paintings by Laguna Woods resident Dori Murnieks as part of JWA's Community Focus Space Program. The artwork can be viewed on the Departure (upper) Level near the security screening areas in Terminals A, B and C, and on the Arrival (lower) Level adjacent to Baggage Carousels 1 and 4.

"My paintings in this show are all done in acrylics, my favorite medium. Acrylics allow me more freedom of expression, and help me achieve a looseness and fluidity. The mood of the scene dictates my palette," said Dori Murnieks. "I look forward to exhibiting my works to a new audience and connecting with local artists."

Murnieks' artwork primarily depicts western landscapes and the animals that inhabit them. While most of her work is painted using acrylics, she also works with other media, such as pastels. Murnieks' paintings capture a certain uniqueness of a special place. She often begins painting with a general idea of her subject matter and sees where it takes her. Throughout her artistic process, the artwork evolves as she explores the possibilities.
"Dawn Break" by Dori Murnieks

More images can be seen here.

Dori Murnieks was born in Johnson City, New York, and grew up in a family of artists. She studied fine art at the Arts Students League and Cooper Union School of Art. She later moved to Northern California, where she became a founding member of the Avenue 9 Gallery Art Guild in Chico, California, and showed her artwork in regional galleries and exhibitions. Dori now resides in Laguna Woods, and is a member of the Laguna Plein Air Painters Association. Her paintings have been displayed in Laguna Woods Arts Association exhibits and in Laguna Woods City Hall. In addition to painting, she currently illustrates children's books for author M.C. Arvanitis.

Upcoming Community Focus Space Program artists include Leonard Myszynski (December 17 - January 14) and Susie Stockholm (January 15 - February 16). To learn more about JWA's Art Programs, please visit www.ocair.com/terminal/artexhibits.

County Department Highlights

OC Shelter Partners Program Implemented at the Animal Shelter

At the recent Community Outreach Committee meeting on October 28, OC Animal Care representatives reported that the much discussed OC Shelter Partners Program will be implemented on November 20! This program is modeled after the Shelter Intervention Program provided by Downtown Dog Rescue in Los Angeles. Representatives of OC Shelter Partners will offer counseling services to pet owners considering relinquishing a pet to OC Animal Care.

OC Shelter Partners will spend time with pet owners to determine the specific barriers that have caused them to consider giving up their pet. With resources for veterinary care, behavior training, and even construction services, the goal of this partnership between OC Shelter Partners and OC Animal Care is to help pet owners keep their pets in a loving and nurturing home and decrease the number of animals in our shelter.

OC Shelter Partners and OC Animal Care are hopeful that the program will meet with overwhelming success, and become a permanent service offered at the shelter on a daily basis.

Board of Supervisors Appoints Clerk of the Board

The Board of Supervisors has appointed Robin Stieler, an 18-year veteran of the Clerk's office, to formally take over the duties of Clerk of the Board. Stieler has filled the position on an interim basis since former Clerk Susan Novak retired in February.

Stieler was hired in January of 1997 by then-Clerk Darlene Bloom and assigned to the Assessment Appeals division. In 2001, she moved to the Board Services Division and progressed in the office through a series of promotions. In December 2013, then-Clerk Novak promoted her again to the position of Chief Deputy.

Stieler is a member of the California Clerk of the Board of Supervisors Association, the California Association of Clerks and Election Officials and the Orange County City Clerks Association. She and her husband live in Yorba Linda.

Spread the Holiday Cheer with Operation Santa Claus

Help spread the holiday cheer to those in need by donating to or volunteering for Operation Santa Claus / Senior Santa & Friends! Multiple County departments are working together to gather toys, funds, and volunteers to make everyone's season a bit brighter. See the flyer below to find out ways you can help support this team effort.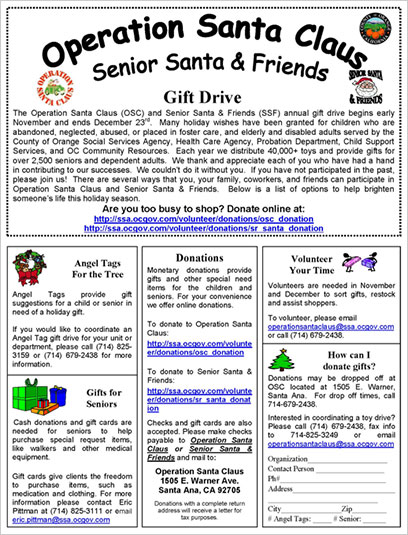 Click on the image above to view a PDF version.

OC Moves

Public Review of OCTA's Wildlife Preserves Resource Management Plans

The Orange County Transportation Authority's (OCTA) Resource Management Plans (RMP) for the Trabuco and Silverado Canyon areas were released for public review on November 11, 2015.

The draft RMPs outline the stewardship and operations of each Preserve. This RMP release includes the Ferber Ranch, O'Neill Oaks, Hafen, Saddle Creek South, and MacPherson Preserves.

The RMPs are available for public review during a 90-day public comment period to gather feedback.

Conservation Plan

OCTA's Measure M2 (M2) Freeway Environmental Mitigation Program allocates funds to purchase conservation properties and contribute to habitat restoration projects in exchange for streamlined project approvals for 13 M2 freeway improvement projects. The M2 freeway projects impact protected habitats and biological resources, including plants and wildlife.

State and federal laws require that impacts to these resources be reduced. To do this, OCTA is developing a Conservation Plan, which is a state and federal document to protect threatened and endangered species.

Preserves that possess habitat and important wildlife species that are similar to those affected by the construction of the M2 freeway projects have been purchased by OCTA and are included in the Conservation Plan. These Preserves will remain in a natural state and will be protected in perpetuity.

Preserve Management Requirements

The RMPs are required in order to provide guidelines for the management and monitoring of the Preserves in accordance with the goals and objectives of the Conservation Plan. Key components of the RMPs include guidance for the ongoing protection, preservation, and adaptive management of the natural plants and wildlife found within the Preserve. The RMPs also address fire prevention measures and recreational use of the site by the general public when appropriate. Designated roads and trails (and their uses) will be identified in each RMP.

How to Comment

The RMPs and comment forms are posted online at OCTA.net/RMP. In addition, all materials will be available during two public meetings at Rancho Santa Margarita City Hall, 22112 El Paseo, Rancho Santa Margarita on:

Saturday, Nov. 21, 2015 9 to 11 a.m.
Wednesday, Dec. 9, 2015 5 to 7 p.m.
For more information, please contact Marissa Espino at mespino@octa.net or 714-560-5607.


Thanksgiving Holiday Travel Tips

In anticipation of one of the most heavily traveled holiday periods, John Wayne Airport (JWA) offers travel tips to help passengers prepare for a safe and enjoyable holiday. Passengers traveling through JWA between Friday, November 20 and Monday, November 30 will experience higher-than-normal passenger traffic due to the Thanksgiving holiday.

This season, JWA is thankful for its partnership with KeepOCSafe. Together, we encourage travelers to be aware of their surroundings and report questionable objects or activities. A Giant Red Backpack (pictured below) will be on display in the Riley Terminal throughout the holidays to remind passengers and visitors, "If You See Something, Say Something™."

Travel Tips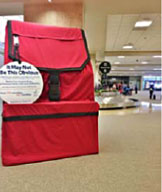 Arrive ninety minutes to two hours before scheduled departure times for domestic flights and three hours for international flights.
Traveling with furry friends? Utilize one of two animal relief areas before heading into the Riley Terminal, located on the Arrival (lower) Level in front of Terminals A and C.
Pack up to one small carry-on bag plus one personal item as long as the carry-on bag fits airline dimensions. Check with individual airlines for specifics and details related to checked baggage.
Parking Tips
Curbside Valet Parking is available for $30 per day or $10 per hour.
Self-parking is available in Parking Structures A1, A2, B2 and C for $20 per day and $2 per hour with the first 15 minutes being free.
Off-site Main Street Parking Lot located at 1512 Main St., Irvine, for $14 per day with free shuttle service to/from the Riley Terminal every 15 minutes.
Access terminal parking structures from the Departure (upper) Level only.
Passenger Pick-up/Drop-off
Drivers picking up passengers are encouraged to utilize the Cell Phone Waiting Lot and 2-hour parking spaces, located on the lower level of Parking Structures A1, B2 and C.
Color-coded and numbered columns along the white curb on the Arrival (lower) Level roadway make meeting arriving passengers easy.
TSA and CBP Tips
Visit Transportation Security Administration (TSA) to become familiar with prohibited items and the 3-1-1 rule for liquids in carry-ons.
TSA Pre-Check passengers can take advantage of expedited screening at one of three checkpoints at John Wayne Airport.
International travelers should check U.S. Customs & Border Protection (CBP) to ensure they have appropriate travel documentation for visiting the United States. Note: Passengers who are members of the Global Entry Trusted Traveler Program can expedite their Customs clearance into the U.S. at John Wayne Airport. Passengers traveling to and from Vancouver, Canada, will clear Customs in Canada.

Healthcare Advisory

Holiday Food Safety Tips

The holidays are upon us once again. For many of us, the word "holiday" is a synonym for a get-together involving many people and food. When preparing foods this coming holiday, make sure that food safety is part of your planning. Environmental Health's Food Protection Program offers the following tips to help make your holiday meals safe.

Food Safety Tips When Shopping

Buy your turkey preferably 1-2 days before you cook it.
Pick up the turkey, dairy, and eggs just before checking out.
Bag the frozen turkey or keep it separate from fresh produce.
Avoid buying fresh, stuffed turkeys.
Storing the Turkey/Perishable Foods
Store the turkey in the freezer if you bought it early in the month.
Keep turkey in the refrigerator if cooking within 24-48 hours.
Keep the turkey in its package in a pan to keep any juices from getting into fresh produce or food.
Refrigerate pumpkin pie and other foods prepared ahead of time.
Thawing the Frozen Turkey Safely
Wash your hands with soap and water before handling the turkey or any food.
There are 3 ways to defrost a frozen turkey safely:


Defrost turkey in the refrigerator (40°F) approximately 24 hours for every 4-5 pounds of turkey.
Submerge turkey in its original package in a pan of cold water deep enough to cover the turkey. Change the water every 30 minutes, and allow 30 minutes thawing for every pound. Cook the turkey immediately.
Thaw in the microwave oven. Remove any packaging and keep turkey in a microwave-safe pan to catch any juices. Cook the turkey immediately. Microwave ovens may vary do be sure to check the manual for the minutes per pound and power level to use for defrosting.

Remove any giblets from the turkey cavity and cook separately.
Preparing Food Safely
Wash your hands with soap and water.
Make sure working areas and surfaces, utensils and plates are also clean.
Use separate cutting or chopping boards for meats and for fruits/vegetables. Avoid putting cooked food on cutting boards that have touched raw food.
Avoid wiping your hands that have touched raw food with dish towels.
Keep raw food away from vegetables and side dishes that will not be cooked.
Cooking Food Safely
Stuffing the turkey is not recommended. Cook the stuffing separate.
Use a food thermometer. You can't tell if the turkey is cooked simply by looking.
Check to make sure every part of the turkey reaches a minimum internal temperature of 165°F, even if your turkey has a pop-up temperature indicator. Check the innermost part of the thigh and wing, and the thickest part of the breast.
Let turkey stand for 20 minutes before carving to allow juices to set.
Stuffing should also reach a minimum temperature of 165°F.
Any dish containing eggs should be cooked to reach an internal temperature of 160°F.
Use a separate clean spoon whenever tasting food from the pot. Do not use the same spoon for stirring to taste the food.
Serving Food Safely
Keep cold foods cold and hot foods hot.
Keep the pumpkin pie and any cold dessert in the refrigerator at 40°F.
Use clean serving spoons for each dish.
Wash hands with soap and water before handling food or eating.
Carve the turkey with a clean carving knife and fork.
Storing Left-Overs Safely
Store left-over food within two hours after serving, including pumpkin pie.
Use several shallow storage containers to store left-over food.
Store in the refrigerator if eating left-over food within 3 days.
Keep in the freezer for longer storage time.
Label and date all of your leftovers so you know how long they've been in there.
For more tips on food preparation, visit the following websites:


OC Pet of the Week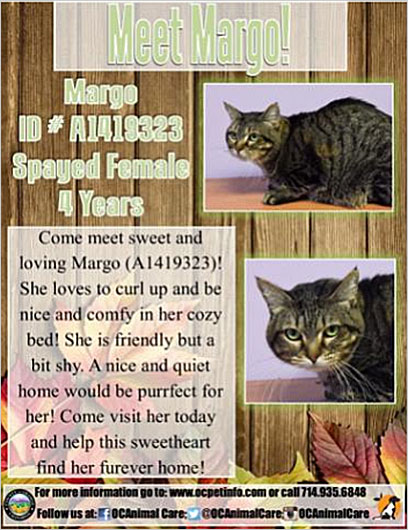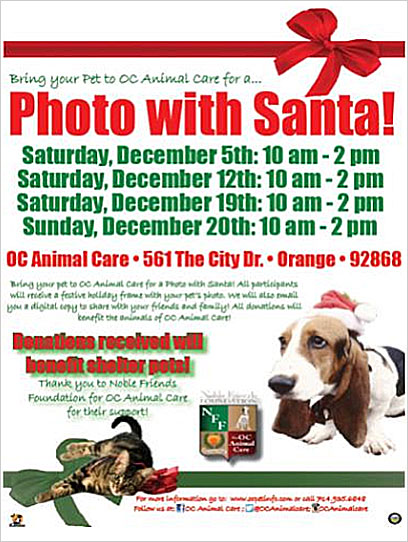 Click on the image above to view a PDF version.

Out and About South County

Conditions of Children Report Community Forum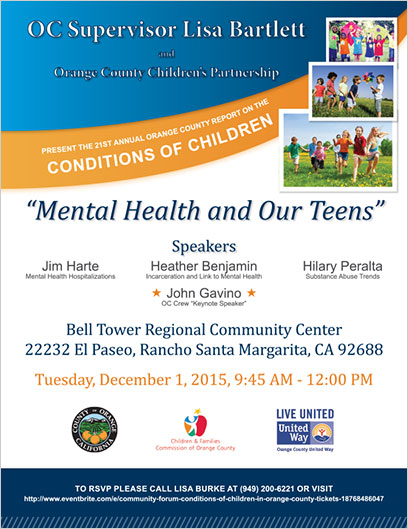 Click on the image above to view a PDF version.

South County Free Flu Shots Event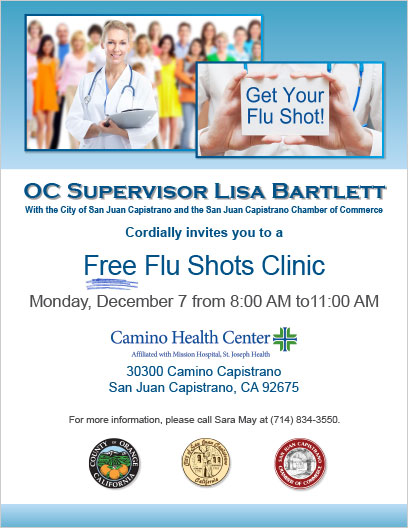 Click on the image above to view a PDF version.

Lake Forest: Barker Ranch Dog Park Grand Opening and Ribbon Cutting Tuesday, Nov. 24

Every dog has its day and that day is coming at the grand opening celebration of Barker Ranch Dog Park, located at 26500 Baffin Bay. The grand opening will be held on Tuesday, November 24 from 10:00 a.m. to 12:00 p.m. Light refreshment will be provided. For more information click here. And don't forget to enter your dog into the Barker Ranch Dog Photo Contest to win while you are at the grand opening to win a holiday treat basket and to have your dog featured in the Jan/Feb 2016 Leaflet. For more information, please click here.

Lake Forest: Share the Holiday Spirit with the U.S. Marine Corps Unit and their Families

The Lake Forest Support Committee is planning to make the holidays special for the Marines of the 1st Law Enforcement Battalion and their families. Now until December 10 monetary donations to fund Thanksgiving and Christmas meals for 75 families along with fun activities can be donated. There will also be a collection drive for toys, books and canned goods. For more information, please click here.

Aliso Viejo: Free Flu Shot Clinic at AV FRC

On Saturday, November 21 from 9:00 a.m. to 12:00 p.m., Mission Hospital will be offering a free flu shot clinic for under- and un-insured members of our community. The clinic will be conducted at the Aliso Viejo Family Resource Center at 24671 Via Igelsia in Aliso Viejo. No appointments are necessary, the vaccine is available for ages 9 and up and children under the age of 18 must be accompanied by an adult. For more information, please click here.

Laguna Beach: Sawdust Art Festival's 25th Annual Winter Fantasy

Beginning this weekend through December 20, the festival grounds will be transformed into a winter wonderland where 175 artists create, display, and sell original creations. Admission is $8.50 for adults, $7 for seniors, and $4 for children. For more information, please click here.

Dana Point: Farmer's Market

Each Saturday, the California farmers bring fresh produce to sell at the Dana Point Farmers Market from 9:00 a.m. to 1:00 p.m. The Dana Point Farmers Market is located in La Plaza Park on PCH near the Clock Tower. For more information, please click here.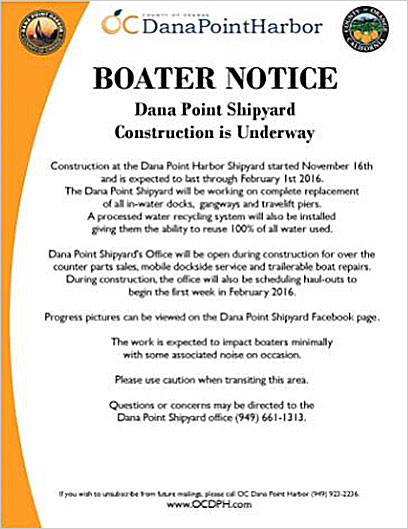 Mission Viejo: 45th Annual Gifts and Goodies Boutique

This Saturday from 8:00 a.m. to 5:00 p.m. at the Norman P. Murray Community and Senior Center will showcase local crafters and artisans offering exciting handcrafted items for home décor, stocking stuffers, and gift giving. For more information, please click here.

Learn How to Draw Comic

This Saturday from 2:00 p.m. to 3:00 p.m. at the Saddleback Room at City Hall, 200 Civic Center, Mission Viejo, kids will learn how to draw comic book style art in a hands on illustration workshop with Erik Benson. Ages 6-12 need a parent guardian. This event is free but you must sign up. For more information, please click here.

San Clemente: FAM Thanksgiving Dinner & Adopt-A-Family

Would you like to make a difference for someone in need this holiday season? For Thanksgiving supply a turkey and all the fixings. For Christmas, provide gifts from the children of a local family. For more information, please click here.

Last but not least this week I:

Presented a certificate of recognition in honor of the Dana Point Lantern District ribbon cutting ceremony. View a photo album, please click here.
Participated in a Board of Supervisors meeting and a Special Board Meeting.
Participated in a Local Agency Formation Commission (LAFCO) Board meeting.
Participated in a Transportation Corridor Authority (TCA) Joint Finance & Investment meeting.
Participated in the Orange County Sanitation (OCSD) Board meeting.
Participated in the Orange County Transportation Authority (OCTA) Legislation & Communications meeting.
Participated in a TCA Joint Strategic Planning Ad Hoc and Joint Capital Programs & Projects Committee meeting.
Participated in an Orange County Fire Authority (OCFA) Board meeting.
Took an educational tour of the Ecology Center in San Juan Capistrano.
Traveled to Los Angeles to participate in a California Transportation Commission Road Charge Technical Advisory Committee meeting.
Attended the San Clemente Outlets Tree Lighting Ceremony and Concert.
Led the Pledge of Allegiance at the Changing of the Flags Ceremony.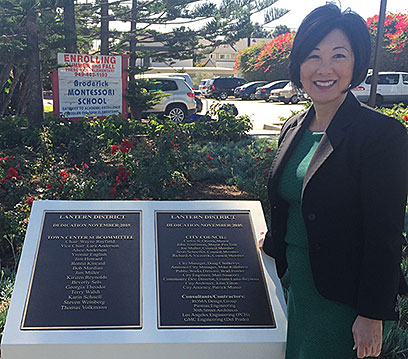 At the Dana Point Lantern District ribbon cutting ceremony.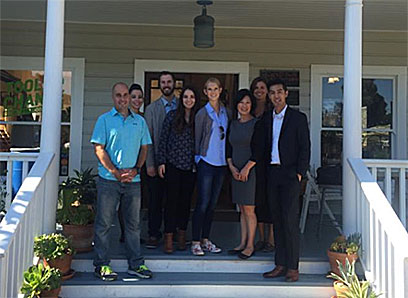 With my staff at the Ecology Center in San Juan Capistrano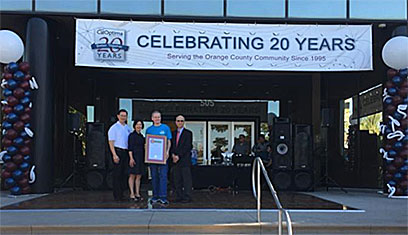 With Supervisor Andrew Do (left), CalOptima CEO Michael Schrader and HCA Director Mark Refowitz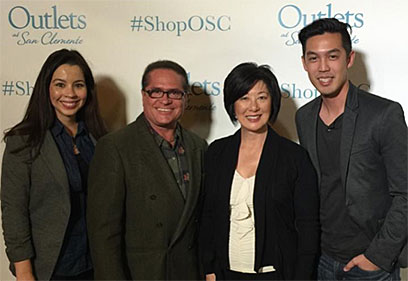 With my staff at the Christmas Tree Lighting Celebration at the new Outlets at San Clemente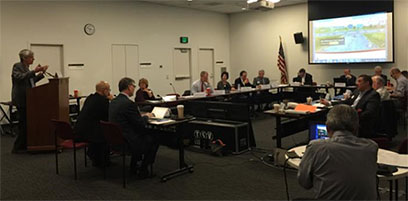 At the California Transportation Commission Road Charge Technical Advisory Committee meeting



My Staff:

Visited the Anaheim Regional Medical Center.
Toured Age Well Senior Services.
Presented a certificate of recognition in honor of the ribbon cutting ceremony for Caliber Collision in Rancho Santa Margarita.
Presented a certificate of recognition in honor of the ribbon cutting ceremony for Sterling Party Rentals in Rancho Santa Margarita.
Attended the Orange County Business Council's (OCBC) Turning Red Tape into Red Carpet Awards Reception.
Attended the San Clemente Exchange Club Police & Fire Awards.
Attended the County Changing of the Flags ceremony.
Presented a certificate of recognition in honor of the ribbon cutting ceremony for Dr. Kenneth Ackey in Mission Viejo.
Presented a certificate of recognition in honor of the ribbon cutting ceremony for Pita Pita in Aliso Viejo.
Attended the Laguna Hills Chamber Mixer.
Presented a certificate of recognition in honor of the ribbon cutting ceremony for Jimboy's Tacos in Aliso Viejo.
Presented a proclamation to Larry Lizotte in honor of his 45 years of service on the Moulton Niguel Water District Board of Directors.
Attended the San Clemente Outlets Tree Lighting Ceremony and Concert.
Attended the "Homelessness in Orange County: Discovering Solutions Together" panel discussion at Laguna Beach City Hall.
Presented a certificate of recognition in honor of the ribbon cutting ceremony for Smart & Final Extra! in Laguna Hills.
Presented certificates of recognition to the graduates of the Marine Corps Devil Pups Program.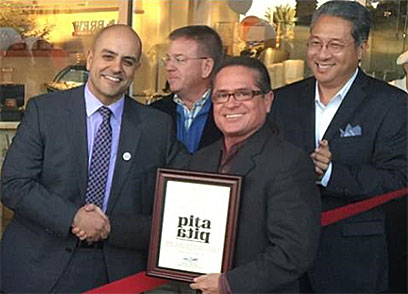 Pita Pita ribbon cutting in Aliso Viejo.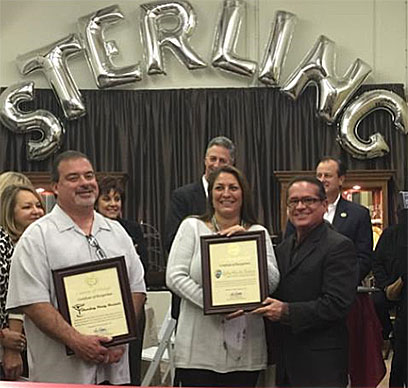 Sterling Party Rentals ribbon cutting in Rancho Santa Margarita.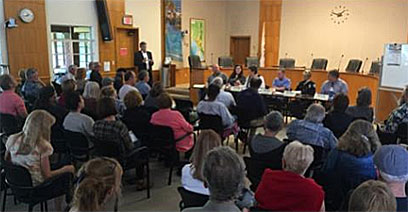 Homelessness in Orange County panel discussion in Laguna Beach.



South County Elected Officials in the Community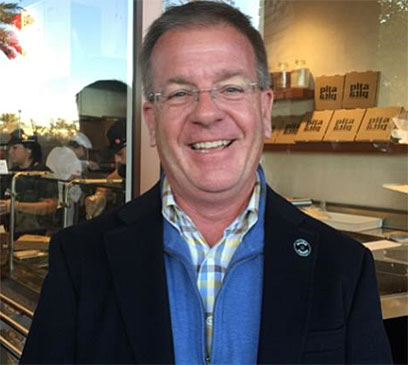 Aliso Viejo Mayor Bill Phillips at the Pita Pita ribbon cutting.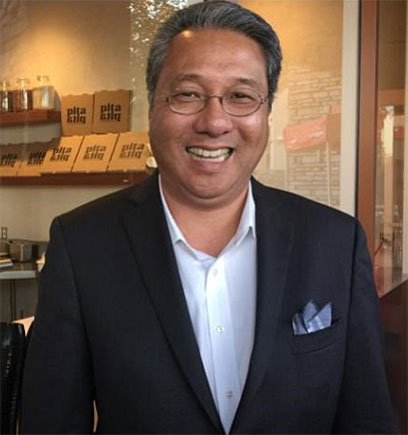 Aliso Viejo Councilman Ross Chun at the Pita Pita ribbon cutting.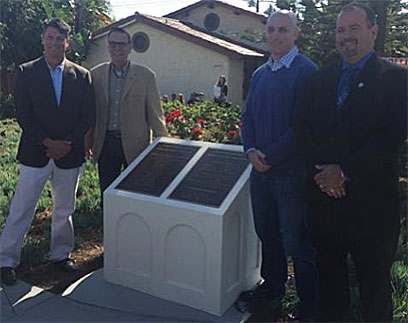 Dana Point Councilman Joe Muller (left), Mayor Carlos Olvera, Councilman Richard Viczorek, and Mayor Pro Tem John Tomlinson at the Lantern District ribbon cutting.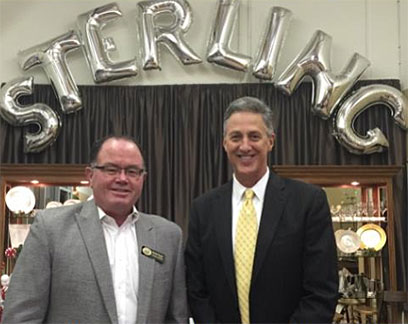 Rancho Santa Margarita Councilman Mike Vaugh (left) and Mayor Brad McGirr at the Sterling Party Rentals ribbon cutting.

For questions or comments regarding Supervisor Bartlett's E-Newsletter please contact the Supervisor's office staff at: (714) 834-3550 or Sara.May@ocgov.com.