November 25, 2015
Volume 2

Issue 47

Thanksgiving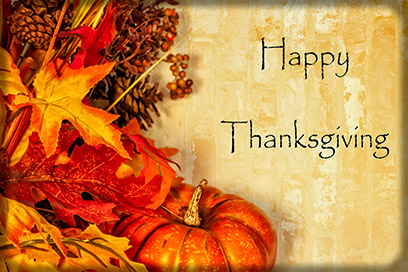 Tomorrow is Thanksgiving, but before we begin prepping our feasts and readying our homes for our family and friends, let us take a moment to reflect and give thanks. I am thankful for the wonderful opportunities and progress I have made in my first year as an Orange County Supervisor, and I am grateful for all of those who have contributed to these successes. Throughout this past year, I have met and been inspired by countless individuals, organizations, and businesses who have worked diligently to better the lives of others. I am thankful to live in a beautiful, thriving County, and I am thankful for all its residents. There are countless reasons to give thanks, both big and small. Whether you spend your holiday surrounded by loved ones, take comfort in a quiet evening at home, or run a local turkey trot, I hope you thoroughly enjoy and appreciate the day.

Happy Thanksgiving!

OC Moves

Thanksgiving Holiday Travel Tips

In anticipation of one of the most heavily traveled holiday periods, John Wayne Airport (JWA) offers travel tips to help passengers prepare for a safe and enjoyable holiday. Passengers traveling through JWA between Friday, November 20 and Monday, November 30 will experience higher-than-normal passenger traffic due to the Thanksgiving holiday.

This season, JWA is thankful for its partnership with KeepOCSafe. Together, we encourage travelers to be aware of their surroundings and report questionable objects or activities. A Giant Red Backpack (pictured below) will be on display in the Riley Terminal throughout the holidays to remind passengers and visitors, "If You See Something, Say Something™."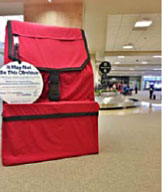 Travel Tips
Arrive ninety minutes to two hours before scheduled departure times for domestic flights and three hours for international flights.
Traveling with furry friends? Utilize one of two animal relief areas before heading into the Riley Terminal, located on the Arrival (lower) Level in front of Terminals A and C.
Pack up to one small carry-on bag plus one personal item as long as the carry-on bag fits airline dimensions. Check with individual airlines for specifics and details related to checked baggage.
Parking Tips
Curbside Valet Parking is available for $30 per day or $10 per hour.
Self-parking is available in Parking Structures A1, A2, B2 and C for $20 per day and $2 per hour with the first 15 minutes being free.
Off-site Main Street Parking Lot located at 1512 Main St., Irvine, for $14 per day with free shuttle service to/from the Riley Terminal every 15 minutes.
Access terminal parking structures from the Departure (upper) Level only.
Passenger Pick-up/Drop-off
Drivers picking up passengers are encouraged to utilize the Cell Phone Waiting Lot and 2-hour parking spaces, located on the lower level of Parking Structures A1, B2 and C.
Color-coded and numbered columns along the white curb on the Arrival (lower) Level roadway make meeting arriving passengers easy.
TSA and CBP Tips
Visit Transportation Security Administration (TSA) to become familiar with prohibited items and the 3-1-1 rule for liquids in carry-ons.
TSA Pre-Check passengers can take advantage of expedited screening at one of three checkpoints at John Wayne Airport.
International travelers should check U.S. Customs & Border Protection (CBP) to ensure they have appropriate travel documentation for visiting the United States. Note: Passengers who are members of the Global Entry Trusted Traveler Program can expedite their Customs clearance into the U.S. at John Wayne Airport. Passengers traveling to and from Vancouver, Canada, will clear Customs in Canada.

OC Dana Point Harbor - 2015 Turkey Trot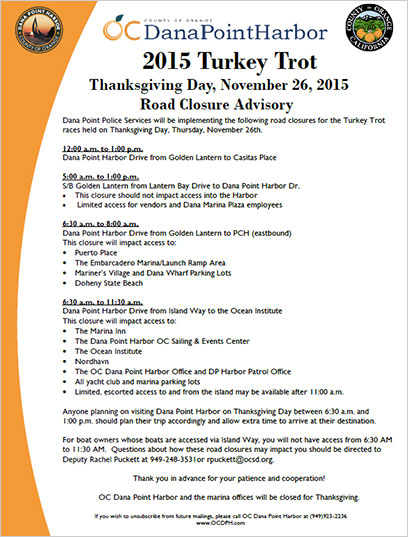 Click on the image above to view a PDF version.

OC Pet of the Week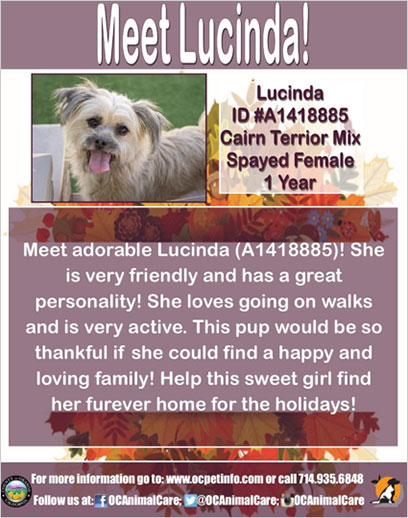 Click on the image above to view a PDF version.

Out and About South County

Dana Point: Turkey Trot

Join the nation's sixth largest turkey trot in the country on Wednesday November 25th from noon to 7pm and Thursday November 26th from 6am to 11am at Dana Point Harbor Drive and Golden Lantern. Named one of America's best Thanksgiving Day runs by Fitness Magazine, the Dana Point Turkey Trot has become an Orange County tradition, attracting more than 17,000 participants, including friends and family, in its 5K, 10K, Kids' Gobble Wobble, and two-day health and fitness expo. For more information, please click here.

Laguna Beach: Thanksgiving Buffet at Hotel Laguna

For decades now, Hotel Laguna has been the "go to" gathering place for families and friends who love hundreds of delectable options for their Thanksgiving Day Buffet. Each year, the Hotel Laguna OceanView Bar & Grill Thanksgiving Day Buffet sells out in advance, for both indoor and outdoor beachside dining seating. Please make reservations. This year Chef Rob Hines has outdone himself again with buffet tables set up in three dining rooms, allowing for easy circulation (and plenty of seconds) for guests. Bring your family and friends for a most enjoyable day with indoor or outdoor dining from 12pm to 8pm on Thanksgiving Day. For more information, please click here.

Lake Forest: Share the Holiday Spirit with the U.S. Marine Corps

The Support Committee is planning to make the holidays special for the Marines of the 1st Law Enforcement Battalion and their families. Here's what they have planned and how you can help:

Monetary donations to fund Thanksgiving and Christmas meals for 75 families along with fun activities.
A collection drive where residents can drop off toys, children's books and canned goods that will be distributed among families of the unit.
For more information, please click here.

San Clemente: Thanksgiving Dinner & Adopt-A-Family, Moonlight Madness

Would you like to make a difference for someone in need this holiday season? For Thanksgiving supply a turkey and all the fixings. For Christmas, provide gifts for the children of a local family. For more information, please click here.

Also, the Outlets at San Clemente will kick off the holiday shopping season with an inaugural Moonlight Madness event on Thanksgiving night! Outlets at San Clemente retailers will open doors at 8pm on Thanksgiving, November 26. Shops will remain open all night and throughout Black Friday on November 27 until 10pm. For more information, please click here.

For questions or comments regarding Supervisor Bartlett's E-Newsletter please contact the Supervisor's office staff at: (714) 834-3550 or Sara.May@ocgov.com.


DISTRICT

STAFF
Paul Walters
Chief of Staff

Victor Cao
Policy Advisor

James Dinwiddie
Policy Advisor

Kelley Jimenez
Policy Advisor

Sara May
Policy Advisor

Sergio Prince
Community Relations Advisor

Tanya Flink
Office Manager



Stay Updated!