County Connections

A Message to San Bernardino County

In light of Wednesday's tragedy at the Inland Regional Center in San Bernardino, I ask that we all take a moment to cherish our lives and the lives of those around us. There is perseverance, strength, and hope in the human spirit, and it is crucial that we recognize and practice these traits in the midst of the recent atrocity. We can honor the deceased and uplift the wounded by continuing to live our lives to the fullest, and appreciate every moment of it. Let us move forward with respect and compassion.

I would also like to thank each and every individual who came to the aid of the victims and their families. To the first responders, police officers, doctors, nurses, and caring citizens, thank you for your service.

Finally, my thoughts and prayers go out to the family and friends of the deceased and wounded, and to all who endured that horrific event. I offer my deepest sympathies, and hope you will soon rediscover a sense of normalcy and contentment once again.

Upcoming Property Tax Deadline

The first installment of property taxes was due on November 1, 2015 and if not paid by Thursday, December 10, 2015, a 10% delinquency penalty will be added to the amount due.

Payments by eCheck with Same Day Credit (no service charge): To ensure that we receive your payment timely and avoid any late penalties, we encourage you to "Go Green Electronically" and choose the ease and convenience of paying your property bill electronically using your bank account at our secure website at ocgov.com/octaxbill. Just enter either your parcel number (APN) or property address in the appropriate field, select the property tax bill you want to pay and click on "Pay by eCheck" (no cost), input your bank account information, add your email to receive your receipt by email, review your information, and then submit your payment. Make sure your bank routing number and bank account information are entered correctly. Also, after reviewing your payment information, make sure you complete the payment process by clicking on Submit to receive the message that your payment has been completed successfully! You will then receive a confirmation email that is your payment receipt or print the confirmation page. Your payment can be made on-line up to midnight on December 10. A new feature is the inclusion of your parcel address on the online receipt. Finally, California law requires that payments over $50,000 annually ($25,000 per installment) be made electronically. We are not requiring that these property taxes be made electronically at this time, but are asking you consider using our online eCheck option, whenever possible.

Payments by Mail: Please note that if you are making payment by mail, the envelope must have a United States Post Office ("USPS") postmark on or before December 10, 2015 to avoid the late penalty and fee. If you plan on mailing your payment on or near the delinquency date, please obtain a hand cancellation or Certificate of Mailing from the USPS, as the USPS may not postmark all mail on the date received. If a postmark is not on a payment envelope, then the date we receive the payment will be used to determine whether a late penalty will be applied. Do not take a chance on your payment being late and make sure to mail it early!

Payments using on-line banking: If you pay using your bank's or other online payment site, please make sure the payee is the County of Orange. Please put your parcel number in as the account number field exactly as it is on your property tax bill (e.g. 123-123-12) to ensure proper and timely credit to your account. We recommend making your payment at least five business days before the due date to allow ample time for payment to be received by December 10. Payments not received in our office by December 10 will be charged the delinquent penalty of 10%. In addition, payments made to incorrect or incomplete APNs may be rejected and incur the late penalty.

Payment of more than one parcel: If you are paying for more than one parcel, use our online cart function so that you only have to put in your bank, credit, or debit card account information once. You will receive a detailed receipt with each property and tax amount listed separately.

Payment in person

Taxpayers can also make payments in person at 625 N. Ross Street, Building 11, Room G-58, in Santa Ana from 8 am to 5:00 pm, but parking is not validated. We recommend either coming in early to avoid the last minute rush or paying online by eCheck to avoid the lines and save the cost of parking. Directions to our office and parking options can be found at ttc.ocgov.com. If you have any payment questions, you can contact us by e-mail at ttcinfo@ttc.ocgov.com or by phone at 714-834-3411 between 9 am and 5 pm.

We also have a new feature on our website where you can view your parcel on the County's GIS map. Go to ocgov.com/octaxmap (using Chrome or Firefox), and input the parcel number. Alternatively, when you view your parcel information on-line, just click on the map icon to the right of your bill information to view a "Google-type" map for all parcels in Orange County. Another recent addition is the viewing of mello roos information online at ocgov.com/melloroos. Finally, if you received a RED property tax bill, you have prior year's property taxes due. Just go online to ocgov.com/octaxbill and input your address or APN, and you will be able to see if you have any delinquent property tax bills and then be able to view and print them.

If you have any questions, please e-mail a customer service agent at ttcinfo@ttc.ocgov.com or call (714) 834-3411 (9:00 am to 5:00 pm).

Thank you for "Going Green!"

County Department Highlights

Celebrate Christmas at the OC Zoo Dec. 12

Join OC Parks and the animals of the OC Zoo to celebrate the Christmas season on Saturday, December 12 from 10 a.m. to 4 p.m.

Christmas at the OC Zoo invites children to a special story time with Mrs. Claus and a visit with Jolly Old St. Nicholas. Guests will enjoy seasonally inspired crafts and a photo area. Watch the animals of the OC Zoo receive treat-filled gifts hidden inside of Christmas trees and inside gift boxes throughout the day. Reservations are not required to enjoy Christmas at the OC Zoo. The holiday activities are free with paid zoo admission.

While visiting the OC Zoo, shop for a Christmas tree or take a ride on Irvine Park Railroad's annual Christmas Train through Irvine Regional Park. The Christmas Train runs through December 23. Tickets must be purchased in advance.

The holidays are upon us so gather the family and ring in the winter season in celebration with OC Zoo and OC Parks!

December 12 – Christmas at the Zoo

10 a.m. – 4 p.m.
Location: OC Zoo (inside Irvine Regional Park)
1 Irvine Park Road, Orange, CA 92869
Cost: $2 per person, ages 2 & under are free
Parking: $5 per vehicle
Contact: (714) 973-6847
http://www.ocparks.com/oczoo/

HCA Employee Receives Recognition at the California State Association of Counties Conference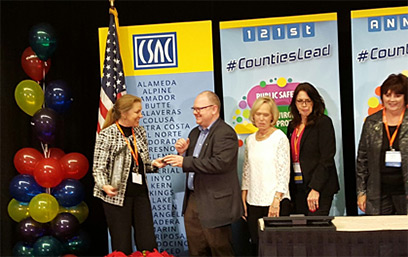 Kim Pearson of the HCA was acknowledged for receiving her credential from the CSAC Institute.

OC Moves

I-5 South County Construction Alert

Caltrans has temporarily reduced the speed limit to 55 mph in the construction zone of the I-5 South County Improvements Project to improve safety during construction. The 55 mph speed limit is in effect on the I-5 from San Juan Creek Road in San Juan Capistrano to Avenida Palizada in San Clemente.

Remember these safety tips while driving in construction zones:

Stay Alert and Minimize Distractions
Dedication your full attention to the roadway. Avoid changing the radio station, using a mobile phone, eating, or other distractions that can remove your concentration from the road.

Pay Attention to the Road
Watch brake lights on vehicles ahead; watch traffic around you and be prepared to react.

Don't Tailgate
Follow other vehicles at a safe distance; obey the Posted Speed Limit.

Expect the Unexpected
Other vehicles may slow, stop, or change lanes unexpectedly.

Weekend Closure

Additionally, there will be a weekend closure scheduled for the southbound I-5 on-ramp at Avenida Pico from 11 p.m. Friday, Dec. 4, to 5 a.m. Monday, Dec. 7 (subject to change based on weather conditions).

The closure will allow crews to complete drainage work, asphalt paving and striping, and reset concrete barriers. After this work is completed, traffic will shift to the new ramp that is being constructed adjacent to the existing ramp.

For more information visit octa.net/I-5Pico.

Healthcare Advisory

World AIDS Day

More than 60 million people have been infected with the HIV virus and approximately 30 million people have died of AIDS worldwide. In Orange County, 11,987 people have been diagnosed with HIV and using CDC criteria, 938 people are estimated to be infected but do not know it.

World AIDS Day was commemorated on December 1st. It was a day to reflect and remember those who have lost their lives and those who are still living with HIV disease. The 2015 theme for World AIDS Day is "Getting to Zero. Zero new HIV Infections. Zero Discrimination. Zero AIDS Related Deaths." Eliminating the stigma about HIV, encouraging everyone to know their HIV status, and making sure people living with HIV have access to medical care and medications are all important steps to "Getting to Zero" in Orange County.

Get tested to know your status. HIV testing is available throughout Orange County at these locations:

AIDS Services Foundation (Irvine): Walk-ins only on Tuesday, Wednesday, and Thursday from 3 p.m to 8 p.m.; and Saturday from 10 a.m. to 4 p.m. (949) 809-8775.
APAIT Health Center (Garden Grove): Walk-ins Monday and Wednesday 10 a.m. to 8 p.m.: Tuesday, Thursday, and Friday, 10 a.m. to 6 p.m. For additional hours, please make an appointment: (714) 636-1669.
Orange County Health Care Agency (Santa Ana): 17th Street Clinic. Walk-ins only on Monday, Wednesday, Thursday, and Friday, 8 a.m. to 4 p.m.; Tuesday 10 a.m. to 4 p.m. (714) 834-8787.
The LGBT Center OC (Santa Ana): Walk-Ins Tuesday and Thursday 1 p.m. to 4:30 p.m., Friday 10 a.m. to 5:30 p.m. Monday and Wednesday by appointment only 10:30 a.m. to 12 p.m. and 2 p.m. to 5:30 p.m. To make an appointment call: (714) 953-5428.
For more testing sites and information about HIV services in Orange County, call (714) 834-8711 or visit http://ochealthinfo.com/phs/about/dcepi/hiv/sites.

OC Pet of the Week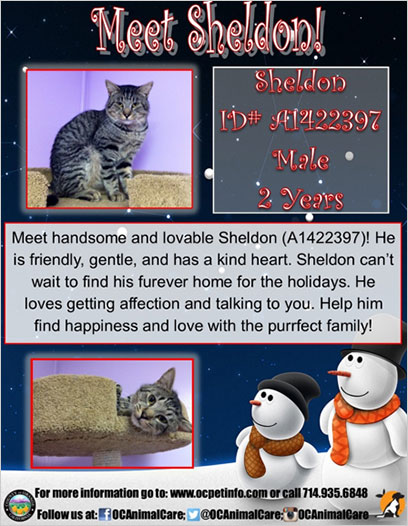 Click on the image above to view a PDF version.

Out and About South County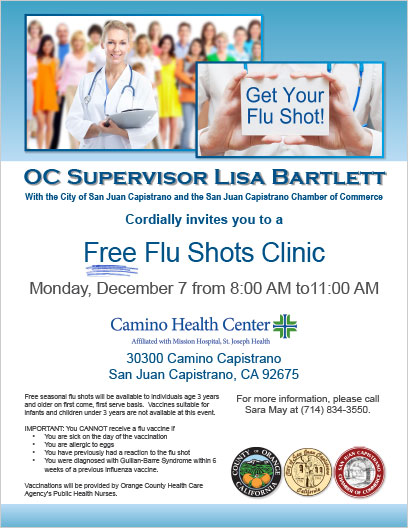 Click on the image above to view a PDF version.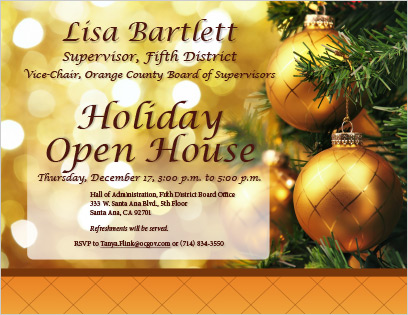 Click on the image above to view a PDF version.

Aliso Viejo: Operation Holiday Homework

Help make the holidays brighter for youth in the community by supporting the Aliso Viejo Branch of the Boys & Girls Club of Capistrano Valley's Operation Holiday Homework program. The annual program rewards club members for putting education first. Children earn points by remaining productive during the club's daily homework hour. Points can then be used to "shop" for Christmas gifts for their families. For some families, these gifts are the only presents under the tree. Community members can help by dropping off a new, unwrapped gift or gift card for any age at City Hall through December 10. For more information, please click here.

Dana Point: Holiday in the Harbor-Open House and Free Boat Rides with Santa

Join us to celebrate the holiday season on Friday December 4th from 4:30PM to 7:30PM at Mariner's Village/Alley and Dana Wharf. Santa will hear Christmas wishes and is available for photos. The three areas of the Harbor will host holiday activities geared to families and children. There are many fun activities planned, including photos with Santa, performances by various characters, holiday crafts, and people painting. For more information, please click here.

On Saturday December 5th from 10AM to 2PM, Santa and his helpers listen to Christmas wishes during this 20-minute harbor cruise. Bring your camera and enjoy the tradition Dana Wharf has offered families for a generation. For more information, please click here.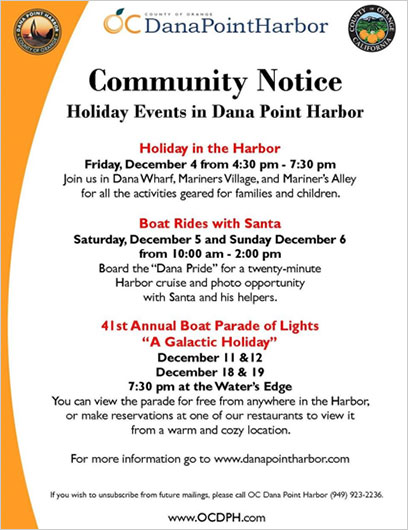 Click on the image above to view a PDF version.

Laguna Beach: Sawdust Festival/Winter Fantasy Art Show

The Sawdust Festival grounds will be transformed into a winter wonderland where 175 artists create, display and sell original create, display and sell original creations over the course of five weekends. The Winter Fantasy offers the most unique holiday shopping in all of Southern California. Experience unique artwork by 175 artists, live holiday entertainment, great outdoor cafes, art classes and demonstrations, petting zoo, Santa and much, much more! Come join us this weekend December 5th and 6th from 10AM to 6PM. For more information, please click here.

Laguna Niguel: Letters to Santa

Would you like to receive a letter from Santa? Santa has asked us to help him by collecting letters in our "North Pole" mailbox in front of the Crown Valley Park office. Santa will be able to write one return letter per family at one address in Laguna Niguel. For more information, please click here.
Lake Forest: Share the Holiday Spirit with the Lake Forest U.S. Marine Corps Unit and their Families

The Support Committee is planning to make the holidays special for the Marines of the 1st Law Enforcement Battalion and their families. Now until December 10th, the committee is taking monetary donations to fund Christmas meals for 75 families along with fun activities. There will also be a collection drive for toys, books and canned goods, for more information click here.

Mission Viejo: Santa's Workshop

Along with enjoying Santa's grand arrival and celebration at the Mission Viejo Civic Center on Sunday December 6th from 6PM to 8PM, make plans to visit jolly old St. Nick in his workshop from December 3rd to 21st. With Mrs. Claus and some elves in tow, Santa will greet visitors, spread holiday cheer and pose for photos. For more information, please click here.

In an effort to enhance the community, the City of Mission Viejo is seeking input from residents, businesses and visitors alike about their interest and participation in arts and culture. Click here to take the poll.

San Clemente: Santa's Village by the Sea

The City of San Clemente and Casa Romantica brings you a full day of activities, treats and music on Saturday December 5th from 2PM to 5PM at the Community Center. The day begins with games, cookie decorating, face paint and a tree lighting at 5:15PM. The fun doesn't stop there, stroll down the lane to Casa Romantica for cookies, hot chocolate, and more holiday cheer! For more information, please click here.

The Ecology Center is hosting a guided tour of their property on Saturday, December 5th, from 10AM to 11AM. Learn how to integrate sustainable solutions into your life and home! Free for members, $5 suggested donation for non-members. For more information and to RSVP, click here.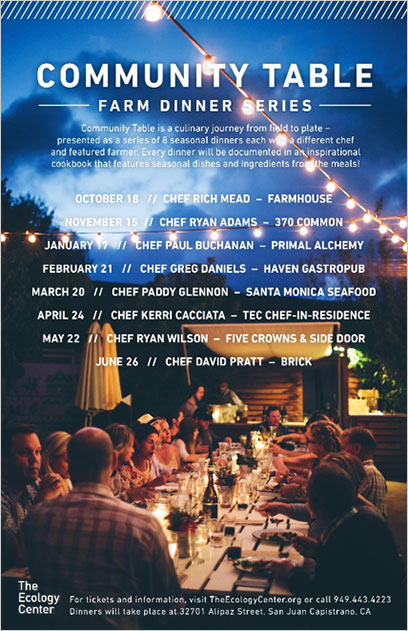 Last but not least this week I:

Hosted a water legislative meeting in preparation for the South County Water Workshop.
Participated in a "Celebrate Ladera" planning meeting.
Toured the Lyon Estate in Coto de Caza.
Gave welcoming remarks at the Fifth District Conditions of Children Report Community Forum.
Attended the California State Association of Counties (CSAC) Conference in Monterey.
Attended an Urban Counties Caucus meeting.
Recognized the anniversary of my first year in office!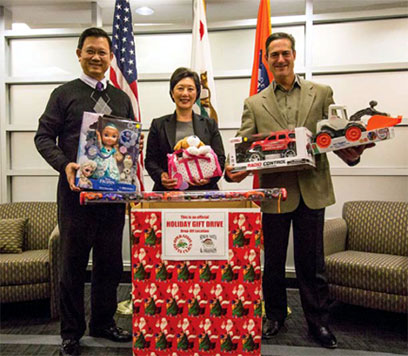 Me with Supervisor Do and Chairman Spitzer, encouraging County employees to donate a toy to Operation Santa Claus or gifts to Senior Santa and Friends.

My Staff:

Toured the Second Harvest Food Bank facility.
Presented certificates of recognition to the honorees at the Laguna Niguel Chamber of Commerce Annual Membership Meeting and Awards Breakfast.
Attended the Fifth District Conditions of Children Community Forum.
Toured the Lyon Estate in Coto de Caza.
Attended a CalOptima Board meeting.
Toured the Working Wardrobes facility.
Presented a certificate of recognition in honor of the ribbon cutting ceremony for Raising Cane's in Aliso Viejo.
Attended the Manufactured Housing Education Trust (MHET)32nd Annual Holiday Breakfast.
Attended the Water Advisor Committee of Orange meeting.
Attended the Orange County Business Council (OCBC) Advocacy and Government meeting.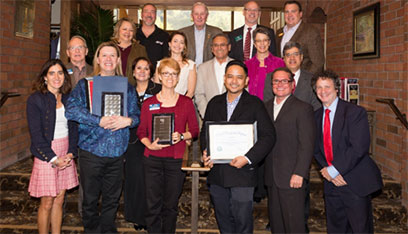 Laguna Niguel Chamber of Commerce Annual Membership Meeting & Awards Breakfast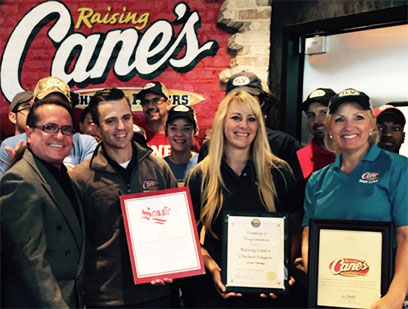 Raising Canes Ribbon Cutting in Aliso Viejo



For questions or comments regarding Supervisor Bartlett's E-Newsletter please contact the Supervisor's office staff at: (714) 834-3550 or Sara.May@ocgov.com.