County Connections

Holiday Open House

Please join me and my staff on December 17th for the Fifth District Office Holiday Open House! Come enjoy light refreshments, friendly conversation, and a festive atmosphere to celebrate this holiday season. The event will be held in the Fifth District Office, located on the 5th floor of the Hall of Administration, from 3:00 P.M. to 5:00 P.M. See the flyer below for details. I hope to see you there!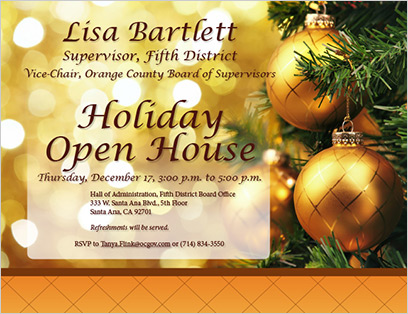 Click on the image above to view a PDF version.

Board Awards Contract for Thomas F. Riley Terminal Improvements at JWA

At the most recent Board of Supervisors meeting, the Board took action and awarded a multi-year design-build contract to Swinerton Builders for $101,837,386 to complete a series of improvements to Terminals A and B at John Wayne Airport.

The upgrades focus on safety, code compliance, comfort, convenience, and aesthetics to bring the airport's two older terminals in line with similar enhancements designed into Terminal C and Parking Structure C, which opened in 2011. Terminals A and B which will see the improvements, opened in 1990.

Construction is expected to begin in 2016 and will continue through 2019. The work includes carpet replacement, lighting renovation, restroom refurbishment, and seismic retrofitting for the 25 year old facilities. The planned improvements will enhance efficiency, provide tenants and visitors with a uniform level of quality and service through Riley Terminals A, B, and C and extend the useful life of the terminal. Funding for the project is included in the 2015-2016 Airport Budget with the funds coming from passenger fees and operating funds. The project will be completed under the leadership of new John Wayne Airport Director Barry Rondinella.

The OC Armory Emergency Shelter Program Seeks Volunteers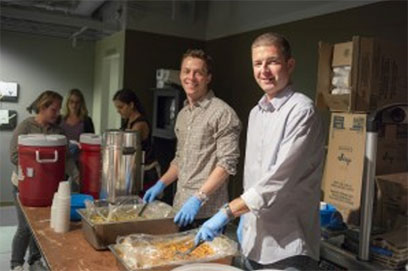 With the cold weather upon us, the Orange County Armory Shelter opened on November 14 and will remain open through April 15, 2016. The Armory Program provides up to 400 beds per night for the homeless in Fullerton and Santa Ana. Volunteers are needed 7 days per week to help both in the evening (5-8 PM) and morning hours (5-7 AM). Volunteer activities include assisting with set-up, clean up, passing out meals and donations.

To learn more about volunteering for the Armories, click here.

Tribute to the San Bernardino Victims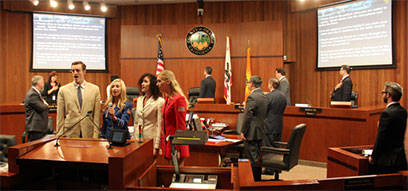 The Bob Hope USO Tribute to the Victims of the San Bernardino Tragedy.
This week's Board meeting opened up with a tribute and County-wide moment of silence to the San Bernardino victims. It is with heavy hearts that we continue to honor those who have been affected by the tragedy. In a show of solidarity and support, many of the surrounding Counties, including Orange County, are putting forth efforts to help in any way through this difficult time.

Apply to Serve on the Orange County Grand Jury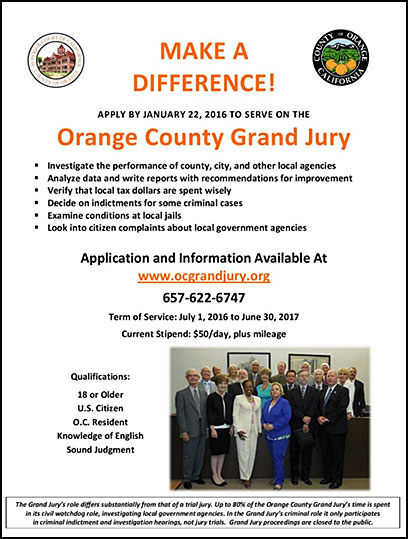 County Department Highlights

OC Waste & Recycling Segunda Deshecha Habitat Restoration Progress Report

The Segunda Deshecha Habitat Restoration project at Prima Deshecha landfill kicked off in August and is on track for completion in Spring 2016. The project will restore 90 acres of Coastal Sage Scrub habitat in a permanent conservation area. Removal of invasive weeds will make way for native species, which will be planted in the coming phase.

This project is a challenging one for the contractor, who has 90 acres of steep, rugged terrain to restore. While the project is in a remote area of the landfill, it is an area that is visible by neighbors in the Talega Community.

Erosion control measures are in place as the contractor digs trenches to install the main irrigation lines. It is a 15-minute ride up and down landfill dirt access roads to get from the landfill administration office to the project site.

Once on site, the contractor has to traverse deep ravines and sharp inclines to install the irrigation system. OCWR operations staff at Prima have been working diligently to maintain the access the project site and to repair to the landfill perimeter fencing. Hikers and mountain bikers often take the landfill service roads for public trails, and use them despite the danger to themselves and the project habitat.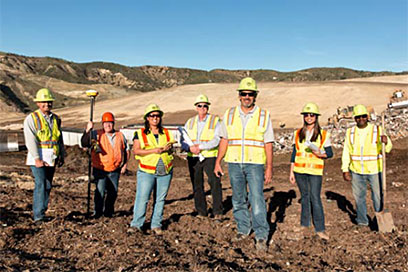 OC Parks OC Zoo

Celebrate Christmas at the OC Zoo Dec. 12

Join OC Parks and the animals of the OC Zoo to celebrate the Christmas season on Saturday, December 12 from 10 a.m. to 4 p.m.

Christmas at the OC Zoo invites children to a special story time with Mrs. Claus and a visit with Jolly Old St. Nicholas. Guests will enjoy seasonally inspired crafts and a photo area. Watch the animals of the OC Zoo receive treat-filled gifts hidden inside of Christmas trees and inside gift boxes throughout the day. Reservations are not required to enjoy Christmas at the OC Zoo. The holiday activities are free with paid zoo admission.

While visiting the OC Zoo, shop for a Christmas tree or take a ride on Irvine Park Railroad's annual Christmas Train through Irvine Regional Park. The Christmas Train runs through December 23. Tickets must be purchased in advance.

The holidays are upon us so gather the family and ring in the winter season in celebration with OC Zoo and OC Parks!

OC Superior Court

New Case Management System for Family and Juvenile Cases

This week the Orange County Superior Court successfully launched the use of a new case management system to manage family and juvenile cases. It is the latest step in the on-going effort to move to an all-electronic court record that provides better service at reduced cost. All-electronic court records are already in use for traffic, criminal, civil, probate, and mental health cases; as such, the Court has reaped vast rewards in organizational strengths and efficiencies.

The new system eliminates the use of paper files and automates several functions that have been done manually in the past. This allows for greater efficiency and enables multiple parties to view the document at the same time. The system will also allow documents filed by justice partners, such as the District Attorney and the Social Services Agency, and lawyers to be filed electronically.

This implementation was a multi-year effort and came to fruition through a collaboration of multiple disciplines. Orange County now joins other California trial courts, including San Diejo, Monterey, Napa, Santa Clara, Fresno, San Luis Obispo, Kings, Santa Barbara, and Merced counties, that use this updated system.

Information about existing cases was converted from the old system to maintain the continuity of the records. The conversion included over 1.1 million cases, over 4.5 million parties and attorneys, almost 11.7 million documents, almost 32 million case events, and over 4.3 million future hearings.

OC Moves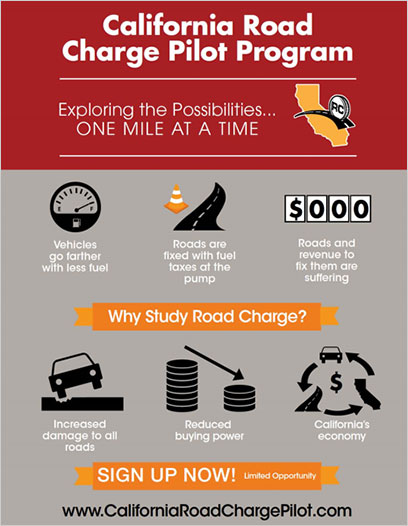 Click on the image above to view a PDF version.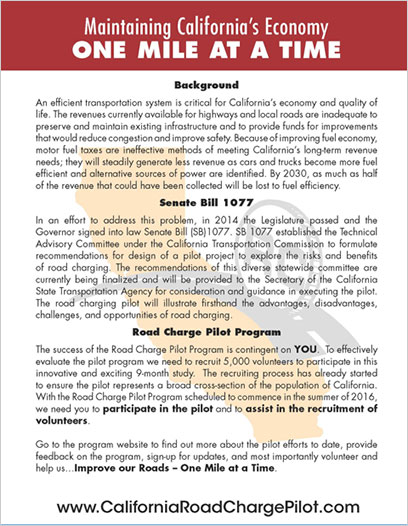 Click on the image above to view a PDF version.

OC Animal Care

Bring your pet to OC Animal Care for a Photo with Santa! All participants will receive a festive holiday frame and a digital copy to share with family and friends. All donations received will benefit shelter pets! Thank you Noble Friends Foundation for OC Animal Care for all of their support! Visit http://www.noblefriendsfoundation.org/ to learn more about how they help our shelter!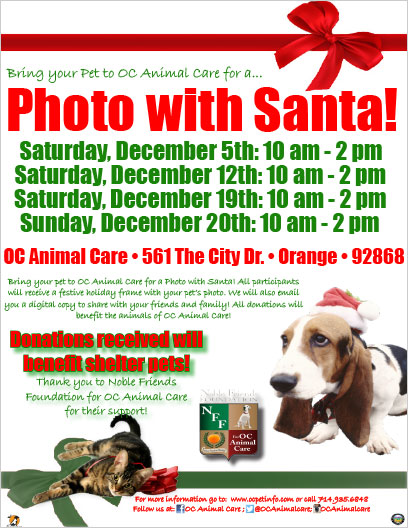 Click on the image above to view a PDF version.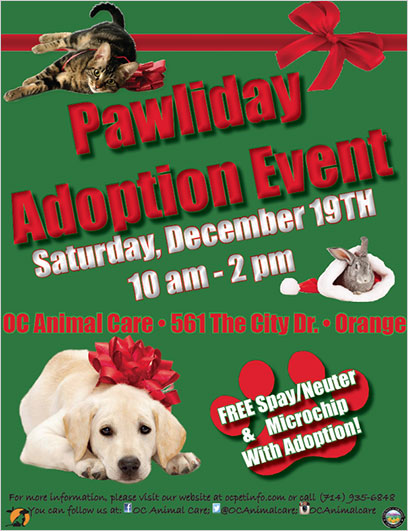 Click on the image above to view a PDF version.

OC Pet of the Week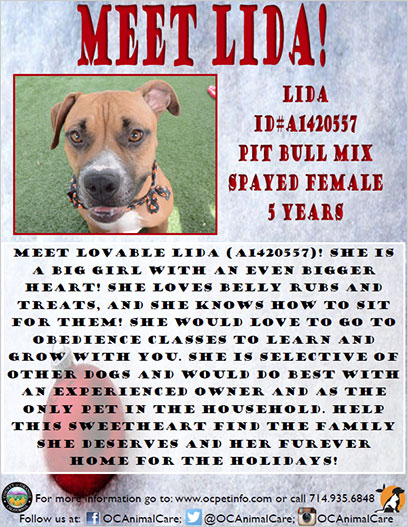 Click on the image above to view a PDF version.

Out and About South County

Dana Point: 41st Annual Dana Point Harbor Boat Ride Parade of Lights

Boaters from all around Orange County will decorate their boats and vie for awards on Friday December 11th at 7:30pm. Be part of the parade and enter your own boat. You can also view the parade for free from anywhere in the Harbor. Come on down and enjoy the sights and sounds of the season. For more information, please click here.

Laguna Beach: Sawdust Festival/Winter Fantasy Art Show

The Sawdust Festival grounds will be transformed into a winter wonderland where 175 artists create, display and sell original create, display and sell original creations over the course of five weekends. The Winter Fantasy offers the most unique holiday shopping in all of Southern California. Experience unique artwork by 175 artists, live holiday entertainment, great outdoor cafes, art classes and demonstrations, petting zoo, Santa and much, much more! Come join us this weekend December 12th and 13th from 10AM to 6PM. For more information, please click here.

Laguna Niguel: Holiday Parade "California Dreamin"

"California Dreamin' on such a winters day," what a way to kick off the holiday season by coming to see the parade! View over 100 exciting entries including guests, youth groups, equestrian units, exotic cars, military members, local heroes, and fun attractions! No hometown is complete without a dazzling entrance by Santa Claus! Get there early on Saturday December 12th, starting at 10am on Crown Valley between Moulton and Niguel Road. This event is a Southern California tradition with more than 3,000 participants and an anticipated 10,000 people. Parade watchers are encouraged to bring chairs and take advantage of the free shuttle. For more information, please click here.

Lake Forest: Share the Holiday Spirit with the Lake Forest U.S. Marine Corps Unit and their Families

The Support Committee is planning to make the holidays special for the Marines of the 1st Law Enforcement Battalion and their families. Now until December 13th, the committee is taking monetary donations to fund Christmas meals for 75 families along with fun activities. There will also be a collection drive for toys, books and canned goods, for more information click here.
Mission Viejo: Santa's Workshop

Along with enjoying Santa's grand arrival and celebration at the Mission Viejo Civic Center on Sunday December 6th from 6PM to 8PM, make plans to visit jolly old St. Nick in his workshop from December 3rd to 21st. With Mrs. Claus and some elves in tow, Santa will greet visitors, spread holiday cheer and pose for photos. For more information, please click here.

San Clemente: Toy Drive for Adopted Marine Corps Unit

The Marine Monument at Park Semper Fi is collecting Christmas toys for HMLA-469, San Clemente's adopted Marine Corps Unit, to be distributed at the MHLA-469 "Breakfast with Santa" event on December 23rd. See the flyer below for the toy drop-off locations, along with additional information.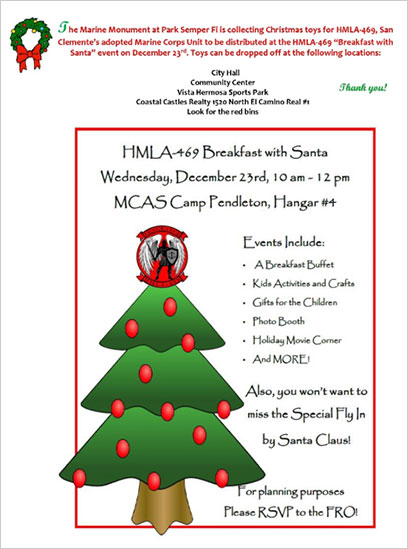 Last but not least this week I:

Presented a certificate to honor the Mount of Olives Church Children's Ministry Building Grand Opening. Please click here to view photos.
Unveiled the plaque at the Dana Point Historical Society's Richard Henry Dana Bicentennial Plaque Dedication Ceremony. Please click here to view photos.
Held a free flu shot clinic at Camino Health Center in San Juan Capistrano.
Participated in an Orange County Transportation Authority (OCTA) Regional Planning and Highways meeting.
Participated in the Board of Supervisor meeting.
Participated in the Local Agency Formation Commission (LAFCO) Board meeting.
Participated in several Transportation Corridor Authority (TCA) meetings, including: Executive Committee, San Juan Hills Board, and Foothill/Eastern Board meetings.
Spoke at the Orangewood Children and Family Center's 30th Anniversary Celebration.
Attended the Orange County Business Council's (OCBC) Holiday Reception.
Participated in the California Transportation Commission's Technical Road Charge Advisory Committee meeting.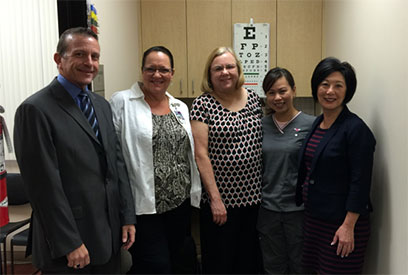 David Souleles, Director of Public Health Services, Public Health Nurses and Supervisor Bartlett at the Free Flu Shot Event in San Juan Capistrano.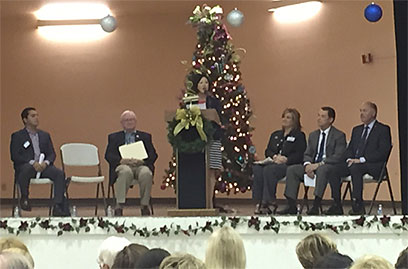 Speaking at the Orangewood Children and Families 30th Anniversary Celebration.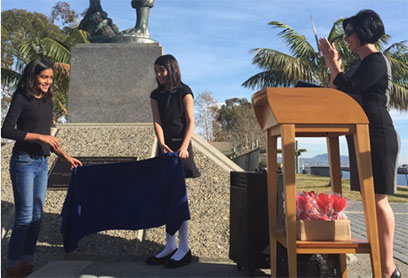 At the Dana Bicentennial Plaque Dedication in Dana Point Harbor.

My Staff:

Presented a certificate to honor the Grand Opening of Bowl of Heaven in Foothill Ranch.
Took a tour of the Western Youth Services facility.
Attended the Project V OCTA Workshop.
Attended the OCBC /ACCOC / BIA Holiday Reception.
Presented a certificate in honor of the Tony Pepperoni Ribbon Cutting in Aliso Viejo.
Presented certificates at the Orange County Association of Realtor's Women's Council of Realtors Installation of Officers Ceremony.
Attended the Audit Oversight Committee meeting.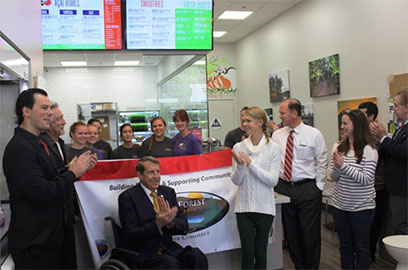 Bowl of Heaven Ribbon Cutting in Lake Forest.

South County Elected Officials in the Community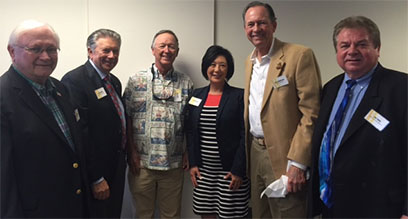 Transportation Corridor Agencies Annual Board Member Luncheon with Former Fourth District Supervisor Bill Steiner, Former Fifth District Supervisor Tom Wilson and former TCA Board Members Jim Dahl (San Clemente), Joe Anderson (San Clemente) and Jim Thor (Rancho Santa Margarita).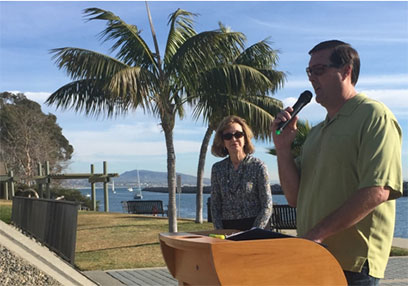 Assemblyman Bill Brough at the Dana Bicentennial Plaque Dedication.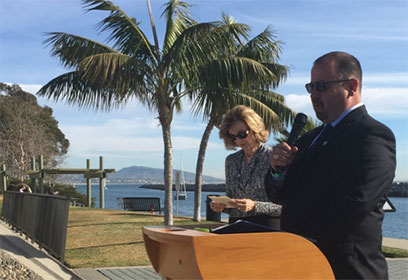 Dana Point Mayor John Tomlinson at Dana Bicentennial Plaque Dedication.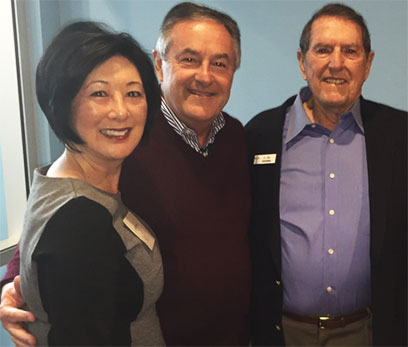 With Pastor John Steward and Col. Bill Kogerman at Mount of Olives Kid City Children's Ministry Building Grand Opening.

For questions or comments regarding Supervisor Bartlett's E-Newsletter please contact the Supervisor's office staff at: (714) 834-3550 or Sara.May@ocgov.com.