Board of Supervisors Update

Certification of Election Results 1/27/15 1st Supervisorial District Election

The resignation of Supervisor Janet Nguyen, effective November 25, 2014, resulted in a vacancy in the office of Orange County Supervisor, First District. In a closely watched election, Andrew Do prevailed over former Senator Lou Correa.

Pursuant to the Orange County Charter approved by the voters on March 5, 2002 (Measure V) and the Orange County Codified Ordinance Section 1-2-10, the Board of Supervisors was required to call a special election within three business days of the vacancy, to be held on a Tuesday not less than 56 days nor more than 70 days after the vacancy occurred.

The election was held on January 27, 2015. The charter provides that the individual who receives the highest number of votes at this election will fill the unexpired term. There is no provision for a run-off election.

Total turnout from the election was 22.6% with 19% of voters casting their ballot by mail and 3.5% of voters voting in their polling place. In the 2007 First District Special Election overall turnout was 22.4%, vote-by-mail voting was 17.3% and polling place voting was 5.1%.

On Tuesday, the Board voted to unanimously to formally receive and file the certification of the special election. I would like to thank Neal Kelley, the Registrar of Voters, for his dedication and hard work in overseeing a transparent and fair election process.

I look forward to serving with Supervisor Do and working collaboratively with all of my colleagues so that we can achieve many things for the residents of Orange County, the sixth largest county in America. Please click here to learn more and here to view the results.

Legislative Platform Update

In November, prior to my swearing-in, the Board of Supervisors approved the Orange County Legislative Platform for 2015. This document serves as a guide for our involvement at the State and Federal levels of government.

At that time, the following six legislative proposals were adopted and presented for ratification:

Funding Equity for Orange County


Regional Housing Needs Assessment (RHNA) Reform


Amendments to Public Works Alternative Procurement Methods: Design-Build, Job Order Contracts (JOC) and Construction Manager At-Risk (CMAR)


Authorize the Fair Political Practices Commission (FPPC) to Contract with Orange County for Enforcement of the County's Campaign Finance Reform Ordinance


Limiting Cost of Living Adjustments – Orange County Employees Retirement System


Orange County Transportation Authority Public Member Term Limits

On Tuesday, the Board voted unanimously to remove the last two proposals from the Orange County Platform for this year and focus on pursuing the first four proposals.

As stated, this document serves as a guideline for the County, but it can be amended if needed throughout the year. For more information on the platform please click here.

Keeping Orange County Moving

I-5 South County Improvement Project Update

Daytime Lane Closures on Southbound I-5 Freeway

Crews will close two lanes on the southbound I-5 freeway from just south of the Camino Capistrano exit to just north of the PCH/ Camino Las Ramblas exit. Lane closures will take place from 5:00 a.m. to 1:00 p.m., and will continue Monday through Friday for three weeks.

These closures are necessary for crews to position construction equipment in order to perform pile driving to construct the foundation for a retaining wall to accommodate the future widening of the freeway as part of the I-5 South County Improvement Project.

Drivers should expect delays on the southbound I-5 freeway during the closures and allow extra time to reach their destinations.

For further information visit: www.octa.net/5southCountyDetourmap.

Provide Your Feedback About Measure M

The Measure M Taxpayer Oversight Committee is conducting the Measure M 24th Annual Public Hearing. To provide feedback about OCTA's administration of Measure M, please attend the hearing or complete an online survey.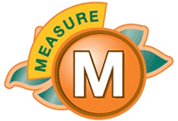 Event details:
Tuesday, February 10, 2015
6:00 p.m.
OCTA Headquarters
600 S. Main St., Orange
Google Maps





About Measure M
In 1990, Orange County voters approved Measure M, a 20-year program for freeway, street, road and transit improvements funded by a half-cent sales tax. In 2006, voters approved the extension of Measure M for another 30 years.

The Measure M Taxpayer Oversight Committee reviews OCTA's administration of Measure M every year to make sure the spirit and the letter of Measure M are fulfilled.

Healthcare Advisory

CalOptima Clears Major Hurdle Toward Launching New Program for Vulnerable Seniors

As a newly sworn-in CalOptima Boardmember, I pleased to report that after completing a rigorous audit, the Centers for Medicare and Medicaid Services (CMS) notified CalOptima that the sanction on OneCare is lifted, effective immediately. CMS identified major improvements in OneCare, a Medicare Advantage Special Needs Plan that currently serves about 14,000 Orange County residents eligible for Medicare and Medi-Cal.

Clearing this major hurdle is essential to CalOptima's proposed launch of a Cal MediConnect plan, a pilot program designed to combine and simplify Medicare and Medi-Cal benefits for vulnerable seniors and people with disabilities. CalOptima must undergo a final readiness review before offering the new managed care program this summer.

This year marks the first time, since former Supervisor Tom Wilson, the fabulous 5th District has served on the CalOptima Board of Directors. As a Boardmember, I look forward to building a strong collaboration with the CalOptima health networks, to ensure that our constituents have access to the best possible safety-net program available.

Safety First

OCFA Smoke Alarm Program

Did you know that about half of the residential fires that occur in the United States happen in homes without working smoke alarms? One of the best ways to save lives and protect your home is to make sure it has functioning, properly installed smoke alarms.

Through a partnership with cities, the Orange County Fire Authority (OCFA) is promoting OCFA's Smoke Alarm Program.

The program is meant to educate the community on proper smoke alarm installation and how to routinely inspect your home's smoke alarms, please view the "Install, Inspect, Protect" presentation. As part of the program, if OCFA responds to a fire, the department will inspect the premises to ensure smoke alarms are working and replace batteries - if needed - as well as nonfunctioning smoke alarms free of charge.

In addition, if you want a smoke alarm installed in your house and need more information about proper installation, simply click here. After you fill out the request information, an OCFA representative will provide you with a free smoke alarm(s) and will install it for free.

The program is primarily geared toward at-risk households that may have a greater need for assistance (such as frail, disabled or elderly residents), but it is designed to ensure the entire community is served as funds are available.

County Connections

Two County Department Heads Announce Retirement Plans

Two longtime County executives who began their government careers in the same year at the same department will retire in February: John Wayne Airport Director Alan Murphy and Clerk of the Board of Supervisors Susan Novak.

Alan Murphy began his career with the County in 1983 as an Accountant I in the Auditor- Controller's office. He became an Executive Assistant to Supervisor Thomas F. Riley in 1985, and moved to John Wayne Airport (JWA) as the Chief of Special Projects in 1986. He was named Director of JWA in 2000. During his tenure at the Airport, Murphy was directly involved in the management and oversight of multiple projects and initiatives, including: construction and operation of one of the first in-line baggage screening systems in the country (as a result of 9/11); the 2003 and 2014 extensions of the Settlement Agreement (and associated environmental reviews); construction of the Thomas F. Riley Terminal (Terminals A and B – opening in 1990 – and Terminal C – opening in 2011), including Orange County's first US Customs and Border Protection Federal Inspection Services area; and growth from roughly 4 million annual passengers in 1986 to a high of 9.9 million annual passengers in 2007.

Susan Novak joined the County in 1983 as an Accountant Auditor I in the Auditor-Controller's office. She held staff analyst and management positions in the County's former Administrative Office and Social Services Agency before being named Chief Deputy of the Clerk of the Board of Supervisors in 1997 and Clerk of the Board in 2012. As Clerk of the Board, Novak improved public access to current agenda records by providing them in a format compatible with tablet devices; implemented new assessment appeal processes for more efficient hearing scheduling and a reduction of the annual backlog; and enabled online access to five years of historical agenda records.

The Clerk of the Board is selected by and reports to the Board of Supervisors. Human Resource Services is currently accepting online applications for the position. The Director of John Wayne Airport is selected by the Board and reports to the County Executive Officer.

On behalf of the County, I would like to thank Alan Murphy and Susan Novak for their public service.

For more information please click here.

Clerk-Recorder to Offer Expanded Saturday Hours for Upcoming Valentine's Day

Orange County Clerk-Recorder Hugh Nguyen is making it easier for couples to get married this Valentine's Day. The Old County Courthouse in Santa Ana and the department's branch offices in Fullerton and Laguna Hills will be open to the public from 8:00 am to 3:00 pm on Saturday, February 14, 2015.

Appointments are filling up fast for couples wishing to be married on Valentine's Day at the Clerk Recorder's offices. Couples are encouraged to make an appointment for a civil wedding ceremony due to the popularity of this day. Appointments can be made by visiting our website at www.ocrecorder.com and using the online appointment system. Walk-ins will be accommodated based on availability of ceremony rooms.

Valentine's Day continues to be one of the most popular days of the year for civil marriage ceremonies. Last year, a record number of couples – 266 – were married by Clerk-Recorder Hugh Nguyen and his deputy commissioners of marriage – breaking the long standing Valentine's Day record of 173 couples wed in 1997. The department also issued 310 marriage licenses.

Couples may obtain a public marriage license for $61 or a confidential marriage license for $66.The cost for a civil marriage ceremony is only $28. The Old County Courthouse will be offering marriage licenses, civil marriage ceremonies and passport application services only. Copies of property records, birth, death and marriage certificates will be available at the Fullerton and Laguna Hills branch offices, as well as marriage licenses and civil marriage ceremonies. Please note that the Laguna Hills branch office will also be offering passport application services. Free parking will be available at all three locations.

For more information about the Clerk-Recorder Department or the services provided by the department, please visit www.ocrecorder.com or contact us at (714) 834-2500.

Furry Friends

Pet of the Week

This week's featured Pet of the Week is "China", a four year- old, domestic, female cat. She is calm, quiet, a good listener, and loves to cuddle! If you are interested in helping China find a forever home please click here. For information about dogs, cats, and other animals available through the County's Adopt-A-Pet program, please click here.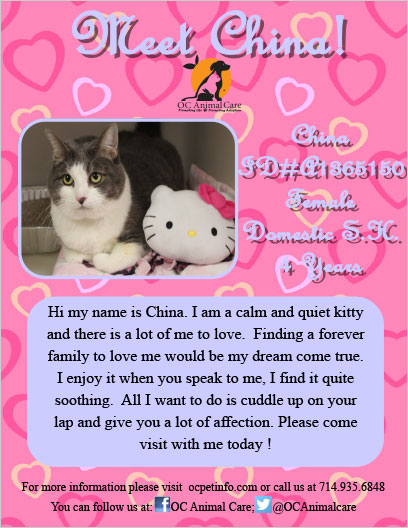 Click on the image above to view a PDF version.

Adopt a Shelter Rabbit Month

OC Animal Care is very excited about a great opportunity coming up in the month of February, adopt a Shelter Rabbit Month. During the Month of February OC Animal Care will be offering FREE Spay/Neuter & Microchip on all rabbit adoptions. Hop down to OC Animal Care during February to check out all of the cuddly cuties! With all of the adorable rabbits available for adoption, you'll be sure to find some bunny to love! Please click here for more information.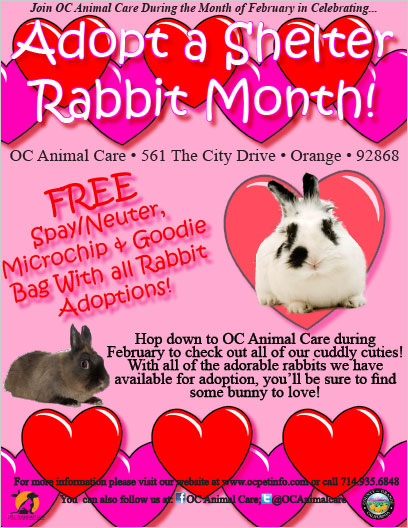 Click on the image above to view a PDF version.

Out and About South County

Aliso Viejo Library Blood Drive Feb. 9

The American Red Cross will host a blood drive at the Aliso Viejo Library from noon to 6:15 p.m. on Monday, February 9 at 1 Journey.

Folks who donate blood will receive a discounted ticket offer to an Anaheim Ducks game at the Honda Center and an LA Kings game at the Staples Center.

To schedule an appointment or for more information, register online at RedCrossBlood.org and use sponsor code avlibrary or contact Ryan Bateman at 714-351-9962 or ryan.bateman@redcross.org.

Last but not least this week I:

Participated in the Orange County Transportation Authority's Regional Planning and Highways Committee and Environmental Oversight Committee meetings.
Delivered the invocation at the swearing-in ceremony for newly elected First District Supervisor Andrew Do.
Adjourned the Board of Supervisors meeting in memory Col. Paul B. Henley of San Clemente.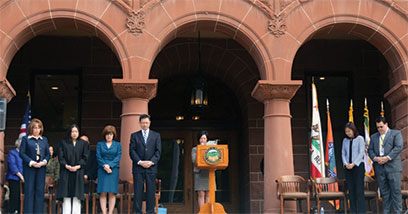 Interviewed with the "The Log" on the Dana Point Harbor Revitalization project.
Presented at the Orange County Public Affairs Association luncheon.
Participated in the CalOptima Board of Directors meeting.
Toured the Orange County Fire Authority facility.
Presented to the Laguna Niguel and Aliso Viejo Chambers of Commerce.

My Staff:

Attended the Saddleback Memorial Care Town Hall.
Presented a certificate of recognition in honor of the ribbon cutting ceremony for Philly's Best in the City of San Clemente.
Presented a certificate of recognition in honor of the ribbon cutting ceremony for Mariners Mission Bell Travel Services in the City of Rancho Santa Margarita.
Met with Chair Scott Larson, Vice Chair Tom Burnham, and Executive Director Karen Roper of the Commission to End Homelessness to discuss the issue of homelessness in South County.