County Connections

Happy Holidays!

I am very excited to present you with this special holiday edition newsletter! It is full of helpful resources, from holiday travel tips to exciting local events for the whole family. Whether you plan to travel or stay home in sunny South County, I hope that you stay safe while surrounded by loved ones and embrace the magic of this season.

This is a special time of year to cherish the company of friends and family, as well as to reflect on the year past. I encourage you all to enjoy the festivities and merriment that the holidays bring, especially in the midst of the darker times we have experienced both locally and abroad. During the holidays, peace on earth and goodwill are common themes; let us continue to spread these messages into the New Year and beyond.

I wish everyone in Orange County a joyous and safe holiday!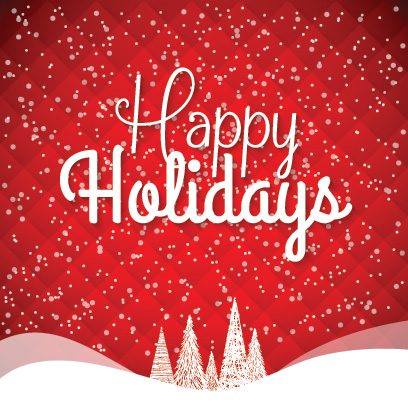 County Department Highlights

John Wayne Airport Announces Winners Of 6th Annual Student Art Contest

John Wayne Airport (JWA) has announced the winners of its 26th annual Student Art Contest themed "Airsports in Harmony with Nature." Bentie Feng and Ye Won Koo, both from Irvine, were recognized as Grand Prize winners in this year's contest. Their artwork, along with that of other winners, is on exhibit now through January 8, 2016, on the Arrival (lower) Level, adjacent to Baggage Carousels 1 and 4, in the Thomas F. Riley Terminal.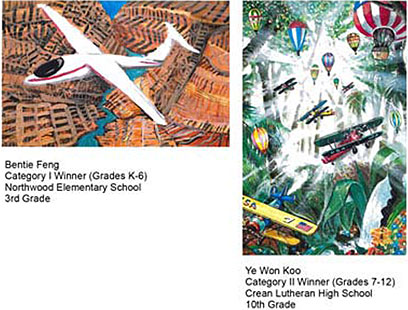 JWA implemented its annual Student Art Contest in 1990 as part of the opening of the Thomas F. Riley Terminal. In 1996, the Airport began coordinating its art contest with the International Aviation Art Contest sponsored by the National Aeronautic Association, National Association of State Aviation Officials, National Aeronautics and Space Administration and the Federal Aviation Administration, in cooperation with the Fédération Aéronautique Internationale.

The Airport also maintains an ongoing Airport Arts Program that has presented a series of museum quality exhibitions in the Vi Smith Concourse Gallery and featured numerous Orange County artists through the Community Focus Space Program. Local Orange County art and cultural venues are also featured in the ORANGE COUNTY: Destination Art & Culture exhibit.

To learn more about JWA's annual Student Art Contest and for more information about the Airport Arts program, visit http://www.ocair.com/terminal/artexhibits.aspx.

Public Works

OC Public Works Prepares for El Nino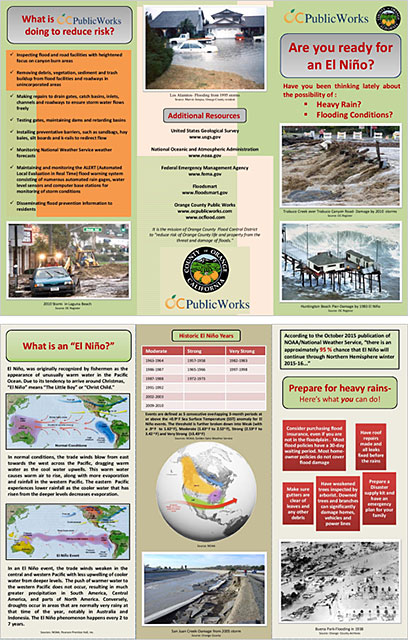 To learn more, visit www.ocelnino.com.

Safety First

Enjoy a Safe Holiday Season
Holiday safety is an issue that burns brightest from late November to mid-January, the time when families gather, parties are scheduled and travel spikes. By taking some basic precautions, you can ensure your whole family remains safe and injury-free throughout the season.

Candles and Fireplaces
About 2,200 deaths were caused by fires, burns and other fire-related injuries in 2013, according to Injury Facts 2015, and 12% of home candle fires occur in December, the National Fire Protection Association reports. Increased use of candles and fireplaces, combined with an increase in the amount of combustible, seasonal decorations present in many homes means more risk for fire.

Never leave burning candles unattended or sleep in a room with a lit candle
Keep candles out of reach of children
Make sure candles are on stable surfaces
Don't burn candles near trees, curtains or any other flammable items
Don't burn trees, wreaths or wrapping paper in the fireplace
Check and clean the chimney and fireplace area at least once a year
Decorating
Putting up decorations is one of the best ways to get in a holiday mood, however an estimated 15,000 injuries involving holiday decorating were seen in emergency rooms during the 2012 season.
"Angel hair" is made from spun glass, and it can irritate your eyes and skin; always wear gloves when handling it, or substitute non-flammable cotton
When spraying artificial snow on windows or other surfaces, be sure to follow directions carefully; these sprays can irritate your lungs if inhaled
Decorate the tree with your kids in mind; move ornaments that are breakable or have metal hooks toward the top
Always use the proper step ladder; don't stand on chairs or other furniture
Lights are among the best parts of holiday decorating; make sure there are no exposed or frayed wires, loose connections or broken sockets
Plants can spruce up your holiday decorating, but keep those that may be poisonous (including some Poinsettias) out of reach of children or pets; the national Poison Control Center can be reached at (800) 222-1222

Gift Giving

We've all heard it's important when choosing toys for infants or small children to avoid small parts that can be pulled or broken off and might prove to be a choking hazard. Here are some additional gift-related safety tips you might not have heard about:


OC Moves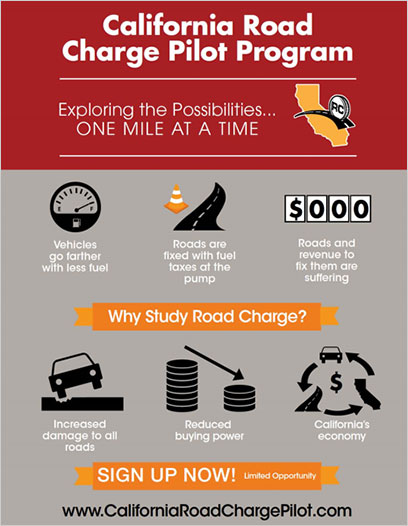 Click on the image above to view a PDF version.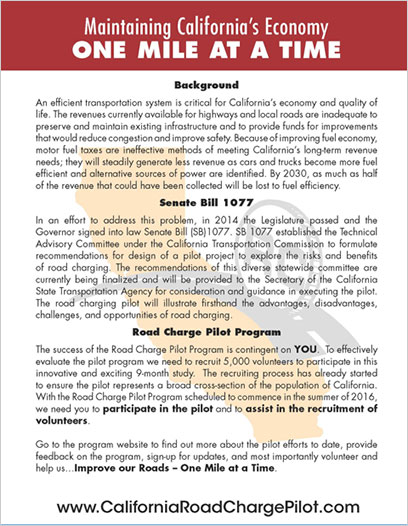 Click on the image above to view a PDF version.

John Wayne Airport December Holiday Travel Tips

John Wayne Airport anticipates a busier-than-normal travel period between December 18, 2015 and January 2, 2016. Last year, more than 280,000 passengers traveled through JWA during this period. To ensure a smooth visit to the Airport, passengers are encouraged to plan ahead and arrive at the Airport 90 minutes to two hours prior to departure time for domestic flights, and three hours in advance for international flights.

Tips for Passengers and Visitors

Arrive 90 minutes to two hours before scheduled departure times for domestic flights and three hours for international flights.
Traveling with furry friends? Utilize one of two animal relief areas before heading into the Riley Terminal, located on the Arrival (lower) Level in front of Terminals A and C.
Pack up to one small carry-on bag plus one personal item as long as the carry-on bag fits airline dimensions. Check with individual airlines for specifics and details related to checked baggage.
Drivers picking up passengers at the Airport are encouraged to utilize the Cell Phone Waiting Lot, located south of Parking Structure C near the corner of MacArthur Boulevard and Campus Drive, and two-hour parking spaces, located on the Arrival (lower) Level of Parking Structures A1, B2 and C.
Reminder: Gifts should not be wrapped as they are subject to search, even if placed in checked baggage.
Tips for Parking at JWA
Curbside Valet Parking is available for $30 per day or $10 per hour.
Self-parking is available in Parking Structures A1, A2, B2 and C for $20 per day and $2 per hour with the first 15 minutes being free.
Off-site Main Street Parking Lot located at 1512 Main St., Irvine, for $14 per day with free shuttle service to/from the Riley Terminal every 15 minutes.
Access terminal parking structures from the Departure (upper) Level only.
Tips from TSA and CBP
Visit Transportation Security Administration (TSA) to become familiar with prohibited items and the 3-1-1 rule for liquids in carry-ons.
TSA Pre✓® passengers can take advantage of expedited screening at one of three checkpoints at John Wayne Airport.
International travelers should check U.S. Customs & Border Protection (CBP) to ensure they have appropriate travel documentation for visiting the United States. Note: Passengers who are members of the Global Entry Trusted Traveler Program can expedite their Customs clearance into the U.S. at John Wayne Airport. Passengers traveling to and from Vancouver, Canada, will clear Customs in Canada.

OC Animal Care

Supervisor Approve Land Swap for New OC Animal Shelter

On Tuesday, the Board of Supervisors approved a new Orange County Animal Shelter to be built on 10 acres of land at the former Tustin Marine base. The base was originally earmarked for the South Orange County Community College District; however, the Board-approved letter of intent with the college district resulted in a successful swap of property for a similarly sized parcel of nearby land. The college district Board of Trustees approved the letter of intent on Monday.

This arrangement will allow the County to swiftly begin development plans for a new facility to replace the aging Orange County Animal Shelter in Orange, built in 1941. The Board has consistently pushed to build a new shelter at the Tustin base but negotiations with the Navy, which owns the property, dragged on for years. The base closed in 1999.

A new OC Animal Shelter is expected to cost about $25 million, with the bulk of the funds to come from the 18 cities that contract with the County for animal care services. The County will contribute the land and $4.4 million. The Board is confident that this new, modern animal shelter will help the County provide quality care for all of its four-legged residents.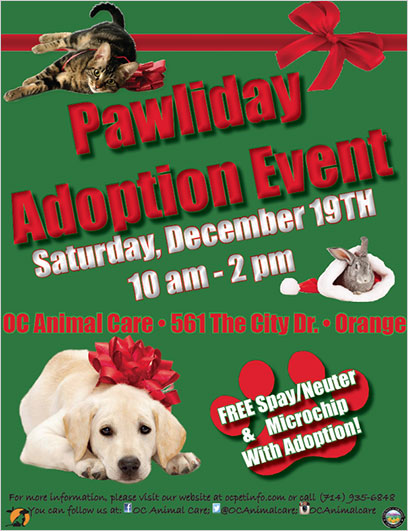 Click on the image above to view a PDF version.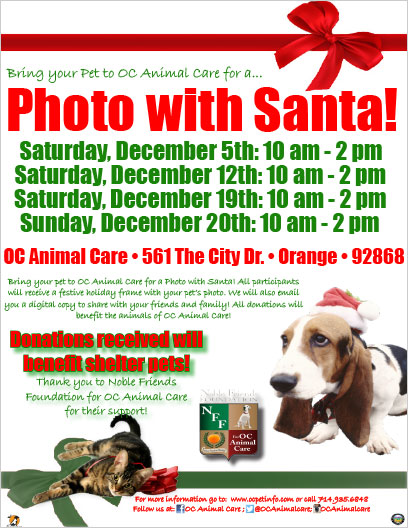 Click on the image above to view a PDF version.

OC Pet of the Week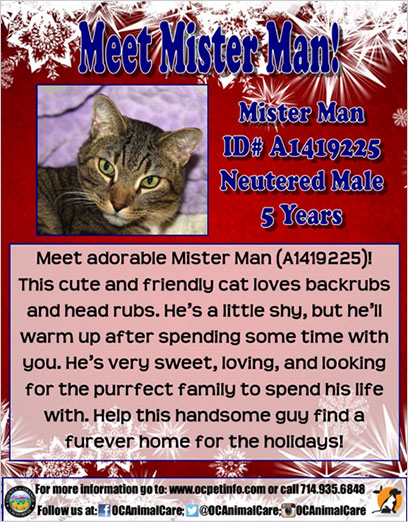 Click on the image above to view a PDF version.

Out and About South County

Dana Point: 41st Annual Dana Point Harbor Boat Ride Parade of Lights and Capt. Dave's "Anniversary Party with a Purpose!"

Boaters from all around Orange County will decorate their boats and vie for awards on Friday December 18th at 7:30pm. Be part of the parade and enter your own boat. You can also view the parade for free from anywhere in the Harbor. Come on down and enjoy the sights and sounds of the season. For more information, please click here.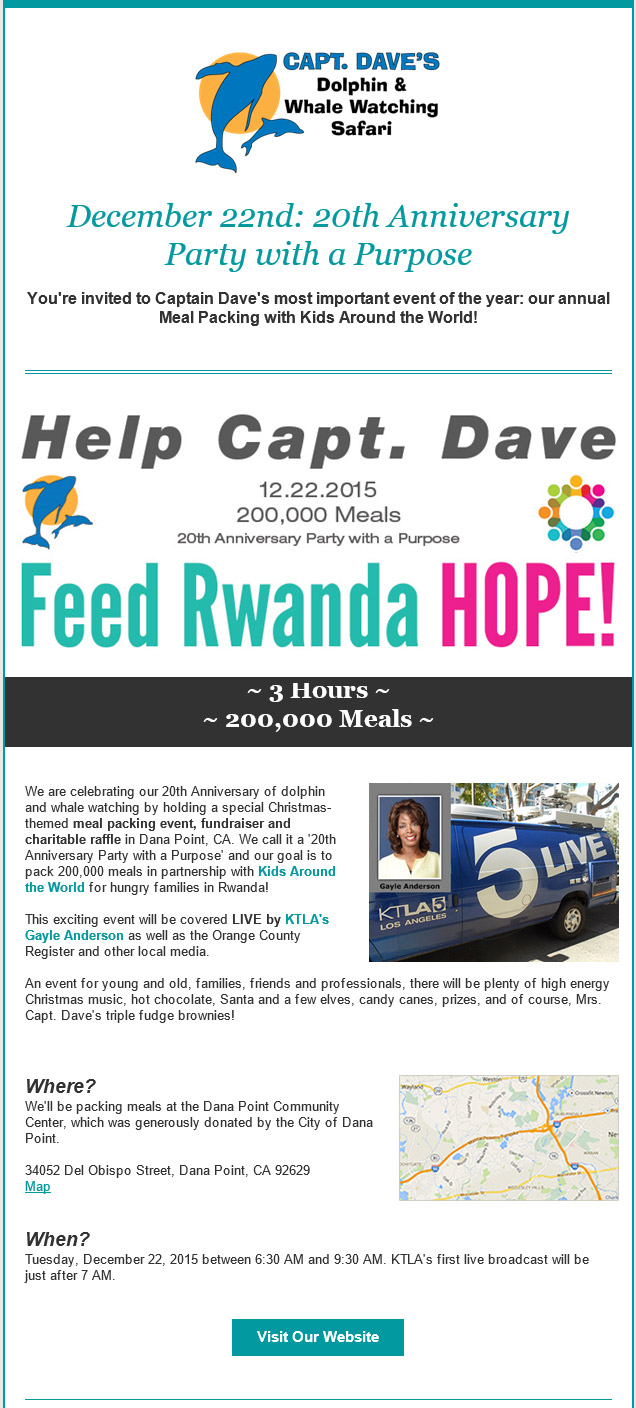 Laguna Beach: Sawdust Festival/Winter Fantasy Art Show

The Sawdust Festival grounds will be transformed into a winter wonderland where 175 artists create, display and sell original create, display and sell original creations over the course of five weekends. The Winter Fantasy offers the most unique holiday shopping in all of Southern California. Experience unique artwork by 175 artists, live holiday entertainment, great outdoor cafes, art classes and demonstrations, petting zoo, Santa and much, much more! Come join us this weekend December 19th and 20th from 10AM to 6PM. For more information, please click here.

Laguna Niguel: 2015 Holiday Lights Decorating Contest

Don't miss this opportunity to view the stunning and imaginative submissions from the Holiday Lights Decorating Contest. Click on the link for a list and map of the winning homes, including other creative entries. For more information, please click here.

Mission Viejo: Santa's Workshop

Make plans to visit jolly old St. Nick in his workshop from this Saturday and Sunday December 19th and 20th from 6pm to 8pm at the Civic Center Plaza. With Mrs. Claus and some elves in tow, Santa will greet visitors, spread holiday cheer and pose for photos. FREE hot chocolate will be served. For more information, please click here.
San Clemente: Kids Free Fishing Clinic and Trip

Dana Wharf Sportfishing invites all children to come to their dock side fishing clinic and learn hands on techniques on fishing from the experts. Kids Free Fishing Clinic and Trip will be this Sunday, December 20th at noon. For more information, please click here.

Last but not least this week I:


My Staff:

Presented a certificate of recognition in honor of the 25th anniversary celebration for Bell Tower Foundation Boy Scout Troop 618, the oldest Boy Scout Troop in Saddleback Valley.
Presented a certificate of recognition in honor of Rachael Tilly of San Clemente upon winning the Jeep 2015 Women's World Longboard Championship in China and becoming the youngest Women's World Champion ever.
Presented a certificate of recognition in honor of the ribbon cutting ceremony for Seaside Lounge Laguna in Laguna Beach.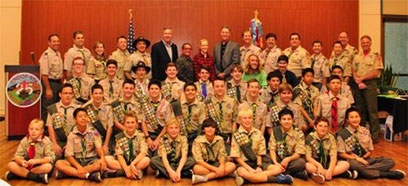 25th Anniversary Celebration for Boy Scout Troop 618, Rancho Santa Margarita.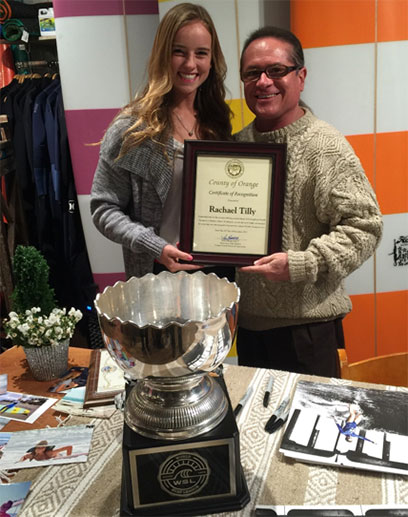 Rachel Tilly, 2015 Women's World Longboard Champion.



South County Elected Officials in the Community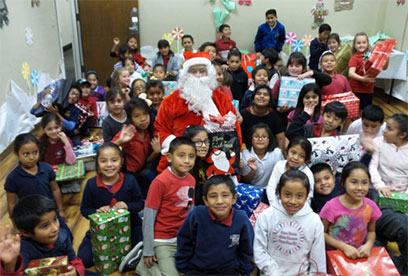 Clerk-Recorder Hugh Nguyen makes a special call to Santa to surprise these children at the Giving Back to the Community event.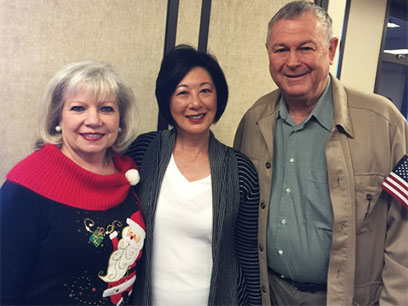 With Laguna Niguel Councilwoman Elaine Gennawey and Congressman Dana Rohrabacher at the Laguna Niguel Holiday Parade.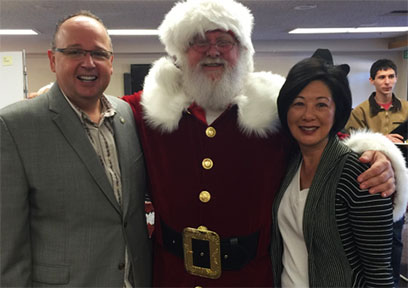 With Laguna Niguel City Manager Rod Foster and Santa Claus at the Laguna Niguel Holiday Parade.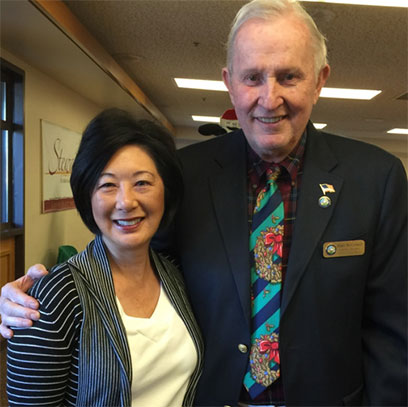 With Laguna Niguel Councilman Jerry McCloskey at the Laguna Niguel Holiday Parade.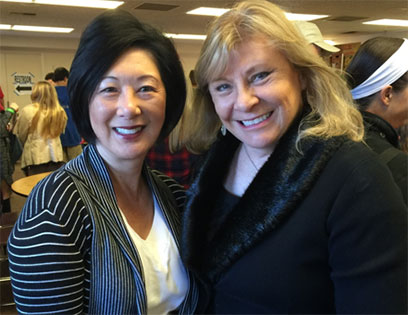 With Orange County Board of Education 5th District Member Linda Lindholm at the Laguna Niguel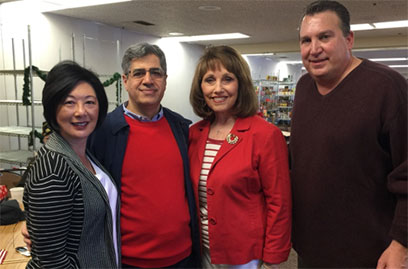 With Laguna Niguel Councilman Fred Minagar, Senator Pat Bates and Mayor Pro Tem Jerry Slusiewicz at the Laguna Niguel Holiday Parade.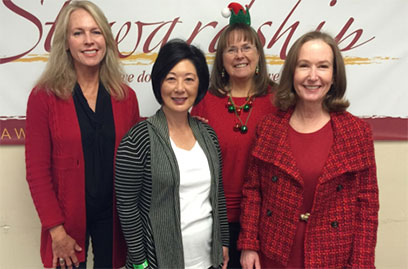 With Capistrano Unified School District Board of Education Trustees Amy Hanacek, Martha McNicholas and Gila Jones at the Laguna Niguel Holiday Parade.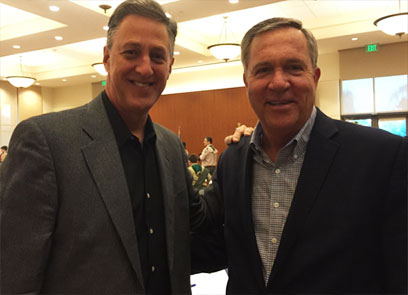 Rancho Santa Margarita Councilman Brad McGirr and Mission Viejo Councilman Greg Raths at the 25th anniversary celebration for Boy Scout Troop 618.

For questions or comments regarding Supervisor Bartlett's E-Newsletter please contact the Supervisor's office staff at: (714) 834-3550 or Sara.May@ocgov.com.