County Connections

Happy New Year!

I would like take one more opportunity to wish you all a very happy New Year. Here at the County, we are very excited for what 2016 will bring. I am personally looking forward to making significant progress on current projects and new initiatives, both locally and county-wide. I will work diligently to ensure that my commitments are upheld, and that Orange County residents continue to receive excellent service and support.

As many of us will begin New Year's resolutions, I hope you will commit with passion, while allowing for some flexibility. Setbacks are often unavoidable; it is how we deal with these disruptions that determine our overall success. We can reach great achievements with the proper dedication, work ethic, planning, and time. May your 2016 be healthy, happy, and prosperous!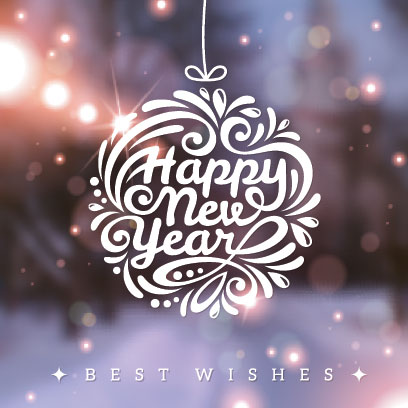 Hugh Nguyen, Karen Roper Named to OC Register's "100 Most Influential" List

In the second annual edition of its "OC's 100 Most Influential" list, the Orange County Register has included two County employees among 2015's "Game Changers," calling them "people who changed lives."

Clerk-Recorder Hugh Nugyen, an elected official, made the list in part for the kind of innovation and service shown by opening the Clerk-Recorder's office to the public on Saturdays. While he's proud of what the recognition means for his staff and the Clerk-Recorder operation, he was "caught off-guard" by his selection to the list. "I am honored and humbled," says Nguyen, who came to the U.S. as a refugee in 1975. "This is just another example of the great opportunities this country offers those who come here and work hard. I hope this inspires others to dream big, work hard and stay humble." The Clerk-Recorder Department has received two awards for its special Saturday office hours.

Karen Roper, director of OC Community Services, started working for the County after high school as a typist. In the 35 years since, she earned bachelor's and master's degrees and became a director in 2008. Much of her career has been devoted to the development and implementation of housing, human service programs, and systems of care that improve the quality of life for the residents of Orange County. She was selected to the list, in part, for her tireless efforts to champion a year-round homeless shelter, which the Board of Supervisors approved last month. Roper adds that her biggest challenge is to "Maintain perspective and not feel overwhelmed when there are so many of our residents living in poverty."

Congratulations to both Hugh Nguyen and Karen Roper for this recognition, as well as their steadfast dedication to the County and its residents.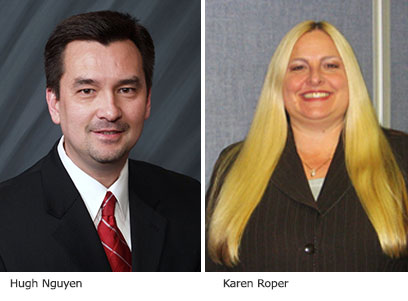 County Department Highlights

OC Animal Shelter Pawliday Adoption Event Huge Success

OC Animal Care's special Pawliday Adoption Event was a huge success! More than 60% of the shelter's animals found their "furever" homes for the holidays. Of the 91 adopted pets, 47 were dogs, 38 were cats and 6 were bunnies. A wonderful donation from Elaine Perry made it possible for the animals to receive an even larger discount, and gave them another chance at finding happiness with a loving family. The event had free giveaways, a bake sale table and the opportunity to take a photo with jolly Santa Claus. With help from our volunteers, our Photos with Santa booth raised over $2,000 in donations. Before the day was over, Operation Santa Paws stopped by with a massive donation including food, treats, shampoo, toys and more for our shelter! Thank you to all of the rescue groups, businesses and individuals who work with OC Animal Care to improve and better the lives of our shelter animals. OC Animal Care would also like to give a special thanks to all of the staff and volunteers who made this amazing event possible! Lastly, congratulations to all of the new owners who found their furry companions through this event and thank you for choosing to adopt and change the life of a shelter animal.

OC Public Works

Preparing for El Niño in The OC

As your Orange County Supervisor, public safety is among my top priorities, which includes preparing for and raising public awareness about the potential impacts of El Niño in Orange County.

El Niño is a weather phenomenon related to unusually warm water in the Pacific Ocean, triggering greater than usual rainfall, as well as storm clusters that can saturate the ground and produce flash flooding.

The County of Orange is responsible for all large flood control channels around the County, as well as street gutters and catch basins in the unincorporated areas, including Coto de Caza, Ladera Ranch, Las Flores, Rancho Mission Viejo, Stonecliffe and Wagon Wheel, in addition to the cities of Mission Viejo, Lake Forest and Dana Point. All other cities maintain their own street gutters and catch basins.

Dangers from El Niño conditions are very real. In 1982-83, El Niño storms killed 36 people and caused $1.2 billion in damages when coastal Orange County areas flooded and mudslides destroyed canyon homes. In December 1997, the most severe storm ever measured in Orange County hit, devastating parts of Laguna Beach, Lake Forest and Irvine, and around the I-5 Freeway. More than seven inches of rain fell in parts of South County in one day!

Residents are encouraged to get ready NOW for expected winter rains and potential flooding. Make sure you and your family are prepared both at home and away. Be alert for potential dangers, and by all means stay out of rivers, flood channels and storm drains. If storm gutters by your house are blocked, please call your Public Works Department if you live in a city. If you live in an unincorporated area, please call OC Pubic Works at (714) 955-0200.

Please be aware that standard homeowner's insurance does not cover flooding. The National Flood Insurance Program (NFIP) is available for property owners to financially protect themselves. Most private flood policies have a 30-day waiting period. Homeowners can keep their home safe from flooding by using sandbags, plywood, straw bales or plastic sheeting to direct flood waters away from buildings and onto the street.

Avoid walking or driving through flood waters. Turn Around, Don't Drown! Just six inches of moving water can knock you down, and two feet of water can sweep your vehicle away.

The following are additional important precautions to take in preparation for El Niño:

Have roofs repaired by licensed and bonded contractors and fix leaks.
Clear gutters, downspouts and roof drains of leaves and other debris.
Report street storm drains to city public works departments or OC Public Works for those in the unincorporated areas.
Place sandbags to protect vulnerable areas from flooding around your home.
Trim all landscaping and branches away from homes, vehicles and power lines.
Have weakened trees inspected by arborists.
Prepare a disaster supply kit that is portable in case of evacuation.
Have a family emergency plan and reunification plan.
Keep valuable documents, keepsakes and medicines in one place for easy access.
Keep sneakers, a blanket and water in your car in case of emergencies.
Photograph valuables at your home and property for future insurance claims if needed.
Lastly, please sign up for AlertOC. By registering with AlertOC, time-sensitive voice messages from the County of Orange or the City in which you live or work may be sent to your home, cell or business phone. Text messages may also be sent to cell phones, email accounts and hearing impaired receiving devices. To register for AlertOC, please visit www.AlertOC.com. For more tips to prepare for El Niño, please visit www.ReadyOC.org.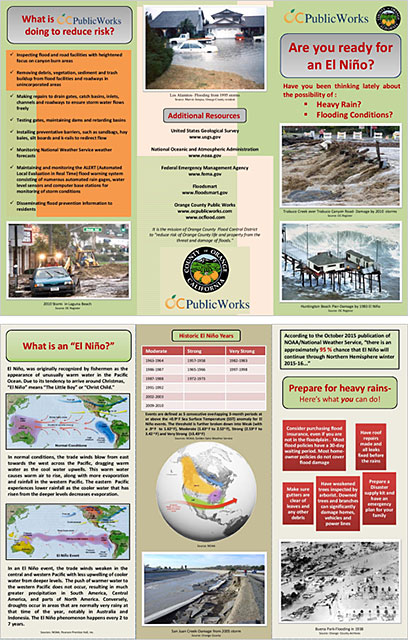 To learn more, visit www.ocelnino.com.

OC Moves

OCTA Offering Free Bus Rides on New Year's Eve

Free bus rides on New Year's Eve is back! So go ahead and plan a fun night on the town and OC Bus will get you there and back safely. OCTA is providing free rides on any fixed route bus beginning on Thursday December 31st at 6 pm and extending through 2:30 am on Friday January 1st.

Taking the bus is pretty easy. Even after a great party you can probably figure things out. Just in case, you can find everything you need to plan your trip in OCTA's how to ride section. OCTA encourages you to plan ahead using the Google Trip Planner since not all routes run past midnight. Remember it is free after 6 pm, so bring $2 bus fare if you are getting an early start.

Last year, more than 9,000 riders took advantage of the free bus service on New Year's Eve and about 130,000 have used it since it began in 2002.


I-5 Freeway South County Improvements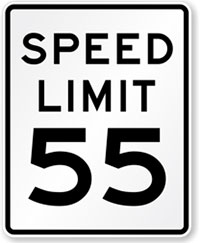 Crews have finished driving about 100 steel piles for the new I-5 bridge over Avenida Pico in San Clemente, part of the $230 million I-5 South County Improvements Project.

The project extends the carpool lane in both directions from San Juan Creek Road in San Juan Capistrano to Avenida Pico in San Clemente.

Pile driving is set to resume in January for another part of the Pico bridge, which must be widened to accommodate the new carpool lanes. The steel piles will support the footings of the new bridge.

Among the other work set to occur in the coming months:

Construction will begin on retaining walls along the southbound side of I-5 at Avenida Pico;
Ramps at Avenida Vista Hermosa will be realigned to accommodate the freeway widening;
Crews will perform concrete pours to finish widening the freeway bridge over Avenida Vaquero; and
The sound walls along southbound I-5 between Camino de Estrella and Avenida Vista Hermosa will be constructed.
Motorists also should be aware that the speed limit on the freeway throughout the project area has been reduced to 55 mph as part of an effort to enhance safety.

The speed-limit change is one of several actions taken to increase safety for motorists and construction crews. Other actions include: maximizing signal timing at interchanges to reduce queueing on off-ramps; installing additional message signs to alert motorists to reduce speed in the construction zone; and increasing enforcement by the California Highway Patrol.

Find out more about the project and sign up for email construction alerts at octa.net/I5South.

OC Animal Care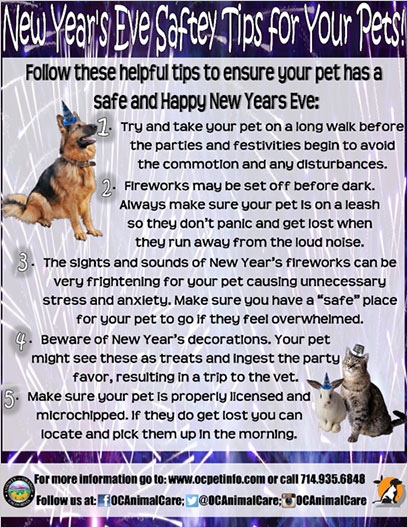 Click on the image above to view a PDF version.

OC Pet of the Week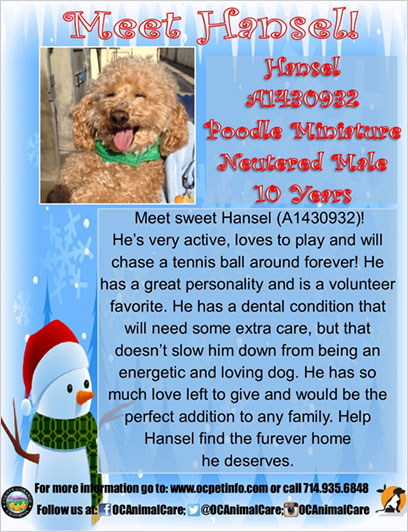 Click on the image above to view a PDF version.

Out and About South County

Rancho Santa Margarita: 15th Annual Celebrating Family and Friends Event

The mission of the Annual New Year's Eve Celebrating Family and Friends event is to provide a safe and fun event that brings the community together in an alcohol-free setting. The event is intended to build community spirit and inspire hope for the future through the broadening and deepening public appreciation of the arts from our community. This event celebrates the arts in this community by providing space and opportunity to showcase local talents through music, dance, and fine arts. Click here for more information.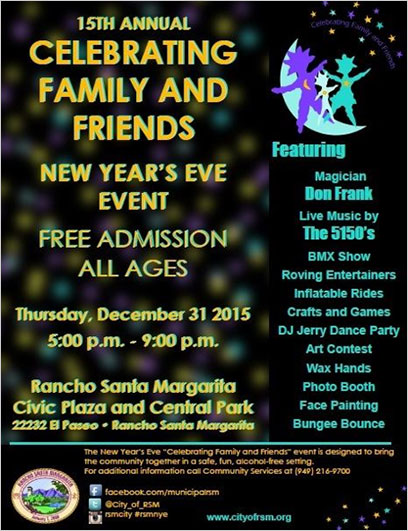 San Juan Capistrano: Free EWaste and Document Shredding Event

The City of San Juan Capistrano in partnership with Goodwill of Orange County is hosting a FREE E-Waste and Shredding Event on January 9, 2016 from 8AM to 12PM in the City Hall parking lot located at 32400 Paseo Adelanto. For a list of items that will be accepted, click here.

Dana Point: Whale Walk and Talk

From the Dana Point Nature Interpretive Center, we can see many different species of whales and dolphins! Come learn about our largest animal visitors on an approximately 1.5 mile walk through the Dana Point Headlands conservation area on January 9, 2016 from 9:00 AM to 11:00 AM for free. Bring your binoculars (or use ours!) and learn migration patterns of different whale species that frequent the area, as well as how to best spot, watch, and identify whales.

Laguna Beach: Laguna Bluebelt Photo Contest 2016

The Laguna Bluebelt Coalition is gearing up for its 5th Annual Photo Contest! They are accepting entries between January 16th - February 6th; see the flyer below or click here for submission details. The Coalition brings together organizations and individuals with a common goal of protecting and restoring marine life, conserving biological diversity and maintaining healthy, sustainable marine habitats.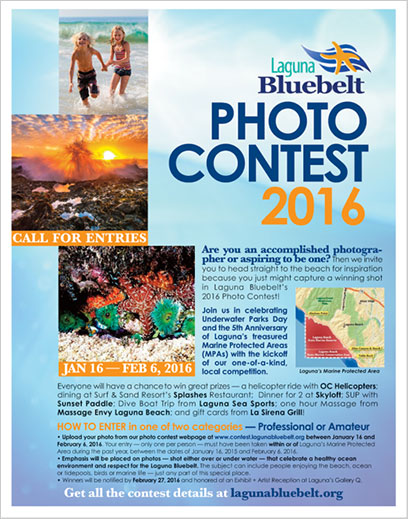 My Staff:

My staff and I participated in the "Kids Around the World" meal packing event hosted by Capt. Dave and Gisele Anderson in Dana Point, where I also presented a certificate of recognition in honor of the 20th anniversary of Capt. Dave's Dolphin & Whale Watching Safari in Dana Point Harbor. To view a photo album of the event, please click here.
Presented a certificate of recognition in honor of the Del Taco grand opening and ribbon cutting ceremony in Rancho Santa Margarita.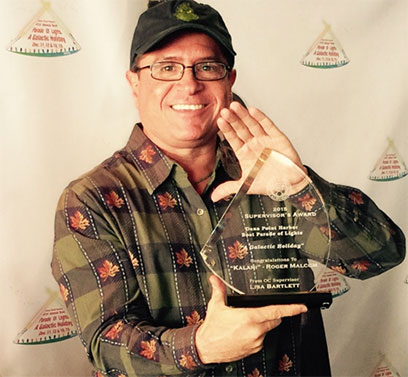 Presenting the 2015 Supervisor's Award at the Dana Point Harbor Boat Parade of Lights Awards Ceremony.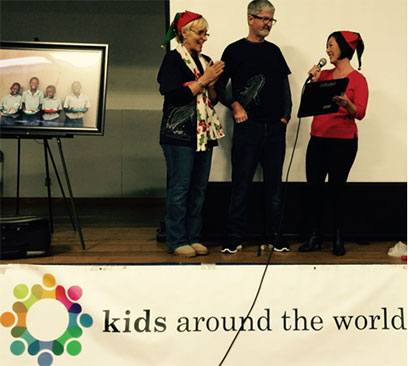 Presenting a certificate of recognition at the Kids Around the World meal packing event in Dana Point in honor of the 20th anniversary of Capt. Dave's Dolphin & Whale Watching Safari.



For questions or comments regarding Supervisor Bartlett's E-Newsletter please contact the Supervisor's office staff at: (714) 834-3550 or Sara.May@ocgov.com.