February 13, 2015
Volume 2

Issue 6

Board of Supervisors Update

New Security Measures Planned for Board Meetings

Beginning March 3, 2015, those attending Orange County Board of Supervisors meetings will be required to pass through a metal detector before entering the Board Meeting Room, a move designed to boost security in line with other large urban California counties.

The recommendation to install metal detectors came from the Orange County Intelligence Assessment Center, a multi-jurisdictional network of law enforcement agencies that develops best practices to protect the residents, visitors and critical infrastructure of the county. Courthouses in Orange County have used metal detectors since 1999.

The metal detector inside the Hall of Administration will be staffed by two Sheriff's Department special officers. Purses and bags also will be subject to search.

Other counties using metal detectors for security purposes during Board of Supervisors meetings include Los Angeles, San Bernardino, San Diego and Alameda counties. In San Diego and Alameda counties, the metal detectors are located at the building entrances. Security costs, estimated at $23,000 annually, will be paid from the County Executive Office budget.

Keeping Orange County Moving

LA PATA EXTENSION PROJECT UNCOVERS MARINE LIFE FOSSILS DATING BACK MILLIONS OF YEARS

In a discovery that helps shed light on life in Orange County millions of years ago, the La Pata Extension Project team has uncovered extremely rare marine turtle fossils during construction.

The latest discovery includes fossils of two 6-foot leatherback sea turtles, which date back roughly 3 to 7 million years ago and represent a specimen that is extremely rare for the region. Other fossils discovered so far during project construction include fragments from walruses, whales, and other sea creatures that were present millions of years ago when the project area in south Orange County was submerged under thousands of feet of water.

Much of this gap closure project occurs in previously undisturbed soils and thus has the potential of unearthing archeological and paleontological finds. As such, the construction work is monitored daily by both paleontologist and archaeologist professionals who oversee the construction activities and exclusively look for fossils per the project's environmental document. According to one of the project's paleontologists, only four other leatherback sea turtle fossils have been unearthed in California and all of them come from Orange County.

Our expert paleontologists and archaeologists are working closely with the construction crews to ensure that all fossils discovered are properly handled and preserved. As the project progresses to improve regional transportation, OC Public Works is committed to ensuring that these amazing discoveries are available to the community for future displays and research opportunities.

To learn more about the La Pata Avenue Extension Project and sign up to receive project updates, visit the La Pata website.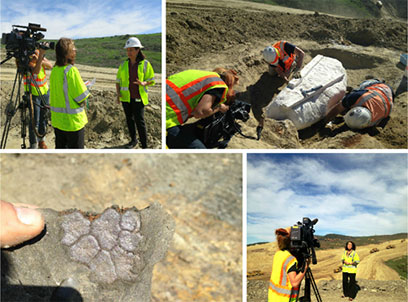 Transportation Corridor Agencies Board Update

Foothill/Eastern Transportation Corridor Agency (F/ETCA) REFUNDING UPDATE

Chief Financial Officer Amy Potter provided the Foothill/Eastern Transportation Corridor Agency (F/ETCA) Board of Directors with an update on the agency's bond refunding. The continued favorable conditions in the municipal bond market, along with strong and diverse investor demand, allowed the agency to refund $180 million in bonds originally issued in 1995. The bonds were refunded at lower interest rates resulting in $30 million present value savings. Along with approving the refunding transaction in January, the Board elected to monetize the savings in order to lock in the current low interest rates. By utilizing the funds for qualified capital projects over the next three to five years, the agency will be able to preserve its unrestricted cash reserves. The refunding is schedule to close on February 19, 2015.

BOARDS WELCOME NEW DIRECTORS AND OFFICERS

The San Joaquin Hills Transportation Corridor Agency (SJHTCA) and F/ETCA Boards of Directors welcomed new Board Members at Thursday's meetings. On behalf of the SJHTCA, Chairman Schoeffel administered the Oath of Office to Scott Peotter from Newport Beach and Laurie Davies from Laguna Niguel. On behalf of the F/ETCA, Chairman Sam Allevato administered the Oath of Office to John Tomlinson, who will serve as the Alternate Director from Dana Point. The F/ETCA Board of Directors also nominated and elected Sam Allevato (San Juan Capistrano) as the new Chairman and elected Craig Young (Yorba Linda) as Vice Chairman.

Healthcare Advisory

February is Heart Month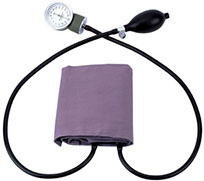 This American Heart Month, the Centers for Disease Control and Prevention (CDC) and Million Hearts®–a national effort to prevent 1 million heart attacks and strokes in the United States by 2017–are encouraging Americans to know their blood pressure, and if it's high, to make control their goal.

Uncontrolled high blood pressure is a leading cause of heart disease and stroke. In fact, more than 67 million Americans have high blood pressure. People with high blood pressure are 4 times more likely to die from a stroke and 3 times more likely to die from heart disease, compared to those with normal blood pressure.

High blood pressure often shows no signs or symptoms, which is why having your blood pressure checked regularly is important. It's easy to get your blood pressure checked. You can get screened at your doctor's office and drugstores or even check it yourself at home, using a home blood pressure monitor.

If you know you have high blood pressure, please click here to read helpful tips on how to make control your goal.

DUI/Driver's License Checkpoint Planned this Weekend

The Orange County Sheriff's Department DUI Taskforce will be conducting a DUI/Driver's License Checkpoint on February 13, 2015 in the City of San Clemente between the hours of 6:00pm and 3:00am.

The deterrent effect of DUI checkpoints is a proven resource in reducing the number of persons killed and injured in alcohol or drug involved crashes. Research shows that crashes involving an impaired driver can be reduced by up to 20 percent when well-publicized DUI checkpoints and proactive DUI patrols are conducted routinely.

In California, this deadly crime led to 802 deaths in 2012 because someone failed to designate a sober driver. Nationally, the latest data shows nearly 10,000 people were killed by an impaired driver. "Over the course of the past three years, DUI collisions have claimed 21 lives and resulted in 497 injuries" said Deputy Shane Stewart of the Orange County Sheriff's Department Traffic Bureau.

Deputies will be looking for signs of alcohol and/or drug impairment along with checking drivers for proper licensing. When possible, specially trained deputies will be available to evaluate those suspected of drug-impaired driving. Recent statistics reveal that 30 percent of drivers in fatal crashes had one or more drugs in their systems. A study of active drivers showed more tested positive for drugs that may impair driving (14 percent) than did for alcohol (7.3 percent). Of the drugs, marijuana was most prevalent, at 7.4 percent, slightly more than alcohol.

According to the National Highway Traffic Safety Administration (NHTSA), checkpoints have provided the most effective documented results of any of the DUI enforcement strategies, while also yielding considerable cost savings of $6 for every $1 spent. Nearly 90 percent of California drivers approve of DUI checkpoints. DUI Checkpoints are placed in locations based on collision statistics and frequency of DUI arrests affording the greatest opportunity for achieving drunk and drugged driving deterrence. Locations are chosen with safety considerations for the deputies and the public.

Drivers caught driving impaired can expect the impact of a DUI arrest to include jail time, fines, fees, DUI classes, other expenses that can exceed $10,000 not to mention the embarrassment when friends and family find out.

Funding for this checkpoint is provided to The Orange County Sheriff's Department by a grant from the California Office of Traffic Safety, through the National Highway Traffic Safety Administration, reminding everyone to 'Report Drunk Driver – Call 9-1-1'.

For more information please click here.

County Connections

Clerk-Recorder to Offer Expanded Saturday Hours for Upcoming Valentine's Day

Orange County Clerk-Recorder Hugh Nguyen is making it easier for couples to get married this Valentine's Day. The Old County Courthouse in Santa Ana and the department's branch offices in Fullerton and Laguna Hills will be open to the public from 8:00 am to 3:00 pm on Saturday, February 14, 2015.

Appointments are filling up fast for couples wishing to be married on Valentine's Day at the Clerk Recorder's offices. Couples are encouraged to make an appointment for a civil wedding ceremony due to the popularity of this day. Appointments can be made by visiting our website at www.ocrecorder.com and using the online appointment system. Walk-ins will be accommodated based on availability of ceremony rooms.

Valentine's Day continues to be one of the most popular days of the year for civil marriage ceremonies. Last year, a record number of couples – 266 – were married by Clerk-Recorder Hugh Nguyen and his deputy commissioners of marriage – breaking the long standing Valentine's Day record of 173 couples wed in 1997. The department also issued 310 marriage licenses.

Couples may obtain a public marriage license for $61 or a confidential marriage license for $66.The cost for a civil marriage ceremony is only $28. The Old County Courthouse will be offering marriage licenses, civil marriage ceremonies and passport application services only. Copies of property records, birth, death and marriage certificates will be available at the Fullerton and Laguna Hills branch offices, as well as marriage licenses and civil marriage ceremonies. Please note that the Laguna Hills branch office will also be offering passport application services. Free parking will be available at all three locations.

For more information about the Clerk-Recorder Department or the services provided by the department, please visit www.ocrecorder.com or contact us at (714) 834-2500.

Aliso Creek Watershed Natural Habitat Restoration Project Underway

Work is underway to restore the ecosystem of the Aliso Creek Watershed.

OC Watersheds, OC Parks and the Laguna Canyon Foundation have teamed up to implement a 55-acre habitat restoration along Aliso Creek in Aliso and Wood Canyons Wilderness Park.

The project, which is bound to the north by Moulton Parkway and to the south by Avila Road (near the skate park), calls for removing invasive species like arundo, restoring sensitive habitat and improving erosion control, water quality and natural groundwater recharge.

The creek is home to more than 137 bird species and is one of Orange County's largest populations of southwestern pond turtle. Numerous sensitive plants are found throughout the watershed.

The 5-year project will complement the proposed Dairy Fork wetland project. The Dairy Fork sub-watershed, a part of the larger Aliso Creek Watershed, collects runoff from about 1,500 acres in parts of four cities: Aliso Viejo, Laguna Hills, Laguna Woods and Lake Forest. Urban runoff picks up pesticides from lawns, oils from streets and other pollutants as it makes its way through the watershed.

In an effort to naturally treat the water before it reaches the creek, the City of Aliso Viejo is hoping to build a wetland in the Dairy Fork area, which also includes restoration of the natural habitat.

Furry Friends

Pet of the Week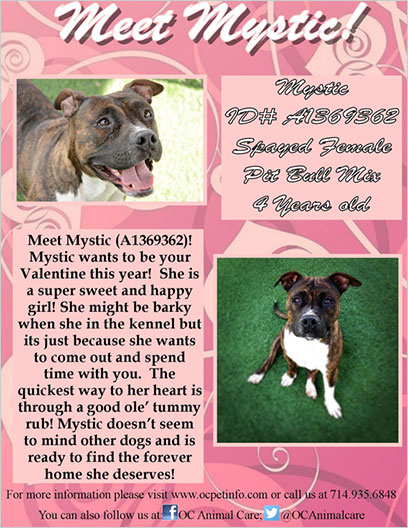 Spay Day USA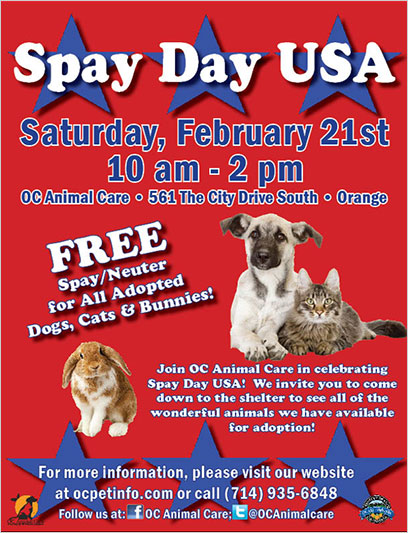 Out and About South County

Dana Point: American Red Cross Donation Opportunity

Date: 2/20/2015 10:00 AM - 4:15 PM

A major coastal storm has hit states across the Northeast this week. Travel has been severely impacted making it nearly impossible for blood and platelet donors in these areas to donate. If you are healthy and the weather in your area permits, schedule your appointment as soon as possible to help replace the donations lost to the storm.

Nearly 6,000 times a day, someone receives blood from a Red Cross donor, and yet, only about three percent of the population donates. It's so important that generous donors, like you, give regularly so blood products of all types are available whenever and wherever they're needed.

Please click here for more information.

Laguna Beach: LOW-COST PET CLINIC

Saturday, February 14, 2015 from 1:00 pm to 3:00 pm.
(CATS should arrive at the BEGINNING of the clinic)

Sponsored by the City of Laguna Beach Animal Shelter ~ Vet Services provided by the SCVVC PUBLIC PARKING LOT (Across from Pageant of the Masters) 635 Laguna Canyon Road, Laguna Beach, CA.

For clinic and other pet health care information, visit WWW.SCVVC.COM. For pet licensing, adoption, and ordinance information, contact the Laguna Beach Animal Shelter at (949) 497-3552.

Please click here for more information.

Laguna Niguel: Scrumptious Science

Friday, February 20

Join the City for an edu-taining and enchanting experience as Sub Zero Ice Cream turns chemistry delicious! Sub Zero leverages the chemistry behind liquid nitrogen to flash-freeze customized frozen desserts. The ultra-fast hand-freezing process delivers an unbelievably smooth and creamy texture that will ignite your taste buds and awaken your inner chemist. Learn about liquid nitrogen, heat transfer, chemistry equations, hydrogen bonds and more! At the end of the presentation the students get to eat the fruits of their academic labors with ice cream samples and a coupon! Who knew learning could be so sweet? Seating is available on a first come, first served basis.

Please click here for more information.

Last but not least this week I:

Participated in the Orange County Transportation Authority's Board of Directors Meeting.
Participated in the LAFCO Board of Directors meeting.
Attended the joint OCTA/Transportation Corridor Agency meeting.
Participated in the Transportation Corridor Agencies Board of Directors meetings.
Toured the Doheny Desalination Project.



DISTRICT

STAFF
Paul Walters
Chief of Staff

Victor Cao
Policy Advisor

Veronica Carpenter
Policy Advisor

Evan Chaffee
Policy Advisor

James Dinwiddie
Policy Advisor

Kelley Jimenez
Policy Advisor

Sergio Prince
Community Relations Advisor

Tanya Flink
Office Manager



Stay Updated!