February 20, 2015
Volume 2

Issue 7

OC MOVES

Measure M Keeping its Promises to Orange County

The Measure M Taxpayers Oversight Committee has determined that Measure M is being delivered as promised to Orange County voters for the 24th consecutive year.

The committee held its annual Measure M public hearing last week and unanimously found that the Orange County Transportation Authority is proceeding in accordance with the ordinances that were approved by voters first in 1990 and renewed in 2006.

The independent, 11-member oversight committee was formed to monitor OCTA's use of Measure M funding, approve all changes to the Measure M plan and hold annual public hearings on the expenditure of funds generated by Measure M.

The original Measure M half-cent sales tax made possible more than $4 billion worth of transportation improvements. Since 1990, hundreds of local projects have been completed that help residents travel throughout the county every day. This includes improvements to every freeway, widened streets, synchronized signals and improved intersections. Measure M also made possible Metrolink commuter-rail service in Orange County.

Renewed by 70 percent of voters in 2006, Measure M is expected to generate nearly $16 billion to fund transportation improvements through 2041. Freeways will receive 43 percent of the funding, streets and roads receive 32 percent and transit receives 25 percent of M dollars. The freeway program includes funding for an environmental program that preserves and restores natural habitat and improves water quality.

For more information about Measure M or the Taxpayers Oversight Committee, visit www.octa.net/Measure-M.

SOUTHWEST ANNOUNCES NEW NONSTOP SERVICE FROM JOHN WAYNE AIRPORT

More nonstop flights are taking off from John Wayne Airport (JWA)! Travelers will be able to fly on Southwest Airlines to Seattle (SEA) and Chicago (MDW) beginning June 28, and to Portland (PDX) beginning August 9, 2015.

Southwest also announced its plans to increase the number of daily, nonstop departures between John Wayne Airport and Dallas-Love Field (DAL) and Denver (DEN) effective August 2015. As previously announced, the airline plans to inaugurate daily service to Puerto Vallarta, Mexico (PVR) on June 7, 2015, subject to governmental approvals and to Austin (AUS) on June 28, 2015. Please click here for more information.

South County Connections

San Clemente Mobile Hub

I am pleased to report that San Clemente kids, teens and adults will once again have a library in their city! A temporary Mobile Hub has arrived in the Vista Hermosa Sports Park to provide best sellers, new nonfiction, books on CD, and new and popular children's and teen materials. Limited computer service will also be available.

The Mobile Hub opens on Wednesday, February 4 at 12 noon. Regular hours are Wednesdays through Saturdays, noon to 5 pm. The Hub is located in Vista Hermosa Sports Park, 987 Avenida Vista Hermosa, San Clemente, CA 92673

For full library service, including telephone customer service, please visit or call the San Juan Capistrano Library located at 31495 El Camino Real in San Juan Capistrano, (949) 493-1752 or any branch of OC Public Libraries.

Doheny Desalination Project Tour

Last week, I met with local leaders at the Doheny Ocean Desalination Project to get a better understanding of how we can solve South Orange County's water needs.

While desalinated water can be considerably more expensive, the goals of the project are to replace unreliable and decreasing supplies of imported water and provide water supplies in the event of an emergency such as a major earthquake.

South Orange County's water security has severe vulnerabilities. Approximately 95% of our water is imported. The water pipelines that come into South Orange County cross major fault lines. To address these issues, the Doheny Ocean Desalination Project has the potential to address as much as 25% of local water needs ensuring water security and independence.

As the Fifth District Supervisor, my goal is to work with local leaders to identify alternative solutions and enhance water reliability for Orange County residents.

I would like to thank representatives from the City of San Clemente, City of Laguna Beach, City of San Juan Capistrano, Municipal Water District of Orange County, South Coast Water District, and Moulton Niguel Water District for their leadership.

Learn more about the Doheny Desalination Project at the Municipal Water District of Orange County web page.

Healthcare Advisory

February is Heart Month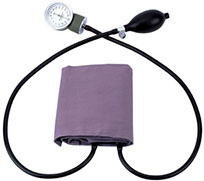 This American Heart Month, the Centers for Disease Control and Prevention (CDC) and Million Hearts®–a national effort to prevent 1 million heart attacks and strokes in the United States by 2017–are encouraging Americans to know their blood pressure, and if it's high, to make control their goal.

Uncontrolled high blood pressure is a leading cause of heart disease and stroke. In fact, more than 67 million Americans have high blood pressure. People with high blood pressure are 4 times more likely to die from a stroke and 3 times more likely to die from heart disease, compared to those with normal blood pressure.

High blood pressure often shows no signs or symptoms, which is why having your blood pressure checked regularly is important. It's easy to get your blood pressure checked. You can get screened at your doctor's office and drugstores or even check it yourself at home, using a home blood pressure monitor.

If you know you have high blood pressure, please click here to read helpful tips on how to make control your goal.

Harbor Happenings

DANA POINT FESTIVAL OF WHALES – A CELEBRATION OF THE CALIFORNIA GRAY WHALE'S MAJESTIC MIGRATION

Fun and festivities for the entire family Saturday and Sunday, March 7 & 8 and 14 & 15, 2015

The 44th annual Dana Point Festival of Whales, Saturday and Sunday, March 7 & 8 and 14 & 15, celebrates the return of the once-endangered California Gray Whale with a leviathan-size event. This annual celebration draws nearly 100,000 visitors from around the world to Dana Point each year during the height of whale watching season.

Dana Point offers visitors a great opportunity to get up close and personal with these incredible creatures and also enjoy sightings of other sea life unique to the California coast. Dana Point's Festival is unique in that there are so many different events and activities for visitors to enjoy. Whether it's the opening parade down Coast Highway, the Polynesian Connection at Baby Beach, Ocean Awareness, Clam Chowder Cookoff, Art in the Park or the grand finale concert on the water, visitors get a real feel for this great destination and can even be transported free of charge on the Festival shuttle that offers stops at each event venue. Visitors can actually 'migrate' just like the whales and this year the Festival will once again provide a water taxi to traverse the harbor. However, what visitors really want to experience is the thrill of spotting a pod of gray whales, a mega pod of dolphins or other sea life, and Dana Point Harbor offers the very best location along the California coast.

Located midway between Los Angeles and San Diego, experts report that Dana Point's 200-foot cliffs serve as a navigational landmark for migrating whales. Nearly 25 percent of the gray whale population follow the coastline during migration – which means many whales pass by Dana Point daily. An added bonus is Dana Point's harbor design that allows for a quick trip out to sea (approximately five minutes or less) so that whale watchers can spend more time spotting whales than winding through a harbor. Whale watching enthusiasts may also view these beautiful creatures from the Headlands Conservation Park. The Park includes a public trail system, over three miles in length, and links all the parks and open space areas of the Headlands. The system includes pedestrian trails, coastal and beach access, scenic overlooks and the Nature Interpretive Center.

For updated information on events and a wide variety of whale watching excursions, call 1-888-440-4309 or visit online at www.festivalofwhales.org.

Furry Friends

Pet of the Week


Click on the image above to view a PDF version.

Spay Day USA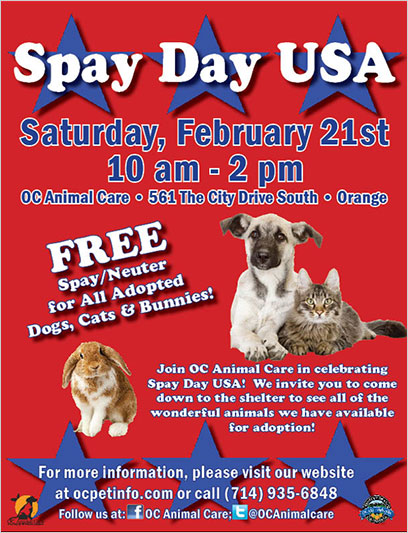 Last but not least this week I: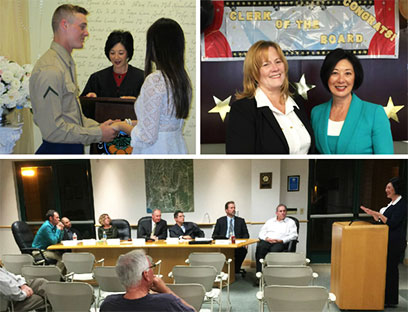 Joined Clerk-Recorder Hugh Nguyen in performing civil marriage ceremonies on Valentine's Day in the Laguna Hills branch office.
Presented a proclamation in honor of Kiwanis International's 100th birthday celebration held in Laguna Woods.
Delivered a County Update at a regular meeting of the Ladera Ranch Civic Council. Attended the San Juan Capistrano City Council meeting to present a proclamation in honor of retiring Councilman Roy Byrnes.
Participated in the Orange County Transportation Authority's Legislative and Communications Committee Meeting.
Attended the Orange County Business Council Annual Dinner.
Toured the Children's Hospital of Orange County.
Met with key stakeholders regarding the San Clemente Hospital.
Staff:

Attended the Aliso Viejo Chamber of Commerce 3rd Annual Installation Ceremony to present a certificate of recognition to outgoing Treasurer Bill Klamfoth.
Attended the Freedoms Foundation at Valley Forge National Awards Ceremony to present certificates of recognition to honorees Bill Cook (George Washington Honor Medal) and Hon. Elaine Gennaway (Certificate of Merit).
Attended the South Orange County Association of Mayors meeting in the City of Dana Point.
Attended the presentation of "The State of the American Veteran: OC Veterans Study". For more information, please click here.



DISTRICT

STAFF
Paul Walters
Chief of Staff

Victor Cao
Policy Advisor

Veronica Carpenter
Policy Advisor

Evan Chaffee
Policy Advisor

James Dinwiddie
Policy Advisor

Kelley Jimenez
Policy Advisor

Sergio Prince
Community Relations Advisor

Tanya Flink
Office Manager



Stay Updated!