Veterans Day

Thank a Veteran on Wednesday, November 11th

I would like to take this opportunity to recognize all of the honorable men and women who have served in our nation's military. Whether serving during wartime or peace, the commitment to protect one's country is a truly selfless and courageous act worthy of the highest praise. I commend all of our veterans, from our neighbors in the Fifth District, to those nationwide, and offer my sincerest gratitude. On Wednesday, November 11th, I hope you take a moment to thank a local veteran for their service and heroism.

I highly encourage you attend a Veteran's Day event in your community. Please see below to find an event nearest you.

Have a safe and happy Veterans Day!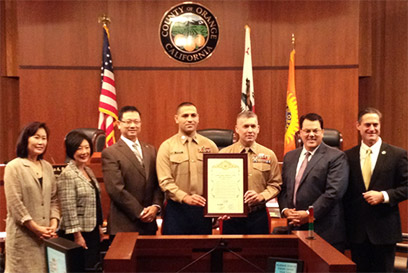 The Board of Supervisors present a resolution commemorating the 240th Birthday of the United States Marine Corps to the USMC Recruiting Command of Orange County.

Community Events

Aliso Viejo

Aliso Viejo veterans of the Armed Forces are invited to the City's Eighth Annual Veterans Recognition Program on Tuesday, November 10 at 6PM at the Aliso Viejo Conference Center, 31 Santa Barbara. A dinner and special program will be offered along with a celebration of the 240th birthday of the Marine Corps.

For more information or to RSVP for the event, contact Gracie Duran at 949-425-2519 or gduran@cityofalisoviejo.com. For more information, please click here.

Dana Point

Dana Point Veterans of Foreign Wars Post 9934 & Ladies Auxiliary and the City of Dana Point will recognize all Veterans for their service and sacrifices for America. The event will take place on Wednesday, November 11 at Strands Vista Park at 10AM. For more information, please click here.

Irvine

In honor of our veterans, Irvine will host a special ceremony to pay tribute to our nation's troops – past and present on Wednesday November 11 from 11AM to 12:30PM at Colonel Bill Barber Marine Corps Memorial Community Park. For more information, please click here.

Laguna Niguel

There will be a Veterans Day Ceremony on Wednesday, November 11 from 11AM to 12PM at the Sea Country Senior & Community Center. For more information, please click here.

Lake Forest

The El Toro Memorial Park Committee invites you to the annual Veteran's Day Program at El Toro Memorial Park. The program will feature speaker David Hayward, WWII U.S. Army Air Corps Pilot and author of "A Young Man in the Wild Blue Yonder." For more information, please click here.

Mission Viejo

On this special day, Wednesday November 11th, the city will honor and remember the men and women of the Armed Forces. Light refreshments provided. The ceremony will take place at the Norman P. Murray Community and Senior Center from 2PM to 3PM. For more information, please click here.

Rancho Santa Margarita

Veterans, along with their friends and families, are invited to a special reception at 6PM at the Bell Tower Community Center in honor to recognize their service to our country. A Roll Call will be conducted at the 7PM City Council meeting to follow. For more information, please click here.

San Juan Capistrano

Join in honoring our nation's heroes at the Annual Veterans Day Ceremony hosted by Veterans of Foreign Wars Serra Post 3801. The Remembrance Ceremony will take place at Veteran's Park, located at 31872 Camino Capistrano, on November 11th at 11AM. For more information, please click here.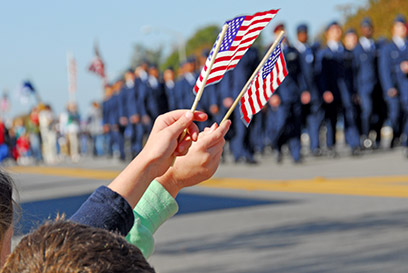 For questions or comments regarding Supervisor Bartlett's E-Newsletter please contact the Supervisor's office staff at: (714) 834-3550 or Sara.May@ocgov.com.