County Connections

Workplace Violence Response Training Offers Critical Learning

Everyone should be able to feel safe as they carry on in life and at work. But as the number of active shooting incidents continues to climb – 11.4 incidents per year between 2000 and 2013, according to the FBI – that concept is being severely tested. It is clear that we must both acknowledge the need for proactive training and preparation and follow through by learning and preparing ourselves.

The County launched an employee training program focused on responding to active shooter incidents at the workplace. OCSD staff members and SWAT team leader, Shane Millhollon and peer support and crisis response team coordinator, Heather Williams taught the two-hour course.

The goal of the course was to empower and help employees to:

Know what to do during an active shooter incident;
Understand the law enforcement response to an active shooter/mass casualty incident;
Develop protocols in order to increase survivability and decrease the number of victims;
Understand the psychological and physical impact of an active shooter incident; and
Become aware of the resources available to help mitigate the lasting effects of trauma.
Check out useful violence response tips in the FBI-produced video, entitled Run. Hide. Fight. Surviving an Active Shooter Event.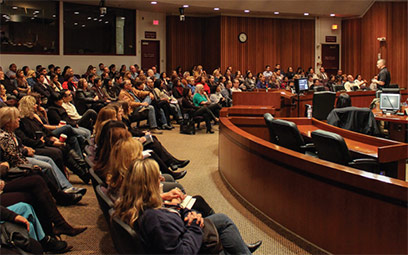 Help Plan the Future of Southern California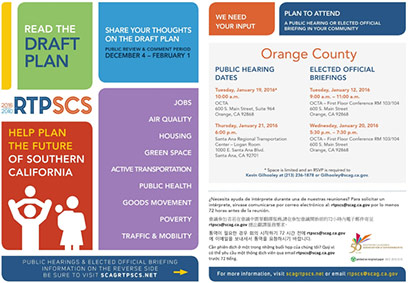 County Department Highlights

OC Waste & Recycling Partnership with Inside the Outdoors Earns Coveted Golden Bell Award

Project Zero Waste, a service-learning program developed through a partnership between the County of Orange, OC Waste & Recycling, and the Orange County Department of Education's (OCDE) Inside the Outdoors, has earned the California School Boards Association's highly regarded Golden Bell Award. The award was announced at a ceremony on Saturday, December 5, 2015.

The Orange County Office of Education's Project Zero Waste program is an Inside the Outdoors service-learning environmental science program developed in partnership with the County of Orange—OC Waste & Recycling. Every year Project Zero Waste engages more than 40,000 students in project-based lessons that transform classroom concepts into real life action.

Some of the projects designed and implemented by students in the Project Zero Waste program include campus-wide recycling efforts, school gardens, community clean-up events and other student-led activities. Project Zero Waste improves academic outcomes, builds 21st century skills, and promotes civic engagement for students, teachers, and community partners.

More than 325,000 have participated in hands-on environmental science instruction since the launch of Project Zero Waste in 2009. In the program, participants first learn the science of solid waste though Inside the Outdoors field trips and in-class lessons taught by Traveling Scientists. Then they apply what they've learned to the design and implementation of solid waste reduction projects.

Assessments of Project Zero Waste students show an average increase in STEM (Science, Technology, Engineering and Math) knowledge of 14 percent, and the benefits go even further. Schools engaging in the program have reduced their trash output up to 20,000 pounds annually.

OCDE also received the Governor's Award for Environmental and Economic Leadership for the Project Zero Waste program in 2011. To learn more about Project Zero Waste visit the Inside the Outdoors website.

OC Public Works

El Nino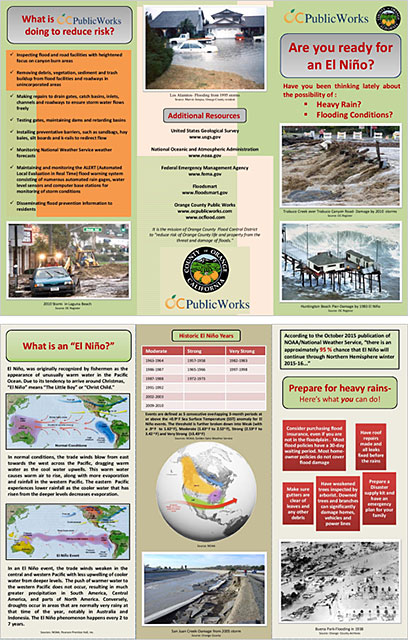 To learn more, visit www.ocelnino.com.

OC Storm Center

The OC Storm Center website provides information regarding road closures, rainfall data, and other storm related information in unincorporated areas of Orange County.

This site is maintained by the OC Public Works, Department Operation Center and OC Watersheds to provide up-to-date road and flood conditions. The OC Public Works, Department Operations Center (DOC) may be activated in the event of hazardous weather conditions or other emergency events. Under most circumstances they can only respond to situations or concerns involving County maintained roads or flood control channels. To report problems with a County road or flood control channels during an active event, please phone (714) 955-0333.

During non-emergency conditions, please report maintenance issues or concerns by submitting a service request here. You may also contact the OC Public Works, Operations & Maintenance main office at (714) 955-0200. Click here for resources to help you prepare for post-fire debris, flood and erosion control.

Sandbags: Each year from October 1st to April 30th residents from unincorporated Orange County can obtain up to 50 free sand bags for the protection of their home from rain and mud. Contractors or commercial entities are not permitted. Sand bags are available at 2301 N. Glassell St. Orange, Ca 92865, or at seasonal staging locations (subject to conditions). For more information on sandbags, click here.

Disaster Assistance: If your property has been damaged in a State declared emergency, please visit the Office of Emergency Services (OES) and the Federal Emergency Management Agency (FEMA) websites to determine if you are eligible for disaster assistance.

This service is provided to you at no charge by the County of Orange, California. Visit online at www.ocgov.com.

OC Animal Care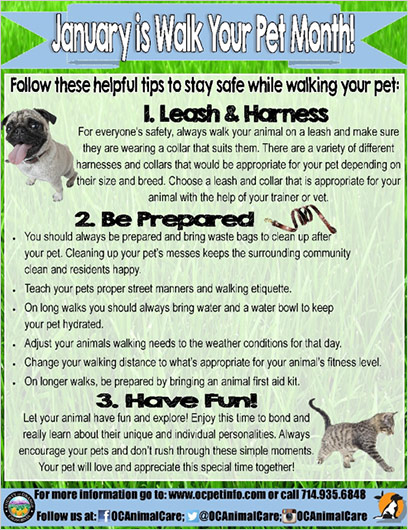 Click on the image above to view a PDF version.

OC Pet of the Week


Click on the image above to view a PDF version.

Out and About South County

The Ecology Center: Cultivating Healthy Food Systems

Healthy communities depend on good food, and good food starts at the source. Join the Ecology Center as they set the table for the future of food by reintroducing farm ethics to the menu. The Ecology Center is committed to bringing people together who are tackling challenges of sustainability, access, nutrition, and more in their community. Their ongoing series, Community Table, is both a celebration of these leaders and a conversation about how we can transform our relationship with food.

A Community Table dining experience is a dialogue around a specific component of a healthy food system. To continue the discussion, each dinner will become a chapter in a cookbook to be published at the completion of the series – a unique documentation of each meal and the stories of the chefs and farmers. The Ecology Center is hosting two Community Table events in January:

Sunday, January 17th, 3:30PM: Urban Farming with Chef Paul Buchanan
Sunday, January 24th, 4PM: Stedsans of Copenhagen, Denmark
For more information about upcoming Community Table dinners and other events, please click here.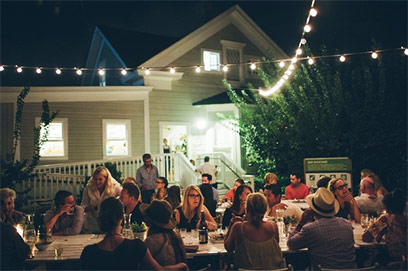 Laguna Beach: Laguna Bluebelt Photo Contest 2016

The Laguna Bluebelt Coalition is gearing up for its 5th Annual Photo Contest! They are accepting entries between January 16th - February 6th; see the flyer below or click here for submission details. The Coalition brings together organizations and individuals with a common goal of protecting and restoring marine life, conserving biological diversity and maintaining healthy, sustainable marine habitats.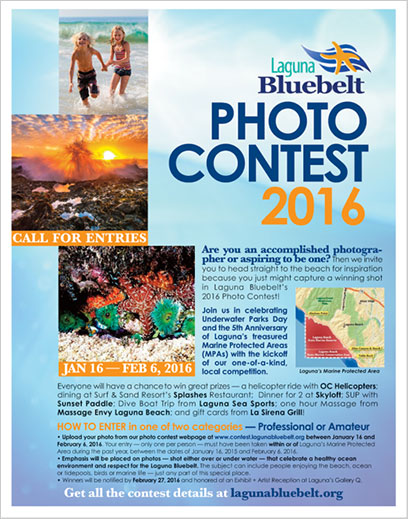 Aliso Viejo: Snow Fest Registration Continues

On Saturday, January 23, 2016 from 11A.M. to 3P.M., snow will blanket Grand Park in the Aliso Viejo Town Center for sledding and snow play during the city of Aliso Viejo's Annual Snow Fest event. Register now before the event is sold out. For more information, please click here.

Dana Point: Whale Walk and Talk

From the Dana Point Nature Interpretive Center, we see many different species of whale and dolphin! Come learn about our largest animal visitors on an approximately 1.5 mile walk through the Dana Point Headlands conservation area. Bring your binoculars and learn migration patterns of different whale species that frequent the area, as well as how to best spot, watch and identify whales. For more information, please click here.
Lake Forest: SnowFest Wristbands On Sale

Wristbands for sledding at SnowFest will be on sale until 7PM on Friday January 8th. For more information, please click here.

Mission Viejo: Comedy Magic Show with Magician David Skale

Magician David Skale mixes uproarious comedy with astounding illusions that will delight the whole audience. Get ready for tons of magic, loads of laughs, and tons of interactive fun on Saturday January 9th from 2P.M. to 3P.M. at City Hall. For more information, please click here.

Rancho Santa Margarita: The Dynamic Art of Shosho

Come check out an exclusive exhibition of the calligraphy of Tairiku Teshima on January 9th and 10th. The art of calligraphy has had a rich cultural history of more than 1,400 years in Japan. The exhibition will take place from 1P.M. to 2:30P.M. at the Sukyo Mahikari Centers for Spiritual Development. For more information, please click here

San Juan Capistrano: Free E-Waste and Document Shredding Event

The City of San Juan Capistrano in partnership with Goodwill of Orange County is hosting a FREE E-Waste and Shredding Event on January 9, 2016 from 8A.M. to 12P.M. in the City Hall parking lot located at 32400 Paseo Adelanto. For a list of items that will be accepted, click here.

Last but not least this week I:

Participated in the Orange County Transportation Authority (OCTA) Regional Planning and Highways meeting.
Participated in the Transportation Corridor Authority (TCA) Foothill Eastern Mobility Ad Hoc.
Participated in the Urban Counties Caucus conference call.
Participated in the Orange County Sanitation District (OCSD) Operations Committee meeting.
Participated in the Library Advisory Board meeting.
Participated in the Orange County Fire Authority (OCFA) special meeting.
Hosted a meeting with the City of San Juan Capistrano to discuss local transportation.

My Staff:

Presented certificates of recognition in honor of the first inductees to the City of Mission Viejo's Wall of Recognition at the Norman P. Murray Community and Senior Center.
Attended the Southern California Economic Summit in Los Angeles.
Attended a meeting of the Laguna Niguel and Aliso Viejo Chambers of Commerce Government Affairs Committee.
Attended a meeting of the Library Advisory Board for Orange County Public Libraries.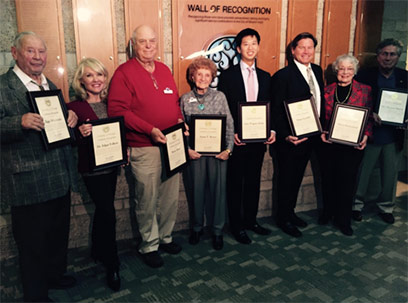 The City of Mission Viejo's Wall of Recognition inductees (from left): Ziggy Wilczynski, Dr. Edgar Folkers (wife), Bruce Hunt, Anna T. Boyce, Jon Wagner-Holtz, Brian Goodell, Sherri Butterfield, and Dr. Thomas Shaver.

South County Elected Officials in the Community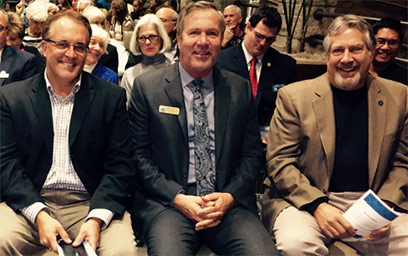 Mission Viejo Mayor Frank Ury (left) and Councilmen Greg Raths and Ed Sachs at the City's Wall of Recognition event.

For questions or comments regarding Supervisor Bartlett's E-Newsletter please contact the Supervisor's office staff at: (714) 834-3550 or Sara.May@ocgov.com.