County Connections

Dana Point Harbor Hosts Community Meeting on Major Milestones for Revitalization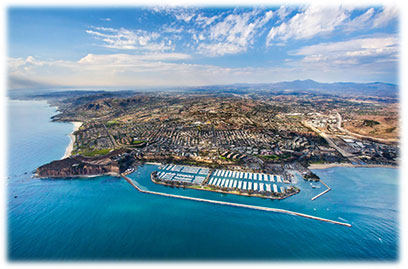 OC Dana Point Harbor department will be hosting a community meeting to discuss major milestones for Revitalization.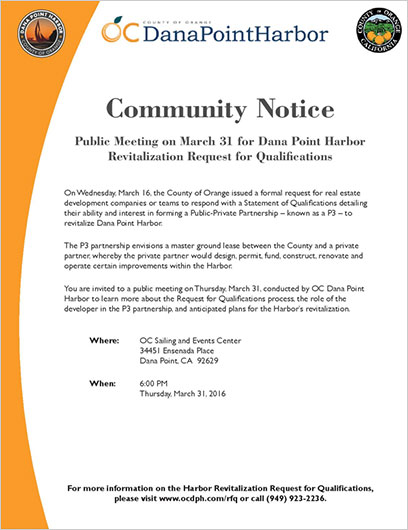 Public Private Partnership Request for Qualifications

On March 16, the County of Orange issued a formal request for real estate development companies or teams to form a public-private partnership (P3) for Revitalization. The private partner would be responsible for design, permitting, funding, construction, renovation, and operation of certain improvements in the Harbor. OC Dana Point Harbor department will be hosting a community meeting at 6:00 PM, March 31 to discuss how the P3 will help move Revitalization forward and will be available to answer questions.

For more information, please view the press release which can be viewed by clicking here.

Phase 1 of Revitalization

The Board of Supervisors will consider Phase 1 Street and Utility improvements at the March 22 meeting. While the Request for Qualifications for the P3 partner is in progress, the County has committed to moving forward on its core competencies such as infrastructure. Pending approval on Tuesday, OC Dana Point Harbor plans on sending notices for a groundbreaking ceremony.

Board Business

Board of Supervisors Approve Orange County's First Housing Village for Veterans

This week the Board of Supervisors approved Orange County's first permanent supportive housing community for homeless veterans in Placentia. Mercy Housing was selected as the developer for the project. The village will include 50 furnished apartment homes (49 for veterans and one for an on-site management unit) a courtyard, community garden, recreation room and resident services offices.

The difficult experiences some veterans face, such as combat exposure, wartime trauma, and Post-Traumatic Stress Disorder, often leave veterans at a greater risk to homelessness. This project will assist those struggling to find affordable housing while living with these challenges.

On-site services will be provided to equip veterans will the skills they need in order to thrive in our community. Mercy Housing plans to form a partnership with New Direction for Veterans to provide on-site services such as job training, job placement, VA benefits assistance and health and wellness. Placentia's Veteran Village is a monumental step to end veteran homelessness in Orange County.

OCFA

County Prevails in Court Appeal over Use of Fire Funds

A plan by the Orange County Fire Authority (OCFA) to allow revenues received for fire protection to be used for any purpose has been struck down by the state Court of Appeal, which upheld a County challenge to the proposal.

The Orange County Board of Supervisors voted in January 2014 to oppose the OCFA plan, which would have diverted at least $134.5 million in fire funds to the city of Irvine through June 30, 2030, with no restrictions on its use. The city argued that the transfer was appropriate because Irvine property taxes allocated by the County for fire protection now far exceed its share of OCFA costs. A Superior Court judge disagreed in August 2014, ruling for the County.

In his March 15 ruling, appellate Justice Raymond J. Ikola wrote that state law is clear: the money that the County pays to OCFA to provide fire protection cannot be redistributed for non-fire purposes. Even though the authority insisted that only non-tax revenues paid by some cities would be used, the court labeled the argument "insincere" and "clever accounting."

Further, the court ruled that the County, not OCFA or cities, is the proper forum for adjusting the allocation of tax revenues for fire services since taxes are paid to the County and then distributed to OCFA. If excess tax funds are collected, "perhaps there are other county-wide services that need additional funding more than Irvine," Justice Ikola wrote.

"The ruling confirms the County's authority over how tax dollars are used for fire protection, which is one of the most important responsibilities we have in keeping our residents safe," Board of Supervisors Chairwoman Lisa Bartlett, Fifth District, said.

The Orange County Fire Authority, comprised of 23 cities and the County, was created in 1995. Fire services in some cities are paid through a portion of property taxes while other cities pay for firefighting directly from general city funds. Irvine has threatened to withdraw from OCFA unless the additional payments are made.

Health Care

Supervisors Seek Public Input to Improve County's Mental Health Services

Orange County Board of Supervisors Chairwoman Lisa Bartlett and Supervisor Andrew Do will hold a public hearing from 2 p.m. to 6 p.m. on Friday, March 25, 2016, to receive input from the community regarding the County's mental health system. The meeting will be held in the Board Hearing Room on the 1st floor of the Hall of Administration, 333 W. Santa Ana Blvd., Santa Ana.

Supervisor Bartlett, Fifth District, and Supervisor Do, First District, comprise an ad-hoc committee established last year to address programs and needs within the County's behavioral health system. Behavioral health relates to a person's mental well-being and their ability to function in society.

As the specialty mental health plan for patients struggling with severe mental illness, the County plays a critical role in the delivery of care. In total, the County is responsible for overseeing more than 200 programs and services, ranging from case management to crisis intervention. The ad-hoc hopes to gain valuable insight from the public at this meeting in order to best serve their needs.

CalOptima

Recruitment Now Open For CalOptima Board of Directors

The Health Care Agency is pleased to announce that recruitment is now open for the CalOptima Board of Directors. A county-organized health system, CalOptima serves more than 770,000 low-income children, adults, seniors and persons with disabilities. CalOptima was formed in 1995 in response to a healthcare system that was struggling to meet the needs of vulnerable Orange County residents. Today, CalOptima has grown to be the second largest health insurer in Orange County, but stayed true to its mission of providing members with access to quality health care services.

To apply for a seat on the CalOptima Board of Directors, please complete an application by April 15, 2016. Applications can be found on the Health Care Agency's website at http://ochealthinfo.com/caloptima.

John Wayne Airport

Dana Point Resident's Intriguing Photographs Featured at John Wayne Airport

From March 16 through April 13, a collection of scenic photographs from Dana Point resident Phillip Nardulli are on display at John Wayne Airport (JWA) as part of JWA's Community Focus Space Program.

Nardulli depicts his respect for nature through his primarily black and white photographic works. He selects subjects that encourage reflection and thought, adapting the treatment of light and composition to highlight each subject's essence. Using film with vintage and toy cameras, he captures the timeless quality of landscapes and ancient architectural forms. The images are printed on silver gelatin, watercolor and handmade papers.

I am proud to see a local Dana Point resident showcase his artwork. The County is fortunate to have a world-class airport with an Arts Program that highlights the many talented artists within our community.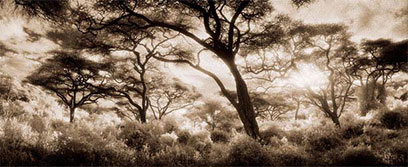 "African Forest" by Phillip Nardulli
More images can be seen here.

OC Moves

OCTA Seeks Applicants for Measure M Taxpayer Oversight Committee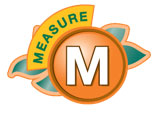 The Orange County Transportation Authority (OCTA) is seeking qualified volunteers to serve on the Measure M Taxpayer Oversight Committee (TOC).

The eleven-member committee monitors OCTA's use of Measure M funds and ensures that all revenue collected from both Measure M1 (M1) and the Renewed Measure M2 (M2) is spent on voter-approved transportation projects. The independent committee was formed after the passage in 1990 of Measure M, a half-cent sales tax to fund transportation improvements in Orange County.

Applications for the 2016-2019 term will be accepted through May 2, 2016 to fill four positions; one each in the First, Third, Fourth and Fifth Supervisorial Districts. Orange County residents residing in these areas are eligible to apply. Candidates must be 18 years of age, reside in one of the districts named above and be willing to participate for a three-year term. Potential committee members should also demonstrate a history of participating in community activities and knowledge of public transportation.

The Grand Jurors Association of Orange County is conducting the recruitment program and will recommend qualified candidates for membership. For additional information or to request an application, call the selection panel at (714) 970-9329 or visit OCTA's website at octa.net/toc.

OC Animal Care/Pet of the Week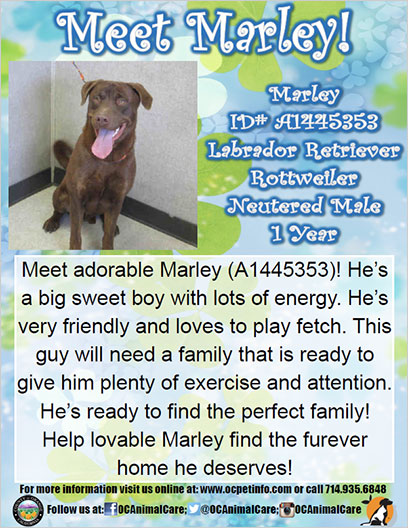 Click on the image above to view a PDF version.

Out and About South County

Lake Forest: 2016 South County Pet Expo

Stop by the Sports Park & Recreation Center for the 2016 Pet Expo! View loving animals looking for their forever homes, learn about the latest information on the new OC Animal Shelter, and enjoy fun activities for pets and the whole family!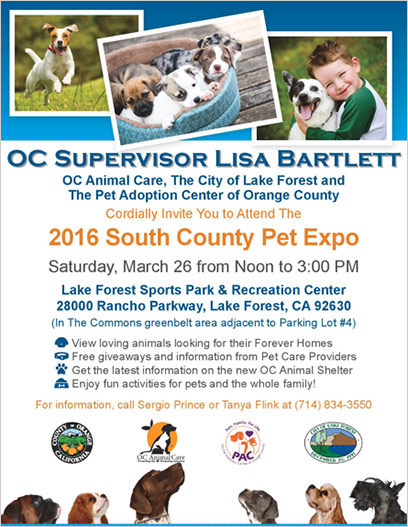 Click on the image above to view a PDF version.

Aliso Viejo: Spring Celebration & Family Movie Night

The Aliso Viejo Community Association (AVCA) will host its Spring Celebration from 9 a.m. to 11:30 a.m. Saturday, March 19 at Grand Park in Aliso Viejo Town Center. The fun-filled family event includes egg hunts, face painting, bounce houses, children's arts and crafts, music, and visits with Peter Rabbit. Coast Hills Church will host a pancake breakfast in the Town Center plaza from 9 a.m. to 11 a.m. For more information, contact AVCA at 949-243-7750 or click here.

Join the Aliso Viejo Aquatic Center for Family Movie Night on Friday, March 25th! The fun starts at 6:30 p.m. and will feature PG-rated movie, "The Good Dinosaur." Guests will enjoy free entry as well as food and sweet treats available for purchase (cash only). Bring chairs and blankets to enjoy the show. No outside food is permitted. The Aliso Viejo Aquatic Center is located at 29 Santa Barbara Drive, near Golf Drive and Glenwood. For more information, click here.

Dana Point: History Tour

Want to learn more about Dana Point's history? Join us on Saturday, March 19th at the Nature Interpretive Center for a walking tour of the area. The tour begins at 9am and covers about one and a half miles. This walk requires your RSVP; reserve your spot by emailing wgintern@danapoint.org or calling (949) 248-3527. The tour has a maximum capacity of 10 individuals.

Can't make it this weekend? History tours occur on the third Saturday of each month and have rotating themes. For more information, click here.

Laguna Niguel: Bunny Blast

Bunny Blast is an exciting outdoor event for kids! Children's activities include crafts, games, face painting, bounce houses, entertainment, "Touch a Truck," and an instructor showcase for parents to meet the Parks & Recreation class instructors. The Easter Bunny will be hopping around! Bring your own camera for pictures. Food available for purchase.

This event takes place Saturday, March 26th from 9 a.m. to 12 p.m. at Chapparosa Park. Activities may be canceled if it rains on event day. Please call the Recreation Hotline for an event update a (949) 362-4351 x 1. For more information, click here.
San Clemente: Mixologist Competition

The San Clemente Chamber of Commerce is hosting the 12th Annual "San Clemente Mixologist Competition," a contest among area restaurant bartenders to see who has the best tasting original drink. Bartenders select their favorite "homemade" drink, which will be judged by a select group of local dignitaries at Big Helyn's Saloon on Thursday, March 24th from 3pm to 5pm. The winner's specialty drink will then be adopted by participating restaurants as the official San Clemente drink.

Ticket price for Chamber members to attend is $25.00 per person, and $35.00 for prospective members. This event includes hors d'oeuvres and a sampling of the presented libations. Space is limited to 30 people! Tickets are sold on a first come, first serve basis. You must call or stop by the Chamber office. For more information, click here.

San Juan Capistrano: St. Joseph's Day & Return of the Swallows Celebration

St. Joseph's Day and the Return of the Swallows Celebration is a world-renowned tradition celebrating the annual return of the famous swallows to Capistrano. This tradition was started by Father O'Sullivan in the 1920's at Mission San Juan Capistrano, historic California landmark and home of the swallows, and is carried each year on March 19th. Join us for this historic celebration full of tradition, community, and festivity! Click here for the event schedule and to purchase tickets.

Last but not least this week I:

Participated in the Swallows Day Parade in San Juan Capistrano. To view a photo album of the parade, please click here.
Participated in a panel at the International Bridge, Tunnel, and Turnpike Association (IBTTA) Global Summit in Washington, D.C.
Chaired the Orange County Board of Supervisors meeting.
Spoke at the Women's Transportation Seminar (WTS) in Costa Mesa.
Attended the California Transportation Commission's reception in Irvine.
Participated in the OCTA Legislative & Communications Committee meeting.
Provided certificates of recognition in honor of South County teachers receiving the 2016 Crystal Apple Award, including Laguna Hills High School's Mary Belfield, Douglas Harvard and Cliff Jarmie; Aliso Niguel High School's Robert Talley and Robert Jansen; Dana Hills High School's Kristine Clarke and Mark Gammell; and Laguna Beach High School's Dawn Hunnicutt and David Brobeck.
Presented a certificate of recognition to restaurant owner Georgia Andersen in honor of the grand opening of Two Left Forks in Dana Point.
Participated in the CTC Road Charge Technical Advisory Committee meeting in Irvine.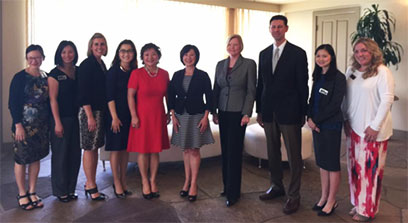 WTS-OC Executive Board and Carrie Pourvahidi, Caltrans at the WTS-OC monthly luncheon.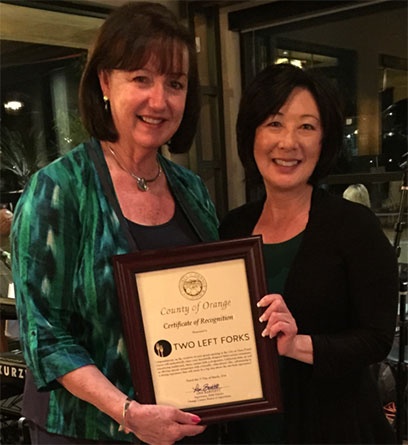 Presenting a certificate of recognition to restaurant owner Georgia Andersen in honor of the grand opening of Two Left Forks in Dana Point.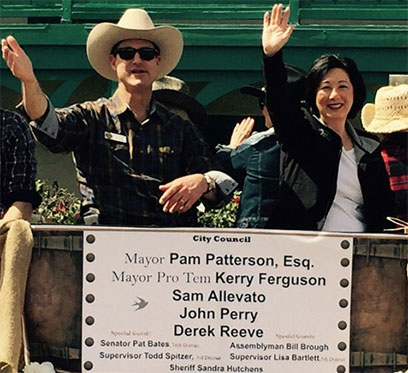 With Supervisor Todd Spitzer at the Swallows Day Parade in San Juan Capistrano.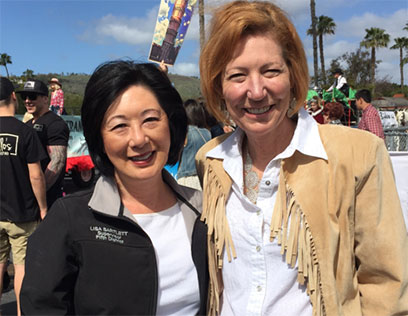 With Sheriff Sandra Hutchens at the Swallows Day Parade in San Juan Capistrano.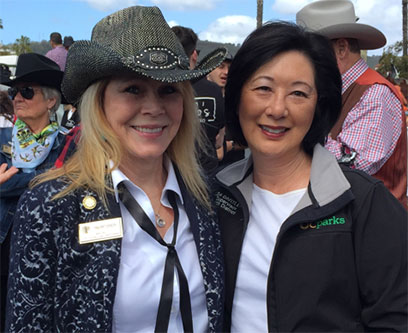 With San Juan Capistrano Mayor Pam Patterson at the Swallows Day Parade.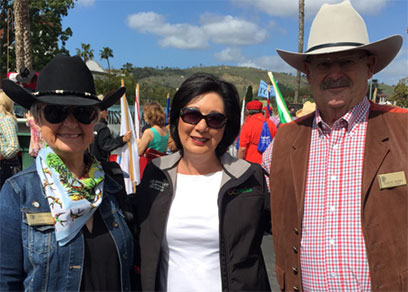 With San Juan Capistrano Mayor Pro Tem Kerry Ferguson and Councilman John Perry at the Swallows Day Parade.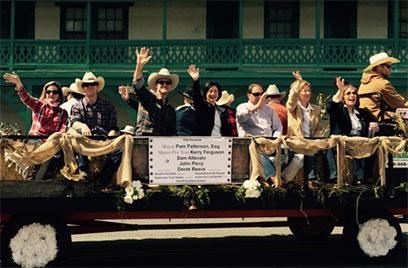 Riding on the Elected Officials Wagon at the Swallows Day Parade.

My Staff:

Attended the Orange County Division's League of California Cities Sober Living Homes regional event.
Attended a meeting to discuss SOCWA Bridge in Aliso Viejo.
Attended the OCTA Board meeting.
Presented a certificate of recognition in honor of the ribbon cutting ceremony for Sky Salon in Laguna Niguel.
Presented a certificate of recognition at the Happy Fun Fest in Mission Viejo in honor of the International Day of Happiness.
Attended the Heroes Hall Groundbreaking at the Orange County Fairgrounds in Costa Mesa.
Attended the Rancho Santa Margarita Chamber's Mix & Mingle Event of Regional Elected Officials and Business Leaders.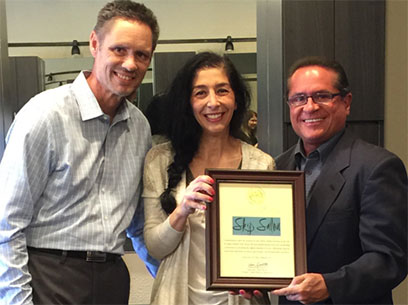 Presenting a certificate of recognition at the Sky Salon ribbon cutting in Laguna Niguel.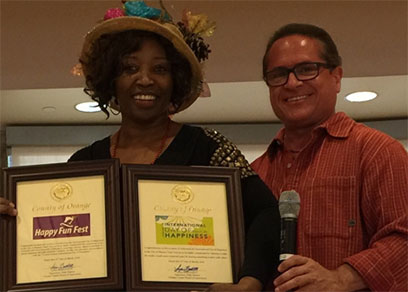 Presenting a certificate of recognition at Happy Fun Fest in Mission Viejo.

South County Elected Officials in the Community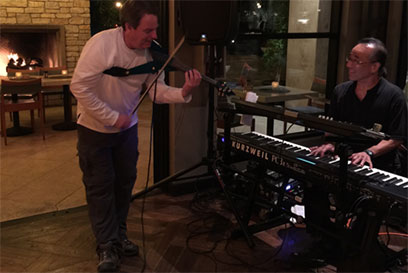 Dana Point Councilman Scott Schoeffel (left) performing at Two Left Forks in Dana Point.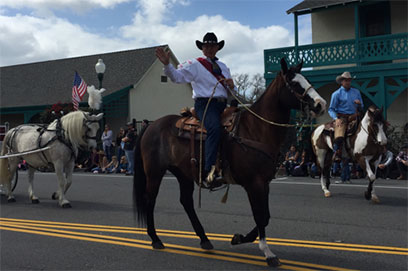 San Juan Capistrano Councilman and Swallows Day Parade Grand Marshall Sam Allevato.

For questions or comments regarding Supervisor Bartlett's E-Newsletter please contact the Supervisor's office staff at: (714) 834-3550 or Sara.May@ocgov.com.