Happy Easter!

It's springtime! Although we are fortunate enough to live in a region where we enjoy spring weather year-round, the beginning of a new season is the perfect opportunity to adopt a fresh perspective on our lives. It is important to recognize and appreciate what we have accomplished, as well as to take on new challenges and improvements with a renewed vigor.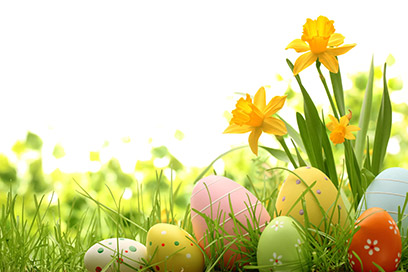 There are plenty of spring-themed and family-friendly activities in South County this weekend; I highly encourage you to attend! You can find an event near you under the "Out and About South County" section. I hope you have a wonderful holiday weekend and enjoy all that South County has to offer as we welcome a season of new beginnings and fresh opportunity.

2016 South County Pet Expo & New OCAC App

Stop by the Sports Park & Recreation Center for the 2016 Pet Expo! View loving animals looking for their forever homes, learn about the latest information on the new OC Animal Shelter, and enjoy fun activities for pets and the whole family!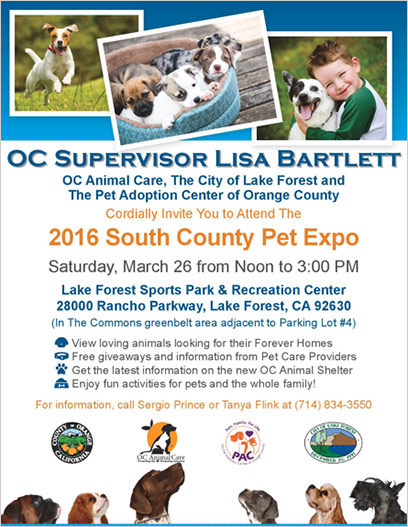 Click on the image above to view a PDF version.

New PetSnap Mobile App

Orange County Animal Care just launched a new app: the PetSnap App! This app can be downloaded onto your phone and links directly to OC Animal Care's website. From this app, members of the public can search lost pets, adoptable pets and the "Happily Ever After" page. Users can also "follow" an animal by adding them to their watchlist. This is an exciting new modality that permits members of the public to search for animals when away from their computer or to merely look up information on animals while navigating through OC Animal Care. Click here to download the app!

Child Abuse Prevention Month

This week the Board presented a resolution proclaiming April 2016 as Child Abuse Prevention Month. The Social Services Agency introduced their new WE CAN Coalition. Led by SSA Medical Director, Dr. Anne Light, the WE CAN Coalition: Working to End Child Abuse and Neglect, is a new Orange County Coalition that utilizes cross-organizational knowledge and skills to develop projects that improve the prevention, diagnosis and treatment of child abuse and neglect at the individual, family and community levels.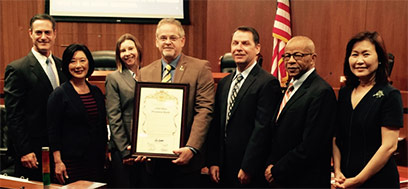 Registrar of Voters

Election Workers Needed

The Orange County Registrar of Voters needs more than 6,000 volunteers to assist with the various tasks that are required in conducting the upcoming June 7, 2016, Presidential Primary Election.

For information on the various Election Day volunteer opportunities, job descriptions, compensation and to sign up to serve on Election Day, county employees can go to the Registrar of Voters' website at ocvote.com/volunteer.

Dana Point Harbor

Dana Point Harbor Hosts Community Meeting on Major Milestones for Revitalization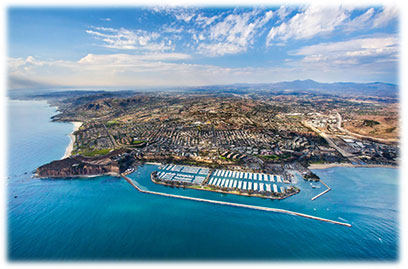 OC Dana Point Harbor department will be hosting a community meeting to discuss major milestones for Revitalization.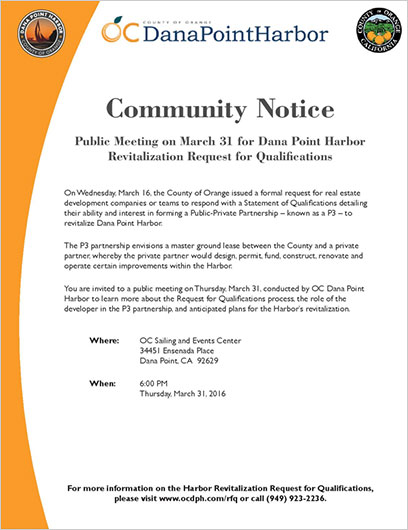 CalOptima

Recruitment Now Open For CalOptima Board of Directors

Recruitment is now open for the CalOptima Board of Directors. A county-organized health system, CalOptima serves more than 770,000 low-income children, adults, seniors and persons with disabilities. CalOptima was formed in 1995 in response to a healthcare system that was struggling to meet the needs of vulnerable Orange County residents. Today, CalOptima has grown to be the second largest health insurer in Orange County, but stayed true to its mission of providing members with access to quality health care services.

To apply for a seat on the CalOptima Board of Directors, please complete an application by April 15, 2016. Applications can be found on the Health Care Agency's website at http://ochealthinfo.com/caloptima.

OC Moves

OCTA Seeks Applicants for Measure M Taxpayer Oversight Committee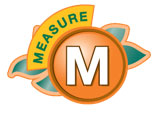 The Orange County Transportation Authority (OCTA) is seeking qualified volunteers to serve on the Measure M Taxpayer Oversight Committee (TOC).

The eleven-member committee monitors OCTA's use of Measure M funds and ensures that all revenue collected from both Measure M1 (M1) and the Renewed Measure M2 (M2) is spent on voter-approved transportation projects. The independent committee was formed after the passage in 1990 of Measure M, a half-cent sales tax to fund transportation improvements in Orange County.

Applications for the 2016-2019 term will be accepted through May 2, 2016 to fill four positions; one each in the First, Third, Fourth and Fifth Supervisorial Districts. Orange County residents residing in these areas are eligible to apply. Candidates must be 18 years of age, reside in one of the districts named above and be willing to participate for a three-year term. Potential committee members should also demonstrate a history of participating in community activities and knowledge of public transportation.

The Grand Jurors Association of Orange County is conducting the recruitment program and will recommend qualified candidates for membership. For additional information or to request an application, call the selection panel at (714) 970-9329 or visit OCTA's website at octa.net/toc.

OC Animal Care/Pet of the Week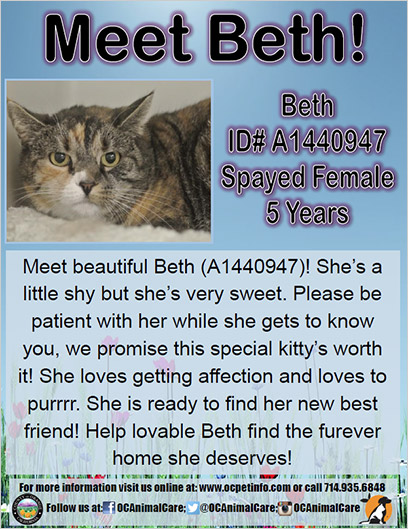 Click on the image above to view a PDF version.

Out and About South County

Aliso Viejo: Meet the Mayor

Come meet Mayor Mike Munzing on Thursday, March 31st at the Aliso Viejo Conference Center! Hosted by the Aliso Viejo Chamber of Commerce and free to the public. Join us between the hours of 6pm and 9pm. For more information, click here.

Dana Point: Egg Hunt

Come enjoy springtime activities at the Dana Point Egg Hunt! Entertainment will include a marionette/puppet show, children's relay games, a petting zoo, Easter Bunny visits and, of course, egg hunts for ages up to 10 years. This event will take place at Pines Park and Sea Canyon Park. For more information, click here.

Irvine: Nowruz Festival

Come to Irvine's 3rd Annual Nowruz festival which celebrates the Persian New Year! Iranians began to immigrate to the United States starting in the late 1970's and 1980's. Each person's story uncovers a unique reason for leaving, but also reveals the determination to create a new beginning. Join us for live entertainment, Persian food and refreshments, and a musical dance performance.

This event is free to the public and takes place Sunday, March 27th from 1pm to 6pm in the Rose Garden at Bill Barber Community Park. For more information, click here.

Lake Forest: Eat for a Good Cause & Etnies Egg-cellent Egg Hunt and Festival of Colors

Come to Peppino's Italian Restaurant on Tuesday, March 29th and Wednesday, March 30th to support the Lake Forest U.S.M.C. 1st Law Enforcement Battalion. 15% of all food charges will go to support the Marines and their families. This event is being hosted at both of Peppino's locations, 23600 Rockfield Blvd. and 26612 Towne Centre Drive. For more information, click here.

It's springtime and time for the Skatepark to host its annual holiday egg hunt! Come and visit the Skateboarding Bunny, play in the jump houses, and participate in fun crafts. This is a family friendly event and great for the young ones! The Egg Hunt starts at 11:15 am sharp so please don't be late or you will miss it! There will be an opportunity to take photos with the bunny after the egg hunt. The color blast will start at 12 pm so make sure you have clothes you don't mind being covered in colors! For more information, click here.

San Clemente: Sensational Springtacular

Follow the yellow brick road to a bright, colorful world! Start the morning with a delicious plate of pancakes, prepared by the San Clemente's Kiwanis Club. Continue your morning observing decorations, sensational entertainers, festive activities, face painting, and one BIG egg hunt! Visit the springing bunny, play games, and enjoy the day eating scrumptious snacks.

Join us at Vista Hermosa Sports Park on Saturday, March 26th from 9am to 11:30am. The egg hunt for ages 2 and under and 5 to 7 begins at 10am. The egg hunt for ages 3 to 4 and 8 to 10 begins at 11am. For more information, click here.

Laguna Niguel: Bunny Blast

Stop by Chapparosa Park in Laguna Niguel on March 26th for free family-friendly activities, and snap a photo with the Easter Bunny! Note, there will be no egg hunt at this event. For more information, click here.

Laguna Woods: Invasive Aedes Mosquitoes and Zika Virus Town Hall Meeting

Open to all Orange County residents to address current mosquito control issues. Learn about the virus's global spread as well as the current situation locally. Hear from a panel of experts and learn of the overview of the Mosquito Control Plan. Join us at the Laguna Woods City Hall on Wednesday, March 30th at 10am. For more information, click here.

Mission Viejo: Bunny Days

Hop on over to Bunny Days on Saturday, March 26th! This time-honored event, which takes place from 10am to 1pm, attracts people of all ages to Oso Viejo Park and the Norman P. Murray Community and Senior Center for a fun-filled day of carnival game booth, spring crafts, egg hunts and photos with the bunny. Kids will enjoy an inflatable obstacle course and spring garden center where they can plant colorful flowers or vegetables to take home. The event also includes a bake sale! For more information, click here.

Last but not least this week I:

Chaired the Orange County Board of Supervisors meeting.
Attended the South Orange County Mobility Workshop in Mission Viejo.
Met with representatives from SOCWA to discuss solutions concerning the AMWA Bridge.
Participated in the TCA Joint Finance & Investment Committee, the Joint Procurement Ad-Hoc, and the Joint Strategic Planning Ad-Hoc.
Spoke at the Laguna Niguel Republican Women Federated membership event.
Accepted a certificate of recognition from the Orange County Sanitation District.
Participated in the Orange County Fire Authority Board meeting.
Met with the Dana Point Harbor Association.
Participated in the Behavioral Ad-Hoc public meeting with Supervisor Do.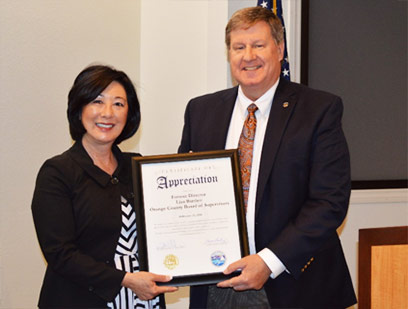 I received a certificate of appreciation for serving on the Orange County Sanitation District last year from Chair John Nielsen.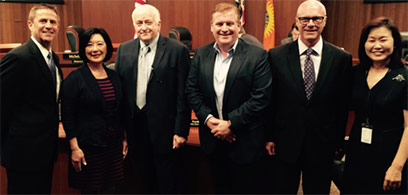 Orange County Visitors Association Chairman Kelly Miller (left), CEO Ed Fuller, PAC Chairman Gary Sherwin, and Vice Chair Jay Burress.

My Staff:

Presented a certificate of recognition in honor of the Body by Orange Twist ribbon cutting ceremony in San Juan Capistrano.
Attended the San Onofre Nuclear Generating Station Community Engagement Panel.
Presented a certificate of recognition in honor of the Jack Randall Photography & Video grand re-opening in Dana Point.
Presented a certificate of recognition in honor of the Edward Jones Investments ribbon cutting ceremony in Laguna Niguel.
Participated in the South County Senior Summit planning meeting.
Participated in the "Celebrate Ladera" planning meeting.
Participated in the Nowruz (Persian New Year) celebration in Mission Viejo.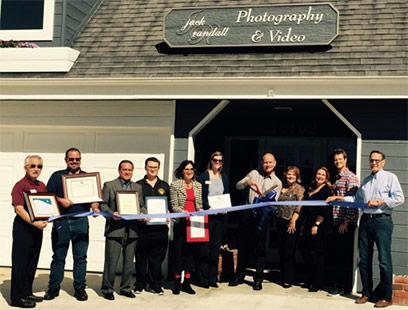 Presenting a certificate of recognition at the Jack Randall Photography ribbon cutting in Dana Point.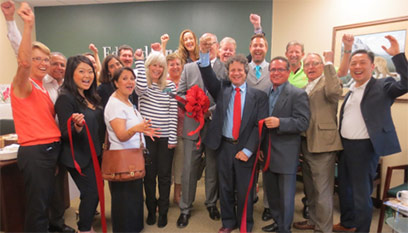 Presenting a certificate of recognition at the Edward Jones Investments ribbon cutting in Laguna Niguel.

South County Elected Officials in the Community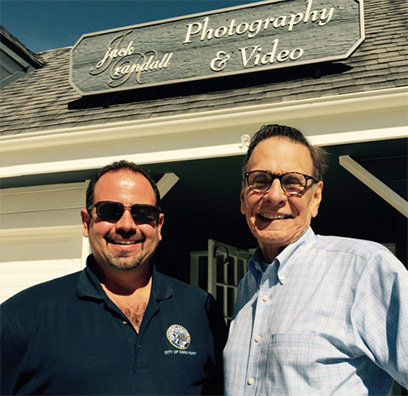 Dana Point Mayor John Tomlinson (left) and Councilman Carlos Olvera at the Jack Randall Photography ribbon cutting.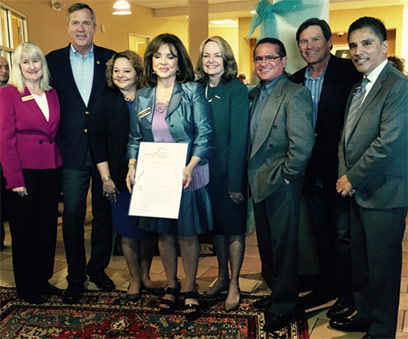 Former Mission Viejo Mayor Trish Kelly (left), Councilman Greg Raths and Mayor Pro Tem Wendy Bucknum at Nowruz celebration in Mission Viejo.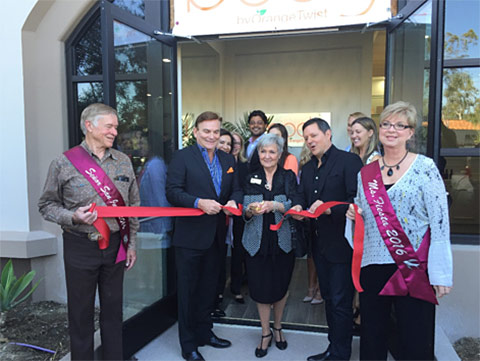 San Juan Capistrano Mayor Pro-Tem Kerry Ferguson (center) cutting the ribbon at Body by Orange Twist.

For questions or comments regarding Supervisor Bartlett's E-Newsletter please contact the Supervisor's office staff at: (714) 834-3550 or Sara.May@ocgov.com.