County Connection

2016 South County Pet Expo

I am proud to announce that the first annual South County Pet Expo was a tremendous success! Last Saturday, more than 3,000 people visited the Lake Forest Sports Park to take advantage of the pet resources and adoptions offered by the 50+ vendors and non-profits. Vendors ranged from dog trainers and walkers, to veterinarians, pet photographers, groomers, and specialty pet stores. Over fifteen rescue and adoption groups were present with adoptable dogs, cats, and even reptiles! Although the final number of adopted animals is still being calculated, the organizations agree that it was a great day for the animals!

I want to thank all those who partnered with me to make the inaugural South County Pet Expo such a success. Thank you to the City of Lake Forest and OC Animal Care, and very special thanks to April Josephson and The Pet Adoption Center of Orange County. Also, thank you to all of our sponsors, participants, volunteers, and attendees for their overwhelming support.

It was wonderful to see the community gather together in such large numbers to celebrate and support our animals. I am looking forward to next year's event! In the meantime, I will continue to work at the County to ensure our pets have the best opportunity to find their "fur-ever" home.

To read more about the South County Pet Expo, please click here. To see a photo album of the event, please click here.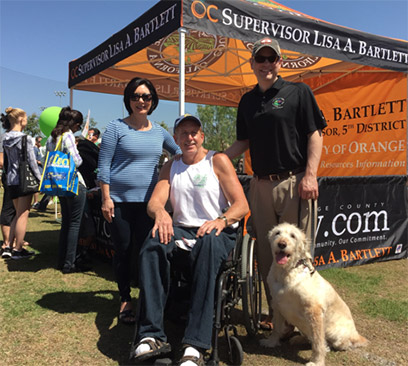 With Lake Forest Mayor Andrew Hamilton (right) and Mayor Pro Tem Scott Voigts (center) at the South County Pet Expo.

Mental Health Ad Hoc

Last week I held a public meeting with Supervisor Do to hear stakeholders voice their concerns with the behavioral health system. Many speakers provided personal accounts of their difficulty navigating the behavioral health system. One of the best FREE resources available to families is the NAMI OC Family-To-Family Education Program.

Taught by trained volunteers, NAMI Orange County provides an intensive twelve-week program for families to teach them the knowledge and required skills to cope with their loved ones affected by mental illness, facilitate the treatment process, and contribute to the return to health. This program is free for families who have relatives with serious mental illnesses. This program is also taught in Spanish.

The NAMI Family-To-Family Education Program is a new concept in education for families of loved ones who are affected by serious mental illness: schizophrenia, depression, bipolar disorder (manic depression), post-traumatic stress disorder (PTSD), panic disorder, and obsessive compulsive disorder. The course was written by experienced family members and mental health professionals, and is taught by family members who have completed the course and are specially trained to teach the course to others.

Click Here to Complete Application online

For more information please contact Katie Lenhoff of NAMI-OC at 714-544-8488..

If you or anyone you know is in need of mental health services, call OC Links. The OC Links Information and Referral Line provides telephone and online support for anyone seeking information or linkage to any of the Health Care Agency's Behavioral Health Services. These services include children and adult mental health, alcohol and drug inpatient and outpatient, crisis programs, and prevention and early intervention services. Callers can be potential participants, family members, friends or anyone seeking out resources, or providers seeking information about Behavioral Health programs and services. Trained Navigators provide information, referral, and linkage directly to programs that meet the needs of callers.

If you would like to learn more about services available through Behavioral Health Services, please call (855) OC-LINKS between the hours of 8 am - 6 pm to be connected to a Behavioral Health Navigator, or click on the OC Links Chat icon during open chat hours. TDD Number: 714-834-2332.


South County Apartments to Permanently House 14 Chronically Homeless Youth

Friendship Shelter's Henderson House Apartments reopened its doors on Tuesday, March 29th for a Grand Opening celebration. Community members, partnering agencies, elected officials, staff members, and program participants came together to mark the occasion at the newly renovated San Clemente apartment building. Henderson House Apartments will provide permanent supportive housing to 14 homeless transitional aged youth, ages 18-25.

As with all permanent supportive housing programs, tenants are chronically homeless, live with a disabling condition, and will have access to supportive services to ensure a successful living arrangement.

Orange County Board of Supervisors Chairwoman Lisa Bartlett was a featured speaker at the event, and noted the importance of housing and mental health services for those in need in our community. She presented a certificate of recognition to Friendship Shelter for its leadership in developing the project.

"We're thrilled to welcome 14 young people to their new home where they can focus on their futures, and grateful to our community and partnering agencies for making this program a reality," said Dawn Price, Executive Director of Friendship Shelter.

Three tenants of Henderson House Apartments offered remarks at the grand opening, thanking the agencies responsible for seeing this project to completion and to share their personal stories. "This is more than a place to rest my head," said one young woman. "This is a community where I can rest my soul, and for that I am grateful."

Another tenant spoke about living in his car until his housing came through, "I used to cry myself to sleep every night because I had no hope for the future. Now I'm in school, and I'm making the impossible possible."

In addition to Friendship Shelter, partnering agencies include CalHFA, City of San Clemente, Orange County Community Services, Orange County Health Care Agency, STAY Process & Pathways Health, and the U.S. Department of Housing & Urban Development.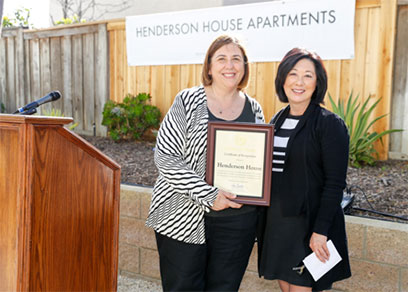 To see a photo album of the event, please click here.

Health Care Agency

Waste Not OC Named Model Public Health Practice by National Association of County and City Health Officials

Waste Not OC, a coalition working to combat food insecurity in Orange County, has been selected as a model practice by the National Association of County and City Health Officials (NACCHO) after demonstrating exemplary and replicable qualities in response to a local public health need.

In Orange County, one in five people faces food insecurity on any given day. To address this growing social problem, the County of Orange Health Care Agency's Public Health Officer spearheaded the creation of a coalition of food banks, health care representatives, restaurants, food distributors, and community leaders called Waste Not OC. The organization is a public-private partnership with the goal of eliminating hunger and reducing food waste by facilitating surplus food donations from food-producing facilities to local pantries.

"Since its inception in 2012, Waste Not OC has recovered 236 tons of extra food from local businesses that would have otherwise been thrown away and transformed the surplus into 391,745 meals for residents in need," said Dr. Eric Handler, Public Health Officer. "As we celebrate this important, national recognition, I hope it serves as further motivation for additional jurisdictions to work with restaurants, retailers and grocers to join our efforts and help feed the need."

Dr. Handler has been invited to attend the 2016 NACCHO Annual Conference this July to be formally recognized. Congratulations to him and the entire staff dedicated to the success of this organization.

To learn more about Waste Not OC, please visit http://www.wastenotoc.org/.

CalOptima

Recruitment Now Open For CalOptima Board of Directors

Recruitment is now open for the CalOptima Board of Directors. A county-organized health system, CalOptima serves more than 770,000 low-income children, adults, seniors and persons with disabilities. CalOptima was formed in 1995 in response to a healthcare system that was struggling to meet the needs of vulnerable Orange County residents. Today, CalOptima has grown to be the second largest health insurer in Orange County, but stayed true to its mission of providing members with access to quality health care services.

To apply for a seat on the CalOptima Board of Directors, please complete an application by April 15, 2016. Applications can be found on the Health Care Agency's website at http://ochealthinfo.com/caloptima.

Registrar of Voters

Election Workers Needed

The Orange County Registrar of Voters needs more than 6,000 volunteers to assist with the various tasks that are required in conducting the upcoming June 7, 2016, Presidential Primary Election.

For information on the various Election Day volunteer opportunities, job descriptions, compensation and to sign up to serve on Election Day, county employees can go to the Registrar of Voters' website at ocvote.com/volunteer.

OC Moves

OCTA's Transit General Manager Honored at COMTO's First Women Leaders Awards Ceremony

The Conference of Minority Transportation Officials (COMTO) this week honored OCTA's Beth McCormick with the Outstanding Transportation Executive Leadership Award at the group's inaugural Women Leaders of Southern California Transportation Awards ceremony.

McCormick, a Mission Viejo resident, is the General Manager of the Orange County Transportation Authority's Transit division, the largest division at OCTA with five operating bases and almost 800 vehicles.

McCormick has worked at OCTA since 1993 and has more than 30 years of transportation experience. As general manager, McCormick is responsible for the management, operation and maintenance of all bus services, including ACCESS and fixed-route programs. She also oversees maintenance of facilities and partnerships with other agencies that help provide specialized transportation services.

While accepting the award, McCormick shared her gratitude for the mentoring she received, which led to her participation in COMTO. Now McCormick is mentoring young people and women in the transportation industry as her way of giving back.

With more than 1,700 members, COMTO's mission is to ensure a level playing field for minority individuals and businesses in the transportation industry through advocacy and information sharing.

In observance of Women's History Month, COMTO held its inaugural Women Leaders award ceremony to honor women leaders in Southern California whose public service contributions have significantly impacted the transportation industry in communities throughout Southern California.

Congratulations to Beth on her noteworthy accomplishment!

OCTA Seeks Applicants for Measure M Taxpayer Oversight Committee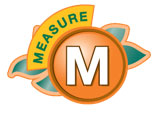 The Orange County Transportation Authority (OCTA) is seeking qualified volunteers to serve on the Measure M Taxpayer Oversight Committee (TOC).

The eleven-member committee monitors OCTA's use of Measure M funds and ensures that all revenue collected from both Measure M1 (M1) and the Renewed Measure M2 (M2) is spent on voter-approved transportation projects. The independent committee was formed after the passage in 1990 of Measure M, a half-cent sales tax to fund transportation improvements in Orange County.

Applications for the 2016-2019 term will be accepted through May 2, 2016 to fill four positions; one each in the First, Third, Fourth and Fifth Supervisorial Districts. Orange County residents residing in these areas are eligible to apply. Candidates must be 18 years of age, reside in one of the districts named above and be willing to participate for a three-year term. Potential committee members should also demonstrate a history of participating in community activities and knowledge of public transportation.

The Grand Jurors Association of Orange County is conducting the recruitment program and will recommend qualified candidates for membership. For additional information or to request an application, call the selection panel at (714) 970-9329 or visit OCTA's website at octa.net/toc.

OC Animal Care/Pet of the Week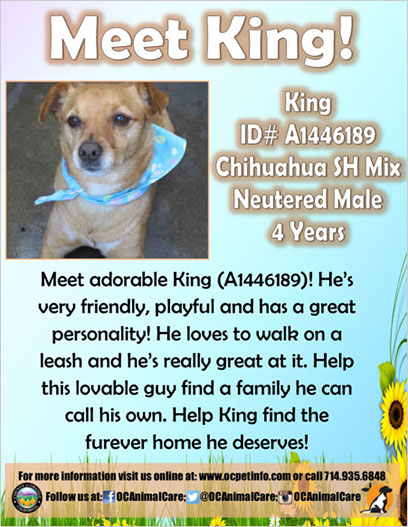 Click on the image above to view a PDF version.

Out and About South County

Dana Point: Nature Tour & Groheny Festival

Join your community at the Dana Point Nature Interpretive Center for a nature walk on Saturday, April 2nd from 9am to 11am! This walk explores the ecology and natural history of the area and is approximately 2 hours. Nature tours occur on the first Saturday of each month. It is a docent led tour that covers approximately 1.5 miles in distance.

This walk requires RSVP to either dpnaturalresources@danapoint.org or (949) 248-3527, and has a maximum capacity of 10 individuals. This event is free! For more information, click here.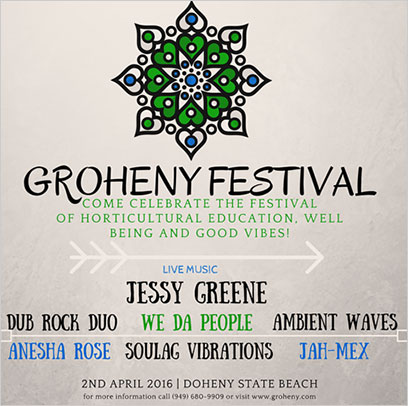 On Saturday, April 2nd, drop by the Groheny Festival at Doheny Beach! Enjoy food and live music while learning all about horticulture! This event will take place between 9am-6pm. Click here for more information.

Irvine: Spring Open Adult Tennis Tournament & Caspers Adventure Day

Come watch players compete in Irvine's Spring Open Adult Tennis Tournament! Join us Saturday, April 2, 2016 from 8am to 5pm. Hosted by the Orange County Korean Tennis Association along with the City of Irvine.

This event is free to the public and takes place at the David Sills Lower Peters Canyon, Heritage and Woodbridge High School Courts. For more information, click here.

Laguna Beach: Art Museum – Helen Lundeberg & Fredrick Hammersley

Come down to the Laguna Art Museum to view the works of Helen Lundeberg and Fredrick Hammersley. A key figure of twentieth-century California art, Helen Lundeberg's "A Retrospective" features approximately sixty paintings spanning her career. Frederick Hammersley's collection features works ranging from casual studies of life to carefully composed abstractions. Hammersley was part of the same artistic circle as Helen Lundeberg.

Laguna Niguel: Meet the Mayor

The public is invited to join Mayor Laurie Davies for a walking tour of the Niguel Botanical Preserve on Tuesday, April 5th from 11:30am to 1pm at Crown Valley Park, 29571 Crown Valley Parkway, Laguna Niguel. Guests will gather at the Amphitheater and a box lunch will be provide to the first 50 in attendance. Wear comfortable walking shoes and learn about this beautiful hidden jewel in our city. Guests will also have the opportunity to share their ideas with Mayor on how to make Laguna Niguel even better!

For more information, click here.

Mission Viejo: Summer of '58 Senior Dance

Gals, don your poodle skirts! Guys, throw on your leather jacket and slick back your hair! Join Mission Viejo High School students as they bring generations together to celebrate the '50s. Dance to the music of "DJ Katie" and enjoy refreshments. One lucky winner will receive a door prize! Registration for this free event is required; please call (949) 470-3062.

This event takes place Sunday, April 3rd from 2pm to 4pm at the Norma P. Murray Community and Senior Center. For more information, click here.

Rancho Santa Margarita: Low-Cost Pet Vaccination Clinic

Looking to have your pets vaccinated for a low cost? Join us at the Bell Tower Regional Community Center on April 6th, 2016! Cats only from 6:30pm to 7pm; dogs and cats from 7pm to 8:30pm. Much thanks to the Society for California Veterinary and Vaccine Care for making this event possible!

The Bell Tower Regional Community Center is located at 22232 El Paseo in Rancho Santa Margarita, CA 92688. For more information, click here.

San Clemente: Voted Number One Main Street

San Clemente's main street and downtown area along Avenida Del Mar was voted as the number one city for "Main Street" charm by the Only in Your State website. Check out the full article here.

San Juan Capistrano: Caspers Adventure Day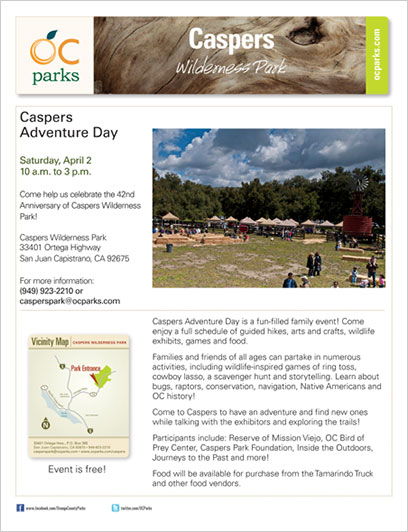 Click on the image above to view a PDF version.
OC Parks presents the annual Adventure Day at Caspers Wilderness Park in San Juan Capistrano on Saturday, April 2 from 10 a.m. to 3 p.m. Come enjoy a day of adventure in the great outdoors with natural history tours, wildlife exhibits, musical entertainment, arts and crafts, games and refreshments. For more information, click here.

Last but not least this week I:

Participated in the OCTA Board meeting.
Spoke at the Orange County Young Republicans meeting.
Presented a certificate of recognition at the Henderson House Grand Opening, an innovative project of the Laguna Beach Friendship Shelter. To see a photo album of the event, please click here.
Spoke at the Orange County Public Affairs Association meeting.
Participated in a special CalOptima meeting.
Presented a certificate of recognition to Mayor Mike Munzing at the Aliso Viejo Meet the Mayor event in honor of the City's 15th anniversary.
Hosted my inaugural South County Pet Expo. To view a photo album, please click here.
Participated in the Rancho Mission Viejo Portola Ride Celebration.
Attended the Evening of the Mayor Event in Aliso Viejo.
Presented a certificate of recognition to Friendship Shelter in honor of the grand opening of Henderson House in San Clemente.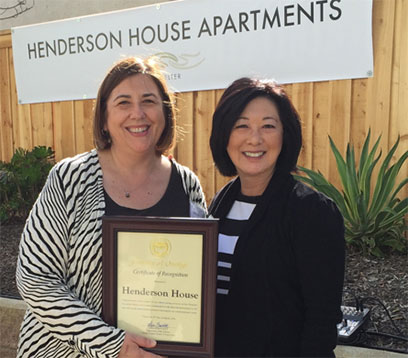 Presenting a certificate of recognition to Dawn Price of The Friendship Shelter in honor of the grand opening of Henderson House in San Clemente.

My Staff:

Took a land tour of the Irvine Ranch Conservancy.
Met with the California Nurses Association.
Met with representatives of the Orange County Coastal Coalition.
Attended a Dana Point Harbor Community meeting.
Presented a certificate of recognition at the Albertson's Grand Re-Opening in Ladera Ranch.
Presented a certificate of recognition at the Gelson's Grand Opening in Ladera Ranch.
Attended the Independent Special Districts of Orange County meeting.
Attended the Orange County Public Works Transportation Funding Summit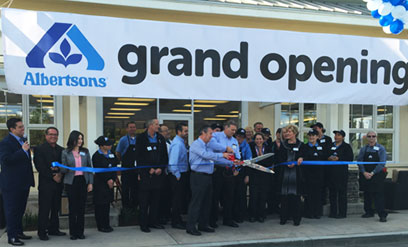 Presented a certificate of recognition at the grand opening of Albertsons in Ladera Ranch.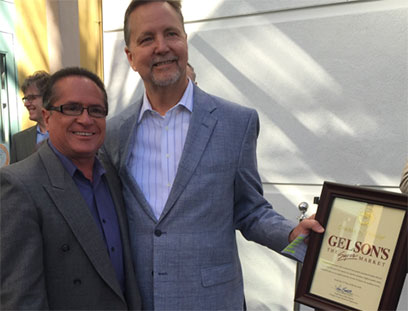 Presented a certificate of recognition at the grand opening of Gelson's in Ladera Ranch.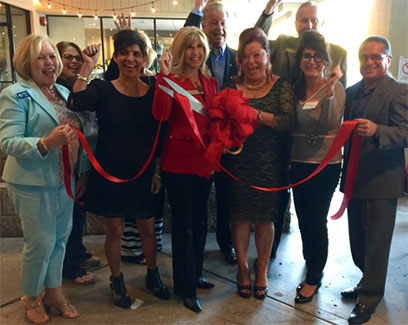 Presented a certificate of recognition in honor of the 25-year anniversary of Salon Sauvage and Day Spa in Laguna Niguel.



South County Elected Officials in the Community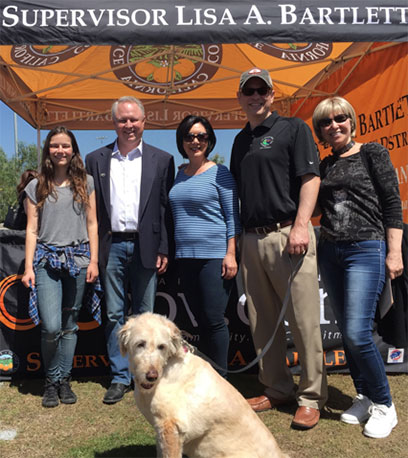 With Lake Forest Councilman Dwight Robinson, Mayor Andrew Hamilton, and Laguna Woods Mayor Pro Tem Shari Horne (right) at the South County Pet Expo.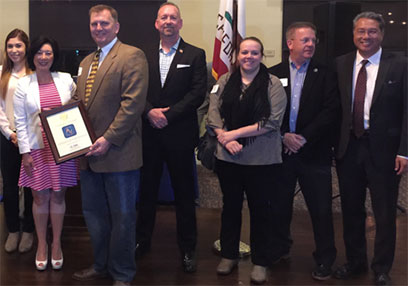 Presenting a certificate of recognition to Aliso Viejo Mayor Mike Munzing, Mayor Pro Tem Dave Harrington, and Councilmen Bill Phillips and Ross Chun in honor of the City's 15-year anniversary.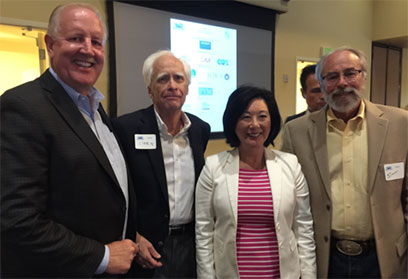 With Aliso Viejo Community Foundation's Bob Bunyan, Aliso Viejo Chamber of Commerce Past President Dick Fisher, Vice President Eric Hauber, and President Beau Nokes at the Evening with the Mayor event.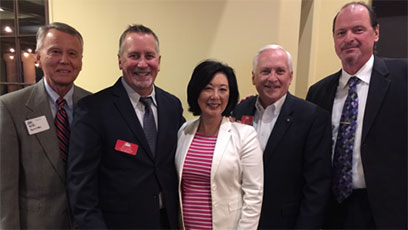 With Aliso Viejo Community Foundation's Bob Bunyan, Aliso Viejo Chamber of Commerce Past President Dick Fisher, Vice President Eric Hauber, and President Beau Nokes at the Evening with the Mayor event.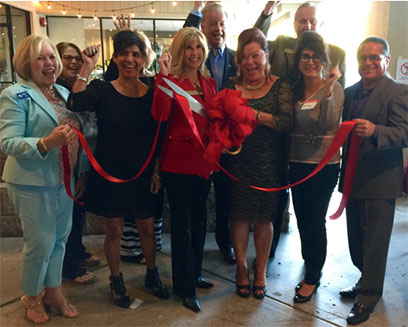 Laguna Niguel Mayor Laurie Davies (center) and Councilman Jerry McCloskey at the Salon Sauvage ribbon cutting.

For questions or comments regarding Supervisor Bartlett's E-Newsletter please contact the Supervisor's office staff at: (714) 834-3550 or Sara.May@ocgov.com.