County Connections

Adventure Day at Caspers Wilderness Park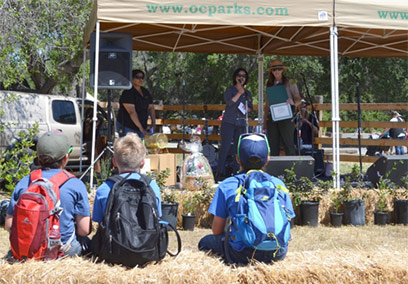 I was pleased to partner with OC Parks to present the annual Adventure Day at Caspers Wilderness Park in San Juan Capistrano on Saturday, April 2 from 10 AM to 3 PM, with an estimated 2,000 attendees!

This family-friendly event invited guests to enjoy a day of adventure in the great outdoors, with natural history tours, wildlife exhibits, musical entertainment, arts and crafts, games and refreshments.

Caspers Adventure Day also featured wildlife-inspired games of ring-toss, cowboy lasso, a scavenger hunt, storytelling, educational programs and interactive experiences, including learning about bugs, raptors, conservation, navigation, Native Americans, and the rich history of Orange County.

Participants included The Reserve at Rancho Mission Viejo, OC Bird of Prey Center, Caspers Park Foundation, Inside the Outdoors, Journeys to the Past, and more.

As OC Parks' largest wilderness park, Caspers is an 8,000 acre protected wilderness preserve nestled among the river terraces and sandstone canyons of the western coastal Santa Ana Mountains.

To view a photo album of Adventure Day at Caspers, please click here.

For more information about Caspers Wilderness Park, please click here.

Kicking Off Blue Ribbon "Child Abuse Prevention" Month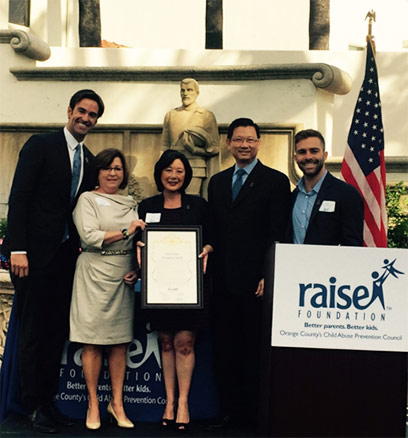 It was an honor to kick off the Blue Ribbon "Child Abuse Prevention" Month with Supervisor Andrew Do at the Bowers Museum. I would like to thank the Raise Foundation for their dedication to prevent and stop the cycle of child abuse and neglect through education, advocacy, community collaboration, and comprehensive services for families and children. Families at risk are encouraged to utilize our Family Resource Centers. Each site offers a comprehensive array of community-based social and health services to families. Family Resource Centers are considered a ""One Stop Shop,"" providing services and support systems that build on family strengths. To view a list of the Family Resources Centers located throughout the County, visit: http://factoc.org/family-resource-centers/locations/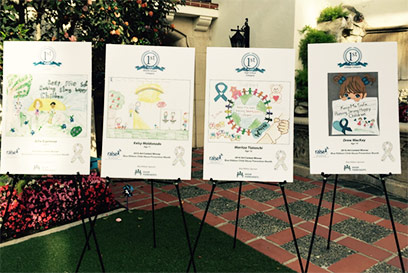 Artwork from winners of the 2016 Blue Ribbon art contest displayed at the event.

Notice of Public Hearing Impact Evaluation Regarding Saddleback Memorial Medical Center – San Clemente Closure of Emergency Services

Notice is hereby given that the Orange County Emergency Medical Services (OCEMS) / Emergency Medical Care Committee (EMCC) will hold a public hearing regarding the proposed closure of the Emergency Department at Saddleback Memorial Medical Center – San Clemente. The hearing will ensure that community members and health care providers have the opportunity to advise OCEMS prior to the completion of an impact evaluation.

DATE OF HEARING: April 29, 2016

TIME OF HEARING: 9:00 A.M.

LOCATION OF HEARING: Board Hearing Room, County of Orange Hall of Administration, 333 West Santa Ana Blvd., Santa Ana, California, 92701

PROPOSAL: To hear input from the community, hospitals, fire departments, and ambulance providers impacted by the closure of emergency services at Saddleback Memorial Medical Center – San Clemente. Public comments will be utilized to assess the impact on community access to emergency medical care. Findings from the hearing will be included in the OCEMS Impact Evaluation Report to be submitted to the California Department of Public Health.

INVITATION TO BE HEARD: All persons are invited to present their views before the EMCC.

Any written material to be submitted to the EMCC must be submitted to OCEMS at least 24 hours prior to the hearing.

For further information, please contact Tammi McConnell, MSN, RN, EMS Administrator of the Orange County Health Care Agency Emergency Medical Services program at (714) 834-3500.

CalOptima

Recruitment Now Open For CalOptima Board of Directors

Recruitment is now open for the CalOptima Board of Directors. A county-organized health system, CalOptima serves more than 770,000 low-income children, adults, seniors and persons with disabilities. CalOptima was formed in 1995 in response to a healthcare system that was struggling to meet the needs of vulnerable Orange County residents. Today, CalOptima has grown to be the second largest health insurer in Orange County, but stayed true to its mission of providing members with access to quality health care services.

To apply for a seat on the CalOptima Board of Directors, please complete an application by April 15, 2016. Applications can be found on the Health Care Agency's website at http://ochealthinfo.com/caloptima.

Treasurer-Tax Collector

Property Tax Payment Deadline Monday, April 11

Reminder to Orange County taxpayers: the second installment of property taxes is due no later than Monday, April 11, 2016. Payments not received by Monday, unless they have a United States Postal Service postmark on or before April 11, will incur a 10% late penalty plus a $23 fee. Current second installment secured property tax receipts are ahead of the same time last year with 13% more in property taxes being received. Total secured property tax receipts are $663 million ahead of the same time last year.


Taxpayers can make electronic payments online by eCheck up to midnight on April 11 by going to ocgov.com/octaxbill. Taxpayers should include their e-mail address to have their payment receipt e-mailed directly to them.

Taxpayers who need a copy of a prior year's tax bill in order to complete their State or Federal income tax returns by April 15, can view and print their 2010-11, 2011-12, 2012-13, 2013-14, 2014-15 and 2015-16 property tax bills online 24/7 using the Treasurer's website at ocgov.com/octaxbill. In addition, taxpayers can sign up to receive a due date reminder e-mail by registering their e-mail with the Treasurer. This e-mail will go out approximately ten days before and again one day prior to the last timely payment date. An e-mail will also go out when the 2016-17 secured tax bills are available online. Taxpayers can register their e-mail address at ocgov.com/taxreminder.

If a taxpayer pays using a bank's or other on-line payment site, please make sure the payee is listed as the "County of Orange" and include the APN number as the account number, exactly as it shows on the property tax bill. Payments not received by the Treasurer from the bank by April 11, 2016 will incur a late fee penalty of 10% of the amount due plus a $23 fee. As it may take several days, and possibly up to a week to receive these third-party payments, we encourage taxpayers to pay using the Treasurer's secure online site to avoid a potential penalty.

Registrar of Voters

Election Workers Needed

The Orange County Registrar of Voters needs more than 6,000 volunteers to assist with the various tasks that are required in conducting the upcoming June 7, 2016, Presidential Primary Election.

For information on the various Election Day volunteer opportunities, job descriptions, compensation and to sign up to serve on Election Day, county employees can go to the Registrar of Voters' website at ocvote.com/volunteer.

OC Moves

Limited Metrolink service this weekend: April 9-10

This weekend, April 9-10, Metrolink will have limited service on its Antelope Valley, Orange County and Inland Empire-Orange County (IE-OC) lines due to multiple track and maintenance projects. There will be no Metrolink service south of the Laguna Niguel/Mission Viejo Station for the Orange County and IE-OC lines, while there will be adjusted service on the Antelope Valley Line.

Metrolink will be replacing rock along the beach to secure the tracks following heavy rains south of San Clemente, while conducting a scheduled railroad tie replacement project near Laguna Niguel. The San Clemente community near the tracks will experience some noise in the daytime this weekend as work is completed. During this time, North County Transit District (NCTD) will perform work on the Los Peñasquitos Lagoon Bridges and the Elvira to Morena Double Track project in association with the San Diego Association of Governments (SANDAG).

As a result, all trains on Metrolink's Orange County and IE-OC lines will only operate to and from the Laguna Niguel/Mission Viejo Station. Metrolink will not provide buses or alternate transportation south of Laguna Niguel/Mission Viejo during this weekend closure.

Amtrak trains will not operate south of Irvine on Saturday or Sunday, however Amtrak will provide bus service for Amtrak passengers between Irvine and San Diego. For more information on Amtrak service, please visit www.amtrak.com.

For details on Metrolink's schedules, please visit metrolinktrains.com.

Caltrans Partners with Waze Connected Citizens Program

This week Caltrans announced a new, free data-sharing partnership with Waze, the navigation app powered by drivers, in which each will share data to provide the public with better traffic and road information.

Under this agreement, Waze will share with Caltrans the free, anonymous traffic and incident report data from Waze users. This data will provide real-time travel information on California's roadways provided by Caltrans' QuickMap.

Waze, in turn, will receive Caltrans' road condition reporting data, construction and road closure information to share with its users. Together, both will have more data and be better able to provide a thorough overview of road conditions, giving drivers more power to plan their commutes and trips. According to Waze, Los Angeles has more than 1.7 million active users per month, contributing more than 2.5 million alerts such as potholes and accidents per month. Waze's Connected Citizens Program is dedicated to empowering and enabling drivers by connecting them, and partnerships such as those with Caltrans only further connect Californians through this data exchange.

To download the free Waze app for iOS or Android, visit www.waze.com.

Transportation Corridor Agencies Website Launched This Week

The redesigned Transportation Corridor Agencies (TCA) website launched on Wednesday, April 6, and includes the following features:

Responsive design making it easier to navigate the website on a desktop, mobile and tablet devices
Streamlined processes for online One-Time-Toll payments and FasTrak and ExpressAccount sign ups
Enhanced account capabilities for accountholders to easily update their account information and view account activity
A refreshed look and feel allowing customers to discover the latest news, offers and Agency initiatives
Visit thetollroads.com to explore the new design and features.

OC Animal Care/Pet of the Week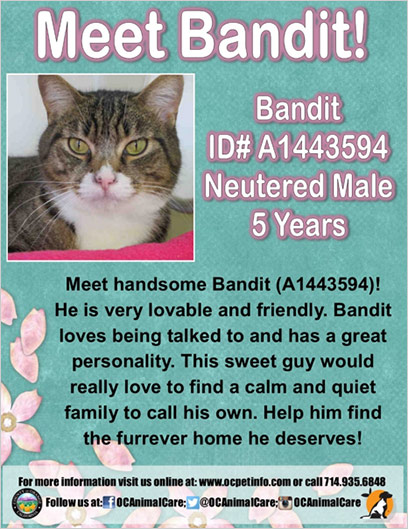 Click on the image above to view a PDF version.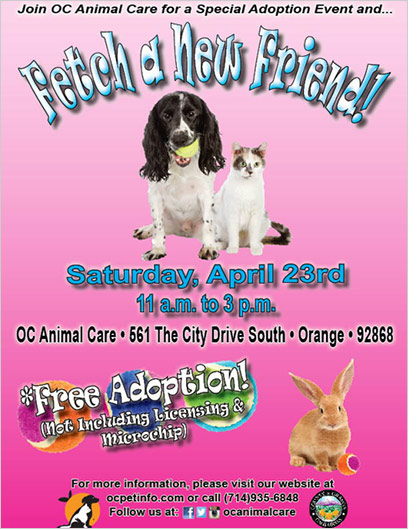 Click on the image above to view a PDF version.

Out and About South County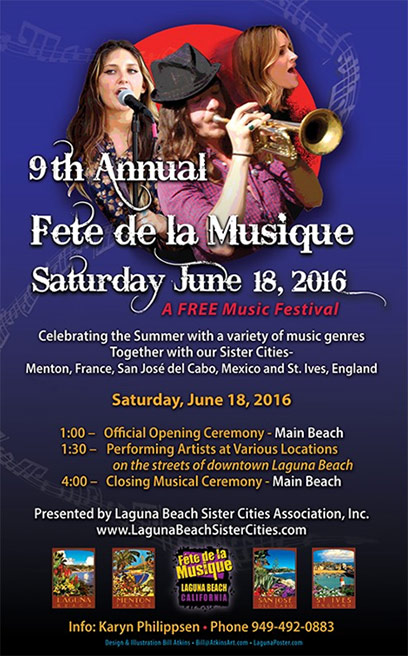 Dana Point: The Mongoose Cup

The seventh annual Mickey Munoz Mongoose Cup to benefit the Sport of Kings Foundation will be held Saturday, April 9th at Dana Cove Park, Dana Point Harbor. Mickey and his friends will join many of the world's best paddlers for a special fundraiser and a great day of paddling fun and competition. Mongoose Cup activities attract over 200 competitors and thousands of spectators each year.

Attendees will be able to check out the latest paddling and surfing equipment, try demos, and take advantage of the SUP and paddling pros on-site giving instruction throughout the day.

For more information, click here or call Barrett Tester, Event Coordinator, at (949) 366-4848.

Irvine: Zika Virus, Mosquitoes and Summer Travel

Learn from the Orange County Mosquito and Vector Control District as well as an expert from the Orange County Health Care Agency about three topics—the Zika Virus and its global implications, mosquito control in Orange County, and the implications of traveling this summer. Hosted from 6pm to 7pm on Thursday, April 14th at the newly opened Trabuco Center, 5701 Trabuco Road in Irvine near Jeffrey Road. The Orange County Health Care Agency will also provide summer travel information. Free event, no RSVP required.

For more information, click here.

Laguna Niguel: Jr. Civic Workshop

Attention 6th through 8th graders! Get to know your local government, see what makes Laguna Niguel great and how you can make it better! The Jr. Civic Workshop is being held April 12th from 6:30pm to 7:30pm at City Hall, 30111 Crown Valley Parkway. This event is free, but you must register prior to attending!

For more information, click here.

Lake Forest: Special Needs Resource Fair

Join the Lake Forest community on April 9th from 9am to 12pm for a unique opportunity for families and caregivers to learn more about the resources available to the special needs community. We will have several representatives providing a wealth of information and tips to benefit our special needs friends. There will be fun for the entire family, including refreshments, activities, and special guests!

Join us at the Pittsford Park, 21701 Pittsford Drive in Lake Forest.

For more information, click here.

Mission Viejo: Community Health Fair

On Saturday, April 9th from 10am to 1pm, come down to the Norman P. Murray Community and Senior Center for the Community Health Fair! Companies and organizations will showcase their healthy options and services to the public. Spring clean your lifestyle and get back on track to living a healthy life! This event is free.

For more information, click here.

San Juan Capistrano: The Ecology Center's Grow Your Own! Spring Festival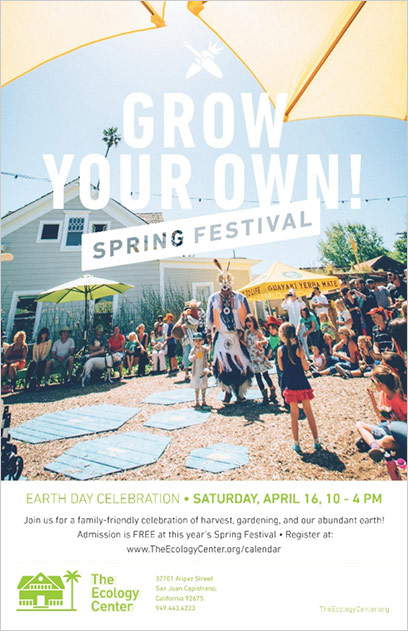 Join us at The Ecology Center on Saturday, April 16th for our annual spring festival, a family-friendly celebration of harvest, gardening, and a more abundant future. This year, we are excited to include opportunities to learn garden skills and have your questions answered by The Ecology Center's own experts.

Admission is free at this year's Grow Your Own! Spring Festival.

Activities include:

DIY stations: terrarium building, easy pickling, and more!
Hands-on garden skill demonstrations by TEC experts
Ask an Eco-Designer & Ask a Grow Your Own! Teacher booths
Organic seedling sale
Wildcraft Lab for kids
Live music & dance
Delicious local, handmade food
Bike Valet - arrive on two wheels and we'll have a safe place to stash your bike!
Visits with The Ecology Center chickens
Organic strawberry picking at South Coast Farms (our next door neighbors)
Voucher to redeem a FREE rain barrel for San Juan Capistrano residents and new/renewed family members of The Ecology Center
Giveaways from our partners Chipotle, KIA Motors, SDG&E, and EcoScraps
Special offers on The Ecology Center events, workshops, and more!

Last but not least this week I:

Attended the San Clemente "State of the City" luncheon.
Attended the 122nd Annual Conference of the California State Sheriff's Association Opening Ceremony.
Participated in the OCTA Regional Planning & Highways Committee meeting.
Hosted my quarterly South County Homeless Roundtable meeting.
Spoke at the Laguna Canyon Conversancy meeting in Laguna Beach.
Presented a proclamation with Supervisor Do at the Blue Ribbon Month Kick-Off event.
Participated in the TCA Joint Capital Projects and Programs meeting.
Participated in the Ocean Institute's 6th Annual Reading of "Two Years Before the Mast."
Participated in Adventure Day at Caspers Wilderness Park. To view a photo album, please click here.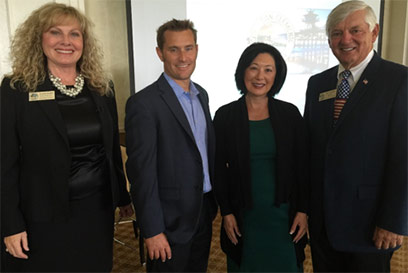 With San Clemente Mayor Pro Tem Kathy Ward, Councilman Chris Hamm, and Mayor Bob Baker at the San Clemente "State of the City" luncheon.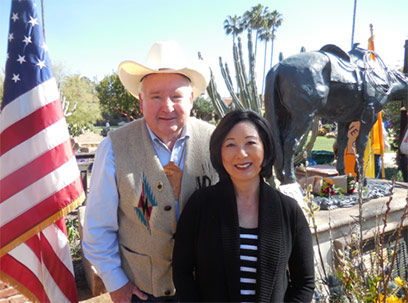 At the Mission San Juan Portola Charity Ride, with host Tony Moiso, President and CEO of Rancho Mission Viejo, during the Fallen Rider Ceremony.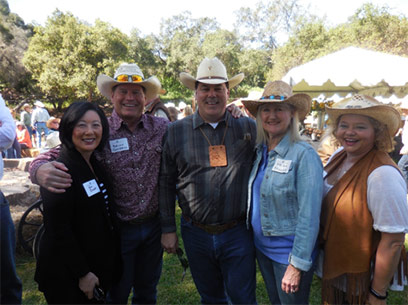 With Olympic Gold Medal swimmer Brian Goodell, 4th District Supervisor Shawn Nelson, former Mission Viejo Mayor Trish Kelly, and Mission Viejo Mayor Pro Tem Wendy Bucknum at the Mission San Juan Portola Charity Ride hospitality reception.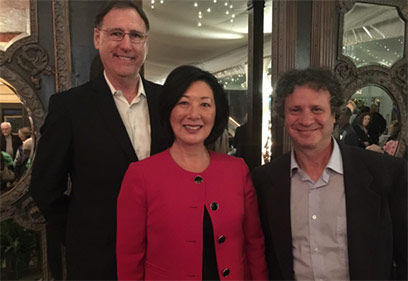 With Laguna Canyon Conservancy Vice President Gene Felder and Laguna Beach Mayor Steve Dicterow at the Laguna Canyon Conservancy meeting.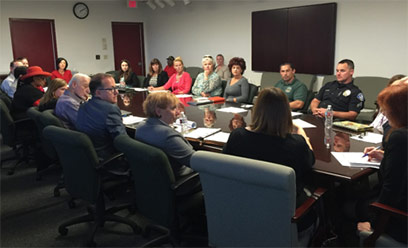 Hosting my quarterly South County Homeless Roundtable meeting.



My Staff:

Presented a certificate of recognition at the Lindora ribbon cutting in Laguna Niguel.
Attended the CalOptima Board meeting.
Attended the OCTA Executive Committee meeting.
Participated in the Urban Counties Caucas conference call.
Presented a certificate of recognition in honor of the Liberty Tax Service ribbon cutting in Laguna Niguel.
Participated in the Fifth District Senior Summit planning meeting.
Participated in the South County Veterans Resource Fair planning meeting.
Presented a certificate of recognition in honor of the Pizza Studio ribbon cutting in Lake Forest.
Presented a certificate of recognition in honor of the NextHome Coastal ribbon cutting in Lake Forest.
Presented a certificate of recognition in honor of the grand opening of The Loft at the Outlets at San Clemente.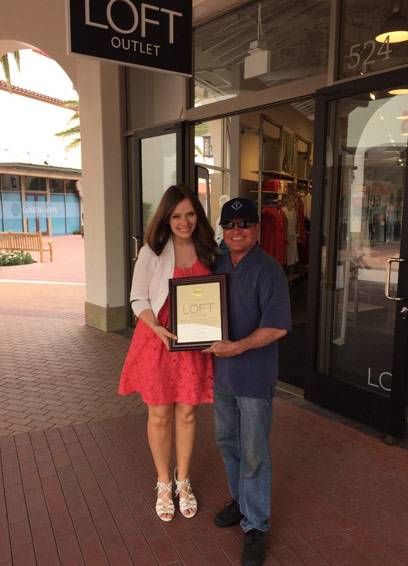 Presenting certificate of recognition at The Loft in San Clemente.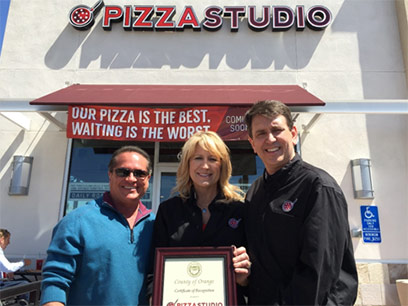 Presenting certificate of recognition at Pizza Studio in Lake Forest.

South County Elected Officials in the Community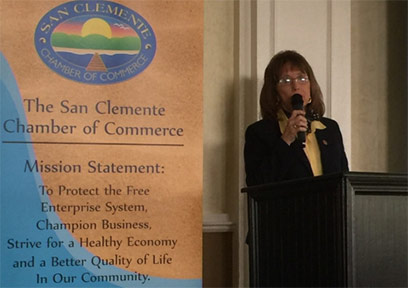 Senator Pat Bates at the San Clemente "State of the City" luncheon.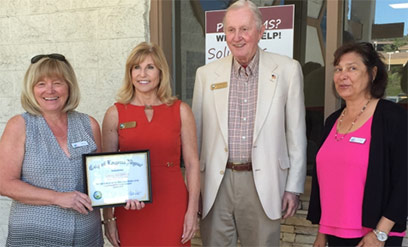 Laguna Niguel Mayor Laurie Davies and Councilman Jerry McCloskey at Liberty Tax Service ribbon cutting.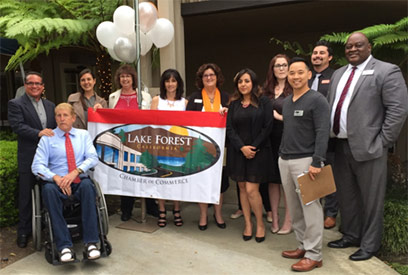 Lake Forest Mayor Pro Tem Scott Voigts (left) at NextHome Coastal ribbon cutting.

For questions or comments regarding Supervisor Bartlett's E-Newsletter please contact the Supervisor's office staff at: (714) 834-3550 or Sara.May@ocgov.com.