County Connections

Orange County Crime Victims' Rally

It was an honor to attend the Crime Victims' Rights March & Rally on Monday, April 11th. This powerful event was established by the Orange County District Attorney's Office in 2009 in response to decades of legal and legislative efforts to secure the rights of crime victims. It is an annual event held every April to coincide with the National Crime Victims' Rights Week. This year, more than two hundred people assembled in the Orange County Hall of Administration in Santa Ana in remembrance of murdered victims and in celebration of victim survivors. It was a very grounding and moving experience. I send my thoughts and prayers to all those who have been affected by a crime, both victims and loved ones, and I encourage our community to support victims' rights year-round.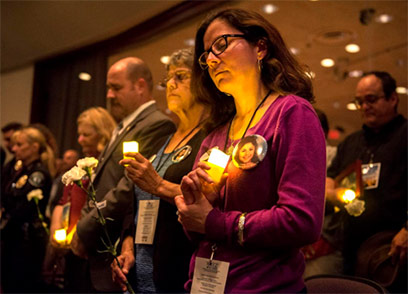 Design-Builder, Land Swap Approved for New OC Animal Shelter

The Board of Supervisors selected a designer-builder and took other actions Tuesday to fast-track construction beginning in July on a new $35 million Orange County Animal Shelter to be built on 10 acres of land at the former Tustin Marine base.

Supervisors awarded a contract with Snyder Langston LP for design and construction of the facility, which is expected to cost up to $32.8 million. Additional costs for roadway improvements, utilities and other upgrades will boost the project to $35 million. The County's contribution is providing the land and $5 million, with the remainder covered by cities that contract for animal care services based on average percentage of shelter use.

The new shelter will be built on leased land currently owned by the South Orange County Community College District. The property will eventually be swapped for land at the base that hasn't yet been released to the County by the Navy. A lease with the college district was approved Tuesday.

The Design Advisory Board will advise OC Animal Care and OC Public Works, including representatives from contract cities, rescue groups, the shelter's Community Outreach Committee, OC Animal Care staff and the veterinary community. Public forums are planned to obtain community input on the work of the design board and the contractor.

The current Orange County Animal Shelter in Orange was built in 1941. The County set aside $5 million in 1995 to build a new shelter at the base, which closed in 1999. However, land the County originally envisioned for the shelter won't be released by the Navy until at least 2017.

Cities will have until the end of May to approve revised participation agreements with the County for use of the new shelter. Cities currently contracting with the County are Anaheim, Brea, Cypress, Fountain Valley, Fullerton, Garden Grove, Huntington Beach, Laguna Hills, Lake Forest, Orange, Placentia, Rancho Santa Margarita, San Juan Capistrano, Santa Ana, Stanton, Tustin, Villa Park and Yorba Linda. Laguna Hills and Rancho Santa Margarita recently decided to pursue other animal care services instead of moving to the new facility.

South County Residents to the Rescue

Two South County heroes should be recognized for their actions helping to bring animals to safety.

Jason Kunewa, a resident of San Clemente and crew member aboard the San Mateo in Dana Point spotted what he thought was a kelp paddy. When it started to move, he realized it was a enormous leatherback sea turtle tangled in kelp. Jason swiftly dove in the ocean with his knife and cut the turtle free from the kelp that was restricting his movement around his neck and flipper. Kunewa stated that the kelp weighed at least 50 pounds.

The leatherback is the world's largest species of turtle with an average of 4-6 feet, and it's listed as endangered under the U.S. Federal Endangered Species Act.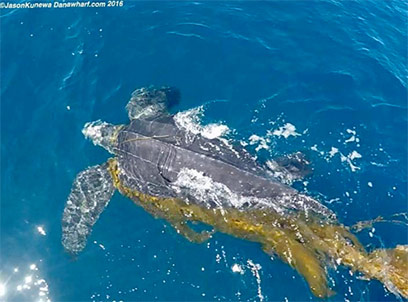 Mia Rabii, a 6 year old resident of San Clemente, was leaving the doctor's office with her mother when they noticed a duck with only one duckling. Wondering where the other ducklings could be, the two searched around before they realized the ducklings had fallen in a storm drain. Because the opening of the drain was so narrow, 6 year old Mia stepped up and reached down to rescue each of the trapped ducklings one by one. As a result of Mia's courage, the ducklings were safely reunited with their family.


Healthcare Advisory

Opening for the Executive Director of the OC IHSS Public Authority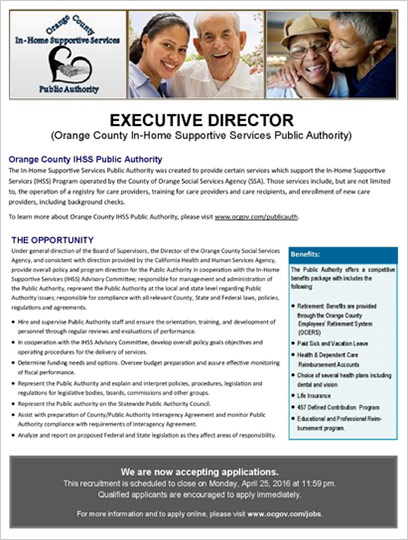 In-Home Supportive Services Advisory Committee Openings

The Orange County In-Home Supportive Services (IHSS) Advisory Committee is recruiting for applicants to fill a vacancy on the Committee. There are currently two vacancies on the IHSS Advisory Committee:

Consumer Seat – Fifth District Representative
Provider Seat – At-Large Appointment
The purpose of the Committee is to:

Provide ongoing advice and recommendations regarding IHSS to the Orange County Board of Supervisors (BOS), the Social Services Agency, and the In-Home Supportive Services Public Authority.

To fulfill its responsibilities, the Committee shall: stay informed and educated on current IHSS issues, provide input into IHSS issues, participate in outreach and educational activities, review, advise and make recommendations to the Board of Supervisors on pending legislation that may impact the IHSS program, consumers, and/or providers and with Governing Board approval, engage in advocacy activities related to IHSS Recipient and Provider issues.

Travel expenses are paid to committee members and a small stipend is also available for each meeting attended. At a minimum, the committee meets four times a year.

For additional information or to obtain an Application please call the IHSS Public Authority at (714) 825-3174.

Notice of Public Hearing Impact Evaluation Regarding Saddleback Memorial Medical Center – San Clemente Closure of Emergency Services

Notice is hereby given that the Orange County Emergency Medical Services (OCEMS) / Emergency Medical Care Committee (EMCC) will hold a public hearing regarding the proposed closure of the Emergency Department at Saddleback Memorial Medical Center – San Clemente. The hearing will ensure that community members and health care providers have the opportunity to advise OCEMS prior to the completion of an impact evaluation.

DATE OF HEARING: April 29, 2016

TIME OF HEARING: 9:00 A.M.

LOCATION OF HEARING: Board Hearing Room, County of Orange Hall of Administration, 333 West Santa Ana Blvd., Santa Ana, California, 92701

PROPOSAL: To hear input from the community, hospitals, fire departments, and ambulance providers impacted by the closure of emergency services at Saddleback Memorial Medical Center – San Clemente. Public comments will be utilized to assess the impact on community access to emergency medical care. Findings from the hearing will be included in the OCEMS Impact Evaluation Report to be submitted to the California Department of Public Health.

INVITATION TO BE HEARD: All persons are invited to present their views before the EMCC.

Any written material to be submitted to the EMCC must be submitted to OCEMS at least 24 hours prior to the hearing.

For further information, please contact Tammi McConnell, MSN, RN, EMS Administrator of the Orange County Health Care Agency Emergency Medical Services program at (714) 834-3500.

Registrar of Voters

Election Workers Needed

The Orange County Registrar of Voters needs more than 6,000 volunteers to assist with the various tasks that are required in conducting the upcoming June 7, 2016, Presidential Primary Election.

For information on the various Election Day volunteer opportunities, job descriptions, compensation and to sign up to serve on Election Day, county employees can go to the Registrar of Voters' website at ocvote.com/volunteer.

OC Moves

Orange County Transportation Authority Studies PCH Improvements

In 2012, coastal cities requested a study to improve the Pacific Coast Highway corridor which spans 37 miles from Seal Beach to San Clemente. Caltrans secured a planning grant in 2013 and OCTA began technical work in 2014.

The goal was to develop a long range plan of multi-modal options for the PCH corridor from the LA county line in Seal Beach to Avenida Pico in San Clemente. The purpose and need of the study are based on: safety, mobility, aesthetics, accommodation of visitors and recreation users and cost-effectiveness.

The study includes 3 final alternatives for local agencies to start project development:

Transportation System Management / Transportation Demand Management – e.g. consistent signage, multi-agency grant applications
Low Capital – e.g. bus turnouts, signal synchronization
High Capital – e.g. parking replacement, develop transit hubs
The plan enables coastal cities to pursue local, state and federal funding to implement the potential projects. For more information about the study, visit the OCTA website here.

OCTA staff will now outreach to the respective city councils involved to brief them on the findings of the study.

The Toll Roads of Orange County Offer New Program for Rental Car Drivers

Paying tolls while driving a rental car on Orange County's Toll Roads has just gotten easier. The Transportation Corridor Agencies (TCA) have partnered with most major rental car companies to simplify toll payments by allowing tolls to be charged directly through rental car agreements.

The new rental car toll payment programs, eligible only on State Routes 73, 133, 241 and 261 in Southern California, eliminates the chance of a rental car customer receiving a Notice of Toll Evasion after they return their rental vehicle. Visitors will no longer need to know exactly what toll road they traveled on and where they entered and exited, if they choose to pay tolls through the rental car company or if they pre-register the rental car on The Toll Roads' website.

When driving a rental car on The Toll Roads, customers can pay tolls the following ways:

Pay tolls automatically through a rental car company program – Most rental car companies will now process tolls incurred directly to the rental customer and may add a fee to process the tolls. Customers should ask their rental car company how tolls are processed and how fees are assessed. Visit thetollroads.com/help/rentals, to view the rental car companies that offer rental toll payment programs for The Toll Roads of Orange County.


Pay tolls online through The Toll Roads' website – Drivers can choose to pay tolls directly at thetollroads.com/RentalTolls. Depending on the rental car company, drivers may need to register their rental vehicle online before driving on The Toll Roads. To register a rental vehicle, customers will need the rental car's license plate number, rental period and credit card to allow tolls to be charged directly, bypassing any automatic rental car company program.


Pay tolls with a FasTrak® or ExpressAccount® – Accountholders renting a vehicle can temporarily add the rental vehicle's license plate number to their account at thetollroads.com by logging into their account and including a start and end date for the rental period. Driving a rental car on The Toll Roads without temporarily adding the license plate to an existing account may result in tolls and additional convenience fees billed through the rental company or a Notice of Toll Evasion.

OC Animal Care/Pet of the Week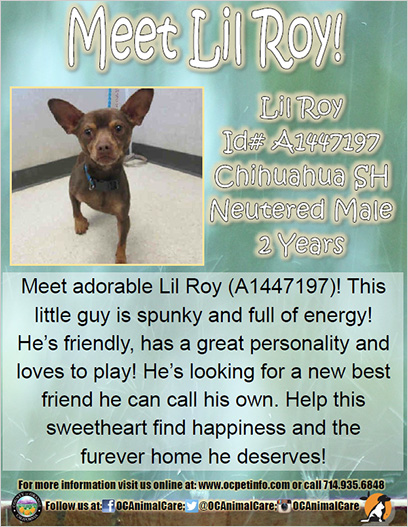 Click on the image above to view a PDF version.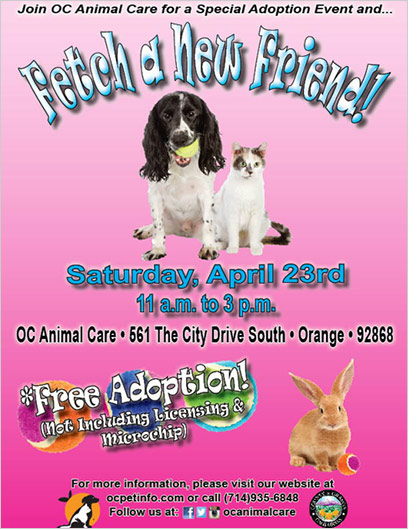 Click on the image above to view a PDF version.

Out and About South County

San Juan Capistrano: The Ecology Center's Grow Your Own! Spring Festival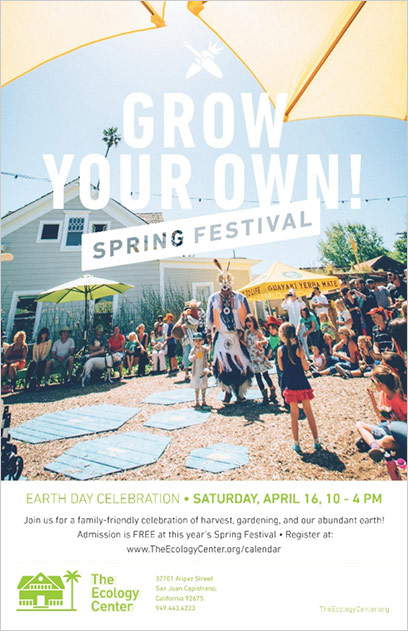 Join us at The Ecology Center on Saturday, April 16th for our annual spring festival, a family-friendly celebration of harvest, gardening, and a more abundant future. This year, we are excited to include opportunities to learn garden skills and have your questions answered by The Ecology Center's own experts.

Admission is free at this year's Grow Your Own! Spring Festival.

Activities include:

DIY stations: terrarium building, easy pickling, and more!
Hands-on garden skill demonstrations by TEC experts
Ask an Eco-Designer & Ask a Grow Your Own! Teacher booths
Organic seedling sale
Wildcraft Lab for kids
Live music & dance
Delicious local, handmade food
Bike Valet - arrive on two wheels and we'll have a safe place to stash your bike!
Visits with The Ecology Center chickens
Organic strawberry picking at South Coast Farms (our next door neighbors)
Voucher to redeem a FREE rain barrel for San Juan Capistrano residents and new/renewed family members of The Ecology Center
Giveaways from our partners Chipotle, KIA Motors, SDG&E, and EcoScraps
Special offers on The Ecology Center events, workshops, and more!

Dana Point: California Wine Festival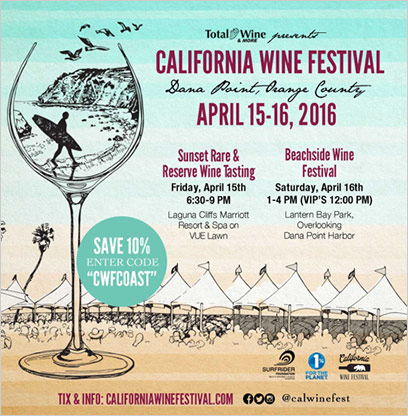 Mission Viejo: Free Workshop & Multi-Award Winning Author Appearance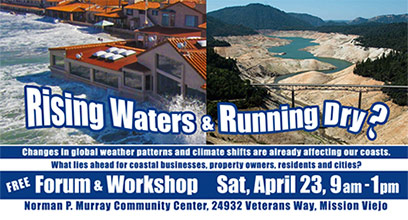 New York Times bestselling writer Paolo Bacigalupi will make a special appearance in Mission Viejo on Monday, April 18 to discuss his latest book "The Water Knife." Paolo is the winner of the prestigious Hugo, Nebula and Michael L. Printz awards and is a National Book Award finalist. The Santa Margarita Water District is co-sponsoring this Writers Present program with the Mission Viejo Library at 7 p.m. in the Mission Viejo City Hall Council Chamber at 200 Civic Center. SMWD Board President Charley Wilson will welcome guests and the district will provide educational materials and serve light refreshments. For more information, click here.

In a City Near You: National Prescription Medication Take Back Day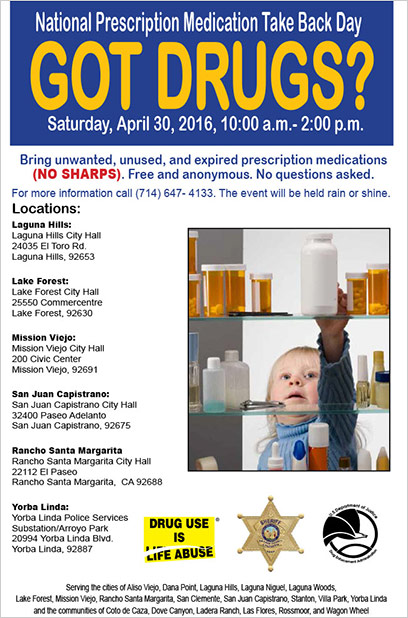 Click on the image above to view a PDF version.

Last but not least this week I:

Participated in the OCTA Board meeting.
Attended the Rancho Mission Viejo Annual Haberdashery event.
Attended the Crime Victim's Rally.
Attended the Ladera Ranch HOA Town Hall on Sober Living Homes.
Chaired the Orange County Board of Supervisors meeting.
Participated in the LAFCO Board meeting.
Participated in the TCA Mobility Ad-Hoc, Joint Executive Ad-Hoc, Foothill Eastern, and San Juan Hills meetings.
Participated in a behavioral health ad-hoc.
Spoke at the Contacts of Orange County monthly meeting.

My Staff:

Presented a certificate of recognition in honor of the Stefano's Golden Baked Hams ribbon cutting in Laguna Hills.
Toured the "Inside the Outdoors" facility and education program in Silverado Canyon.
Attended the Conditions of Children Report planning meeting.
Attended an IT Innovation meeting.
Attended a Dana Point Harbor Time Capsule meeting.
Attended the Orange County Veterans Advisory Council meeting to present a certificate of recognition in honor of outgoing Council Member Col. Joe Snyder.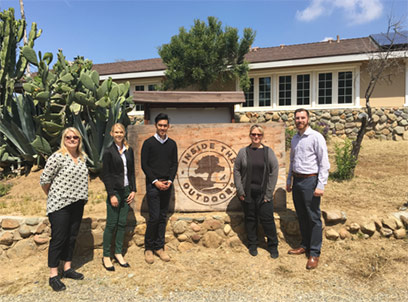 At the "Inside the Outdoors" facility in Silverado Canyon.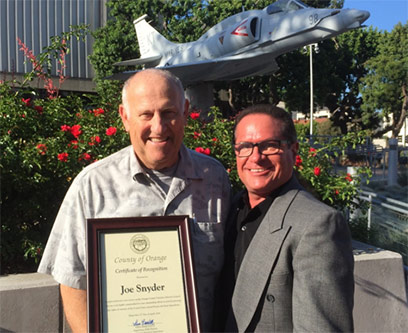 Presenting a certificate of recognition to Col. Joe Snyder.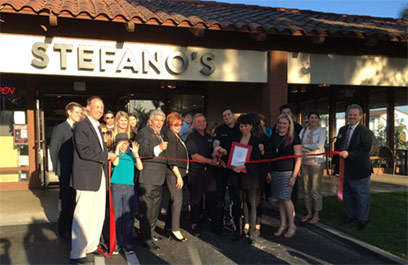 Ribbon cutting at Stefano's in Laguna Hills.

South County Elected Officials in the Community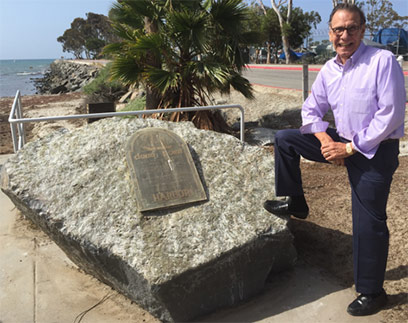 Dana Point Councilman Carlos Olvera at the Time Capsule Rock in Dana Point Harbor.

For questions or comments regarding Supervisor Bartlett's E-Newsletter please contact the Supervisor's office staff at: (714) 834-3550 or Sara.May@ocgov.com.