Happy Earth Day!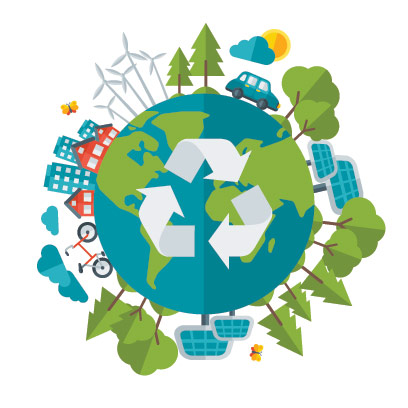 It is time to celebrate and give back to our environment! Today, April 22nd, marks the 46th year of Earth Day! Founded in 1970, Earth Day brings global attention to the environmental challenges we face every day. It reminds us to be conscious of our actions and the impacts they make on our planet. It is a day to implement change, both big and small, to better the health of our environment and our community. Anyone can help support this movement. Walk or bike instead of drive, invest in a reusable water bottle, recycle, start a compost pile, or get outside and plant a tree! Earth Day may come just once a year, but it is important that we remain conscious of its message throughout the year to support a happy, healthy, and sustainable world for generations to come.

County Connections

La Pata Extension Project Milestone!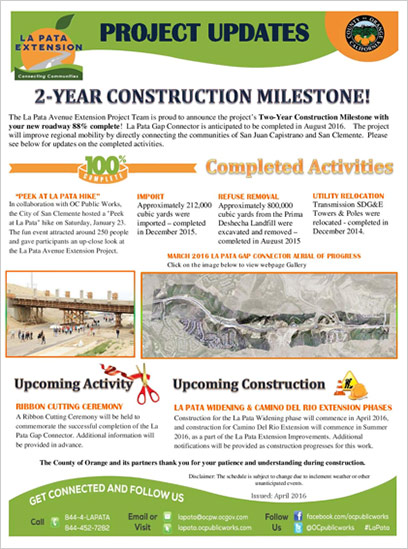 OC Parks

Bear Awareness Day

Come celebrate Bear Awareness Day at the OC Zoo on May 7th and enjoy the family-friendly activities! There will be bear-themed crafts, zookeeper chats about bears, and a bear-centered learning center. All activities are free with paid admission zoo admission. See the flyer below for more information.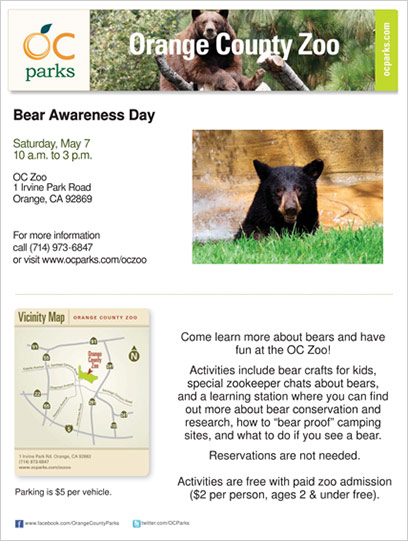 Healthcare Advisory

Notice of Public Hearing Impact Evaluation Regarding Saddleback Memorial Medical Center – San Clemente Closure of Emergency Services

Notice is hereby given that the Orange County Emergency Medical Services (OCEMS) / Emergency Medical Care Committee (EMCC) will hold a public hearing regarding the proposed closure of the Emergency Department at Saddleback Memorial Medical Center – San Clemente. The hearing will ensure that community members and health care providers have the opportunity to advise OCEMS prior to the completion of an impact evaluation.

DATE OF HEARING: April 29, 2016

TIME OF HEARING: 9:00 A.M.

LOCATION OF HEARING: Board Hearing Room, County of Orange Hall of Administration, 333 West Santa Ana Blvd., Santa Ana, California, 92701

For further information, please contact Tammi McConnell, MSN, RN, EMS Administrator of the Orange County Health Care Agency Emergency Medical Services program at (714) 834-3500.

Social Services Agency

Opening for the Executive Director of the OC IHSS Public Authority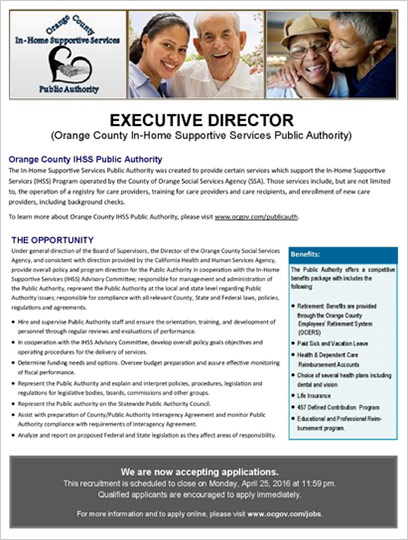 In-Home Supportive Services Advisory Committee Openings

The Orange County In-Home Supportive Services (IHSS) Advisory Committee is recruiting for applicants to fill a vacancy on the Committee. There are currently two vacancies on the IHSS Advisory Committee:

Consumer Seat – Fifth District Representative
Provider Seat – At-Large Appointment
For additional information or to obtain an Application please call the IHSS Public Authority at (714) 825-3174.

Clerk-Recorder

Clerk-Recorder Expedites Availability of Birth and Death Certificates to the Public

Orange County Clerk-Recorder Hugh Nguyen would like to announce that his office can now offer certified copies of birth and death certificates to the public 30 days after the life event. Certificates needed within the first 30 days of an event can be obtained from the Health Care Agency.

Previously, copies of birth and death certificates were made available to the public at the Clerk-Recorder Department 60 days or more after an event. Individuals looking to obtain a record any sooner had to visit the Health Care Agency's Birth and Death Registration location in Santa Ana.

The Health Care Agency is the official registrar of births and deaths in the County. The Clerk-Recorder Department is the official record keeper of the County's vital records. This has caused confusion in the past due to an overlap in the timeline of when and where records were available. Both agencies have been working together to ensure the records are available to the public in the most timely manner.

"These are important documents and people need them fast for several reasons," Clerk-Recorder Hugh Nguyen said. "I'm very pleased that we have streamlined this process and that the public can now get these records sooner at several of the Clerk-Recorder Department's convenient locations throughout the County."

Birth and Death certificates can be obtained from the Clerk-Recorder Department 30 days after the life event by mail and in person at the department's three convenient locations. The department's branch office in North County is at 201 N. Harbor Blvd., in Fullerton. The Central County office is at 12 Civic Center Plaza, Rm. 106, in Santa Ana. The South County branch office is at 24031 El Toro Road, Ste.150 in Laguna Hills.

For more detailed information about the services available at each of the department's locations, please visit us at www.ocrecorder.com.

Registrar of Voters

Election Workers Needed

The Orange County Registrar of Voters needs more than 6,000 volunteers to assist with the various tasks that are required in conducting the upcoming June 7, 2016, Presidential Primary Election.

For information on the various Election Day volunteer opportunities, job descriptions, compensation and to sign up to serve on Election Day, county employees can go to the Registrar of Voters' website at ocvote.com/volunteer.

OC Moves

OCTA Seeks Volunteers to Serve on Special Needs Advisory Committee

The Orange County Transportation Authority is seeking volunteers who represent individuals with disabilities and senior citizens in the county to serve on its Special Needs Advisory Committee.

Committee members are responsible for advising the OCTA board of directors about transit and paratransit issues. The committee recommends how to solicit feedback from disabled and senior transit users and communicates with care providers and special needs service agencies regarding transit-related information.

Candidates must be at least 18 years old, live or represent constituencies in Orange County and be willing to participate for a three-year term on the committee. Potential committee members should also demonstrate a history of involvement with people with special needs and senior citizens and be willing to dedicate at least 12 hours a year to OCTA meetings and activities.

The 34-member committee meets quarterly on the fourth Tuesday of the month at 1 p.m. at OCTA Headquarters, 600 S. Main Street in Orange.

Applications will be accepted through May 9 and are available at www.octa.net/snac. The OCTA board is expected to select the members for the committee by the end of July.

For additional information, please contact Jessica Lopez at (714) 560-5766 or jlopez@octa.net.

John Wayne Airport

Laguna Beach Resident's Paintings Featured at John Wayne Airport

From April 13 through May 18, a collection of oil paintings from Laguna Beach resident Patricia Turnier are on display at John Wayne Airport (JWA) as part of JWA's Community Focus Space Program. The paintings can be viewed on the Departure (upper) Level near security screening areas in Terminals A, B and C, and on the Arrival (lower) Level adjacent to Baggage Carousels 1 and 4.

"I am proud to see a local Laguna Beach resident showcase her artwork," said Board Chairwoman Lisa Bartlett. "The County is fortunate to have a world-class airport with an Arts Program that highlights the many talented artists within our community."

Patricia Turnier's paintings rank among the best that John Wayne Airport has had the opportunity to exhibit. Her artistic interpretations of various bird species are powerfully captivating, yet ethereal portraiture. Her exquisite works can be characterized as technically excellent and artistically straight forward.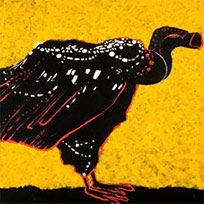 "African Vulture" by Patricia Turnier
More images can be seen here.
"Audubon prints were the original inspiration for my paintings," said Patricia Turnier. "Subsequently my sources have been drawings and photographs from books in my collection."

A native Californian, Turnier has made her home in Laguna Beach since 1960. Turnier graduated from Fullerton High School and Fullerton College, and received a Bachelor of Fine Arts in Studio Arts from the University of California, Irvine. She served on the Board of the Laguna Beach Art Museum for 6 years.

Upcoming Community Focus Space Program artists include Stan Vosburg (May 18 - June 15) and Maryana Wagor (June 15 - July 14). To learn more about JWA's Art Programs, click here.

OC Animal Care/Pet of the Week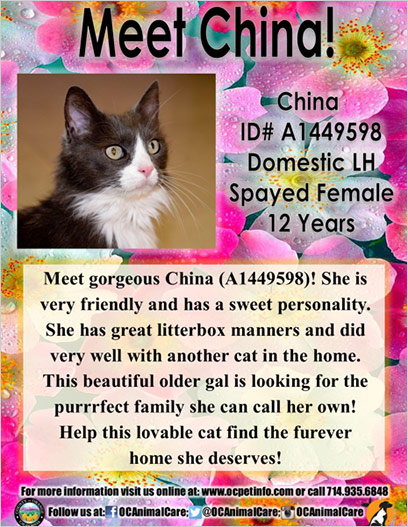 Click on the image above to view a PDF version.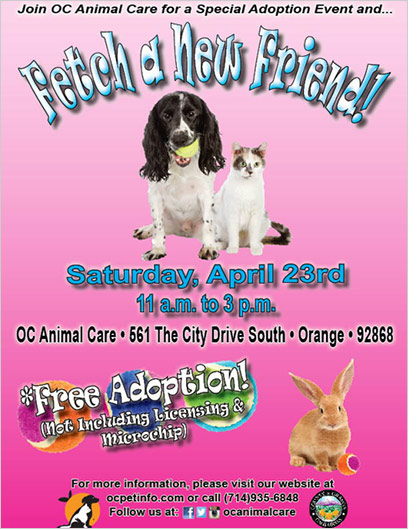 Click on the image above to view a PDF version.

OC Library

Google Sphero Program Comes to Laguna Hills Technology Library

Google Irvine Engineers recently helped facilitate a kids coding program at Laguna Hills Tech Library. The Library just had a series of three Sphero Coding programs for kids ages 7-12. The 24 children that attended each program were paired off and used iPads to write simple code to direct Sphero balls in specific directions, change their colors, and do some competitions against one another.

The program was facilitated by Cheri Haggard, of MATHmania Robotics, and was made possible by a Google Community Grant submitted by the Friends of the Laguna Hills Tech Library. The Google Engineers that came to each program talked to the children about what they do, and inspired them to think about their education and possible futures in STEM fields.

To view a video showing images and clips from the program, please click here.

Out and About South County

Aliso Viejo: Family Movie Night

The Aliso Viejo Aquatic Center will host its next Family Movie Night beginning at 6:30 p.m. Friday, April 22 at the City-owned facility located at 29 Santa Barbara Drive.

Guests will enjoy a screening of the beloved animated feature "Finding Nemo."

Entrance to the facility and popcorn are free. Pizza, treats and drinks will be available for sale. The center will also allow outside food and drinks.

The Aliso Viejo Aquatic Center overlooks the golf course at 29 Santa Barbara Drive, near Glenwood and Golf Drive. For more information, call 949-716-3333.

Laguna Hills: Sober-Living Homes Regional Town Hall Meeting

On Thursday, May 12th, the Laguna Hills Community Center will host a regional town hall meeting to discuss sober-living homes in Orange County. The discussion will include Senator Patricia Bates, Senator John Moorlach, Assemblyman William Brough, and Assemblyman Matthew Harper, along with legislative panelists, legal specialists, and city representatives. See the flyer below for additional information.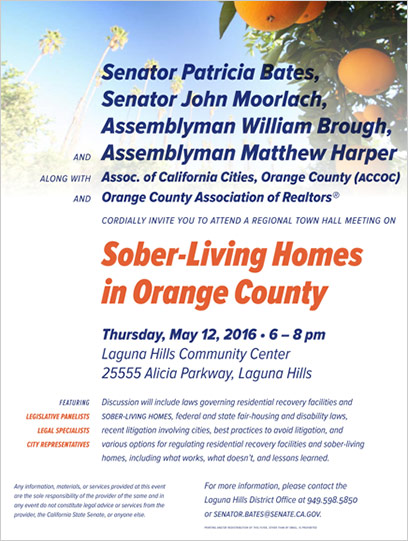 Lake Forest: Eat for a Cause

On April 26th and 27th, bring this flyer to Buffalo Wild Wings and support the Lake Forest U.S.M.C. 1st Law Enforcement Battalion. During this two-day promotion, dine at the location where 15% of all food charges will go to support the Marines and their families.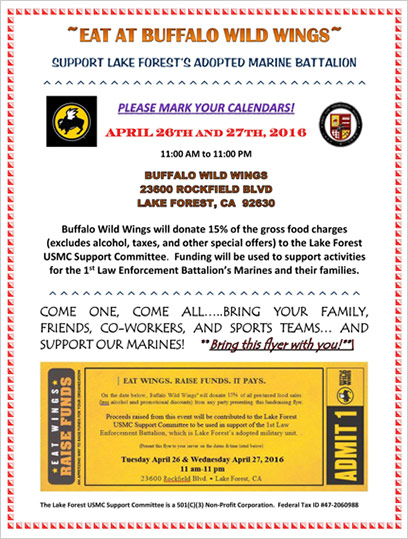 Mission Viejo: Free Workshop & Multi-Award Winning Author Appearance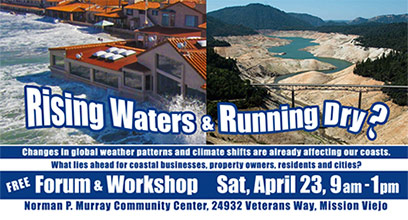 Laguna Beach: Blues Legend Barbara Morrison to Support Music for Kids

Laguna Beach Live! is presenting the dazzling blues legend Barbara Morrison on April 27th as a benefit for their Live! Music & Kids, a music education program offered, at no charge, to children at the Boys & Girls Club and Laguna schools.

Pam Estes, Executive Director for the Boys & Girls Club, comments, "Without Laguna Beach Live! there would be no music at all here – and music is such an important part of life...Thankfully, Laguna Live! has opened that door for so many young ones here at the Boys & Girls Club."

Morrison's melodic voice, with its two-and-a-half-octave range, is known worldwide, as are her rich, unique, soulful and highly spirited interpretations of both, familiar jazz and blues classics, and original contemporary tunes. Most striking is her ability to belt out down-home, soul-stirring Blues. Breathtaking are her impassioned renditions of old and favorite torch songs.

The Morrison concert is in the cabaret club setting, 6:00-8:00pm, at [seven-degrees], 891 Laguna Canyon Road. Tickets are $35 online and a special VIP package for $100 includes premier seating, a visit with the artist and a signed CD. A special menu and full bar are available.

For tickets, visit www.lagunabeachlive.org or call 800-595-4849. For more information, call 949-715-9713.

In a City Near You: National Prescription Medication Take Back Day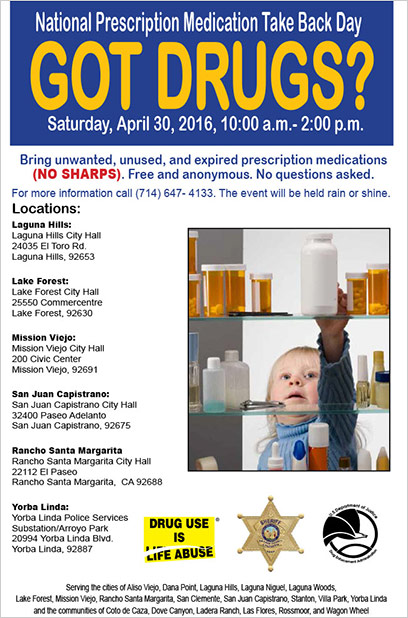 Click on the image above to view a PDF version.

California's Cox Conserves Heroes Program

Cox Communications, in partnership with The Trust for Public Land (TPL), is proud to present California's Cox Conserves Heroes program.

Nominations for volunteers who are creating, preserving or enhancing outdoor spaces are being accepted through 5 p.m. PT on April 27.

California's Cox Conserves Heroes Timeline:

Nominations: April 6 - 27
Voting: May 25 - June 10
Winner Announcement: Late June
What is Cox Conserves Heroes?

Created in partnership with TPL, Cox Conserves Heroes recognizes local environmental volunteers and makes donations to local nonprofits on their behalf.

The national program takes place in cities across the country. The public nominates volunteers using a brief online form. Next, a panel of local environmental leaders selects three finalists who are profiled on video. The public then watches the videos, gets inspired, and votes for their favorite.

It's our way on honoring the unsung heroes in our communities and supporting the organizations that matter to them. For more information, click here.

Last but not least this week I:

Attended the South Orange County Mobility Workshop in Mission Viejo.
Participated in the TCA Joint Meeting of the Boards Budget Workshop.
Met with representatives from the City of Laguna Beach.
Spoke at the South Orange County's Association of Mayors meeting in Aliso Viejo.
Participated in the OCTA Legislative and Communications Committee meeting.
Attended the Medal of Valor Luncheon.
Spoke at the Lincoln Club's Women's Leadership Committee.
Participated in the "Girlfriend's Guide to California Politics Panel" at the Women's Empowerment Conference at the Disneyland Hotel.
Participated in a photo-opportunity with Supervisor Do to promote the County's participation in the Homeaid Essentials for Young Lives campaign.
Accompanied my staff on a whale watching tour and set sail out of Dana Point.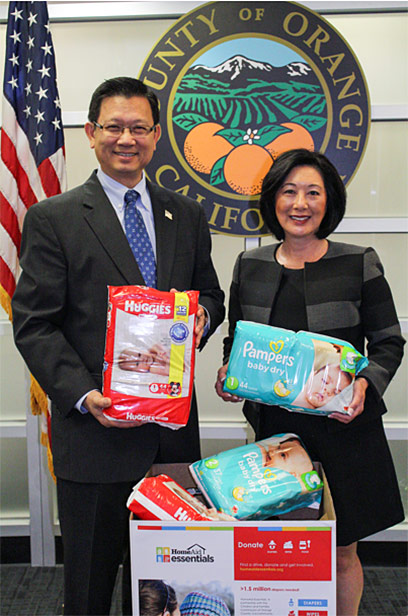 With Supervisor Andrew Do to promote the County's participation in the HomeAid Essentials for Young Lives campaign.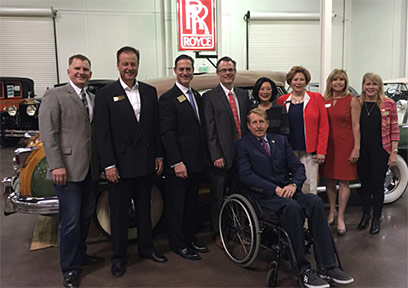 With Aliso Viejo Mayor Mike Munzing (left), RSM Mayor Tony Beall, Supervisor Todd Spitzer, Lake Forest Mayor Andrew Hamilton and Mayor Pro Tem Scott Voigts, Laguna Hills Mayor Barbara Kogerman, Laguna Niguel Mayor Laurie Davies, and San Juan Capistrano Mayor Pam Patterson at the South Orange County Association of Mayors meeting in Aliso Viejo.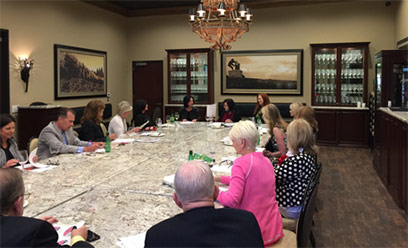 At the Lincoln Club's Women's Leadership Committee.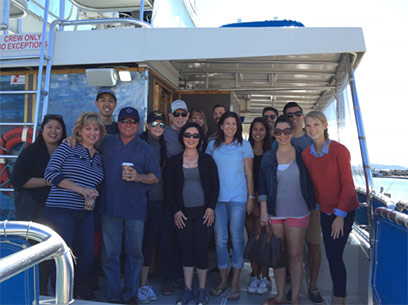 Whale watching in Dana Point.

My Staff:

Toured the Central Jail Complex in Santa Ana.
Attended the CalOptima 20th Anniversary Celebration at Bowers Museum.
Attended the South Orange County Economic Coalition's monthly meeting in Laguna Hills.
Presented a certificate of recognition in honor of the ribbon cutting ceremony for Denny's in Lake Forest.
Presented certificates of recognition in honor of the home businesses ribbon cutting ceremony in Laguna Niguel for: Laguna Niguel Lions Club, Transamerica Financial Advisors, Colonial Life, Wells of Life, and Coldwell Banker Residential Broker, Zebulun Ferguson.
Attended a Senior Summit planning meeting.
Attended a Celebrate Ladera planning meeting.
Presented a certificate of recognition in honor of the ribbon cutting ceremony for Lawrence J. Oaks DDS, Dentistry in Dana Point.
Presented a certificate of recognition to Gregg Abel, recipient of the Community Hero Award from the My Hero Project at the Laguna Hero Fest.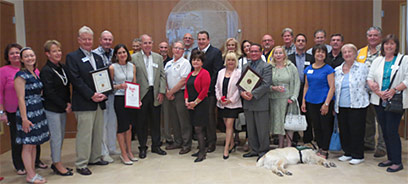 Presenting certificates of recognition at the home businesses ribbon cutting ceremony in Laguna Niguel.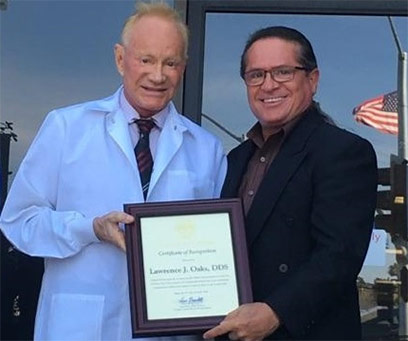 Presenting a certificate of recognition at Lawrence J. Oakes Dentistry ribbon cutting in Dana Point.

South County Elected Officials in the Community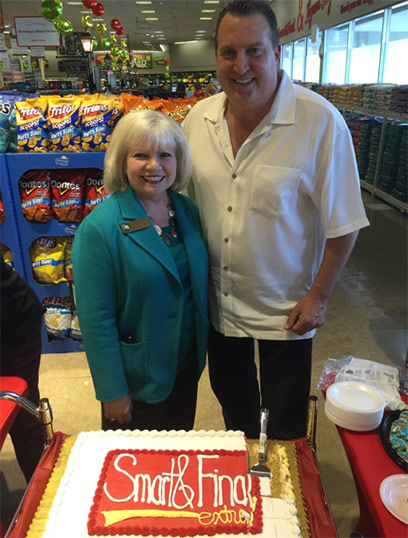 Laguna Niguel Councilwoman Elaine Gennawey and Mayor Pro Tem Jerry Slusiewicz at the Smart & Final Extra ribbon cutting.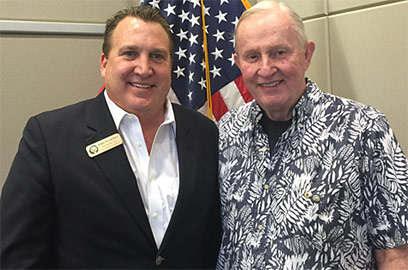 Laguna Niguel Mayor Pro Tem Jerry Slusiewicz and Councilman Jerry McCloskey at the home businesses ribbon cutting ceremony.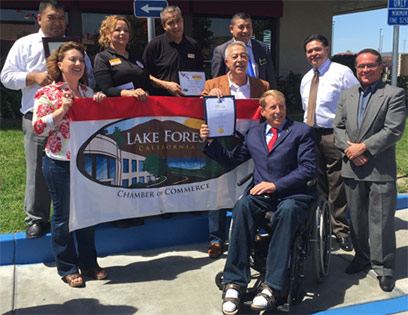 Lake Forest Mayor Pro Tem Scott Voigts (front center) at the Denny's ribbon cutting.

For questions or comments regarding Supervisor Bartlett's E-Newsletter please contact the Supervisor's office staff at: (714) 834-3550 or Sara.May@ocgov.com.