Happy Mother's Day!

I would like to wish you all a very happy Mother's Day this Sunday! Whether you are a mother, grandmother, step-mother, or godmother, you deserve to enjoy your day to the fullest! Motherhood is selfless, kind, and knows no bounds. Thank you to all the mothers who have raised us up and sacrificed so much for our well-being. Your love and careful nurturing has allowed us to grow into prosperous individuals, and we appreciate you wholeheartedly. I hope you have a pampering, stress-free Mother's Day, full of all the wonderful things in life.

County Connections

OC Register Highlights Liz Hueg's OC Shelter Partners

In November, 2015, Liz Hueg launched OC Shelter Partners at the Orange County Animal Shelter with a goal to reduce intake at the shelter and help struggling families keep their pets. As the founder and sole operator of this non-profit organization, Liz works with people who, under financial or other unfortunate circumstances, come to the shelter to surrender their pet. By offering various resources, education, and discounted services made possible through donations, Liz has successfully redirected over 250 animals from the shelter, and helped dozens of families care for and keep their pets.

The Orange County Register published an article on Thursday, May 5th, to highlight Liz's dedication and overwhelming success. She works entirely on a volunteer basis, and her efforts deserve to be acknowledged. I would like to thank Liz for all she has done to improve the lives of our residents and our beloved pets. To view the full article, visit The OC Register's page here.

John Wayne Airport Releases Passenger Survey Results

John Wayne Airport (JWA) has announced the results of its most recent passenger survey, conducted in 2015. The biannual survey is conducted to measure traveler preferences and satisfaction.

The 2015 Passenger Survey confirmed that John Wayne Airport continued to earn very high approval ratings from travelers, both visitors and residents alike. Based on responses from both the Intercept (terminal) and Telephone surveys, findings include:

96% of Telephone survey respondents and 99% of Intercept respondents give the airport either an "A" or "B" for overall satisfaction.
The proportion of pleasure/leisure travel at 55% has returned to levels not seen since 2009. Consequently, the percentage of business travel has decreased from 46% in 2011 to 41% in 2013, and now 39% in 2015.
Similar to the results over the last decade, the predominant reason people choose to fly out of JWA is its convenient location, with 93% of Telephone survey respondents and 82% of Intercept respondents citing convenient location as their top reason for choosing JWA.
Both Telephone survey respondents and Intercept respondents view JWA as a safe, clean airport with strong customer service. Overall customer service, feeling safe and secure, and cleanliness at JWA received "A" ratings.
"Our 2015 survey confirms that passengers continue to count on John Wayne Airport to deliver safe and convenient air travel and a superior guest experience," said Barry A. Rondinella, Airport Director. "We appreciate the high marks that Orange County residents and visitors have given us and look forward to keeping those ratings high."

To view the survey in its entirety, click here. To learn more about John Wayne Airport, log on to www.ocair.com.

OC Parks

Bear Awareness Day

Come celebrate Bear Awareness Day at the OC Zoo on May 7th and enjoy the family-friendly activities! There will be bear-themed crafts, zookeeper chats about bears, and a bear-centered learning center. All activities are free with paid admission zoo admission. See the flyer below for more information.

Click on the image above to view a PDF version.

OC Moves

I-5 South County Construction Alert

There will be a weekend closure of the Camino de Estrella on-ramp to Southbound I-5 beginning at Noon Friday, May 13, to 5 a.m. Monday, May 16.

The extended closure will allow crews to complete paving activities necessary to proceed to the next stage of construction. During the closure, crews will demolish portions of the existing pavement on the ramp and immediately repave it.

The reconfigured ramp will accommodate the new lanes being added on the I-5 freeway.

Please be advised, dates and times are subject to change due to weather conditions and unforeseen operational factors.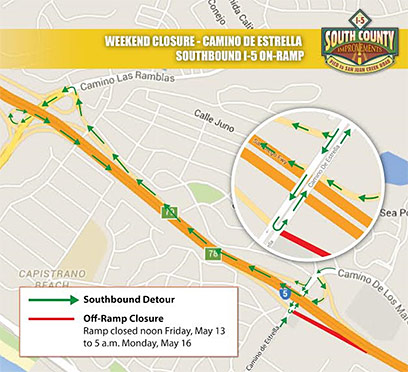 DETOUR I:

From Camino de Estrella, turn right right to access the northbound I-5 on-ramp
Continue on northbound I-5, exit PCH / Camino Las Ramblas (keep right at the fork)
Turn left on PCH / Camino Las Ramblas
Turn right on the southbound loop on-ramp to access I-5

DETOUR II:

From westbound Camino de Estrella proceed over the freeway
Make a U-turn at the southbound ramp intersection
Continue back over the freeway and turn right on the northbound loop on-ramp to access I-5
Continue on northbound I-5, exit Camino Las Ramblas (keep right at the fork on the ramp)
Turn left on PCH / Camino Las Ramblas
Turn right on the southbound loop on-ramp to access I-5

OCTA Seeks Volunteer Advisory Members

Citizens Advisory Committee members are appointed by the Board of Directors and must live in Orange County. OCTA is looking for individuals with:

Community involvement – must represent group(s) with an active membership/constituency
A demonstrated interest in community activities and transportation issues
Willingness to dedicate no fewer than 20 hours per year to OCTA meetings/activities
You can apply online by clicking here or download a paper application here. If you need additional information, please contact Emily Mason regarding CAC Recruitment at (714) 560-5421 or emason@octa.net.

Social Services Agency

In-Home Supportive Services Advisory Committee Openings

The Orange County In-Home Supportive Services (IHSS) Advisory Committee is recruiting for applicants to fill a vacancy on the Committee. There are currently two vacancies on the IHSS Advisory Committee:

Consumer Seat – Fifth District Representative
Provider Seat – At-Large Appointment
For additional information or to obtain an Application please call the IHSS Public Authority at (714) 825-3174.

Registrar of Voters

Election Workers Needed

The Orange County Registrar of Voters needs more than 6,000 volunteers to assist with the various tasks that are required in conducting the upcoming June 7, 2016, Presidential Primary Election.

For information on the various Election Day volunteer opportunities, job descriptions, compensation and to sign up to serve on Election Day, county employees can go to the Registrar of Voters' website at ocvote.com/volunteer.

OC Animal Care/Pet of the Week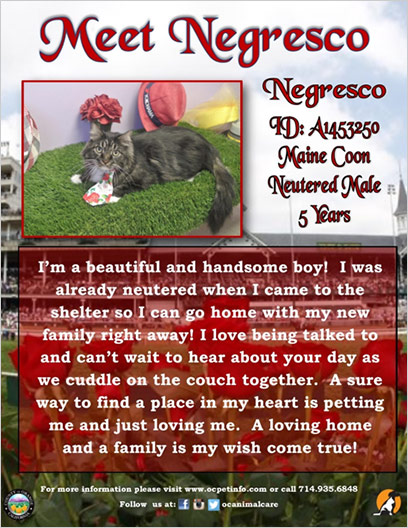 Click on the image above to view a PDF version.
Spring Fling Adoption Weekend

Come visit the Orange County Animal Shelter on May 14th and 15th for a weekend-long adoption event, sponsored by our office! For this weekend only, adoption fees on all animals will be waived; just pay for the licensing and microchip. Adoptions are first come, first serve. We look forward to seeing you and hope you can help one of our dogs, cats, or bunnies find a "furever" home!

Click on the image above to view a PDF version.

Out and About South County

Aliso Viejo: SOKA University International Festival

Soka University will celebrate the 15th Annual International Festival from 10:30 am to 5:00 pm on Saturday, May 7, 2016. Enjoy 900 musicians and dancers performing on four stages, and over 250 non-profit, craft and business exhibitors. There will be lots of international food, exhibitors, games and activities, art exhibitions, ceramic sales, a children's play and arts area, student projects --- and much more! Admission is FREE for everyone! Click here for details.

Dana Point: Fiesta Carnival 2016

Come join us at RH Dana's Fiesta Carnival 2016! Fun for the whole family. Live entertainment, fabulous food, inflatables, games, raffles and more! Admission is free. Click here for details.

Laguna Beach: High 5-A-Thon

HIGH FIVE for Mental Health! Join us May 7th at 9am for a High 5-A-Thon walking around the Laguna Beach High School track, giving High 5's while listening to up and coming young artists and DJ music. This will be a fun, family event with a kid zone, fabulous raffle prizes and more. Proceeds to benefit CHOC and Mission Hospital. Click here for details.

Laguna Hills: Sober Living Homes Regional Town Hall Meeting

On Thursday, May 12th, the Laguna Hills Community Center will host a regional town hall meeting to discuss sober-living homes in Orange County. The discussion will include Senator Patricia Bates, Senator John Moorlach, Assemblyman William Brough, and Assemblyman Matthew Harper, along with legislative panelists, legal specialists, and city representatives. See the flyer below for additional information.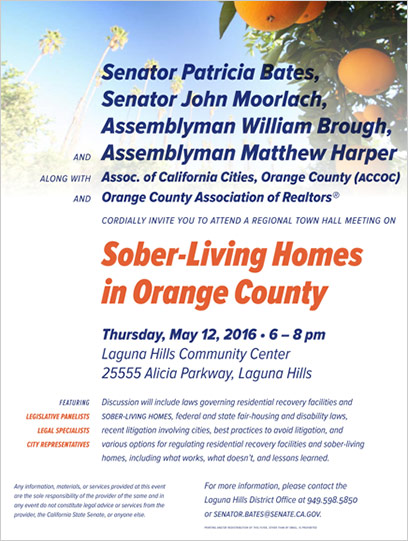 Rancho Santa Margarita: Live Smart Community Event by Moulton Niguel Water District

On Saturday, May 14th, from 10am-2pm, come learn about water conservation from the Moulton Niguel Water District. There will be food, music, giveaways, water education, and interactive activities for the whole family! See the flyer below for details.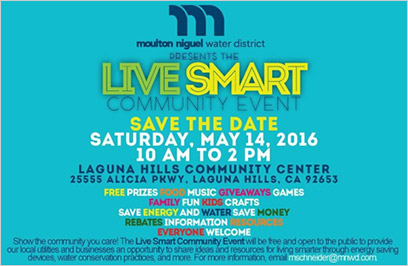 Click on the image above to view a PDF version.

Last but not least this week I:

Hosted the inaugural Celebrate Ladera event in partnership with LARCS and presented the Volunteer of the Year awards. To view a photo album of the event, please click here.
Participated in the Prescription Drug Drop-Off Day at the Laguna Hills City Hall.
Spoke at the Orange County Visitor's Association Conference.
Participated in the OCTA Regional Planning and Highways Committee meeting.
Filmed a promotional "how-to" video for Orange County Animal Care's new PetTrack mobile app.
Participated in the TCA Foothill Eastern Mobility Ad-Hoc.
Participated in the OCTA Environmental Oversight Committee meeting.
Presented and engaged in a Q&A session with former Congressman John Campbell's class at UCI.
Participated in the CalOptima Board meeting.
Presented the Community Policing Award at the OC Human Relations Awards 45 Gala.
Filmed a commercial with local channel TV6 to promote the upcoming South County Senior Summit on May 20th.
Participated in the filming of the Dana Point Harbor Time Capsule Rock removal.
Attended the Dana Point State of the City Luncheon.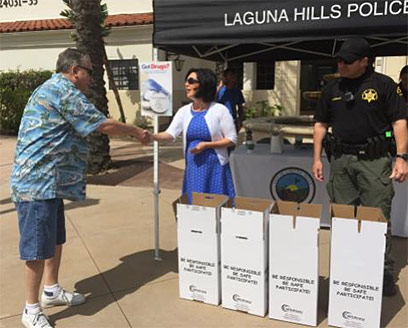 At the Prescriptuon Drug Take Back Day event at Laguna Hills City Hall.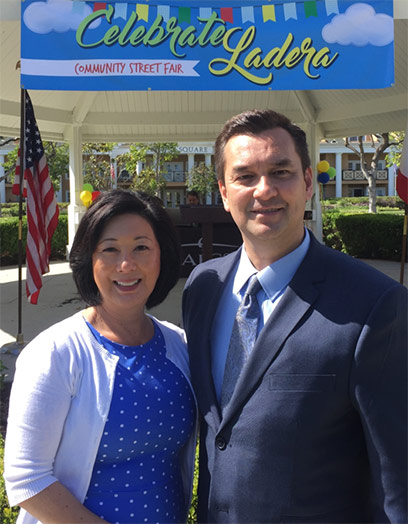 With Clerk Recorder Hugh Nguyen at the Celebrate Ladera event.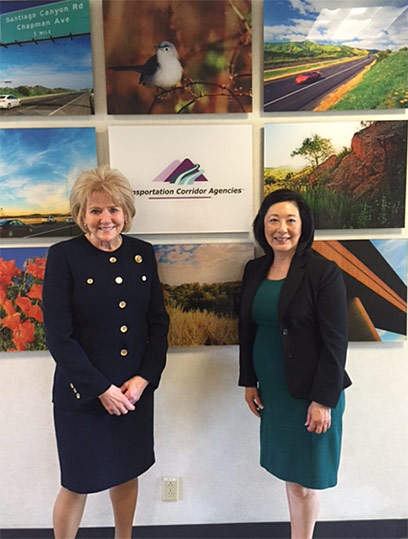 Former U.S. Secretary of Transportation Mary Peters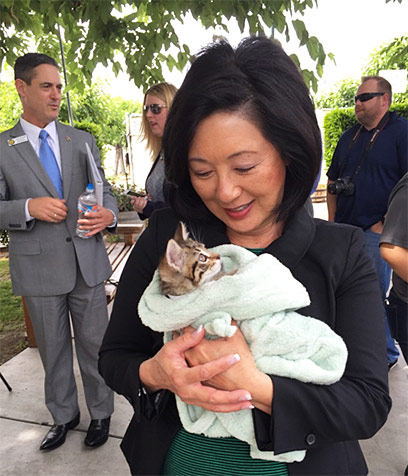 Meeting the adoptable kittens at the PetTrack mobile app promotion event.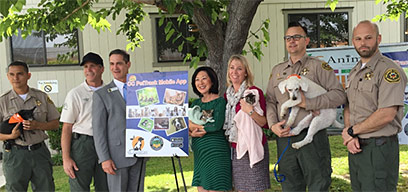 Supervisor Spitzer, Dr. Jennifer Hawkins, and OCAC staff at the PetTrack mobile app promotion event.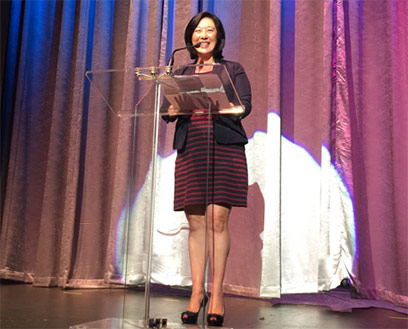 Speaking at the OC Human Relations Commission's 45th Anniversary Awards Ceremony.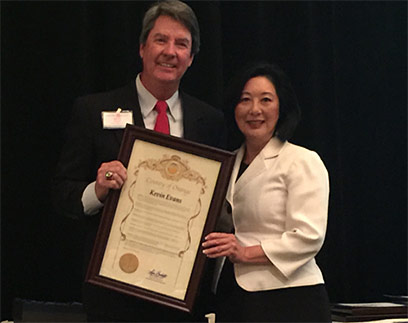 Presenting a proclamation to retiring City of Dana Point Director of Community Services, Kevin Evans, at the Dana Point State of the City Luncheon.



My Staff:

Presented a certificate of recognition in honor of the Blaze Pizza ribbon cutting in San Clemente.
Attended the Conditions of Children planning meeting.
Attended the Senior Summit planning meeting.
Toured the Cal State University of Fullerton's Cooper Center.
Attended the Laguna Niguel Government Affairs Committee meeting.
Attended the Bureau of Medical Marijuana briefing.
Shadowed staff at the Orange County Animal Shelter's phone room and customer service desk.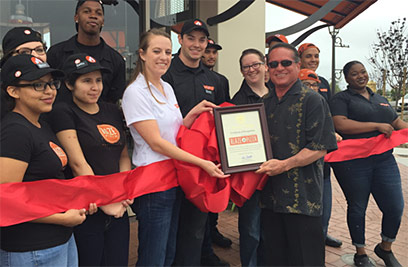 Presenting a certificate of recognition at the Blaze Pizza ribbon cutting in San Clemente.

South County Elected Officials in the Community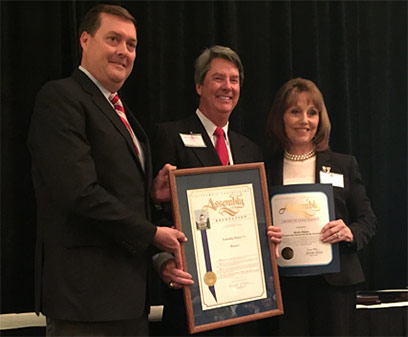 Assemblyman Bill Brough (left) and Senator Pat Bates (right)

For questions or comments regarding Supervisor Bartlett's E-Newsletter please contact the Supervisor's office staff at: (714) 834-3550 or Sara.May@ocgov.com.