County Connections

Continuing Collaboration as Newly Elected Chair of the Board

I would like to thank my colleagues for my appointment as Chair of the Board of Supervisors for this year. I am honored to have your confidence, respect, and continued support. I would also like to thank Supervisor Spitzer for his passion and leadership this past year, and offer congratulations to the newly elected Vice Chair Michelle Steel. I am looking forward to a very productive year as we collectively work towards tackling a number of key County wide initiatives.

I strongly believe that 2016 will be a year in which our board, our employees and our County will achieve great things that will have a positive impact well into the future. Our collective strategic goals and initiatives will literally change lives, enhance the business climate in the County and truly make Orange County one of the best places to live, work and play.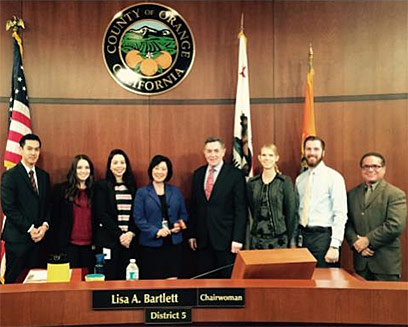 Online Property Tax Statement

Orange County Treasurer-Tax Collector Shari L. Freidenrich encourages all property taxpayers to visit ocgov.com/octaxbill to take advantage of multiple resources for current or previous owners of real property, boats, aircraft, or business property and equipment.

The online information identifies any parcel with current outstanding property tax balances, copies of current and prior year property tax bills, a link to a Google-type GIS map, information on Mello-Roos assessments, penalty cancellation request forms, change of address forms, and information on PACE programs offered by some local cities. The site also provides same-day credit payment options with no convenience fee plus an emailed detailed receipt for your records (can also be printed), as well as copies of the inserts sent with property tax bills.

The website also provides an up-to-date online property tax statement page for all secured and unsecured property, including any outstanding balances plus any delinquencies, penalties or fees. The most common way to view the online statement page is to input either your seven-digit Assessor Parcel Number (APN), or property address (for secured property and possessory interest property) or for unsecured property taxes, input your TC Reference # for business property/equipment, CF # for boats, or N # for aircraft. These special reference numbers are available on the annual property tax bill mailed to you, or you can call a customer service representative to obtain the number at (714) 834-3411.

We also encourage all property owners to sign up for a secured property tax reminder by going to ocgov.com/taxreminder to register your email or to sign up for an unsecured property tax reminder by going to ocgov.com/unsecured reminder. You will then receive an email when the respective property tax bills are mailed and a reminder 10 days and one day prior to the last timely payment date.

Help Plan the Future of Southern California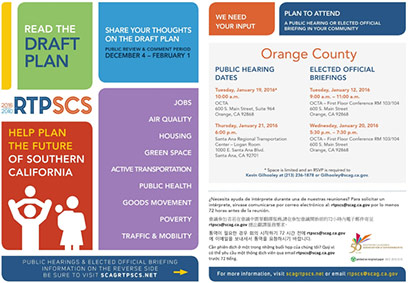 County Department Highlights

John Wayne Airport Displays New Age Art By Laguna Woods Resident

From January 14 through February 16, a selection of digital imagery and acrylic paintings from Laguna Woods resident Susie Stockholm are on display at John Wayne Airport (JWA) as part of JWA's Community Focus Space Program.

The collages can be viewed on the Departure (upper) Level near security screening areas in Terminals A, B and C, and on the Arrival (lower) Level adjacent to Baggage Carousels 1 & 4. Stockholm's exhibition features both acrylic paintings with strong geometric shapes reflecting the non-linear Southern California streets, as well as resolved iPad/iPhone digital imagery that depict her travels.

She merges traditional and new media by using her iPhone 6+ to photograph her architectural grid-work acrylic paintings inspired by landmarks with aesthetically captivating and intersecting forms. She then digitally transforms them on her iPad Pro into photo collages to highlight the hustle and bustle of urban life from a bird's-eye macroscopic vantage.

"Transitioning from traditional to iPad art and photo collage is exciting; yet I'm still delighted by the colors, architectural shapes and intersecting lines you see in my traditional paintings," said Stockholm.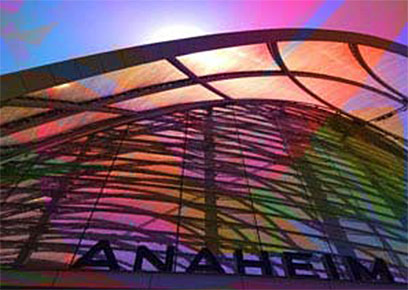 More images can be seen here.
Laguna Woods resident, Susie Stockholm, had a passion for art since a young age. Over the years, she has lived in Santa Barbara, San Francisco, Austin, Atlanta and Hilton Head. Stockholm creates watercolor and acrylic paintings, large textural abstracts and experimental art, and has taught collage and iPad Art classes. Her current passion is creating art on her iPad.

Orange County Clerk-Recorder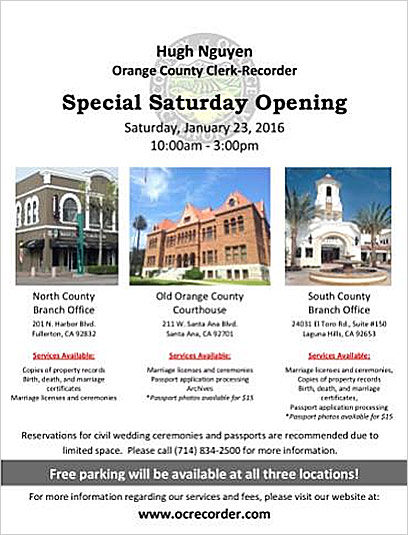 Click on the image above to view a PDF version.

OC Moves

New Wildlife Protection Fence Earns Innovation Award

The Orange County chapter of an international transportation organization, Women's Transportation Seminar (WTS), has honored the Transportation Corridor Agencies' (TCA) State Route 241 Wildlife Protection Fence with the Innovative Transportation Solutions Award at the WTS annual gala.

WTS is dedicated to advancing women in transportation through networking, seminars, access to top transportation professionals and mentoring. The group recognized the wildlife protection fence for its research-based design and construction.

With construction nearly complete, TCA will monitor the benefit the fencing provides to local wildlife and how well the fence performs in reducing wildlife and vehicle collisions. These findings will help TCA and other agencies when designing and building future projects.

OC Courts

Grand Jury Application Deadline Extended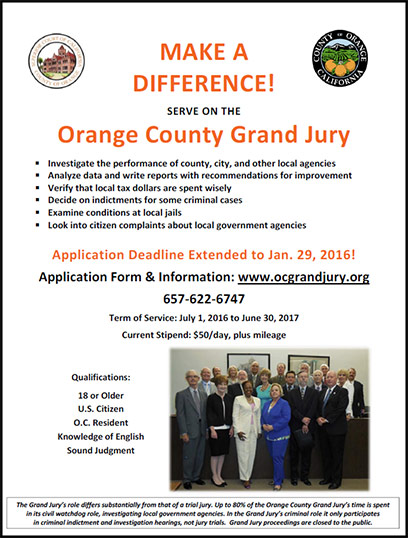 Click on the image above to view a PDF version.

OC Public Works

El Nino: OC Storm Center

The OC Storm Center website provides information regarding road closures, rainfall data, and other storm related information in unincorporated areas of Orange County.

This site is maintained by the OC Public Works, Department Operation Center and OC Watersheds to provide up-to-date road and flood conditions. The OC Public Works, Department Operations Center (DOC) may be activated in the event of hazardous weather conditions or other emergency events. Under most circumstances they can only respond to situations or concerns involving County maintained roads or flood control channels. To report problems with a County road or flood control channels during an active event, please phone (714) 955-0333.

During non-emergency conditions, please report maintenance issues or concerns by submitting a service request here. You may also contact the OC Public Works, Operations & Maintenance main office at (714) 955-0200. Click here for resources to help you prepare for post-fire debris, flood and erosion control.

Sandbags: Each year from October 1st to April 30th residents from unincorporated Orange County can obtain up to 50 free sand bags for the protection of their home from rain and mud. Contractors or commercial entities are not permitted. Sand bags are available at 2301 N. Glassell St. Orange, Ca 92865, or at seasonal staging locations (subject to conditions). For more information on sandbags, click here.

Disaster Assistance: If your property has been damaged in a State declared emergency, please visit the Office of Emergency Services (OES) and the Federal Emergency Management Agency (FEMA) websites to determine if you are eligible for disaster assistance.

This service is provided to you at no charge by the County of Orange, California. Visit online at www.ocgov.com.

OC Pet of the Week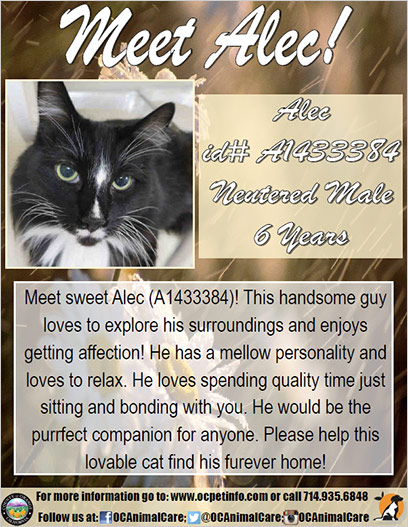 Click on the image above to view a PDF version.

Out and About South County

Laguna Beach: Laguna Craft Guild Art Show & Laguna Bluebelt Photo Contest

Spend a day at the beach on Sunday January 17th at Cobblestones at Main Beach, enjoying the seaside ambiance as you stroll through the Laguna Beach Craft Guild show. The show is comprised of Laguna Beach artists, representing a variety of art mediums including; pottery, glassblowing, photography, painting, textile artists, jewelers and many others. For more information, please click here

The Laguna Bluebelt Coalition is gearing up for its 5th Annual Photo Contest! They are accepting entries between January 16th - February 6th; see the flyer below or click here for submission details. The Coalition brings together organizations and individuals with a common goal of protecting and restoring marine life, conserving biological diversity and maintaining healthy, sustainable marine habitats.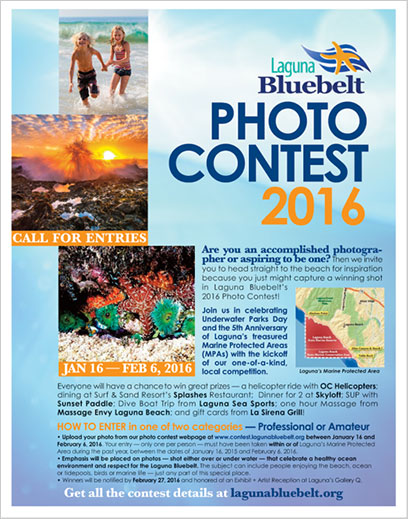 Aliso Viejo: Experience it All Photo Contest

Embracing Aliso Viejo's slogan, "Aliso Viejo–Experience it All,: the City is launching a photo contest calling for residents, businesses and organizations to submit photos of places, faces, features, activities and events that capture the true essence of life in Aliso Viejo. Entries are due by January 30. The winners will be recognized at a City Council meeting, receive a special gift and their photos will be posted to the City's website and social media sites. For more information, please click here.

Dana Point: History Tour

Take a history tour on Saturday January 16th from 9AM to 11:30AM starting from the Nature Interpretive Center. This walk explores the history of the area and is approximately 2 hours. History Tours occur on the third Saturday of each month and have rotating themes. It is a docent led tour that covers approximately 1.5 miles in distance. This walk requires RSVP and has a maximum capacity of 10 individuals. For more information, please click here.

Mission Viejo: Steinway Artists Concert

On Saturday, January 16th, Steinway Artists Louis Landon, Starr Parodi, Ayako Kawai and Christine Brown will perform original solo piano music from 7PM to 9PM at the Saddleback Room at City Hall. Cost is $10. For more information, please click here.
San Juan Capistrano: Farmer's Market

On Wednesday, January 20th come to the San Juan Capistrano Farmer's Market from 3PM to 7PM on Yorba Street. The Old Capistrano Certified Farmer's Market promotes a healthy lifestyle by providing fresh fruits, vegetables and other farm products to the citizens of San Juan Capistrano and adds a vibrant community event to our historic downtown. For more information, please click here.

Last but not least this week I:

Participated in an Orange County Transportation Authority (OCTA) Board meeting.
Participated in the Orange County Board of Supervisors meeting and was sworn in as the new Chair of the Board.
Participated in the San Diego Water Quality Control Board Outreach meeting.
Participated in the Transportation Corridor Authority (TCA) Joint Executive Committee meeting.
Participated in the TCA San Joaquin Hills Board meeting.
Participated in the TCA Foothill/Eastern Board meeting.
Participated in the Orange County Local Remote Access Network Board meeting.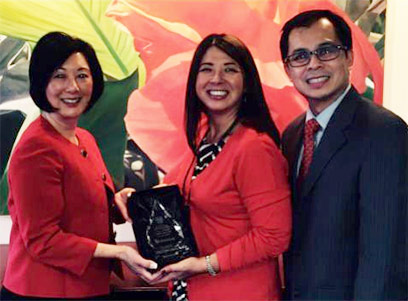 Presented an Award of Appreciation to Robbin Narike Preciado and Nam Hoang of Union Bank for their generous support of my South County Veterans Summit.

My Staff:

Toured the PACE Center in El Monte.
Toured Providence Community Center.
Participated in a planning meeting for "Celebrate Ladera."
Participated in the Association of California Cities Orange County City Manager Committee.

South County Elected Officials in the Community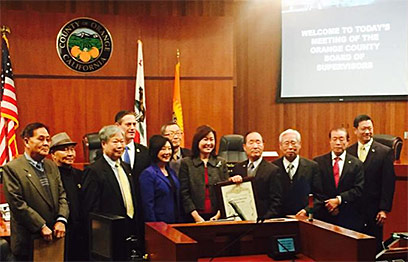 The Orange County Board of Supervisors commemorating Korean American Day

For questions or comments regarding Supervisor Bartlett's E-Newsletter please contact the Supervisor's office staff at: (714) 834-3550 or Sara.May@ocgov.com.