County Connections

Spring Fling Adoption Weekend a Success!

I am thrilled to announce that this past weekend, 105 shelter animals found loving new homes through the Spring Fling Adoption Weekend at the OC Animal Shelter! Dozens lined up early on Saturday morning in anticipation of this event. It was a pleasure speaking to the excited crowd and cutting the ribbon to kick off the weekend. I was even joined by a special guest, Emmy Perry, founder of the charity, Emmy's Hope. Emmy, at just 11 years old, collects donations and supplies and distributes them to shelters in Orange County. She has spent countless hours at our county animal shelter, and I was honored to present her with a special certificate of recognition for all she has done.

My office sponsored the event, which enabled all adoption fees to be waived (with the exception of licensing and microchip). Both days resulted in an impressive number of adoptions. In total, 55 dogs, 41 cats, 7 rabbits, and 2 chickens were adopted into "furever" homes. I would like to thank all the families who supported our shelter by adopting, and I hope your new pet brings joy to your life. I would also like to thank the shelter staff and volunteers who made this event possible.

If you were unable to make it to this event and are considering a pet, I highly encourage you to visit the OC Animal Shelter to find your new furry friend. By adopting from a shelter, we can help alleviate the number of homeless pets in our community.

2016 South County Job Fair Connects Businesses with Job Seekers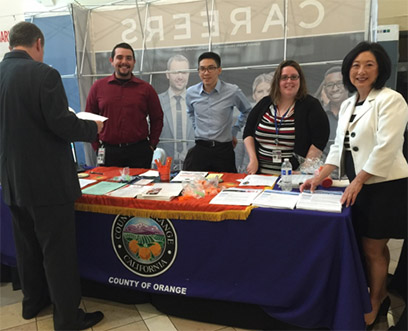 On Wednesday, May 18, I was pleased to host the 6th Annual South County Job Fair in partnership with the Orange County Development Board (OCDB) at the Laguna Hills Mall, where over 450 job seekers connected with 71 companies seeking to hire new employees.

If you missed the South County Job Fair and are interested in finding other job opportunities or need help developing a new career path, please visit the One-Stop Center website at www.oconestop.com.

Businesses expanding their workforce can also contact the One-Stop Center directly. Qualified candidates and special hiring incentives are available throughout the year.

OC Public Works

Special Meeting: "Orange is the New Green" Zoning Code Update

You are welcome to attend a Community Workshop being held during a special meeting of the Orange County Planning Commission scheduled for May 25, 2016 from 6:00PM - 8:00PM. At this special meeting, attendees will learn more about the "Orange Is the New Green" Zoning Code Update and have the opportunity to ask questions and provide input on the recommendations being considered to make the County's Zoning Code "green."

Information regarding the "Orange is the New Green" Zoning Code Update project can be found on the County's website at:http://ocplanning.net/planning/projects/
orange_is_the_new_green. This information includes the recently completed "Orange is the New Green" Code Analysis, Assessment and Best Practices Report. This report discusses the current status of the County's Zoning Code, best practices utilized by other local jurisdictions, and recommendations on which of these best practices should be incorporated into the County's Zoning Code.

The meeting will be held on May 25th from 6PM - 8PM at the OC Public Works Glassell Office in Conference Room 1A: 2301 N. Glassell Street, Orange.

Orange County Public Works Receives Prestigious APWA Accreditation

The Orange County Public Works and Engineering Departments in California have recently been awarded the prestigious American Public Works Association (APWA) Accreditation and Re-Accreditation, respectively. The APWA Accreditation program recognizes public works agencies that go beyond the requirements of the management practices established nationally in the public works industry, as contained in the APWA Public Works Management Practices Manual. The Orange County Engineering Department (a branch of OC Public Works) was first accredited in 2012, and the OC Public Works Department received overall Accreditation on May 5, 2016.

The OC Public Works Accreditation and Engineering Re-Accreditation will be awarded by APWA Board Region VIII Director, Shahn Ahmad, P.E., who will make the presentation to the departmental staff on Tuesday, May 24, 2016 at 9 a.m. in the County Hall of Administration Building at 333 W. Santa Ana Boulevard, Santa Ana, CA.

Orange County's Public Works and Engineering Departments' Accreditation and Re-Accreditation indicate the department has met all applicable documentation and practices. "The awarding of the APWA Accreditation and Re-Accreditation shows we have dedicated ourselves to concepts of improvement and in-depth self-assessment of department policies, procedures and practices, said Public Works Director, Shane Silsby. "The heroes of these prestigious APWA awards are the public works and engineering staff whose mission is to provide efficient public works projects and initiatives, innovative programs and outstanding customer service that contribute to making Orange County a great place to live, work and play."

The OC Public Works Department mission is to protect and enrich the community through efficient delivery and maintenance of public works infrastructure, planning, and development services. Service areas include Administrative Services, Development Services, Facilities Design and Construction, Fleet Services, Construction, Environmental Resources, Facilities Maintenance and Central Utility Facility, Infrastructure Programs, Operations & Maintenance, and Survey.

For more information about Orange County Public Works, contact Strategic Communications Officer Shannon Widor at shannon.widor@ocpw.ocgov.com, or Orange County Accreditation Manager Eileen DePuy at: Eileen.depuy@ocpw.ocgov.com.

OC Moves

OCTA Gears Up For Bike Month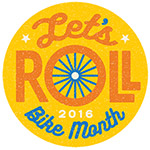 The Orange County Transportation Authority invites bicyclists of all ages to improve their health, help the environment and cut the cost of driving by celebrating Bike Month.

Bike Month was established nearly 60 years ago to showcase the benefits of bicycling and to encourage more people to ride. You can pledge to participate in Bike Month in May at http://www.octa.net/bikemonth. Upon registering, you will entered for a chance to win an iPad, among other prizes.

Throughout the month of May residents will be able to attend and participate in a variety of events around the county. Attendees have the opportunity to win free bike gear and additional prizes by participating in OCTA's photo contest. There are more than 1,000 bike lanes in Orange County and OCTA wants to know how residents use them. To enter the contest, residents can upload their bike month photo to Instagram, Twitter, or the OCTA Bike Month page and tag their photo with #BikeMonthOC.

For more information about OCTA's Bike Month events, visit http://www.octa.net/bikemonth.

John Wayne Airport

Nostalgic World War II Aviation Paintings Featured at John Wayne Airport

From May 18 through June 15, a series of oil paintings titled "Home Front Aviation" by local artist Stan Vosburg are on display at John Wayne Airport (JWA) as part of JWA's Community Focus Space Program. The paintings can be viewed on the Departure (upper) Level near security screening areas in Terminals A, B and C, and on the Arrival (lower) Level adjacent to Baggage Carousels 1 and 4.

"Orange County has a rich aviation history, and Mr. Vosburg's nostalgic and warm-hearted paintings create a shared experience for airplane lovers of all ages," said Board Chairwoman Lisa Bartlett. "The County is fortunate to have a world-class airport with an Arts Program that highlights the many talented artists within our community."

Stan Vosburg's historical aviation paintings depict the interaction of people in everyday life with the aircraft that were built in and flown over Southern California during World War II. Detailed research into period magazines, local archives and the artist's extensive collection of aviation books are the foundation of these historically detailed paintings.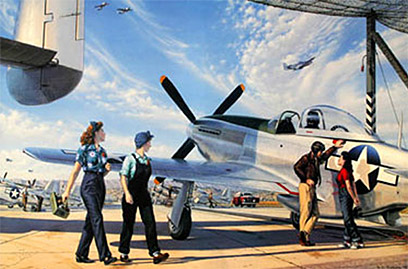 More images can be seen here.
A native Californian, Vosburg has lived in Orange County since 1954. Vosburg graduated from Cal Poly Pomona with a Bachelor of Science in Mathematics and spent 39 years working as a structural analyst in the aerospace/defense industry. To relieve the stress from work, he took a series of oil painting classes at Fullerton College and reconnected with his passion for oil painting and art. He is a member of the American Society of Aviation Artists (ASAA), which has recognized his work with numerous awards. His painting "Impressing the Night Shift" was recreated in "living art" during the Laguna Beach Pageant of the Masters' 1999 Millennium season.

Registrar of Voters

Election Workers Needed

The Orange County Registrar of Voters needs more than 6,000 volunteers to assist with the various tasks that are required in conducting the upcoming June 7, 2016, Presidential Primary Election.

For information on the various Election Day volunteer opportunities, job descriptions, compensation and to sign up to serve on Election Day, county employees can go to the Registrar of Voters' website at ocvote.com/volunteer.

OC Animal Care/Pet of the Week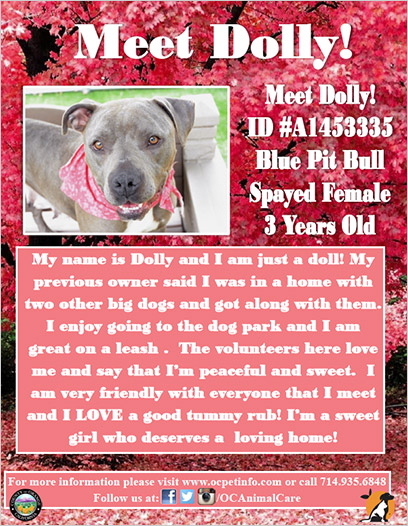 Click on the image above to view a PDF version.
Animals for Armed Forces Adoption Weekend

The Orange County Animal Shelter is having another adoption event coming up on Memorial Day Weekend, sponsored by Animals for Armed Forces. This special FREE* adoption weekend is an annual event to honor and thank our dedicated service men and women. See the flyer below for details.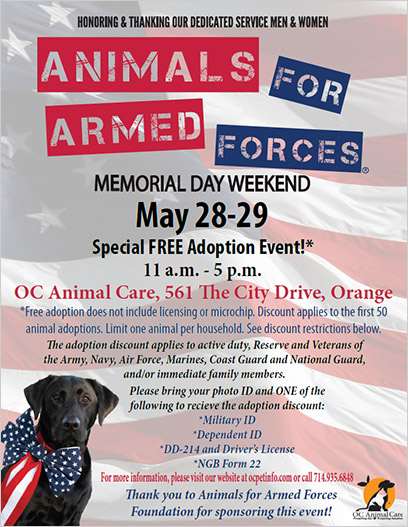 Click on the image above to view a PDF version.

Out and About South County

Aliso Viejo: Water Safety Day & Movie Night

To prepare families for summer water fun, the Aliso Viejo Aquatics Center will host a special Water Safety Day on Saturday, May 21st from 11:00 a.m. to 3:00 p.m. Several activities are planned for swimmers of all abilities and age groups to test their skills. There will also be special guest speakers from Safer 3 and OC Fire discussing how to keep safe in the water during the summer and all year long. The Aliso Viejo Aquatics Center is located adjacent to the Aliso Viejo Conference Center at 29 Santa Barbara. For more information, click here.

The Aliso Viejo Aquatic Center will host a series of movie nights on the fourth Friday of every month from February through May. Activities begin at 5:30 p.m. at the City owned facility located at 29 Santa Barbara Drive. This month, guests will enjoy a family-oriented movie screening on Friday May 27th. Entrance to the facility and popcorn are free. Treats and drinks will be available for sale. For more information, click here.

Dana Point: Doheny Blues Festival

Home to the Best Blues Festival in Southern California, the Doheny Blues Festival has welcomed numerous legends of the genre including: B.B. King, Buddy Guy, Bonne Raitt, Etta James, Charlie Musselwhite, Derek Trucks, Dr. John, Little Richard, John Lee Hocker and many more. Hosted on the iconic Orange County landmark of Doheny State Beach every May, the festival boasts an eclectic food court, the intimate Backporch stage with microbrew tastings, and a stellar line up year after year. This coming year marks the 19th anniversary of the celebrated Doheny Blues Festival! The 2016 Doheny Blues Festival will take place May 21 & 22 at Doheny State Beach in Dana Point. Make sure to get your weekend passes today starting at $20! For more information, click here.

Laguna Hills: Memorial Day Half Marathon

On Monday May 30th runners of all skill levels are welcome to participate in the event of their choice, the Half Marathon (13.1 miles), 5K run/walk (3.1 miles), 10K (6.2 miles), or kids run (1/2 miles). The City of Laguna Hills intends to donate $3 per participant to the 3/5 Marine Support Committee. For registration, race times, fees, course descriptions, information regarding sponsorships, entertainment, parking and directions, please click here!

Mission Viejo: Film Festival & Lord of the Strings Concert

This festival will showcase aspiring Southern California filmmakers benefiting the City of Hope's Cancer Research Facility. Films submitted must be family friendly and 15 minutes maximum. Two categories: Elementary-Middle School and High School and up. The City of Hope Award, Mayor Award and the Mark Jennings Award will be presented. There is free admission and a $35 film submission fee. The festival will take place Saturday the 21st from 12:00 p.m.—9:00 p.m. at the Kaleidoscope Center. For more information, click here.

Grammy winning fingerpicker Pat Donohue's devotion to acoustic guitar has made him an American standard, as he echoes the tones of Robert Johnson, Charlie Parker, Merle Travis or Muddy Waters. After wrapping up almost twenty successful years as the guitarist and songwriter on "A Prairie Home Companion" on NPR, Pat now turns to full time concert touring, presenting master guitar workshops and attending prestigious music camps. This event is $30 and will be May 28th from 7:00 p.m. –9:00 p.m. at the Council Chamber at City Hall. For more information, click here.
San Juan Capistrano: Free E-waste and Document Shredding Event

Come shred unwanted or old materials with security. Free on Saturday the 21st from 8:00 a.m. – 11:00 a.m. in the San Juan Capistrano City Hall Parking Lot. For more information, click here.

Last but not least this week I:

Welcomed the crowd and cut the ribbon at the Spring Fling Adoption Weekend at the Orange County Animal Shelter.
Gave the welcoming remarks at the Moulton Niguel Water District's Live Smart Event in Laguna Hills.
Attended the Lincoln Club Annual Dinner.
Participated in the Board of Supervisors Closed Session meeting.
Hosted the 2016 South County Job Fair in Laguna Hills.
Participated in the filming of the Dana Point Harbor Time Capsule Opening at the Cooper Center in Santa Ana.
Participated in an OCTA Legislative and Communications Committee meeting.
Presented a Board Resolution to former OC Community Services Director Karen Roper in honor of her retirement after 37 years of outstanding service to the County of Orange.
Hosted the 2016 South County Senior Summit in Laguna Woods.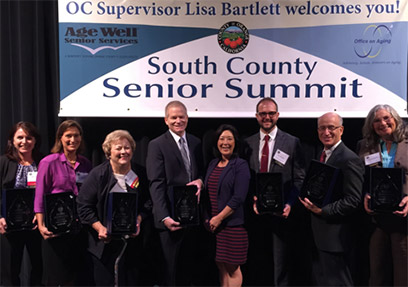 With Office on Aging Manager Erin Ulibarri, OC Deputy Health Officer Helene Calvet, Age Well Senior Services CEO Marilyn Ditty, CalOptima CEO Michael Schrader, Saddleback College Emeritus Institute Director Dan Predoehl, Health Care Agency Director Mark Refowitz, and Deputy District Attorney Elizabeth Henderson at the 2016 South County Senior Summit.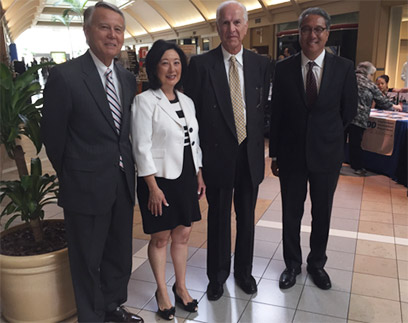 With Orange County Development Board (OCDB) Chair Bob Bunyan (left), OCDB Member Alireza Jazayeri, and Aliso Viejo Councilman Ross Chun at the 2016 South County Job Fair.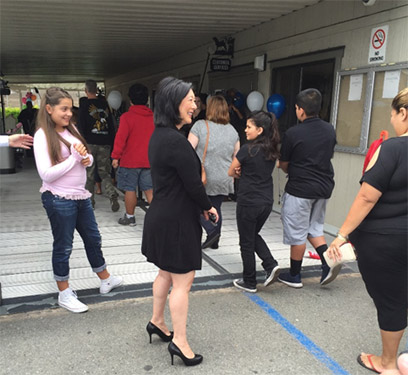 Welcoming hopeful adopters at the Orange County Animal Shelter's Spring Fling Adoption Weekend.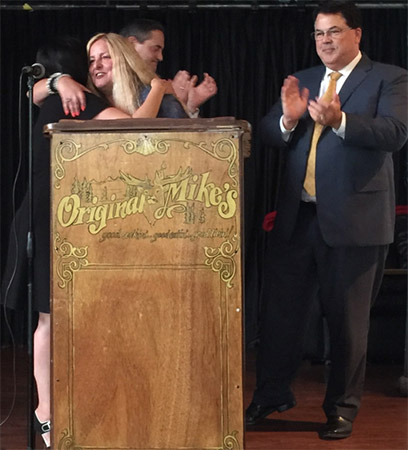 With Supervisors Todd Spitzer and Shawn Nelson at the retirement reception in honor of OCCS Director Karen Roper.

My Staff:

Presented a certificate of recognition in honor of the Flex Fitness ribbon cutting in Laguna Hills.
Attended the Dana Pont Civic Association's coffee chat.
Presented a certificate of recognition in honor of the grand opening of Anchor Hitch in Mission Viejo.
Presented certificates of recognition at the Angels for the Arts Awards ceremony at Saddleback College.
Attended Santa Margarita Water District's Water Awareness Day.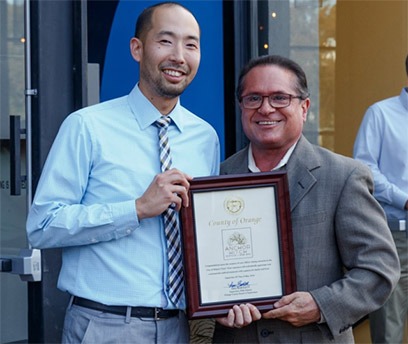 Presenting a certificate of recognition at the grand opening of Anchor Hitch in Mission Viejo.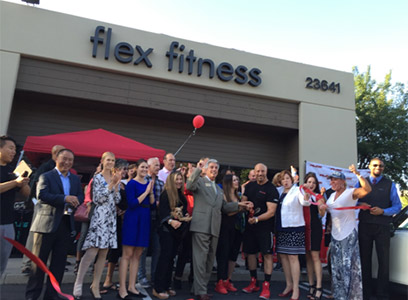 Cutting the ribbon at the Flex Fitness ribbon cutting in Laguna Hills, with Mayor Barbara Kogerman.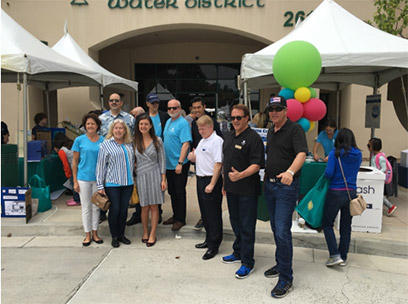 Santa Margarita Water District – Water Awareness Day

South County Elected Officials in the Community


Former Mission Viejo Mayor Trish Kelly, current Mayor Pro Tem Wendy Bucknum, and City Commissioner Brian Goodell at the grand opening of Anchor Hitch.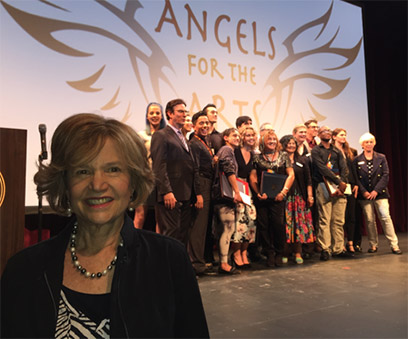 South OC Community College District Trustee Marcia Milchiker at the Angels for the Arts Awards ceremony at Saddleback College.

For questions or comments regarding Supervisor Bartlett's E-Newsletter please contact the Supervisor's office staff at: (714) 834-3550 or Tanya.Flink@ocgov.com.