Happy Memorial Day!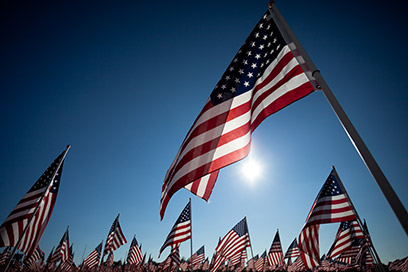 This week we have the opportunity to honor the brave men and women who made the ultimate sacrifice for our country. Memorial Day allows us to come together with our local communities to remember those who fought and died for our freedoms.

Memorial Day was first referred to as "Decoration Day" and originated due to the mass and widespread losses endured during the Civil War. After the war, communities began holding annual ceremonies to honor their fallen soldiers. This evolved into a national day of remembrance to honor those who died in the Civil War. During World War I, the scope expanded to include all American military personnel.

Orange County is home to approximately 131,000 veterans, and more than 30 soldiers with ties to Orange County have died in the Iraq and Afghanistan wars alone. We offer our deepest condolences to the families whose courageous soldiers left this world too soon, and we celebrate the great nation these sacrifices have afforded us. Let the parades we attend and the flags we wave be a reminder of the lives that were given to keep us safe today.

Let us honor those selfless and brave individuals who served our country and celebrate their heroic lives. Thank you for your service. Happy Memorial Day.

County Connections

Register for AlertOC

AlertOC is a mass notification system designed to keep Orange County residents and businesses informed of emergencies and certain community events. By registering with AlertOC, time-sensitive voice messages from the County or City in which you live or work may be sent to your home, cell or business phone. Text messages may also be sent to cell phones, e-mail accounts and hearing impaired receiving devices.

To receive important messages from AlertOC, register your contact information online by clicking here. To register by mail, download a registration form found in the FAQ page and follow the return by mail form instructions. Smartphone users may also download iOS and Android apps to manage their account and receive notifications directly on their phones.

For more information about this essential service, go to http://bos.ocgov.com/alertoc/alertoc.asp.

Supervisors Approve Plan to Complete OC Bike Loop

Orange County supervisors have approved a seven-year plan to complete the 66-mile OC Loop, a recreational bikeway and trail system that will allow continuous access along the Coyote Creek-San Gabriel River Trails, the Pacific Coast Highway Corridor, the Santa Ana River Trail and the Union Pacific Right of Way Corridor.

The $52.8 million earmarked for the OC Loop is part of Orange County Public Works' Seven Year Capital Improvement Program, which identifies priority projects for investing more than $545 million in transportation, flood control and bikeway improvements. Funding for the OC Loop will be provided by OC Public Works, OC Parks and various grant funds sought from the proceeds of a half-cent sales tax collected in Orange County for transportation projects.

"Requesting this level of future funding for the bikeway program is a first for Orange County and shows our commitment to completing this true countywide asset," said Board of Supervisors Chairwoman Lisa Bartlett, Fifth District.

The OC Loop connects 17 cities, 200 parks and 180 schools in Orange County, as well as beaches and shopping areas. The funding plan approved this week also will enhance access for cyclists and pedestrians along the County's 380 miles of flood-control facilities.

The OC Loop is a joint project with OCTA, which is completing a feasibility study on the best ways to close the remaining gaps through a grant from the Southern California Association of Governments. For more information on the OC Loop, click here.

OC Public Works Community Notice: Capistrano Surfside Inn Pedestrian Bridge Removal & Crosswalk Installation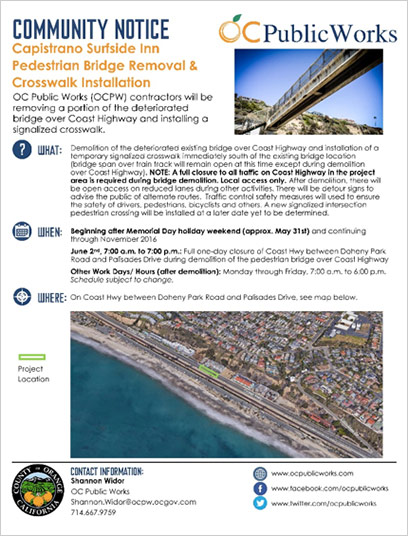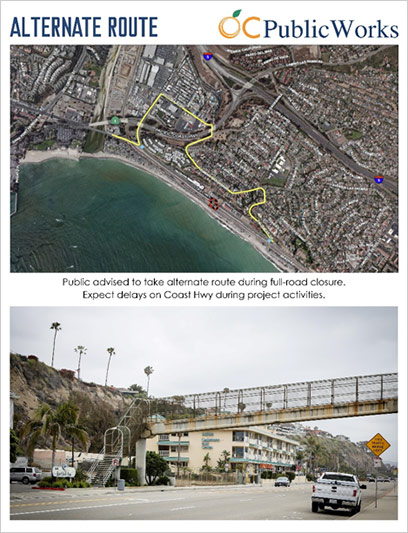 OC Sheriff's Department

The Orange County Sheriff's Department DUI Taskforce will be conducting a DUI/Driver's License Checkpoint on Friday, May 27, 2016 in the city of Dana Point between the hours of 6:00pm and 2:00am.

The deterrent effect of DUI checkpoints is a proven resource in reducing the number of persons killed and injured in alcohol or drug involved crashes. Research shows that crashes involving an impaired driver can be reduced by up to 20 percent when well-publicized DUI checkpoints and proactive DUI patrols are conducted routinely.

"Over the course of the past three years, DUI collisions have claimed 21 lives and resulted in 497 injuries" said Deputy Manuel Cruz of the Orange County Sheriff's Department Traffic Bureau.

Deputies will be looking for signs of alcohol and/or drug impairment along with checking drivers for proper licensing. When possible, specially trained deputies will be available to evaluate those suspected of drug-impaired driving. Recent statistics reveal that 30 percent of drivers in fatal crashes had one or more drugs in their systems. A study of active drivers showed more tested positive for drugs that may impair driving (14 percent) than did for alcohol (7.3 percent). Of the drugs, marijuana was most prevalent, at 7.4 percent.

DUI Checkpoints are placed in locations based on collision statistics and frequency of DUI arrests affording the greatest opportunity for achieving drunk and drugged driving deterrence. Locations are chosen with safety considerations for the deputies and the public.

Drivers caught driving impaired can expect the impact of a DUI arrest to include jail time, fines, fees, DUI classes, other expenses that can exceed $10,000 not to mention the embarrassment when friends and family find out.

Funding for this checkpoint is provided to The Orange County Sheriff's Department by a grant from the California Office of Traffic Safety, through the National Highway Traffic Safety Administration, reminding everyone to 'Report Drunk Driver – Call 9-1-1'.

OC Moves

South County Mobility Public Forum Hosted by TCA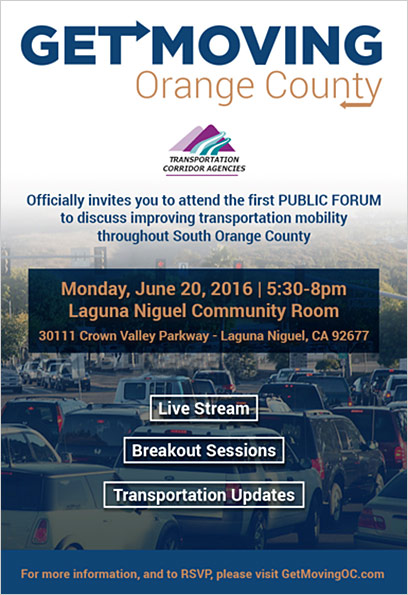 Construction to Begin Soon at Laguna Niguel/Mission Viejo Metrolink Station

The Laguna Niguel/Mission Viejo Metrolink Station was opened in 2002 and has an average of 340 Metrolink weekday boardings. The Station is located a half-mile from Interstate 5 and near major employment centers and attractions in south Orange County, including The Shops at Mission Viejo, Saddleback College and Mission Hospital.

The planned Station Improvements project includes improved passenger access and amenities, with the addition of Americans with Disabilities Act compliant ramps to the existing pedestrian undercrossing. The project also removes the existing elevators, which are frequently out of service for maintenance or repair and require Orange County Transportation Authority (OCTA) transit assistance to transport disabled passengers between train platforms.

The Project will provide the public with reliable station access and fewer missed trips due to out of service elevators. In addition, station amenities will be enhanced by repurposing the elevator shafts to create a new public restroom and space for vending machines. Three passenger canopies will also be installed along the western platform to provide shade and protection from adverse weather.

Timeline
The contract for construction of the project was awarded to Woodcliff Corp. in October 2015. The contractor is mobilizing for the project, and construction is scheduled to begin in mid-2016 and continue through early 2018. During the project – in which stairways on each side of the pedestrian undercrossing will be demolished and replaced with ADA compliant ramps – construction areas will be fenced off and passengers will be detoured around the work.

Additional work
As part of the project a Moulton Niguel Water District sewer line located under the eastern platform and pedestrian crossing will be relocated to the adjacent street, Camino Capistrano. During that work, Camino Capistrano will be reduced to one lane. Motorists and businesses will be given notice prior to the lane reduction.

More Information
For more information, please contact Community Relations Officer Chris Boucly at (800) 724-0353 or cboucly@octa.net.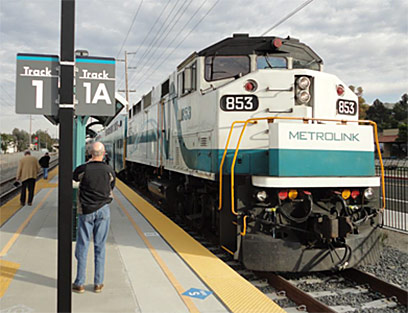 Hydrogen Fuel Cell Bus Hits OC Streets

The Orange County Transportation Authority unveiled its first zero-emission hydrogen fuel cell bus at an event Monday morning, part of a continuing effort to expand and improve an eco-friendly transportation system.

The new bus – wrapped with a mural of California poppies – is part of a two-year demonstration project to complement OCTA's existing fleet. OCTA currently has approximately 550 buses, of which 97 percent run on clean-burning natural gas. By the end of this year, 100 percent of OCTA buses will run on natural gas. Funding for the project was provided by the Federal Transit Administration under the National Fuel Cell Bus Program. The program includes testing and demonstration of fuel cell bus technology.

Hydrogen fuel cell electric buses are powered by oxygen and hydrogen. These two components are combined to produce electricity, heat, and water. The new bus uses fuel cells to convert chemical energy stored by hydrogen fuel into electricity. Fuel cell electric vehicles are zero-emission vehicles. As the fuel cell electric bus operates, it will emit only water, creating cleaner air and a healthier environment.

OCTA will utilize the hydrogen fueling station at the University of California Irvine, which deployed its first fuel cell-powered bus in April 2015.

The bus will run along Route 53 and Route 145, allowing OCTA riders to experience the new technology. For more information visit, octa.net/clearpath.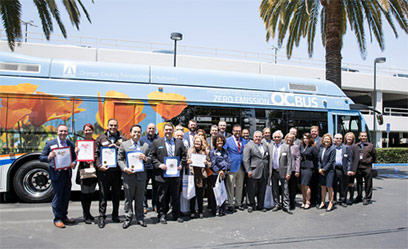 Heath Care Agency

"Hands Only" CPR Trainings Conducted Across Orange County

Orange County residents will learn basic Cardiopulmonary Resuscitation (CPR) skills at more than 10 sites across the County during "Sidewalk CPR" trainings coordinated by Orange County Emergency Medical Services (EMS) and the American Heart Association (AHA). Emergency health agencies including Fire Departments, Ambulance Companies, Hospitals and educational programs will participate.

The trainings will teach the general public how to save a life utilizing "Hands-Only" CPR (different from conventional "Mouth-to-Mouth" CPR), which anyone can learn. Most bystanders are worried that they might do something wrong or make things worse. On the other hand, effective bystander CPR provided immediately after sudden cardiac arrest can double or triple a victim's chance of survival.

Trainings will be held within the cities of Brea, Fullerton, Huntington Beach, Mission Viejo, Orange, and Santa Ana on Thursday, June 2, 2016. For times and specific locations, visit http://healthdisasteroc.org/ems. The trainings are free to the public.

OC Heath Care Agency's Public Health Services Achieves National Accreditation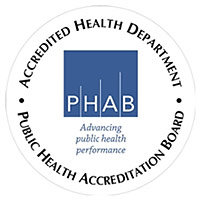 The County of Orange Health Care Agency's (HCA) Public Health Services division has been awarded five-year national accreditation status by the Public Health Accreditation Board (PHAB) following a rigorous peer-review assessment process.

HCA's Public Health Services (PHS) now joins a handful of health departments in the State of California to reach this milestone, which demonstrates its capacity to meet the highest standards in providing services to Orange County residents. Specifically, accreditation recognizes a public health department's proficiency in providing core public health services that include preventing diseases and injuries; promoting healthy behaviors; ensuring access to safe food, water, clean air, and life-saving immunizations; and preparing for and responding to public health emergencies.

"We are very proud to receive this distinction and feel that it reflects the excellent work and dedication of our staff and community partners," said David Souleles, Deputy Agency Director, Public Health Services.

To receive national accreditation, a health department must undergo a robust, multi-faceted, peer-reviewed assessment process to ensure it meets or exceeds a set of public health quality standards and measures. To receive its accreditation, PHS submitted over 680 documents and participated in a two-day site visit to demonstrate conformity with the PHAB standards. Accreditation was also a motivating factor in the development of Orange County's first community health assessment and community health improvement plan; the Orange County Health Improvement Plan was published in May 2014 and submitted as part of the application for accreditation. More information about the plan is available at www.ochealthiertogether.org.

To learn more about the work of HCA Public Health Services, please visit: http://ochealthinfo.com/phs.

OC Animal Care/Pet of the Week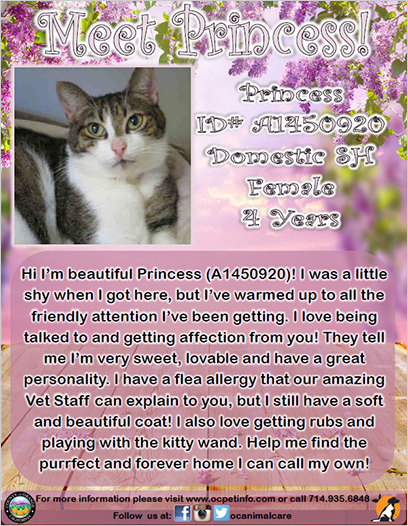 Click on the image above to view a PDF version.

Emmy's Hope Board Presentation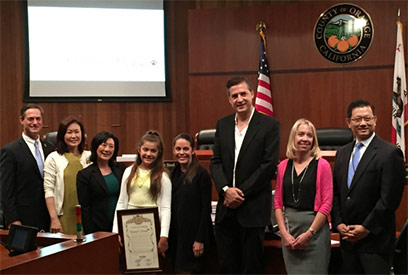 I first met Emmy Perry two weeks ago at my Spring Fling Adoption Event at the OC Animal Shelter. I was so impressed by her work ethic and passion for shelter animals; I decided her efforts deserved recognition from the entire Board of Supervisors. From the young age of five, Emmy has been dedicated to helping dogs at local animal shelters. She founded the charity, Emmy's Hope, to raise funds for shelters and promote adoptable dogs in our community. She and her mother, Elaine Perry, also collect items on shelters' wish lists and spend hours distributing the supplies and visiting with all the dogs. Emmy is now just eleven years old, but she has already made a tremendous impact in the lives of both our shelter dogs and their owners. Congratulations, Emmy, for all you have accomplished, and all you set out to achieve.

For more information on Emmy's Hope, you can visit her website and watch her video here.

Animals for Armed Forces Adoption Weekend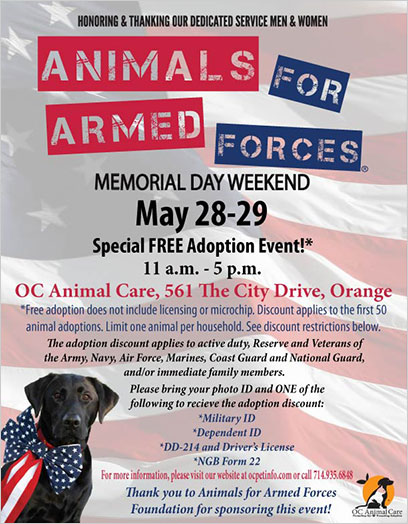 Click on the image above to view a PDF version.

Out and About South County

Irvine: 10th Annual Super Pet Adoption

On Sunday, June 5th, you can help support our community shelters by participating in the Irvine Animal Care Center's 10th Annual Super Pet Adoption! This event will feature hundreds of dogs, cats, rabbits, and other animals to ensure that you will find the perfect pet to adopt into your family. In addition, there will be low-cost microchipping, free veterinarian advice, a silent auction and drawings, pet vendors, gourmet food trucks and a bake sale! For more information, see the flyer below.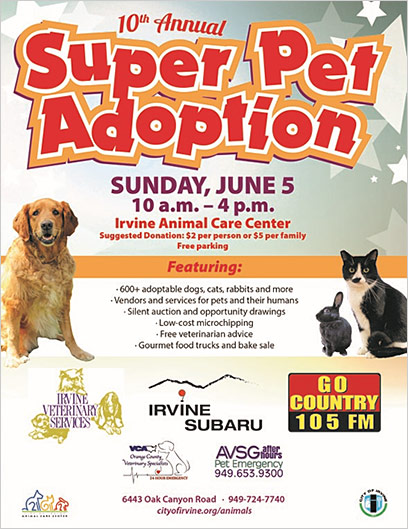 Laguna Hills: Memorial Day Half Marathon

On Monday, May 30th, runners of all skill levels are welcome to participate in the event of their choice, the Half Marathon (13.1 miles), 5K run/walk (3.1 miles), 10K (6.2 miles), or kids run (1/2 mile). The City of Laguna Hills intends to donate $3 per participant to the 3/5 Marine Support Committee. For registration, race times, fees, course descriptions, information regarding sponsorships, entertainment, parking and directions, please click here.

Lake Forest: Behavior Management and Teaching Skills for Children, Adolescents and Adults with Autism

The City and Hope Autism Therapies will be hosting a free Behavior Management (ABA) & Teaching Skills workshop for children, adolescents and adults. Those interested in attending the workshop can reserve spots for Tuesday, May 31 from 7:00 p.m. to 9:00 p.m. at the Lake Forest Recreation Center (28000 Rancho Parkway). Attendees will receive information on topics including what ABA is, how they can help, the ABA process, behavior management and behavior replacement, and more. Reservations required. For additional information, call (949) 461-3447.

Mission Viejo: KSBR Birthday Bash Jazz Festival & Taste of the Bash

This one-of-a-kind event has more than 30 contemporary jazz all-stars playing together to support Orange County's community radio station, KSBR 88.5 FM. Included is the Taste of the Bash with more than 20 restaurants. This event will take place May 29 from 3:30pm-9:00pm at the Village Green located at Oso Viejo Park, 24932 Veterans Way, Mission Viejo, CA. Ticket prices range from $55-$190, for more information or to buy tickets call 949-582-4501 or visit www.ksbr.org.
Rancho Santa Margarita: RanchoFest 2016

Come join the huge community event with several thousand in attendance spanning over two and a half days! Bring the family to enjoy the food and drink from local restaurants, as well as kid-friendly bounce houses and live entertainment on Friday June 3rd, 6:30 pm - 10:00 pm, Saturday, June 4th, 2pm - 10 pm, and Sunday June 5th, 2:00 pm - 8:00 pm. This event will be held at the Central Park in Rancho Santa Margarita located at 30842 La Miranda, Rancho Santa Margarita, CA.

For more information click here.

San Clemente: Memorial Day Observance

The City of San Clemente invites the community to join in our annual observance to remember all fallen soldiers of war. The program features keynote speakers from the military and local leaders, color guards dressed in authentic uniforms, patriotic music, bagpipers, and a floral ceremony. This event is co-sponsored by the local chapter of VFW, South Coast Detachment, Marine Corps League, Orange County Sheriff Department, MOWW, and many civic organizations and volunteers. The event is free and open to the public. For more information please contact the City's Recreation Division at (949) 361-8264. This event will take place on May 30th from 11:00am-12:00pm at the San Clemente Community Center located at 100 N. Calle Seville San Clemente, CA.

For more information click here.

Last but not least this week I:

Spoke at the South East Los Angeles North Orange County Chapter of the Japanese American Citizens League (SELANOCO) 50th Anniversary luncheon.
Participated in the OCTA Board meeting.
Attended the OCTA Hydrogen Fuel Bus event.
Participated in the CWLA Candidate Reception.
Chaired the Orange County Board of Supervisors meeting.
Attended the South Orange County Mobility Workshop in Mission Viejo.
Participated in the TCA Joint Finance & Investment Committee and Joint Strategic Planning Ad-Hoc meetings.
Participated in the CalOptima Endorsement Policy Ad-Hoc meeting.
Participated in the OCFA Board meeting.
Toured the County's Central Utility Facility.
Adjourned the Board of Supervisors meeting in memory of Laguna Niguel Councilman Jerry McCloskey, who passed away unexpectedly the morning of May 24. For more information, please click here.
Please note: Moving forward, the newsletter will include the Fifth District Board adjournments.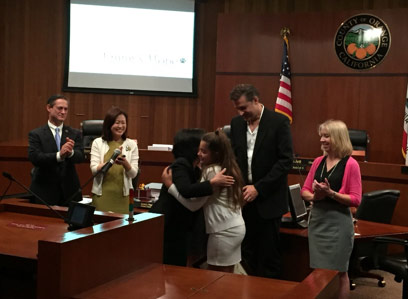 Board presentation to Emmy Perry of Emmy's Hope, a charity with a mission to provide wish list items to local animal shelters and ensure every dog has a home.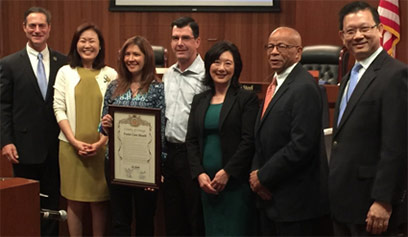 Presenting a Board resolution in honor of Foster Care Month.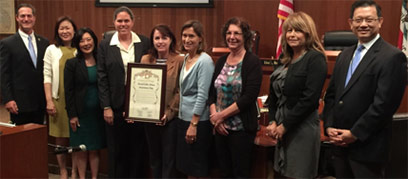 Presenting a Board resolution in honor of World Elder Abuse Awareness Day.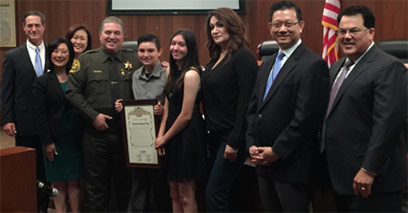 Presenting a Board resolution in honor of retiring Deputy Jimmy Pena.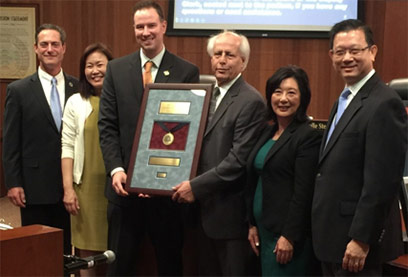 OC Public Works Director Shane Silsby receiving a reaccreditation plaque from the American Public Works Association.

My Staff:

Traveled to Washington, D.C. to meet with Members of Congress and federal public officials to advocate on behalf of Orange County residents and businesses.
Provided Q&A for Dana Point Harbor at the South Orange County Economic Coalition meeting
Participated in the La Pata Ribbon Cutting planning meeting.
Attended the Association of California Cities, Orange County Chapter's (ACC-OC) Legislative & Regulatory Committee meeting.
Presented a certificate of recognition in honor of the HopeRoad ribbon cutting ceremony in Rancho Santa Margarita.
Participated in the Veteran's Summit planning meeting.
Presented a Board resolution in honor of the ribbon cutting ceremony for the Goodwill OC Tierney Center for Veterans Services in Tustin.
Presented a certificate of recognition in honor of the Advanced Automotive Services ribbon cutting ceremony in San Clemente.
Led the Water Summit planning meeting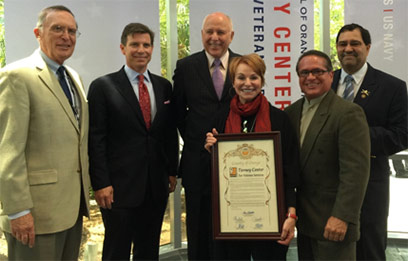 Presenting a Board resolution in honor of the ribbon cutting ceremony for the Goodwill OC Tierney Center for Veterans Services.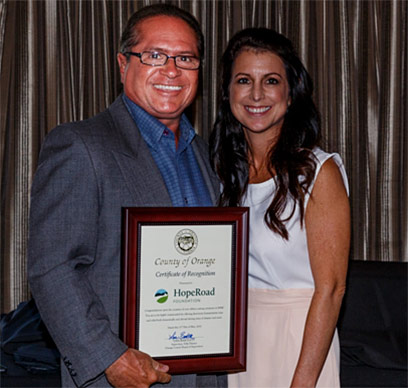 Presenting a certificate of recognition in honor of the ribbon cutting ceremony for HopeRoad in Rancho Santa Margarita.

South County Elected Officials in the Community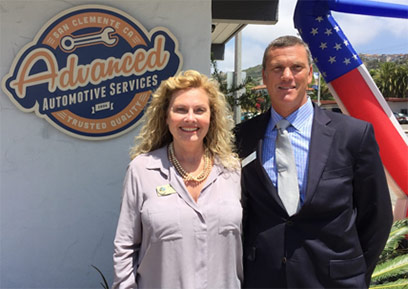 San Clemente Mayor Pro Tem Kathy Ward and Chamber Board Chairman James Wynne at the Advanced Automotive Services ribbon cutting.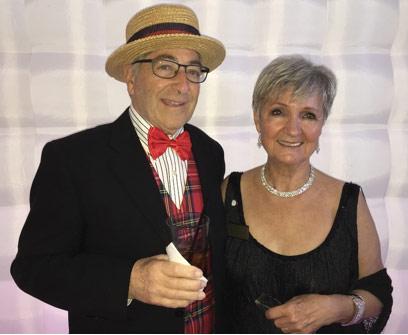 San Juan Capistrano Mayor Pro Tem Kerry Ferguson at the ribbon cutting ceremony for Marbella Country Club.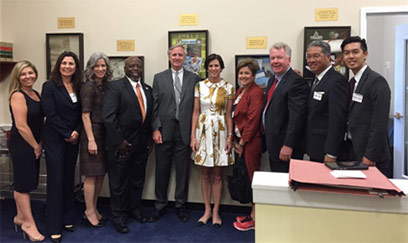 OCBC Washington, D.C. Advocacy Trip: U.S. Representative Mimi Walters (45th Congressional District), South Orange County Member of Congress.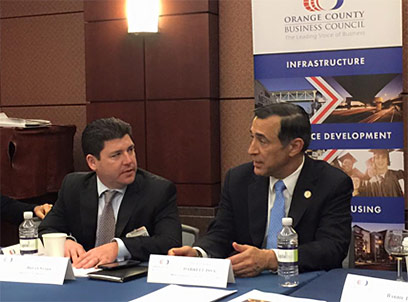 OCBC Washington, D.C. Advocacy Trip: U.S. Representative Darrell Issa (49th Congressional District), South Orange County Member of Congress.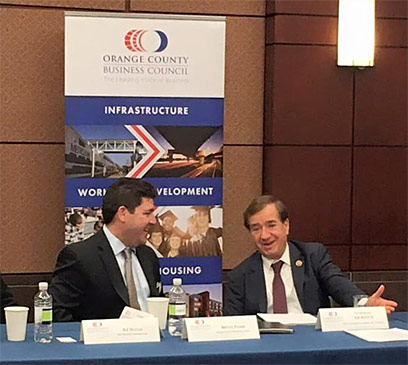 OCBC Washington, D.C. Advocacy Trip: U.S. Representative Ed Royce (39th Congressional District), Orange County Member of Congress.

For questions or comments regarding Supervisor Bartlett's E-Newsletter please contact the Supervisor's office staff at: (714) 834-3550 or Tanya.Flink@ocgov.com.