County Connections

Reminder: Election Day is June 7th!

We are approaching a very exciting time in California: Election Day! This will be our chance to participate in the 2016 Presidential Primary, as well as the plethora of state and local races and initiatives. As an elected official, I have experienced firsthand the importance of contributing to the electoral process; every vote counts! I encourage you to be diligent in your research of each candidate and issue, and vote with confidence.

Polls will be open from 7:00AM – 8:00PM on Tuesday, June 7th. For more information, as well as to find your nearest polling location, visit the OC Registrar of Voters website at http://www.ocvote.com/.

OC Parks

OC Parks Presents the 2016 Summer Concert Series

The County of Orange and OC Parks welcome back the annual outdoor summer concert series with 10 free concerts at Craig Regional Park, Tri-City Regional Park, Mason Regional Park, Mile Square Regional Park, Irvine Regional Park and Salt Creek Beach. Each concert event will offer free live music under the summer sky on Thursday evenings from June 30 through September 1.

"This year's Summer Concert Series promises to be the best one yet," Lisa Bartlett, Chairwoman of the Orange County Board of Supervisors, said. "These concerts provide a wonderful opportunity for people of all ages to come enjoy the sounds of summer in a beautiful, outdoor setting. And best of all, it's free."

All of the OC Parks Summer Concert Series events take place from 6 to 8 p.m. All are free to attend and offer free parking. Food trucks will be serving on-site at each location. Guests may bring their own food, and alcohol consumption by those 21 and over is permitted. Each concert is appropriate for all ages, so bring your friends and family, a blanket, and a beach chair to enjoy great local live music under the stars at OC Parks this summer season!

For the full calendar of concerts and locations, visit www.ocparks.com.

OC Moves

South County Mobility Public Forum Hosted by TCA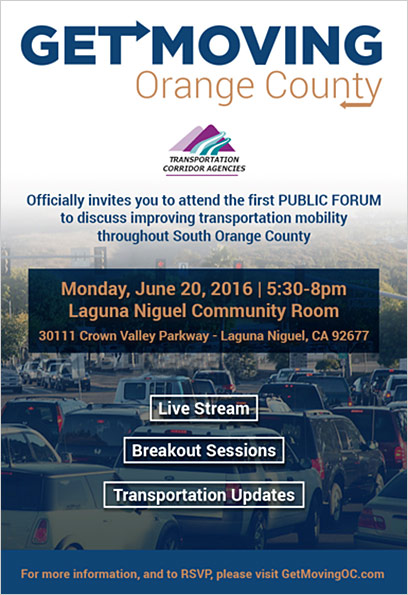 Community Update

Video: ACC-OC Sober Living Homes Town Hall

Last month, the ACC-OC (Association of California Cities – Orange County) was honored to join with Senators Pat Bates and John Moorlach, Assemblymen Bill Brough and Matt Harper, and the Orange County Association of Realtors for a Sober Living Homes town hall. The educational forum drew more than 600 local residents and concerned citizens. It was a highly informative session. The following video shows the forum in full. Key segments and video locations are listed below:

Welcome, Evening Overview & Introductions - 0:00

Legal Background & Context - 8:47

Todd Lieshman, Partner, BB&K
Patrick Munoz, Partner, Rutan & Tucker
Local Perspectives & Case Studies

The Costa Mesa Case Study - Tarquin Preziosi, City Attorney's Office, Costa Mesa - 28:50
The San Clemente Neighborhood Case Study - 39:05

David Herwitz, San Clemente Resident and Homeowner
Richard McNeil, Attorney, Snell & Wilmer
Legislative Updates & Initiatives - 50:02

Senator Pat Bates
Assemblymen Bill Brough & Matt Harper
Public Comment, Questions & Answers - 1:09:05

OC Animal Care/Pet of the Week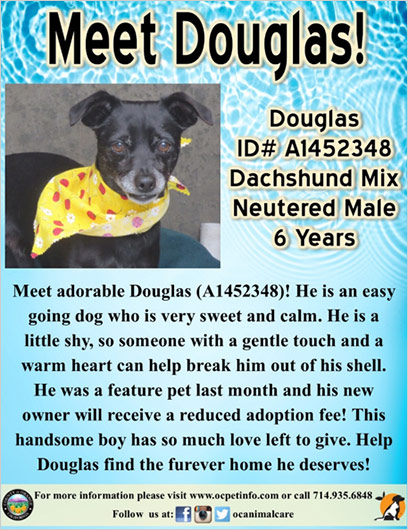 Click on the image above to view a PDF version.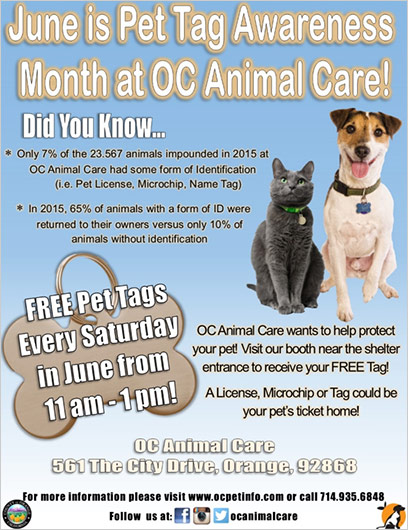 Click on the image above to view a PDF version.

Out and About South County

Dana Point: Movie in the Park

Enjoy a movie in the park! Proceeds benefit a local Dana Point School or Non-Profit Organization. A different movie will play every week. This week's movie is the Good Dinosaur, rated PG. There will be hot and cold beverages, snacks and candy available to purchase, and free popcorn. This event will take place on June 10th at 8pm at the Lantern Bay Park, located on 2511 Park Lantern Dana Point, CA.

For more information click here.

Dana Point: Bioluminescence Night Cruise

Come aboard the R/V Sea Explorer and join us at night off the coast of Dana Point to encounter bioluminescent plankton. A meter net is deployed to capture thousands of these drifting organisms that have the ability to make their own light. Also, witness the food chain under our deployed squid light- from the tiniest plankton, to fish and squid- and at times the sea lions and dolphin who feed on them! This event will take place on June 4th from 8:00pm to 10:00pm at the Ocean Institute located on 24200 Dana Point Harbor Dr. Dana Point, CA. Tickets can be purchased here.

Irvine: 10th Annual Super Pet Adoption

On Sunday, June 5th, you can help support our community shelters by participating in the Irvine Animal Care Center's 10th Annual Super Pet Adoption! This event will feature hundreds of dogs, cats, rabbits, and other animals to ensure that you will find the perfect pet to adopt into your family. In addition, there will be low-cost microchipping, free veterinarian advice, a silent auction and drawings, pet vendors, gourmet food trucks and a bake sale! For more information, see the flyer below.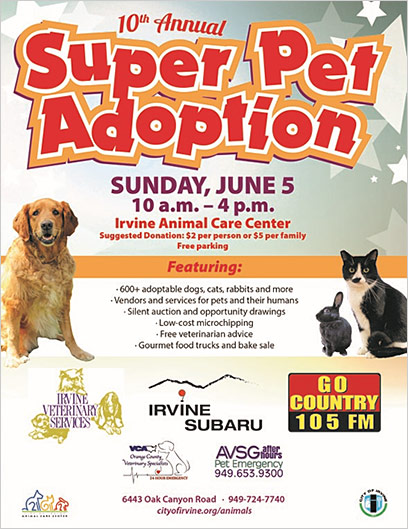 Ladera Ranch: Bark, Biscuits & Brew

Ladera Ranch Community Services invites you to Barks, Biscuits & Brew at the Wagsdale Dog Park on Saturday, June 4th! Bring your four-legged friend to enjoy the agility demonstrations, dog games, paw-painting, onsite adoptions, pet vendors and samples, and freshly brewed coffee and espresso drinks (for the owners)! For more information, see the flyer below or click here.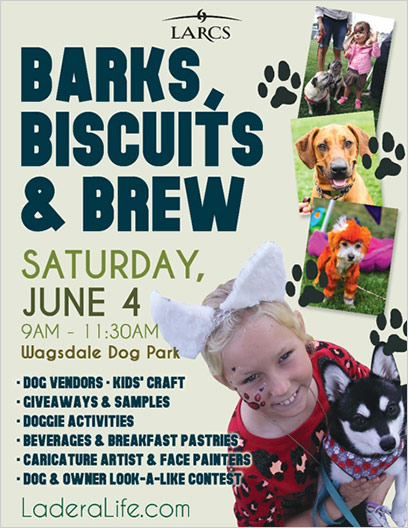 Laguna Beach: Celebrate Laguna Bluebelt Artist Reception

Let's celebrate the winners of the 5th Annual Bluebelt Photo Contest on Friday, June 10 from 4:30 to 6PM at the Susi Q Gallery. It will be fun, fabulous and free! Music, light refreshments, beverages and Laguna Bluebelt Camaraderie will welcome you. Many of the photos will also be on sale. Everyone's invited to this special Artist's Reception! See the flyer below for more information, or visit http://lagunabluebelt.org/ to learn more about this organization.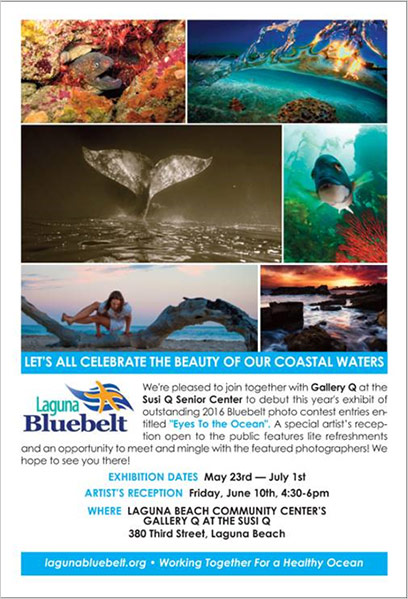 Laguna Beach: Pantry Palooza! A Benefit Concert by the Agave Bros. For Laguna Food Pantry

It's back and better than ever! Dance to the classic rock and blues tunes by The Agave Bros. featuring members of the Blues Offenders, dig into the build-your-own taco bar, hobnob with old and new friends, and raise a glass at this raucous "un-gala" in support of the Laguna Food Pantry. Help us feed the 300 families in need who visit us each week to get free, fresh, nutritious groceries at our caring, cheerful center on Laguna Canyon Road between the dog park and the Marine Mammal Center. This event will take place on June 10th from 5:00pm to 7:30pm at the Marine Room Tavern located on 214 Ocean Avenue, Laguna Beach. Ticket prices are $60 if purchased in advance and $70 at the door.

For more information, see the flyer below or click here.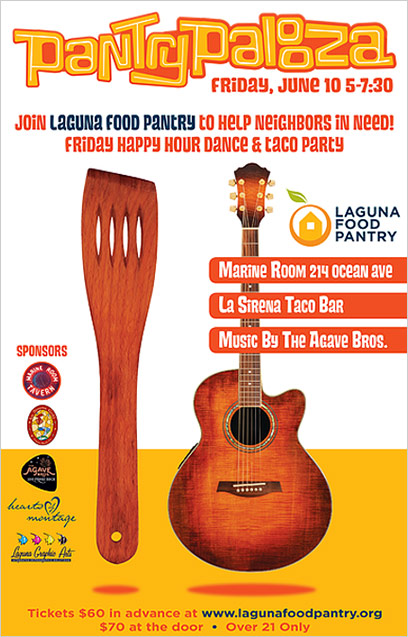 Mission Viejo: Paw Read-A-Thon with Roxy

Join us to read your favorite story aloud to Roxy, a trained therapy dog. This event is for children ages 7 to 12 (with parent or guardian). You can sign up at the Youth Reference Desk. This event will take place on June 4th from 2:00pm to 2:30 pm at the Wickiup Room at Mission Viejo Library located on 100 Civic Center, Mission Viejo. This event is free.

For more information click here.

Rancho Santa Margarita: RanchoFest 2016

Come join the huge community event with several thousand in attendance spanning over two and a half days! Bring the family to enjoy the food and drink from local restaurants, as well as kid-friendly bounce houses and live entertainment on Friday June 3rd, 6:30 pm - 10:00 pm, Saturday, June 4th, 2pm - 10 pm, and Sunday June 5th, 2:00 pm - 8:00 pm. This event will be held at the Central Park in Rancho Santa Margarita located at 30842 La Miranda, Rancho Santa Margarita, CA.

For more information click here.

Last but not least this week I:

Participated in the CalOptima Selection Committee public meeting.
Participated in the TCA Foothill Eastern & San Juan Hills Joint Operations and Finance Committee, 241/91 Express Ad-Hoc, and Foothill Eastern Mobility Ad-Hoc meetings.
Participated in the OCTA Environmental Oversight Committee meeting.
Spoke at the Coto de Caza/Rancho Santa Margarita Rotary monthly meeting.
Participated in the Audit Oversight Committee meeting.
Attended the memorial service for former Laguna Niguel Mayor and Councilman, Jerry McCloskey.
Attended the South Orange County Economic Coalition's reception with TCA Chairman, Mike Kraman, in San Clemente.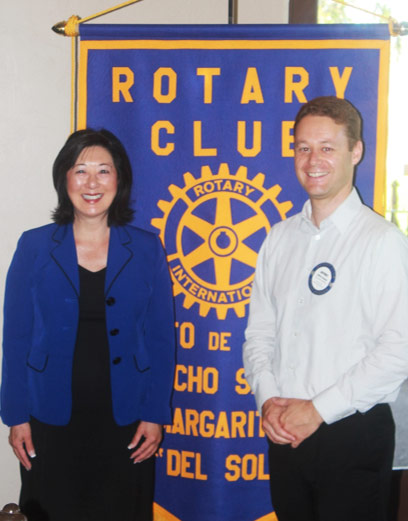 Rotary del Sol Coto de Caza / Rancho Santa Margarita Breakfast with Jeff Sawyer, Past President.

My Staff:

Presented a certificate of recognition in honor of the Peppino's/Joe's Place ribbon cutting in Lake Forest.
Presented a certificate of recognition in honor of the Bowlology ribbon cutting in San Clemente.
Attended the Social Services Agency's annual "Celebrating Families" event at Mariner's Church in Irvine.
Attended the Orange County Business Council's (OCBC) Government Affairs meeting.
Attended the OCBC Luncheon, introducing the new leadership of The OC Register.
Attended the Mission Viejo Annual Chamber Breakfast.
Attended the Laguna Niguel Government Affairs Committee meeting.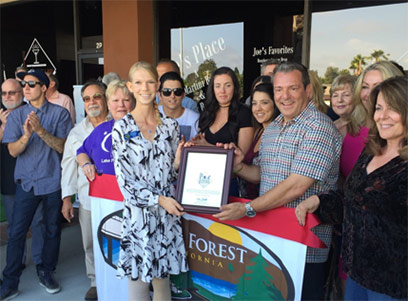 Presenting a certificate to owner, Joe Moscatiello, at the Peppino's/Joe's Place ribbon cutting in Lake Forest.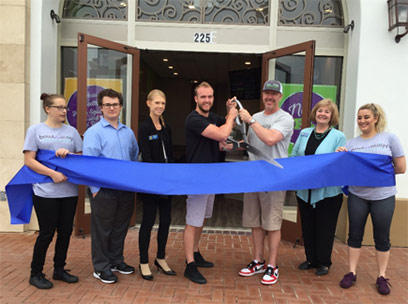 Bowlology ribbon cutting at the Outlets of San at San Clemente.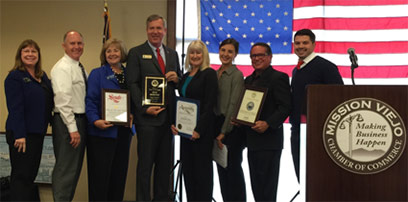 Presenting certificates of recognition at the Mission Viejo Chamber of Commerce Annual Awards Breakfast.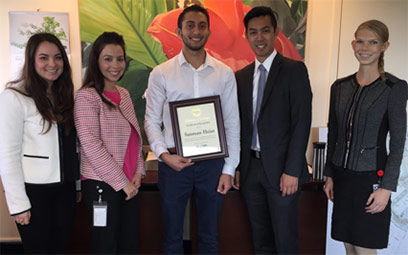 Presenting a certificate of recognition to Sauman Heiat on the last day of his internship in our office. Best of luck to you, Sauman, in Washington, D.C.!

South County Elected Officials in the Community


Lake Forest Councilman Scott Voigts at the Peppinos/Joe's Place ribbon cutting.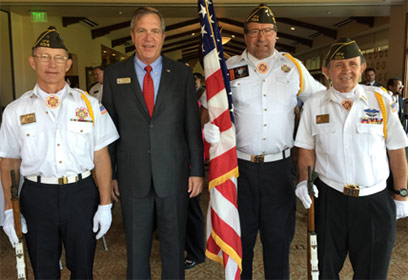 Mission Viejo Councilman Greg Raths at the Chamber of Commerce Annual Awards Breakfast.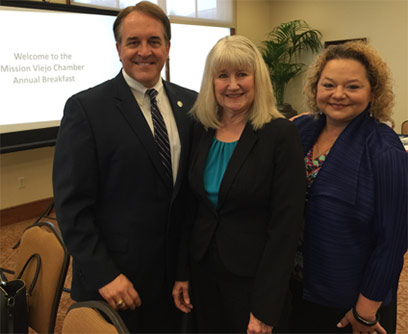 Mission Viejo Mayor Frank Ury, former Mayor Trish Kelly, and Mayor Pro Tem Wendy Bucknum at the Chamber of Commerce Annual Awards Breakfast.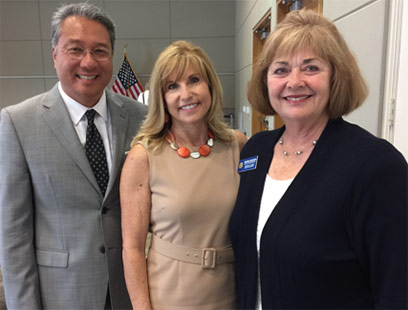 Aliso Viejo Councilman Ross Chun, Laguna Niguel Mayor Laurie Davies, and former Mission Viejo Mayor Rhonda Reardon at the Laguna Niguel Chamber of Commerce Government Affairs Committee meeting.

For questions or comments regarding Supervisor Bartlett's E-Newsletter please contact the Supervisor's office staff at: (714) 834-3550 or Tanya.Flink@ocgov.com.