County Connections

Betty Pequet Named 2015 Citizen of the Year

It was a pleasure to attend the City of Laguna Niguel's Volunteer Appreciation Dinner on Saturday, June 4, 2016. This event is held annually to recognize the many volunteers who dedicate countless hours of their personal time to make Laguna Niguel a great place to live. More than 180 volunteers serving on City Commissions and Committees, and those supporting the many programs and special events, were in attendance.

I had the honor of presenting a proclamation to Betty Pequet, the 2015 Laguna Niguel Citizen of the Year. Betty has been a resident in Laguna Niguel since 1977 and will be celebrating her 90th birthday on Tuesday! Betty is currently serving on the Laguna Niguel Senior Citizen Committee and has an impressive list of service with a variety of community organizations. She has held numerous Board positions with the Laguna Niguel Chamber of Commerce, including serving as their third President. She has also served on the Laguna Niguel Community Council, Monarch Beach Sunrise Rotary Club, Monarch Beach Town Center Advisory Board, YMCA, Laguna Niguel Business Club, Moulton Niguel Water District, Laguna Niguel Historical Society, Laguna Niguel Lions Club and Laguna Niguel Senior Citizen's Club. Betty also received recognition from other elected officials, on both the local and national scale.

Congratulations, Betty, on your accomplishments and for all that you do for your community. You are an exemplary citizen and an inspiration.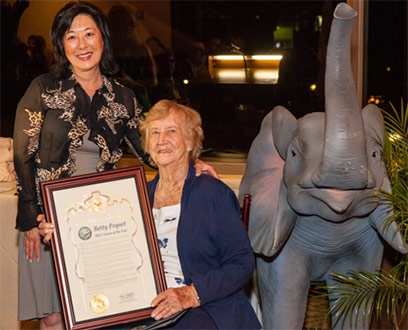 OC Moves

I-5 South County Construction Alert

There will be a weekend closure of the Camino de Estrella northbound I-5 loop on-ramp from noon Friday, June 10, to 5 a.m. Monday, June 13.

This extended closure will allow crews to demolish portions of the existing pavement on the ramp and immediately repave it. The reconfigured ramp will accommodate the new lanes being added on the I-5 freeway.

Please be advised, dates and times are subject to change due to inclement weather conditions and unforeseen operational factors.

For more information on the project please visit octa.net/I-5Pico.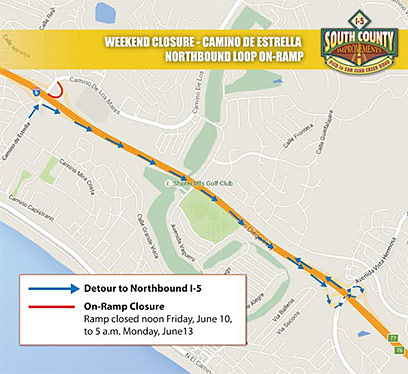 DETOUR:

From Camino de Estrella, take the on-ramp to southbound I-5
Continue on southbound I-5, exit Avenida Vista Hermosa
Turn left on Avenida Vista Hermosa
Turn right to access the loop on-ramp to northbound I-5

South County Mobility Public Forum Hosted by TCA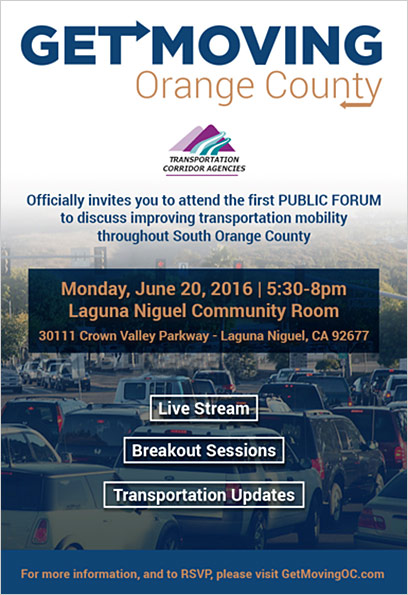 The Transportation Corridor Agencies (TCA) in collaboration with other stakeholders is holding a public forum, Get Moving Orange County, as the first part in a series of next steps to address transportation mobility concerns in South Orange County.

The public forum will be held Monday, June 20, at the Laguna Niguel Community Room from 5:30 - 8 p.m. The forum will include comprehensive transportation presentations as well as interactive discussions about transportation concerns in South Orange County. To RSVP, please visit GetMovingOrangeCounty.com.

Health Care

CalOptima's COREC Program Achieves 100 Percent Goal to Assist Doctors with the Use of Electronic Health Record Systems

The CalOptima Regional Extension Center (COREC) achieved its goal to assist 1,000 local doctors implement and meaningfully use certified electronic health records (CEHR) with their patients. The milestone to attain 100 percent of COREC's participating primary care providers meaningfully using CEHR is important, since it helps to reduce health care disparities and improve patient care for CalOptima's Medi-Cal members that are low income, homeless and the working poor in Orange County. Additionally, it also fulfilled CalOptima's commitment to both our community and the nationwide program led by the U.S. Department of Health and Human Services' Office of the National Coordinator for Health Information Technology.

Doctors in small practices or in underserved communities may not have the resources to transition their practice from paper-based charts and file cabinets to a digital health care infrastructure using CEHR. With CEHRs, doctors have quick access to patient records from inpatient and remote locations for more coordinated, efficient care. Patients benefit through patient portals and a reduced need to fill out duplicate forms at each visit.

With this milestone, CalOptima has sunsetted COREC and transitioned CEHR initiatives into the CalOptima TechAssist Program (COTAP). COTAP was awarded a three-year, $4.3 million grant from the California Department of Health Care Services to assist eligible professionals with more extensive CEHR, and to ensure they are able to meet upcoming stages of meaningful use. COTAP services have expanded to include eligible Orange County specialty care providers, nurse practitioners and physician assistants to get free advice from subject matter experts to help them meet the next phase of meaningful use. For more details, visit www.caloptima.org/techassist or email techassist@caloptima.org.

About CalOptima
A county organized health system, CalOptima provides publicly funded health care coverage for low-income children, adults, seniors and people with disabilities in Orange County, Calif. CalOptima's mission is to provide members with access to quality health care services delivered in a cost-effective and compassionate manner. In total, CalOptima serves more than 780,000 members with a network of more than 7,000 primary care doctors and specialists, as well as 30 hospitals.

Fifth District Office Celebrations

As many of you know, I'm very proud of my board office staff. They all are incredibly accomplished in their service to residents of the Fifth District, and they are embarking on an exciting future. It's an honor to be a part of their personal development and help them achieve their goals. As it turns out, nearly half of them are engaged to be married. I wanted to share with you some of the people I value and celebrate.

First off, I would like to highlight Victor Cao. Victor just received a promotion as my Senior Policy Advisor, and he provides counsel on land use and infrastructure. I would like to recognize the vast amount of work and dedication he has put into this office, and I congratulate him on his promotion. I am also happy to announce that Victor and his fiancée, Kim, were engaged at Angels Landing in Zion National Park and will be married in the fall of 2016.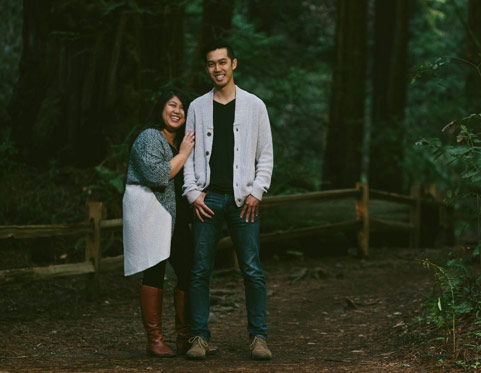 In other exciting news, Policy Advisor James Dinwiddie III, graduated from the Graduate Center for Public Policy & Administration at California State University, Long Beach with a Masters in Public Administration with an emphasis in Urban Affairs. James' academic excellence was acknowledged as he earned a 4.0 GPA, was inducted into Pi Alpha Alpha and Pi Kappa Phi National Honor Societies, and ranked within the top 5% of the University as a whole.

CSULB offers a dynamic approach to public administration and policy. In addition to the core curriculum of policy analysis, budgeting and finance, HR management, org theory, and research methods James was also able to take specialized courses to gain further expertise. Some of these included strategic planning, leadership development, urban information systems/IT management, and urban affairs.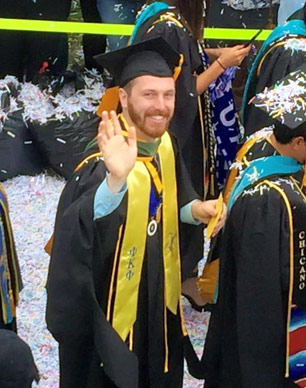 Shortly after his graduation, James proposed to his girlfriend of nearly 4 years, Jayna Seidel. James and Jayna share a love for Disneyland and Disney's Sleeping Beauty Castle provided the perfect setting and place for their magical moment!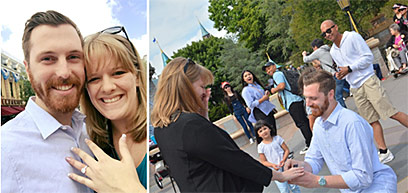 OC Animal Care/Pet of the Week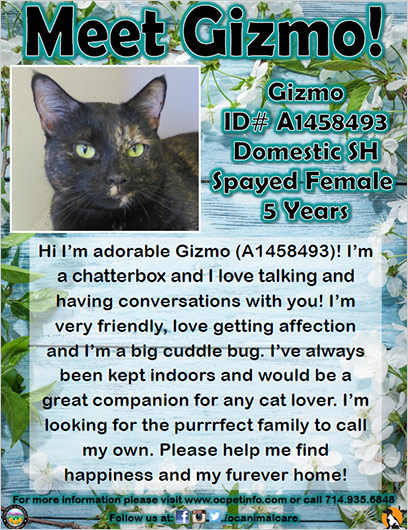 Click on the image above to view a PDF version.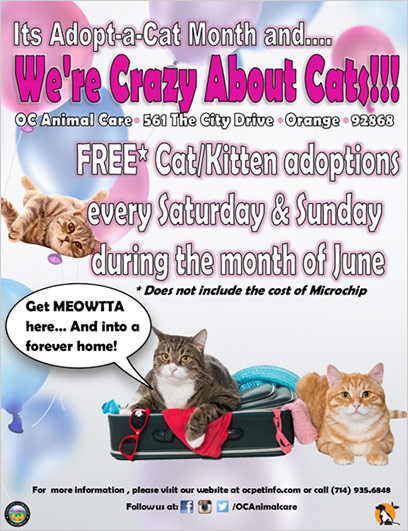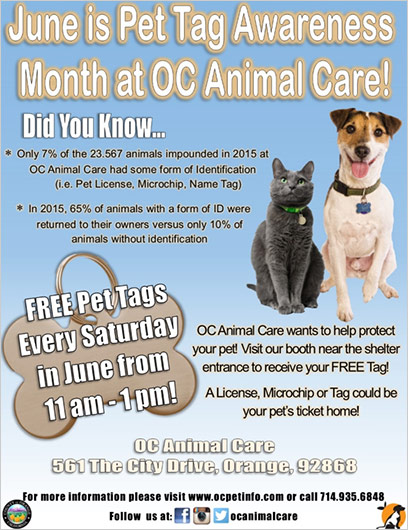 Click on the image above to view a PDF version.

Out and About South County

Aliso Viejo: Health, Resource, and Safety Fair

Join the City of Aliso Viejo's Family Resource Center and the Aliso Viejo Police Services for the annual Community Health, Safety, and Resource Fair on Saturday, June 27 from 10:00 a.m. to 1:00 p.m. Held at the Iglesia Community Center (24671 Via Iglesia) this event will feature over 20 community partner booths providing important information and resources regarding health and safety for families. Kids will enjoy interacting with their police and fire heroes, and make sure they bring their bikes (and helmets!) for a fun and challenging bike rodeo. Craft activities will also be offered. Snacks and refreshments will be served.

For more information click here.

Laguna Beach: Trail Stewardship Day at Laguna Coast Wilderness Park

If you enjoy using the park trails and aren't afraid of a little hard work, this is your opportunity to give back by improving trails. You will also learn to see your favorite trails in a new way! Join Laguna Canyon Foundation and OC Parks for a morning of trail maintenance. We will be using tools such as loppers, picks, shovels and McLeods to clear brush out of trails, restore features that protect the trail, and/or build new features to improve trail sustainability. Lunch and refreshments served and parking is free for volunteers! The event is on June 12th from 8a.m.-12p.m. Reservation is required and it is limited to those 17 and up.

To register, click here.

Lake Forest: Movies in the Park & Dino Days

To commemorate the 25th Anniversary of Lake Forest, the City is putting on several events this summer including their Movies in the Park-Jurassic Park event. Bring your friends, family, and a blanket for free movie fun under the stars. The event will take place at the Nature Park (26215 Dimension Dr.) on Friday June 10th from 7:30p.m. to 9:30p.m.

For more information and list of other 25th Anniversary events click here.

Experience the Nature Park as it transforms into an adventurous "Dino Days." There will be fun for the entire family with a life-size moving T-Rex, Velociraptors, and a Dilophosaurus tour. Wristbands for the tour will be sold at the park for $5 per person and include a dinosaur tour, face painting, and a balloon artist. Music, entertainment, and arts and crafts are free. Nominal fee for game booths and food. This event takes place from June 11th-June 12th from 1p.m.-5p.m. It is located at the Nature Park at 26215 Dimension Drive.

For more information click here.

San Juan Capistrano: Relay For Life

This free community Relay for Life event at the San Juan Capistrano Sports Park (1 Via Positiva) runs in conjunction with the American Cancer Society's worldwide fundraising event to end cancer. On June 11, at 10 a.m. the opening ceremony will kick things off, followed by a day of walking laps to help fight cancer, live entertainment, a kids' club, food, games, prizes and raffles. At 9 p.m., a luminaria ceremony will take place around the track. The event will continue all night with the closing ceremony beginning at 9 a.m. on June 12. For more information and to view the full schedule of events, click here.
San Clemente: Annual Classic Car Show

The Downtown Business Association is hosting their 21st Annual Car Show in downtown San Clemente. The show boasts 300 quality show cars from classic to exotic and is free to the public. The venue includes free slot car races, a rock climbing wall and slide for kids, food trucks, vendors, DJ entertainment and a live band. Family Assistance Ministries will be raffling off incredible items all day long to fund its wonderful and heart-warming charitable endeavors. Located on Avenida Del Mar from 10a.m.-3p.m. on June 12th. Hop on the FREE shuttle bus at San Clemente High School for a fun filled day in historical downtown, San Clemente.

For more information click here.

Last but not least this week I:

Attended and presented a proclamation of recognition to Betty Pequet upon being named Citizen of the Year at the Laguna Niguel Volunteer Appreciation Dinner.
Participated in the OCTA Regional Planning & Highways meeting.
Interviewed with PBS SoCal host & producer, Rick Reiff, for the Inside OC program. The show will air on June 14th.
Participated in the Local Agency Formation Commission (LAFCO) meeting.
Participated in the Transportation Corridor Agencies Joint Executive Ad-Hoc and Joint San Joaquin Hills/Foothill Eastern Board meetings.
Interviewed with The Orange County Register for a story highlighting a significant new County employee.
Participated in a Board of Supervisors Special Session.
Attended the Laguna Niguel Mayor's State of the City Address.

My Staff:

Toured the Innovage PACE Center in San Bernardino.
Attended the OCTA Water Committee meeting.
Attended the TCA luncheon, with special guest Assemblyman Jim Frazier.
Interacted with constituents via our County Information Booth at Rancho Santa Margarita's RanchoFest.
Presented a certificate of recognition in honor of the Fresh Brother's ribbon cutting in Laguna Niguel.
Presented a certificate of recognition in honor of the OC Hair & Makeup ribbon cutting in Rancho Santa Margarita.
Presented a certificate of recognition in honor of the Finish Line Dynamics ribbon cutting in Mission Viejo.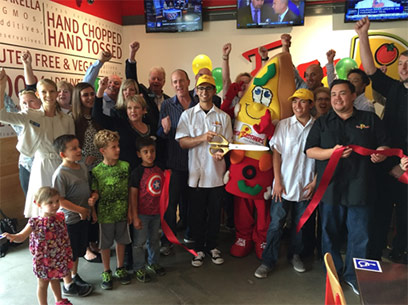 Fresh Brothers ribbon cutting in Laguna Niguel.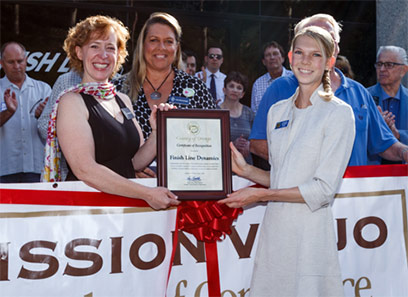 Presenting a certificate of recognition in honor of the Finish Line Dynamics ribbon cutting in Mission Viejo.

South County Elected Officials in the Community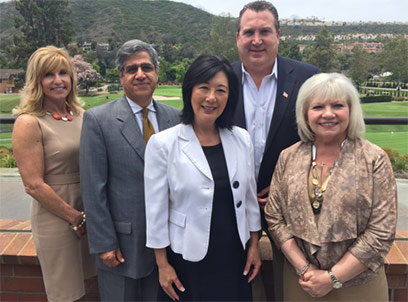 With Laguna Niguel Mayor Laurie Davies, Councilman Fred Minagar, Mayor Pro Tem Jerry Slusiewicz, and Councilwoman Elaine Gennawey at the State of the City Address.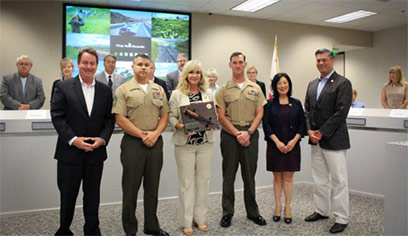 Transportation Corridor Agencies Board Members with the 5th Marine Regiment Support Group.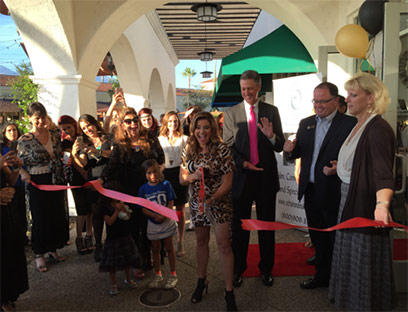 Rancho Santa Margarita Councilmembers Brad McGirr and Mike Vaughn at the OC Hair & Makeup ribbon cutting.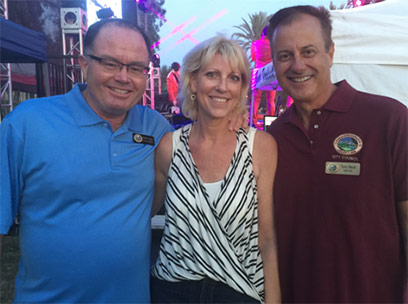 Rancho Santa Margarita Mayor Tony Beall (right) and Councilman Mike Vaughn with Chamber of Commerce President, Suzanne Singh at Ranchofest.

For questions or comments regarding Supervisor Bartlett's E-Newsletter please contact the Supervisor's office staff at: (714) 834-3550 or Tanya.Flink@ocgov.com.