Orlando, We Stand With You

Last Sunday, I attended the annual Orange County Flag Day Dinner. The event is usually a joyous occasion spent in the company of good friends and colleges, celebrating the adoption of the national flag. However, the event took on a somber note in the shadow of the tragic mass shooting that occurred in Orlando, Florida, just hours earlier. On Flag Day, we celebrate our patriotism. It seemed appropriate that this event occurred so soon after the atrocity; it served to confirm the need to love and respect our country and fellow man. We must stand for those who have fallen, and continue to support one another. No matter what our background, we are all united under a common flag.

My thoughts and prayers go out to all those affected by the tragedy. From Orange County, CA, to Orange County, FL, we sympathize with you and wish you strength in these dark times.

Fighting to End Cancer at the Annual Relay For Life of San Juan Capistrano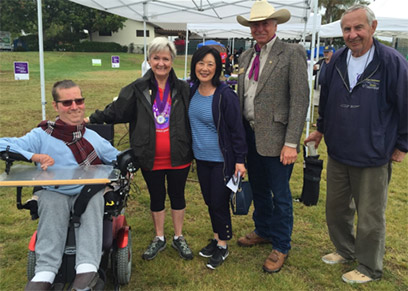 With San Juan Capistrano Councilman Derek Reeve, Mayor Pro Tem Kerry Ferguson, Councilman Sam Allevato, and former Mayor Larry Kramer at the San Juan Capistrano Relay for Life event.
I was pleased to join over 300 participants and 23 teams in the American Cancer Society's Relay For Life in San Juan Capistrano on June 11-12. The event raised $91,000 to help the American Cancer Society save lives through funding groundbreaking cancer research, education and risk reduction efforts, and free information and critical services for those living with this disease.

The Relay For Life movement unites communities across the globe to celebrate people who have battled cancer, remember lost loved ones, and take action to end cancer once and for all. With four million individuals participating in 6,000 events worldwide in 2015 alone, Relay For Life is the world's largest fundraising event to fight every strain of cancer in every community.

The American Cancer Society is committed to reaching out to those individuals to help increase access to quality medical care, including cancer screening, diagnostic, and treatment services. The Society has placed increased emphasis on working with collaborators at the national, state, and local levels on outreach activities, identifying a growing number of resources to assist individuals in need, and making services and information more accessible for everyone.

OC Moves

South County Mobility Public Forum Hosted by TCA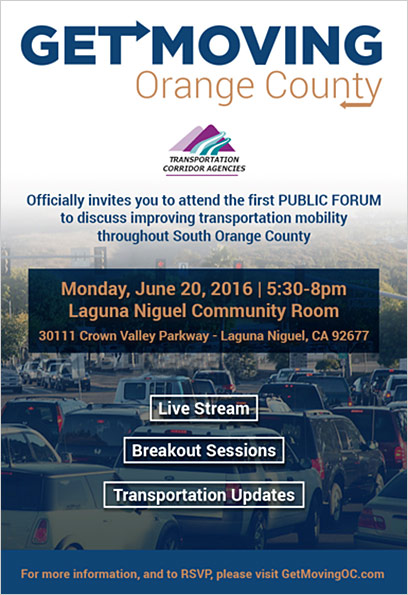 The Transportation Corridor Agencies (TCA) in collaboration with other stakeholders is holding a public forum, Get Moving Orange County, as the first part in a series of next steps to address transportation mobility concerns in South Orange County.

The public forum will be held Monday, June 20, at the Laguna Niguel Community Room from 5:30 - 8 p.m. The forum will include comprehensive transportation presentations as well as interactive discussions about transportation concerns in South Orange County. To RSVP, please visit GetMovingOrangeCounty.com.

OCTA Approves $26.7 Million for Local Transit Shuttles

The Orange County Transportation Authority board of directors this week approved more than $26.7 million to help Orange County cities provide community-based transit circulators to better serve their specific public transit needs.

The money is being provided through Measure M, the county's half-cent sales tax for transportation improvements. When Measure M was renewed by voters in 2006, it included a funding program for cities to develop and implement shuttles and bus trolleys.

The shuttles and trolleys, smaller than a typical OCTA bus, are intended to connect riders to major civic, employment and shopping destinations, as well as major transportation centers, to meet local needs that would complement OCTA bus service.

The funding also will help support seasonal and special event services, pay for associated bus-stop improvements and maintenance facilities, and go toward the purchase or lease of buses/trolleys for each program.

Cities receiving funding include:

Anaheim (ARTIC/Center circulator): $1.1 million
Costa Mesa (Circulator to Anaheim): $2.8 million
Dana Point (Dana Point PCH Trolley): $905,968
Huntington Beach (Seasonal Local Transit Circulator): $917,770
Irvine (iShuttle – Tustin to Irvine Business Center): $2.7 million
Irvine (iShuttle – Irvine Station – East): $2.7 million
Laguna Beach (Residential Trolley Service): $2 million
La Habra (Special Events Shuttle): $96,810
Lake Forest (Shuttle from train station to Panasonic): $1.2 million
Lake Forest (Shuttle from train station to Oakley): $303,240
Mission Viejo (Mission Viejo Local Transit Circulator): $3.3 million
Newport Beach (Balboa Peninsula Trolley): $685,454
Orange County (Orange County Ranch Ride) $2 million
San Clemente (Summer Trolley): $1.2 million
San Clemente (San Clemente Rideshare Services): $914,400
San Juan Capistrano (Summer Trolley Service): $95,486
Westminster (Little Saigon Local Circulator) $3.7 million
Several cities also received funds totaling $323,780 to perform planning studies to better determine ridership demand for community-based shuttles. They included:

Fountain Valley: $45,000
Garden Grove: $49,280
Laguna Niguel: $49,500
Mission Viejo: $45,000
Placentia: $45,000
Rancho Santa Margarita: $45,000
Tustin: $45,000
In all, OCTA received 17 applications from 14 different cities and the county. OCTA staff will continue to work with the cities and county to draft cooperative agreements for the projects. Some service is expected to be implemented by October.

The funding is for a seven-year period. Each city and the county will be required to provide at least a 10 percent funding match and must meet minimum ridership targets – monitored quarterly – to continue receiving funding.

I am very excited to see these projects implemented over the next year. OCTA is looking at innovative ways to meet transit needs in South County. These projects will be reviewed by the Board quarterly to monitor implementation and determine any changes that need to be made moving forward. I will keep you apprised as these community circulator projects move forward.

Dana Point Harbor

Save the Date: Dana Point Harbor 50-Year Time Capsule Celebration

Mark your calendars for Monday, August 29, to attend a special historic event to celebrate the unveiling of the Dana Point Harbor 50-Year Time Capsule. See the flyer below for details.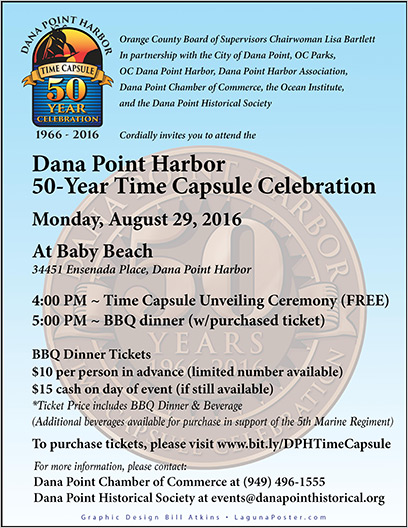 Click on the image above to view a PDF version.

Health Care Advisory

High Temperatures Bring Risk of Heat-Related Illness

Temperatures in many inland Orange County communities are expected to reach high temperatures near 100 degrees on Sunday, 6/19, and most of inland Orange County is predicted to hit the 100 degree mark Monday, 6/20, increasing the risk of heat related illnesses like heat exhaustion and heat stroke for those who are more sensitive to heat. Prolonged exposure to excessive temperatures may cause serious conditions like heat exhaustion or heat stroke and can even be fatal. Symptoms of heat exhaustion may include heavy sweating, muscle cramps, weakness, headache, nausea or vomiting and dizziness. Warning signs of heat stroke may include an extremely high body temperature, unconsciousness, confusion, hot and dry skin (no sweating), a rapid, strong pulse, and a throbbing headache. If symptoms of heat stroke occur, immediately call for medical assistance. Move the person to a shady area and begin cooling their body with water.

Recommended precautions to prevent heat related illnesses include:

Drink plenty of water; don't wait until you are thirsty.
Wear light, loose-fitting clothing.
Stay out of the sun if possible, and when in the sun wear a hat, preferably with a wide brim, and use sunscreen.
Avoid strenuous activities if you are outside or in non-air conditioned buildings. If you are working outdoors, take frequent rest and refreshment breaks in a shaded area.
Never leave children, elderly people or pets unattended in closed cars or other vehicles.
Check on those who are at high risk to make sure they are staying cool – including seniors who live alone, people with heart or lung disease, and young children.
Stay cool indoors – if your home is not air conditioned, visit public facilities such as shopping malls and libraries to stay cool.
For more information on heat related illnesses, visit the Centers for Disease Control and Prevention website at http://emergency.cdc.gov/disasters/extremeheat/.

OC Animal Care/Pet of the Week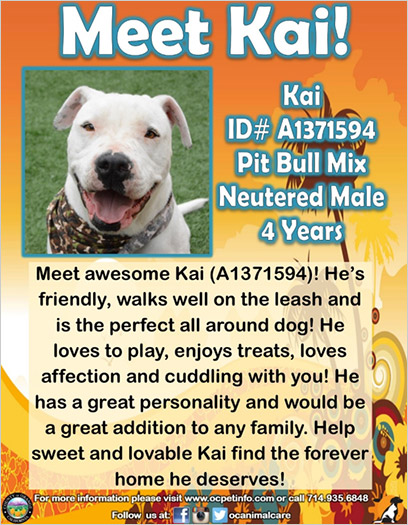 Click on the image above to view a PDF version.

"Crazy About Cats" Month at the Orange County Animal Shelter

During the spring and summer months, Orange County Animal Care tends to see a large increase in the cat and kitten population at the shelter. That's why, during the month of June, the shelter is offering to waive the adoption fees for all cats every Saturday and Sunday. You can help decrease the number of homeless cats in our community by adopting the "purrfect" feline friend this weekend. See the flyer below for details.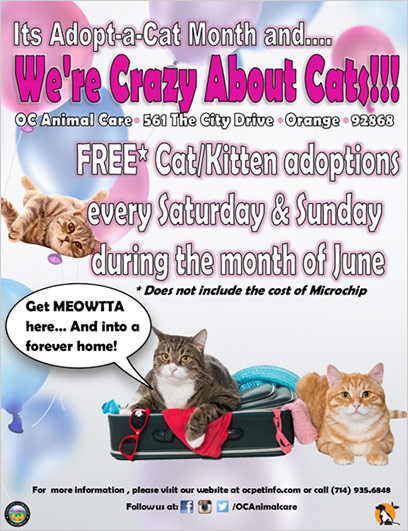 Save the Date: Pet Fair at the Shelter on June 25

Looking to add a four-legged friend to your family? Mark your calendar on Saturday, June 25, for OC Animal Care's Pet Fair at the shelter in Orange. From 10am – 2pm, the shelter will showcase pet vendors and rescues, engaging dog demonstrations, and of course, all the lovable animals up for adoption. All adoption fees will be waived, you just pay for licensing and microchip! See the flyer below for details.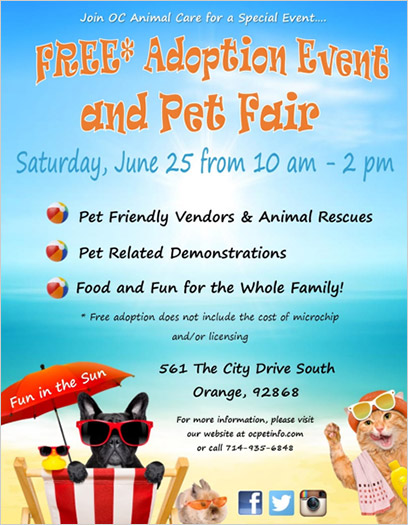 Out and About South County

Aliso Viejo: Health, Resource, and Safety Fair

Join the City of Aliso Viejo's Family Resource Center and the Aliso Viejo Police Services for the annual Community Health, Safety, and Resource Fair on Saturday, June 27 from 10:00 a.m. to 1:00 p.m. Held at the Iglesia Community Center (24671 Via Iglesia) this event will feature over 20 community partner booths providing important information and resources regarding health and safety for families. Kids will enjoy interacting with their police and fire heroes, and make sure they bring their bikes (and helmets!) for a fun and challenging bike rodeo. Craft activities will also be offered. Snacks and refreshments will be served.

For more information click here.

Dana Point: 2016 Education in Review

You're invited to hear from south Orange County's education leaders on Wednesday, June 29 at the Ocean Institute. Superintendent Kirsten M. Vital and Dr. Tod A. Burnett, President, Saddleback College, will be speaking about the outlook of education in 2016.

Click here for more information and to RSVP.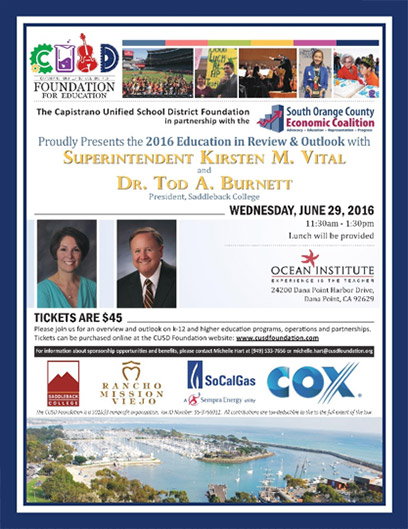 Dana Point: Movies in the Park

This week's movie in the Park is Pan (PG) showing at the Lantern Bay Park located at 2511 Park Lantern Road, Dana Point, CA. Snack bar items include hot and cold beverages, snacks and candy which are available for purchase as well as free popcorn. Proceeds benefit a local Dana Point school or nonprofit organization. This event will take place on June 17 at 8:00PM.

For more information, please click here.

Lake Forest: Summer Concert Series

Kick off the summer with a double dose of legendary music with Heartache Tonight an Eagles tribute band, and Mick Adams and The Stones, a pulse-pumping Rolling Stones concert experience. This event is June 26 at the Lake Forest Sports Park from 5:30 p.m. to 7:30 p.m. For more information, please click here.

Mission Viejo: Dawg Walk & Pet Faire

If you and your pet want to have fun for a great cause, make plans to attend the annual DAWG Walk and Pet Faire on Saturday, June 18 along the Village Green at Oso Viejo Community Park. The Mission Viejo Animal Services Center and Dedicated Animal Welfare Group (DAWG) host the fun family event that includes an impressive display of K9 Athletes in Action, pet contests and pet and wildlife exhibits. The event includes a pristine walk along the Oso Creek Trail as well as the Pet Faire with local businesses, animal rescues, booths, entertainment, music, raffle prizes, refreshments and more. Dogs needing loving, new homes will be available for adoption. Registration for the walk begins at 7 a.m.; the opening ceremony is at 8 a.m. and the walk takes place around 8:15 a.m. The Pet Faire is free and runs until noon. The DAWG Walk is $30 to participate. Proceeds benefit the orphaned animals at the Mission Viejo Animal Services Center at 28095 Hillcrest.

For more information, please click here.

Mission Viejo: Olympic Day

Celebrate Mission Viejo Olympians with an afternoon of family fun including recreational activities, arts and crafts, and fitness! Don't miss photo opportunities with Olympians, their medals and more! Food trucks will be on site for your enjoyment. This event is on Saturday June 25th from 1:00 p.m. to 4:00 p.m. at Florence Joyner Olympiad Park. For more information, please click here.

San Clemente: Domestic Violence Task Force Event for Junior High Girls

The SCDV Task Force is partnering with Community Outreach Alliance to spend some time with junior high girls at an event called "A Case of Mistaken Identity". Through a morning of collage making and discussion, these girls will have an the opportunity to start to see the "me" inside of all of them.

Junior High Girls are invited to The Venue on Tuesday, June 21, 10 AM - 12 PM, for this event. For more information, please click here.

San Juan Capistrano: Friends of the Library Events

The San Juan Capistrano Library hosts a plethora of educational and cultural events. Check out the flyer below to find an event for you, or check their Facebook page for regular updates here.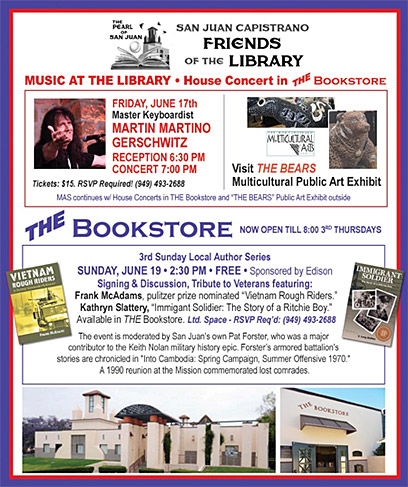 Last but not least this week I:

Gave the Invocation in Memoriam in memory of the Orlando victims at the Orange County Annual Flag Day Dinner.
Spoke at the San Juan Capistrano Relay for Life Kick-Off Ceremony.
Chaired the Orange County Board of Supervisor's meeting.
Participated in the Joint OCTA/TCA Leadership meeting.
Participated in the OCTA Board meeting.
Participated in the OCTA Legislative and Communications Committee meeting.
Delivered the keynote address at the Coffee Importers Coffee Chat in Dana Point.
Gave a brief 5th District update at the Dana Point, Laguna Niguel, San Clemente, and San Juan Capistrano Multi-Chamber Mixer at Monarch Beach Resort.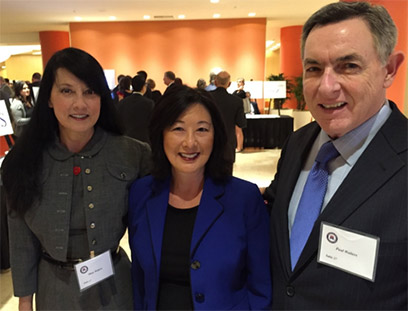 With my Chief of Staff, Paul Walters, and his wife, Mary, at the Annual Flag Day Dinner.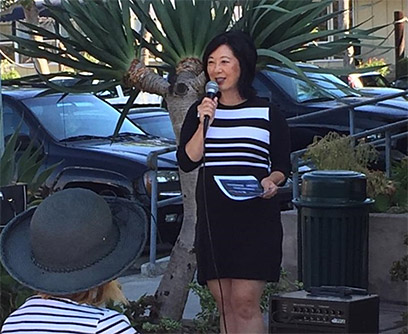 Delivering the keynote address at the Coffee Importers Coffee Chat in Dana Point.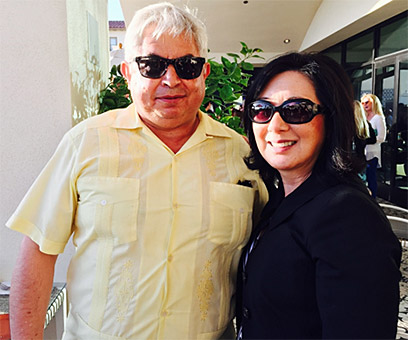 With Ricardo Beas of Ricardo's Place at the Mult-Chamber Mixer at Monarch Beach Resort.

My Staff:

Staffed our 5th District County Information Booth at the San Clemente Car Show.
Presented a certficte of recognition in honor of the ribbon cutting ceremony for Palm Beach Park in San Clemente.
Presented a certificate of recognition in honor of the Raising Canes Chicken Fingers ribbon cutting in Laguna Hills.
Presented certificates of recognition to the honorees at the Cox Salute to Education Luncheon in Aliso Viejo.
Presented a certificate of recognition in honor of the Heroes and Legends Grand Opening in Lake Forest.
Presented a certificate of recognition in honor of the Homewood Suites Grand Opening in Aliso Viejo.
Presented a certificate of recognition in honor of the Coastal Kitchen ribbon cutting in Dana Point.
Presented a certificate of recognition in honor of the USA Express Tire & Service ribbon cutting in Laguna Beach.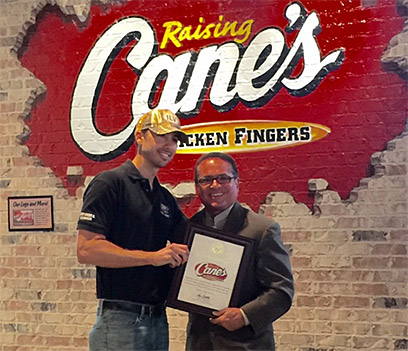 Presenting a certificate of recognition at the Raising Cane's ribbon cutting in Laguna Hills.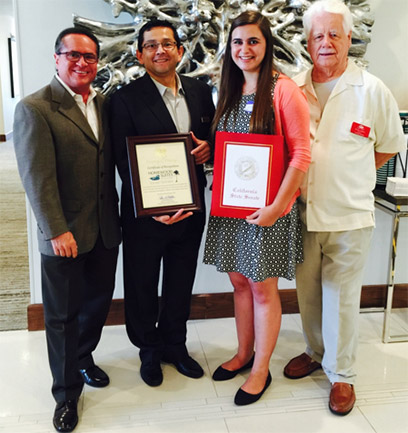 Presenting a certificate of recognition at the grand opening of Homewood Suites by Hilton in Aliso Viejo.

South County Elected Officials in the Community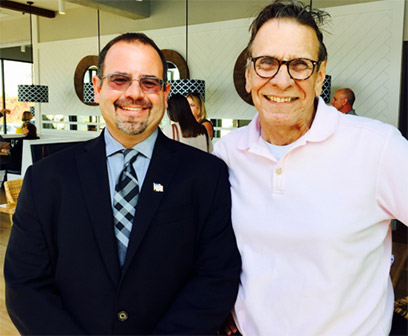 Dana Point Mayor John Tomlinson and Councilman Carlos Olvera at the ribbon cutting for Coastal Kitchen.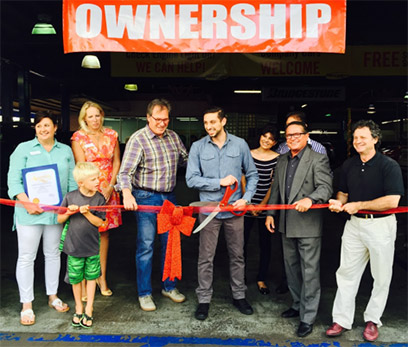 Laguna Beach Mayor Steve Dicterow (right) at the ribbon cutting for USA Express Tire & Service.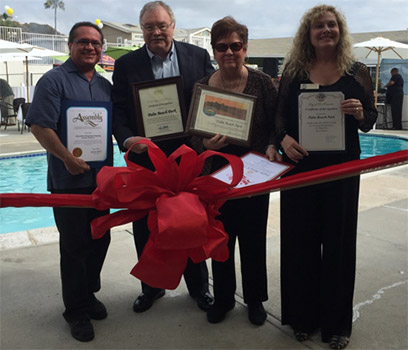 San Clemente Mayor Pro Tem Kathy Ward (right) at the ribbon cutting ceremony for Palm Beach Park.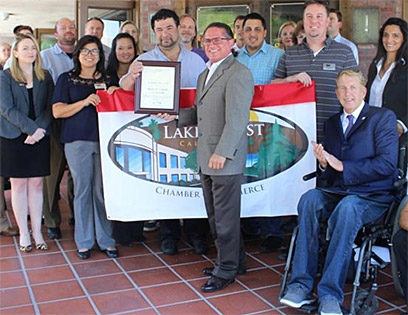 Lake Forest Mayor Pro Tem Scott Voigts (right) at the ribbon cutting for Heroes & Legends.

For questions or comments regarding Supervisor Bartlett's E-Newsletter please contact the Supervisor's office staff at: (714) 834-3550 or Tanya.Flink@ocgov.com.