Get Moving OC


This week the Transportation Corridor Agencies (TCA) held a Public Forum at the Laguna Niguel City Hall to discuss regional mobility. There were more than a hundred residents who attended the forum in person and more than a hundred online participants for the livestream.

The forum started with presentations including:

An Overview of the TCA public review process,
Orange County Growth, Center for Demographic Research, California State University, Fullerton,
2016-2040 Regional Transportation Plan & Sustainable Communities Strategy, Southern California Association of Governments,
2014 Orange County Transportation Authority Long-Range Transportation Plan,
And South Orange County Mobility Challenges & Planned Improvements, Fehr & Peers.
The presentations were followed by interactive group discussions where participants documented their ideas for South County mobility solutions. TCA will analyze the ideas generated by all participants and discuss findings at a subsequent public forum this Fall.

Please visit GetMovingOC.com to view the presentations, watch a recording of the public forum or send comments. We look forward to hearing your feedback!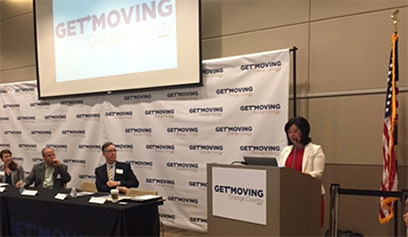 OC Treasurer-Tax Collector

Last Chance to Start Installment Plan for OC Property Tax Payments

Orange County Treasurer-Tax Collector Shari L. Freidenrich, CPA, has published in the newspaper and online at ocgov.com/taxdefaultedproperty, the listing of all properties by year and city that have at least one installment of delinquent taxes over five or more years old. All property that has been tax-defaulted for five or more years may be subject to tax auction by the Treasurer-Tax Collector unless they are currently on a Five-Year Installment Plan.

The last day for an owner of real property to start a Five-Year Installment Plan for these properties is June 30, 2015. The property owner must qualify to enter into an Installment Plan by meeting certain criteria.

If these tax-defaulted properties with at least one delinquent installment over five years do not have an installment plan started by June 30, the only way to avoid the tax auction is to pay 100% of the taxes, penalties, and fees levied on the property prior to the date of the next tax auction. No partial payments or installment payments will be accepted prior to the auction date.

If you have moved or your business relocated and you haven't received a property tax bill recently and you did not file a change of address with the Office of the Assessor and have not gone online to pay your property tax bill, your taxes may be delinquent! You can download a change of address form at ocgov.com/octaxbill, just click on "How To" and then on "Request a Change of Address." Also, an easy way to check to see if your property taxes are outstanding is to go online to view our online property tax statement at ocgov.com/octaxbill and input either the property address or the parcel # (APN), click find, and then click on the APN link that will then identify if there are any outstanding property taxes. In the future, taxpayers should consider checking the website before the tax installment deadlines to make sure that their payments have been processed.

Another easy way to remember to make the secured tax installment payments is to sign up for our email reminder service that sends an email to subscribers when property tax bills are mailed, and also a reminder email is sent ten days prior to the payment deadline and one day prior to the payment deadline.

OC Parks

Star Wars Day at the OC Zoo

Bring your family and friends to the OC Zoo this Saturday, June 25, for a very special Star Wars Day! All are encouraged to wear Star Wars attire as they enjoy visiting the animals and participating in the many activities of the day. There will be Star Wars characters and plenty of photo opportunities. See the flyer below for more information, or visit www.ocparks.com.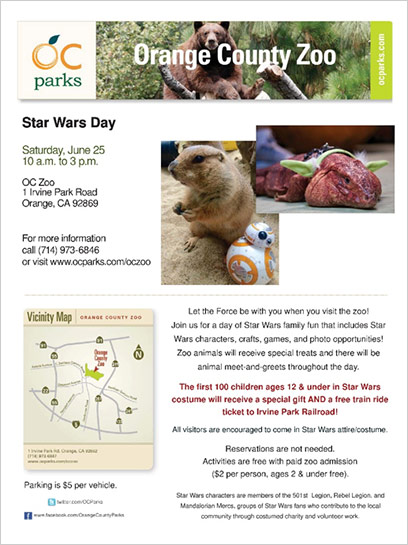 Click on the image above to view a PDF version.

OC Waste & Recycling

10–12 Million-Year-Old Sperm Whale Fossils Discovered at County Landfill

How do ancient sperm whale fossils wind up at an elevation of 1,272 feet?

That's what paleontologists explained at a media briefing on Tuesday to unveil the recent fossil find of more than 20 sizable pieces, including teeth weighing at least one pound, a flipper bone and portions of jaw and skull bones from a sperm whale dating back 10-12 million years.

"Orange County is blessed with a wide variety of fossil whales, ranging in age from 25 million years old to the modern ones offshore today. The history of whales is well preserved in OC. The Southern California ocean has always been a good place for whales to live. The fossils we are looking at today show that the largest toothed whales also lived in Orange County waters in the past (as they do today), hence are important additions to the whale record of our county," explained Jere Lipps, director of the Cooper Center, where extensive research on the fossils will be conducted.

Recent work at the County's Frank R. Bowerman Landfill, near Irvine, uncovered the fossils in late May. The on-site paleontology contractor, Melissa Macias, of the engineering firm Psomas, spotted them as the construction crew was moving soil in preparation for development of a new waste disposal area. As soon as the fossils were noticed, the area became a paleontology excavation site for the next four days.

Paleontologists consider the find to be rare and significant for several reasons – the age, the elevation at which they were found, the fact that "the majority of whale fossils found in this area are isolated vertebrae and ribs. Finding skull material with a high number of associated teeth is rare," said Macias. She also noted that the size of the whale would be comparable to modern day sperm whales. The find "adds to our current understanding of the time period," according to Lipps.

After the Cooper Center paleontologists complete their research, the fossils will be available to the general public for viewing. Some will be at the landfill; other locations will be announced.

OC Waste & Recycling manages one of the nation's premiere solid waste disposal systems, which serves 34 cities and more than three million residents. The department operates a network of three active landfills and four household hazardous waste collection centers. OC Waste & Recycling sponsors the Eco Challenge Exhibit at Discovery Cube OC, offering a hands-on learning experience to promote the three Rs: Reduce, Reuse and Recycle. Visit oclandfills.com for more information.

The Cooper Center is the official repository of the fossils and artifacts collected in Orange County, California. It is a partnership between OC Parks and Cal State Fullerton that preserves, curates and manages fossils and artifacts in Orange County. The center's collections date as far back as the mid-1930s. The Cooper Center opened its doors in May 2011, realizing a plan to manage millions of fossils and archaeological artifacts found in Orange County.

Dana Point Harbor

Save the Date: Dana Point Harbor 50-Year Time Capsule Celebration

Mark your calendars for Monday, August 29, to attend a special historic event to celebrate the unveiling of the Dana Point Harbor 50-Year Time Capsule. See the flyer below for details.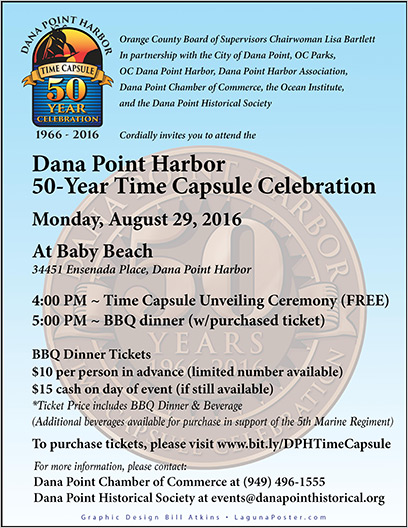 Click on the image above to view a PDF version.

OC Animal Care/Pet of the Week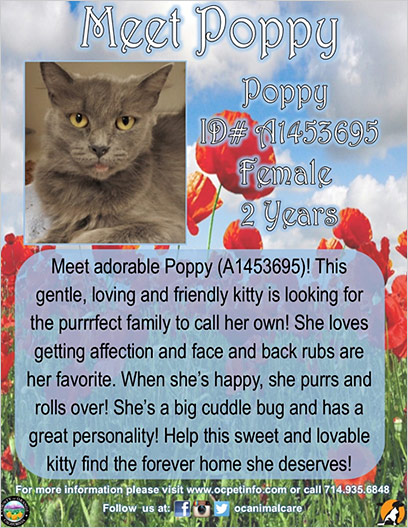 Click on the image above to view a PDF version.

"Crazy About Cats" Month at the Orange County Animal Shelter

During the spring and summer months, Orange County Animal Care tends to see a large increase in the cat and kitten population at the shelter. That's why, during the month of June, the shelter is offering to waive the adoption fees for all cats every Saturday and Sunday. You can help decrease the number of homeless cats in our community by adopting the "purrfect" feline friend this weekend. See the flyer below for details.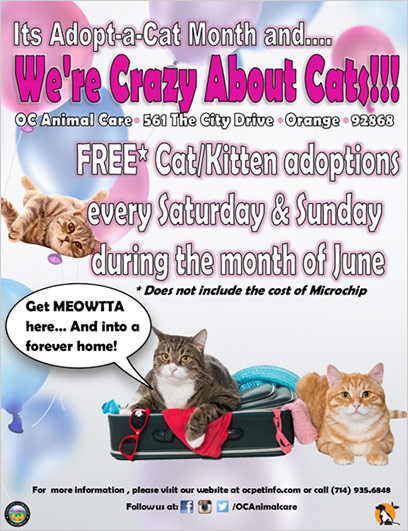 Pet Fair at the Shelter on June 25

Looking to add a four-legged friend to your family? Mark your calendar on Saturday, June 25, for OC Animal Care's Pet Fair at the shelter in Orange. From 10am – 2pm, the shelter will showcase pet vendors and rescues, engaging dog demonstrations, and of course, all the lovable animals up for adoption. All adoption fees will be waived, you just pay for licensing and microchip! See the flyer below for details.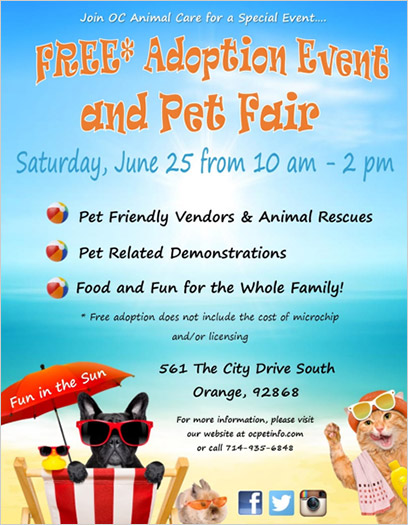 Out and About South County

Aliso Viejo: Health, Resource, and Safety Fair

Join the City of Aliso Viejo's Family Resource Center and the Aliso Viejo Police Services for the annual Community Health, Safety, and Resource Fair on Saturday, June 27 from 10:00 a.m. to 1:00 p.m. Held at the Iglesia Community Center (24671 Via Iglesia) this event will feature over 20 community partner booths providing important information and resources regarding health and safety for families. Kids will enjoy interacting with their police and fire heroes, and make sure they bring their bikes (and helmets!) for a fun and challenging bike rodeo. Craft activities will also be offered. Snacks and refreshments will be served.

For more information click here.

Dana Point: 2016 Education in Review

You're invited to hear from south Orange County's education leaders on Wednesday, June 29 at the Ocean Institute. Superintendent Kirsten M. Vital and Dr. Tod A. Burnett, President, Saddleback College, will be speaking about the outlook of education in 2016.

Click here for more information and to RSVP.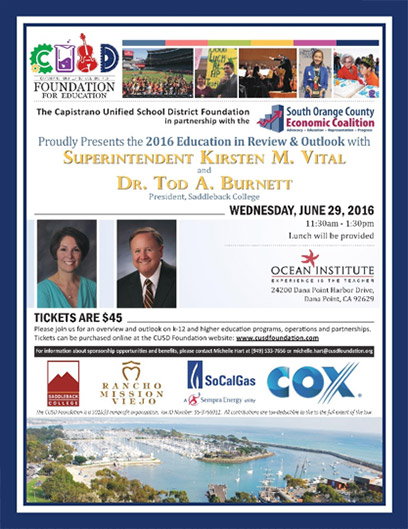 Dana Point: Doheny Surf Festival

Come celebrate the Southern Californian surf lifestyle during this two day event! Live music, great food, Surfer's Vendor Village, Surf Contest, Healthy Living Demonstrations, Surfer's Art and Collectables, Classic Woody Car Show and more! This event takes place from June 25 & 26 and is free, except for the parking fee at the park. For specific event times and more information click here.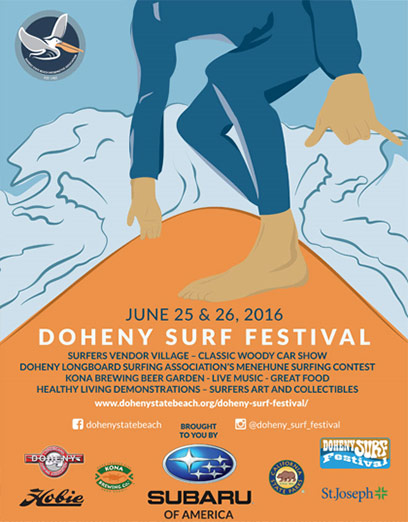 Dana Point: Food, Wine and Music Festival

The event consists of more than 100 exhibitors in attendance, 15 restaurants, chocolatiers, live music from tribute bands, kids fun zone, International wine festival, art in the park and a microbrew festival. Food can be purchased directly from the various restaurant stands at the event. Restaurants provide their own menus and pricing which will be advertised at each booth. The event takes place on June 25, 2016 from 12pm-7pm at the Sea Terrace Park (33501 Niguel Rd., Dana Point, CA 92629). To purchase ticket packages or for more information click here.

Laguna Beach: Sawdust Festival

The Sawdust Art & Crafts Festival is a nonprofit organization dedicated to educating the public and promoting the art created in Laguna Beach. The two month long festival begins this weekend and will feature the fine art and craft of nearly 200 Laguna Beach artists. Come enjoy unique artwork, live entertainment on three stages, eye-catching artist demonstrations, hands-on workshops for all ages, and delicious food and drink. Check the website for free admission days for Orange County enjoy free admission (with ID) on Sundays after 5.

For more information click here.

Laguna Beach: Art-A-Fair

Come celebrate the 50th annual Laguna Beach Art-A-Fair! visitors are invited to leisurely walk among the artists as they create. On weekends, there is live entertainment in addition to the epicurean cuisine of Tivoli Too!, located on the grounds at the fair. Come enjoy the works of 125 artists beginning June 24 and continuing under August 28. Adult season passes are $7.50 and free for all Laguna Beach residents with valid ID. For more ticket information and schedule of events click here.

Lake Forest: Summer Concert Series

Kick off the summer with a double dose of legendary music with Heartache Tonight an Eagles tribute band, and Mick Adams and The Stones, a pulse-pumping Rolling Stones concert experience. This event is June 26 at the Lake Forest Sports Park from 5:30 p.m. to 7:30 p.m. For more information, please click here.

Mission Viejo: Olympic Day

Celebrate Mission Viejo Olympians with an afternoon of family fun including recreational activities, arts and crafts, and fitness! Don't miss photo opportunities with Olympians, their medals and more! Food trucks will be on site for your enjoyment. This event is on Saturday June 25 from 1:00 p.m. to 4:00 p.m. at Florence Joyner Olympiad Park. For more information, please click here.

San Clemente: OC Public Libraries' Pacific Animal Productions — Live Animal Show!

Bring the kids to a fun and exciting summer activity! Who are the animal super heroes? From the longest living, to the longest in length, the softest fur and more! Come prepared to be amazed by these animal champions! This event will take place at the San Clemente Community Center and is being put on by the OC Public Libraries for their Kids Summer Reading Challenge. The event will be held on Friday July 1 at 2:00pm. For more information contact the San Clemente Public Library at 949-492-3493.

Last but not least this week I:

Gave the welcoming remarks at the TCA Public Forum in Laguna Niguel.
Participated in the Board of Supervisors Special Closed Session meeting.
Toured CHOC Hospital in Mission Viejo.
Attended the South Orange County Mobility Workshop.
Participated in the San Onofre Community Engagement meeting.
Participated in the OCFA Executive Committee and Board of Directors meetings.
Participated in the Children's Mental Health Ad-Hoc meeting.
Participated in the California Transportation Commission's Technical Advisory Committee meeting in Sacramento.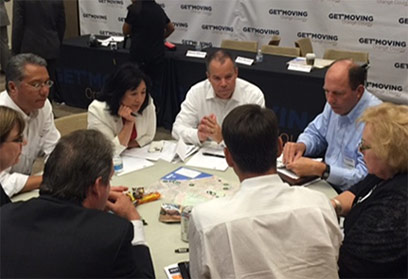 TCA Public Forum discussing South County transportation solutions.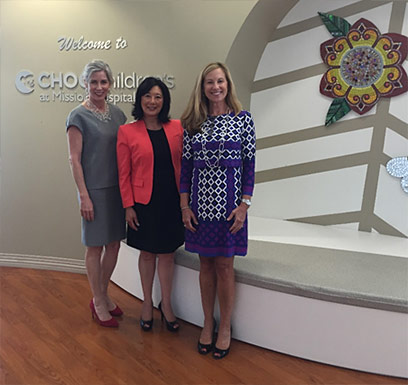 Touring the CHOC Hospital in Mission Viejo with Jena Jensen and Marcia Folli.

My Staff:

Presented a certificate of recognition in honor of the Missy's Pop Up Shop ribbon cutting in San Clemente.
Presented a certificate of recognition in honor of the Farmer's Insurance ribbon cutting in Laguna Niguel.
Presented a certificate of recognition in honor of the Tier Two Improvement Groundbreaking Ceremony at Crown Valley Park in Laguna Niguel.
Presented a certificate of recognition in honor of the California Dentistry ribbon cutting in Laguna Hills.
Presented a proclamation in honor of Art-A-Fair's 50th Anniversary in Laguna Beach.
Toured Cal State Fullerton's Cooper Center.
Presented a certificate of recognition in honor of Filomena's Café One-Year Anniversary in Laguna Niguel.
Presented a proclamation in honor of the Sawdust Art Festival's 50th Anniversary Celebration in Laguna Beach.
Attended the Ladera Ranch Civic Council monthly meeting.
Attended the South Orange County Economic Coalition meeting.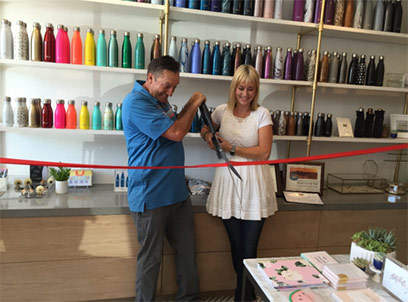 The owners of Missy's Pop Up Shop cutting the ribbon at their first storefront.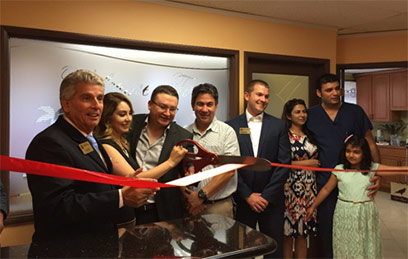 California Dentistry ribbon cutting in Laguna Hills.



Farmer's Insurance ribbon cutting in Laguna Niguel.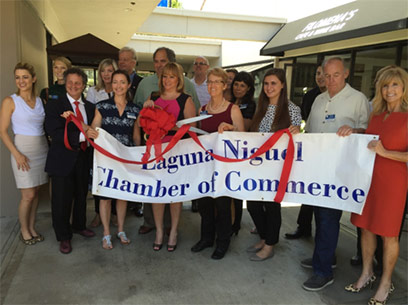 Cutting the ribbon at Filomena's Café One Year Anniversary in Laguna Niguel, with Mayor Laurie Davis (right).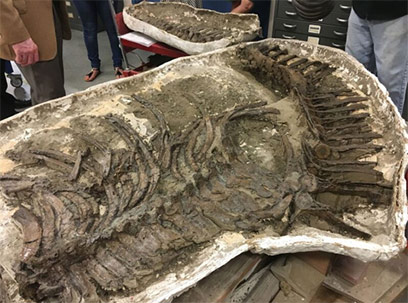 Fossil of an 8-10 million year-old whale at the Cooper Center.

South County Elected Officials in the Community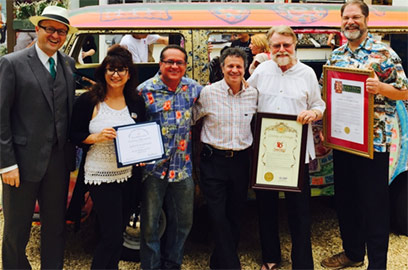 Assemblyman Matt Harper, Naz Namazi (Congressman Rohrabacher's office), Mayor Steve Dicterow, Board President Jay Grant, and Senator John Moorlach at Sawdust Art Festival's 50th Anniversary Celebration in Laguna Beach.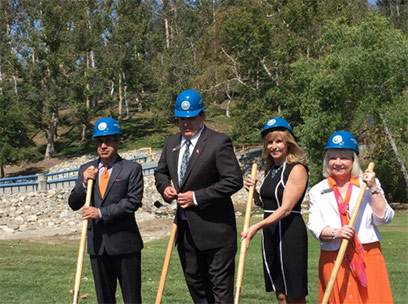 Laguna Niguel Mayor Laurie Davies, Mayor Pro Tem Jerry Slusiewicz, Councilwoman Elaine Gennawey, and Councilman Fred Minagar at the Crown Valley Park Groundbreaking Event.

For questions or comments regarding Supervisor Bartlett's E-Newsletter please contact the Supervisor's office staff at: (714) 834-3550 or Tanya.Flink@ocgov.com.