In Memoriam: Marian Bergeson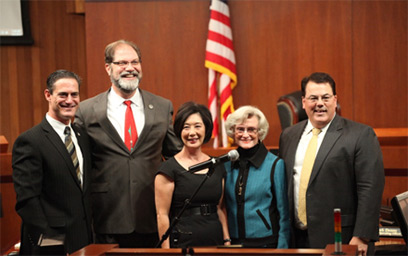 Let's celebrate the life and legacy of our dear friend, Marian Bergeson. She inspired many women to run for public office to make a difference in their communities. Like many of you she served as a mentor to me as well.

Marian had a distinguished career. She began her political career at the local level, serving on the Newport-Mesa Unified School District Board of Education in 1964. She was the first woman to serve in both the California State Assembly and California State Senate from 1978-1994. In 1994, she was elected the 5th District Supervisor at the County of Orange. Additionally, Marian served statewide roles as the California Secretary of Education and California State Board of Education.

Marian personified leadership. She simultaneously pursued her passion while empowering other women. She left an indelible mark in Orange County and beyond. I send my heartfelt prayers and condolences to the Bergeson family.

CalOptima

New Board Will Oversee County's CalOptima Health System

A new Board of Directors will meet next month to oversee CalOptima, Orange County's comprehensive health system for low-income residents, after being selected by the Orange County Board of Supervisors.

CalOptima contracts with the State of California to administer the $3.3 billion health plan for nearly 800,000 people in Orange County, or nearly one in four of Orange County's 3.1 million residents. The selection of the new board followed an extensive public process, with 54 applications submitted—the highest number received in CalOptima's 20-year history.

"With the evolving healthcare landscape and upcoming challenges facing CalOptima, we are pleased to welcome the new members and look forward to utilizing their expertise to govern our Medi-Cal system," said Board of Supervisors Chairwoman Lisa Bartlett, Fifth District.

The nine voting seats filled by unanimous Board of Supervisors approval were:

Lee Penrose—selected for the seat to be filled by a current or former hospital administrator. Penrose has served on the board for four years and is the current CEO of a hospital serving Medi-Cal recipients.
Paul Yost—selected for the seat to be filled by a licensed physician in current practice who is also a representative of an independent physicians' association or health network. Yost is a pediatric and adult anesthesiologist who serves on a number of leadership boards.
Nikan Khatibi—selected for the seat to be filled by a licensed medical provider in current practice who is not an owner or officer or a member of the board of directors of a contracted independent physicians' association or a health network. Khatibi is an addiction medicine specialist who serves on numerous health care leadership boards and holds two statewide appointments.
Scott Schoeffel—selected for the seat to be filled by an individual whose preferred background includes prior health care system experience; or professional accounting or public finance experience; or is an actively licensed attorney. Schoeffel is an attorney with more than 24 years of experience specializing in health care law with an expertise in State and Federal managed care.
Ronald Diluigi—selected for the seat to be filled by a legal resident of Orange County. Diluigi retired in July 2015 as vice president and chief advocacy officer for a private health system after more than 45 years of experience in executive positions in the public and private sectors, including as former assistant director of the County Health Care Agency.
Ria Berger—selected for the seat to be filled by a representative of a community clinic. Berger is currently the CEO of Healthy Smiles and has more than 25 years of experience in human resources, leadership development and strategic planning for several health care companies.
Alexander Nguyen—selected for the seat to be filled by a current recipient of CalOptima services or a family member of a current CalOptima member. Nguyen, founder of the Center for Asian American Wellness, is a resident physician at UCLA Medical Center whose mother is a current CalOptima member.
Board of Supervisors Chairwoman Lisa A. Bartlett and Supervisor Andrew Do, serving as regular members representing the Board of Supervisors, and Supervisor Todd Spitzer as alternate member.
For more information on CalOptima services, visit www.caloptima.org.

OC Moves

La Pata Gap Connector Ribbon Cutting Celebration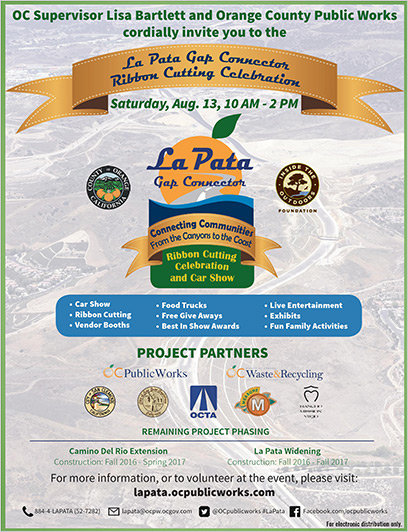 Free Laguna Beach Summer Breeze Bus Program

This summer the City of Laguna Beach is partnering with the Orange County Transportation Authority to pilot a bus program on weekends. I am proud to facilitate this partnership to reduce congestion on Laguna Canyon Road.

Begin your hassle free adventure by parking for FREE at the SR-133/I-405 parking lot near the 405 & 5 freeways, where the Cavalia Odysseo was hosted in Irvine. The Laguna Beach Summer Breeze (OC Bus Route 689) makes a loop beginning at the SR-133/I-405 parking lot and continues along Laguna Canyon Road with stops at the:

Sawdust Festival,
Art-A-Fair,
Festival of the Arts,
Pageant of the Masters,
Laguna Playhouse and the
Laguna Beach Bus Station,
where it meets the FREE Laguna Beach Trolley. The trolley connects with shopping and food destinations along Pacific Coast Highway. For more information about the Laguna Beach Trolley, visit LagunaBeachCity.net/Trolley.

The Laguna Beach Summer Breeze runs Saturdays and Sundays from 11 am to Midnight from July 9 through August 28. Buses will arrive every 30 minutes FREE of charge. For the full schedule click here.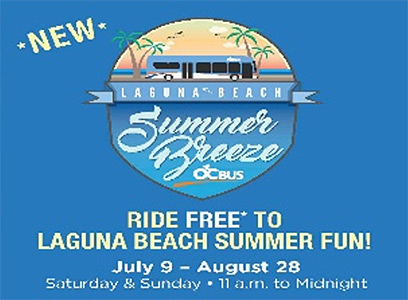 I-5 South Project Update

Crews have hit some significant milestones over the last month on the I-5 South County Improvements Project, the $230 million effort that extends the carpool lane from San Juan Capistrano to San Clemente and reconstructs the Avenida Pico interchange.

The new deck on the recently constructed bridge over Avenida Pico has been poured, and crews have lowered the temporary structure supporting the concrete bridge as the concrete cured.

Workers are now focusing on completing the traffic lanes leading up to and away from the new bridge. Traffic is tentatively scheduled to be switched over to those new lanes in September, after which crews will demolish the remainder of the old bridge. Then work will begin on the second half of the Pico bridge, starting with pile driving for the foundation in November.

Meanwhile, motorists are seeing sound walls go up on the southbound side of I-5 between Avenida Vista Hermosa and Camino de Estrella. In addition, drivers using the Avenida Vista Hermosa ramps will notice new configurations as crews shift traffic to move forward with the next stage of ramp construction.

That stage will include a series of long-term ramp closures coming this summer at Avenida Vista Hermosa and Camino de Estrella. The full closures – ranging from 55 hours to nine days – will allow crews to work more efficiently to realign the ramps. The first one, a nine-day closure of the loop on-ramp from Avenida Vista Hermosa to southbound I-5, is tentatively scheduled to begin July 18.

A little further north, crews are pouring the face of the retaining wall along southbound I-5, just past the PCH/Beach Cities exit. The wall face is constructed using specially crafted form liners that, once removed, reveal an architectural treatment displaying pelicans and waves. The wall will take about another six months to complete.

For more information about the project and to sign up for weekly construction alerts, visit the I-5 South Improvements Project website at www.octa.net/I5South. Email questions or concerns to southoc5info@octa.net.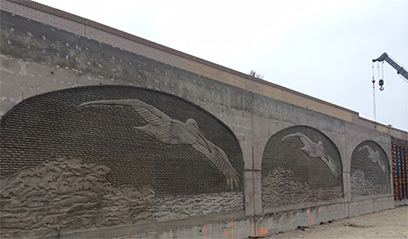 Dana Point Harbor

Save the Date: Dana Point Harbor 50-Year Time Capsule Celebration

Mark your calendars for Monday, August 29th, to attend a special historic event to celebrate the unveiling of the Dana Point Harbor 50-Year Time Capsule. See the flyer below for details.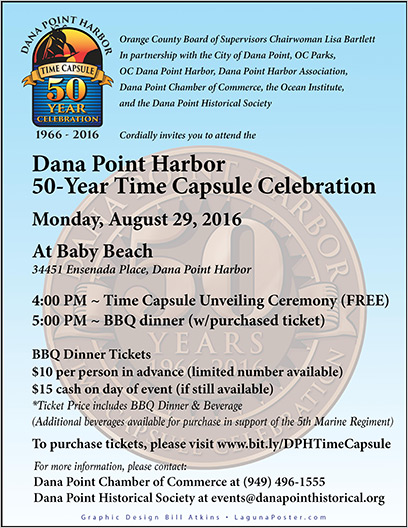 Click on the image above to view a PDF version.

OC Waste & Recycling

Keep Orange County Clean and Green at the 4th Annual Eco Challenge Day

OC Waste & Recycling announces the 4th annual Eco Challenge Day at Angel Stadium. Residents are encouraged to bring household hazardous waste, e-waste, gently-used clothing and paper for shredding.

E-Waste is any electronic equipment that is near or at the end of its useful life. Examples include computers, CPUs, laptops, home use photocopiers and printers, cell phones, digital cameras, televisions (CRTs & flat screens), VCRs, video game consoles and associated devices. More information can be found here.

Household Hazardous Waste is any household product that contains potentially hazardous elements.

Corrosive, toxic, ignitable, or reactive ingredients cannot be safely disposed in landfills. Examples of household hazardous waste include paints (latex and oil based), cleaners, oils, batteries, herbicides, pesticides and solvents. Fluorescent tubes, compact fluorescent lamps are also hazardous.

Documents for Shredding are any documents that has personal information such as name, address, phone number, social security number, family information and personal records should be shredded.

Please note that business hazardous waste cannot be accepted at this event.

OC Waste & Recycling, Angels Baseball, Discovery Cube and Goodwill of Orange County are participants in this eco-friendly family fun event, which takes place under the Big Red Hats. Activities include music, games, eco crafts, opportunity drawings and more!

The event takes place at the Angel Stadium parking lot from 8 to 11 a.m. The first 200 vehicles to arrive will be able to choose between four Angels Baseball tickets or four Discovery Cube tickets.

County Connections

The Raise Foundation Community Notice

Summer is upon us, and it is crucial to recognize the consequences of severe heat. The Raise Foundation, in partnership with the County of Orange, reminds you that leaving a child in a car on a warm day can end in tragedy. Please plan ahead, make the necessary arrangements, and keep our children safe this summer.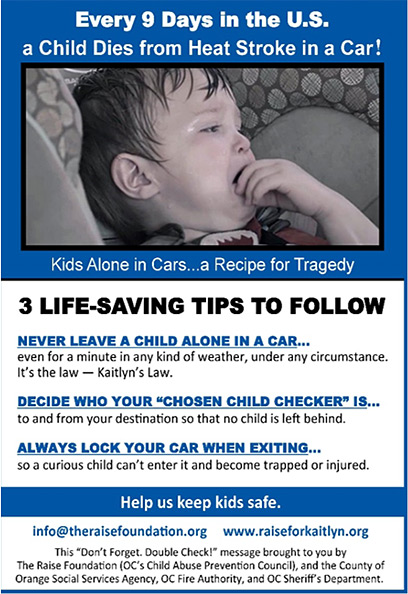 Mercedes-Benz Films Commercial in County Building 317

The County of Orange owns approximately 3,000 parcels of land in and around Orange County. Owning this much real estate opens the door for long-term land development projects as well as short-term, interim opportunities.

The CEO Real Estate Land Development team has to been creative when looking at these opportunities. Not everything fits into the typical development structure. Yasie Malek on the Land Development team has recently developed connections with location scouts, whose role it is to find filming locations for commercials and movies.

Mercedes-Benz is a prime example of location scouts looking for a unique spot to enhance their message and find the perfect place to show their wares. Mercedes new "Beam" commercial dramatically showcases the redesigned C-Class Coupe. In the ad, the car jumps over a steel beam, then appears to turn around to break through the beam in an abandoned warehouse. That warehouse is Building 317, which is located on the County's 100 Acre property at the former El Toro Marine Base in Irvine.

Find a link to the commercial here.

The building was initially selected to film a Jeep commercial, but the footage was never used. With the success of that commercial, keep an eye out for more County building spotlights when watching your favorite show!

OC Animal Care/Pet of the Week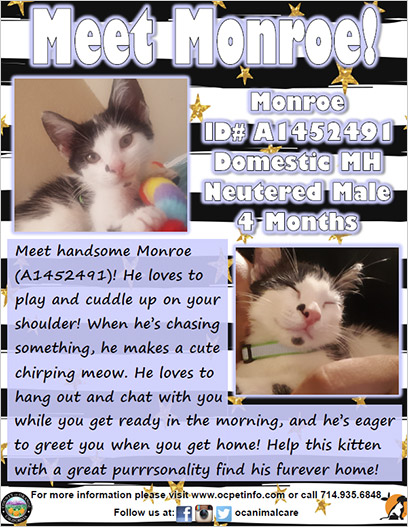 Click on the image above to view a PDF version.

Out and About South County

Aliso Viejo: Free Concert

Join the Aliso Viejo Community Association on Sunday, July 10th from 5:30pm-7:30pm at Grand Park for a live concert. Bring chairs, blankets and some snacks to enjoy music by reggae band Common Sense. For more information click here.

Aliso Viejo: Walk with the Mayor

The City of Aliso Viejo is partnering with Raising Cane's and Hoag Health Center for the annual Walk with the Mayor program on Monday nights July 11, 18, 25 in celebration of Parks Make Life Better Month. Join Mayor Mike Munzing and others for an hour-long fitness walk around the Town Center Loop Trail starting at 6 p.m. Meet at 5:45 p.m. for a "stretch and refresh" in the Hoag Health Center parking lot at 26671 Aliso Creek Road. For more information click here.

Dana Point: Family Science Nights at the Ocean Institute

Spend a summer evening in our Samueli Conference Center (24200 Dana Point Harbor Dr.) getting "up close and personal" with local scientists. Each experience will include a presentation by a special guest speaker with alternate activities for kids. This week's presentation will be the World of Waves presented by Jennifer McWhorter of the Coastal Data Information Program. For more information click here.

Laguna Niguel: Summer Concert Series

Come join the fun with The Answer Classic Rock band! Park at City Hall located at 30111 Crown Valley Pkwy and there will be a free shuttle service from 5:30-9:15pm.There is food available for purchase so grab your chairs and blankets and come out for a great time! Click here for the season lineup.
Mission Viejo: Family Bocce Night
Bring the entire family and learn this fun sport! Play on the new bocce courts at Norman P. Murray Community and Senior Center on July 13, 2016 7:00pm - 08:30pm. Instruction, equipment, refreshments, and other activities included. To register online and for more information click here.

Rancho Santa Margarita: Summer Concert Series

Rancho Santa Margarita's favorite summer tradition is back for its 10th season beginning July 10 in Central Park. The free six-week concert series takes place each Sunday at 6:00 p.m., July 10 through August 14, in the Central Park Amphitheater, located at 30842 La Miranda adjacent to Civic Center Plaza. Click here for more information and the season lineup.

Last but not least this week I:

Participated in the Lake Forest 4th of July Parade. To view a photo album, please click here.
Toured the Tierney Center for Veterans Services in Tustin.
Chaired the OCTA Regional Planning and Highways Board meeting.
Chaired my quarterly South County Homeless Roundtable.
Spoke at the statue unveiling of Miguel Hidalgo at Miles Square Park.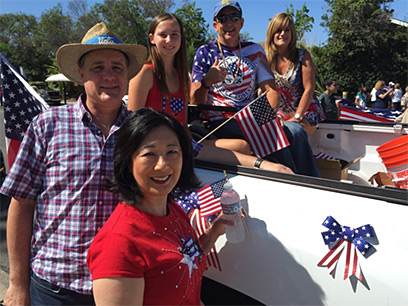 With Assemblyman Don Wagner and Mayor Pro Tem Scott Voigts at the Lake Forest 4th of July Parade.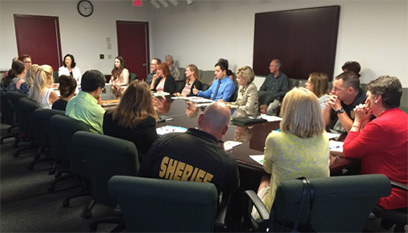 Chairing my quarterly South County Homeless Roundtable.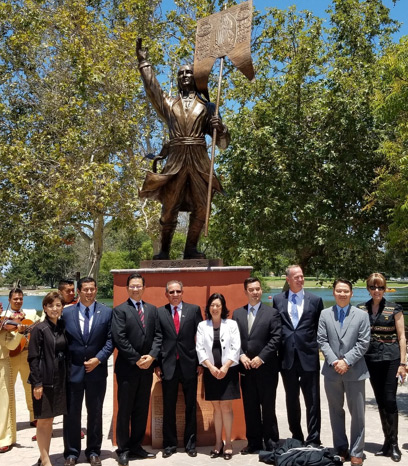 With Supervisor Andrew Do and Clerk Recorder Hugh Nguyen at the Miguel Hidalgo statue unveiling at Mile Square Park.

My Staff:

Met with representatives of the Crime in San Clemente and Safety Tips to discuss local public safety.
Participated in the Water Expo planning meeting.
Participated in the La Pata Ribbon Cutting planning meeting.
Participated in the Dana Point Harbor 50th Anniversary Time Capsule planning meeting.

For questions or comments regarding Supervisor Bartlett's E-Newsletter please contact the Supervisor's office staff at: (714) 834-3550 or Tanya.Flink@ocgov.com.