County to Cease Collecting Mello-Roos Special Tax in South County Communities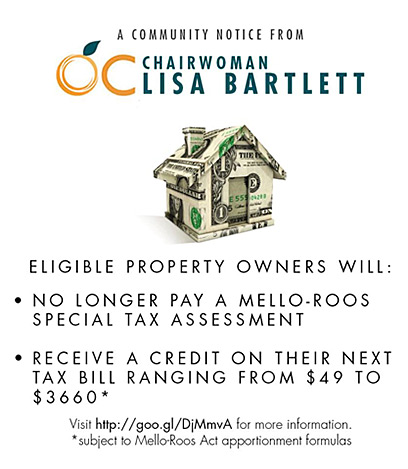 Share on Facebook
Do you pay Mello-Roos taxes? I am happy to announce that the County of Orange will end collection of Mello-Roos special taxes for certain communities within Aliso Viejo, Laguna Hills, Lake Forest, Mission Viejo, and Rancho Santa Margarita. The County will also be issuing a tax credit to property owners within these community facilities districts. Many communities in South Orange County have benefited from the forward planning and financing of infrastructure such as schools, water utilities, and police stations. Today, these bonds are fully paid for. If you have questions, please visit http://goo.gl/ytXstP for more information or call my office at (714) 834-3550. You can also read the County's press release here.

OC Moves

La Pata Gap Connector Ribbon-Cutting Celebration

The largest South County infrastructure project is reaching a major milestone. Please mark your calendar for the highly anticipated La Pata Gap Connector Ribbon Cutting Celebration on August 13 at 10am. This will be the one opportunity to celebrate this momentous occasion before La Pata is open for traffic.

Bring the entire family for a day full of activities, including a car show, food trucks, live entertainment, and more! There will be a ribbon cutting at 11am with a short program including Congressman Darrell Issa and Senator Pat Bates among others. See the flyer below or click here for details.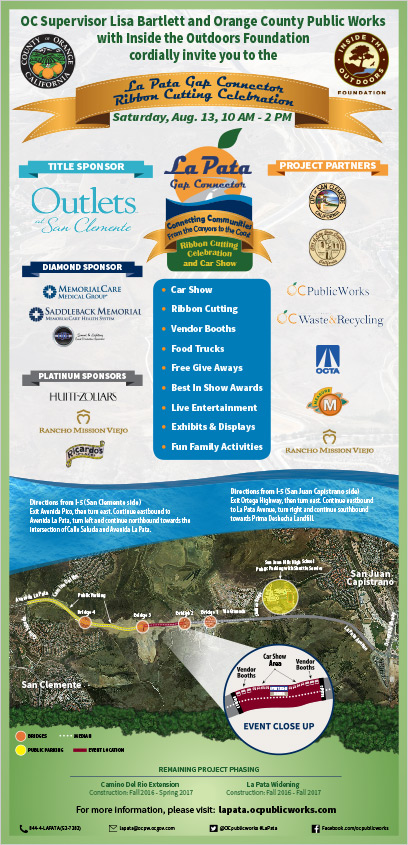 I-5 South Avenida Vista Hermosa Ramp Closure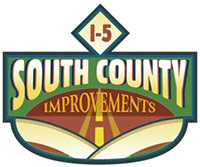 The extended closure of the Avenida Vista Hermosa on-ramp to southbound I-5 will begin at 10am Sunday, July 31 through 5am Wednesday, August 10. During the closure, workers will demolish and remove the existing pavement on the ramp and immediately repave it in its new configuration. The reconfigured ramp will accommodate the new lanes being added on the I-5 freeway. Please be advised, dates and times are subject to change due to weather conditions and other unforeseen operational factors.

Sign up for the alerts and find out more about the project at www.octa.net/I5South.

OCTA's 25 Year Anniversary

OCTA was created in 1991 by consolidating the functions of seven separate transportation agencies. This action alone increased the efficiency of the Authority and saved county taxpayers millions of dollars. The legislation which enabled this efficiency was authored by Former Senator Marian Bergeson.

As many of you know, OCTA is a multi-modal agency which provides countywide bus service; owns and operates the 91 Express Lanes; serves as managing agency for the LOSSAN Rail Corridor; oversees Metrolink service in Orange County; funds improvements for active transportation, local streets and roads and freeways and administers the Measure M program, ½ cent transportation sales tax.

I am not only proud to represent South County on the OCTA Board but to be a part of the legacy of leadership by Board Members and staff who have paved this path for regional mobility.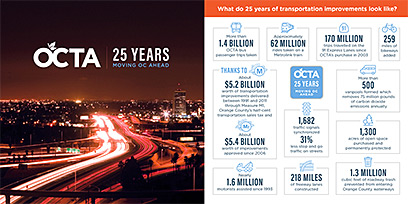 Sheriff's Department

DEA Report: Counterfeit Pills Fueling U.S. Fentanyl and Opioid Crisis

Hundreds of thousands of counterfeit prescription pills, many containing deadly amounts of fentanyl and fentanyl-related compounds, have made their way into the U.S. drug market, according to a DEA intelligence report released today. Law enforcement nationwide report higher fentanyl availability, seizures, and known overdose deaths than at any other time since the drug's creation in 1959.

Fentanyl is a synthetically produced opioid that, when produced and administered legitimately, is used to treat severe pain. Overseas labs in China are mass-producing fentanyl and fentanyl-related compounds and marketing them to drug trafficking groups in Mexico, Canada and the United States.

Many Chinese laboratories illicitly manufacturing synthetic drugs, such as fentanyl and their precursors, also manufacture legitimate chemicals for purchase by U.S. companies. This means that laboratories responsible for supplying fentanyl in counterfeit pills can also run legitimate businesses. Although Chinese clandestine laboratories may be contributing to the fentanyl supply, legitimate laboratories may also be sources of supply.

In addition to being deadly to users, fentanyl poses a grave threat to law enforcement officials and first responders, as a lethal dose of fentanyl can be accidentally inhaled or absorbed through the skin. DEA recently released a Police Roll Call video nationwide to warn law enforcement about this danger. The video can be accessed at www.DEA.gov.

For the full report "Counterfeit Prescription Pills Containing Fentanyls: A Global Threat" click here.

Dana Point Harbor

Community Notice: Street Improvement Project

See the flyer below and take note of the construction at the Dana Point Harbor, August 1st through August 12th.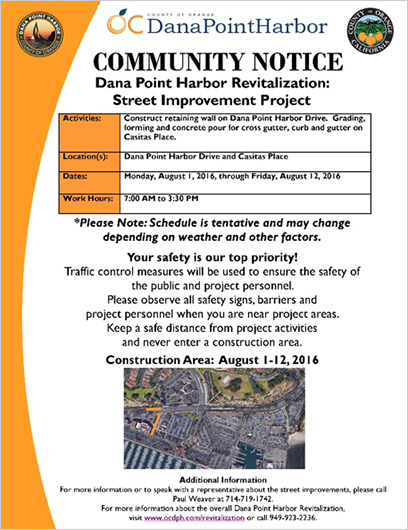 Click on the image above to view a PDF version.

Dana Point Trolley & Harbor Shuttle

Thanks to the City of Dana Point, Dana Point Trolley service has been extended into the Harbor! Trolley service will run through Labor Day. Visit www.dptrolley.com for more details about the route.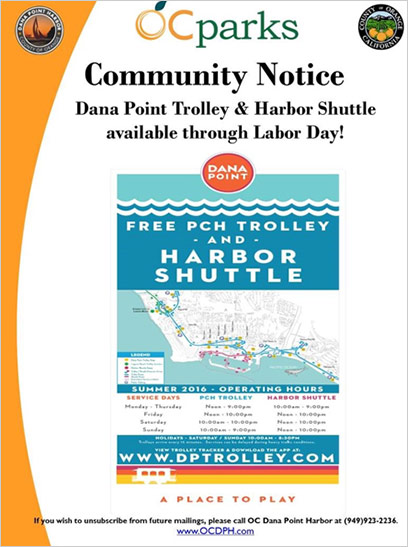 Click on the image above to view a PDF version.

Save the Date: Dana Point Harbor 50-Year Time Capsule Celebration

Mark your calendars for Monday, August 29th, to attend a special historic event to celebrate the unveiling of the Dana Point Harbor 50-Year Time Capsule. In addition to the unveiling, there will be a special BBQ dinner to follow. Don't miss out; be sure to purchase your BBQ dinner tickets in advance here. See the flyer below for details.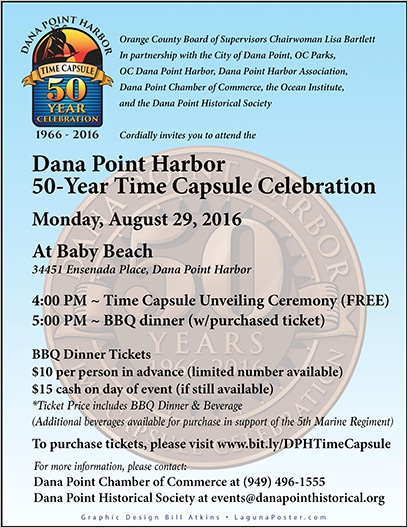 Click on the image above to view a PDF version.

OC Animal Care/Pet of the Week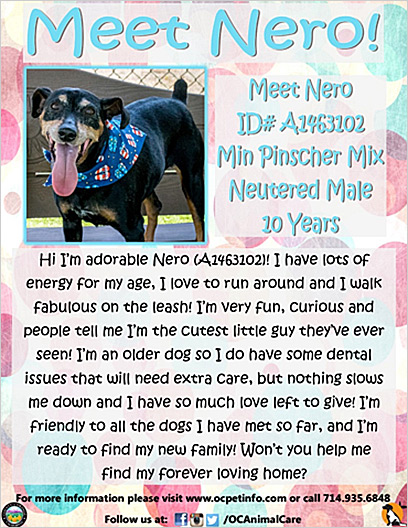 Click on the image above to view a PDF version.

New Animal Shelter Groundbreaking

On Friday morning, I was thrilled to host the groundbreaking ceremony for the new County animal shelter. County staff, elected officials, volunteers, and public and private partners braved the ninety degree heat to celebrate this momentous occasion. The excitement and positive energy of the audience was palpable; the air was filled with shouts of triumph and applause. The ceremony featured remarks from all five Board Supervisors, the Mayor of Tustin, John Nielson, and the Director of OC Animal Care, Dr. Jennifer Hawkins. It was an honor to present certificates of recognition to OC Animal Care, the City of Tustin, and the South Orange County Community College District for their successful collaboration and dedicated efforts to make this project a reality. I cannot wait to see this project to completion and stand on the bricks of our new shelter in late 2017.

This enormous step forward will not only provide a new physical structure, it will also provide new and improved programs so we may better care for our shelter animals. With the proper space, we can implement more shelter enrichment programs to ensure that every animal has the opportunity to thrive in its temporary home. Thank you, again, to everyone who was involved with this project and all who will continue to work on it. Together, we can provide a safe and nurturing environment and positively reverse the fate of our community's homeless pets.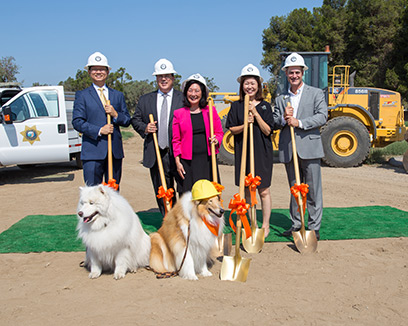 With Vice-Chair Steel, Supervisor Spitzer, Supervisor Nelson, and Supervisor Do, as we break ground on the new animal shelter at the former Tustin Marine Base. Joining us, two dogs from OC Animal Care's Katy Cares Program, which brings dogs into the classroom to teach school children proper pet care and encourage adoption, spay, and neutering.

Out and About South County

Dana Point: National Night out

Free event for the whole family! There will be live music, good food and a chance for you to get to know the local law enforcement! Come out to Sea Canyon Park (33093 Santiago Dr.) from 5:00pm to 8:00pm on August 2nd! If you have any questions contact the Sheriff's Department at (949) 248-3531.

Laguna Beach: Wilderness Preserve Guided Hike

On Saturday, August 13th, OCTA will be hosting a guided hike at the Aliso Canyon Preserve in Laguna Beach. All hikers 12 years and older are encouraged to attend this moderate to strenuous two-hour excursion. Space is limited, so be sure to register at http://preservingourlegacy.org/.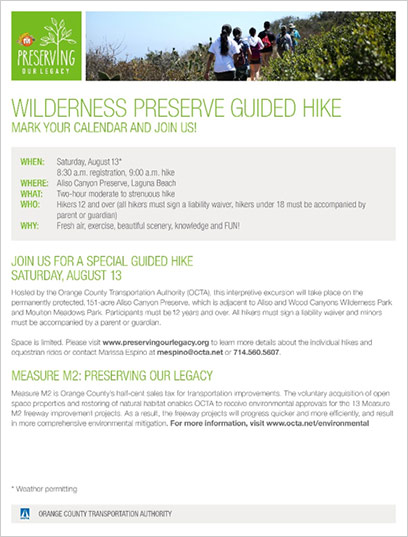 Laguna Hills: Shakespeare in the Hills – Twelfth Night

Bring a blanket, a picnic, and your family to this outdoor performance of William Shakespeare's Twelfth Night, presented by On The Edge Theatre Productions. Viola has been shipwrecked in a violent storm on the coast of Illyria and has lost her twin brother at sea. She disguises herself to serve Orsino, who pines for the love of lady Olivia. Mishaps ensue when the long-lost brother returns unbeknownst to them all. This event takes place at the Laguna Hills Community Center and Sports Complex (25555 Alicia Parkway) for three days (July 29th-31st). Tickets are $10 and are sold the day of. Snacks and refreshments will be available for purchase. For more information click here.

Laguna Niguel: Summer Concert Series

Come join the fun with Fortunate Son, a Creedence Clearwater revival band! Free shuttle service from 5:30-9:15pm. Park at City Hall located at 30111 Crown Valley Pkwy. There will be food available for purchase and great music to enjoy! Please bring low chairs/blankets. For more information click here.

Mission Viejo: Symphony in the Cities

Symphony in the Cities is a free concert featuring the talented Maestro Carl St.Clair and the Pacific Symphony. The summertime celebration begins at 4 p.m. with the Prelude in the Park – featuring a special nod to Broadway. This family-friendly event will boast a cornucopia of activities including face painting, airbrush tattoo artists, Bingo, a cookie walk and scavenger hunt, caricature artists, harmonica making, musical playground and "Conducting Clinic" with Maestro St.Clair. Food and drink will be available for purchase. Free shuttle service will be available from the Civic Center from 4 p.m. to 10 p.m. Guests can reserve their spots on the lawn after 1 p.m. For more information click here.

San Clemente: Warrior Festival

Fighting For Me's First Annual Warrior Festival sponsored by Argosy University will be located at the San Clemente Outlets on July 30, 2016. Tickets are $5. Online registration includes raffle ticket. All proceeds benefit Fighting For Me's mission to help sexual abuse victims by providing free professional counseling. Activities include: face painting, balloon artist, live auction, silent auction, raffles, kids minion costume contest, dog under the sea costume contest, games, prizes, buy one get one free pizza from Blaze Pizza. Please come out and support an amazing cause! For more information click here.

Last but not least this week I:

Attended the National Association of Counties (NACo) 2016 Conference and Awards Luncheon in Long Beach.
Participated in the OCTA Board meeting.
Chaired the Orange County Board of Supervisors meeting and presented a resolution to CIGNA for their exemplary work in supporting the County's Wellness initiatives.
Participated in the TCA Joint Finance and Investment Committee meeting.
Attended the CalOptima new member reception.
Participated in the OCFA Board meeting.
Served as the Emcee at the County's new animal shelter groundbreaking ceremony.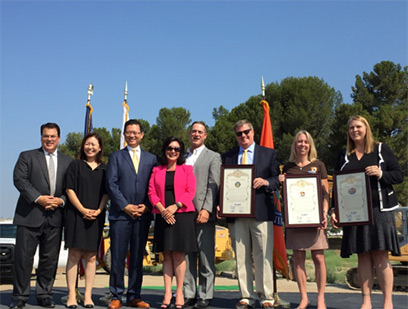 Presenting certificates of recognition to Mayor Nielson (City of Tustin), Dr. Jennifer Hawkins (OC Animal Care Director), and Acting Director of Site Development Mary Opel (South Orange County Community College District) at the new shelter groundbreaking ceremony.



Breaking ground at the new animal shelter site with County staff.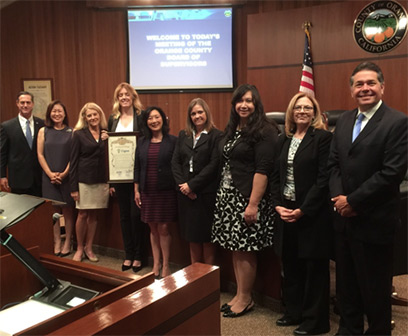 Presenting a Board resolution to CIGNA representatives in recognition of their outstanding support of the County's Wellness initiatives.

My Staff:

Toured the OC Food Bank in Garden Grove.
Attended the OC Animal Care Community Outreach Committee meeting.
Presented a certificate of recognition in honor of the Laguna Beach Aesthetics Ribbon Cutting.
Presented a certificate of recogintion in honor of the Star Estates Ribbon Cutting in San Clemente.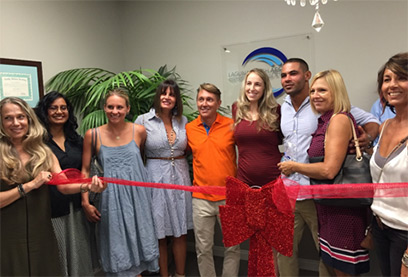 Laguna Beach Aesthetics Ribbon Cutting

South County Elected Officials in the Community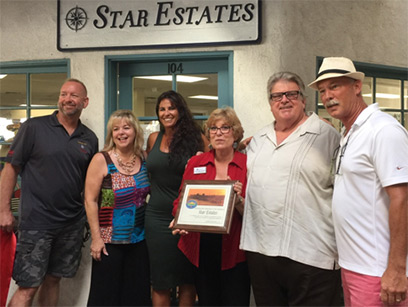 Aliso Viejo Mayor Pro Tem Dave Harrington (left) at the Star Estates ribbon cutting in San Clemente

For questions or comments regarding Supervisor Bartlett's E-Newsletter please contact the Supervisor's office staff at: (714) 834-3550 or Tanya.Flink@ocgov.com.