Fifth District Dispatch

Welcome to the Fabulous Fifth District Dispatch!

Thank you for subscribing to my electronic newsletter. My weekly newsletter includes information from County departments, regional boards I represent, transportation highlights and upcoming events in South County.

Please add me on Twitter @OCSupBartlett and Facebook @SupervisorLisaBartlett to receive regular social media updates.

It is my honor to represent you!

Sincerely,
Lisa A. Bartlett

OC Moves

La Pata Avenue Gap Connector Celebration – Connecting South Orange County Communities

To celebrate the largest roadway project in its history, the County of Orange is inviting the public to a historic ribbon cutting event on Saturday, August 13 for the La Pata Gap Connector Project, the new 2.27-mile, four-lane roadway extension that will provide a direct connection between San Clemente and San Juan Capistrano, Ladera Ranch and other neighboring communities.

With a celebration theme of "Connecting Communities from the Canyons to the Coast," the event is open to the public and is expected to attract thousands of attendees from throughout the surrounding communities. In addition to a special ribbon cutting ceremony, the event will feature a classic car show, live music, food trucks, fun family activities, vendor booths and exhibits. The newly connected La Pata Avenue will then open for public use on Sunday, August 14.

I am very excited to be a part of this milestone project that will help improve mobility within the County and region at large!

To read the full article, click here, and see the flyer below for event details.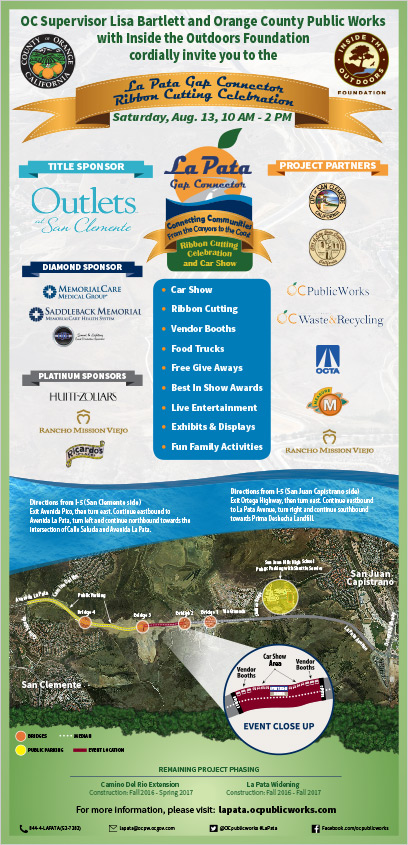 I-5 South Stakeholder Working Group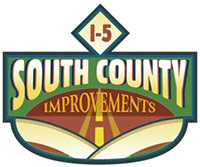 OCTA and Caltrans invite you to participate in the next I-5 South County Improvements Project Stakeholder Working Group. This meeting will include important updates about the project, including the next stage of the Avenida Pico bridge construction.

WHEN: Thursday, Aug. 11 at 1:30 p.m.
WHERE: San Clemente Community Center Auditorium
100 Calle Seville
San Clemente, CA 92675
RSVP:
southoc5info@octa.net

Healthcare Advisory

Orange County Reports First Human West Nile Virus Case of 2016

An Anaheim female in her 60s has tested positive for West Nile Virus (WNV) infection, becoming the first human WNV infection in Orange County this year. The woman was admitted to the hospital in July with symptoms of West Nile Virus, and is still in serious condition.

In 2015, there were 97 reported human infections of WNV and 8 WNV-related deaths reported in Orange County.

"West Nile Virus is endemic in Orange County, recurring every year during the summer months and continuing into the fall," said Dr. Eric Handler, County Health Officer. "The best way to avoid West Nile Virus infection is to take precautionary measures to avoid mosquito bites."

Recommended WNV precautions include:

Emptying all standing water on your property to reduce areas in which mosquitoes may breed, including flower pots and pet bowls
Making sure your window and door screens are in good condition
Using insect repellent containing DEET, picaridin, oil of lemon eucalyptus, or products containing IR3535, always following label directions
Limiting outdoor activity at dawn and dusk, when mosquitoes are most active
Wearing long-sleeved shirts and long pants when outdoors.
Most people who become infected with WNV do not experience symptoms, but about 20% will develop fever and may have headache, body aches, nausea, tiredness and sometimes a skin rash. More serious symptoms, such as severe headaches, neck stiffness, confusion, muscle weakness or paralysis, occur more rarely, but people who develop these symptoms should seek medical care immediately. People over 50 years of age and those with certain medical conditions are at increased risk of serious complications from WNV infection.

Information on mosquito control is available on the Orange County Vector Control District's website at www.ocvcd.org.

Dana Point Harbor

Community Notice: Street Improvement Project

See the flyer below and take note of the construction at the Dana Point Harbor, August 1st through August 12th.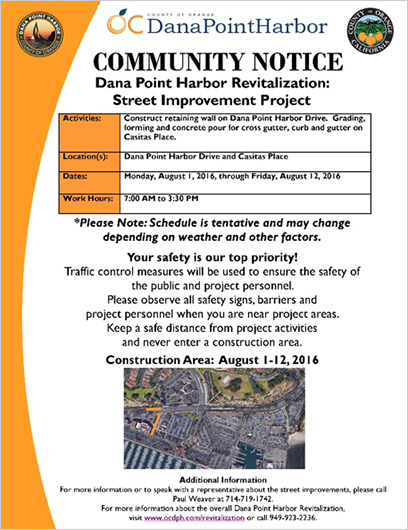 Click on the image above to view a PDF version.

Dana Point Trolley & Harbor Shuttle

Thanks to the City of Dana Point, Dana Point Trolley service has been extended into the Harbor! Trolley service will run through Labor Day. Visit www.dptrolley.com for more details about the route.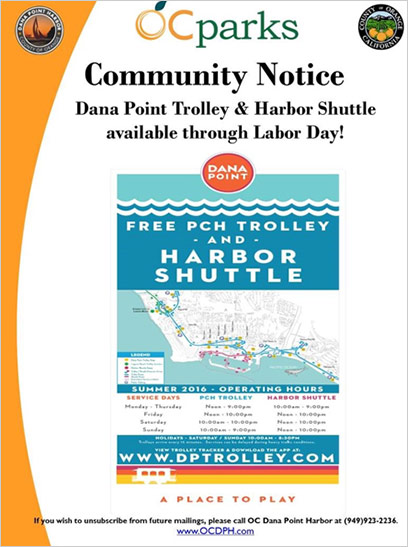 Click on the image above to view a PDF version.

Save the Date: Dana Point Harbor 50-Year Time Capsule Celebration

Mark your calendars for Monday, August 29th, to attend a special historic event to celebrate the unveiling of the Dana Point Harbor 50-Year Time Capsule. In addition to the unveiling, there will be a special BBQ dinner to follow. Don't miss out; be sure to purchase your BBQ dinner tickets in advance here. See the flyer below for details.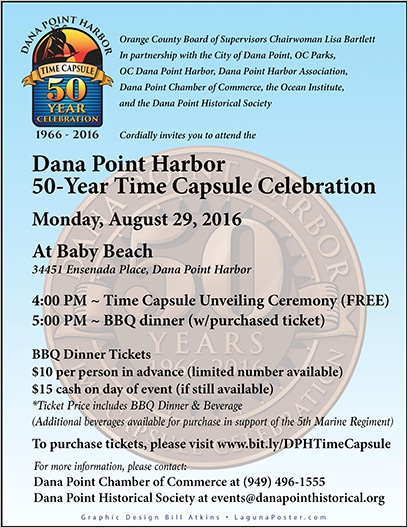 Click on the image above to view a PDF version.

OC Animal Care/Pet of the Week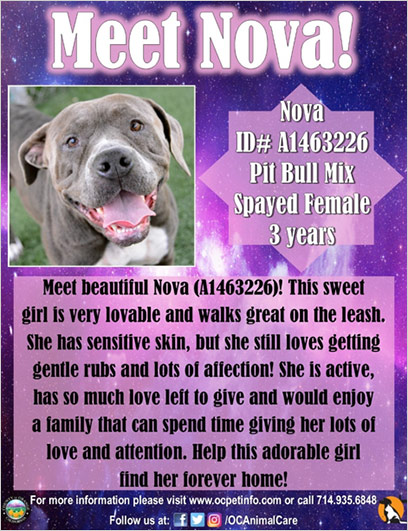 Click on the image above to view a PDF version.

Out and About South County

Aliso Viejo: Low Cost Vet Clinic

In an effort to help keep Aliso Viejo pets healthy, the City is teaming up with VetCare Pet Clinic to host a low-cost pet vaccination and microchip clinic on Saturday, August 6 from 9:30am to 11am at the Aliso Viejo Center. Vaccinations for cats and dogs as well as micro-chipping will be offered at reduced rates. Physical exams, diagnostic testing, heart-worm prevention, prescription flea and tick control, de-worming and nail trimming will also be available. All dogs must be on leashes and cats in carriers (appointments are not necessary). The Aliso Viejo Center is at 31 Santa Barbara Drive off Golf Drive and Glenwood. For more information, call 949-425-2550 or click here.

Aliso Viejo: Shakespeare by the Sea Production of "Cymbeline"

As part of the 15th year anniversary celebration of both the City of Aliso Viejo and Soka University, Shakespeare by the Sea presents "Cymbeline," a tale of epic romance filled with magical potions, dastardly villains, ghosts, gods, and lost princes. Bring your picnic baskets, blankets, and beach chairs to enjoy a night of this classic entertainment under the stars on Wednesday, August 10th at 7:00pm at Soka University's Campus Green, 1 University Drive. Admission is FREE, but donations will be gratefully accepted. For more information, visit www.shakespearebythesea.org.

Dana Point: Summer Concert

Raymond Michael's Casino Super Stars -Elvis, Tom & Englebert -AND- Hot August Night A Tribute to Neil Diamond will be performing on August 7th from 2:30PM-6:00PM at Sea Terrace Park located on Pacific Coast Highway @ Niguel Road, Dana Point, CA. There will be food and refreshments available for purchase and free shuttle buses from 1PM-7PM at Dana Hills High School. For more information click here.

Laguna Beach: Wilderness Preserve Guided Hike

On Saturday, August 13th, OCTA will be hosting a guided hike at the Aliso Canyon Preserve in Laguna Beach. All hikers 12 years and older are encouraged to attend this moderate to strenuous two-hour excursion. Space is limited, so be sure to register at http://preservingourlegacy.org/.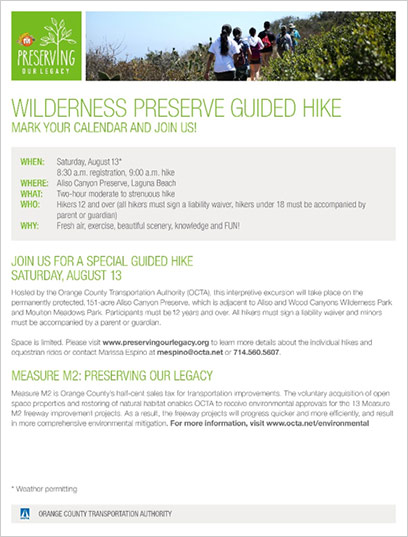 Laguna Hills: Shakespeare in the Hills-Macbeth

Ambition, desire, a descent into darkness- When the brave Macbeth returns home successful in battle, he receives a prophecy from a trio of witches that one day he will become King. Consumed by the promise of their words, and spurred to action by his wife, Macbeth takes drastic measures to obtain his destiny. PG-13 rating due to adult themes and content. This event will take place on August 6th from 7:00PM-9:00PM at the Community Center & Sports Complex located on 25555 Alicia Parkway, Laguna Hills, CA. The cost for this event is $10 per person, children ages 12 & under are free, and tickets can be purchased on the day of the show. For more information click here.

Laguna Niguel: Summer Concert-Stone Soul

Come join the fun with Stone Soul, motown and soul band! Free shuttle service from 5:30-9:15pm. Park at City Hall located at 30111 Crown Valley Pkwy. Food available for purchase (food vendors subject to change without notice). For the safety of others...please no scooters, skateboards, roller blades, pets or smoking in the event area. Alcohol is prohibited in all City Parks. Please bring low chairs/blankets. This event will take place on August 12th from 6:30PM-8:30PM at Crown Valley Park, Amphitheater 29751 Crown Valley Pkwy Laguna Niguel, CA. For more information click here.

Last but not least this week I:

Participated in the OCTA Regional Planning & Highways Board meeting.
Interviewed with the NBC4 Digital Team regarding the Orange County animal shelter. You can view the article here.
Participated in the TCA Mobility Working Group and Foothill/Eastern Mobility Ad Hoc meetings.
Attended the California Women's Leadership Association summer reception.
Participated in the CalOptima Board meeting.
Participated in the first Strategic Plan on Aging meeting, hosted by Alzheimer's OC.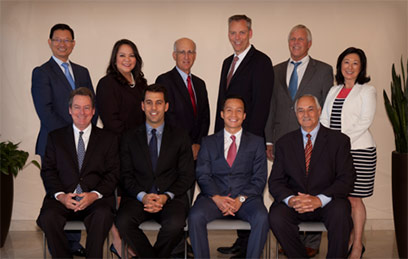 The CalOptima Board members.

My Staff:

Presented a certificate of recognition in honor of the RedNight ribbon cutting in Aliso Viejo.
Presented a certificate of recognition in honor of the Pearl Zimmerman ribbon cutting in Dana Point.
Presented a certificate of recognition in honor of the Snow Heaven ribbon cutting in Lake Forest.
Toured the Friendship Shelter in Laguna Beach.
Met with representatives from Laura's House.
Attended the OC Forum's Luncheon Program at Angels Stadium.
Attended the Laguna Niguel Government Affairs Committee meeting.
Attended the OCBC Economic Development Forum.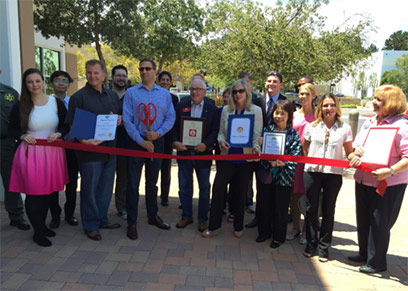 The RedNight ribbon cutting in Aliso Viejo.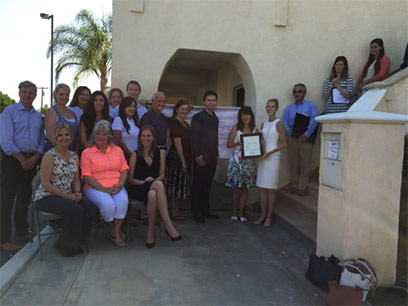 Presenting a certificate to Pearl Zimmerman, M.D., at the ribbon cutting for her functional and integrative medicine practice.

South County Elected Officials in the Community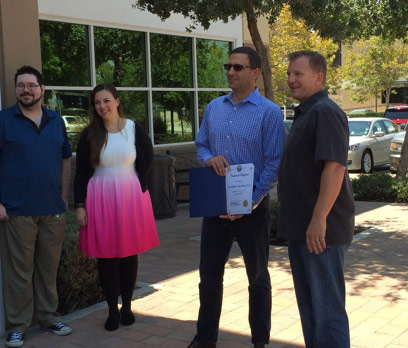 Aliso Viejo Mayor Mike Munzing presenting a certificate at the RedNight ribbon cutting.

For questions or comments regarding Supervisor Bartlett's E-Newsletter please contact the Supervisor's office staff at: (714) 834-3550 or Tanya.Flink@ocgov.com.