Fifth District Dispatch

Welcome to the Fabulous Fifth District Dispatch!

Thank you for subscribing to my electronic newsletter. My weekly newsletter includes information from County departments, regional boards I represent, transportation highlights and upcoming events in South County.

Please add me on Twitter @OCSupBartlett and Facebook @SupervisorLisaBartlett to receive regular social media updates.

It is my honor to represent you!

Sincerely,

Lisa A. Bartlett

OC Moves

Celebration of Major Milestone for the La Pata Extension Project

La Pata Avenue is now open to vehicular traffic! To celebrate this major milestone, my office in conjunction with Orange County Public Works and Inside the Outdoors Foundation held a La Pata Gap Connector Ribbon Cutting Celebration. Thousands of people came to celebrate with us and enjoyed the classic car show, vendor booths and walking on the road before it opened to traffic.

I want to thank the ribbon cutting speakers who comprehensively spoke to the history and regional benefits of this historic South County infrastructure project. The speakers included:

Congressman Darrell Issa
Senator Pat Bates
San Clemente Council Member Chris Hamm
San Juan Capistrano Mayor Pro Tem Kerry Ferguson
OCTA Chair and San Clemente Council Member, Lori Donchak
OC Public Works Director, Shane Silsby
Inside the Outdoors VP, Manny Kiesser
Outlets at San Clemente CEO, Steve Craig
The La Pata Gap Connector connects communities from the canyons the coast. The North-South redundancy to the I-5 benefits residents, the business community, visitors and the environment. Please continue to stay tuned as the next phases of the project are underway. For more information, please visit lapata.ocpublicworks.com.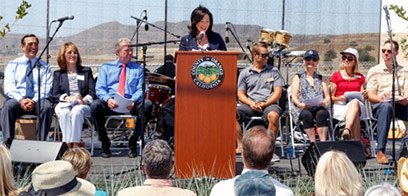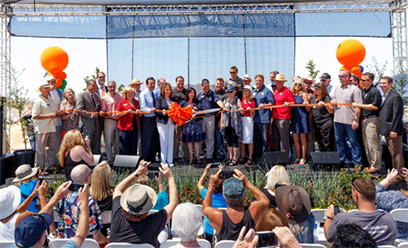 To view a short highlight video, please click here. To see a photo album of the event, please click here.

REMINDER 14 Hour I-5 South County Ramp Closures

Orange County Transportation Authority will be transitioning southbound traffic onto the new I-5 bridge over Avenida Pico. Northbound traffic will remain unchanged.

The switch will require significant lane reductions southbound on the I-5 freeway between 10pm Friday, Aug. 19 and noon Saturday, Aug. 20. The southbound lane reductions will be between Avenida Vista Hermosa and Avenida Palizada.

During that time crews will be grinding pavement, laying new pavement and restriping the southbound freeway lanes and adjacent ramps. Please be advised to anticipate significant delays.

WHEN: 10pm Friday, Aug. 19, to noon Saturday, Aug. 20

One lane open: 10pm Friday to 8:30am Saturday
Two lanes open: 8:30am to noon Saturday
All lanes open: Noon Saturday
WHY: To allow crews to safely connect the existing southbound lanes with the newly constructed lanes and bridge over Avenida Pico, and to shift traffic over to those new lanes.

RAMP CLOSURES: The following ramps will be closed in conjunction with the freeway lane closure:

Avenida Vista Hermosa Southbound On-Ramp
Avenida Pico Southbound Off-Ramp
Avenida Pico Southbound On-Ramp
Avenida Palizada Southbound Off-Ramp

Capistrano Surfside Inn Pedestrian Bridge Removal & Crosswalk Installation Update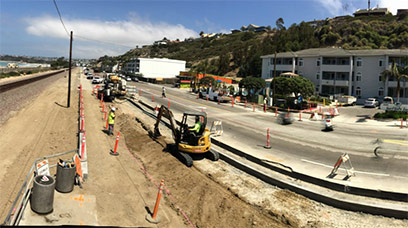 OC Public Works contractors will perform pavement asphalt work on Coast Highway between Doheny Park Road and Palisades Drive. On Saturday, August 20th from 7 AM to 4 PM. A one lane closure in each direction on Coast Highway will continue to be in effect within the project area.

This work will be concurrent with Caltrans work on the Southbound I-5. Additional delays may be experienced. Please plan accordingly.

Dana Point Harbor

Traffic Alert: Street Improvement Project

Please be aware, street improvements will be taking place around the Dana Point Harbor as a part of the revitalization process. Between August 15th and August 26th, plan ahead for construction-related congestion, and use caution around work crew. See the flyer below for details.

Dana Point Trolley & Harbor Shuttle

Thanks to the City of Dana Point, Dana Point Trolley service has been extended into the Harbor! Trolley service will run through Labor Day. Visit www.dptrolley.com for more details about the route.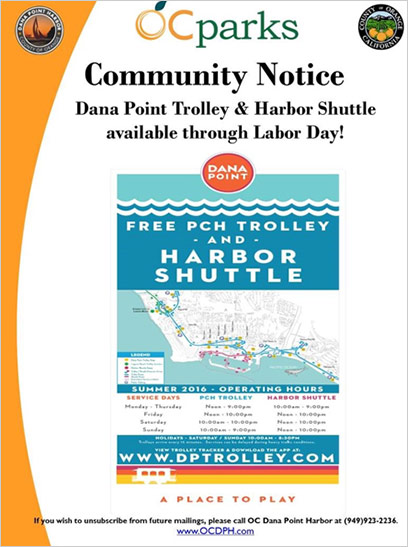 Click on the image above to view a PDF version.

Save the Date: Dana Point Harbor 50-Year Time Capsule Celebration

Mark your calendars for Monday, August 29, to attend a special historic event to celebrate the unveiling of the Dana Point Harbor 50-Year Time Capsule. In addition to the unveiling, there will be a special BBQ dinner to follow. Don't miss out! Be sure to purchase your BBQ dinner tickets in advance here. See the flyer below for details. For more information, please visit www.danapointharbor.com.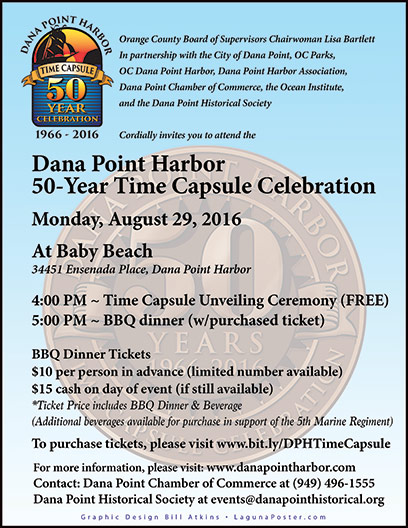 Click on the image above to view a PDF version.

County Connections

Orange County Sheriff's Department: DUI Enforcement Operations Planned this Weekend

Deputies from the Orange County Sheriff's Department's DUI Enforcement Team will be deploying this weekend to stop and arrest alcohol and drug-impaired drivers as part of the Department's ongoing traffic safety campaign. DUI Saturation Patrols will deploy on Friday, August 19 between the hours of 7 p.m. and 3 a.m. in the cities of Laguna Hills, Laguna Niguel, Laguna Woods and Aliso Viejo.

Over the course of the past three years, DUI collisions have claimed 21 lives and resulted in 497 injury crashes harming our friends and neighbors. In addition to the pain and suffering of those immediately affected, a DUI can impact the economy. Conservatively, a fatality has a $1.4 million impact, an injury $70,000, and a crash that only damages property averages nearly $9,000.

If you're drinking and driving, law enforcement will find and arrest you. No warnings, no excuses. The only way to truly avoid a DUI is to drive sober.

There are many ways to get home safely after drinking, and driving isn't one of them. Designate a sober driver ahead of time, or call a friend or family member. You could also use public transportation, call a taxi, or use ride-share service. The cost for a fare is nothing compared to a $10,000 DUI or the cost of someone's life, and the "inconvenience" of not driving your own car home is nothing compared to the inconvenience of spending time behind bars.

Funding for this program is from a grant from the California Office of Traffic Safety, through the National Highway Traffic Safety Administration. Report Drunk Drivers, Call 911.

OC Waste & Recycling: Local Young Artist Joins Eco Challenge Poster Contest Hall of Fame

Congratulations to Mission Viejo resident, Elisa Sirin, age 13. She is the 2016 Eco Challenge Poster Contest winner representing the Fifth District. The Eco Challenge contest is sponsored by OC Waste & Recycling in partnership with Discovery Cube Orange County and Angels Baseball. This year's contest theme is to promote the eco-friendly benefits of recycling food and green waste.

Why is important to recycle food and green waste in Orange County? Organic waste accounts for more than a third of the material in California's waste stream. Collecting and processing organic materials to meet new mandates will change how we manage waste within our homes and contribute to bigger change. For information on playing your part, visit CalRecycle.

Elisa was chosen from more than 400 total contestants and will be recognized in a special on-field presentation prior to the Angels game on Friday, September 9th. In addition, Elisa will serve as an honorary Bat Kid at an Angels game. Come to the game on September 9th and cheer her on!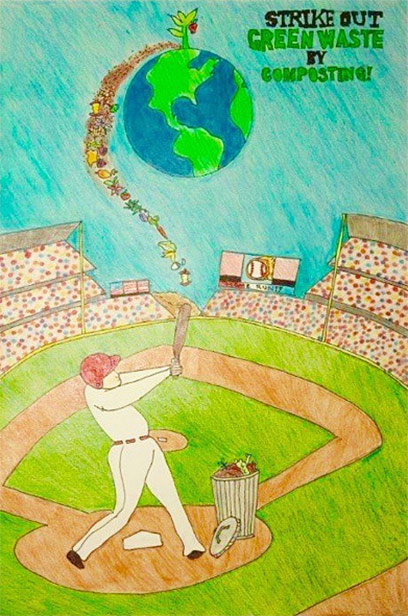 John Wayne Airport: San Clemente Artist's Paintings on Display

From August 16 through October 13, "Wired," a series of industrial-themed paintings by Ruth Yuhas, will be on display at John Wayne Airport (JWA) as part of JWA's Community Focus Space Program (CFS). These paintings can be viewed at the Departure (upper) Level adjacent to Baggage Carousels 1 and 4.

"Ruth Yuhas' talent for blending different styles of painting gives us an original perspective on how we should view art," said Board Chairwoman Lisa Bartlett. "Her natural curiosity shines through in her work and it is very clear that her relationship with her craft is very honest and pure."

Ruth's experimental work is always in a state of evolution. Her unique use of acrylic paints and a clear urethane finish have made her style of painting a trademark. In 2012, she created the Ruth Yuhas 5x5x5 Art Challenge, in which she painted 125 paintings in 25 days.

Yuhas, a San Clemente native, offers a dreamlike and fresh perspective to otherwise bland facets of landscapes, such as power lines and telephone poles. Yuhas' background in architecture studies at Chaffey College in Rancho Cucamonga allows her to combine a talented eye for detail and the abstract themes produced by one gifted with a vivid imagination.

To learn more about JWA's Art Programs, click here.

OC Animal Care/Pet of the Week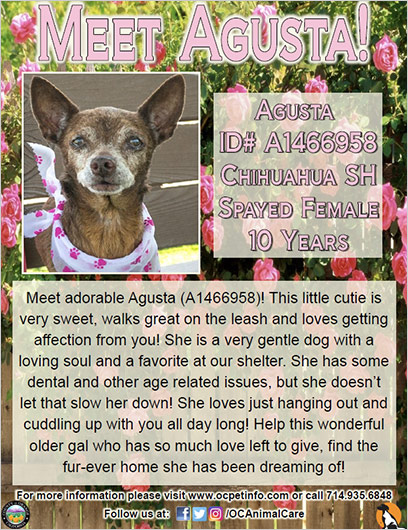 Click on the image above to view a PDF version.

Rabbitat Grand Opening

On Saturday, August 20th, you are invited to the Orange County Animal Shelter to celebrate the much anticipated Rabbitat Grand Opening! From 11am – 1pm, you can learn about proper rabbit care, enjoy light refreshments, and adopt a bunny of your own at a discounted rate. See the flyer below for more details.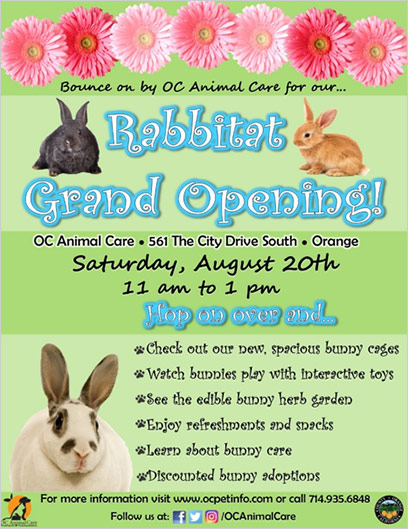 Click on the image above to view a PDF version.

Out and About South County

Aliso Viejo/Laguna Niguel Relay for Life

This Saturday, August 20th, I will be attending the joint Aliso Viejo/Laguna Niguel Chamber's Relay for Life event. I am very excited; I cannot wait to meet all the participants and give the opening remarks at 10am. This annual event will take place from 10am – 10pm at Niguel Hills Middle School (29070 Paseo Escuela, Laguna Niguel, CA). For more information and to sign up, click here.

Dana Point: Coastal Clean Up Day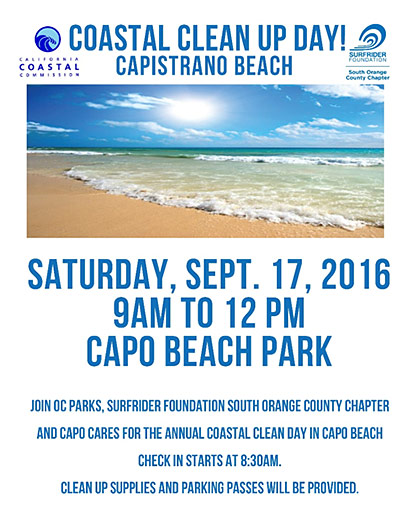 Lake Forest: Anniversary Concert

Get ready to celebrate the City of Lake Forest's 25th Birthday with a special concert featuring Men Without Hats. They told the world "You can dance if you want to" 30 years ago – and we did. Come out for a night of dancing and celebrating! The concert is on August 21st from 5:00pm-7:30pm at the Sports Park (28000 Rancho Pkwy). For more information click here.

San Juan Capistrano: Nature Walk

Join the Park Ranger for a 1-mile nature hike in the beautiful Bell Canyon area of Caspers Wilderness Park (33401 Ortega Hwy). This hike lasts approximately one hour and is suitable for all ages. Meet at the Old Corral Day Use Area. Hikes are available weekly at 8:00am, so come try it out this Sunday August 21st! The hike is free, but there is a $5 per vehicle parking fee. For more information click here.

Last but not least this week I:

Met with the members of the Orange County Grand Jury for a meet and greet session.
Participated in the Procurement Subcommittee meeting.
Interviewed with Dawn Kamber of KSBR 88.5 news radio.
Participated in the OCTA Environmental Oversight Committee meeting.

My Staff:

Presented a certificate of recognition in honor of the Islands ribbon cutting at The Shops at Mission Viejo.
Worked with OC animal shelter staff and one of its rescue partners to facilitate the successful rescue of four special needs dogs.

South County Elected Officials in the Community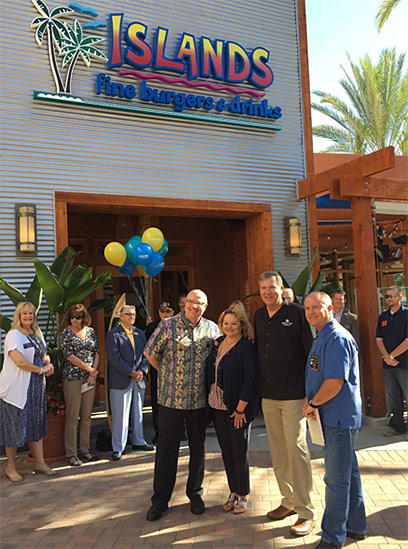 Mission Viejo Mayor Pro Tem Wendy Bucknum and Councilman Greg Raths pose at the Islands ribbon cutting.

For questions or comments regarding Supervisor Bartlett's E-Newsletter please contact the Supervisor's office staff at: (714) 834-3550 or Tanya.Flink@ocgov.com.