Dana Point Harbor

50 Year Time Capsule Celebration a Success!

This past Monday, I had the great pleasure of hosting the Dana Point Harbor's 50 Year Time Capsule Celebration at Baby Beach. Hidden deep inside a rock placed at the beginning of the harbor's construction, the time capsule sat almost unnoticed for 50 years as the harbor grew around it. To honor this historic event, we held our public unveiling ceremony exactly 50 years to the day of this original event. The celebration included a display of the items in the time capsule, remarks from local and state representatives, a historical presentation, and a BBQ dinner. A number of attendees were recognized, as they had been present at the first time capsule celebration, 50 years ago. Some even brought their original tickets, preserved over the years, to redeem their free dinner. A special thank you to the many Dana Point Harbor Association restaurants that participated and honored this 50-year-old dinner voucher! I would also like to thank the sponsors, the City of Dana Point, the Dana Point Chamber, the Dana Point Historical Society, and all the County staff who worked so diligently to make this event a remarkable success.

The items in the time capsule represent our history and serve as a testament to the tremendous progress we have made. Further, the event itself confirms our strong sense of community and pride for our local culture. There was an overwhelming number of attendees who came out to show their support and be a part of history. Many were local, though some former Dana Point citizens had traveled across the country to participate in this momentous occasion.

For those who were not able to attend, on September 27th we will be hosting a special documentary screening which tells the story of the time capsule and its unearthing process. We will also have bags and programs for distribution. You can also view a digital version of the program HERE.

Cheers to 50 years of the Harbor and many more!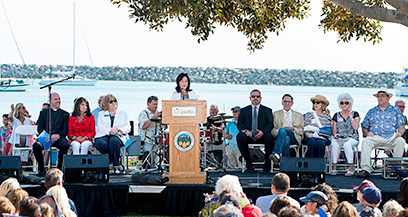 8th Annual South County Veterans Resource Fair

On Tuesday, September 6th, my office, along with Saddleback College, OC Veterans Service Office, and Strength in Support will host the 8th Annual South County Veterans Resource Fair from 10 AM to 1 PM. Come early at 9:30 AM for complimentary doughnuts and coffee, and stay for the civic engagement workshop and various resources for veterans and their families. Admission and parking are free. See the flyer below for more information.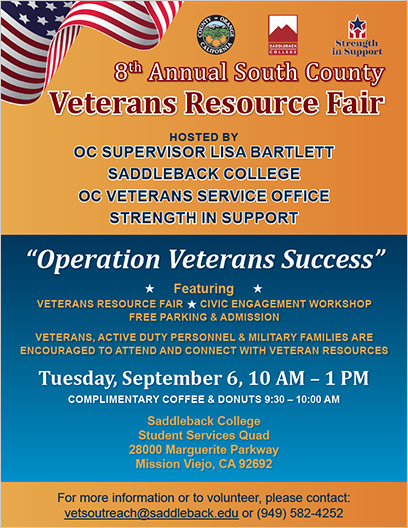 Click on the image above to view a PDF version.

Dana Point Trolley & Harbor Shuttle

Thanks to the City of Dana Point, Dana Point Trolley service has been extended into the Harbor! Trolley service will run through Labor Day. Visit www.dptrolley.com for more details about the route.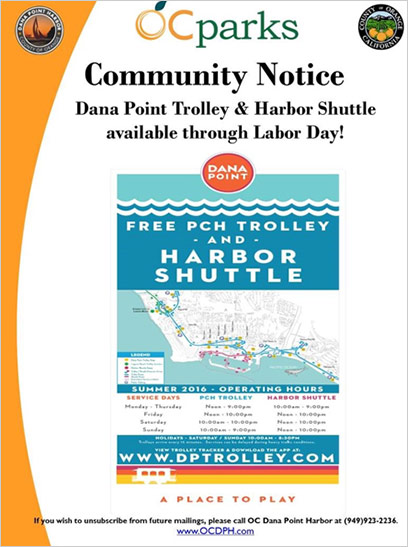 Click on the image above to view a PDF version.

County Connections

John Wayne Airport: Labor Day Weekend Travel Tips

John Wayne Airport (JWA) anticipates a busier-than-normal travel period from Thursday, September 1 through Tuesday, September 6 during the Labor Day holiday weekend. More than 165,000 passengers traveled through JWA during the same period in 2015 with the busiest travel days being the Thursday and Friday before and the Tuesday following Labor Day.

"Even during the busiest travel periods, John Wayne Airport offers a convenient and stress-free travel experience," said Board Chairwoman Lisa Bartlett. "Our world-class airport is known for its short security lines, friendly staff and superior guest amenities."

Travel Tips:

All passengers flying out of JWA are encouraged to arrive 90 minutes to two hours before the scheduled departure time for domestic flights and three hours for international flights to find parking, check luggage and go through the security screening checkpoint. Passengers who are members of TSA Pre✓™ can expedite the screening process in Terminals A, B and C.


Passengers are allowed one small carry-on bag plus one personal item as long as the carry-on bag fits airline dimensions. Check with individual airlines for specifics. For helpful information about the 3-1-1 liquids rule for carry-on bags and other travel tips from the Transportation Security Administration (TSA) please visit the TSA website.


Travelers are encouraged to be aware of their surroundings and report questionable objects or activities, "If You See Something, Say Something™." To report a suspicious object or activity in the Riley Terminal, dial 0 from a white courtesy phone to reach an operator, or dial 2-5000 to reach Airport Police Services or notify an Airport employee or a uniformed officer. Guests may also dial 949-252-5200 from a mobile device.
Parking Tips:
Curbside Valet Parking for $30 per day, located on the Departure (upper) Level between Terminals A and B, or in front of Terminal C.


Parking Structures A1, A2, B2 and C are located adjacent to and directly across from the Riley Terminal at a rate of $2 per hour and $20 per day, with the first 15 minutes being free for those dropping off and picking up passengers. Off-site Main Street Parking Lot located at 1512 Main St., Irvine, for $14 per day with free shuttle service to/from the Riley Terminal every 15 minutes.


Drivers picking up passengers at the Airport are encouraged to utilize the Cell Phone Waiting Lot or the 2-hour parking spaces located on the lower level of Parking Structures A1, B2 and C. Access to Terminal parking structures is available from the Departure (upper) Level only.


Color-coded and numbered columns along the white curb on the Arrival (lower) Level roadway make meeting arriving passengers easy. Column 14 is also a designated JWA Yellow Cab pickup location for Terminal C.


Transportation Network Companies Uber, Lyft and Wingz utilize the color-coded and numbered columns to pick up passengers curbside on the Arrival (lower) Level roadway.

For more Airport travel tips, visit ocair.com. Also visit the TSA website for a list of frequently asked questions.

OC Sheriff's Department: This Labor Day, Drive Sober or Get Pulled Over

This Labor Day weekend, families and friends will be celebrating the end of the summer. Sadly, this festive time has also become a dangerous time for America's roads, as many drunk drivers get behind the wheel after celebrating. For this reason, the Orange County Sheriff's Department is partnering with the National Highway Traffic Safety Administration to stop drunk drivers and help save lives.

The high-visibility national enforcement campaign, Drive Sober or Get Pulled Over, runs August 19-September 5, 2016. During this period, increased national messaging about the dangers of driving drunk, coupled with sobriety checkpoints and increased officers working DUI Saturation Patrols on the road, aim to drastically reduce drunk driving on our roads.

According to NHSTA, on average, over 10,000 people died each year (2010 to 2014) in drunk-driving crashes nationwide while California recorded 882 deaths. During the 2014 Labor Day holiday weekend (6 p.m. August 29 – 5:59 a.m. September 2), 40 percent of the fatalities in traffic crashes involved drunk drivers, which was the highest percentage over the five years 2010 to 2014. And nighttime proves to be the most dangerous time to be out on the roads: During the 2014 Labor Day holiday period, 83 percent of drunk-driving crash fatalities occurred between 6 p.m. and 5:59 a.m. – as compared to half of all drunk-driving crash fatalities throughout the rest of that year.

"People need to understand that drunk driving is not only deadly, but it is illegal," said Sgt. R. Wert of the Orange County Sheriff's Department Traffic Bureau. "Drunk driving is a massive problem in the United States, with more than 10,000 people dying annually. Drivers need to pay attention to their own driving, but also to others on the road who could be driving drunk. If you think you see a drunk driver, report them – call 911."

The reality is that people aren't invincible. Of the 9,967 people who were killed in impaired-driving crashes in 2014, 64 percent were the drunk drivers themselves. Those 6,391 drunk drivers thought they would make it to their destinations, but they didn't.

"This is important to remember: do not trust yourself when you drink," said Sgt. R. Wert. "You may think you aren't drunk, but law enforcement will know you are. Law enforcement officers' skills in detecting and identifying drunk drivers have never been better. They will spot you and arrest you."

OCSD reminds everyone:

Plan a safe way home before the fun begins.
Before drinking, designate a sober driver.
Drivers are encouraged to download the Designated Driver VIP, or "DDVIP," free mobile app for Android or iPhone. The DDVIP app helps find nearby bars and restaurants that feature free incentives for the designated sober driver, from free non-alcoholic drinks to free appetizers and more. The feature-packed app even has social media tie-ins and even a tab for the non-DD to call Uber, Lyft or Curb.
If you know someone who is about to drive or ride while impaired, take your friend's keys and help your friend make other arrangements to get to where he or she is going safely
As the summer winds to an end, remember that there's no excuse for drunk or impaired driving. Drive Sober or Get Pulled Over. Funding for the extra DUI enforcement operations is a grant from the California Office of Traffic Safety, through the National Highway Traffic Safety Administration.

OC Sheriff's Department: September is National Emergency Preparedness Month

September is National Emergency Preparedness Month and the Orange County Sheriff's Department's Emergency Management Division would like to encourage county residents to prepare and plan for emergency and disaster events. The time is now to make a commitment to be a survivor.

To prepare for an emergency, follow these three steps:

Get a Kit: Keep enough emergency supplies on hand for you and those in your care, including water, non-perishable food, first aid, prescriptions, flashlights and a battery-powered radio. For a complete checklist of supplies, visit www.ReadyOC.org.
Make a Plan: Discuss, agree on, and document an emergency plan with those in your care. For sample plans, see www.ReadyOC.org. Work with your neighbors, colleagues and others to build a community network of resilience.
Be Informed: Information is available to assist you from federal, state and local resources. You can find preparedness information by:


Signing up for emergency alerts and notifications at www.AlertOC.com.
Accessing www.ReadyOC.org to learn what to do before, during, and after an emergency.
Contacting your local emergency management department and ask for a tour and information about preparedness.
As part of National Emergency Preparedness Month, the Orange County Sheriff's Department Emergency Management Division will be giving emergency backpacks filled with more than 283 items that will contain supplies for safety and self-sufficiency for one person for up to six days, or two people for up to three days. For more information and the opportunity to win one of the emergency backpacks, visit the Orange County Sheriff's Department, CA Facebook page https://www.facebook.com/OCSheriff/ throughout the month of September.

OC Animal Care/Pet of the Week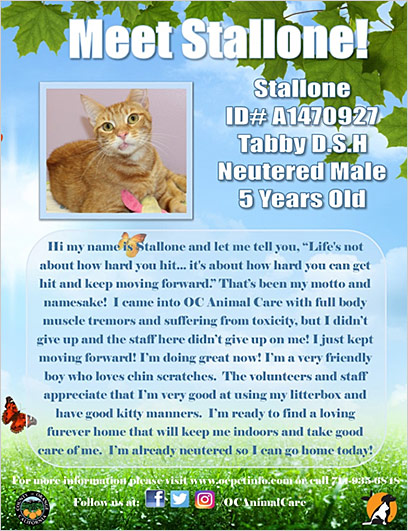 Click on the image above to view a PDF version.

Out and About South County

Dana Point: Headlands Nature Walk

This walk focuses on the plants and the animals that can be found on the Dana Point Headlands. It is designed to introduce participants to our local plant communities, notably Coastal Sage Scrub, and to teach them about the wildlife that relies on it! Participants will learn specifically about our endemic (found only in Southern California) rare and endangered plants and animals.

The Headlands Nature Walk occurs on the first Saturday of each month. The walk begins at the Nature Interpretive Center (34558 Scenic Drive, Dana Point, CA 92629) at 9 AM and is approximately 1.5 to 2 hours long, covering about 1.5 miles. For more information and to RSVP, click here.

Dana Point: Tall Ships Festival

September 9-11th, come celebrate California's rich maritime history. The Ocean Institute annually hosts a fleet of historic tall ships that sail into Dana Point Harbor. This extraordinary event takes place each year the second weekend in September. History comes alive as crews from each ship, along with historical reenactors, engage the public in cannon battles, pirate adventures, mermaid encounters, ship tours, and much more. For more information, click here.

Dana Point: Coastal Clean Up Day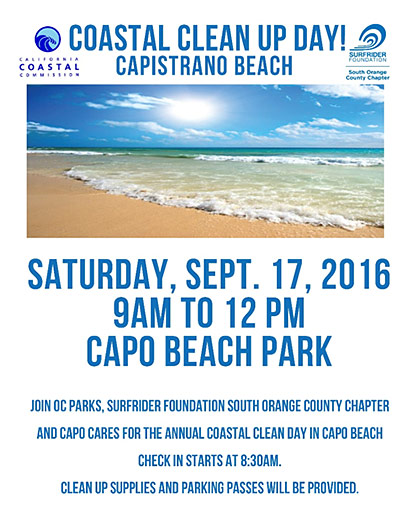 Laguna Beach: Composting Workshop

The City's solid waste hauler, Waste Management, will offer four free composting classes to residents planned for 2016. This event is the fourth class scheduled. Compost bins and worm bins will be available for purchase during the classes at a discounted price. This event is Saturday, September 10th at 10:00 AM to 11:00 AM at Bluebird Park. For more information, click here.

Laguna Niguel: "Rule the Pool" Fridays

Enjoy a night of water volleyball, inter-tube races, diving board contests and music provided by a D.J. (Sorry, adults not invited!). Participants may not leave until 10pm, unless released to a parent. Snacks are sold for $1 each. Admission sales end at 8:30pm. This event is September 2nd starting at 8:00 PM at the Crown Valley Park pool, for more information, click here.

Mission Viejo: Mission Armed Forces Football Game

Mission Viejo High School Football and the City will come together to pay homage to veterans, active military and Gold Star families during an annual tribute football game. This event is Friday, September 2nd from 8:00 PM to 10:00 PM at Mission Viejo High School. Tickets are $10 for adults and $5 for children. For more information, click here.

San Clemente: 16th Annual SC Open Skate Contest

The Friends of San Clemente Beaches, Parks and Recreation Foundation and the City of San Clemente present the 16th Annual SC Open Skateboard Contest. The SC Open will take place at the San Clemente Ralphs Skate court and is open to males and females of all ages. The event will start at 8:00 AM on September 10th. Pre-registration is open now ($35 a skater). For more information, click here.

Last but not least this week I:

Participated in the Special Orange County Board of Supervisors Board meeting.
Hosted the Dana Point Harbor 50 Year Time Capsule Anniversary Celebration (see article above for details).
Participated in the OCTA Regional Planning and Highways meeting.
Participated in the CalOptima Board meeting.
Participated in the OCFA special meeting.

My Staff:

Presented a Certificate of Recognition in honor of the Community Bank ribbon cutting in Laguna Niguel.
Presented a Certificate of Recognition in honor of the San Clemente Dental Care ribbon cutting in San Clemente.
Toured the Obria Clinic in Mission Viejo.
Attended the Water Advisory Committee of Orange County meeting.
Participated in the "Ending the Cycle of Homelessness Through Crisis Intervention and Collaborative Community Partnerships" Webinar.
Attended the Laguna Niguel Government Affairs Committee meeting.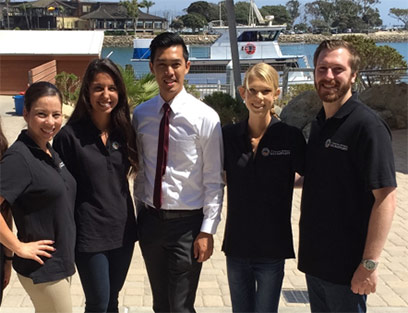 My staff getting ready to greet the attendees at the Ocean Institute for the Dana Point Harbor Time Capsule 50 Year Celebration.

South County Elected Officials in the Community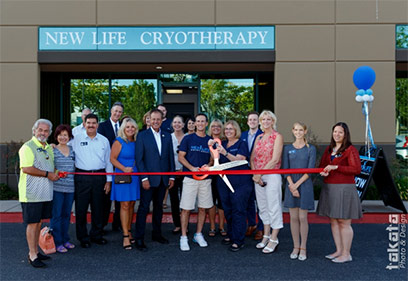 Mayor Tony Beall and Councilman Brad McGirr at last Friday's New Life Cryotherapy ribbon cutting in Rancho Santa Margarita.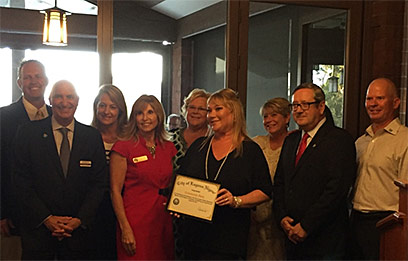 Mayor Laurie Davies at the Community Bank ribbon cutting in Laguna Niguel, hosted at the El Niguel Country Club.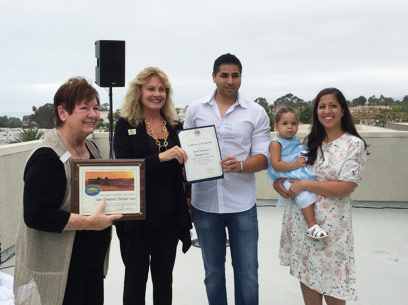 San Clemente Mayor Pro Tem Kathleen Ward presenting a Certificate of Recognition at the San Clemente Dental Care ribbon cutting.

For questions or comments regarding Supervisor Bartlett's E-Newsletter please contact the Supervisor's office staff at: (714) 834-3550 or Tanya.Flink@ocgov.com.