Patriot Day

This Sunday marks the fifteenth anniversary of the tragic 9/11 terrorists attacks. Despite the years, I know we all remember that day with perfect clarity: where we were, the shock we felt. The memory of that day will stay with us for the rest of our lives, and despite the sadness, fear, or anger we may feel, it is important that we never forget.

Never forget the brave firefighters and police officers on duty that day, the sacrifices they made to help others. Never forget the loved ones we lost, and their families and friends who mourn them. Never forget how our country rallied together with national pride and the power of our unity. Many cities are holding ceremonies to honor this day and all those affected. I encourage you to attend. Our strength in community bolsters the strength of our nation. On Sunday, please take a moment to reflect on this day, and remember to cherish the freedom of our great nation.

Dana Point Harbor

Dana Point Harbor Time Capsule Documentary Film Premiere – Sept. 27

Please join us September 27 from 5:30 PM to 8 PM at the Ocean Institute (Samueli Hall) for the Dana Point Harbor Time Capsule Documentary Film Premiere of: "The Rock, The Time Capsule, and The Harbor".

Fifty years ago on Monday, August 29, 1966, a rock-placing ceremony sponsored by the County of Orange, the Orange County Harbor District and local organizations marked the start of construction of Dana Point Harbor. The event took place at Doheny State Beach, during which a time capsule was sealed into a rock chosen from those that would form the breakwater.

Exactly fifty years later on Monday, August 29, 2016, the time capsule's contents were unveiled to an estimated 1500 attendees at a special celebration hosted by my office at Dana Point Harbor's Baby Beach, the new home of the time capsule rock. The event was presented by the County of Orange, OC Parks, the City of Dana Point, Dana Point Historical Society, Dana Point Chamber of Commerce, Dana Point Harbor Association, and the Ocean Institute.

On Tuesday, September 27, the world premiere of the Dana Point Harbor Time Capsule documentary film by Jonathan Morgan Jenkins will be held at the Ocean Institute. Don't miss this opportunity to see the amazing video that chronicles the story of "The Rock, The Time Capsule, and The Harbor" from the 1966 rock-placing ceremony to the 2016 unveiling celebration.

For more information, please see the flyer below, or contact the Dana Point Chamber of Commerce at (949) 496-1555 or Dana Point Historical Society at events@danapointhistorical.org.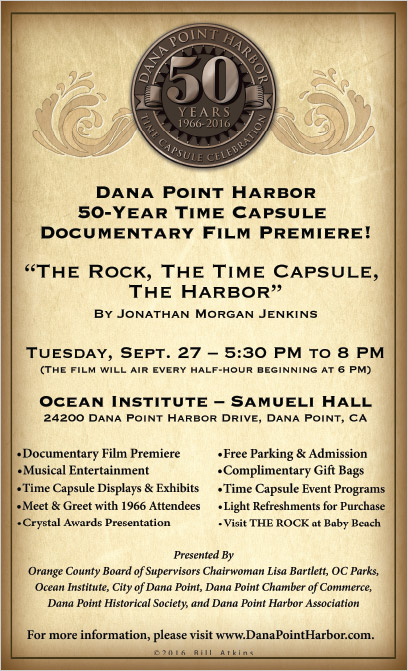 Click on the image above to view a PDF version.

OC Moves

91 Express Lanes and #1 General Purpose Lane Weekend Closures

OCTA in partnership with Caltrans is repaving the 91 Express Lanes along the SR-91 corridor between Orange and Riverside Counties. This project will require the closure of the 91 Express Lanes, and the #1 general purpose lane over a series of weekends beginning in September. Branded "The 91 Weekend Shift," repaving is scheduled to occur over 10 consecutive weekends, 5 weekends in each direction and 1 direction at a time. Paving will begin in the eastbound direction from about SR-55 to the county line. Once repaving is finished in the eastbound direction, crews will repave the 91 Express Lanes in the westbound direction, from about the county line to SR-55. The tentative schedule is below.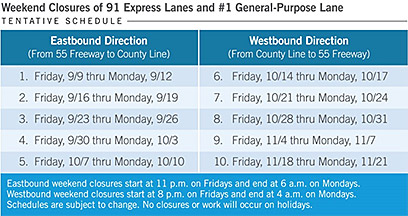 I encourage you to avoid traffic congestion by:

Avoiding the 91 Freeway between the 55 and 71 freeways,
Opting for alternative routes, and
Utilizing alternative modes of transportation.
For up-to-date information please visit the project website here.

Get Moving OC Public Forum

Tired of traffic? Mark you calendar for the second Get Moving OC Public Forum on October 5th! This collaboration between regional transportation agencies was created to find innovative solutions to Orange County's transportation challenges, and they want to hear from you, the commuter! Be sure to RSVP at www.getmovingoc.com. See you there!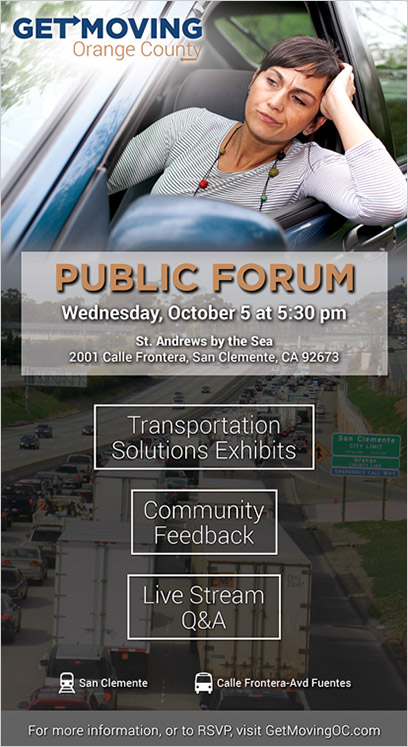 Plan Ahead: Improvements and Changes Coming to OCTA Bus Routes

OC Bus routes are changing. Beginning October 9, OCTA will roll out extensive changes to its bus system, including adding more-frequent arrivals and better connections. In some areas where ridership is low, some routes will be changed or discontinued. New community shuttles are on the way to assist and supplement discontinued service in some areas. Additionally, anytime, anywhere bus pass purchasing will be available through the OC Bus app. Also, the price of a Day Pass will drop from $5 to $4 for six months. Find out about these changes and how they may affect transportation to and from school at octa.net/2016BusPlan.

OC Waste & Recycling

What to Do With Hazardous Household Waste?

Knowing about proper disposal of household hazardous waste is important, both for the potential effects on our environment and the health and safety of your family. Examples of household hazardous materials that we no longer need include everyday products for our homes, yards and autos, such as drain cleaners, oil paint, motor oil, antifreeze, fuel, poisons, pesticides, herbicides and rodenticides and some types of cleaning chemicals. Also, items such as batteries, fluorescent lamps, lamp ballasts, smoke detectors and consumer electronics, including televisions, computers and cell phones are classified as hazardous household waste.

Today there are multiple avenues for proper disposal of household hazardous waste. Through our OC Waste & Recycling department, the County provides four free Household Hazardous Waste Collection Centers. In the Fifth District, the closest location is in San Juan Capistrano at the Prima Deshecha Landfill, 32250 Avenida La Pata. Click here to see how to access the Center from the new La Pata extension. When you visit, be sure to ask for a free battery bucket! If the County center is not convenient, many retailers now take back such items as paint, batteries, fluorescent tubes, halogen bulbs, cell phones and more.

Whether you use an OC Waste & Recycling facility or a retailer, I encourage you to become knowledgeable about hazardous household waste and do your part to keep it out of the landfills through proper disposal. Please call OC Waste & Recycling at 714-834-4000 for more information or if you have questions.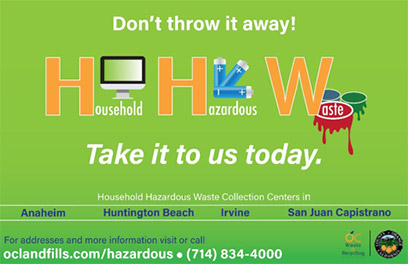 OC Animal Care/Pet of the Week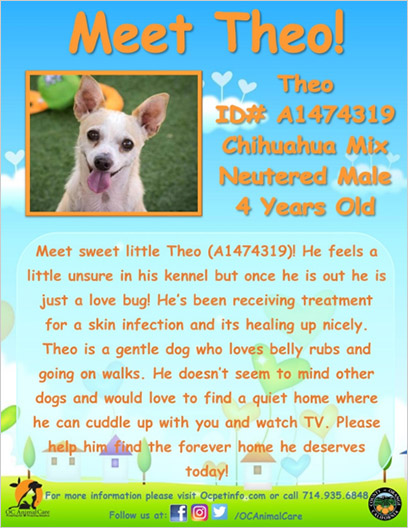 Click on the image above to view a PDF version.

Forever Friends Special Adoption Event with Angels Pitcher, Garrett Richards

On Saturday, September 17th, the Orange County Animal Shelter is hosting a special adoption event in partnership with the Angels Baseball Foundation. Find your "furever friend" and support the shelter by donating an item from the shelter's wish list. Those who bring a donation between 11AM – 12PM will have the opportunity meet Garret Richards! What's more, from 11AM – 3PM, the shelter is offering discounted adoptions for those wanting to give a shelter pet a new, loving home. Don't miss out on this great event; see the flyer for more details!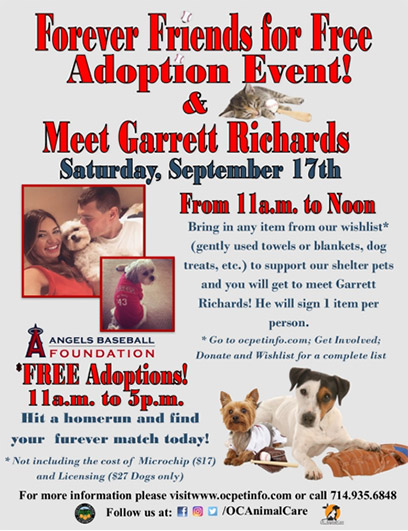 Click on the image above to view a PDF version.

Out and About South County

Aliso Viejo: State of the City

Join Mayor Mike Munzing, City, and business leaders for an enchanting evening on Soka University's Athenaeum patio celebrating Aliso Viejo's 15th anniversary and progress over the past years. This free event takes place from 6:30 to 830 PM on Thursday, September 15th and includes appetizers and a cash bar. For more information, click here.

Dana Point: Tall Ships Festival

September 9-11th, come celebrate California's rich maritime history. The Ocean Institute annually hosts a fleet of historic tall ships that sail into Dana Point Harbor. This extraordinary event takes place each year the second weekend in September. History comes alive as crews from each ship, along with historical reenactors, engage the public in cannon battles, pirate adventures, mermaid encounters, ship tours, and much more. For more information, click here.

Dana Point: Coastal Clean Up Day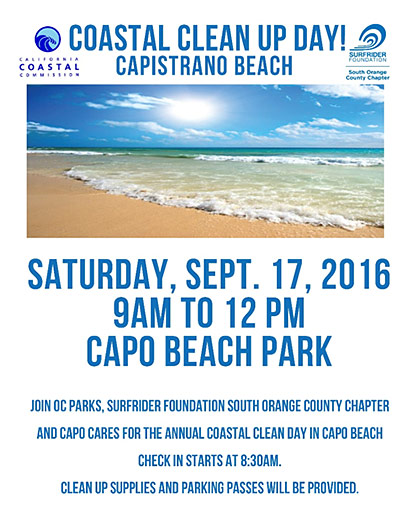 Laguna Beach: Composting Workshop

The City's solid waste hauler, Waste Management, will offer four free composting classes to residents planned for 2016. This event is the fourth class scheduled. Compost bins and worm bins will be available for purchase during the classes at a discounted price. This event is Saturday, September 10th at 10:00 AM to 11:00 AM at Bluebird Park. For more information, click here.

Lake Forest: 12th Annual Free Senior Resource Fair and Vaccination Clinic

All seniors 50 and older are invited to a FREE Resource Fair and Vaccination Clinic on Wednesday, September 14 from 10 am to noon at Lake Forest City Hall (25550 Commercentre Drive). The resource fair will include free samples and screenings such as thyroid, stroke, and bone density. Hearing tests and blood pressure checks will also be available. This event is a wonderful opportunity to receive info from several exhibitors on the health and wellness resources available to seniors.

Also on September 14th, the City of Lake Forest and Walgreens are partnering to offer free flu vaccinations to Medicare recipients and a minimal fee for non-recipients. Please bring your Medicare/Medical card. HMO and Kaiser members are not eligible for "free" vaccinations due to the carriers' requirement of recipients obtaining vaccinations through their offices.

Mission Viejo: Patriot Day

The City will host a simple solemn ceremony to honor the men, women and children who lost their lives and the heroes that responded to the catastrophic events of 9/11. This will take place on Sunday, September 11th from 11:00 AM – 1:00 PM at City Hall. For more information, click here.

Rancho Santa Margarita: Patriot Day Ceremony

Join the City of Rancho Santa Margarita on the National Day of Service and Remembrance as we pay tribute to those who lost their lives on September 11, 2001. This will take place on Sunday, September 11th from 4:00 – 6:00 PM at the Civic Center Plaza. For more information, click here.

San Clemente: 16th Annual SC Open Skate Contest

The Friends of San Clemente Beaches, Parks and Recreation Foundation and the City of San Clemente present the 16th Annual SC Open Skateboard Contest. The SC Open will take place at the San Clemente Ralphs Skate court and is open to males and females of all ages. The event will start at 8:00 AM on September 10th. Pre-registration is open now ($35 a skater). For more information, click here.

Last but not least this week I:

Co-hosted the 8th Annual South County Veterans Resource Fair at Saddleback College.
Participated in the TCA Foothill/Eastern Mobility Ad Hoc, Joint Executive Ad Hoc, and Joint San Juan Hills/Foothill/Eastern Board meetings.
Attended the 6th Annual Roses & Radishes Awards.
Spoke as the featured speaker at the Aliso Viejo Coffee Chat. We discussed eliminating Mello-Roos special taxes and issuing tax credits, regional transportation, and public safety.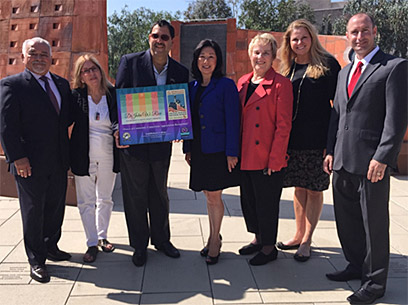 With Assemblyman Rocky Chavez, SOCCCD Trustee Terri Whitt, OCVAC Chair Bobby McDonald, SOCCCD Trustee Barbara Jay, Strength in Support Co-Founder Jill Boultinghouse, and Saddleback College VETS Coordinator Terence Nelson at the 8th Annual South County Veterans Resource Fair.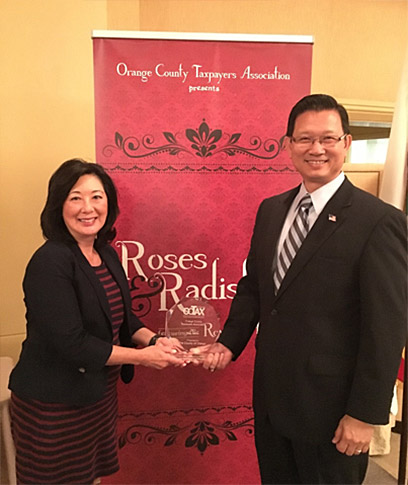 Proudly accepting the Roses Award with First District Supervisor, Andrew Do, at the OC Tax Roses and Radishes Awards. The County received this prestigious award for eliminating the Mello-Roos districts in South Orange County.

My Staff:

Presented a certificate of recognition at the Farmers Insurance ribbon cutting in Mission Viejo.
Presented Crystal Awards to Union Bank and Strength in Support at the 8th Annual South County Veterans Resource Fair at Saddleback College.
Attended a Dana Point Harbor Association meeting.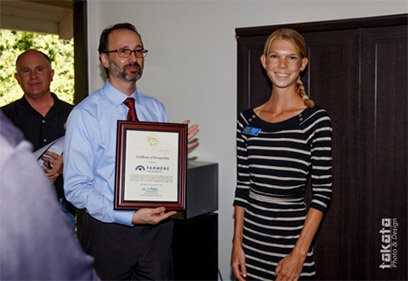 Presenting a Certificate of Recognition at the Farmers Insurance ribbon cutting.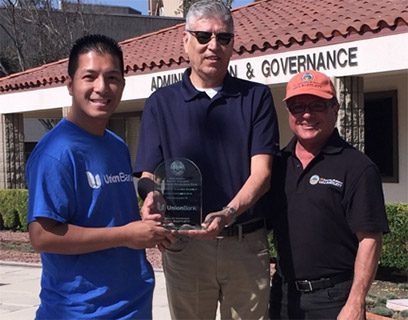 Presenting a Crystal Award to Union Bank at the South County Veterans Resource Fair.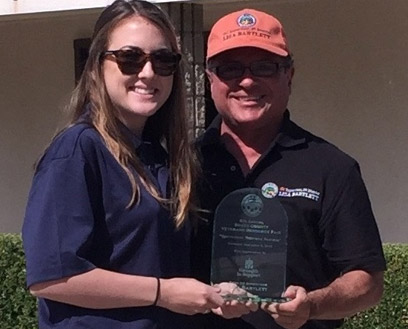 Presenting a Crystal Award to Strength in Support at the South County Veterans Resource Fair.

South County Elected Officials in the Community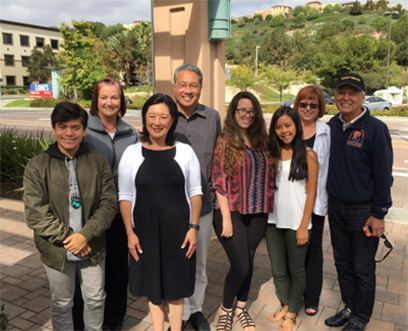 With Aliso Viejo Councilman Ross Chun (center) and attendees of the monthly community coffee chat.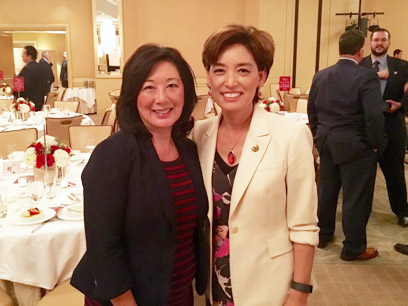 With Assemblywoman Young Kim (AD-65) at the OC Tax Roses and Radishes Awards.

For questions or comments regarding Supervisor Bartlett's E-Newsletter please contact the Supervisor's office staff at: (714) 834-3550 or Tanya.Flink@ocgov.com.