Fifth District Dispatch

2016 South County Water Expo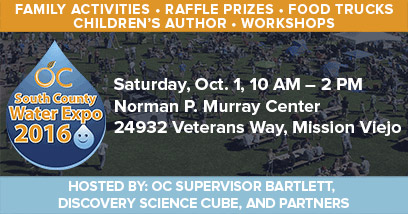 Next week, I will be hosting my inaugural South Orange County Water Expo in partnership with the DiscoveryCube OC and all of the water agencies in my district. The Water Expo is a family-fun educational event and will provide homeowners with resources to conserve water. Visit www.socwater.com for more details about the event or download the flyer.

For Homeowners:

Free consultation and resources on turf replacement
Presentations from Renowned Water Experts
Informative & Interactive Vendor Booths
Opportunities to Win Home Improvement Prizes
For Family & Children:
Educational Exhibits & Hands-On Displays
Face paintings
Fun Activities for the Whole Family
Food Trucks & Free Give-Aways
Featured Children's Author


Dana Point Harbor Time Capsule Documentary Film Premiere

Please join us September 27 from 5:30 PM to 8 PM at the Ocean Institute (Samueli Hall) for the Dana Point Harbor Time Capsule Documentary Film Premiere of: "The Rock, The Time Capsule, and The Harbor".

Fifty years ago on Monday, August 29, 1966, a rock-placing ceremony sponsored by the County of Orange, the Orange County Harbor District and local organizations marked the start of construction of Dana Point Harbor. The event took place at Doheny State Beach, during which a time capsule was sealed into a rock chosen from those that would form the breakwater.

Exactly fifty years later on Monday, August 29, 2016, the time capsule's contents were unveiled to an estimated 1500 attendees at a special celebration hosted by my office at Dana Point Harbor's Baby Beach, the new home of the time capsule rock. The event was presented by the County of Orange, OC Parks, the City of Dana Point, Dana Point Historical Society, Dana Point Chamber of Commerce, Dana Point Harbor Association, and the Ocean Institute.

On Tuesday, September 27, the world premiere of the Dana Point Harbor Time Capsule documentary film by Jonathan Morgan Jenkins will be held at the Ocean Institute. Don't miss this opportunity to see the amazing video that chronicles the story of "The Rock, The Time Capsule, and The Harbor" from the 1966 rock-placing ceremony to the 2016 unveiling celebration.

For more information, please see the flyer below, or contact the Dana Point Chamber of Commerce at (949) 496-1555 or Dana Point Historical Society at events@danapointhistorical.org.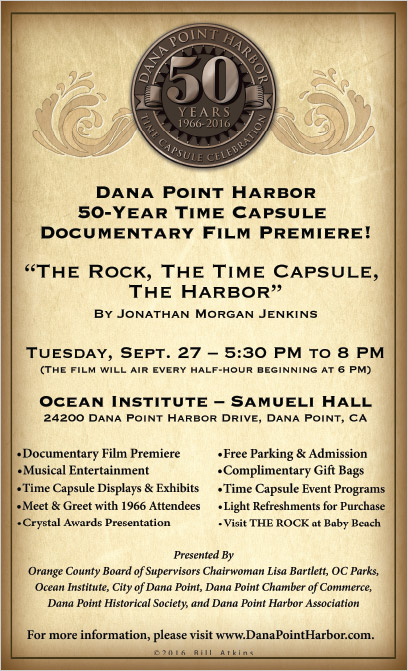 Click on the image above to view a PDF version.

Dana Point Harbor Adventures with Capt. Dave

I would like to highlight this video, produced by Capt. Dave's Dolphin Safari, which illustrates the wonders of our Dana Point Harbor. I hope you enjoy viewing our beautiful harbor and ocean, along with the amazing shots of whales close-up!

To experience whale encounters yourself, check out Capt. Dave's Dolphin Safari at http://www.dolphinsafari.com/.

Ocean Institute: Laguna Beach Million Dollar Home Raffle (and More!)

The Ocean Institute, a community-based non-profit located in Dana Point Harbor, has been teaching visitors about marine science and maritime history since 1977. The organization offers over 60 programs through its state-of-the-art ocean education center to accommodate the 250,000 students and adults that visit the facility each year. The Institute is hosting an on-going raffle, now through October 20th, to raise funds to support its educational programs and encourage good stewardship of our ocean and the environment. Prizes include South Coast Plaza gift certificates, dream vacations, luxury vehicles, and the grand prize, a lavish condominium in Laguna Beach. Tickets are $150 each and can be purchased by calling 949-627-8502. For more details and to see a full list of prizes, go to http://www.ocean-institute.org/homeraffle. Good luck!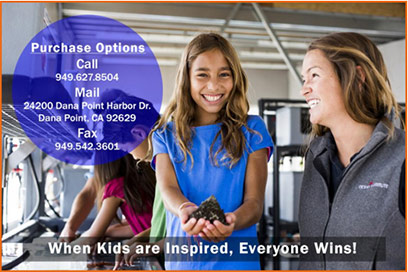 OCFA

Fraudulent Fire Inspections

This week, Anaheim Fire and Huntington Beach Fire received notices of business owners falling victim to fraudulent fire inspections. In order to keep the public aware and to assist our neighboring agencies, we will be posting information via social media on this matter. If you receive any calls regarding fraudulent fire inspections, please refer the caller to the local police department in the city where the incident occurred. Anaheim Fire and Huntington Beach Fire are working with their local police agencies on this issue. An information line has been established, 714-573-6215. To view the KTLA coverage of this issue, click here.

CalOptima

CalOptima Rated Top Medi-Cal Plan in California

CalOptima is California's top-rated Medi-Cal plan, according to the NCQA's Medicaid Health Insurance Plan Ratings 2016–2017. It is the third year in a row that NCQA has named CalOptima best overall in the state.

CalOptima received a score of 4 out of 5 — the highest score awarded to any Medi-Cal plan in California. Further, only 15 Medicaid plans of the 171 reviewed nationwide scored higher. The NCQA ratings are based on standardized, plan-reported data regarding health care quality and customer satisfaction.

NCQA assesses Medicaid plan quality based on 43 clinical measures related to both preventive care and treatments. Preventive measures report whether members get services to keep them healthy, such as well-child visits, immunizations and nutrition counseling. Treatment measures gauge whether members receive appropriate care in response to illnesses and chronic diseases, including diabetes and high blood pressure. NCQA also evaluates a plan based on nine customer satisfaction dimensions, such as getting care quickly and how well doctors communicate.

OC Moves

I-5 South County Improvements Update – Camino de Estrella Detour

Crews are preparing to move to the next stage of construction at one of the Camino de Estrella on-ramps to northbound I-5, part of the I-5 South County Improvements Project.

A weekend closure of the straight on-ramp to northbound I-5 is set to begin at 6 p.m. Friday, Sept. 30, and last until 5 a.m. Monday, Oct. 3. The closure will allow crews to do some work at the top of the ramp as well as shift traffic over to the newly constructed right side of the ramp.

The next stage of work there — expected to take up to three months — includes demolishing and reconstructing the remainder of the old ramp, and working on the auxiliary lane between the Camino de Estrella on-ramp and the PCH/Camino Las Ramblas off-ramp. For safety reasons, crews will install temporary concrete barriers to separate northbound freeway traffic from northbound on-ramp traffic to prevent weaving/merging.

That means motorists getting on the freeway at Camino de Estrella will be detoured to the Camino Las Ramblas exit, where they can access PCH or northbound I-5. Motorists who want to get off the freeway at Camino Las Ramblas will be detoured to northbound PCH, exiting at Doheny Park Road and then looping back onto southbound PCH, which connects with Camino Las Ramblas.

This temporary configuration/detour will be in place for up to three months.

For more information about the closure and traffic switch, please email southOC5info@octa.net or call 800-724-0353. Sign up for construction alerts and find out more about the project at www.octa.net/I5South.

91 Express Lanes and #1 General Purpose Lane Weekend Closures through Nov. 21

OCTA in partnership with Caltrans is repaving the 91 Express Lanes along the SR-91 corridor between Orange and Riverside Counties. This project will require the closure of the 91 Express Lanes, and the #1 general purpose lane over a series of weekends beginning in September. Branded "The 91 Weekend Shift," repaving is scheduled to occur over 10 consecutive weekends, 5 weekends in each direction and 1 direction at a time. Paving will begin in the eastbound direction from about SR-55 to the county line. Once repaving is finished in the eastbound direction, crews will repave the 91 Express Lanes in the westbound direction, from about the county line to SR-55. The tentative schedule is below.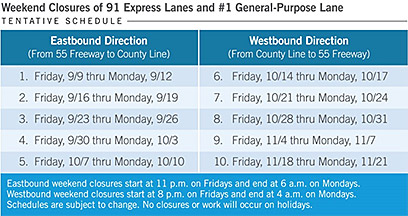 I encourage you to avoid traffic congestion by:

Avoiding the 91 Freeway between the 55 and 71 freeways,
Opting for alternative routes, and
Utilizing alternative modes of transportation.
For up-to-date information please visit the project website here.

Get Moving OC Public Forum

TCA is hosting a public forum in coordination with Caltrans, OCTA and other stakeholders – Get Moving Orange County – on Wednesday, Oct. 5 from 5:30 to 8:30 p.m. at St. Andrews by the Sea in San Clemente. This is the second in a series of meetings to address transportation mobility concerns in South Orange County. The forum will include stations explaining the 15 transportation package ideas as well as interactive discussions about transportation concerns in South Orange County. Be sure to RSVP at www.getmovingoc.com. See you there!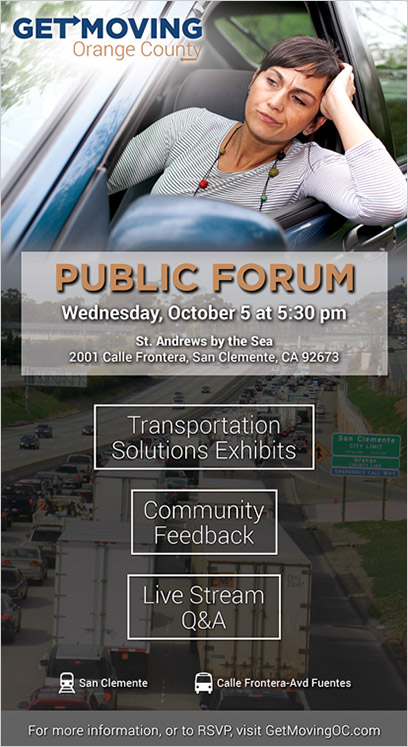 Plan Ahead: Improvements and Changes Coming to OCTA Bus Routes

OC Bus routes are changing. Beginning October 9, OCTA will roll out extensive changes to its bus system, including adding more-frequent arrivals and better connections. In some areas where ridership is low, some routes will be changed or discontinued. New community shuttles are on the way to assist and supplement discontinued service in some areas. Additionally, anytime, anywhere bus pass purchasing will be available through the OC Bus app. Also, the price of a Day Pass will drop from $5 to $4 for six months. Find out about these changes and how they may affect transportation to and from school at octa.net/2016BusPlan.

OC Animal Care/Pet of the Week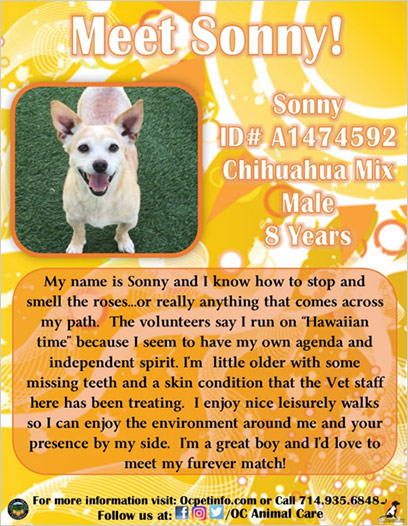 Click on the image above to view a PDF version.

Out and About South County

Aliso Viejo: Founder's Day Fair

Celebrate the heritage of Aliso Viejo with music, games, food, and fun for the entire family during the annual Founder's Day Fair from 1PM - 6PM on Saturday, October 1st.

Held at the rustic Aliso Viejo Ranch (across from Aliso Viejo Middle School), Founder's Day Fair features interactive historical and art exhibits, local entertainment, community booths, pony rides, a petting zoo, old-fashioned games and mechanical rides, inflatables, amusements and activities. Guests will enjoy food provided by youth organizations, and adults 21 and older will enjoy the Aliso Viejo Chamber of Commerce traditional beer and wine saloon. Entry is free with nominal fees for food and activities hosted by local non-profit organizations. For more information, call 949-425-2550.

Laguna Beach: Innovative New Funk Jazz, R&B, and Soul Concert

Laguna Beach Live! is bringing the mega funky East Bay Soul, the brainchild of Grammy and Emmy nominated trumpeter Greg Adams, to Montage on Wednesday October 12, 2016. With extraordinary combined talents and the incredible energy they each bring to the music, East Bay Soul is perfect for all who appreciate Funk Jazz, R&B and Soul. You can purchase tickets here or by calling 800-595-4849. VIP tickets are $75 and include best seating, a Meet & Greet with Greg Adams, and a CD; Premium tickets are $45 center tables; Standard tickets are $25 in the rear. Food and beverages, priced separately, will be $15 and less, and parking at Montage will be $5 for concert patrons.

Irvine: Connecting Women to Power Business Conference

Last year, over 1,500 women attended Diane Harkey's first Connecting Women to Power Business Conference. This year, we are bringing a bigger and better conference to Southern California. Speakers will include a representative from Facebook, a former NASA astronaut, and an international branding expert. The conference is free, but tickets are going fast, so RSVP today and reserve your seat. Space is limited!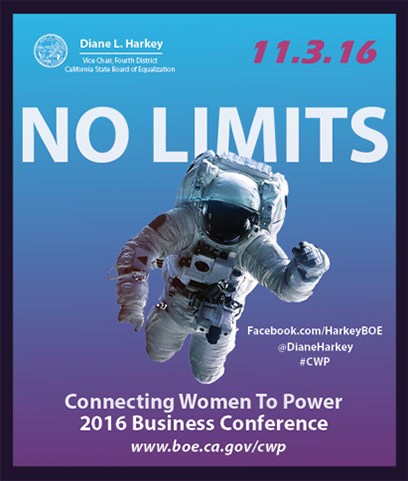 San Clemente: Ole Hanson Beach Club Reopening

Please join the City of San Clemente for a ribbon cutting and public open house to celebrate the grand reopening of the Ole Hanson Beach Club on September 30th between 5PM - 8PM. See the flyer below for details.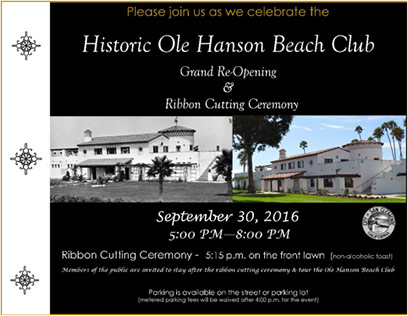 San Clemente: Pet Project Foundation Howling Halloween Ball

Yesterday was the first day of Fall, which means Halloween isn't far away! Get your tickets to the Pet Project Foundation's Howling Halloween Ball, benefiting the Dana Point/San Clemente animal shelter. The event will take place on October 30th at the Bella Collina Golf Club from 5PM – 9PM. Don your most creative costume and enjoy dinner, cocktails, music, a silent auction, and more! Ticket prices increase after September 26th, so reserve your spot today! See the flyer below or click here for details.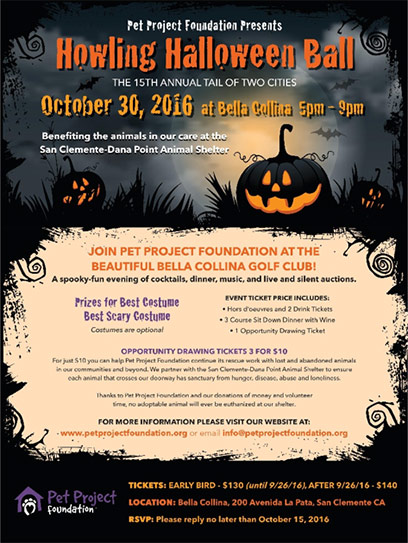 Last but not least this week I:

Returned from the National Association of Corporate Directors (NACD) 2016 Global Summit, held in Washington, D.C.
Participated in the CSAC Regional Summit.
Participated in the OCFA board meeting.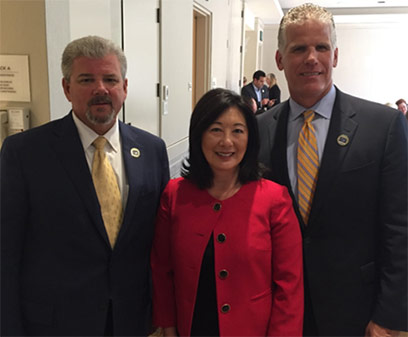 Amador County Supervisor and CSAC President Richard Forster and CSAC Executive Director Matt Cate at the CSAC Regional Summit in Orange County.

My Staff:

Presented a Certificate of Recognition in honor of the Crestavilla ground breaking in Laguna Niguel.
Presented a Certificate of Recognition in honor of the Laguna Treatment Hospital ribbon cutting in Aliso Viejo.
Presented a Certificate of Recognition in honor of the Mathnasium ribbon cutting in San Clemente.
Presented a Certificate of Recognition in honor of the Orange County Skin Lab ribbon cutting in San Juan Capistrano.
Attended the UCI Institute for Memory Impairments seminar.
Attended the Irvine – Orange County Infrastructure Summit.
Attended the South Orange County Economic Coalition's event, "How will the Statewide Ballot Propositions Impact our Local Economy?".
Participated in the OC Superior Court's Leadership Academy.
Attended the Rancho Santa Margarita State of the City Address.

South County Elected Officials in the Community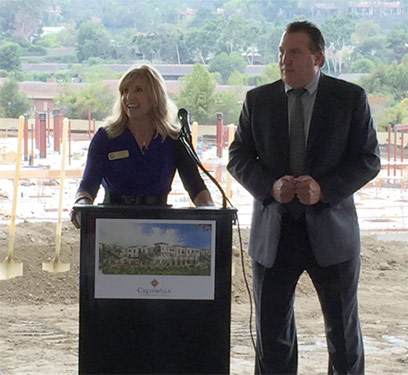 Laguna Niguel Mayor Laurie Davies and Mayor Pro Tem Jerry Slusiewicz at the Crestavilla ground breaking.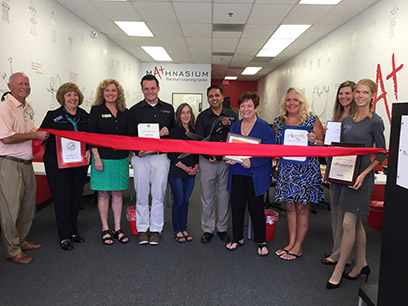 Mayor Pro Tem Kathleen Ward at the Mathnasium ribbon cutting in San Clemente.

For questions or comments regarding Supervisor Bartlett's E-Newsletter please contact the Supervisor's office staff at: (714) 834-3550 or Tanya.Flink@ocgov.com.