Fifth District Dispatch


2016 South County Water Expo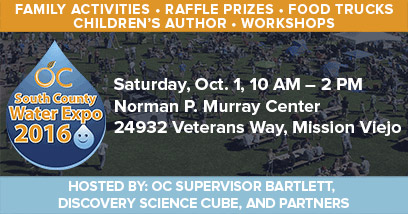 This Saturday, October 1st, I will be hosting my inaugural South Orange County Water Expo in partnership with the DiscoveryCube OC and all of the water agencies in my district. The Water Expo is a family-fun educational event and will provide homeowners with resources to conserve water. Visit www.socwater.com for more details about the event or download the flyer.

For Homeowners:

Free consultation and resources on turf replacement
Presentations from Renowned Water Experts
Informative & Interactive Vendor Booths
Opportunities to Win Home Improvement Prizes
For Family & Children:
Educational Exhibits & Hands-On Displays
Face paintings
Fun Activities for the Whole Family
Food Trucks & Free Give-Aways
Featured Children's Author


OC Moves

I-5 South County Construction ALERT – Camino de Estrella Detour

As part of the I-5 South County Improvements Project, crews are preparing to move to the next stage of construction at one of the Camino de Estrella on-ramps to northbound I-5.

A weekend closure of the straight on-ramp to northbound I-5 is set to begin at 6 p.m. Friday, Sept. 30, and last until 5 a.m. Monday, Oct. 3. The closure will allow crews to do some work at the top of the ramp as well as shift traffic over to the newly constructed right side of the ramp.

The next stage of work — expected to take up to three months — includes demolishing and reconstructing the remainder of the old ramp, and working on the auxiliary lane between the Camino de Estrella on-ramp and the PCH/Camino Las Ramblas off-ramp. For safety reasons, crews will install temporary concrete barriers to separate northbound freeway traffic from northbound on-ramp traffic to prevent weaving/merging.

That means motorists getting on the freeway at Camino de Estrella will be detoured to the Camino Las Ramblas exit, where they can access PCH or northbound I-5. Motorists who want to get off the freeway at Camino Las Ramblas will be detoured to northbound PCH, exiting at Doheny Park Road and then looping back onto southbound PCH, which connects with Camino Las Ramblas.

This temporary configuration/detour will be in place for up to three months.

For more information about the closure and traffic switch, please email southOC5info@octa.net or call 800-724-0353. Sign up for construction alerts and find out more about the project at www.octa.net/I5South.

Get Moving OC Public Forum

TCA is hosting a public forum in coordination with Caltrans, OCTA and other stakeholders – Get Moving Orange County – on Wednesday, Oct. 5 from 5:30 to 8:30 p.m. at St. Andrews by the Sea in San Clemente. This is the second in a series of meetings to address transportation mobility concerns in South Orange County. The forum will include stations explaining the 15 transportation package ideas as well as interactive discussions about transportation concerns in South Orange County. Be sure to RSVP at www.getmovingoc.com. See you there!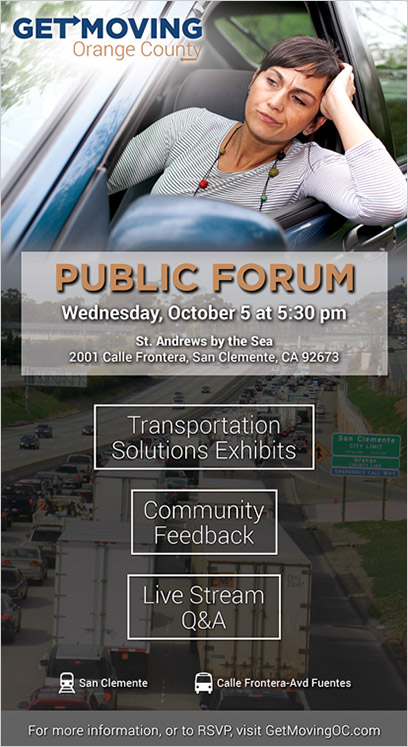 Plan Ahead: Improvements and Changes Coming to OCTA Bus Routes

OC Bus routes are changing. Beginning October 9, OCTA will roll out extensive changes to its bus system, including adding more-frequent arrivals and better connections. In some areas where ridership is low, some routes will be changed or discontinued. New community shuttles are on the way to assist and supplement discontinued service in some areas. Additionally, anytime, anywhere bus pass purchasing will be available through the OC Bus app. Also, the price of a Day Pass will drop from $5 to $4 for six months. Find out about these changes and how they may affect transportation to and from school at octa.net/2016BusPlan.

County Connections

Treasurer/Tax Collector: Property Tax Assistance Now Available for Homeowners

Orange County Treasurer Shari Freidenrich announces the reinstatement of the California Property Tax Postponement Program (PTP).

The PTP, which has been reinstated after being suspended by the Governor in 2009, offers housing security for seniors and homeowners with disabilities. The program allows eligible homeowners who are blind, disabled or at least 62 years of age to defer Fiscal Year 2016-17 property taxes on their principal residence if they meet certain established criteria.

"Interested applicants will need to submit a copy of their current year property tax bill along with other required documents," stated Treasurer Freidenrich. An internet copy of your property tax bill is acceptable and can be found online at ocgov.com/octaxbill, by entering your APN or property address. Applicants can also access the property tax website by scanning the QR code below and then entering your APN or property address. The California Association of County Treasurers and Tax Collectors has been working with the State Controller for over two years to reinstate this program to assist low income seniors or blind or disabled taxpayers.

For full details on this program, visit the Treasurer's website at ttc.ocgov.com and then click on the Property Tax Postponement icon to access the State's PTP website.

Health Care Agency: OC Healthy Aging Initiative Releases Orange County Older Adult Profile

This week, the Orange County Healthy Aging Initiative (OCHAI) released the Orange County Older Adult Profile, 2016. The report was funded by the Orange County Health Care Agency and highlights key health, social and economic indicators impacting the health and well-being of Orange County older adults.

"This is the first comprehensive look at seniors that the County has led in collaboration with public, private and nonprofit partners who serve this population, in nearly 15 years," said Dr. Helene Calvet, Deputy County Health Officer and OCHAI Co-Chair. "We hope this report raises awareness in the community of the needs of this growing population, so that we can work together to provide better resources and services to meet their needs."

Orange County's older adult population appears to be doing well compared to the state and/or nation for many indicators;however, there are some areas of concern. To read the report and view the key findings, click here.

Ocean Institute: Laguna Beach Million Dollar Home Raffle (and More!)

The Ocean Institute, a community-based non-profit located in Dana Point Harbor, has been teaching visitors about marine science and maritime history since 1977. The organization offers over 60 programs through its state-of-the-art ocean education center to accommodate the 250,000 students and adults that visit the facility each year. The Institute is hosting an on-going raffle, now through October 20th, to raise funds to support its educational programs and encourage good stewardship of our ocean and the environment. Prizes include South Coast Plaza gift certificates, dream vacations, luxury vehicles, and the grand prize, a lavish condominium in Laguna Beach. Tickets are $150 each and can be purchased by calling 949-627-8502. For more details and to see a full list of prizes, go to http://www.ocean-institute.org/homeraffle. Good luck!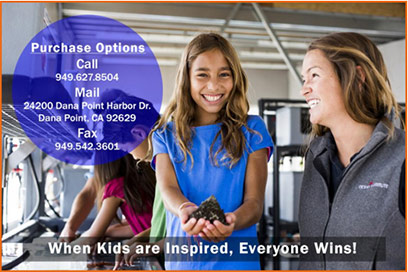 OC Waste & Recycling: Grant Funding

At the most recent Board meeting, my colleagues and I on the Board of Supervisors approved the fourth cycle of a competitive grant program, available through the County's OC Waste & Recycling department.

The grant provides funding for new programs or enhancements to existing programs that promote and sustain recycling and waste reduction in Orange County. Cities, jurisdictions and non-profits are eligible to apply for the grant, and waste industry businesses may partner with eligible applicants.

As your District Supervisor, I am particularly proud to champion this program. I recognize the importance of working together to meet the environmental protection and sustainability challenges facing our communities. The responsible disposal of waste is an essential public service, and programs such as this help ensure best-practice waste disposal methods for current and future generations.

The program provides up to $600,000 to the 5th District. It is a sustainable grant program, meaning recipients must contribute an increasing share of the total program budget beginning in year-two of the five-year program. Complete program information and the grant application is available on the OC Waste & Recycling Regional Grant web page. Please contact Isabel Rios-Kahn at Isabel.rios-kahn@ocwr.ocgov.com or (714) 834-4094 with questions.

Orange County Sanitation District Receives Distinguished Award

The Orange County Sanitation District (OCSD) was honored on Tuesday by several national water sector organizations through the Utility of the Future Recognition Program (UOTF). This program highlights the progress and exceptional performance of wastewater utilities. The recognition program is a collaborative effort that includes the National Association of Clean Water Agencies, the Water Environment Federation, the Water Environment & Reuse Foundation, the WateReuse Association with input from the U.S. Environmental Protection Agency.

Superior Court: David H. Yamaski Selected as Court Executive Officer

David H. Yamasaki, a statewide leader in court administration, has been selected as Court Executive Officer of the Superior Court of Orange County. "Mr. Yamasaki's exceptional experience with court administration in California will be an asset for his leadership role in our Court," said Presiding Judge Charles Margines. Mr. Yamasaki's appointment will be effective December 2, 2016.

Mr. Yamasaki has served as the Court Executive Officer of the Superior Court of Santa Clara County since July 2008. Recently, he has been instrumental in the development, planning, and opening of a new Family Justice Center courthouse in San Jose. He has overseen the implementation of a new civil case management system and e-filing for the Superior Court of Santa Clara County. He was also a member of the statewide Trial Court Budget Working Group from 2009 to 2013. Prior to his current position, Mr. Yamasaki served as Assistant Executive Officer of the Superior Court of San Diego County for 10 years. The Judicial Council of California presented Mr. Yamasaki with its 2015 Distinguished Service Award, the highest honor given by the state court system's governing body. The award recognizes those who have demonstrated extraordinary leadership and made significant contributions to the administration of justice.

Mr. Yamasaki holds a Master's Degree in Public Administration with an emphasis in Criminal Justice Administration from the University of Southern California and a Bachelor's Degree in Criminal Justice Administration from San Diego State University.

OC Animal Care/Pet of the Week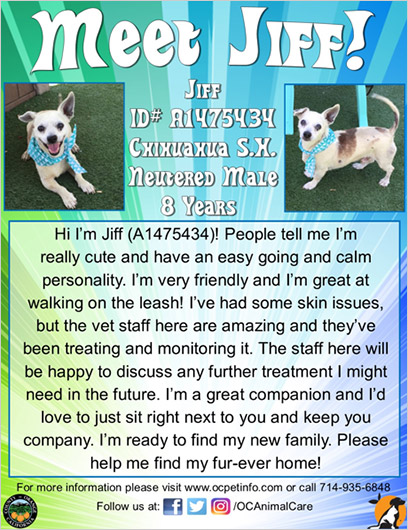 Click on the image above to view a PDF version.

Out and About South County

Aliso Viejo: Founder's Day Fair

Celebrate the heritage of Aliso Viejo with music, games, food, and fun for the entire family during the annual Founder's Day Fair from 1PM - 6PM on Saturday, October 1st.

Held at the rustic Aliso Viejo Ranch (across from Aliso Viejo Middle School), Founder's Day Fair features interactive historical and art exhibits, local entertainment, community booths, pony rides, a petting zoo, old-fashioned games and mechanical rides, inflatables, amusements and activities. Guests will enjoy food provided by youth organizations, and adults 21 and older will enjoy the Aliso Viejo Chamber of Commerce traditional beer and wine saloon. Entry is free with nominal fees for food and activities hosted by local non-profit organizations. For more information, call 949-425-2550.

Dana Point: Game Changer Games and Music Festival

Please join me in Dana Point this Sunday for the highly-anticipated Games and Music Festival! The festival will feature live music, a gaming pavilion, live demos, gourmet food trucks, and meet and greets with some of the gaming world's top YouTube stars! Admission to the concert is free, but all donations and proceeds from the gaming pavilion will benefit the children of Southern California battling life-threatening illnesses. For more information, visit http://thegamesandmusicfestival.org/ or see the flyer below.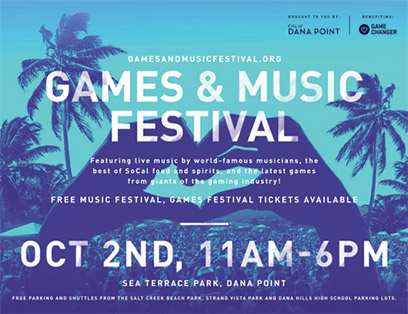 Dana Point: Pacific Paddle Games

SUP magazine's Pacific Paddle Games presented by Salt Life will be held at Doheny State Beach September 30 through October 2, 2016. The weekend will feature Technical and Distance races (in both Pro and Open divisions), including Pro Junior and Youth categories, Prone divisions, the West Marine Demo Zone, Clinics and much more, including the largest prize purse in paddle sports history at $60,000. For more information about signing up or watching the games, click here.

Mission Viejo: Pickleball Demo Day

Free Open Play Pickleball Day! Learn how to play pickleball, the fastest-growing sport in America! Created for all ages and skill levels, Pickleball combines many elements of tennis, badminton and ping-pong. This event is free on October 1st from 4 to 6 PM at the Sierra Recreation Center. For more information, click here.

Laguna Beach: Innovative New Funk Jazz, R&B, and Soul Concert

Laguna Beach Live! is bringing the mega funky East Bay Soul, the brainchild of Grammy and Emmy nominated trumpeter Greg Adams, to Montage on Wednesday October 12, 2016. With extraordinary combined talents and the incredible energy they each bring to the music, East Bay Soul is perfect for all who appreciate Funk Jazz, R&B and Soul. You can purchase tickets here or by calling 800-595-4849. VIP tickets are $75 and include best seating, a Meet & Greet with Greg Adams, and a CD; Premium tickets are $45 center tables; Standard tickets are $25 in the rear. Food and beverages, priced separately, will be $15 and less, and parking at Montage will be $5 for concert patrons.

Rancho Santa Margarita: Chamber of Commerce's Inaugural Gala

Join Rancho Santa Margarita's Chamber of Commerce for their Inaugural Gala on October 21st at the Dove Canyon Country Club. Enjoy a "swanky" evening of cocktails, hors d'oeuvres, swing music, photos with 60's "celebrities," and a cool crowd of people. See the flyer below for more details, and purchase your tickets today!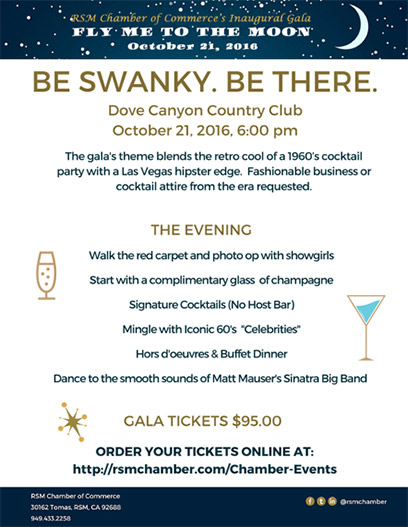 Connecting Women to Power Business Conference

Last year, over 1,500 women attended Diane Harkey's first Connecting Women to Power Business Conference. This year, we are bringing a bigger and better conference to Southern California. Speakers will include a representative from Facebook, a former NASA astronaut, and an international branding expert. The conference is free, but tickets are going fast, so RSVP today and reserve your seat. Space is limited!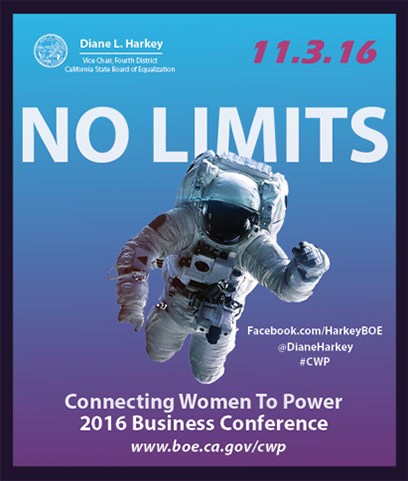 San Clemente: Pet Project Foundation Howling Halloween Ball

Yesterday was the first day of Fall, which means Halloween isn't far away! Get your tickets to the Pet Project Foundation's Howling Halloween Ball, benefiting the Dana Point/San Clemente animal shelter. The event will take place on October 30th at the Bella Collina Golf Club from 5PM – 9PM. Don your most creative costume and enjoy dinner, cocktails, music, a silent auction, and more! Ticket prices increase after September 26th, so reserve your spot today! See the flyer below or click here for details.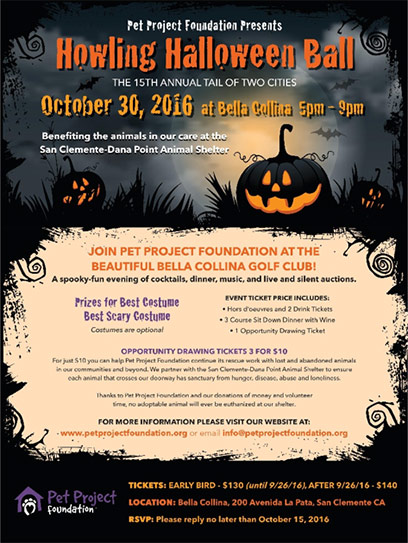 Last but not least this week I:

Attended and spoke at the Freedom Ride Finish Line Ceremony.
Participated in the OCTA Board meeting.
Chaired the Orange County Board of Supervisors meeting.
Presented a Board Resolution to OC Public Works Director Shane Silsby in recognition of receiving the "Public Works Leader of the Year" award from American City and County magazine.
Joined Supervisor Do in presenting a Board Resolution in honor of National Hispanic Heritage Month.
Joined Vice Chair Steel in presenting a Board Resolution in honor of the Newport Beach 1st Marines Foundation.
Participated in the San Onofre Nuclear Generating Station (SONGS) Consolidated Interim Storage Strategy Session.
Participated in the TCA Joint Finance & Investment meeting.
Participated in the CalOptima ad hoc conference call.
Spoke at a legislative staffers luncheon on the topic of the Dana Point Harbor Revitalization.
Presented a Proclamation in honor of the Grand Opening of the new Saddleback College Sciences Building.
Attended Laguna Niguel Mayor Laurie Davies' reception in Dana Point Harbor.
Presented a Proclamation in honor of the Ole Hanson Beach Club Grand Re-Opening.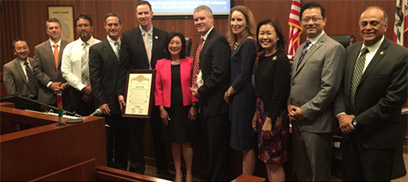 Presenting a Board Resolution to OCPW Director Shane Silsby.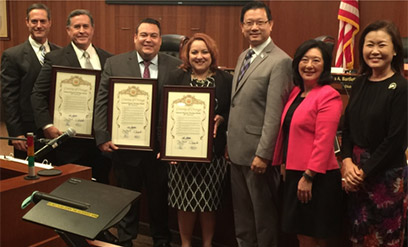 Presenting a Board Resolution in recognition of National Hispanic Heritage Month.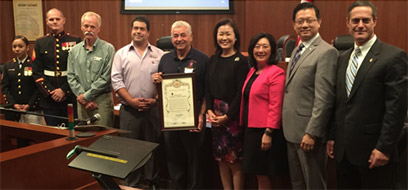 Presenting a Board Resolution in honor of the Newport Beach 1st Marines Foundation.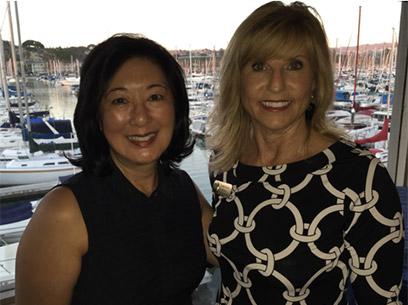 With Laguna Niguel Mayor Laurie Davies at the Mayor's Mixer in Dana Point Harbor.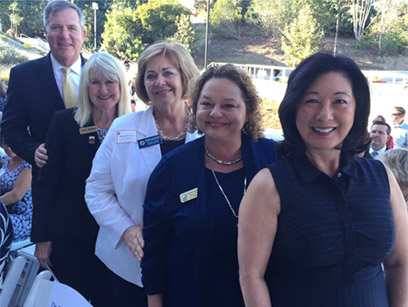 With Mission Viejo Councilman Greg Raths, former Mayors Trish Kelly and Rhonda Reardon, and current Mayor Pro Tem Wendy Bucknum at Saddleback College.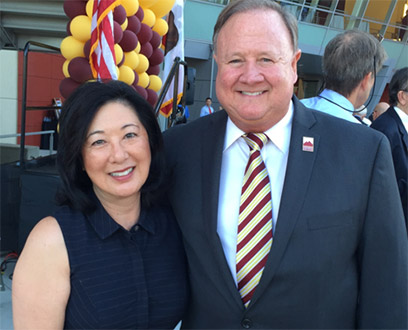 With Saddleback College President Dr. Tod Burnett at the Sciences Building grand opening.

My Staff:

Attended the ACC-OC Ballot Breakfast.
Presented a Certificate of Recognition at the Chick-Fil-A ribbon cutting in Aliso Viejo.
Attended the Dogs Playing For Life training sessions at the Orange County Animal Shelter.
Presented Certificates of Recognition to GuardaHeart, OC Cares, and Dr. Pratiksha Gandhi at the Guardian of Hearts Ceremony.
Attended a legislative staffer's tour of the Dana Point Harbor, led by Harbor Patrol.
Participated in the OC Superior Court Leadership Academy.
Presented a Certificate of Recognition in honor of the Grand Re-Opening of the iconic Royal Hawaiian Restaurant in Laguna Beach.
Presented awards at the Dana Point Harbor 50-Year Time Capsule Documentary Film Premiere at the Ocean Institute.
Presented a Board Resolution in honor of the 25th anniversary of the Susan G. Komen Race for the Cure at Fashion Island.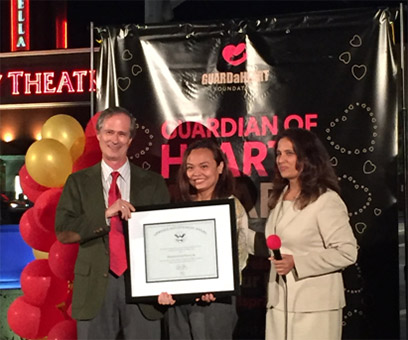 Dr. Doug and Estrella Harrington, with Dr. Pratiksha Gandhi, accepting the Presidential Lifetime Achievement Award at the Guardian of Hearts Ceremony.

South County Elected Officials in the Community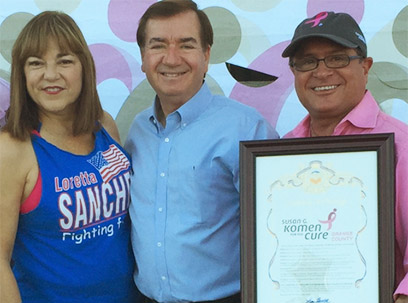 Congresswoman Loretta Sanchez and Congressman Ed Royce at the Susan G. Komen Race for the Cure.



Laguna Beach Councilman Bob Whalen (left), Mayor Steve Dicterow (third) and Assemblyman Matt Harper at the Royal Hawaiian ribbon cutting.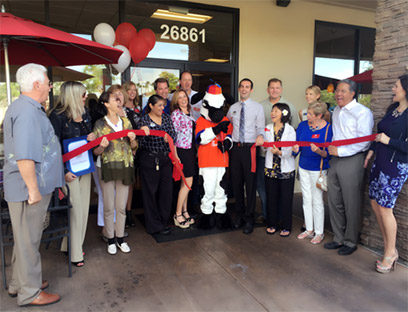 Cutting the ribbon at the Chick-Fil-A in Aliso Viejo, with Mayor Mike Munzing and Councilmember Ross Chun.

For questions or comments regarding Supervisor Bartlett's E-Newsletter please contact the Supervisor's office staff at: (714) 834-3550 or Tanya.Flink@ocgov.com.