County Connections

Supervisors Increase Reward for Information on Jail Escapees


The Orange County Board of Supervisors approved increasing the reward for information leading to the apprehension of three escaped inmates from the Orange County Men's Central Jail to a total of $200,000.

Board members unanimously approved adding up to $50,000 each for information leading to the capture of inmates Hossein Nayeri, 37; Jonathan Tieu, 20; and Bac Duong, 43, who escaped from the jail sometime on Friday, January 22, 2016. The U.S. Marshals Service already has pledged $10,000 each for information on the three inmates while the Federal Bureau of Investigation contributed another $20,000.

Today around 2:00 pm, the Orange County Sheriff's Department reported that one of the inmates, Bac Duong is currently in custody.

"These criminals pose a severe public safety risk to the community and they need to be apprehended as soon as possible. Anyone with information on their whereabouts is encouraged to report it to the authorities or to call the hotline immediately," said Board Chairwoman Lisa Bartlett, Fifth District. Anyone with information is asked to call the Orange County Sheriff's Department tip line at (714) 628-7085 or the OC Crimestoppers tip line at (855) TIP-OCCS or (855) 847-6227. All information will be treated as confidential.

About 250 law enforcement officers are actively searching for the men, who are believed to be armed and extremely dangerous.

Federal Officials Approve Use of Transit Hub to Shelter Homeless

A plan to shelter the homeless during El Niño rainstorms at the unused Santa Ana Transit Terminal in the Orange County Civic Center has been approved on an interim basis through June by the Federal Transit Administration.

The approval was delivered by letter today, two days after the Orange County Transportation Authority made the request on behalf of the County. The County opened escrow last month to buy the property from the Orange County Transportation Authority; a proposed lease for the interim use was sent last week to OCTA and required federal approval.

"The County is committed to doing all we can to help get people out of the rain and sheltered during the El Niño rainstorms that we know are coming," Board of Supervisors Chairwoman Lisa Bartlett, Fifth District, said.

The County also finalized a contract Friday with non-profit shelter operator, Mercy House, to secure emergency shelter beds and transportation services for those caught outside during rainstorms, which could hit again as early as this weekend. The County will continue to use National Guard armories in Fullerton and Santa Ana for night-time shelter and other services, including meals, showers and medical services.

The interim lease with OCTA calls for the County to pay $11,615 a month for emergency use of the terminal property. Providing meals or other services onsite is not permitted under the lease.

OC Public Libraries


Registration for OC Public Libraries' 2016 Literary Orange festival of authors, readers and libraries is now officially open! This 10th anniversary all-day event at the Irvine Marriot includes an amazing line-up of authors and three keynote speakers: Melanie Benjamin, Debbie Macomber and J.Ryan Stradal.

Tickets for Literary Orange are $65.00 per person ($75.00 for day of registration) which includes three keynote addresses, three panels, morning refreshments, lunch with dessert, and opportunities for authors' autographs. Our on-site bookseller will be Mysterious Galaxy, who will have a selection of all the authors' books which you can purchase before autograph sessions.

Seating is first come, first served. Groups of 10 or more interested in reserving an entire table may contact Sherry Toth at 714-566-3033 for information.

Parking at the Marriott is $9.00, and not included in registration. Register online at www.literaryorange.org. Pay by credit card or check.

Note: when you reach the payment option, you may select "Check" if you wish to mail in the payment.

Treasurer-Tax Collector

Are You A New Property Owner? Check Online To See If You Owe Property Taxes!

Orange County Treasurer-Tax Collector Shari L. Freidenrich encourages all new property owners to visit ocgov.com/octaxbill to take advantage of multiple online resources to ensure that all secured property taxes have been paid. Don't be in doubt—check online! It's quick and simple.

Nonpayment may occur if the new property owner did not receive the annual property tax bill mailed in September as it may have been mailed to the prior owner due to the timing of a property sale. Although some property taxes may be paid through the escrow process, depending on when the property sale occurs, the new owners may be unaware that either the first or the second property tax installment were unpaid, assuming they already were paid in escrow.

In late 2015, the Treasurer implemented a process to begin mailing out special "new owner" property tax bills. The Treasurer receives contact information on parcels that have had a change in ownership, but that have not yet received an assessment value change from the sale or a supplemental property tax bill. In December, the Treasurer mailed 1,900 tax bills to these "new owners" who had not made their first installment property tax payment. Some of these new owners would have received a delinquent property tax notice in January if the first installment payment was not made.

The online property tax statement page lists all current outstanding property taxes by parcel a link to a Google-type GIS map, and current and prior year property tax bills by parcel, including secured and supplemental property tax bills. The most common way to view the online statement page is to input either your seven-digit Assessor Parcel Number (APN), or property address. The site also provides same-day credit payment options with no convenience fee plus an emailed detailed receipt for your records (can also be printed), as well as copies of the inserts sent with property tax bills.

The website provides copies of all property tax bills that can be printed or viewed online. In 2015, a Google-type GIS map was provided that offers aerial views of properties with key property tax bill information and also includes the school, community college, and supervisor district for each parcel. This can be accessed either by clicking on the map icon at the online property tax parcel screen or by inputting the APN or address at ocgov.com/octaxmap. Another recent addition was information on Mello Roos assessments that includes the maturity date of the Mello Roos bond (ocgov.com/melloroos) and an information sheet on the Property Assessment Clean Energy (PACE) program with important information on this program relating to the property tax assessments that can be accessed under Information/FAQs.

We also encourage all property owners to sign up for a secured property tax reminder by going to ocgov.com/taxreminder to register your email. You will then receive an email when the secured property tax bills are mailed and a reminder 10 days and one day prior to the last timely payment date.

OC Moves

Peek at La Pata Hike

The City of San Clemente with Council Member Lori Donchak and OC Public Works sponsored a special "Peek at La Pata" hike on Saturday, January 23, in which over 250 residents participated. The event provided a sneak peek of the La Pata Avenue Extension Project, which is the most significant County roadway improvement project remaining in South Orange County.

The completion of the project will benefit from: improved public safety, providing an alternative route for emergency vehicles; enhanced air quality, reducing traffic congestion on the I-5; enriched local economy, enabling the faster transport of goods and services, and improved access to San Juan Hills High School for both San Juan Capistrano and San Clemente with enhancements to the Vista Montana intersection.

We want to remind everyone that the roadway is not yet completed and construction sites can be dangerous, so please be safe and refrain from visiting the project area as it is still an active construction site until it opens this coming Fall.

For more project information and to also sign up to receive updates via email, please visit the La Pata webpage at: lapata.ocpublicworks.com and on Facebook at facebook.com/ocpublicworks. To view a video of the tour, produced by the City of San Clemente click here.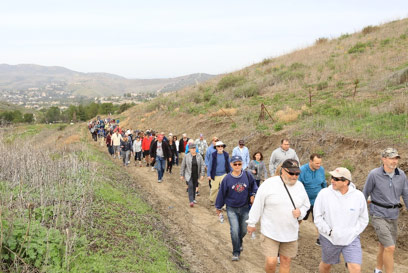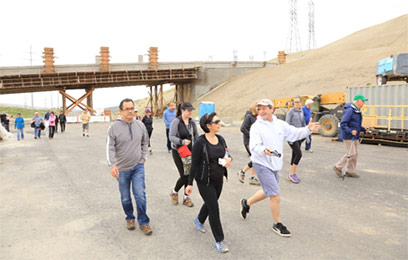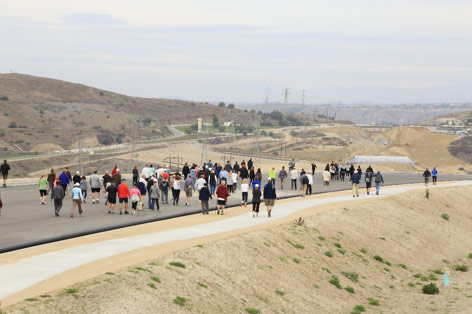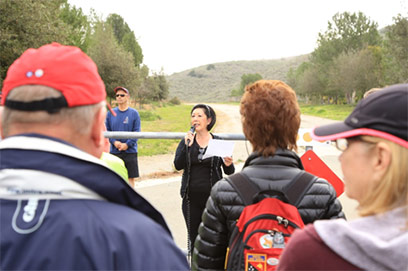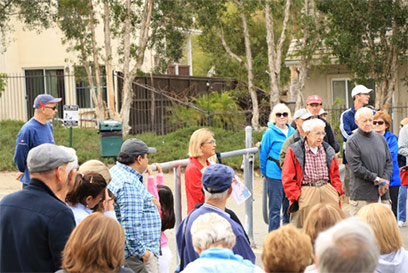 TCA Launches Environmental Insight Newsletter


The Transportation Corridor Agencies (TCA) operate The Toll Roads in Orange County, but few know about the agencies' dedication to long-term environmental protection and management programs. These programs contribute to a healthier environment and preserve the area's scenic beauty for residents and future generations.

TCA has launched "Environmental Insight," a bimonthly electronic newsletter that will feature how TCA uses the best scientific practices to preserve and restore local natural areas in partnership with universities, conservation groups and fellow agencies. To sign up for the newsletter, send an email to envirooption@thetollroads.com. To view past editions, please visit www.TheTollRoads.com/whatshappening/newsroom/publications.

OC Public Works

El Niño: OC Storm Center

The OC Storm Center website provides information regarding road closures, rainfall data, and other storm related information in unincorporated areas of Orange County.

This site is maintained by the OC Public Works, Department Operation Center and OC Watersheds to provide up-to-date road and flood conditions. The OC Public Works, Department Operations Center (DOC) may be activated in the event of hazardous weather conditions or other emergency events. Under most circumstances they can only respond to situations or concerns involving County maintained roads or flood control channels. To report problems with a County road or flood control channels during an active event, please phone (714) 955-0333.

During non-emergency conditions, please report maintenance issues or concerns by submitting a service request here. You may also contact the OC Public Works, Operations & Maintenance main office at (714) 955-0200. Click here for resources to help you prepare for post-fire debris, flood and erosion control.

Sandbags: Each year from October 1st to April 30th residents from unincorporated Orange County can obtain up to 50 free sand bags for the protection of their home from rain and mud. Contractors or commercial entities are not permitted. Sand bags are available at 2301 N. Glassell St. Orange, Ca 92865, or at seasonal staging locations (subject to conditions). For more information on sandbags, click here.

Disaster Assistance: If your property has been damaged in a State declared emergency, please visit the Office of Emergency Services (OES) and the Federal Emergency Management Agency (FEMA) websites to determine if you are eligible for disaster assistance.

This service is provided to you at no charge by the County of Orange, California. Visit online at www.ocgov.com.

OC Pet of the Week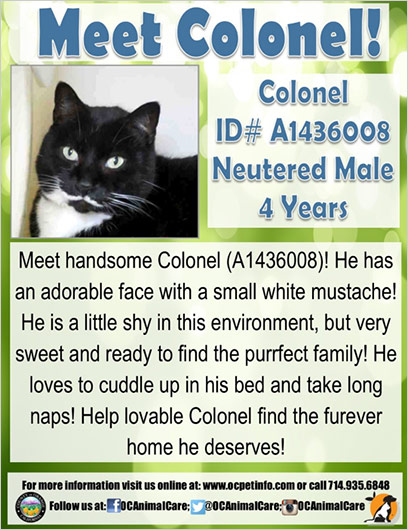 Click on the image above to view a PDF version.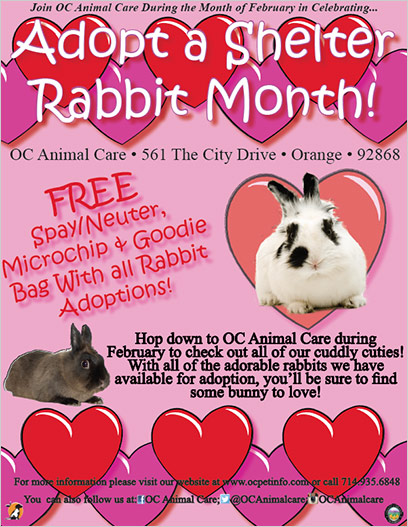 Click on the image above to view a PDF version.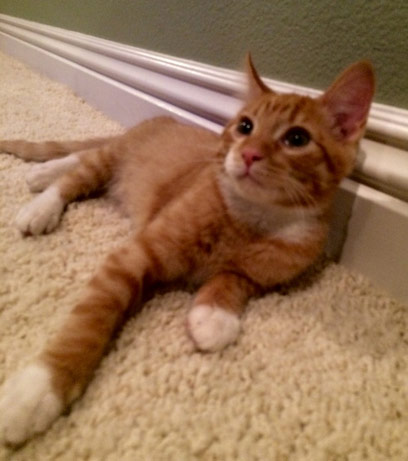 Happy to celebrate a recent cat adoption from the San Clemente Animal Shelter. Congratulations to the lucky people who gets to add this 6 month old kitten to their family!

Out and About South County

Laguna Beach: Laguna Bluebelt Photo Contest

The Laguna Bluebelt Coalition is gearing up for its 5th Annual Photo Contest! They are accepting entries between January 16th - February 6th; see the flyer below or click here for submission details. The Coalition brings together organizations and individuals with a common goal of protecting and restoring marine life, conserving biological diversity and maintaining healthy, sustainable marine habitats.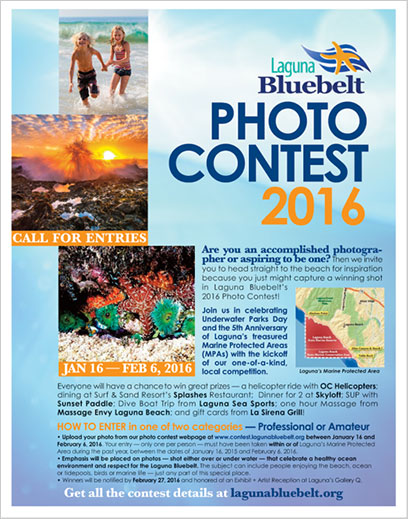 Laguna Hills: Daddy Daughter Dinner Dance

Register for the Daddy Daughter Dance which will be on Friday February 12th. Dance and dine the night away with that special man in your life–father, grandfather uncle–whomever it may be! Suit up messieurs and dress up mademoiselles for a magical evening of fun and dancing. Participants will receive a keepsake picture. Register early, space is limited. For more information, please click here.

Mission Viejo: Sierra Snow Summit

Attend the free Sierra Snow Summit for family-friendly fun on Saturday, January 30th from 1PM to 5PM. Do you have what it takes to do the Polar Bear Plunge? Fun photo opportunities, snowball fights, snow cones, hot chocolate and more! Enter to win FREE guest passes and 1-month family membership to the Recreation Centers. For more information, please click here.

Rancho Santa Margarita: Free Blood Pressure Screening and Low Cost Pet Vaccination Clinic

On Tuesday, February 2nd the City will provide free blood pressure screenings at the Dell Tower Regional Community Center from 10AM to 2PM. For more information, please click here.

On Wednesday, February 3rd the City will provide low-cost pet vaccinations for cats and dogs from 6:30PM to 8:30PM at the Bell Tower Regional Community Center. For more information, please click here.
San Juan Capistrano: Farmers Market

On Wednesday, February 3rd stop by the Farmers Market on Yorba Street between El Camino Real and Camino Capistrano from 3PM to 7PM. The Old Capistrano Certified Farmers Market promotes a healthy lifestyle by providing fresh fruits, vegetables and other farm products to the citizens of San Juan Capistrano and adds a vibrant community event to our historic downtown. For more information, please click here.

Last but not least this week I:

Participated in the "Peek at La Pata" hike with San Clemente councilmembers, OC Public Works staff, and San Clemente residents.
Participated in an Orange County Transportation Authority (OCTA) Board meeting.
Attended the Building Industry Association 2016 Outlook event.
Chaired the Orange County Board of Supervisors meeting.
Participated in a press conference with ABC7 and NBC4 News relating to the escaped inmates from Orange County Jail.
Participated in the Transportation Corridor Authority (TCA) Joint Compensation Ad-Hoc.
Participated in the TCA Joint Finance and Investment meeting.
Participated in the Orange County Sanitation District Board meeting.
Participated in the TCA Joint Procurement and Joint Strategic Planning Ad-Hocs.
Met with Orange County Animal Shelter staff and non-profit organizations to discuss the progress of the animal shelter.
Participated in the Orange County Fire Authority Board meeting.

My Staff:

Toured the former Los Pinos Juvenile Probation Camp.
Participated in a County First Aid/CPR training and certification course.
Participated in a Waste Not OC Coalition meeting.
Presented a certificate of recognition in honor of the ribbon cutting ceremony for H&R Block in the City of Lake Forest.
Presented a certificate of recognition in honor of the ribbon cutting ceremony for the Family Assistance Ministries Satellite Office in the City of San Juan Capistrano.
Presented a certificate of recognition in honor of the ribbon cutting ceremony for Luna Grill Restaurant in the City of Dana Point.
Presented a certificate of recognition in honor of the ribbon cutting ceremony for Eyeland Lash Beauty Bar in the City of San Clemente.
Presented a certificate of recognition in honor of the grand opening for Cox Communications in the City of Rancho Santa Margarita.
Attended the Laguna Niguel Chamber of Commerce Installation Ceremony to present a proclamation in honor of Outgoing Chairwoman Heidi Fisher.
Attended the Dana Point Chamber of Commerce Installation & Annual Meeting to present a proclamation in honor of Outgoing Chairman Enzo Scognamiglio and certificates of recognition to Terry Walsh (Citizen of the Year), Judy Brandmeier (Ambassador of the Year) and Jack's Restaurant (Restaurant of the Year).
Presented a certificate of recognition in honor of the ribbon cutting ceremony for Tropical Smoothie Café in the City of Lake Forest.
Attended the Women in Transportation reception for the new OCTA Chairwoman, Lori Donchak.
Attended a TCA Joint Toll Operations meeting.
Toured the Aliso Viejo Regional Center.
Presented a proclamation in honor of the dedication ceremony for Garden of Innocence Orange County at El Toro Memorial Park in the City of Lake Forest.
Presented an Adjournment in memoriam at the memorial service for Kathy Scholze, wife of Ladera Times editor/publisher Jim Schmitt.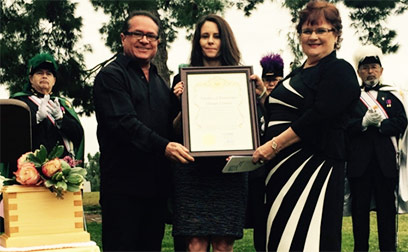 Presenting proclamation at dedication ceremony for Garden of Innocence in Lake Forest.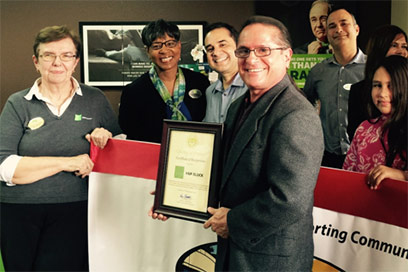 H&R Block ribbon cutting in Lake Forest.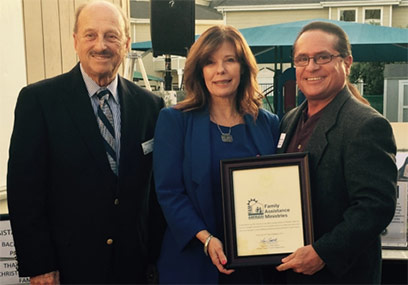 Family Assistance Ministries ribbon cutting in San Juan Capistrano.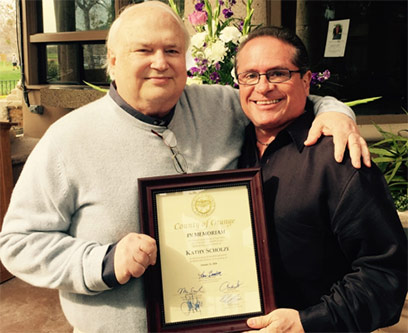 With Ladera Times Editor Jim Schmitt at memorial service for wife Kathy Scholze.



South County Elected Officials in the Community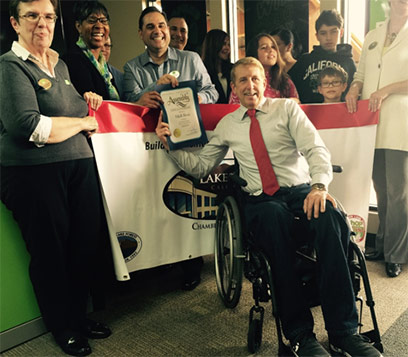 Lake Forest Mayor Scott Voigts at H&R Block ribbon cutting.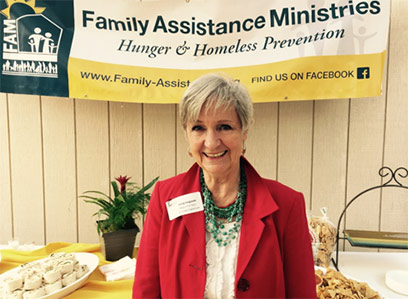 San Juan Capistrano Mayor Pro Tem Kerry Ferguson at Family Assistance Ministries ribbon cutting.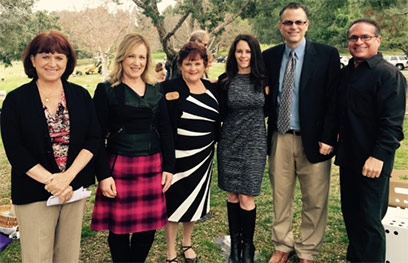 Leslie Keene (OC Cemetery District), Kay Warren (Saddleback Church), Elissa Davey (Garden of Innocence), Marla Kennedy (Garden of Innocence), and Lake Forest Mayor Andrew Hamilton at Garden of Innocence dedication ceremony.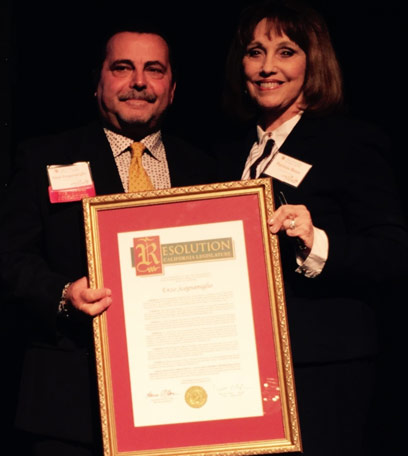 Outgoing Dana Point Chamber Chairman Enzo Scognamiglio and Senator Pat Bates at Dana Point Chamber Installation Ceremony.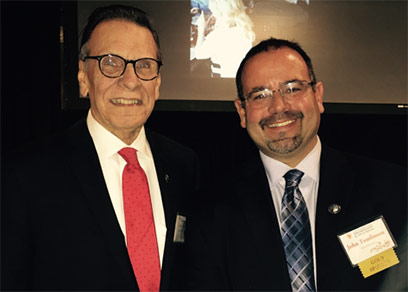 Dana Point Councilman Carlos Olvera and Mayor John Tomlinson at Dana Point Chamber Installation Ceremony.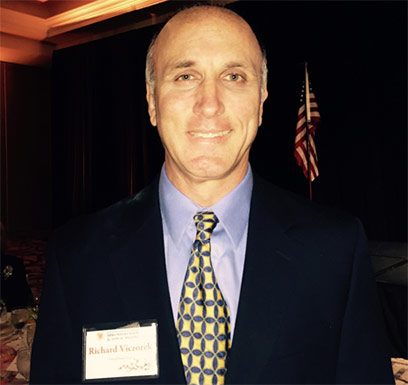 Dana Point Mayor Pro Tem Richard Viczorek at Dana Point Chamber Installation Ceremony.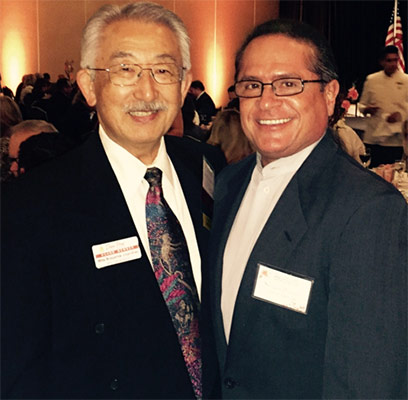 2016 Dana Point Chamber Chairman Mits Arayama (left) at Dana Point Chamber Installation Ceremony.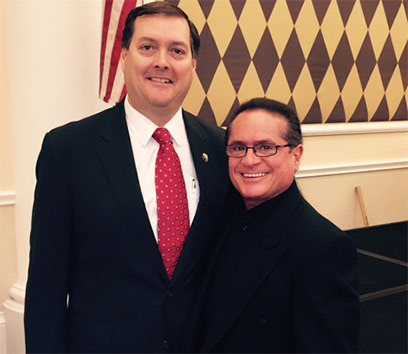 Assemblyman Bill Brough (left) at Laguna Niguel Chamber Installation Ceremony.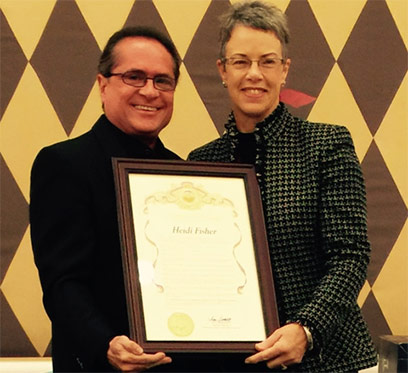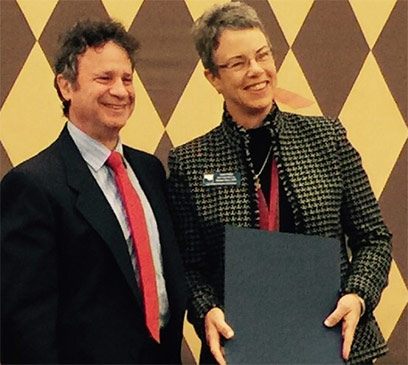 Laguna Beach Mayor Steve Dicterow (left) and Laguna Niguel Chamber Outgoing Chairwoman Heidi Fisher.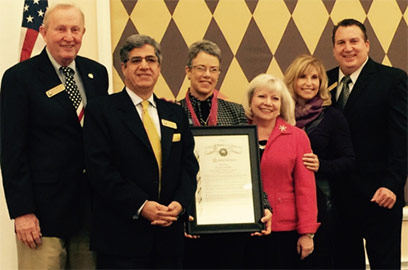 Laguna Niguel City Councilman Jerry McCloskey (left), Councilman Fred Minagar, Outgoing Chairwoman Heidi Fisher. Councilwoman Elaine Gennawey, Mayor Laurie Davies, and Mayor Pro Tem Jerry Slusiewicz at Chamber Installation Ceremony.

For questions or comments regarding Supervisor Bartlett's E-Newsletter please contact the Supervisor's office staff at: (714) 834-3550 or Sara.May@ocgov.com.