Fifth District Dispatch

9th Annual South County Disaster Preparedness Expo

Please join me at the 9th annual South County Disaster Preparedness Expo on Saturday, October 15 from 9 AM to 12 PM at the Norman Murray Center in Mission Viejo. This enormously popular annual event is held in partnership with the City of Mission Viejo at the conclusion of the Walk Against Drugs. The Expo will feature a wide array of state-of-the-art emergency response vehicles and equipment displays, in addition to interactive vendor booths, informative presentations, fun activities for all ages, and much more.

Protect your family, home and business for when disaster strikes! Don't miss the 9th annual South County Disaster Preparedness Expo! For more information, please see the flyer below.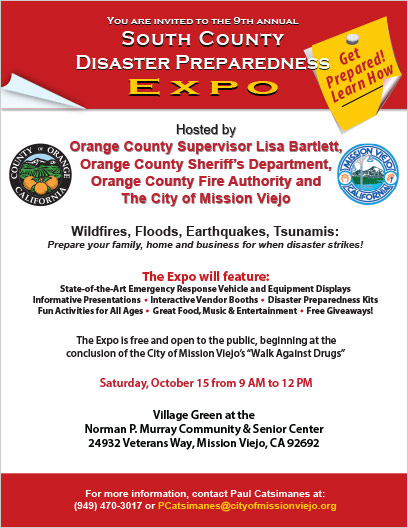 Click on the image above to view a PDF version.

Orange County Director of Public Works Recognized as Public Works Leader of the Year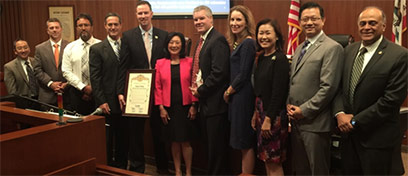 I would like to congratulate Shane Silsby, the Director of Public Works on winning the American City & County 2016 Public Works Leader of the Year Award. Shane has been Director of OC Public works since late 2013 and has been working vigorously to improve the efficiency of our roads and infrastructure.

When he started with the County he set goals to improve morale, efficiency and customer service. He has definitely met and even exceeded the expectations for these improvements. His ability to engage employees as well as other departments has set Shane apart and reflect his fervor and passion for helping the community through these projects.

In South County, Shane and his team were able to deliver the La Pata Gap Closure Project which was a 60-year stalled project and opened ahead of schedule. Shane will also be involved in the revitalization of Dana Point Harbor as well as the long awaited new animal shelter. Shane's attention to detail and to serving the constituents of the County is among the best regionally and nationally. We would again like to thank Shane for his amazing work throughout our communities and congratulate him on this honor!

OC Moves

La Pata Temporary Traffic Stoppages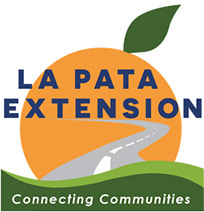 As you know, the La Pata Extension Project is in full swing! We celebrated the Gap Closure opening to traffic nearly two months ago. The next phases are currently underway which includes:

Adding an additional lane in each direction between Ortega Highway and Stallion Ridge and
Extending Camino Del Rio to La Pata Avenue.
Temporary traffic stoppages began this week and will last through mid-December 2016 to move heavy equipment across La Pata Avenue for access to project sites for the widening portion. These brief traffic stoppages will be active for approximately the next month and are necessary for crews to complete La Pata Avenue widening improvements as quickly and safely as possible.

The 5 minute stoppages are occurring at different locations between Ortega Highway and Stallion Ridge in San Juan Capistrano. Traffic will only be stopped at one location at a time. Please consider using an alternate route whenever possible. The project hours have been restricted to accommodate and minimize impacts to those traveling to/from San Juan Hills High School.

I encourage you to visit the OC Public Works La Pata Project webpage for regular updates. Please contact Mario Garcia (714) 599-0618 with any questions or concerns. I appreciate your patience through the construction.

Plan Ahead: Improvements and Changes Coming to OCTA Bus Routes

OC Bus routes are changing. Beginning October 9, OCTA will roll out extensive changes to its bus system, including adding more-frequent arrivals and better connections. In some areas where ridership is low, some routes will be changed or discontinued. New community shuttles are on the way to assist and supplement discontinued service in some areas. Additionally, anytime, anywhere bus pass purchasing will be available through the OC Bus app. Also, the price of a Day Pass will drop from $5 to $4 for six months. Find out about these changes and how they may affect transportation to and from school at octa.net/2016BusPlan.

County Connections

Homelessness: Transitional Center for Civic Center Homeless Opens

A round-the-clock transitional center with emergency shelter beds and enhanced services for those without permanent housing who have congregated in the Orange County Civic Center has opened at the former Santa Ana Transit Terminal, which has been renamed "The Courtyard."

About 225 lunches were served after the center opened Wednesday mid-morning; about 100 people reserved space to sleep overnight.

The plan to use the former terminal was proposed by Supervisor Andrew Do at a special Board meeting in September, with a directive to open the center within 30 days. The center will operate for a year under two contracts approved last week by the Board of Supervisors.

The contracts with The Midnight Mission and Kingdom Causes Inc., also known as City Net, will allow expanded services to be available at The Courtyard, including hot showers, additional restrooms and food donations in conjunction with a safe environment where services and housing linkages are available as part of the broader solution to their personal homelessness.

The estimated cost to operate the center is $1.4 million for a year.

"In a County with one of the state's most expensive housing markets, providing additional resources to help people transition to long-term housing is more critical than ever," said Board of Supervisors Chairwoman Lisa Bartlett, Fifth District. "The Courtyard is one of several initiatives toward reaching this goal."

Last month, the Board of Supervisors selected Mercy House Living Centers Inc. to operate the new facility at Kraemer Place in Anaheim, scheduled to open next year, as well as operate seasonal cold-weather shelters at National Guard armories in Fullerton and Santa Ana.

The County has operated a seasonal armory shelter program in Fullerton and Santa Ana for the past 28 years. However, the armories are only open part of the year and only at night. The Fullerton armory program is slated to be discontinued when the Anaheim service center opens.

Dana Point Harbor: Street Improvement Project

Please see the community notice regarding the street improvement work scheduled for October 10 - October 21. For more information or to speak with a representative about the Street Improvement Project, contact Paul Weaver at 714-719-1742. For information regarding the Dana Point Harbor Revitalization, click here.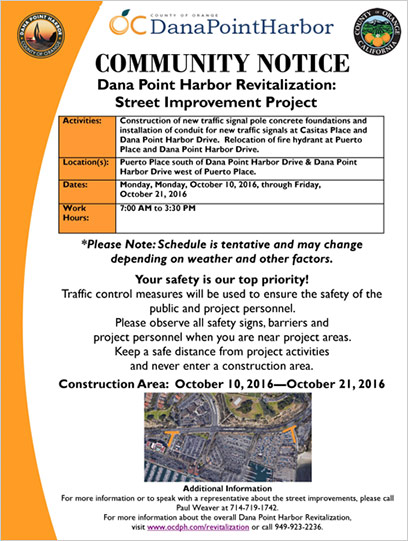 Click on the image above to view a PDF version.

Orange County Fire Authority: National Fire Prevention Week

National Fire Prevention Week takes place every year during the week of Oct. 9, the anniversary of the Great Chicago Fire in 1871. In support of the anniversary, participating OCFA fire stations hold an open house in their communities during the week. This year more than 30 stations will open their doors on Sat., Oct. 15 from 9 a.m. to 2 p.m. for meet and greets and station tours. A list of participating OCFA stations can be found here.

John Wayne Airport: Orange County Students Invited to Enter 27th Annual Student Art Contest

John Wayne Airport's (JWA) 27th annual Student Art Contest is underway. All Orange County public and private school students, including home-schooled students, in grades kindergarten through 12 are encouraged to submit artwork inspired by this year's theme, "Beyond the Clouds." Entries should be submitted to the Orange County Department of Education, any Orange County Public Library Branch or participating city libraries, no later than 4 p.m., Thursday, November 3, 2016.

"John Wayne Airport has a vibrant arts program, displaying museum quality exhibitions in the Thomas F. Riley Terminal throughout the year," said Board of Supervisors Chairwoman Lisa Bartlett. "The Student Art Contest Exhibition is one of the most popular, showcasing the talents of our community's young artists."

Selected by sponsors of the International Aviation Art Contest, the contest theme differs each year. Artworks that best depict this year's contest theme are selected for exhibition and prizes. Winners and honorable mentions from grades K-12 will be exhibited from December 6, 2016 until January 3, 2017, on the Arrival (lower) Level adjacent to Baggage Carousels 1 and 4. The JWA Student Art Contest is part of the International Aviation Art Contest. JWA winning entries go on to compete at State, National and often International levels of competition.

For more information about entering the Student Art Contest, visit ocair.com/terminal/artexhibits/#studentart or contact Art Program Coordinator Jeffrey Frisch at JFrisch@ocair.com.

Ocean Institute: Laguna Beach Million Dollar Home Raffle (and More!)

The Ocean Institute, a community-based non-profit located in Dana Point Harbor, has been teaching visitors about marine science and maritime history since 1977. The organization offers over 60 programs through its state-of-the-art ocean education center to accommodate the 250,000 students and adults that visit the facility each year. The Institute is hosting an on-going raffle, now through October 20th, to raise funds to support its educational programs and encourage good stewardship of our ocean and the environment. Prizes include South Coast Plaza gift certificates, dream vacations, luxury vehicles, and the grand prize, a lavish condominium in Laguna Beach. Tickets are $150 each and can be purchased by calling 949-627-8502. For more details and to see a full list of prizes, go to http://www.ocean-institute.org/homeraffle. Good luck!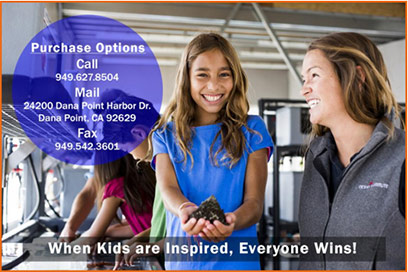 OC Animal Care/Pet of the Week


Click on the image above to view a PDF version.

200 Rabbits Rescued from Hoarder's Home, Available at the Animal Shelter

On Tuesday, OC Animal Care transferred two hundred rabbits from a residential home in Cypress to the OC Animal Shelter after receiving a complaint from a neighbor. Overall, the rabbits are in good health and were made available for adoption on Thursday. Although the shelter does have room to accommodate these animals, they are encouraging the community to adopt by waiving the rabbit adoption fee (excluding the $17 microchip fee). In light of this situation, OC Animal care would like to emphasize the importance of spaying/neutering. It is the most effective tool we have to reduce our homeless pet population and ensure that every pet has a loving home.

Rabbits are terrific pets for busy professionals and young families. They are low maintenance, inexpensive to care for, and teach children the key responsibilities of caring for a pet. I hope you visit the shelter this weekend and take home a new fuzzy friend!

Out and About South County

Dana Point: State BBQ Championship

Come join the largest BBQ competition on the west coast and watch hundreds of teams compete for a share of $30,000 in prize money and BBQ glory. The State BBQ championship will be October 8th from 10 AM to 5 PM at Sea Terrace Park. Admission is free and tasting tickets are $2 each with proceeds benefitting the Dana Point Veterans of Foreign Wars. For more information, click here.

Lake Forest: Autumn Harvest Festival

Bring your family to a fun-filled adventure at the Autumn Harvest Festival held at the Heritage Hill Historical Park. The park will be transformed into a spooky Halloween festival. Enjoy the Indiana Jones Trick or Treat Stations, Under the Sea Adventure Maze, and the Haunted School House. Children of all ages can participate in ghoulish games, costume contest and mini pumpkin decorating zone. Dress in costume with your trick or treat bag and be ready to enjoy a spooktacular good time! This event is October 8th from 4 to 9 PM at the Heritage Hill Historical Park and is $5 of adults and children. For more information, click here.

Laguna Beach: Innovative New Funk Jazz, R&B, and Soul Concert

Laguna Beach Live! is bringing the mega funky East Bay Soul, the brainchild of Grammy and Emmy nominated trumpeter Greg Adams, to Montage on Wednesday October 12, 2016. With extraordinary combined talents and the incredible energy they each bring to the music, East Bay Soul is perfect for all who appreciate Funk Jazz, R&B and Soul. You can purchase tickets here or by calling 800-595-4849. VIP tickets are $75 and include best seating, a Meet & Greet with Greg Adams, and a CD; Premium tickets are $45 center tables; Standard tickets are $25 in the rear. Food and beverages, priced separately, will be $15 and less, and parking at Montage will be $5 for concert patrons.

Mission Viejo: 28th Annual Walk Against Drugs

The City of Mission Viejo and Orange County Sheriff's Department have scheduled our 28th Annual Walk Against Drugs and Community Fair for Saturday, October 15, 2016. This event unites the City and Sheriff's Department with our local schools, businesses and community groups to share an important message with students and families. In unity, we promote healthy choices and drug-free lifestyles to all of our participants. Participants wearing red t-shirts will walk a mile and a half, forming a "red ribbon" on eastbound La Paz Road to the Oso Creek Trail, and ending at the celebration fair site on the Village Green at Oso Viejo Park (24932 Veteran's Way). This site features free vendor booths, activities, displays, food, entertainment, games and fun for all ages. The event ends at 12 pm. For more information, click here.

Connecting Women to Power Business Conference

Last year, over 1,500 women attended Diane Harkey's first Connecting Women to Power Business Conference. This year, we are bringing a bigger and better conference to Southern California. Speakers will include a representative from Facebook, a former NASA astronaut, and an international branding expert. The conference is free, but tickets are going fast, so RSVP today and reserve your seat. Space is limited!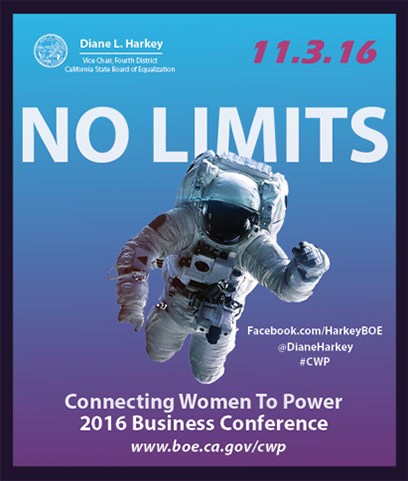 San Clemente: Pet Project Foundation Howling Halloween Ball

Halloween isn't far away! Get your tickets to the Pet Project Foundation's Howling Halloween Ball, benefiting the Dana Point/San Clemente animal shelter. The event will take place on October 30th at the Bella Collina Golf Club from 5PM – 9PM. Don your most creative costume and enjoy dinner, cocktails, music, a silent auction, and more! See the flyer below or click here for details.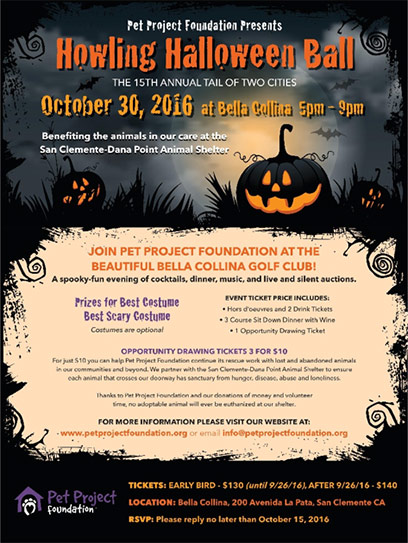 Last but not least this week I:

Gave the welcoming remarks at the County Welfare Directors Association of California Conference.
Participated in the OCTA Regional Planning and Highways committee meeting.
Gave a presentation on the elimination of Mello-Roos at the Orange County Association of Realtors meeting.
Participated in the TCA Foothill/Eastern Mobility Ad Hoc meeting, and attended the TCA "Get Moving OC" Public Forum.
Participated in the CalOptima Board meeting.
Attended the Hispanic 100 Lifetime Achievement Awards Gala.
Spoke at the Game Changer Charity's Games and Music Festival.
Hosted the inaugural South County Water Expo with DiscoveryCube Orange County and partners.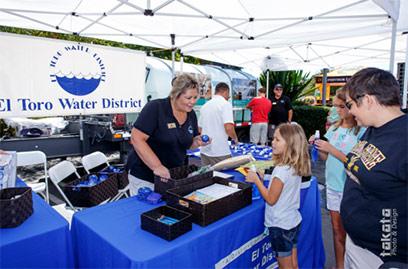 El Toro Water District Booth at the South County Water Expo.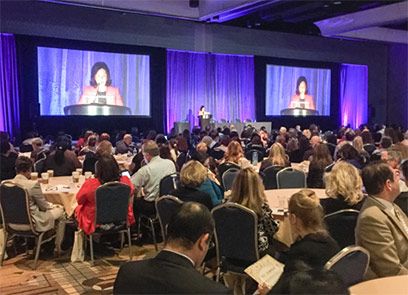 Welcoming the attendees of the County Welfare Directors Association of California Conference.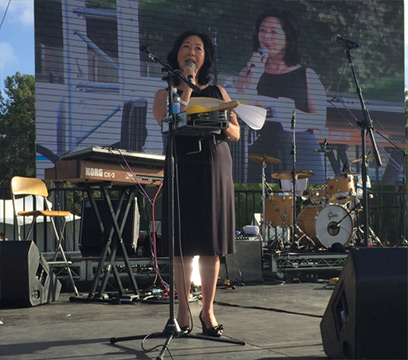 Speaking at the Game Changer charity event at Sea Terrace Park.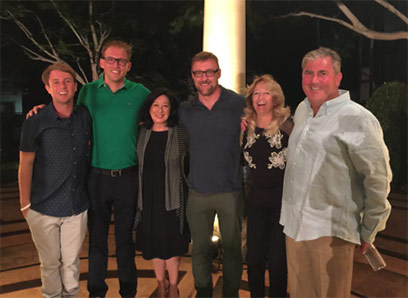 Celebrating the Game Changer Games and Music Festival with (from left to right): Taylor Carol (Leukemia survivor), Ralf (Taylor's bone marrow donor), Dr. Paul Carpenter (Taylor's doctor from Seattle Children's Hospital), and Mr. and Mrs. Carol (Game Changer founders).

My Staff:

Presented a Certificate of Recognition at the Dunkin' Donuts/Baskin Robbins ribbon cutting ceremony in Foothill Ranch, in honor of the company's 100th DD Green Achievement location.
Attended various breakout sessions at the County Welfare Directors Association of California Conference.

In honor of service to one's community, Dunkin' Donuts awarded the Lake Forest Boys and Girls Club with a $1,000 check at the ribbon cutting ceremony in Foothill Ranch.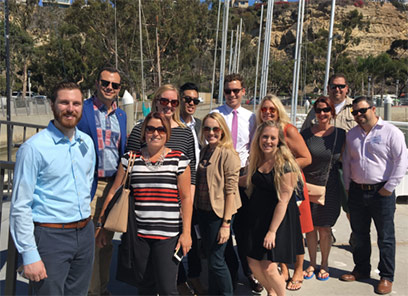 Two of my policy advisors (Victor Cao and James Dinwiddie) participating in last week's Legislative Staffer's Dana Point Harbor Tour.

South County Elected Officials in the Community


South County Water Expo partners and dignitaries.

Front: Joe Adams (DiscoveryCube), Mayor Frank Ury (Mission Viejo), Director Sandra Jacobs (SMWD), Director Chuck Gibson (SWMD), Chairwoman Lisa Bartlett (County of Orange), Director Dick Dietmeier (SCWD), Director Donald Froelich (MNWD), and Director Richard Fiore (MNWD).
Back: Director Brian Probolsky (MNWD), Director Mike Monin (ETWD), Director Duane Cave (MNWD), Director Scott Colton (MNWD), and Director Ed Mandich (TCWD).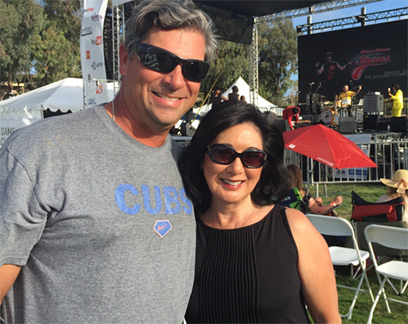 With Dana Point Councilman Joe Muller at the Game Changer charity event.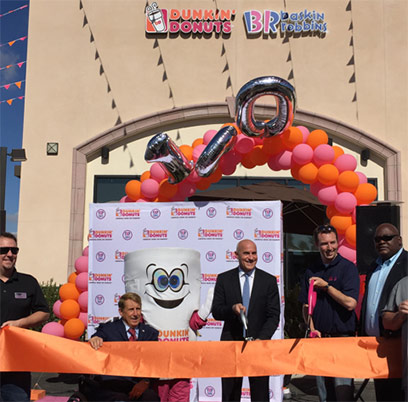 Lake Forest Mayor Pro Tem Scott Voigts at the Dunkin' Donuts/Baskin Robbins ribbon cutting.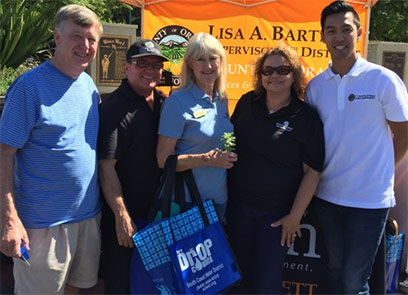 Former Mission Viejo Mayor Trish Kelly and current Mayor Pro Tem Wendy Bucknum at the South County Water Expo.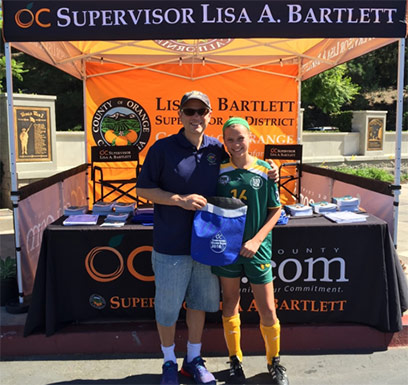 Lake Forest Mayor Andrew Hamilton at the South County Water Expo.

For questions or comments regarding Supervisor Bartlett's E-Newsletter please contact the Supervisor's office staff at: (714) 834-3550 or Tanya.Flink@ocgov.com.