Fifth District Dispatch

2016 Children and Families Forum & Fair

On Saturday, October 22, I will be hosting the 2016 South County Children and Families Forum & Fair in partnership with the City of Rancho Santa Margarita, Orange County Children's Partnership, Children & Families Commission of Orange County, Saddleback Valley Unified School District, Capistrano Unified School District, and Orange County United Way.

I cordially invite you to attend this inaugural family-friendly event, taking place from 10:00 AM to 2:00 PM at the Bell Tower Community Center, 22232 El Paseo, Rancho Santa Margarita 92688.

During the Forum, the 22nd Annual Report on the Conditions of Children in Orange County will be released, and will also feature timely presentations from renowned children and family experts, as well as opportunities to win family 4-packs to Disneyland/California Adventure, Discovery Cube, Pretend City, and other exciting prizes.

In addition, the Fair will feature informative and interactive children & family-friendly resource booths, food trucks, music, and fun activities for the whole family.

To register for the South County Children and Families Forum & Fair, please visit childrenandfamilies2016.eventbrite.com. Please click here to download a PDF version of the event flyer and the Forum Program.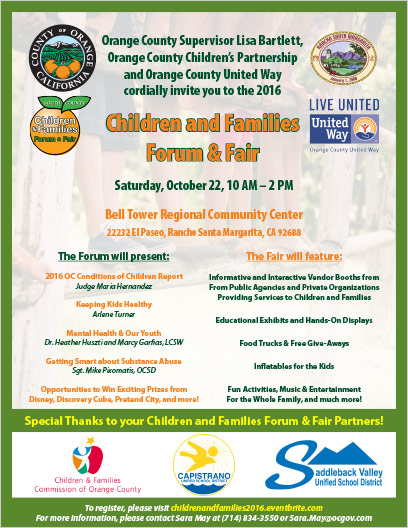 Please click here to download a PDF version of the event flyer and the Forum Program.

Drop-Off Unwanted Prescriptions at More than 30 OC Locations on "National Take Back Day"

The Health Care Agency encourages community members to drop-off expired, unused or unwanted prescription medications between 10 a.m. and 2 p.m. on "National Take Back Day" occurring Saturday, October 22 at more than 30 locations throughout Orange County.

"I encourage people to clean out their medicine cabinets and bring in expired, unused or unwanted prescription medication because one of the main sources of drug misuse in individuals over the age of 12 is prescription pain medication they've taken from a friend or family member," said Dr. Eric Handler, County Health Officer. "The opioid epidemic is nationwide and it's important we address it through participating in events like 'National Take Back Day.'"

Since the U.S. Drug Enforcement Administration's (DEA) began "National Take Back Day" in 2010, Orange County residents have dropped off 54,000 pounds of unused prescription medications for safe disposal – about the weight of a large, full garbage truck. The 'Take Back' event that occurred earlier this year resulted in the collection of more than 7,800 pounds of unused or unwanted medications.

The drop-off service is free and anonymous. To locate a collection site in your area, please visit the DEA's website here. To learn more about drug abuse prevention efforts in Orange County, visit http://ochealthinfo.com/adept.

OC Moves

La Pata Ranked No. 2 on Roads & Bridges "Top 10 Roads of 2016"

This month, the La Pata road opening had the privilege of being not only on the front cover of Roads & Bridges Magazine but also ranked as No. 2 on the Top 10 Roads of 2016. La Pata received this honor in part due to the success of the mass excavation that OC Public Works was tasked with. By the end of the project, 15 million cubic yards of earth was removed. This was no simple task, given the poor soil condition of some areas, as well as the fossils of ancient sea creatures that had to be accounted for.

This project eliminated a persistent gap in the OC highway system and established a much needed connection between Ortega Highway and Avenida Vista Hermosa. Not only did this project provide access to existing and proposed future developments but it created a safe and efficient crossing for all types of vehicles without interrupting existing traffic flows. We are very proud of this accomplishment in the 5th district and look forward to future success and achievements of the La Pata Ave Gap Connector.

Dana Point Harbor Community Notice: Street Improvement Project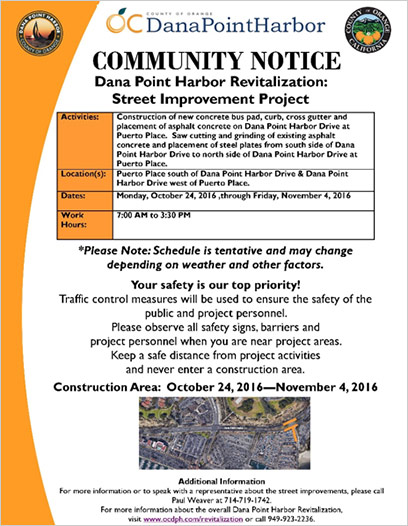 Click on the image above to view a PDF version.

County Connections

OC Community Services: Supervisors Consider Additional Ways to Address Homelessness

During a special study session to consider options for addressing the needs of those in Orange County without permanent housing, the Board of Supervisors evaluated how the system of care operates and made recommendations for improvement.

"An Assessment of Homeless Services in Orange County" was presented by Susan Price, the County's new director of care coordination, a position created to better coordinate the County's response to homelessness. Tuesday's study session was held to examine ways to provide services in a more coordinated, permanent and efficient way.

I remarked, "[The] session was very valuable and we thank everyone who was able to attend and share their perspectives. We know that the needs are great in Orange County but we also know there are many partners willing to help, including our cities, charities, faith-based groups and individuals."

Among the recommendations discussed at the Board study session Tuesday included creating geographic service planning areas for homeless programs to engage in more regional coordination; increasing the number of emergency shelter beds, transitional and permanent housing solutions for single adults and veterans; embracing the national Stepping Up Initiative coordinated through the Orange County Sheriff's Department to reduce the number of people with mental illnesses in jail; and restructuring the federal Continuum of Care governance to enhance system coordination and performance.

A copy of "An Assessment of Homeless Services in Orange County" can be found here: Homeless Assessment DCC Final Report.

A recently completed survey by County staff and non-profit organization volunteers found 461 people who said they were living permanently in the Civic Center, a 13% increase over a survey conducted at the same time last year. A copy of the 2016 Orange County Civic Center Homeless Survey can be found here.

The Courtyard, a transitional center with emergency shelter beds and services within the former Santa Ana Transit Terminal, is only one component of a larger network of services to assist those without permanent housing. Two weeks ago, the Board of Supervisors selected Mercy House Living Centers Inc. to operate a new 200-bed year-round emergency shelter and multi-service center in Anaheim as well as operate seasonal cold-weather shelters at National Guard armories in Fullerton and Santa Ana.

The County has operated a seasonal armory shelter program in Fullerton and Santa Ana for the past 28 years. However, the armories are only open seasonally and overnight. The Fullerton armory program is slated to be discontinued when the Anaheim service center opens.

More information on the new emergency shelter in Anaheim and the cold-weather armory program can be found here.

OC Health Care Agency: Flu Season

The Orange County Health Care Agency has reported our county's first confirmed case of influenza signaling that flu season is officially here. Influenza is a seasonal contagious respiratory illness which can be caused by influenza A or B viruses. Flu symptoms may include fever, cough, sore throat, runny or stuffy nose, headaches, body aches, chills and fatigue. Flu illness can be severe, leading to missed school or work, hospitalization and even death.

Flu virus is mainly spread through droplets from coughs and sneezes. The best way to protect against both influenza A and B viruses is by getting vaccinated each year before the start of the flu season. Vaccinations are recommended for everyone 6 months of age and older, and are especially important for infants, young children, pregnant women, adults over 50 and those with chronic medical conditions. Close contacts and caregivers of these high risk people should also be vaccinated.

Most insurance plans including MediCal and Medicare cover free vaccinations from your health care provider. In addition, many clinics and pharmacies offer no-cost or low-cost flu shots throughout Orange County. The Health Care Agency will be offering free seasonal influenza vaccinations for people six months of age and older who do not have a medical provider or health insurance coverage. Vaccinations will be available on a walk-in basis on the following days and times:



Every Thursday beginning November 3, 2016
8:00 to 11:30 a.m. and 1:00 to 4:00 p.m.
Public Health Clinic, 1725 West 17th Street, Santa Ana, CA 92706
The clinic will be closed on Thanksgiving



Remember these important steps to help stop the spread of flu and other germs:

Cover your cough or sneeze with a tissue (or sleeve if you are caught by surprise)
Wash your hands often with soap and warm water (or alcohol-based sanitizer, if not available)
Stay home if you are sick (at least 24 hours after your fever is gone)
The most current local information, including vaccination locations, is available at www.ochealthinfo.com/flu or by calling the Health Referral Line at 800-564-8448, Monday through Friday from 8:00 a.m. to 5:00 p.m.

OC Vector Control: Orange County Reports West Nile Virus Related Death

The first human death associated with West Nile virus (WNV) infection in Orange County has been confirmed by Orange County Health Care Agency officials. The La Habra resident in her 60s died with WNV infection complications.

"This unfortunate death shows how serious West Nile virus infection can be," said Dr. Eric Handler, County Health Officer. "It is important for people to remember that the end of summer does not mean the end of West Nile virus season."

Orange County has had 29 symptomatic WNV infections reported this year. Twenty-five had WNV Neuroinvasive disease and four had WNV fever; of these, 28 were hospitalized. Because about 80% of people infected with WNV have no symptoms, and the majority of cases of West Nile fever do not seek medical care and are not tested, the reported case counts greatly underestimate the number of infected people in our County.

Symptoms of West Nile fever include fever, headache, body aches and fatigue. Swollen lymph glands or a skin rash can also occur. Anyone who develops the more serious symptoms of West Nile Neuroinvasive disease such as severe headaches, neck stiffness, confusion, muscle weakness or vision loss should seek medical care immediately. People over 50 years of age and those with underlying medical conditions are at increased risk of serious complications from West Nile virus infection.

It is especially important to take precautions against mosquito bites during West Nile virus season. Recommended precautions include:

Emptying all standing water on your property to reduce areas in which mosquitoes may breed, including flower pots and pet bowls
Making sure your window and door screens are in good condition
Using insect repellent containing DEET, picaridin, oil of lemon eucalyptus, or products containing IR3535, always following label directions
Limiting outdoor activity at dawn and dusk, when mosquitoes are most active
Wearing long-sleeved shirts and long pants when outdoors
Information on mosquito control is available on the Orange County Vector Control District's website at www.ocvcd.org. Updated information about West Nile virus infections in Orange County can be found at www.ochealthinfo.com/westnilevirus.

OC Sheriff's Department: Bike and Pedestrian Safety Operations Aim to Curb Fatalities

The Orange County Sheriff's Department will step up Bike & Pedestrian Safety Enforcement Operations on Sunday, October 23, 2016 with focused enforcement on collision causing factors involving motorists, pedestrians and bicyclists.

The department has mapped out locations over the past 3 years where pedestrian and bike collisions have occurred along with the violations that led to those crashes. Extra officers will be on duty patrolling areas where bike and pedestrian traffic and crashes occur in an effort to lower deaths and injuries.

Officers will be looking for violations made by drivers, bike riders and pedestrians alike that can lead to life changing injuries. Special attention will be directed toward drivers speeding, making illegal turns, failing to stop for signs and signals, failing to yield to pedestrians in cross walks or any other dangerous violation.

Additionally, enforcement will be taken for observed violations when pedestrians cross the street illegally or fail to yield to drivers who have the right of way. Bike riders will be stopped and citations issued when they fail to follow the same traffic laws that apply to motorists. All riders are reminded to always wear a helmet – those under 18 years of age must wear helmets by law. Pedestrians should cross the street only in marked crosswalks or at corners.

Bicycle and pedestrian fatalities are rising in California as more people use these non-motorized means of transportation. Locally, the Orange County Sheriff's Department has investigated 759 fatal and injury collisions involving pedestrians and bicyclists during the past three (3) years. In 2013, California witnessed 701 pedestrians and 141 bicyclists killed, accounting for more than 28 percent of all traffic fatalities.

Funding for this program is provided by a grant from the California Office of Traffic Safety through the National Highway Traffic Safety Administration.

OC Public Libraries: Career Online High School

OC Public Libraries is now offering adults, age 19 and over, the opportunity to earn an accredited high school diploma! Career Online High School (COHS) is specifically designed to reintegrate adults into the education system for entry into post-secondary education or the workforce. Earning your High School Diploma can happen in as little as six months, when previous high school credits are transferred over. To start the preliminary assessment, click here. For more information, please contact Beatriz Preciado at 714-566-3070, Rebecca Braun at 714-566-3070, or visit OC Public Library website.

Treasurer-Tax Collector: Property Tax Bills Have Been Mailed

The annual 2016-2017 Secured property tax bills have been mailed to the names of the owners on the most recent tax rolls, and are now available online at ocgov.com/octaxbill. The bills are currently available to view, print or pay on our website at ocgov.com/octaxbill. We encourage you to pay online using eCheck, a no cost payment option, where you receive same day credit and can print or have the receipt e-mailed to you.

The first installment of the 2016-2017 Secured property taxes is due and payable on November 1, 2016 and will become delinquent if not paid by December 12, 2016. The second installment is due and payable on February 1, 2017 and will become delinquent if not paid by April 10, 2017. Payments made or postmarked after these dates will be assessed a late penalty.

If you haven't signed up to receive a tax reminder prior to the last payment date, please go to ocgov.com/taxreminder and input your e-mail. Please view your parcel and all parcels online using our GIS map at ocgov.com/octaxmap (open in Chrome or Firefox).

Finally, if you have Mello Roos taxes on your property and are interested in seeing when the bonds are paid off, please go to ocgov.com/melloroos to obtain this information.

OC Animal Care/Pet of the Week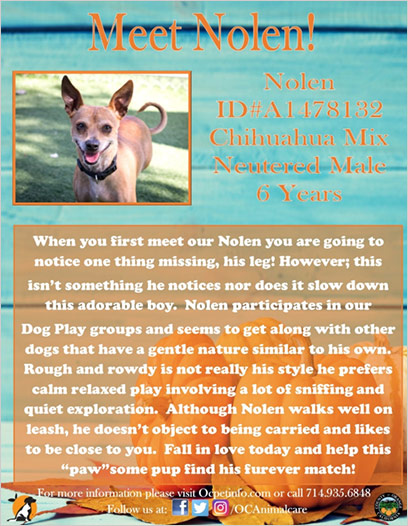 Click on the image above to view a PDF version.

Bunnanza!

The Orange County Animal Shelter still has plenty of rabbits that need loving, forever homes. These bunnies are free with the exception of a $17 microchip fee. Visit the shelter this week and adopt the perfect fuzzy friend to fit your family! As always, please remember to spay/neuter your pets.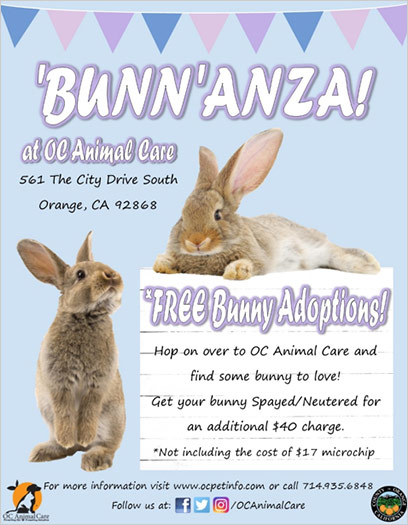 Click on the image above to view a PDF version.

Out and About South County

Dana Point: Doheny State Beach Halloween Haunt

Don't miss out on Doheny's most festive event of the year! Bring your family and friends to celebrate Halloween in an fun and safe environment with good ole fashioned spookiness, arts and crafts, a fun zone, and an array of educational booths. The event runs from 6:30 to 8:30 PM this Saturday the 22nd and meets at picnic sites A and B. There is no charge for admission, however a donation of one non-perishable item per person is greatly appreciated. Don't forget to dress up those little ones! For more information, click here.

Laguna Beach: Halloween Bash

Join in on a day of family fun & celebration! Proceeds benefit CSP Youth Shelters, continuing Officer Jon Coutchie's Protector Legacy. Activities will include a silent auction; police dog demonstration; appearance by Lord Tubbington (the cat from Glee); children's costume parade & contest; bounce house; opportunity drawing; balloon artist; face painting; candy; games; and much more! Celebrate the life of Laguna's fallen Motor Officer/Army Ranger Jon Coutchie. Musical entertainment provided by Brightside; and The Black Tongued Bells. For more information, see the flyer below, or click here.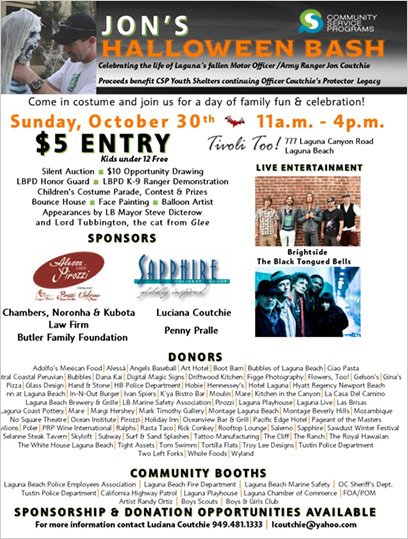 Laguna Niguel: Haunted Trails

Don't miss the Laguna Niguel Haunted Trails October 27, 28 and 29 starting at 6:30 pm. Check out the new location at the Old County Courthouse (corner of Alicia Parkway & Pacific Island Drive). Tickets go on sale at the Parks & Rec office starting Monday October 24th for $13/person. Tickets will be $15/person at the event. Don't miss this very scary event. Not recommended for children under 8 years old.

Event times:

Thursday 10/27 - 6:30 to 8:30 pm
Friday 10/28 - 6:30 to 10 pm
Saturday 10/29 - 6:30 to 10 pm
More information, contact the Parks & Rec Department at (949) 425-5100.

Lake Forest: Taste of Lake Forest

For $10, sample cuisine from more than 20 Lake Forest eateries and vote for your favorite Lake Forest restaurant. This year, we're proud to present a "Kids' Zone" filled with delicious treats, special guests, an inflatable obstacle course, face-painting, balloon artist, and much more! $2 wristbands can be purchased at the event for unlimited access to all attractions. This event is Sunday the 23rd from 12:00 to 4:00 PM at the Foothill Ranch Towne Centre Food Festival (Bake Parkway and Towne Centre Drive). For more information, click here.

San Clemente: Red Ribbon Parade & Pep Rally

"Grow a tree and leaf drugs behind" is the OC theme for the annual Red Ribbon Campaign. Celebrate Red Ribbon Week with the community as we kick off the pledge to live a healthy and drug free life with San Clemente schools, CUSD, OCSD, and civic groups down Del Mar. A Pep Rally follows at the San Clement Community Center. The parade begins at 4:15 PM at the top of Del Mar and the Pep Rally at 4:45 OM at the Community Center. This event is Monday, October 24th. For more information, click here.

San Juan Capistrano: The Ecology Center's Makers Market

On November 19th between 11AM – 5PM, come explore 40+ SoCal makers and food artisans for a one of a kind market. Support local economy and intentional, sustainable goods. Plus, enjoy fun activities such as Wildcraft Lab for kids, musical guests, & artisan demonstrations. There will also be live music from Paul Cannon IRON SAGE WOOD, among others.

Handmade: A Maker's Market celebrates goods that are functional, well designed and handmade by our local community. Choose to buy locally produced and handmade goods, rather than factory made. When we do so, we keep our money and skills inside our community to strengthen and grow our economy while supporting talented, skilled and artistic individuals.

Visit the Ecology Center's website for a list of participating artisans, as well as for more information on the Center's upcoming events.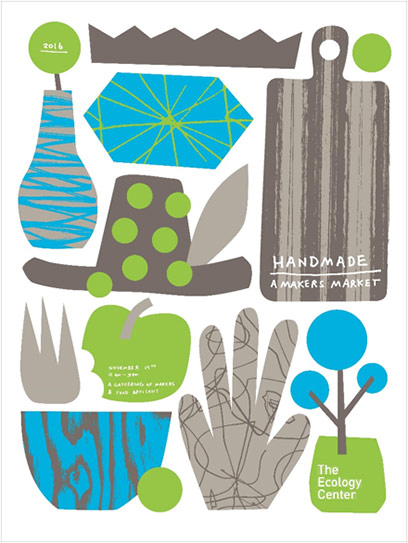 Connecting Women to Power Business Conference

Last year, over 1,500 women attended Diane Harkey's first Connecting Women to Power Business Conference. This year, we are bringing a bigger and better conference to Southern California. Speakers will include a representative from Facebook, a former NASA astronaut, and an international branding expert. The conference is free, but tickets are going fast, so RSVP today and reserve your seat. Space is limited!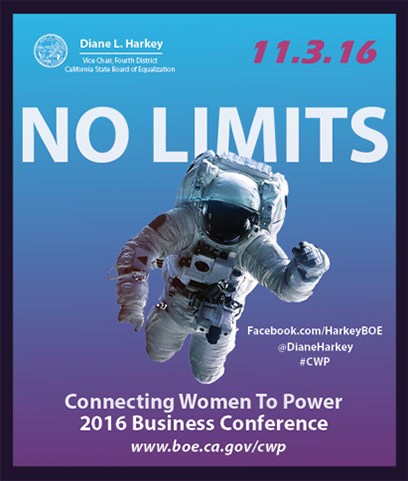 San Clemente: Pet Project Foundation Howling Halloween Ball

Halloween isn't far away! Get your tickets to the Pet Project Foundation's Howling Halloween Ball, benefitting the Dana Point/San Clemente animal shelter. The event will take place on October 30th at the Bella Collina Golf Club from 5PM – 9PM. Don your most creative costume and enjoy dinner, cocktails, music, a silent auction, and more! See the flyer below or click here for details.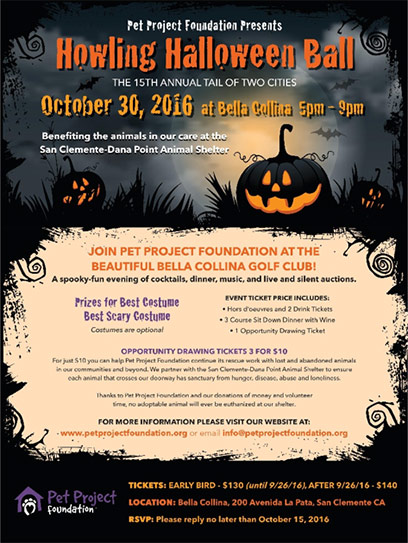 Last but not least this week I:

Gave the welcoming remarks at the 6th Annual Orange County Financial Planning Day in Huntington Beach.
Co-Hosted the 9th annual South County Disaster Preparedness Expo in Mission Viejo.
Participated in the special Board of Supervisors meeting for the Homelessness Study Session.
Attended the Celebrate Leadership reception in support of the Girl Scouts of Orange County.
Attended the American Council of Engineering Companies (ACEC) Elected Officials reception.
Attended the South Orange County Mobility Forum in Mission Viejo.
Toured the Children's Mental Health and Crisis Residential Program at the Laguna Beach Youth Shelter.
Presented a County Update at the South Orange County Association of Mayors (SOCAM) meeting in Laguna Beach.
Participated in a panel discussion with Assemblyman Don Wagner at the Lake Forest Legislative Chamber Luncheon.
Attended the Mobility21 Summit.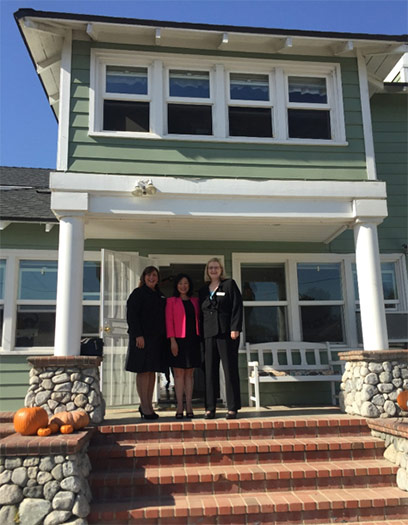 Touring the Children's Mental Health and Crisis Residential Program at the Laguna Beach Youth Shelter.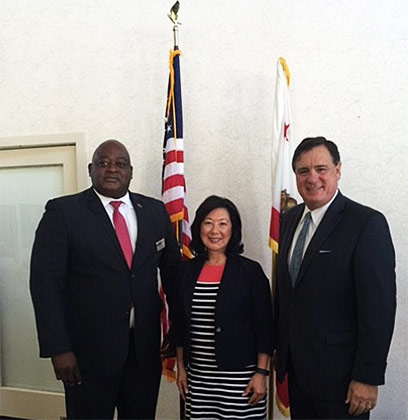 Assemblyman Wagner (right) and panel moderator Stan Yombo (left) at the Lake Forest Legislative Luncheon.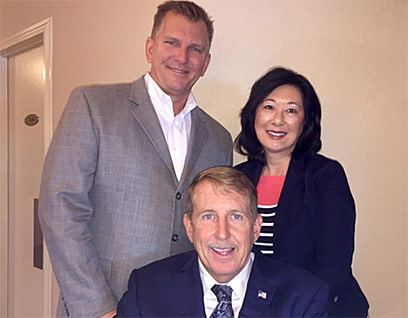 With Aliso Viejo Mayor Mike Munzing and Lake Forest Mayor Pro Tem Scott Voigts at the South Orange County Mayors Association Meeting in Laguna Beach.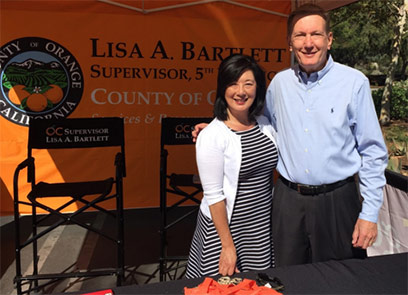 With Laguna Hills resident Mark Jones at the South County Disaster Preparedness Expo.

My Staff:

Participated in the nation-wide Great ShakeOut emergency earthquake drill.
Toured the Orange County Intelligence Assessment Center.
Presented a Certificate of Recognition in honor of the Fresca's grand opening in Lake Forest.
Presented a Certificate of Recognition in honor of the Gnosis ribbon cutting in Laguna Hills.
Presented a Certificate of Recognition in honor of the Pages of Tyme Scrapbooking ribbon cutting in Mission Viejo.
Attended the Rancho Santa Margarita Chamber of Commerce's new office grand opening.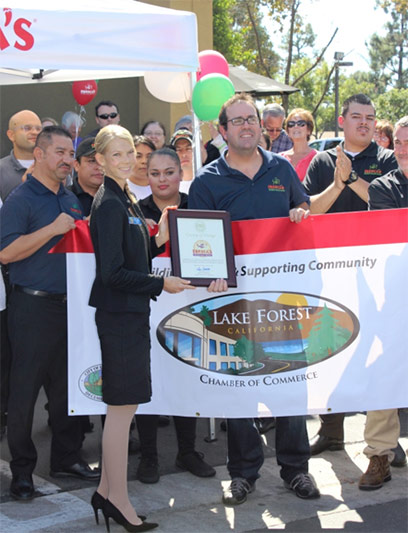 Presenting a Certificate of Recognition in honor of the Fresca's grand opening in Lake Forest.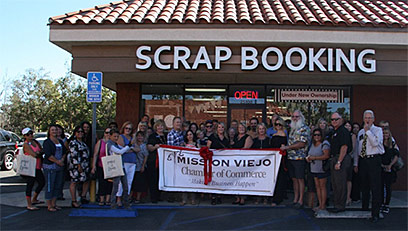 Cutting the ribbon at the Pages of Tyme ribbon cutting in Mission Viejo.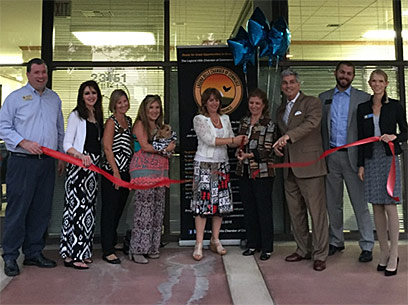 Cutting the ribbon at Gnosis in Laguna Hills.

South County Elected Officials in the Community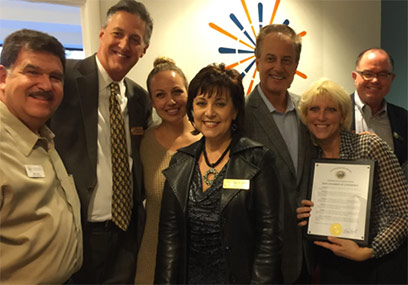 Mike Conte, RSM Councilman Brad McGirr, Mayor Pro Tem Carol Gamble, Mayor Tony Beall, Chamber President Suzanne Singh, and Councilman Mike Vaughn at the ribbon-cutting for the new office of the RSM Chamber of Commerce.

For questions or comments regarding Supervisor Bartlett's E-Newsletter please contact the Supervisor's office staff at: (714) 834-3550 or Tanya.Flink@ocgov.com.