Fifth District Dispatch

County Approved for Whole Person Care Pilot Project

The County of Orange has been approved through the state Department of Health Care Services for a five-year project to implement the Whole Person Care (WPC) pilot program, which is designed to ensure a more holistic approach to targeting the impacts of homelessness, and promoting mental and physical wellness.

The WPC goals are consistent with the County's ongoing efforts to take a broader approach to meeting the needs of those without permanent housing. This is tremendous news for Orange County and our efforts to provide additional support for our vulnerable residents who are without permanent housing. My office was happy to collaborate with the Health Care Agency and CalOptima to pursue the application.

In 2015, Orange County taxpayers paid the Medi-Cal bills for 5,918 homeless patients that accessed local emergency rooms. More than 1,000 of these patients visited Orange County emergency rooms more than once within a three-month period. The Whole Person Care program will work to reduce these frequent emergency room visits by coordinating medical, behavioral health and social service programs to meet the individual needs of these high-risk Medi-Cal members.

Participating hospitals and community clinics have agreed to redirect a portion of their existing allocations of tobacco-settlement funds toward the pilot program and to develop homeless outreach and care-coordination positions within their emergency room departments.

Upon final approval of the WPC agreement with the state, HCA will reconvene a WPC Collaborative to begin implementation and will also work with Susan Price, the County's Director of Care Coordination, to convene a WPC Steering Committee as directed by the Board. HCA will return to the Board of Supervisors within the next few months for approval of the necessary agreements with participating entities including: infrastructure development, navigation and outreach services, and recuperative care.

OC Moves

EOC Approval Final Environmental Report for M2 Freeway Environmental Mitigation Program

This week at the Orange County Transportation Authority Environmental Oversight Committee (EOC), I was proud to vote to approve the final Environmental Impact Report for the Natural Community Conservation Plan Habitat Conservation Plan (NCCP/HCP). Many environmental groups came to congratulate OCTA and offer their support for the Plan. This is a major milestone for OCTA and our partners in the environmental community.

Since 2011, OCTA has acquired seven conservation properties and funded a number of habitat restorations projects. I would like to acknowledge the work of the environmental community through the Green Vision mapping process for creating the framework for the conservation efforts. I also would like to recognize the efforts of current and past EOC members, including my predecessor Senator Pat Bates, for their leadership. This process could not have happened in record time without the diligent partnership between OCTA staff and the Wildlife Agencies. I have been able to witness this firsthand through my tenure on the EOC.

The next steps this item will take are as follows:

OCTA Regional Planning & Highways Committee – November 7th
OCTA Board – November 28th
Actions by Wildlife Agencies to approve
Execute Implementing Agreement
Identify / Fund New Restoration Projects to Fulfil Remaining Mitigation
Develop Biological Permitting Process
Annual Monitoring Reports
I am proud to represent the 5th District on the EOC, along with Director Donchak, and look forward to ensuring our mitigation requirements are fulfilled.


I-5 Camino de Estrella On-Ramp Weekend Closure

Crews are set to close the Camino de Estrella on-ramp to southbound I-5 for 55 hours, beginning at 10 p.m. Friday, Oct. 28. The ramp will reopen by 5 a.m. Monday, Oct. 31. The closure will allow crews to pave and stripe the ramp for its final configuration.

Motorists will be detoured to northbound I-5 to exit at Beach Cities / Camino Las Ramblas and be asked to follow the detour signs to access southbound I-5.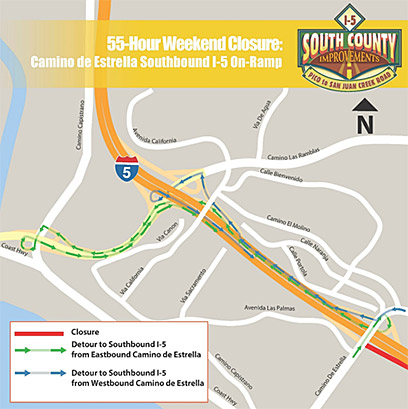 Dana Point Harbor Community Notice: Street Improvement Project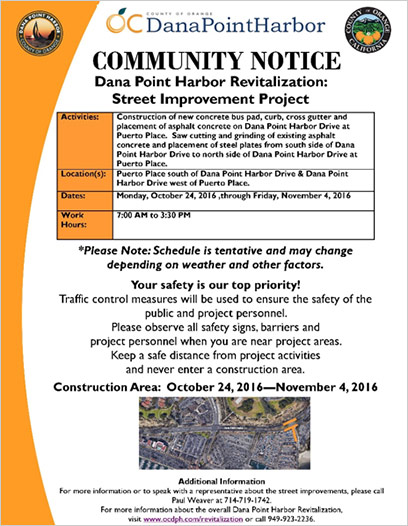 Click on the image above to view a PDF version.

County Connections

OC Health Care Agency: Flu Season

The Orange County Health Care Agency has reported our county's first confirmed case of influenza signaling that flu season is officially here. Influenza is a seasonal contagious respiratory illness which can be caused by influenza A or B viruses. Flu symptoms may include fever, cough, sore throat, runny or stuffy nose, headaches, body aches, chills and fatigue. Flu illness can be severe, leading to missed school or work, hospitalization and even death.

Flu virus is mainly spread through droplets from coughs and sneezes. The best way to protect against both influenza A and B viruses is by getting vaccinated each year before the start of the flu season. Vaccinations are recommended for everyone 6 months of age and older, and are especially important for infants, young children, pregnant women, adults over 50 and those with chronic medical conditions. Close contacts and caregivers of these high risk people should also be vaccinated.

Most insurance plans including MediCal and Medicare cover free vaccinations from your health care provider. In addition, many clinics and pharmacies offer no-cost or low-cost flu shots throughout Orange County. The Health Care Agency will be offering free seasonal influenza vaccinations for people six months of age and older who do not have a medical provider or health insurance coverage. Vaccinations will be available on a walk-in basis on the following days and times:



Every Thursday beginning November 3, 2016
8:00 to 11:30 a.m. and 1:00 to 4:00 p.m.
Public Health Clinic, 1725 West 17th Street, Santa Ana, CA 92706
The clinic will be closed on Thanksgiving


Remember these important steps to help stop the spread of flu and other germs:

Cover your cough or sneeze with a tissue (or sleeve if you are caught by surprise)
Wash your hands often with soap and warm water (or alcohol-based sanitizer, if not available)
Stay home if you are sick (at least 24 hours after your fever is gone)
The most current local information, including vaccination locations, is available at www.ochealthinfo.com/flu or by calling the Health Referral Line at 800-564-8448, Monday through Friday from 8:00 a.m. to 5:00 p.m.

OC Public Libraries: EBooks Available

Popular eBooks and digital audiobook titles will continue to be offered at Orange County Public Libraries branches, thanks to the extension of a contract approved this week by the Board of Supervisors.

The agreement with OverDrive Inc. will expand the current collection of eLibrary materials to meet the growing demand of patrons for high-quality and diverse library materials.

Even with our digital world, libraries are more relevant than ever, particularly by offering a 'virtual' library environment. Patrons can download eBooks online at OC Public Libraries, where they'll find books for just about everyone as well as materials in various languages, including Spanish and Chinese.

OC Public Libraries greatly expanded the availability of eBooks and digital audiobook titles to users in 2008 through its website, www.ocpl.org. As e-Reading gained popularity, e-Library downloads surged, increasing from 5,673 downloads of material in 2008 to 40,486 in 2015. The contract approved this week will allow the libraries to purchase more high-demand titles.

The contract with OverDrive was extended for an additional year, at $500,000 a year, with an option for two additional one-year periods. OverDrive supplies a secure lending platform for 22,000 libraries, schools and retailers worldwide with support for all major computers and mobile devices.

To search the libraries' selection of eBooks, go to www.ocpl.org and click on "eLibrary" on the top horizontal menu bar. From the drop-down menu, select "Online Resources" and then click the "OverDrive" box. That will take you to a listing of available downloads. The following page includes a chart showing the increase in eBooks and digital audiobooks checked out between 2006 and 2015: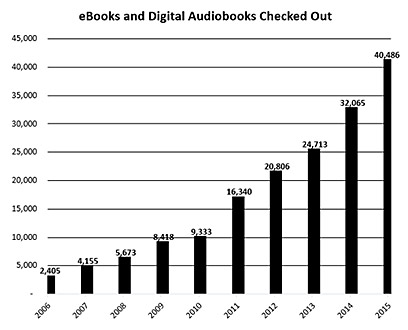 OC Sheriff's Department: On Halloween, and Every Day, Buzzed Driving Is Drunk Driving

This Halloween weekend, the Orange County Sheriff's Department (OCSD) is reminding Halloween partiers that Buzzed Driving Is Drunk Driving. If your Halloween party involves alcohol then you have to make a plan to get home without getting behind the wheel.

OCSD will deploy a special roving DUI Saturation Patrol to stop and arrest alcohol and drug-impaired drivers during the Halloween weekend. The roving patrol will be throughout OCSD jurisdiction on Friday October 28 from 7 p.m. to 3 a.m. Law enforcement will be out looking for the tale-tell signs of drunk driving in order to stop and arrest impaired drivers throughout the region this weekend and Monday, October 31 – Halloween night.

According to the National Highway Traffic Safety Administration (NHTSA), 43 percent of all motor vehicle crashes involved drunk driving on Halloween night from 2009 to 2013. Over that same period, 119 people were killed by drunk driving. Children out trick-or-treating and the parents accompanying them are also at risk as 19 percent of fatal pedestrian crashes on Halloween night (2009-2013) involved drunk drivers.

Drivers are encouraged to download the Designated Driver VIP, or "DDVIP," free mobile app for Android or iPhone. The DDVIP app helps find nearby bars and restaurants that features free incentives for the designated sober driver, from free non-alcoholic drinks to free appetizers and more. The feature-packed app even has social media tie-ins and even a tab for the non-DD to call Uber, Lyft or Curb.

The cost of a ride home is cheap! Drivers caught driving impaired can expect the impact of a DUI arrest to include jail time, fines, fees, DUI classes, license suspensions and other expenses that can exceed $10,000, not to mention the embarrassment when friends and family find out.

Buzzed Driving Is Drunk Driving, so follow these simple tips to stay safe:

Plan a safe way to get home before you attend the party. Alcohol impairs judgment, as well as reaction time. If you're drunk you're more likely to drive drunk.
Designate a sober driver or take public transportation, a car service, or a call a sober friend of family member to get home.
Walking while impaired can be just as dangerous as drunk driving. Designate a sober friend to walk you home.
If you see someone you think is about to drive while impaired, take their keys and help them get home safely.
Funding for this DUI operation is provided to OCSD by a grant from the California Office of Traffic Safety, through the National Highway Traffic Safety Administration, reminding everyone to 'Report Drunk Driver – Call 9-1-1'.

OC Animal Care/Pet of the Week
Supervisors Support Fee Waiver to Encourage Animal Adoptions

Faced with an abundance of dogs, cats and rabbits filling space at the OC Animal Shelter, the Board of Supervisors has voted to allow OC Animal Care to waive adoption fees for pets being adopted in unincorporated areas, with plans to expand countywide.

We hope that by waiving adoption fees, this will provide an additional incentive for the swift and responsible adoption of shelter animals to prevent overcrowding and provide them with loving new homes.

The waiver will begin as soon as possible pending technical adjustments to the shelter's fee system to accommodate animals being adopted by residents in the unincorporated areas. The plan is for the waiver to remain in effect until such time as shelter capacity drops below 60%. OC Animal Care will be working with its partner cities to implement the waiver for animals from all jurisdictions as soon as possible.

The shelter has been hovering at around 95% capacity for the last several weeks. Much of the animal influx was due to the impounding of 200 rabbits seized from a home earlier this month—about 150 of which remain at the shelter. The facility has been housing between 575 and 630 animals, which is about 200 more than even the busiest times of the year. A resolution approved by the Board allows the fee waivers to be triggered whenever capacity exceeds 80%.

OC Animal Care is encouraging animal lovers to permanently adopt or temporarily foster a shelter pet. "Staff and volunteers from all departments are chipping in to help provide care to these animals but what they really need is a loving home." said OC Animal Care Director Jennifer Hawkins, DVM.

For more information about the OC Animal Shelter, please visit: http://ocgov.com/gov/occr/animal/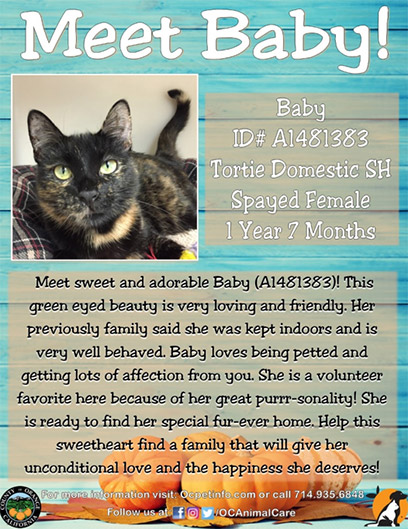 Click on the image above to view a PDF version.

Out and About South County

Laguna Beach: Halloween Bash

Join in on a day of family fun & celebration! Proceeds benefit CSP Youth Shelters, continuing Officer Jon Coutchie's Protector Legacy. Activities will include a silent auction; police dog demonstration; appearance by Lord Tubbington (the cat from Glee); children's costume parade & contest; bounce house; opportunity drawing; balloon artist; face painting; candy; games; and much more! Celebrate the life of Laguna's fallen Motor Officer/Army Ranger Jon Coutchie. Musical entertainment provided by Brightside; and The Black Tongued Bells. For more information, see the flyer below, or click here.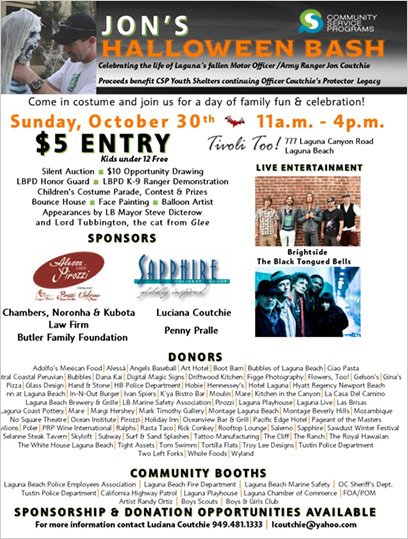 Laguna Hills: New Vista School Winter Boutique

The New Vista School, which serves autistic children in Laguna Hills, is having a Winter Boutique on November 4 from 3:00 p.m. to 6:00 p.m. The event will have over 20 vendors with all types of products from jewelry and accessories to home decor, clothing, specialty foods, and so much more. There will be raffle prizes, music, and food for purchase. For more information please contact the New Vista School Parent Guild at 949-455-1270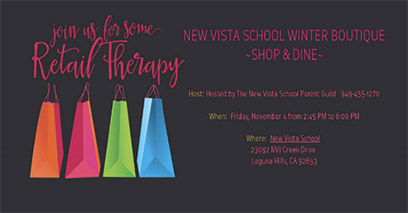 Laguna Niguel: Haunted Trails

Don't miss the Laguna Niguel Haunted Trails October 27, 28 and 29 starting at 6:30 pm. Check out the new location at the Old County Courthouse (corner of Alicia Parkway & Pacific Island Drive). Tickets go on sale at the Parks & Rec office starting Monday October 24th for $13/person. Tickets will be $15/person at the event. Don't miss this very scary event. Not recommended for children under 8 years old.

Event times:

Thursday 10/27 - 6:30 to 8:30 pm
Friday 10/28 - 6:30 to 10 pm
Saturday 10/29 - 6:30 to 10 pm
More information, contact the Parks & Rec Department at (949) 425-5100.

Mission Viejo: Hometown Halloween

Don't miss the spiders, bats, ghouls and spooky fun at Hometown Halloween on Saturday, October 29. This spooktacular event is from 3 p.m. to 7 p.m. Enjoy an un-haunted maze from 3 p.m. to 6 p.m. and a haunted maze from 6 p.m. to 7 p.m. at the Norman P. Murray Community and Senior Center, 24932 Veterans Way. The event includes pony rides, games, crafts, face painting and a pint-sized pumpkin patch. Visitors will also enjoy a mad scientist show, costume parade, themed characters, live entertainment, food trucks and so much more. Patrons are invited to sport their Halloween best – sweet or scary – and all are welcome. For more information, call 768-0981.

San Juan Capistrano: The Ecology Center's Makers Market

On November 19th between 11AM – 5PM, come explore 40+ SoCal makers and food artisans for a one of a kind market. Support local economy and intentional, sustainable goods. Plus, enjoy fun activities such as Wildcraft Lab for kids, musical guests, & artisan demonstrations. There will also be live music from Paul Cannon IRON SAGE WOOD, among others.

Handmade: A Maker's Market celebrates goods that are functional, well designed and handmade by our local community. Choose to buy locally produced and handmade goods, rather than factory made. When we do so, we keep our money and skills inside our community to strengthen and grow our economy while supporting talented, skilled and artistic individuals.

Visit the Ecology Center's website for a list of participating artisans, as well as for more information on the Center's upcoming events.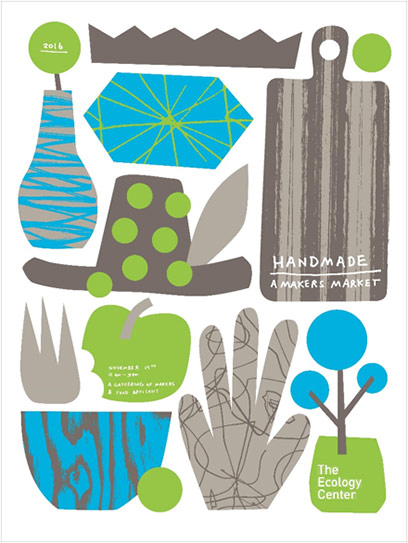 Connecting Women to Power Business Conference

Last year, over 1,500 women attended Diane Harkey's first Connecting Women to Power Business Conference. This year, we are bringing a bigger and better conference to Southern California. Speakers will include a representative from Facebook, a former NASA astronaut, and an international branding expert. The conference is free, but tickets are going fast, so RSVP today and reserve your seat. Space is limited!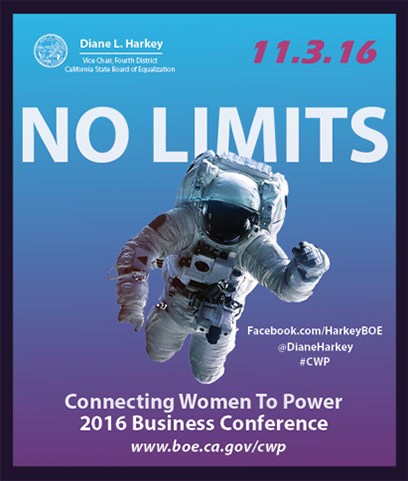 San Clemente: Pet Project Foundation Howling Halloween Ball

Halloween isn't far away! Get your tickets to the Pet Project Foundation's Howling Halloween Ball, benefitting the Dana Point/San Clemente animal shelter. The event will take place on October 30th at the Bella Collina Golf Club from 5PM – 9PM. Don your most creative costume and enjoy dinner, cocktails, music, a silent auction, and more! See the flyer below or click here for details.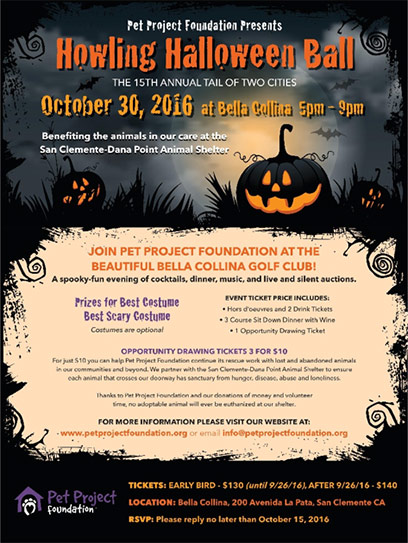 Last but not least this week I:

Presented a Board Resolution to Michael Schrader, CEO of CalOptima, in honor of CalOptima's third consecutive year of being named the top rated Medi-Cal plan in the State of California.
Presented the 2016 CSAC Challenge Award to Shane Silsby, Director of OC Public Works, to recognize the OC Public Works Adopt-A-Channel Program.
Presented a Proclamation to OC Waste & Recycling in recognition of November 15 as America Recycles Day
Participated in the OCTA Board meeting.
Gave the welcoming remarks at the Community First Conference.
Presented a Dana Point Harbor update at the Laguna Niguel Republican Women Federated (LNRWF) monthly meeting.
Participated in the OCTA Environmental Oversight Committee meeting.
Participated in two CalOptima ad hoc meetings.
Participated in the OCFA Board meeting.
Gave the welcoming remarks at the Children and Families Fair in Rancho Santa Margarita.
Hosted the South County Children and Families Forum.

Presenting a Board Resolution to CalOptima CEO Michael Schrader and Health Care Agency Director Mark Refowitz, in honor of CalOptima's third consecutive year of being named the top rated Medi-Cal plan in the State of California.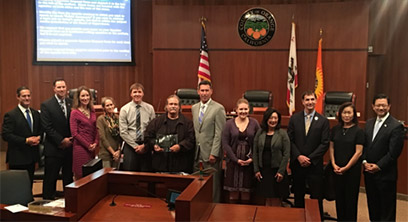 Presenting the 2016 Challenge Award from Graham Knaus, CSAC Deputy Executive Director of Operations and Member Services to OC Public Works for its Adopt-A-Channel Program.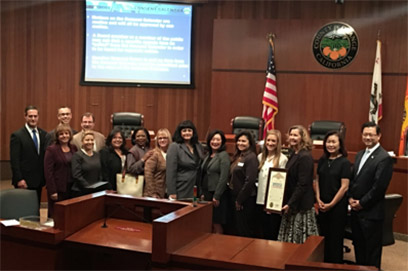 Presenting a Proclamation to OC Waste & Recycling and the County's Recycling Coordinators in recognition of November 15 as America Recycles Day.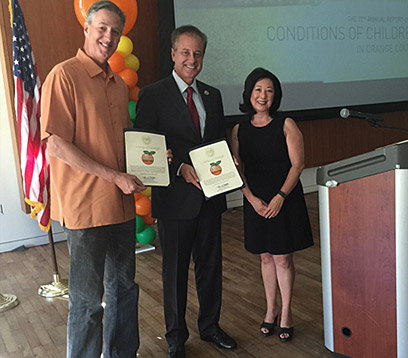 With RSM Councilman Brad McGirr and Mayor Tony Beall at the South County Children & Families Forum.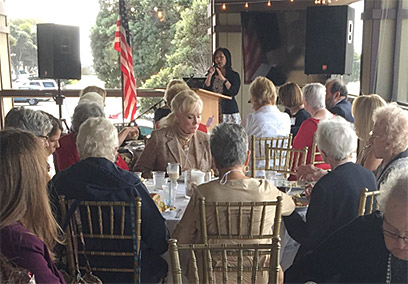 Presenting the keynote address at the Laguna Niguel Republican Federated luncheon in Dana Point Harbor.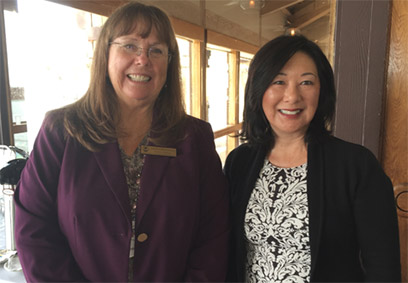 With CUSD Trustee Martha McNicholas at the LNRWF luncheon.

My Staff:

Presented a Certificate of Recognition in honor of the Dental Magic OC ribbon cutting in Lake Forest.
Presented a Certificate of Recognition in honor of the Marque Urgent Care ribbon cutting in Mission Viejo.
Presented a Certificate of Recognition in honor of the Reata Glen groundbreaking in San Juan Capistrano.
Attended the Saddleback State of the College breakfast.
Attended the 2016 South Orange County Transportation Forum.
Participated in the 2016 CALAFCO Annual Conference in Santa Barbara.
Provided Certificates of Recognition to the CWLA Women 2 Watch recipients.
Attended the CalOptima Legislative Luncheon.
Attended the Dana Point Historical Society presentation of the documentary film "The Rock, The Harbor, and The Time Capsule.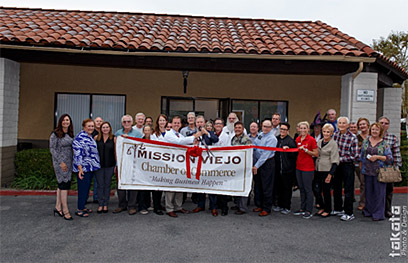 Cutting the ribbon at Marque Urgent Care in Mission Viejo.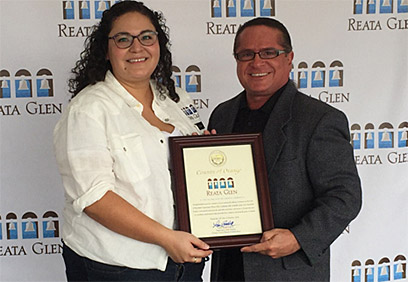 Presenting a certificate of recogntion at the Reata Glen groundbreaking ceremony in San Juan Capistrano.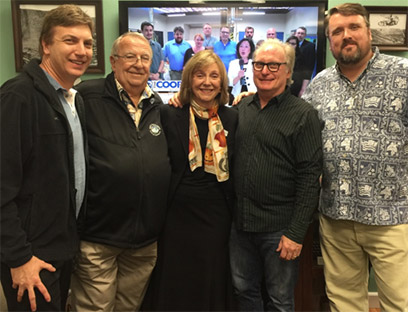 At the Dana Point Historical Society reception with Blair Walker (son of historian Doris Walker), Don Hansen (Dana Wharf Sport Fishing), Barbara Johannes (DPHS President), Jonathan Jenkins (Time Capsule videographer), and Chris Jepsen (OC Archives).

South County Elected Officials in the Community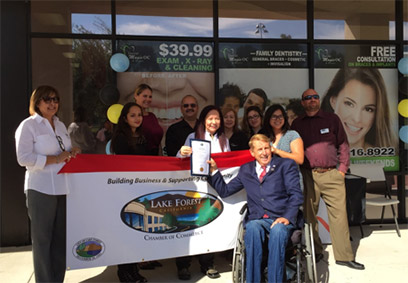 Lake Forest Mayor Pro Tem Scott Voigts at the Dental Magic OC ribbon cutting.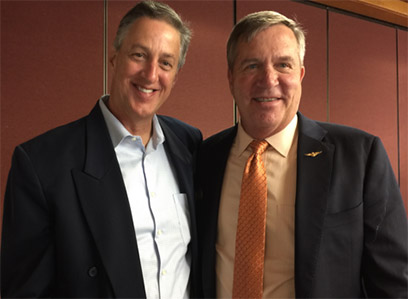 RSM Councilman Brad McGirr and Mission Viejo Councilman Greg Raths at the Saddleback College "State of the College" breakfast.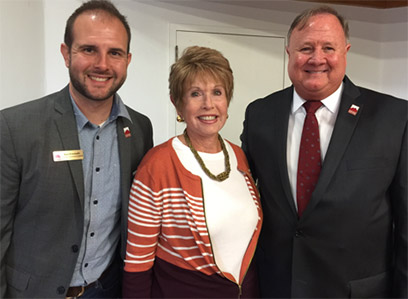 Saddleback College Emeritus Institute Director Dan Predoehl, Laguna Woods Councilwoman Carol Moore, and Saddleback College President Dr. Tod Burnett at the "State of the College" breakfast.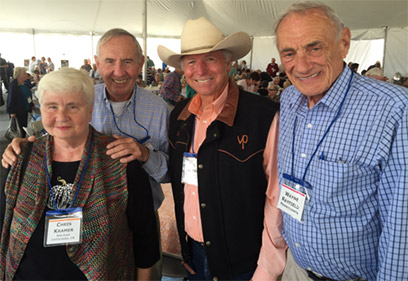 Former San Juan Capistrano Mayor Larry Kramer, current Councilman Sam Allevato, and South Coast Water District President Wayne Rayfield at the Reata Glen groundbreaking.

For questions or comments regarding Supervisor Bartlett's E-Newsletter please contact the Supervisor's office staff at: (714) 834-3550 or Sara.May@ocgov.com.