Fifth District Dispatch

HAPPY VETERANS DAY!

Orange County is home to the sixth largest concentration of veterans in the United States – approximately 133,000 - and growing. I would like to take this opportunity to recognize all of the honorable men and women who have served in our nation's military. Whether serving during wartime or peace, the commitment to protect one's country is a truly selfless and courageous act worthy of the highest praise.

I commend all of our veterans, from our neighbors in the Fifth District, to those nationwide, and offer my sincerest gratitude. On Friday, November 11th, I hope you take a moment to thank a local veteran for their service and heroism.

I highly encourage you attend a Veteran's Day event in your community. Please see below to find an event nearest you.

Have a safe and happy Veterans Day!

Veterans Day Celebrations in South County

Dana Point

Dana Point Veterans of Foreign Wars Post 9934 & Ladies Auxiliary and the City of Dana Point will recognize all Veterans for their service and sacrifices for America. The event will take place on Friday, November 11 at Strands Vista Park at 10AM. For more information, please click here.

Irvine

In honor of our veterans and in support of their families, the City of Irvine is hosting a special Veterans Day ceremony at 11 a.m. on Friday, Nov. 11 at Col. Bill Barber Marine Corps Memorial Park. For more information, please click here.

Laguna Niguel

There will be a Veterans Day Ceremony on Friday, November 11 from 11AM to 12:30 PM at the Sea Country Senior & Community Center. For more information, please click here.

Lake Forest

El Toro Memorial Park will be holding its 28th Annual Veterans Day Observance on Friday, November 11th at 11:00 a.m. Please make plans to attend this free event and show your support and gratitude for all our veterans. For more information, please click here.

Mission Viejo

On this special day, Friday November 11th, the city will honor and remember the men and women of the Armed Forces. Light refreshments provided. The ceremony will take place at the Norman P. Murray Community and Senior Center from 2PM to 4PM. For more information, please click here.

Support the Military in Your Community:

Dana Point: Sponsor a Marine for Thanksgiving Dinner

Let's celebrate our Marines & their families with a festive, fully plated Thanksgiving dinner and desserts! Come join in the celebration with our Marines, Sailors, Wounded Warriors and their families.

The meal, desserts, drinks, raffle prizes and entertainment are our way of saying Thank You and all are complimentary for our 5th Marines thanks to your support.

On Thanksgiving Day, November 24, 2016, Waterman's Harbor Restaurant will again be hosting for the 5th year a complete plated Thanksgiving Dinner, Open Bar, Dessert and Coffee for our Marines and their Families at Waterman's Harbor Restaurant in Dana Point.

DONATE TODAY! The cost to Sponsor a Marine or Family Member is only $35/Person. To Sponsor a Marine(s) and their Family Member(s) please click here.

Laguna Niguel: Military Families Toy Drive

Support Our Military Families This Holiday Season! Purchase a new toy or gift card and leave it with us today! Toys for 1-12 year olds and gift cards for teenagers are greatly appreciated. This collection will take place November 11-13 from 9 AM to 6 PM at the Walmart on Alicia Parkway. For more information, please click here.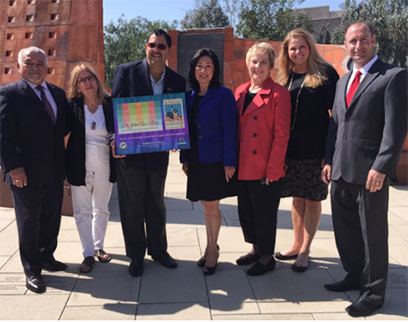 At the Saddleback College Veterans Memorial kicking-off the 2016 South County Veterans Resource Fair.
To see a snapshot of the current economic, employment and wellbeing of South Orange County Veterans, click here.

To see a list of Veterans resources in Orange County, please click here.

For questions or comments regarding Supervisor Bartlett's E-Newsletter please contact the Supervisor's office staff at: (714) 834-3550 or Sara.May@ocgov.com.