Happy Thanksgiving!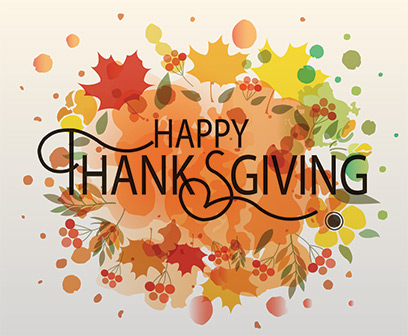 The holiday season is a time to recognize and embrace the positives in our lives. Despite the challenges that surround us, it is crucial to take this time to focus on and be thankful for all the good that surrounds us. Personally, I am thankful to serve in such a gorgeous and flourishing county, among many other things.

There are so many ways to celebrate the holiday: cooking (and indulging in) a hearty, nutritious meal; participating in a local turkey trot; watching an exciting game of football; or even volunteering to serve those less fortunate. No matter what your plans are for the holiday, I hope you spend it doing what you love, surrounded by family and friends. I wish you all safe travels and a very happy Thanksgiving!

Holiday Open House Invitation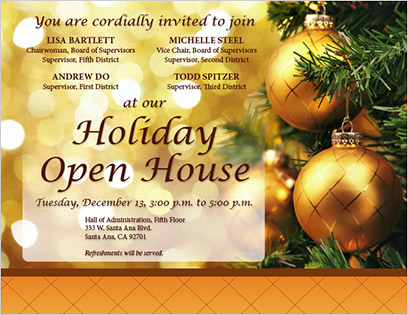 Click on the image above to view a PDF version.

RSVP to Tanya Flink at Tanya.Flink@ocgov.com.

County Connections

Seeking Candidates to Serve on the Member Advisory Committee- CalWORKS Seat

The CalOptima Board of Directors welcomes input and recommendations from the community regarding issues concerning CalOptima programs. For this reason, the CalOptima Board encourages members and community advocates to become involved through an advisory group known as the Member Advisory Committee (MAC).

The Member Advisory Committee advises the CalOptima Board of Directors and staff. The CalOptima MAC is composed of 15 members representing the various constituencies that CalOptima serves. The charge of the committee is to:

Provide advice and recommendations to the CalOptima Board on issues concerning CalOptima programs as directed by the CalOptima Board.
Engage in study, research and analysis of issues assigned by the Board or generated by the committee.
Serve as a liaison between interested parties and the Board.
Assist the Board in obtaining public opinion on issues relating to CalOptima programs.
Initiate recommendations on issues for study to the CalOptima Board for their approval and consideration.
Facilitate community outreach for CalOptima and the Board.
At this time, CalOptima is seeking a candidate to participate on its Member Advisory Committee for the foster children seat. Service on the MAC is voluntary and with no salary.

The committee encourages interested individuals with knowledge of Medi-Cal and Medicare. To apply or to nominate an individual for the Member Advisory Committee, please mail, fax or email the attached candidate application by December 16, 2016, along with a biography or résumé to:



CalOptima

Attn: Becki Melli

505 City Parkway West

Orange, CA 92868

Fax: 714-481-6469 or email:

bmelli@caloptima.org


If you have any questions, please call 714-246-8635.

OC Moves

Thanksgiving Travel Tips From John Wayne Airport

Airports across the country are anticipating a record-setting year-end holiday travel season. The Thanksgiving holiday is one of the most heavily traveled holiday periods, and passengers traveling through John Wayne Airport (JWA) between Friday, November 18 and Monday, November 28 will experience higher-than-normal passenger traffic. JWA travelers can visit www.ocair.com for real-time flight status, parking availability, and road closures and construction activity near the Airport.

I can assure you that during this busy holiday season, visitors to John Wayne Airport will experience the same friendly staff, superior guest amenities, and safe and secure environment they rely upon. Wherever you are travelling to celebrate the Thanksgiving holiday, the airport wishes you a safe and enjoyable trip.

Travel Tips

All passengers flying out of JWA are encouraged to arrive 90 minutes to two hours before scheduled departure times for domestic flights and three hours for international flights to find parking, check luggage and go through the security screening checkpoint. Passengers who are members of TSA Pre✓™ can expedite the screening process in Terminals A, B and C.
Passengers are allowed one small carry-on bag plus one personal item as long as the carry-on bag fits airline dimensions. Check with individual airlines for specifics. For helpful information about the 3-1-1 liquids rule for carry-on bags and other travel tips from the Transportation Security Administration (TSA) please visit the TSA website.
"If You See Something, Say Something™" To report a suspicious object or activity in the Riley Terminal, dial "0" from a White Courtesy Phone to reach an operator, or dial 2-5000 to reach Airport Police Services, or you may notify an Airport employee or a uniformed officer. Guests may also dial 949-252-5200 from a mobile device.
Parking at John Wayne Airport
Curbside Valet Parking is available for $30 per day, located on the Departure (upper) Level between Terminals A and B, or in front of Terminal C.
Parking Structures A1, A2, B2 and C are located adjacent to and directly across from the Riley Terminal at a rate of $2 per hour and $20 per day, with the first 15 minutes being free for those dropping off and picking up passengers. Off-site Main Street Parking Lot located at 1512 Main St., Irvine, for $14 per day with free shuttle service to/from the Riley Terminal every 15 minutes.
Travelers should plan ahead and visit the Parking Availability section on ocair.com prior to arriving at the Airport or call 949-252-5200 to inquire about real-time parking availability.
Passenger Pick-up/Drop-Off
Drivers picking up passengers are encouraged to utilize the Cell Phone Waiting Lot or the 2-hour parking spaces, located on the lower level of Parking Structures A1, B2 and C. Access to Terminal parking structures is available from the Departure (upper) Level only.
Color-coded and numbered columns along the white curb on the Arrival (lower) Level roadway make meeting arriving passengers easy. Column 14 is also a designated JWA Yellow Cab pick-up location for Terminal C.
Transportation Network Companies Uber, Lyft and Wingz utilize the color-coded and numbered columns to pick-up passengers curbside on the Arrival (lower) Level roadway. For more information about John Wayne Airport, visit ocair.com.

TCA and Caltrans Seeking Public Comments for Proposed 241/91 Express Connector Project

The Transportation Corridor Agencies (TCA) and Caltrans are proposing to build a direct, median-to-median, tolled connector to link the northbound 241 Toll Road and eastbound 91 Express Lanes and to link the westbound 91 Express Lanes to the southbound 241 Toll Road. This "Express Connector" would decrease traffic congestion, enhance safety by reducing weaving across lanes, and improve toll road and toll lane access in Orange and Riverside Counties.

TCA and Caltrans welcome your comments. The draft supplemental Environmental Impact Report/Environmental Impact Statement is available for public review from Nov. 7, 2016 to Jan. 9, 2017. An open house style public hearing will be held Tuesday, Nov. 29 from 5:30 to 8:30 PM at the East Anaheim Community Center, 8201 E. Santa Ana Canyon Rd., Anaheim.

If you are unable to attend the public hearing in person, you can take part in an online "virtual public hearing" by viewing a video during or after the public hearing. Visit the project website to view the virtual public meeting (available on and after Nov. 29 at 5:30 PM), learn more about the proposed project, how to submit comments, and sign up for updates.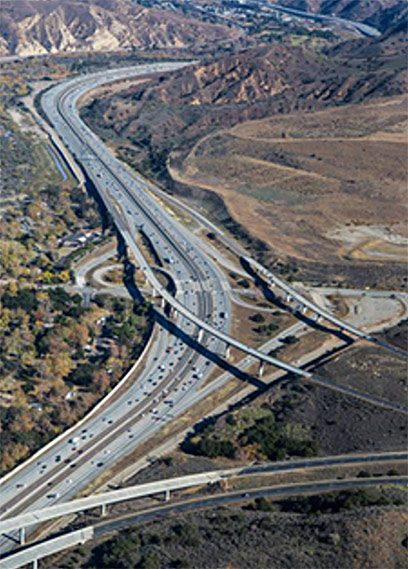 Turkey Trot Road Closure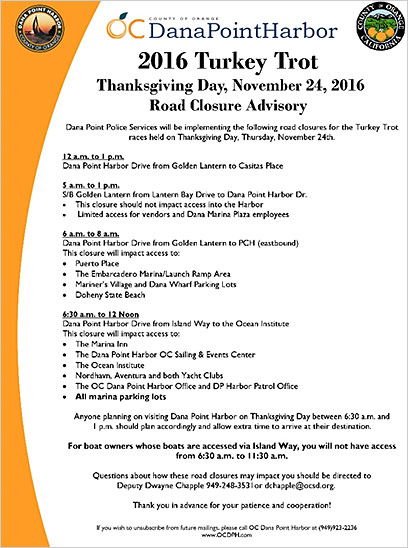 Click on the image above to view a PDF version.

OC Public Works: Aliso Creek Bike Trail Closed For Improvements

If you use the Aliso Creek Bike Trail, be aware that a stretch of the trail between Awma Road and Moulton Parkway is closed today as OC Public Works resumes slurry seal work.

The work is also slated from 7 a.m. to 5 p.m. on Wednesday and Friday. It's an active construction area so any bicycles or pedestrians entering the trail that has newly placed slurry seal material will cause damage to it and the surface could damage bikes. For your safety and to allow the improvements to remain in good condition, OC Public Works is urging the public to obey all trail closure signs in that area.

Next week (Nov. 28) crews will return to restricted work hours for striping and other trail work from 9 a.m.to 2:30 p.m. Monday, Wednesday and Friday and from 10 a.m. to 2:30 p.m. on Thursday.

For more information, contact OC Public Works at 714-796-0407.

Out and About South County

Dana Point: Turkey Trot

Located in the beautiful Dana Point Harbor, the Dana Point Turkey Trot is celebrating its 39th year! The annual Turkey Trot will take place on Thursday, November 24, 2016 at 6:00 AM. Bring your family and friends to wobble before you gobble. Our flat, scenic race features a 10k, 5k and Kids Gobble Wobble. Join us on Thanksgiving Day and give yourself an excuse for an extra piece of pie! To register click here.

Ladera Ranch: Small Business Saturday

This November 26th, we want to celebrate Small Business Saturday with you! It's a special holiday created so communities can show love for small businesses like ours. So mark your calendars for November 26th, the Saturday after Thanksgiving, and get ready to Shop Small(R) and Shop Ladera. Don't forget to share your favorite Small Business Saturday moments on Facebook, Twitter, and Instagram with #ShopSmall #ShopLadera for your chance to win a $50 Shop & Dine gift card or $50 Visa gift card courtesy of Westar & the Ladera Rancho Chamber of Commerce! Click here for details.

Laguna Beach: Hospitality Night

Hospitality Night 2016 is an annual community event that kicks off the holiday season. Downtown merchants, non-profit organizations and the Chamber provide a myriad of activities around downtown along with live musical entertainment, ice skating, strolling Victorian carolers, hot chocolate, tamale sales and more! Laguna Beach's only FM station, KX93.5, will be broadcasting live during the event! Activities start at 5PM on Friday December 2nd. For more information, click here.

Laguna Niguel: Holiday Lights Decorating Contest

Get into the holiday spirit by entering your home in this free contest! A $25 Visa gift card and yard sign will be awarded in the following categories:

Christmas Carols (lights and music)
Merry and Bright (best display of lights)
White Christmas (icicles, snow, mostly white decorations)
Team Spirit Community (sign only)
All American Holiday (tribute to all things Patriotic)
Embracing Clark Griswold (cover your yard with anything Christmas)
Hollywood Holiday (famous Hollywood movies)
The deadline to submit an entry is December 5th and this contest is free to enter. For more information, click here.

Lake Forest: North Pole Calling Application

Santa will be calling youngsters in Lake Forest December 6th-8th, from 6:30-8:30pm. To reserve your spot for that special call, complete the application form below and mail-in, fax-in or walk-in the form to the Lake Forest Recreation Center. This program is FREE! However, registration is limited. Deadline to register: Wednesday, November 30th The City of Lake Forest provides this courtesy to individual residents of Lake Forest ONLY! For more information, click here.

Last but not least this week I:

Chaired the Board of Supervisors meeting and presented a Board Resolution to SSA Director Mike Ryan and Orange County adoptive families in recognition of November as National Adoption Awareness month.
Participated in the OCTA Environmental Oversight Committee meeting.
Attended the BIA OC 50th Anniversary Gala & Installation Dinner.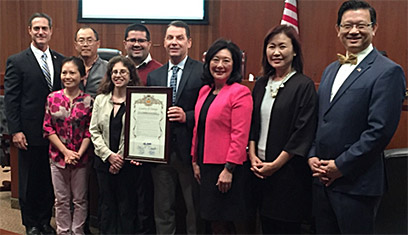 Presenting a Board Resolution in recognition of National Adoption Awareness Month.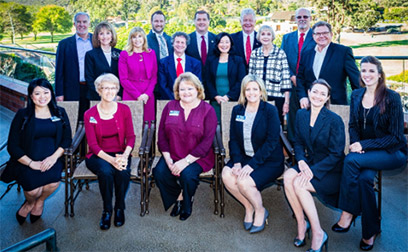 At the Laguna Niguel Chamber of Commerce Annual Membership Meeting and Awards Breakfast to present certificates of recognition to the outstanding Chamber members.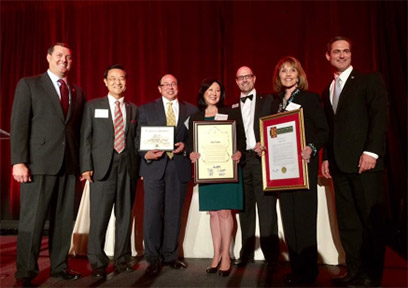 With Assemblyman Bill Brough, Irvine Mayor/Assemblyman-Elect Steven Choi, Senator Pat Bates, and Supervisor Todd Spitzer presenting a Board Resolution to outgoing BIA OC Board Chairman Jim Yates.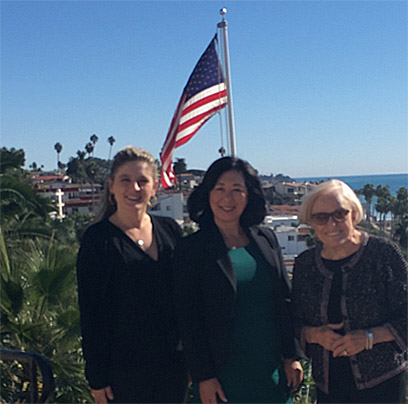 With Berenika Schmitz and Ruth DeNault on a tour of Casa Romantica in San Clemente last Friday.

My Staff:

Got married! On Saturday, November 19th, my Senior Policy Advisor Victor Cao married his beautiful wife, Kim Pham. I was honored to attend the reception, held in our own fifth district in San Juan Capistrano. Congratulations to Victor and Kim on this wonderful milestone. I wish them a lifetime of happiness together.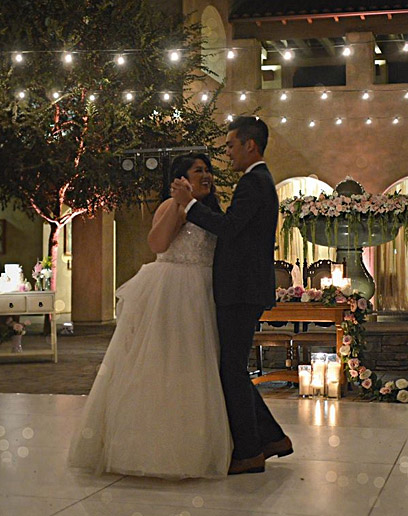 For questions or comments regarding Supervisor Bartlett's E-Newsletter please contact the Supervisor's office staff at: (714) 834-3550 or Tanya.Flink@ocgov.com.