Holiday Open House Invitation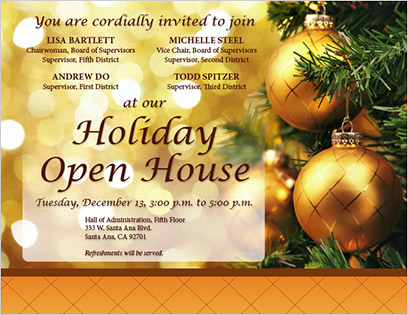 Click on the image above to view a PDF version.

RSVP to Tanya Flink at Tanya.Flink@ocgov.com.

County Connections

CalOptima: Seeking Candidates to Serve on the CalWorks Member Advisory Committee

The CalOptima Board of Directors welcomes input and recommendations from the community regarding issues concerning CalOptima programs. For this reason, the CalOptima Board encourages members and community advocates to become involved through an advisory group known as the Member Advisory Committee (MAC).

The Member Advisory Committee advises the CalOptima Board of Directors and staff. The CalOptima MAC is composed of 15 members representing the various constituencies that CalOptima serves. The charge of the committee is to:

Provide advice and recommendations to the CalOptima Board on issues concerning CalOptima programs as directed by the CalOptima Board.
Engage in study, research and analysis of issues assigned by the Board or generated by the committee.
Serve as a liaison between interested parties and the Board.
Assist the Board in obtaining public opinion on issues relating to CalOptima programs.
Initiate recommendations on issues for study to the CalOptima Board for their approval and consideration.
Facilitate community outreach for CalOptima and the Board.

At this time, CalOptima is seeking a candidate to participate on its Member Advisory Committee for the foster children seat. Service on the MAC is voluntary and with no salary.

The committee encourages interested individuals with knowledge of Medi-Cal and Medicare. To apply or to nominate an individual for the Member Advisory Committee, please mail, fax or email the attached candidate application by December 16, 2016, along with a biography or résumé to:



CalOptima

Attn: Becki Melli

505 City Parkway West

Orange, CA 92868

Fax: 714-481-6469

Email:

bmelli@caloptima.org


If you have any questions, please call 714-246-8635.

Treasurer-Tax Collector: First Installment Property Taxes Due December 12th

This is your 10-day reminder that the first installment of property taxes was due on November 1, 2016 and if not paid by Monday, December 12, 2016, a 10% delinquency penalty will be added to the amount due.

For information on specific payment methods, go to ocgov.com/octaxbill.

We also have a new feature on our website where you can view your parcel on the County's GIS map. Go to ocgov.com/octaxmap (using Chrome or Firefox), and input the parcel number. Alternatively, when you view your parcel information online, just click on the map icon to the right of your bill information to view a "Google-type" map for all parcels in Orange County.

If you have any questions, please e-mail us at ttcinfo@ttc.ocgov.com or call (714) 834-3411 (hours are 9:00 AM to 5:00 PM).

OC Moves

241 / 91 Express Connector Project Public Comments

This week the Transportation Corridor Agencies (TCA) and Caltrans hosted a public meeting to garner feedback about the proposed 241/91 Express Connector Project. The direct, median-to-median tolled connector would serve traffic in both directions to relieve traffic congestion, alleviate bottlenecks and improve traffic operations between Orange and Riverside Counties.

TCA and Caltrans are accepting public comments through January 9, 2017. Please feel free to email D12.SR241-91ELC@dot.ca.gov or by mail to:

Smita Deshpande, Chief Generalist Branch
Division of Environmental Analysis
Caltrans District 12
"ATTN: 241-91 DSEIR/EIS Comment Period"
1750 E. Fourth Street, Suite 100
Santa Ana, CA 92705

A direct link to the virtual public meeting video can be accessed from the project website.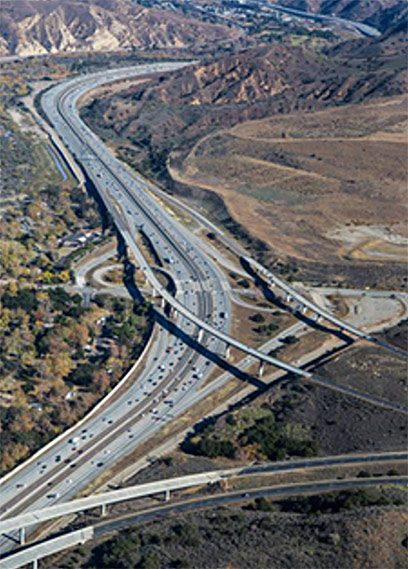 Annual OCTA Stuff a Bus Event

The public is encouraged to bring new, unwrapped toys or sporting equipment to the Honda Center parking lot at 2695 E. Katella Avenue in Anaheim for the 24th annual Stuff-A-Bus event on Friday, December 16. Toys will be distributed to children throughout the community.

The event supports the Spark of Love Toy Drive and is sponsored by the Orange County Transportation Authority, ABC7, Honda Center and the Anaheim Ducks.

All donations benefit the Spark of Love Toy Drive, a program that has collected more than 9 million toys for kids in Southern California over the past two decades.

Healthcare Advisory

Health Care Agency: Plan to Improve Health of Orange County – Public Comments

On behalf of the Orange County Health Improvement Partnership (HIP), the Health Care Agency announces the availability of the 2017-19 Orange County Health Improvement Plan for public review and comment at www.ochealthiertogether.org through December 16, 2016. The plan lays out assessments, goals, objectives and strategies for addressing the priority health areas and overall public health system over the next three years.

The health of the Orange County community continues to fare well compared to other California counties; the County Health Rankings ranked Orange County the 4th healthiest county in California. Despite that, issues such as increasing rates of diabetes, increasing rates of Alzheimer's disease in a growing older adult population and disparities in health outcomes for different communities has prompted more targeted efforts.

The following are a few findings from the Orange County Health Improvement Plan:

Orange County's older adult population will nearly double by 2040 when almost 1 in 4 residents will be 65 or older.
Nearly 1 in 6 Orange County students in 5th grade is obese.
Rates of diabetes have increased by 22% between 2005 and 2014.
Emergency Room rates due to opioid overdoses have more than doubled since 2006.
The 2017-19 plan builds off the inaugural 2014-16 plan and continues efforts in four priority health areas: 1) infant and child health; 2) older adult health; 3) obesity and diabetes; and 4) mental health and substance use. Three new areas of interest have been identified for exploration: 1) access to health care; 2) oral health and 3) social determinants of health such as economic stability, affordable housing, access to education, and public safety.

The HIP consists of over 35 public and private sector organizations that work together through a countywide initiative called Orange County's Healthier Together to improve the health of everyone who lives, works and plays in Orange County.

OC Animal Care/Pet of the Week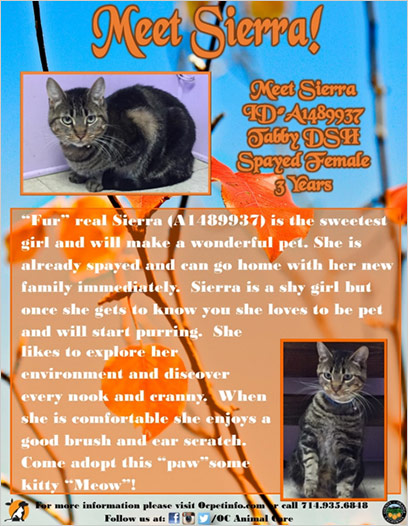 Click on the image above to view a PDF version.

The Sofa Company Pet Adoption Days, Fundraiser for the Pet Adoption Center of OC

The Fifth District-based Pet Adoption Center of Orange County has been chosen as the sponsor group for the Sofa Company's Pet Adoption Days on Saturday, December 3 from 11 am to 4 pm. The Pet Adoption Center will have a booth with their adoptable dogs at the Sofa Company's Costa Mesa location located at 1920 Newport Blvd., Costa Mesa, CA 92627. Click here for details.

Photos with Santa Every Saturday!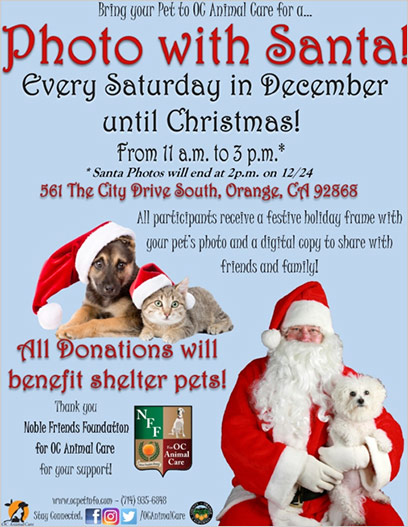 Click on the image above to view a PDF version.

Out and About South County

Aliso Viejo: AVCA's Winter Holiday Event

On Sunday, December 4, the Aliso Viejo Community Association will host its annual Winter Holiday Event at Grand Park (City Lights & Grand Ave, Aliso Viejo, CA 92656). Santa & Mrs. Claus will be available for visits and photos. Live entertainment will take place around the Aliso Viejo Town Center fountain from 4:30 p.m. to 7 p.m. The event includes complimentary cookies from the City of Aliso Viejo and hot chocolate. Bring your camera to capture your child's special moment with Santa!

Dana Point: Holiday Events

Beginning December 2 with Holiday in the Harbor, the City of Dana Point is kicking off an array of fun, family friendly, and festive events to celebrate the holiday season! From the much anticipated annual boat parade to photos with Santa (for both kids and pets!), there is something for everyone to enjoy! See the flyer below for a list of events, and visit www.danapointharbor.com for more information.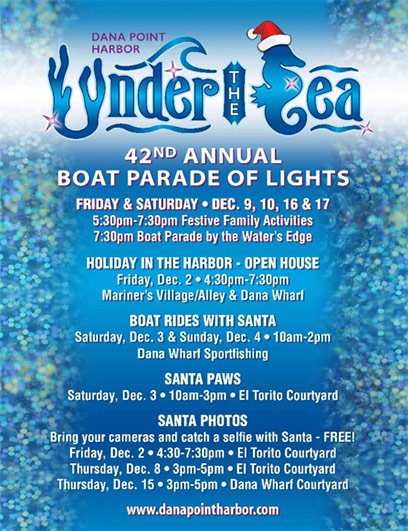 Click on the image above to view a PDF version.

Laguna Beach: Hospitality Night

Hospitality Night on Friday, Dec. 2 is an annual community event that kicks off the holiday season in Laguna Beach. From 5 PM to 10 PM, downtown merchants, non-profit organizations and the Chamber of Commerce provide a myriad of activities around downtown, including live musical entertainment, ice skating, strolling Victorian carolers, hot chocolate, tamale sales and more! For more information, please click here.

Laguna Niguel: Holiday Lights Decorating Contest

Get into the holiday spirit by entering your home in this free contest! A $25 Visa gift card and yard sign will be awarded in the following categories:

Christmas Carols (lights and music)
Merry and Bright (best display of lights)
White Christmas (icicles, snow, mostly white decorations)
Team Spirit Community (sign only)
All American Holiday (tribute to all things Patriotic)
Embracing Clark Griswold (cover your yard with anything Christmas)
Hollywood Holiday (famous Hollywood movies)
The deadline to submit an entry is December 5th and this contest is free to enter. For more information, click here.

San Clemente: Santa's Village by the Sea

On Saturday, December 2nd, join us on Avenida Del Mar for a holiday spectacular that will include collaboration of the Downtown Business Association's Puttin' on the Glitz and Casa Romantica's Christmas at the Casa. Holiday activities will begin at Casa Romantica from 5:00-7:30 pm, then move to the Community Center for the annual snow hill and other activities from 5:30-8:00 pm, and the holiday cheer will continue up Del Mar with the Glitz from 6:00-10:00 pm. Don't miss the City tree lighting at 8pm on the corner of Del Mar and Calle Seville! Click here for more information or call (949)429-8797.

Last but not least this week I:

Participated in "The First 90 Days" Panel at the New Supervisors Institute Session, as part of the California State Association of Counties (CSAC) Conference.
Participated in a CalOptima ad hoc conference call.
Gave a presentation on the State of the County at the OC Forum, sponsored by Concordia University.
Participated in the CSAC members meeting.
Participated in the Urban Counties Caucus (UCC) meeting.
Attended the CSAC and UCC Board Dinner Receptions.
Here is the link to my interview with Charter Local Edition which aired last week!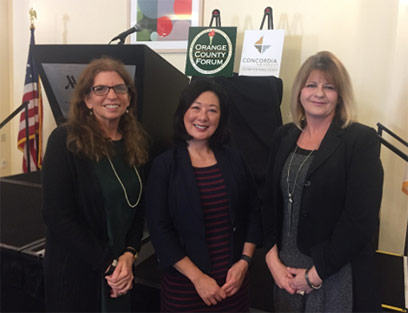 With Sarah Catz and Kristy Hennessey, Charter Communications at the Orange County Forum.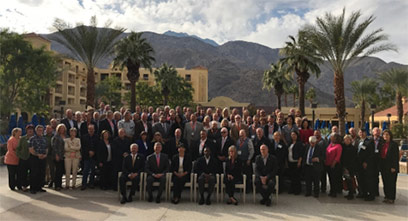 CSAC Board of Directors from the state's 58 counties at the CSAC Conference in Palm Springs.

My Staff:

Met with the OC Animal Care consultant for an update on current shelter operations and the progress of the new shelter.
Presented a Certificate of Recognition in honor of the Immel Luxury Team Real Estate ribbon cutting in Dana Point.
Presented a Certificate of Recognition in honor of the Amazing Lash Studio ribbon cutting in Dana Point.
Presented a Certificate of Recognition in honor of the Rasta Taco ribbon cutting in Laguna Beach.
Presented a Certificate of Recognition in honor of the Grit Cycle ribbon cutting in Dana Point.
Presented Certificates of Recognition to the awardees at the GuardaHeart Family Event at Tanaka Farms.
Attended the CalOptima Board meeting.
Attended the OCTA Board meeting.
Attended the TCA 241/91 Public Hearing.
Attended the TCA Foothill Mobility ad hoc meeting.
Attended the Water Advisory Committee of Orange County meeting.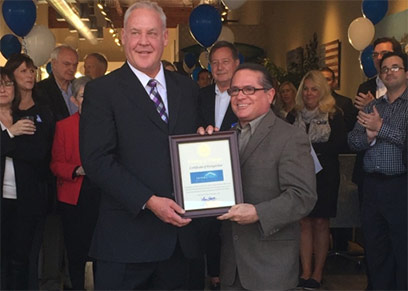 Presenting a Certificate of Recognition at the Immel Luxury Team Real Estate ribbon cutting in Dana Point.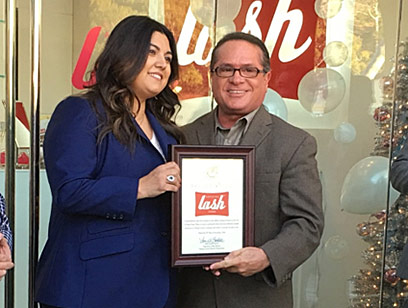 Presenting a Certificate of Recognition at the Amazing Lash Studio ribbon cutting in Dana Point.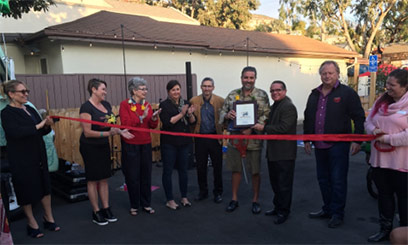 Presenting a Certificate of Recognition at the Rasta Taco ribbon cutting in Laguna Beach.

South County Elected Officials in the Community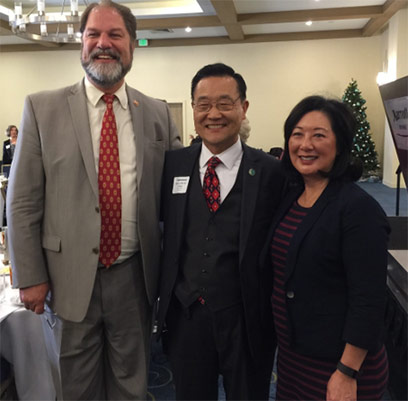 With Senator John Moorlach and Irvine Mayor/Assemblyman-Elect Steven Choi at the OC Forum.

For questions or comments regarding Supervisor Bartlett's E-Newsletter please contact the Supervisor's office staff at: (714) 834-3550 or Tanya.Flink@ocgov.com.