Holiday Open House Invitation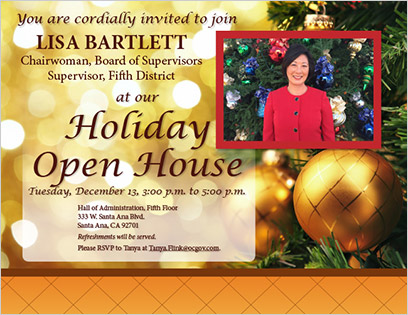 Click on the image above to view a PDF version.

RSVP to Tanya Flink at Tanya.Flink@ocgov.com.

County Connections

Orange County Armories

The Orange County Armory Program opened on Monday, December 5th. The Armory program provides up to 400 beds per night for the homeless in Fullerton and Santa Ana. Volunteers will be needed 7 days per week to help both in the evening (5:30 – 8:30pm) and morning hours (5-7am). Volunteers will be assisting with set-up, clean-up, passing meals and donations. Volunteers are also needed to provide dinners on a nightly basis. The Santa Ana Armory is located at 612 E. Warner St. Santa Ana, CA 92707 & the Fullerton Armory is located at 400 S. Brookhurst St. Fullerton, CA. 92833.

Sign up to volunteer here!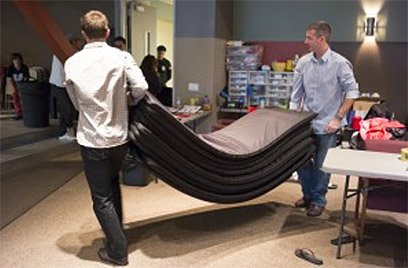 Donations are accepted Mon – Thurs 6pm-8pm at the Armories. Please keep in mind that we can only accept adult clothing at the Fullerton Armory including attire that is appropriate for the cold weather. Please no summer clothing. If you are interested in donating hot chocolate, granola bars (nature valley) we would be more than happy to accept these in-kind items!

If you have additional questions, please contact Irene Drissen at irenem@mercyhouse.net!

Treasurer-Tax Collector: First Installment Property Taxes Due December 12

This is your 10-day reminder that the first installment of property taxes was due on November 1, 2016 and if not paid by Monday, December 12, 2016, a 10% delinquency penalty will be added to the amount due.

For information on specific payment methods, go to ocgov.com/octaxbill.

We also have a new feature on our website where you can view your parcel on the County's GIS map. Go to ocgov.com/octaxmap (using Chrome or Firefox), and input the parcel number. Alternatively, when you view your parcel information online, just click on the map icon to the right of your bill information to view a "Google-type" map for all parcels in Orange County.

If you have any questions, please e-mail us at ttcinfo@ttc.ocgov.com or call (714) 834-3411 (hours are 9:00 AM to 5:00 PM).

Coto de Caza Advisory Council

On December 7, I swore in seven volunteers as members of the Coto de Caza Planning Advisory Committee (CPAC). The committee was formed to advise the Board of Supervisors on new land development proposals within the Coto de Caza Specific Plan area. I believe the committee will increase access to government and provide a local public forum for discussion.

Members of the committee are Chair Bob Kallenbaugh, Vice Chair Lucy Dunn, Secretary Laer Pearce, Laura Eisenberg, Diane Ontko, Gilad Ganish, and Richard Roy. Their next meeting is expected to be January 4, 2017.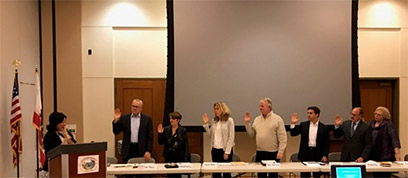 OC Waste & Recycling: Don't Throw Your Holiday Away!

OC Waste & Recycling encourages OC residents to Reduce, reuse and recycle to give a gift to the environment this holiday season. As we celebrate, decorate, give gifts and travel this holiday season, we also generate a lot of waste. The volume of household waste in the United States generally increases 25 percent between Thanksgiving and New Year's Day – that's about 1 million extra tons of household waste per year. You can green your own holiday season this year. Think of reducing, reusing and recycling as your gift to our environment, for this season and future generations.

Here are ways to give:

Put old items to good use, rather than sending them to the landfill in your trash. Items such as old maps, comics, posters, colorful fabric can be used as wrapping paper. You can even make boxes from old holiday cards. View a demo here: https://www.youtube.com/watch?v=YQtee_BoQH0
Recycle those batteries. About 40 percent of all battery sales occur during the holiday season; don't throw the old ones away! Take them to an OC Household Hazardous Waste Collection Center. More information here.
For your greenest friends, consider giving a compost bin or even a vermicomposting bin. Worms make great friends for the younger set. And they are a gift to the environment.
Give gifts that require little or no packaging. Give the gift of time—cooking, babysitting, gardening or tickets to an event.
Re-gift – no joke! Make room for new gifts by taking used clothing, outdated but functioning devices and furniture to Goodwill Orange County or your favorite charity thrift shop. Find Goodwill drop-off locations here: http://www.ocgoodwill.org/about-us/goodwill-locations
Be mindful of food waste. It is estimated that in the U.S. 30 to 40 percent of food winds up in the trash, much of it going to landfills. Be conscious of not overstocking and over-purchasing perishable items in particular.
For more information visit us at www.oclandfills.com or call 714 834-4000.

Homeless Persons' Interfaith Memorial Service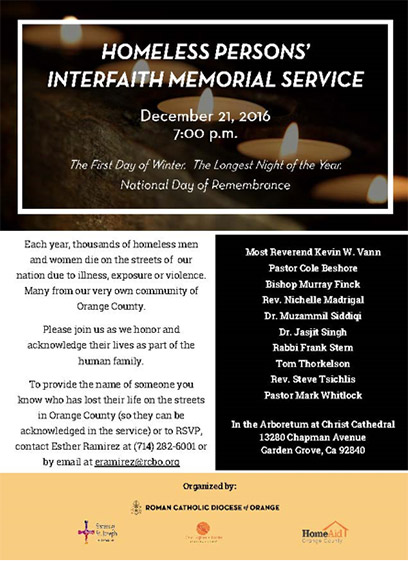 OC Moves

241 / 91 Express Connector Project Public Comments

This week the Transportation Corridor Agencies (TCA) and Caltrans hosted a public meeting to garner feedback about the proposed 241/91 Express Connector Project. The direct, median-to-median tolled connector would serve traffic in both directions to relieve traffic congestion, alleviate bottlenecks and improve traffic operations between Orange and Riverside Counties.

TCA and Caltrans are accepting public comments through January 9, 2017. Please feel free to email D12.SR241-91ELC@dot.ca.gov or by mail to:

Smita Deshpande, Chief Generalist Branch
Division of Environmental Analysis
Caltrans District 12
"ATTN: 241-91 DSEIR/EIS Comment Period"
1750 E. Fourth Street, Suite 100
Santa Ana, CA 92705

A direct link to the virtual public meeting video can be accessed from the project website.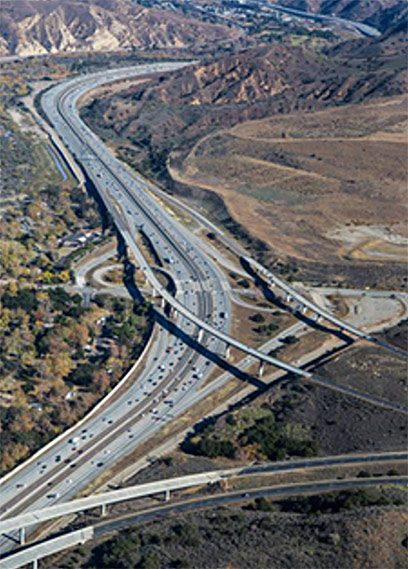 Annual OCTA Stuff a Bus Event

The public is encouraged to bring new, unwrapped toys or sporting equipment to the Honda Center parking lot at 2695 E. Katella Avenue in Anaheim for the 24th annual Stuff-A-Bus event on Friday, December 16. Toys will be distributed to children throughout the community.

The event supports the Spark of Love Toy Drive and is sponsored by the Orange County Transportation Authority, ABC7, Honda Center and the Anaheim Ducks.

All donations benefit the Spark of Love Toy Drive, a program that has collected more than 9 million toys for kids in Southern California over the past two decades.

I-5 South County Construction Update

The outside lane of northbound I-5 at Avenida Vista Hermosa as well as the off-ramp there will be closed during the following times:

Avenida Vista Hermosa off-ramp: 10 p.m. Monday, Dec. 12, to 5 p.m. Tuesday, Dec. 13
NB I-5 outside lane at Avenida Vista Hermosa: 10 a.m. to 3 p.m. Tuesday, Dec. 13
The closure must be performed in part during the day due to temperature requirements for paving. Motorists should use the Avenida Pico off-ramp as a detour. The Pico on-ramp to northbound I-5 will not be affected.

Nighttime demolition: Crews on Monday night are expected to begin demolition work on the freeway median between Camino de Estrella and Avenida Vista Hermosa. The barrier will be reconstructed to support new overhead signs and to provide an enforcement area for California Highway Patrol vehicles. The demolition is expected to be completed by the end of next week.

Estrella Closure, Detour to End: The extended closure of the Camino de Estrella loop on-ramp to northbound I-5 is set to end on Saturday morning, Dec. 10. In addition, the temporary detour from the northbound I-5 Camino de Estrella on-ramp to Camino Las Ramblas will be removed by Saturday morning. Motorists again will be able to merge onto the northbound I-5 directly from the Camino de Estrella straight on-ramp. In order to remove the detour, crews will need to close the straight on-ramp two hours earlier than normal on Friday, Dec. 9, at 8 p.m.

Healthcare Advisory

Health Care Agency: Plan to Improve Health of Orange County – Public Comments

On behalf of the Orange County Health Improvement Partnership (HIP), the Health Care Agency announces the availability of the 2017-19 Orange County Health Improvement Plan for public review and comment at www.ochealthiertogether.org through December 16, 2016. The plan lays out assessments, goals, objectives and strategies for addressing the priority health areas and overall public health system over the next three years.

The health of the Orange County community continues to fare well compared to other California counties; the County Health Rankings ranked Orange County the 4th healthiest county in California. Despite that, issues such as increasing rates of diabetes, increasing rates of Alzheimer's disease in a growing older adult population and disparities in health outcomes for different communities has prompted more targeted efforts.

The following are a few findings from the Orange County Health Improvement Plan:

Orange County's older adult population will nearly double by 2040 when almost 1 in 4 residents will be 65 or older.
Nearly 1 in 6 Orange County students in 5th grade is obese.
Rates of diabetes have increased by 22% between 2005 and 2014.
Emergency Room rates due to opioid overdoses have more than doubled since 2006.
The 2017-19 plan builds off the inaugural 2014-16 plan and continues efforts in four priority health areas: 1) infant and child health; 2) older adult health; 3) obesity and diabetes; and 4) mental health and substance use. Three new areas of interest have been identified for exploration: 1) access to health care; 2) oral health and 3) social determinants of health such as economic stability, affordable housing, access to education, and public safety.

The HIP consists of over 35 public and private sector organizations that work together through a countywide initiative called Orange County's Healthier Together to improve the health of everyone who lives, works and plays in Orange County.

OC Animal Care/Pet of the Week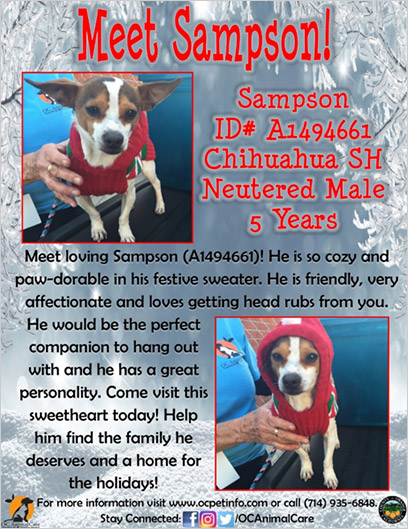 Click on the image above to view a PDF version.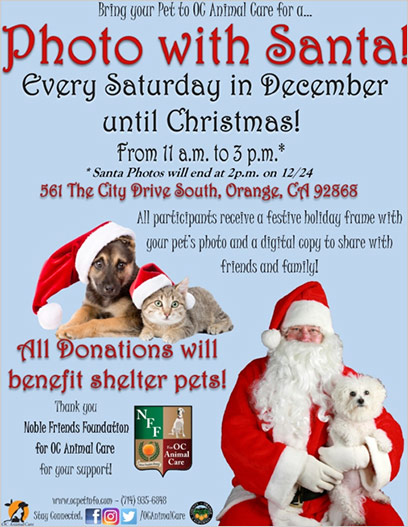 Click on the image above to view a PDF version.

Out and About South County

Dana Point: Holiday Events

Beginning December 2 with Holiday in the Harbor, the City of Dana Point is kicking off an array of fun, family friendly, and festive events to celebrate the holiday season! From the much anticipated annual boat parade to photos with Santa (for both kids and pets!), there is something for everyone to enjoy! See the flyer below for a list of events, and visit www.danapointharbor.com for more information.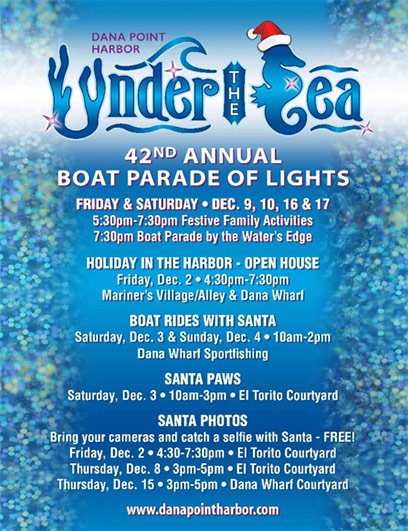 Click on the image above to view a PDF version.

Laguna Beach: Sawdust Art Festival's 26th Annual Winter Fantasy

The Sawdust Festival grounds will be transformed into a winter wonderland where 175 artists create, display and sell original creations over the course of five weekends. The Winter Fantasy is offers the most unique holiday shopping in all of Southern California. Art media includes jewelry, clothing, fused and blown glass, ceramics, woodwork, forged metals, painting, photography, sculpture, clothing and textiles. The event will occur Saturdays and Sundays through December 18 from 10:00 AM to 6:00 PM. Admission is $8.50 for adults; $7.00 for seniors; and $4 for kids. Please click here for more information.

Laguna Niguel: Holiday Parade

"Home for the Holidays," what a way to kick off the holiday season by coming to see our hometown parade! View over 100 exciting entries including marching bands, floats, special guests, youth groups, equestrian units, exotic cars, military members, local heroes and fun attractions! No hometown holiday parade is complete without a dazzling entrance by Santa Claus! Parade watchers are encouraged to bring chairs and take advantage of the free shuttle, available from the Federal Bldg. parking lot off of Dorine/El Lazo. Event will go rain or shine, unless conditions are determined unsafe. The parade starts at 10 AM on Saturday, December 10 on Crown Valley Parkway between Nueva Vista and Crown Valley Park. For more information, please click here.

Mission Viejo: Drive-Thru / Walk-Thru Nativity

Drive-Thru or Walk-Thru to experience this FREE live retelling of the Christmas Story on December 9 & 10 from 6 PM to 10 PM at Mount of Olives Church in Mission Viejo, 24772 Chrisanta Drive. Enjoy live actors, animals, music and narration through your car radio! For more information, please click here.

Last but not least this week I:

Participated in the OCTA Regional Planning & Highways Committee meeting.
Chaired the Strategic Financial Plan Board of Supervisors Meeting.
Presented a Board Resolution to the Navy League of Orange County for their service to our veterans and commemorating the 75th Anniversary of the attacks on Pearl Harbor.
Participated in the TCA Joint Executive Ad Hoc and the San Joaquin Hills/Foothill Eastern Board meetings.
Swore-in the volunteer board members of the newly-formed Coto de Caza Planning Advisory Council (CPAC).
Attended the Women in Transportation 2016 Gala and accepted the Employer of the Year Award on TCA's behalf.
Participated in the California Transportation Commission's Road Charge Advisory Committee meeting.
Chaired the quarterly meeting of the South County Homelessness Roundtable and toured The Courtyard with the members.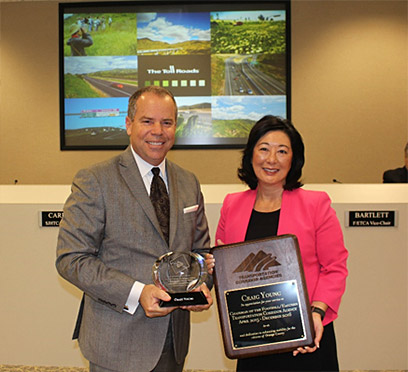 Presenting an award to outgoing TCA Board Director Craig Young.



Presenting a Board Resolution to the Navy League of Orange County for their service to our veterans and commemorating the 75th Anniversary of the attacks on Pearl Harbor.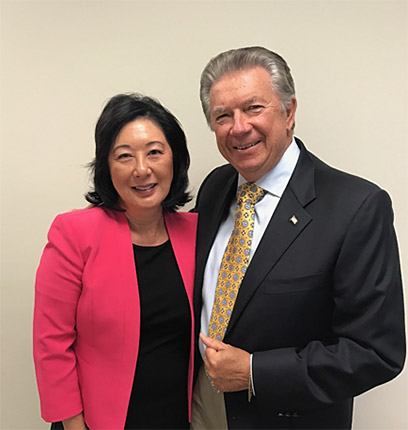 At the TCA holiday luncheon with former Fifth District Supervisor Tom Wilson.

My Staff:

Presented a Certificate of Recognition in honor of the Paul's Pizza & Grill ribbon cutting in Rancho Santa Margarita.
Presented a Certificate of Recognition in honor of the Tutto Fresco ribbon cutting in Rancho Santa Margarita.
Presented a Certificate of Recognition in honor of the Kawasaki Motors ribbon cutting in Lake Forest.
Presented a Certificate of Recognition in honor of the Fantastic Sams ribbon cutting in Mission Viejo.
Presented a Certificate of Recognition in honor of the San Clemente Music & Supplies ribbon cutting.
Presented a Certificate of Recognition in honor of the Oke Poke ribbon cutting in Lake Forest.
Attended Senator Pat Bates' holiday open house.
Attended a holiday receptions hosted by the Orange County Business Council, the Building Industry Association Orange County Chapter, Orange County Hispanic Chamber of Commerce, and the Orange County Association of Realtors, respectively.
Presented Certificates of Recognition to the outgoing board members of the Women's Council of Realtors at their Holiday Party & Installation.
Attended the Laguna Niguel Chamber of Commerce Government Affairs Committee meeting.
Presented a Certificate of Recognition to owner Roberto Brutocao in honor of the ribbon cutting ceremony for Country Inn & Suites By Carlson in Anaheim.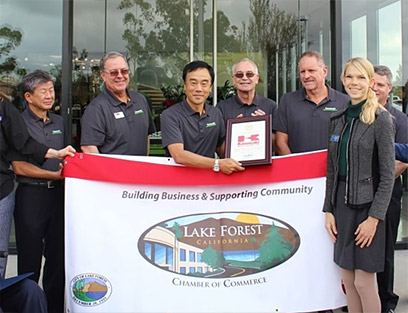 Presenting a Certificate of Recognition at the Kawasaki ribbon cutting in Lake Forest.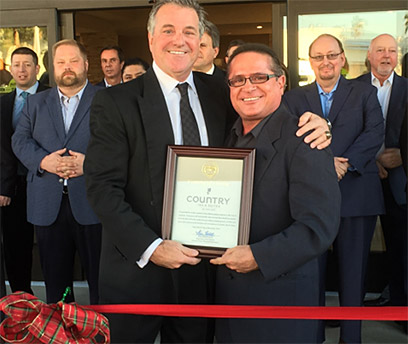 Presenting a Certificate of Recognition to owner Roberto Brutocao at the Country Inn & Suites ribbon cutting in Anaheim.

South County Elected Officials in the Community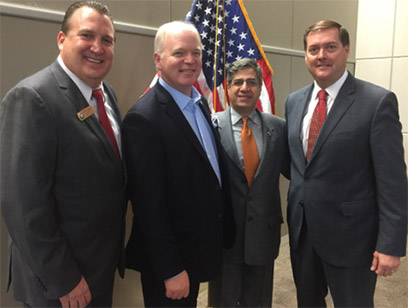 Laguna Niguel Mayor Jerry Slusiewicz, Councilman Mark Jennings, Mayor Pro Tem Fred Minagar, and Assemblyman Bill Brough at the Laguna Niguel Chamber of Commerce Government Affairs Committee meeting.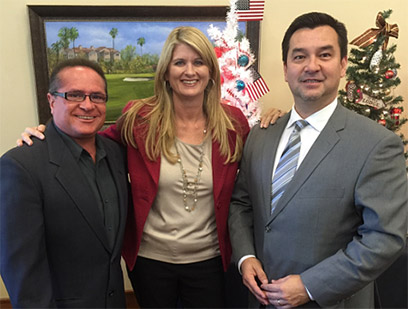 Laguna Hills Councilwoman-Elect Janine Heft and Orange County Clerk Recorder Hugh Nguyen (right) at the Women's Council of Realtors Holiday Luncheon.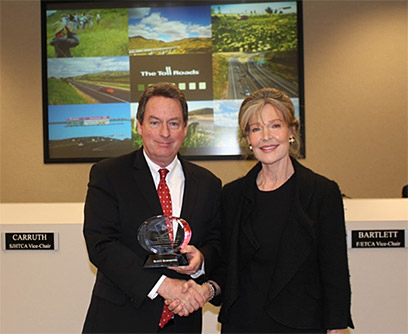 TCA Vice Chair Melody Carruth presenting an award to Outgoing Board Director Scott Schoeffel.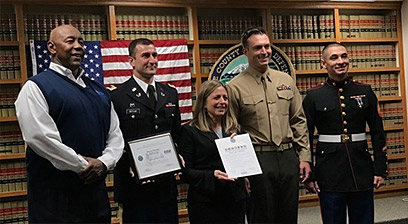 Orange County Public Defender Sharon Petrosino accepts the prestigious Department of Defense Patriot Award, presented by representatives from the Los Alamitos Joint Forces Training Base.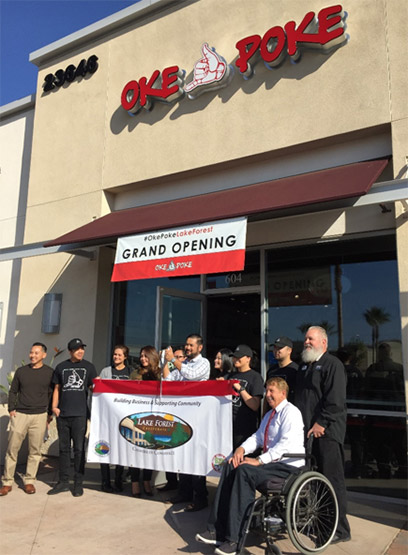 Lake Forest Mayor Pro Tem Scott Voigts at the Oke Poke ribbon cutting.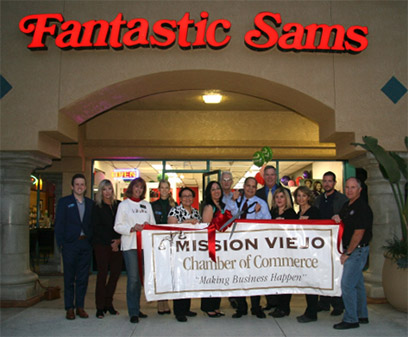 Mission Viejo Councilman Greg Raths at the Fantastic Sams ribbon cutting.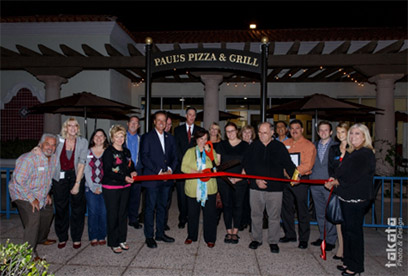 Rancho Santa Margarita Mayor Tony Beall and Councilmembers Brad McGirr, Jerry Holloway, and Mike Vaughn at the Paul's Pizza & Grill ribbon cutting.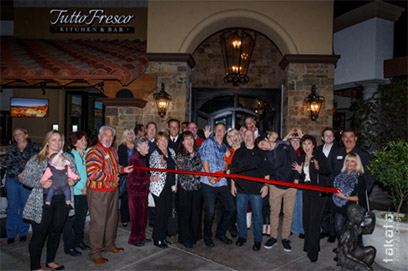 All five councilmembers attended the Tutto Fresco ribbon cutting in Rancho Santa Margarita: Mayor Tony Beall, Mayor Pro Tem Carol Gamble, Councilman Jerry Holloway, Councilman Brad McGirr, and Councilman Michael Vaughn.



For questions or comments regarding Supervisor Bartlett's E-Newsletter please contact the Supervisor's office staff at: (714) 834-3550 or Tanya.Flink@ocgov.com.