Happy New Year!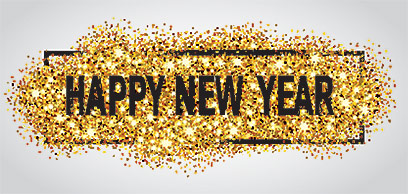 As 2016 draws to a close, I would like to wish you all a happy new year. I hope you can look back on 2016 with fond memories and a sense of fulfillment. My past year as Chairwoman has certainly been eventful, and I am proud of what we at the County have accomplished to uphold the highest quality of life for our constituents.

I wish you the upmost happiness and success in the year to come. I encourage you to take advantage of every opportunity, and create opportunities when none come your way. May we continue the holiday spirit and practice kindness and gratitude every day. Let us set realistic goals and maintain our current positive habits.

I hope you all have a joyful and safe New Year's Eve. Here is to 2017!

County Connections

Sheriff's Department: DUI Enforcement Operations Planned this Weekend

Deputies from the Orange County Sheriff's Department's DUI Enforcement Team will be deploying this weekend to stop and arrest alcohol and drug-impaired drivers in the Department's ongoing traffic safety campaign. DUI Saturation Patrols will deploy on Friday, December 30, 2016 between the hours of 7:00 p.m. and 3:00 a.m. in areas with high frequencies of DUI collisions and/or arrests in the cities of Lake Forest and Mission Viejo.

High Visibility Enforcement using both DUI checkpoints and DUI Saturation Patrols has proven to lower the number of persons killed and injured in alcohol or drug impaired crashes. Research shows that crashes involving an impaired driver can be reduced by up to 20 percent when well-publicized proactive DUI operations are conducted routinely.

Studies of California drivers have shown that 30 percent of drivers in fatal crashes had one or more drugs in their systems. A study of active drivers showed more tested positive for drugs that may impair driving (14 percent) than did for alcohol (7.3 percent). Of the drugs, marijuana was most prevalent, at 7.4 percent, slightly more than alcohol. Everyone should be mindful that if you're taking medication – whether prescription or over-the-counter – drinking even small amounts of alcohol can greatly intensify the impairment affects.

Drivers are encouraged to download the Designated Driver (DD) VIP, or "DDVIP," free mobile app for Android or iPhone. The DDVIP app helps find nearby bars and restaurants that feature free incentives for the designated sober driver including free non-alcoholic drinks and free appetizers. The feature-packed app even has social media tie-ins and a tab for the non-DD to call Uber, Lyft or Curb.

The cost of a ride home is cheap! Drivers caught driving impaired can expect the impact of a DUI arrest to potentially include jail time, fines, fees, DUI classes, license suspensions and other expenses that can exceed $10,000

Funding for this DUI operation is provided to the Orange County Sheriff's Department by a grant from the California Office of Traffic Safety, through the National Highway Traffic Safety Administration, reminding everyone to 'Report Drunk Driver – Call 9-1-1'.

John Wayne Airport: Abstract Paintings on Display

From December 14, 2016 – January 17, 2017, a series of mixed media prints by Newport Beach resident Michael Gallagher will be on display at John Wayne Airport (JWA) as part of JWA's Community Focus Space Program (CFS). These prints can be viewed on the Departure (upper) Level near security screening areas in Terminals A, B and C, and on the Arrival (lower) Level adjacent to Baggage Carousels 1 and 4.

The County is fortunate to have a world-class airport with an Arts Program that highlights the many talented artists within our community. Mr. Gallagher's work has been displayed in museums around the world, and we are proud to bring this exhibition to John Wayne Airport.

This series of works utilizes paint, airbrush, and camera work in concert with digital technology, canvas and paper to provide a dynamic, visual experience.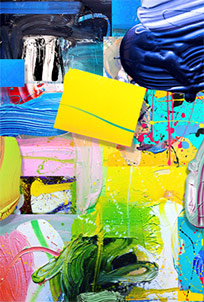 "Ipanema" by Michael Gallagher

More images can be seen here.
"For me art is a search for truth, not just an illustration of the facts," said Mr. Gallagher. "My process itself has always had at its core an expression of dichotomies - real vs. illusion, order vs. chaos. The process itself is one of creation and destruction and the painting has a life of its own." Please visit www.mgallagher.com/albums/jw-airport-exhibit/ for more about Michael Gallagher's work.

To learn more about JWA's Art Programs, visit www.ocair.com/terminal/artexhibits.

Orange County Armories

Orange County's Armory program provides up to 400 beds per night for the homeless in Fullerton and Santa Ana. Volunteers will be needed 7 days per week to help both in the evening (5:30 – 8:30pm) and morning hours (5-7am). Volunteers will be assisting with set-up, clean-up, passing meals and donations. Volunteers are also needed to provide dinners on a nightly basis. The Santa Ana Armory is located at 612 E. Warner St. Santa Ana, CA 92707 & the Fullerton Armory is located at 400 S. Brookhurst St. Fullerton, CA. 92833.

Sign up to volunteer here!

Point-In-Time Count of the Homeless: Volunteer Training is Live!

Every two years, in the last week of January, a county-wide Point in Time Count (PIT) takes place to count and survey the homeless population in Orange County. The PIT Count is planned, coordinated, and carried out locally to meet a Federal Department of Housing and Urban Development requirements for the Continuum of Care (CoC) homeless programs. Locally the CoC supports the coordinated efforts of 15 nonprofit agencies that provide rapid rehousing and permanent supportive housing for those experiencing homelessness within our communities. The Count process is a critical factor in determining the amount of federal funding the County receives to serve the homeless population. It also provides information on how to improve the available resources and approaches to meet the needs of the different populations.

The 2017 Count provides opportunity for communities to come together to learn about the resources available, gain insights into the plight of people that are currently experiencing homelessness and make a contribution to the broader solutions to end homelessness in our county. Because having an accurate and comprehensive Count relies on the participation of hundreds of volunteers, I am inviting you to volunteer in the 2017 Point in Time Count on Saturday, January 28th from 4:30 am to 9:00 am. The 2017 Count will be deployed from five deployment centers located in each of the Supervisorial Districts to survey in the surrounding neighborhoods.

An estimated 1,500 volunteers are needed to work in the field and at deployment centers on the morning of the count. To register as a volunteer, please visit the project website at www.pointintimeoc.org or email pointintime@211oc.org. Additional information on ways to get involved or make a charitable donation is available at www.pointintimeoc.org.

Thank you for your time and effort in assuring that homeless and at-risk individuals and families in our county receive the care and services they need.

OC Grand Jury: Jurors Needed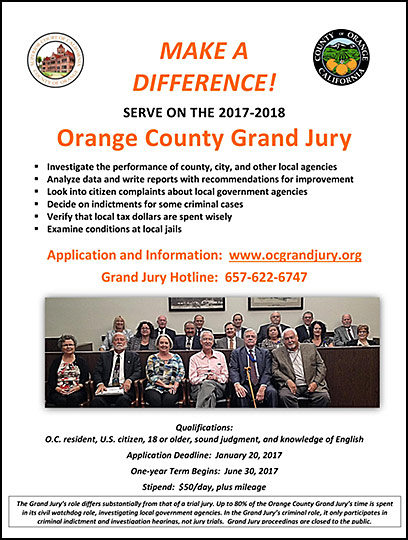 OC Moves

La Pata Extension Project Update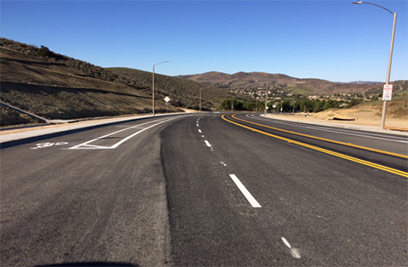 I am excited to announce that the new Camino Del Rio extension, which will connect San Clemente's Forster Ranch community with the County's recently completed La Pata connection, will open to the public on Monday, January 9.

The new Camino Del Rio extension is part of the County's overall La Pata Extension Project and will significantly reduce commute times for residents. Completing the extension of Camino Del Rio will provide another direct connection to retail centers, medical facilities, schools, recreational opportunities, emergency evacuation routes, the County's Prima Deshecha Landfill and more. Additionally, the City of San Clemente is working on improvements along the existing Camino Del Rio to enhance the flow of traffic.

The new La Pata connection between San Clemente and San Juan Capistrano opened to the public in August. OC Public Works crews and contractors continue to work on road widening improvements along La Pata between Ortega Highway and Stallion Ridge to further enhance the flow of traffic. That portion of the project is expected to be completed in early 2018.

For more information about the County's La Pata Avenue Extension Project, visit lapata.ocpublicworks.com.


I-5 Daytime Lane and Ramp Closures

Crews are scheduled to conduct several daytime closures next week that will affect motorists on northbound I-5 and Camino de Estrella. The closures must be done during the day because of temperature requirements for paving. They are:


Time, Date
Closure
7 a.m. Wednesday, Jan. 4, to 3 p.m.
Thursday, Jan. 5 (remains closed through the night)
Northbound loop on-ramp from eastbound Camino de Estrella
Thursday, Jan. 5
10 a.m.-2 p.m.
Outside lane on northbound I-5, between Avenida Vaquero and Camino de Estrella
Friday, Jan. 6
7 a.m.-6 p.m.
Northbound straight on-ramp from westbound Camino de Estrella.

Nine-Day Closure of Camino Las Ramblas Loop On-Ramp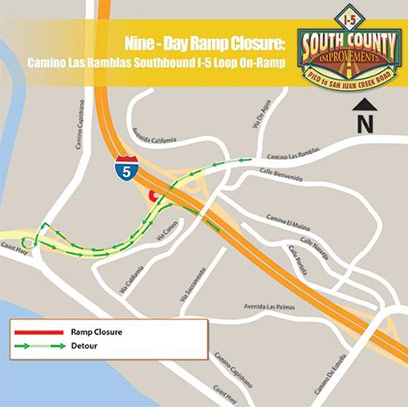 Crews are set to close the loop on-ramp from westbound Camino Las Ramblas to southbound I-5 from 10 p.m. Friday, Jan. 13, to 5 a.m. Sunday, Jan. 23. During the closure, crews will realign the ramp to accommodate the widened freeway. Motorists will be detoured to Doheny Park Road and southbound Pacific Coast Highway to access southbound I-5.

In addition, OCTA anticipates daytime lane closure and ramp closures on Northound I-5 next week. For more information please visit octa.net/I-5Pico or text SOUTHOC5INFO to 67076 to subscribe to project updates.

241 / 91 Express Connector Project Public Comments

This week the Transportation Corridor Agencies (TCA) and Caltrans hosted a public meeting to garner feedback about the proposed 241/91 Express Connector Project. The direct, median-to-median tolled connector would serve traffic in both directions to relieve traffic congestion, alleviate bottlenecks and improve traffic operations between Orange and Riverside Counties.

TCA and Caltrans are accepting public comments through January 9, 2017. Please feel free to email D12.SR241-91ELC@dot.ca.gov or by mail to:

Smita Deshpande, Chief Generalist Branch
Division of Environmental Analysis
Caltrans District 12
"ATTN: 241-91 DSEIR/EIS Comment Period"
1750 E. Fourth Street, Suite 100
Santa Ana, CA 92705

A direct link to the virtual public meeting video can be accessed from the project website.

OC Animal Care/Pet of the Week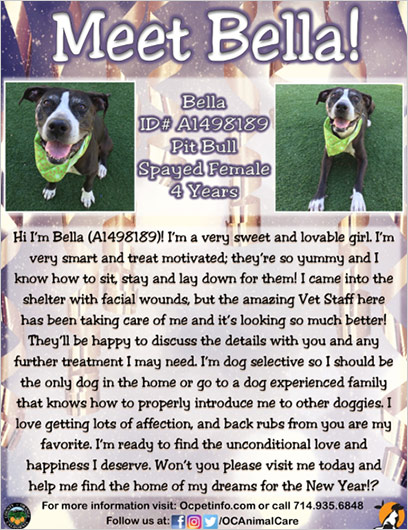 Click on the image above to view a PDF version.

Out and About South County

Dana Point: Senior Dance

The Dana Point Community Center will be hosting its annual Senior New Year's Eve Dinner Dance between 5:00 PM - 9:30 PM. The cost is $25 per couple or $15 for individuals. Reservations are required. For more information please call the Community Services & Parks Department at (949) 248-3530 or click here.

Laguna Beach: Pageant of the Masters Auditions

Be part of the magic of "living pictures" in next summer's 2017 showcase of The Grand Tour. No theater experience is necessary. Earn community service hours. A great summer family fun activity! Casting will be held Friday, January 6th, and Saturday, January 7th, from 7-9pm; and Sunday, January 8th, from 2-5pm. Click here for more information.

Mission Viejo: Noon Year's Eve Party

No need to stay up late! Ring in the New Year at the library with crafts, music, and fun for the whole family! No registration needed - free for all ages! The event will begin at 11 AM on Saturday, December 31, 2016 at Friends Storytime Room (100 Civic Center, Mission Viejo CA 92691). For more information click here.

Rancho Santa Margarita: Celebrating Family and Friends New Year's Eve

The mission of the Annual New Year's Eve event is to provide a safe and fun event that brings the community together in an alcohol-free setting. The event is intended to build community spirit and inspire hope for the future. This event celebrates the arts in the community by providing space and opportunity to showcase local talents through music, dance and fine arts. There will be food, entertainment, inflatable rides, crafts and face painting. This event is Saturday, December 31st at Civic Plaza from 5-9PM. For more information, click here.

San Juan Capistrano: Ecology Center
The Ecology Center has plans to construct an interactive outdoor kitchen classroom in 2017, but they need your help! You can support a vibrant and healthy food future by donating here. The new kitchen classroom will allow the Center to expand their offerings to introduce students of all ages to hands-on, farm to table culinary experiences. For more information about this project and The Ecology Center, click here.

My Staff:

Presented a Certificate of Recognition at the Slapfish ribbon cutting at the Outlets at San Clemente.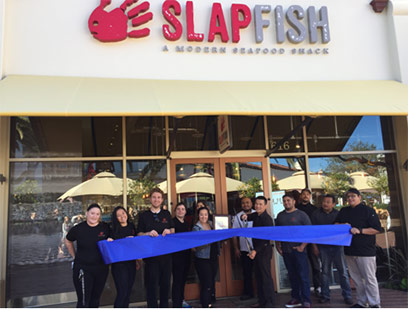 Cutting the ribbon at Slapfish in San Clemente.

For questions or comments regarding Supervisor Bartlett's E-Newsletter please contact the Supervisor's office staff at: (714) 834-3550 or Tanya.Flink@ocgov.com.