County Connections

Clerk-Recorder to Offer Valentine's Day Marriage Ceremonies

For those looking to tie the knot on Valentine's Day, look no further. To accommodate couples, Orange County Clerk-Recorder Hugh Nguyen will be opening the Old County Courthouse in Santa Ana on this Valentine's Day from 9 am to 2 pm to perform marriage ceremonies only, even though the special day falls on a Sunday.

In order to take advantage of this opportunity, couples must obtain a marriage license, pre-pay for their ceremony and make an appointment for this special Sunday opening prior to 3 pm, February 11. Couples can obtain and pay for their marriage license, pre-pay for their ceremony and make an appointment by visiting any of the department's locations. Appointments are limited and will only be available to couples who have already pre-paid for their marriage license and ceremony.

"Valentine's Day is our most popular day for ceremonies," said Clerk-Recorder Nguyen. "By opening Sunday, people will have an opportunity to marry on what many consider the most romantic day of the year." "I would like to thank my staff for volunteering to work and for making this possible for our customers," he added.

Valentine's Day is the most popular day at the department for marriage ceremonies. Last year, department staff issued 223 marriage licenses and performed 187 marriage ceremonies even though Valentine's Day landed on Saturday. The all-time record for the department was set Valentine's Day 2014. On that day, the department issued 310 marriage licenses and performed 266 ceremonies.

Orange County has one of the lowest costs for a marriage license and marriage ceremony in the state. Couples can obtain a public marriage license for $61 and a confidential marriage license for $66. A civil marriage ceremony can be performed for an additional $28.

To save time, marriage license applications can be completed online at www.ocrecorder.com prior to visiting our offices. For more detailed information, call (714) 834-2500.

John Wayne Airport

University of California, Irvine Exhibit Opens at John Wayne Airport

A new exhibit titled "UCI: Orange County Destination, Global Game Changer" is on display in John Wayne Airport's ORANGE COUNTY: Destination Art and Culture exhibition space until July 11, 2016. Featured as part of John Wayne Airport's Arts Program, the exhibit highlights the past 50 years of UCI's achievements and can be viewed pre-security along the pedestrian walkway connecting Terminals B and C.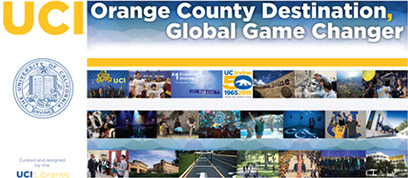 Since 1965, the University of California, Irvine has played an integral role in the development of Orange County's economy and culture. John Wayne Airport is pleased to highlight UCI as it celebrates 50 years in our community.

Curated and designed by the UCI Libraries, the exhibit features photographs, documents, books, artifacts and reproductions from University Archives. Other UCI units including Claire Trevor School of the Arts, The Hill Bookstore, Athletics and School of Humanities, contributed physical materials to the displays.

"The Libraries were honored to be invited to lead this project in collaboration with UCI Strategic Communications," stated Lorelei Tanji, University Librarian. "Our Special Collections and University Archives have important materials that share the story about the accomplishments and impact of the campus on the community and beyond. This opportunity showcases the importance of preserving and making available the University's historical records."

City of Mission Viejo Collecting Supplies for El Nino Homeless Relief Project

In an effort to benefit homeless families in the area, the City of Mission Viejo is collecting supplies for the El Niño Homeless Relief project.

The project is an effort by the Orange County Rescue Mission and Family Assistance Ministries, which will distribute the resources in partnership with Mercy House to benefit the homeless displaced by El Niño storms.

Donations of working umbrellas; new waterproof ponchos; hygiene kits; bottled water; protein bars; and new pillows, pillow cases and twin and full-size blankets along with $5 and $10 gift cards to local restaurants are all sought.

The items can be dropped off at the front desk of the Norman P. Murray Community and Senior Center, 24932 Veterans Way, through the end of the month.

Homeless veterans needing support can call the OC Rescue Mission line at 714-716-2612.

For information: call 949-470-3062 or 949-470-8412.

View the flyer here.

County Department Highlights

OC Public Works

El Nino: OC Storm Center

The OC Storm Center website provides information regarding road closures, rainfall data, and other storm related information in unincorporated areas of Orange County.

This site is maintained by the OC Public Works, Department Operation Center and OC Watersheds to provide up-to-date road and flood conditions. The OC Public Works, Department Operations Center (DOC) may be activated in the event of hazardous weather conditions or other emergency events. Under most circumstances they can only respond to situations or concerns involving County maintained roads or flood control channels. To report problems with a County road or flood control channels during an active event, please phone (714) 955-0333.

During non-emergency conditions, please report maintenance issues or concerns by submitting a service request here. You may also contact the OC Public Works, Operations & Maintenance main office at (714) 955-0200. Click here for resources to help you prepare for post-fire debris, flood and erosion control.

Sandbags: Each year from October 1st to April 30th residents from unincorporated Orange County can obtain up to 50 free sand bags for the protection of their home from rain and mud. Contractors or commercial entities are not permitted. Sand bags are available at 2301 N. Glassell St. Orange, Ca 92865, or at seasonal staging locations (subject to conditions). For more information on sandbags, click here.

Disaster Assistance: If your property has been damaged in a State declared emergency, please visit the Office of Emergency Services (OES) and the Federal Emergency Management Agency (FEMA) websites to determine if you are eligible for disaster assistance.

This service is provided to you at no charge by the County of Orange, California. Visit online at www.ocgov.com.

Health Care Advisory

Zika Virus 101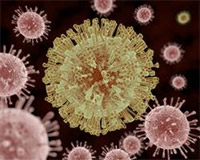 What is Zika virus?
Zika is an infectious disease caused by the Zika virus, which is transmitted to people by Aedes aegypti and Aedes albopictus mosquitos. Most infected people have no symptoms. The illness is usually mild, and severe disease requiring hospitalization is uncommon. If symptoms develop, the most common are fever, rash, joint pain, and/or red eyes. Symptoms usually begin 3-7 days after a person is bitten by an infected mosquito and last several days to a week. There is no specific treatment for Zika virus disease. The only treatment option available is the provision of supportive care including rest, fluids, and use of analgesics and antipyretics.

What should Californians know about Zika?
The California Department of Public Health (CDPH) is monitoring the Zika virus outbreak in Latin America closely. As of February 5, 2016, there have been six confirmed cases of Zika virus disease reported in California residents, all in travelers returning from other countries with Zika virus outbreaks. These cases occurred in 2013 (1), 2014 (3), and 2015 (2). CDPH has also been notified of one preliminary positive case of Zika for 2016. CDPH requested that health care providers voluntarily report Zika virus infections.

The CDPH laboratory can provide preliminary laboratory testing and coordinate confirmatory testing, which is currently provided by the US Centers for Disease Control and Prevention (CDC).

What is the likelihood of Zika virus circulating in California?
There has been no known transmission of Zika virus in California and it is unlikely that Zika virus would spread significantly in the state. It is possible that a returning traveler infected with Zika virus could be bitten by an Aedes mosquito carrying the virus and that mosquito could bite someone else, transmitting the virus.

However, because of housing conditions, water management, and mosquito control practices in California, there is generally less contact between humans and Aedes mosquitoes than in other countries. It is important that Californians avoid mosquito bites while traveling to affected areas to prevent these illnesses and their importation to California.

It is also important that California residents, particularly those living in counties where the Aedes mosquito has been found, avoid being bitten by mosquitoes. These mosquitoes have been found in 12 California counties in the last few years (see map here). CDPH and local vector control districts will continue to collaborate to control and limit further spread of Aedes mosquitoes in the state.

What happens if you're infected? Is there a cure?
There is no specific treatment for Zika. Talk with your health care provider about medications to help reduce fever and pain; rest and fluids are also helpful. Those who do show symptoms usually feel better in about a week.

View the Zika Fact Sheet in - English, Spanish or Vietnamese from California Department of Public Health (CDPH).

OC Moves

Full Closure of Eastbound and Westbound 91 in Corona, Weekend of Feb. 19-22, 2016

Plan ahead, avoid the area, or stay home. The Riverside County Transportation Commission (RCTC) is offering these words of wisdom to motorists in preparation for a weekend full closure of both the eastbound and westbound 91 between the 71 and Interstate 15 in Corona next month.

As part of the 91 Project in Corona, RCTC today launched its "91 Steer Clear" public service campaign to remind motorists that the roadway will be fully closed from Friday, Feb. 19 at 9 pm to Monday, Feb. 22 at 4 am.

This 55-hour closure is needed to allow crews to perform three major construction activities:

Demolish the west side of the Maple Street Bridge over the 91
Install support beams for the new westbound Maple Street flyover ramp bridge
Pave the new eastbound 91 alignment near I-15
To minimize travel delays and impacts during the closure, RCTC strongly recommends that motorists plan ahead and completely avoid travel on and near the 91 in Corona or stay home. If travel cannot be avoided, motorists can use the 57, 60 and I-10 as alternate routes. Motorists traveling on the 91, 71 or I-15 near the project area during the closure period can expect delays of three to four hours.

During the weekend closure, emergency vehicles will be able to travel on the 91, as needed, to respond to police, fire and medical situations.

The 91 Project is adding regular lanes, tolled express lanes, auxiliary lanes and direct express connectors from the northbound 15 to the westbound 91 and from the eastbound 91 to the southbound 15. Improvements to interchanges, ramps, lanes and surface streets also will be made along the 91 between the Riverside County/Orange County Line in Corona and Pierce Street in Riverside. The new lanes are expected to open in 2017.

For more information, visit sr91project.info, call the helpline at 877-770-9191 or email sr91project@rctc.org.

TCA Launches Environmental Insight Newsletter


The Transportation Corridor Agencies (TCA) operate The Toll Roads in Orange County, but few know about the agencies' dedication to long-term environmental protection and management programs. These programs contribute to a healthier environment and preserve the area's scenic beauty for residents and future generations.

TCA has launched "Environmental Insight," a bi-monthly electronic newsletter that will feature how TCA uses the best scientific practices to preserve and restore local natural areas in partnership with universities, conservation groups and fellow agencies.

To sign up for the newsletter, send an email to envirooption@thetollroads.com. To view past editions, please visit www.TheTollRoads.com/whatshappening/newsroom/publications.

OC Clerk Recorder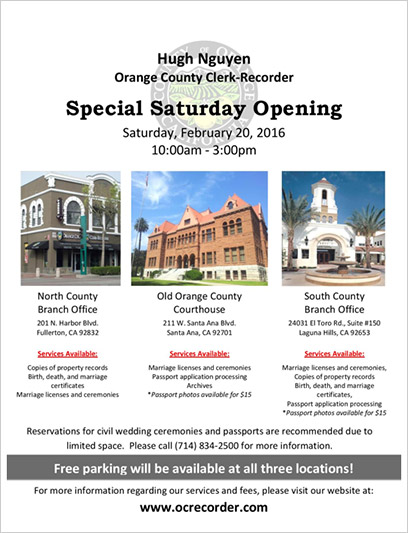 Click on the image above to view a PDF version.

OC Pet of the Week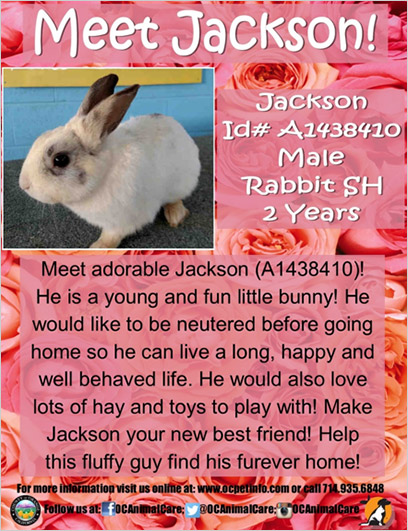 Click on the image above to view a PDF version.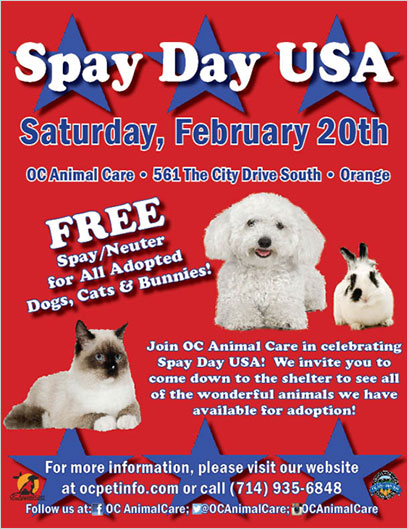 Click on the image above to view a PDF version.

Out and About South County

Aliso Viejo: An Evening to Celebrate

The Aliso Viejo Chamber of Commerce on Thursday, February 18th will host its 4th Annual Installation Dinner at the Renaissance Club Sport. The event, dubbed "An Evening to Celebrate," is from 5:30PM to 8:30PM. For more information, please click here.

Dana Point: Valentines Dinner & Dance

The City of Dana Point presents a Valentines Dinner Dance at the Dana Point Community Center on Saturday, February 13th from 5PM to 9:30PM. Entertainment will be provided by the Street Corne Symphony Band. Reservations are required. For more information, please click here.

Laguna Beach: Laguna Beach Music Festival

This weekend, savor exceptional classical and contemporary music in an intimate setting with distinguished Artistic Directors Jennifer Koh and Shai Wosner during this multi-day immersion in great music in Laguna Beach. It's a weekend that brings you face-to-face with thrilling music-making that you won't soon forget. For more information, please click here.

Mission Viejo: Pianist Beth Sussman presents "Two Boys from Brooklyn (and one from Texas)"

This Saturday, February 13th from 7PM to 9PM at the Norman P. Murray Community and Senior Center, Julliard trained pianist, Beth Sussman performs short works by George Gershwin, Aaron Copland (from Brooklyn) and Scott Joplin (from Texas) including such well known works as "Maple Leaf Rag," "The Man I Love," "Lady Be Good," "S'Wonderful" and "I Got Rhythm." Beth introduces each selection with an interesting or witty anecdote about the music or composer. For more information, please click here.

Rancho Santa Margarita: Free Blood Pressure Screening

On Tuesday, February 16th from 10AM to 12PM, the City will offer free blood pressure screenings at the Bell Tower Regional Community Center. For more information, please click here.

San Clemente: Valentine's Day Weekend at Dana Wharf

On Saturday, February 13th from 10AM to 12PM, join us for Whale Watching romance style aboard the Dana Pride and Ocean Adventures. Enjoy a complimentary glass of sparkling cider while we gaze at the beautiful sunset and look for marine life. For more information, please click here.

San Juan Capistrano: Farmer's Market

On Wednesday, February 17th stop by the Farmers Market on Yorba Street between El Camino Real and Camino Capistrano from 3PM to 7PM. The Old Capistrano Certified Farmers Market promotes a healthy lifestyle by providing fresh fruits, vegetables and other farm products to the citizens of San Juan Capistrano and adds a vibrant community event to our historic downtown. For more information, please click here.

Last but not least this week I:

Participated in an OCTA Special Board meeting.
Participated in an OCTA Board meeting.
Participated in the Orange County Board of Supervisors meeting.
Participated in the LAFCO Board meeting.
Participated in the TCA Foothill Eastern and San Juan Hills Board meetings.
Participated in the TCA 241 Long Range Planning meeting.
Presented a legislative update at the Association of California Cities - Orange County (ACC-OC) Legislative Roundtable.
Attended the Age Well Senior Services Captain's Ball to present certificates of recognition to their honorees: Rick Davis, Steve Moyer, John & Betty Draper, Mission Viejo Mayor Pro Tem Wendy Bucknum, Dana Point City Manager Doug Chotkevys, and Pacific Life Foundation. To see a photo album of the event, please click here.

My Staff:

Presented a certificate of recognition in honor of the ribbon cutting ceremony for Computer Guys of Orange County in Laguna Niguel.
Presented a certificate of recognition in honor of the ribbon cutting ceremony for Little Heroes of Orange County Pediatric Dentistry in Laguna Hills.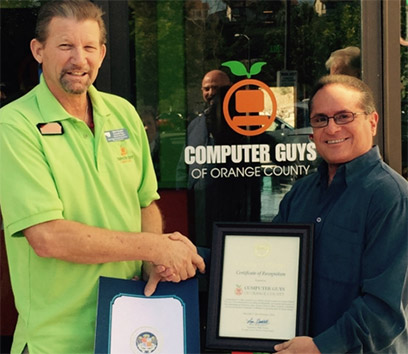 Computer Guys of Orange County ribbon cutting in Laguna Niguel.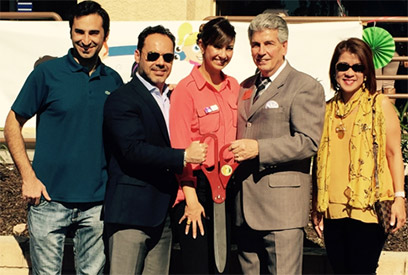 Little Heroes of Orange County Pediatric Dentistry ribbon cutting in Laguna Hills.

South County Elected Officials in the Community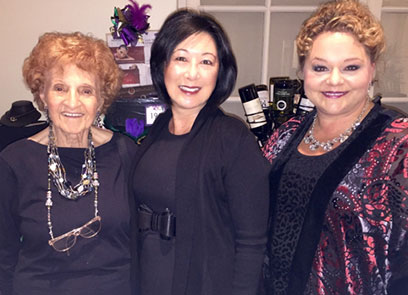 With Anna T. Boyce and Mission Viejo Mayor Pro Tem Wendy Bucknum (right) at Age Well Senior Services Captain's Ball.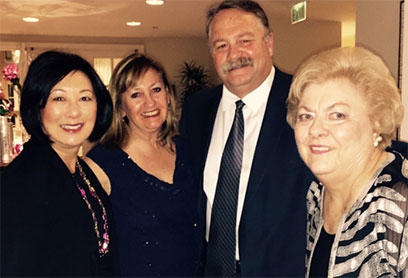 With Age Well Senior Services CEO Marilyn Ditty (right) and Dana Point City Manager Doug Chotkevys at Captain's Ball.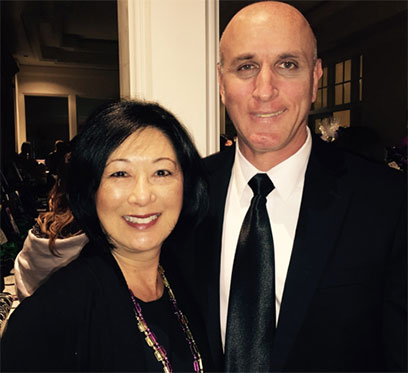 With Dana Point Mayor Pro Tem Richard Viczorek at Age Well Senior Services Captain's Ball.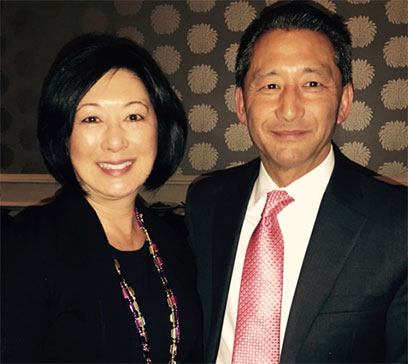 With Aliso Viejo Councilman Phil Tsunoda at Age Well Senior Services Captain's Ball.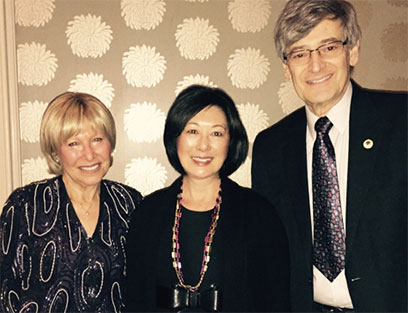 With Laguna Woods Mayor Pro Tem Shari Horne at Age Well Senior Services Captain's Ball.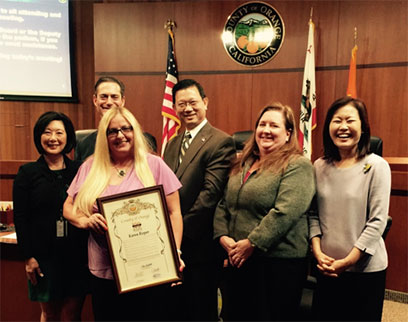 The BOS presenting a Resolution to OC Community Services Director Karen Roper for being named among the Orange County Register's 100 Most Influential People in Orange County.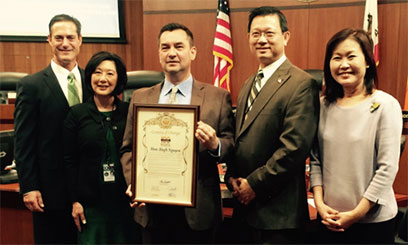 The BOS presenting a Resolution to Clerk Recorder Hugh Nguyen for being named among the Orange County Register's 100 Most Influential People in Orange County.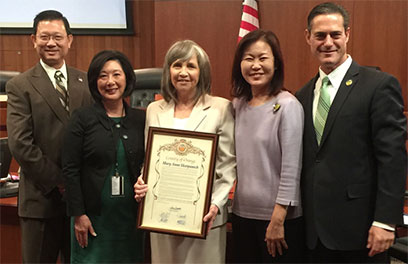 The BOS presenting a resolution commending OC Environmental Resources Deputy Director Mary Anne Skorpanich on her retirement.

For questions or comments regarding Supervisor Bartlett's E-Newsletter please contact the Supervisor's office staff at: (714) 834-3550 or Sara.May@ocgov.com.