County Connections

Groundbreaking Set for Environmental Project That Will Benefit South Orange County

The City of Aliso Viejo on February 22 will break ground on an innovative environmental project that will naturally treat urban runoff from four South Orange County cities and significantly improve water quality in the region.

The groundbreaking ceremony for the Dairy Fork Wetland and Habitat Restoration Project is at 10 a.m. on land at the southwest corner of Aliso Viejo and Moulton parkways. The site entrance is on Moulton Parkway south of Aliso Viejo Parkway.

The City of Aliso Viejo is the lead agency on this project that will treat urban runoff from 1,500 acres of mixed residential and commercial areas within Aliso Viejo, Lake Forest, Laguna Hills and Laguna Woods before it merges with Aliso Creek. The project will also restore natural habitat to the area.

In April 2014, the Orange County Transportation Authority approved funding for this project through its Measure M2 – Environmental Cleanup Program, which requires a 35 percent local match from the participating cities. Most recently, the State Department of Water Resources approved an additional $500,000 in funding from Proposition 84 grant money. The funding dramatically lowers the out-of-pocket costs for all four cities — with Aliso Viejo reducing its share from $150,000 to $24,000.

The wetland project, which is part of the South Orange County Watershed Management Area plan, involves building a series of ponds and planting native, ecosystem-friendly plants. When construction is complete this summer, the wetland will have the ability to reduce pollutants in the water by as much as 99 percent.

John Wayne Airport Displays Luminous Oil Paintings

From February 16 through March 16, a selection of oil paintings from Laguna Beach resident Thom Surman are on display at John Wayne Airport (JWA) as part of JWA's Community Focus Space Program. The paintings can be viewed on the Departure (upper) Level near security screening areas in Terminals A, B and C, and on the Arrival (lower) Level adjacent to Baggage Carousels 1 and 4.

I'm proud to see a local Laguna Beach resident showcase his artwork at John Wayne Airport. The County is fortunate to have a world-class airport with an Arts Program that highlights the many talented artists within our community.

As a lifetime painter and 56-year Orange County resident, Thom Surman depicts his unique perspective on canvas. His paintings record the interactions and constant fluctuation between the earth, sky and water. He is interested in forging a movement of light and color within a single painting, and across a series of paintings. Vivid and enlightening, Thom Surman's paintings meld the natural world from real to mystical. Surman works exclusively in oil, applying many layers of varying opacity onto canvas. The resulting images convey a luminosity that constantly changes in different lighting conditions. "Traditional oil painting has limitations," said Surman. "Converting a flat reflective medium into a refractive light illusion is my ultimate challenge."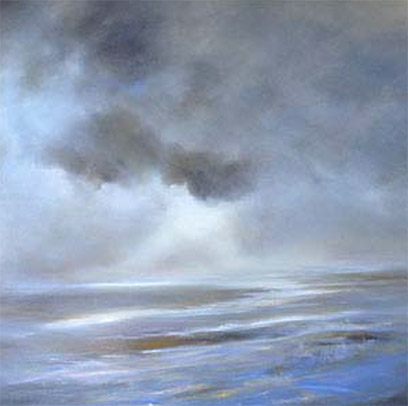 "More Myth" by Thom Surman

More images can be seen here.

City of Mission Viejo Collecting Supplies for El Nino Homeless Relief Project

In an effort to benefit homeless families in the area, the City of Mission Viejo is collecting supplies for the El Niño Homeless Relief project.

The project is an effort by the Orange County Rescue Mission and Family Assistance Ministries, which will distribute the resources in partnership with Mercy House to benefit the homeless displaced by El Niño storms.

Donations of working umbrellas; new waterproof ponchos; hygiene kits; bottled water; protein bars; and new pillows, pillow cases and twin and full-size blankets along with $5 and $10 gift cards to local restaurants are all sought.

The items can be dropped off at the front desk of the Norman P. Murray Community and Senior Center, 24932 Veterans Way, through the end of the month.

Homeless veterans needing support can call the OC Rescue Mission line at 714-716-2612.

For information: call 949-470-3062 or 949-470-8412.

View the flyer here.

County Department Highlights

OC Moves

TCA Launches Environmental Insight Newsletter

The Transportation Corridor Agencies (TCA) operate The Toll Roads in Orange County, but few know about the agencies' dedication to long-term environmental protection and management programs. These programs contribute to a healthier environment and preserve the area's scenic beauty for residents and future generations.

TCA has launched "Environmental Insight," a bi-monthly electronic newsletter that will feature how TCA uses the best scientific practices to preserve and restore local natural areas in partnership with universities, conservation groups and fellow agencies.

To sign up for the newsletter, send an email to envirooption@thetollroads.com. To view past editions, please visit www.TheTollRoads.com/whatshappening/newsroom/publications.

Health Care Advisory

CalOptima Seeking Volunteers for Openings on MAC and OCC MAC

Applications Available Online Starting on February 29.
Submissions Deadline is April 1.

Are you a CalOptima member or do you help CalOptima's members? If you do, you may be interested in volunteering on CalOptima's Member Advisory Committee (MAC) or OneCare Connect Member Advisory Committee (OCC MAC).

The MAC is comprised of 15 voting members, each seat represents a constituency served by CalOptima. Those interested with knowledge of or experience with Medi-Cal are encouraged to apply. The MAC meets on the second Thursday in January, March, May, July, September and November from 2:30 p.m. to 5 p.m.

The following MAC seats are open for volunteer applicants to represent:

Children
Consumer/member
Foster children
Long-term care
Medically indigent persons
Persons with mental illness
Persons with special needs
OneCare Connect Cal MediConnect Plan (Medicare-Medicaid Plan) is a new health plan that combines Medicare and Medi-Cal benefits into one plan. The OCC MAC has 10 voting members, each seat representing a constituency served by OCC and four non-voting liaisons representing county agencies, collaborating on the implementation of OCC. The OCC MAC meets monthly, on the fourth Thursday of every month from 3 p.m. to 5 p.m.

The following OCC MAC seats are open for volunteer applicants to represent:

OCC member/family member
Seniors
Community based adult services (CBAS) provider
Long-term care facility
Member advocate
CalOptima provides publicly funded health plan coverage for low-income families, seniors and people with disabilities in Orange County. Both committees provide input on behalf of CalOptima members to the CalOptima Board of Directors and staff. All MAC and OCC MAC positions are voluntary without pay.

On February 29, additional information and application forms will be available on CalOptima's website at www.caloptima.org in the About Us section. For applicants to be considered, CalOptima must receive by Friday, April 1, 2016, a résumé or bio, as well as the following forms completely filled out: application, limited privacy waiver, and authorization form. For questions about the MAC or OCC MAC, please contact Becki Melli at 714-246-8635 or bmelli@caloptima.org.

OC Pet of the Week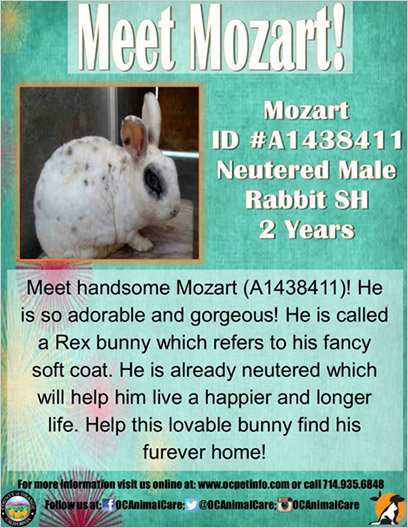 Click on the image above to view a PDF version.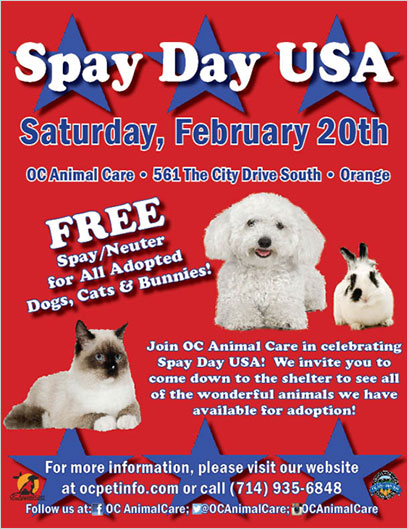 Click on the image above to view a PDF version.

Out and About South County

Aliso Viejo: Movie Nights return to the Aquatic Center next week!

The Aliso Viejo Aquatic Center will host a series of movie nights beginning February 26. The February family movie night is at 5:30 p.m. at the City-owned facility located at 29 Santa Barbara Drive. Guests will enjoy a screening of Disney's classic animated feature, "The Little Mermaid". Entrance to the facility and popcorn are free. Pizza, treats and drinks will be available for sale. For more information call 949-716-3333 or click here.

Dana Point: Bulky Item Drop Off Event

Bulky Item Clean Up events give resident a chance to drop off their bulky items for free instead of taking them to the landfill. Residents can bring e-waste, green waste, large appliances, furniture, and other bulky items that don't fit in a normal waste container. Many of the items collected at these events can be recycled. This event is FREE.

Goodwill Industries will be at both Dana Hills High School and Palisades Elementary school to accept charitable donations from Dana Point residents in order to help others in need. Additionally, document shredding services will be available to Dana Point residents free of charge at each of the item clean up days. Palisades Elementary will have secure document collection bins available to drop off documents for shredding. For more information click here.

History Tour

This walk leaves the Nature Interpretive Center at 9:00 a.m. and goes through 11:30 a.m. exploring the history of the area. The walk is approximately 2 hours long and covers 1.5 miles in distance. An RSVP is required, please email wgintern@danapoint.org or call (949) 248-3527 and has a maximum capacity of 10 individuals. For more information click here.

Laguna Niguel: Animal Magic Show Next Week

Bring the whole family out for a magic show that combines comedy, magic, music, audience participation and live exotic pets in an entertainment experience that's guaranteed to astound and amaze! This is the only magic show in Southern California with all live exotic pets...You get a nonstop, action packed, high-energy 45-minute show that's designed to leave a lasting and positive impact. Children and adults alike are involved in multi-media, audience participation magic show "experience" with at least five live animals ranging from Chinchillas to Snakes, and many more! Seating is available on a first come, first served basis. For more information, click here.

Laguna Beach: Kid's Art Studio

Kids' Art Studio is a hands-on art-making program offered by Laguna Art Museum. It takes place on a drop-in basis on the third Sunday of every month between 2:00 and 4:00 p.m. Children and their families create a piece of art, from start to finish, inspired by one of the exhibitions on view in the museum. Art projects are designed for all ages and are presented by local artists, assisted by members of the Laguna Art Museum Arts Council and other volunteers. All materials are provided and admission is free. For more information, click here.

San Juan Capistrano: Kid's Pet Parade

Part of the annual Fiesta de las Golondrinas celebration. Kids between the ages of 5 to 12 can show off their favorite animals in a contest for, The Cutest, Most Unusual, Best Team Costume (owner and pet), Funniest & Most Obedient (pet, not child). A special "Judges Choice" prize will be awarded and this winner will be given the opportunity to be in the Swallows' Day Parade. This Saturday the 20th from 10:00 a.m. to 1:00 p.m. For more information, click here.

Mission Viejo: American Red Cross Lifeguard Review-Challenge Course

The City of Mission Viejo Lifeguard Review Challenge course is designed to re-certify people who are already lifeguard trained and reviews the skills and knowledge necessary to prevent and respond to aquatic emergencies. Participants will receive American Red Cross certification in Lifeguard Training, First Aid, AED, and CPR for the Professional Rescuer. The course is $90 and includes all course materials. Participants must have an existing and valid American Red Cross Lifeguarding Certification to participate as this class is designed to re-certify an already trained lifeguard. The event will take place at Montanoso Recreation Center (25800 Montanoso Drive, Mission Viejo) at 8:00 a.m. to 7:00 p.m. For more information click here.

Bocce Courts Grand Opening!

At 10:00 a.m. to noon this Saturday celebrate the grand opening of the City's new bocce courts. Meet new friends while enjoying refreshments, music and games. Be one of the first in the community to play bocce at this beautiful, new location. The ribbon cutting will take place at 10:15 a.m at the Norman P. Murray Community and Senior Center. Call 470-3062 or click here for information.

Last but not least this week I:

Gave a presentation to the American Metropolitan Politics class at UCI and participated in a Q&A with the students.
Presented a certificate of recognition at the Dana Point City Council meeting in honor of Kim Cholodenko, Dana Point Employee of the Month.
Presented a certificate of recognition to the City of Dana Point in honor of being the only city in the Orange County Public Library system to pay for an additional day for Dana Point Library to remain open, thus allowing library patrons access seven days per week.
Served as the featured speaker at the BIA/OC Government Affairs meeting.
Participated in the OCTA Legislation and Communications Committee meeting.
Participated in the TCA Joint Capital Projects and Programs meeting.
Attended the Orange County Business Council's Annual Dinner.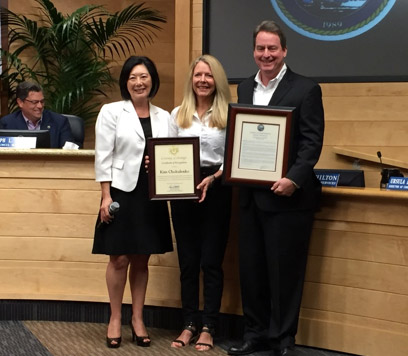 Presenting a certificate to Kimberly Cholodenko, the City of Dana Point's Employee of the Month with Councilman Scott Schoeffel.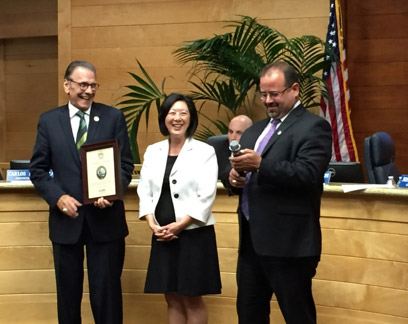 Presenting a certificate to the City of Dana Point, in recognition of their effort to open their library to residents 7 days a week by providing funding to remain open on Sundays. With Councilman Carlos Olvera (left) and Mayor John Tomlinson (right).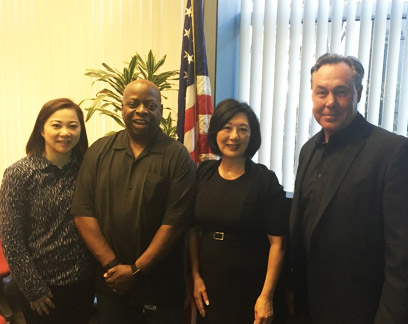 With Mayor Pro Tem Peggy Huang, Councilman Al Murray and Councilman Scott Nelson at the ACC-OC Legislative Roundtable.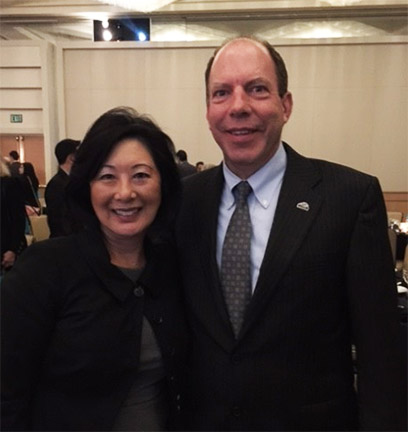 With TCA CEO Mike Kraman, who was installed as a 2016 OCBC Board Member at the OCBC Annual Dinner.



My Staff:

Presented a certificate of recognition in honor of the Platinum Dental Grand Re-Opening and Ribbon Cutting in Rancho Santa Margarita.
Presented a certificate of recognition in honor of the Lotus 7 Yoga & Pilates Grand Re-Opening and Ribbon Cutting in Rancho Santa Margarita.
Attended the Aliso Viejo Chamber of Commerce Annual Installation Dinner and presented certificates to Nicole Hensley, Outgoing Chamber Secretary, Wendy Harder, Outgoing Chamber Board Member, and a proclamation to Dick Fisher, Outgoing Chamber President.
Presented a certificate of recognition in honor of the Sylvan Learning Center Ribbon Cutting in Laguna Niguel.
Presented a certificate of recognition in honor of the 1 Heart Caregiver Ribbon Cutting in Lake Forest.
Presented a certificate of recognition in honor of the Capistrano Mazda Ribbon Cutting in San Juan Capistrano
Attended the Orange County Government Leaders Prayer Breakfast.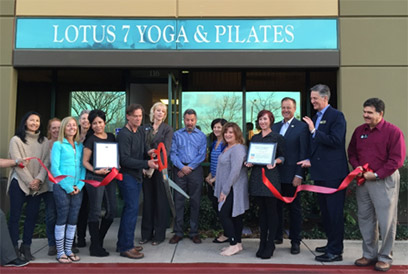 Lotus 7 Yoga & Pilates Grand Re-Opening and Ribbon Cutting.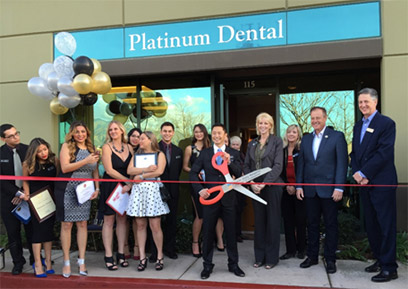 Platinum Dental Grand Re-Opening and Ribbon Cutting.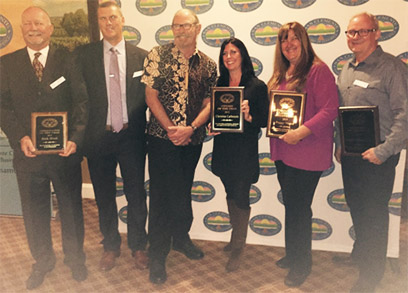 Attended the San Clemente Chamber of Commerce's Annual Meeting & Awards Ceremony to present certificates of recognition to their honorees: San Clemente Chamber of Commerce award winners: Rick Divel (Ambassador of the Year), Jim Wynne (Volunteer of the Year), Duncan Wilson (Educator of the Year), Christina Carbonara (Citizen of the Year), Peggy Vance (Outstanding Lifetime Achievement), and Dragon Alliance (Business of the Year).



South County Elected Officials in the Community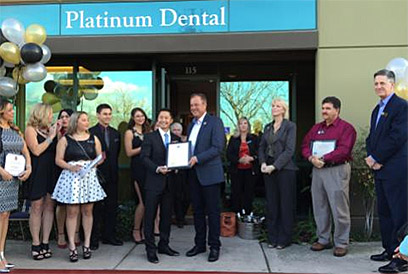 Mayor Tony Beall (center) and Councilman Brad McGirr (far right) at the Platinum Dental Grand Re-Opening and Ribbon Cutting in Rancho Santa Margarita.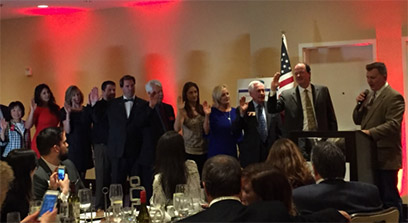 Aliso Viejo Mayor Mike Munzing (far right) swearing in the 2016 Aliso Viejo Chamber of Commerce Officers at the Annual Chamber Installation Dinner.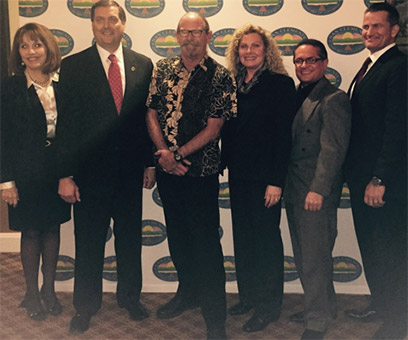 Senator Pat Bates, Assemblyman Bill Brough, Duncan Wilson (Educator of the Year), Mayor Pro Tem Kathy Ward, Sergio Prince (representing my office), and Mayor Tim Brown at the San Clemente Chamber of Commerce Awards Ceremony.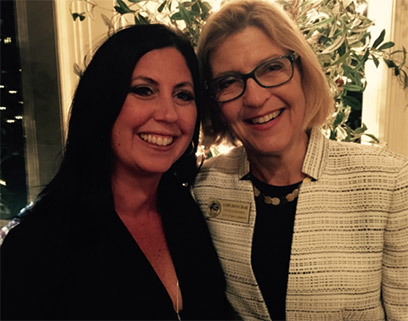 Councilwoman Lori Donchak (right) and Christina Carbonara (Citizen of the Year) at the San Clemente Chamber of Commerce Awards Ceremony.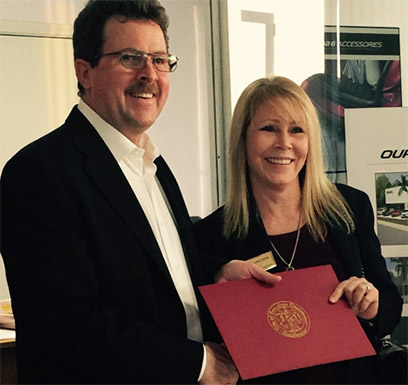 San Juan Capistrano Mayor Pam Patterson at the Mazda Capistrano ribbon cutting.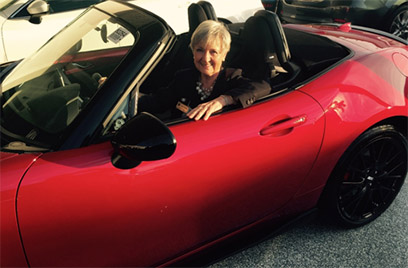 San Juan Capistrano Mayor Pro Tem Kerry Ferguson at the Mazda Capistrano ribbon cutting.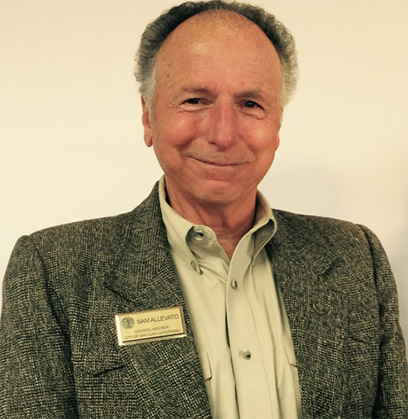 San Juan Capistrano Councilman Sam Allevato at the Mazda Capistrano ribbon cutting.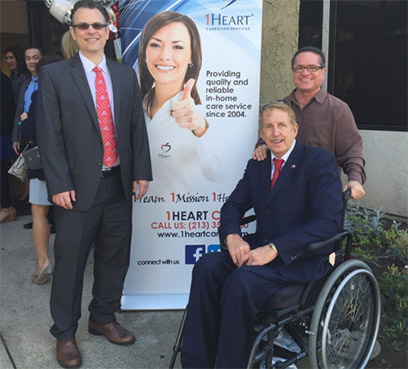 Lake Forest Mayor Andrew Hamilton (left) and Mayor Pro Tem Scott Voigts at 1 Heart Caregiver Services ribbon cutting.

For questions or comments regarding Supervisor Bartlett's E-Newsletter please contact the Supervisor's office staff at: (714) 834-3550 or Sara.May@ocgov.com.