County Connections

Board of Supervisors Approves JVR Shelter Strategies, LLC for a Veterinary and Operational Review of OC Animal Care

The Board of Supervisors has enlisted the help of JVR Shelter Strategies, LLC, for veterinary and operational consulting services at OC Animal Care to make recommendations for best practices at the current shelter as well as at a new shelter that will be built in Tustin.

Supervisors approved a contract with JVR Shelter Strategies on Tuesday, February 23, 2016. The company will review OC Animal Care data to determine staffing and capacity needs for the new animal shelter at the former Tustin Marine base, which is expected to be completed by the end of 2017. JVR also will complete a thorough review of programs at the shelter and make recommendations for best practices to meet the requirements of the new facility. Upon completion, the final recommendations will be shared with the staff, city partners, Board of Supervisors and community partners as part of an outreach effort to develop an implementation plan.

JVR Shelter Strategies is owned and operated by Dr. Jyothi Robertson, a veterinarian who is board qualified in Shelter Medicine, a relatively new and complex veterinary specialty. She specializes in large-scale population dynamics, including outbreak management, infectious disease control and shelter statistics. Dr. Robertson previously reviewed OC Animal Care's veterinary clinic and surgery departments to ensure compliance with state and federal guidelines.

In 2015, Dr. Robertson completed a comprehensive review of the City of Irvine Animal Services utilizing a scope of work that is similar to that requested for OC Animal Care. JVR Shelter Strategies comes highly recommended by the UC Davis Koret Shelter Medicine Program.

Needed Material and Supply Donations for El Nino Homeless Relief Project

Two of Orange County's nonprofit organizations, the Orange County Rescue Mission and Family Assistance Ministries, will be serving as the drop off point for needed material & supply donations for the El Niño Homeless Relief project in Orange County. The Orange County Rescue Mission and Family Assistance Ministries will distribute the resources in partnership with Mercy House, who is leading the emergency shelter operation for the homeless that are displaced by the El Niño storms

Donations of working umbrellas; new waterproof ponchos; hygiene kits; bottled water; protein bars; and new pillows, pillow cases and twin and full-size blankets along with $5 and $10 gift cards to local restaurants are all sought.

These tax deductible donations can be dropped off at these two locations:

Central-North Orange County
LOCATION: The Orange County Rescue Mission's Village of Hope
TIMES: Monday through Saturday, from 8:00 AM to 5:00 PM
ADDRESS: 1 Hope Drive, Tustin CA 92782
PHONE: Mike Martinez at 714‐247‐4333

South Orange County
LOCATION: Family Assistance Ministries
TIMES: Monday: from 9:00 AM to 6:00 PM
Tuesday – Friday: from 9:00 AM to 5:00 PM
Saturday & Sunday: from 8:30 AM to 10:30 AM
ADDRESS: 1030 Calle Negocio, San Clemente, CA 92673
PHONE: Office 949-492-8477

View the flyer here.

County Department Highlights

OC Public Works

OC Public Works Receives Multiple Awards from the American Society of Civil Engineers (ASCE)

Four Orange County Public Works (OCPW) infrastructure projects were honored as industry-best projects in 2015 by the Orange County Branch of the American Society of Civil Engineers (ASCE) at the organization's annual awards celebration on February 18. OCPW's Deputy Director of Operations and Maintenance was also selected among many to receive the Outstanding Civil Engineer in the Public Sector award. The awards recognize some of the finest civil engineers and projects over the past year, honoring OCPW projects that are improving the drive for commuters, protecting water supplies and keeping neighborhoods safe.

The "best of" awards bestowed to OCPW by ASCE's Orange County Branch include:

Best Bridge Project: Lincoln Avenue Widening over the Santa Ana River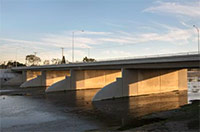 The Lincoln Avenue Bridge over the Santa Ana River serves as a gateway linking the cities of Anaheim and Orange. The $8 Million Lincoln Avenue Bridge widening project successfully provides a safe, multi-use accessible six (6) lane corridor with bike lanes and raised sidewalk on each side from Batavia to the 57 Freeway. Other improvements include installation of pedestrian railing, construction of retaining walls on both sides of roadway embankment through Orange County Water District (OCWD) detention basins, relocation of utilities, and replacement of trapezoidal concrete channel with underground storm drain.

Best Water Project: Gobernadora Multipurpose Basin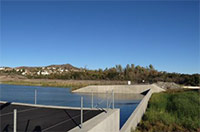 A collaborative effort between OC Public Works, the Santa Margarita Water District and Rancho Mission Viejo, this innovative basin program in south Orange County provides regional flood protection and improved water quality and reliability, which is crucial for businesses as the cost of imported water continues to rise. OCPW's Watershed Management team was instrumental in securing $2.5 million of Proposition 84 Integrated Regional Water Management grant funding for the Water Quality (upper) Basin.

Best Flood Management Project: Newland, Edinger, and East Garden Grove Wintersburg Storm Channel Confluence System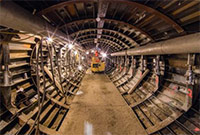 The East Garden Grove-Wintersburg Channel, Edinger Channel, and Newland Channel all converge at the I-405 Freeway where the cities of Huntington Beach and Westminster share an intersection. This project was unique due to its complexity. The channel/drainage hydraulics were so complex that a physical hydraulic model of the channel system was constructed to determine the hydraulic constraints for upstream improvements. The Edinger Channel project required the addition of a 72"x113" elliptical concrete pipe beneath the I-405 Freeway, which required an extensive tunneling operation under the I-405 Freeway in addition to major drainage improvements upstream. The project also featured the construction of a facility that bifurcates its flow at the freeway, sending half of its flow to the East Garden-Grove-Wintersburg Channel upstream and the other half through a tunnel under the I-405 Freeway to confluence downstream. The drainage improvements included expanding the existing concrete trapezoidal channel to a larger rectangular channel and reconstructing drainage improvements under five street intersections requiring the redesign of each intersection.

Best Small Project: Gilbert Street Improvements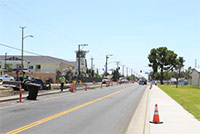 The Gilbert Street improvement project in unincorporated Anaheim enhances safety and provides traffic-calming elements in a highly-congested residential and commercial corridor. The project featured roadway improvements, American Disability Act (ADA) accessibility, railroad crossing upgrades, storm drain upgrades, traffic signal modifications and new pedestrian flashing crosswalks.

Outstanding Civil Engineer in the Public Sector: Kevin Onuma, P.E.

Onuma is a licensed Civil Engineer and currently the Deputy Director of OC Public Works' Operations and Maintenance Service Area. He has over 26-years of engineering experience with the County of Orange which includes stints as the Deputy Director of Infrastructure Programs, interim Chief Engineer, interim Assistant Director of OC Engineering, Flood Control Division Manager, as well in time in the County's Flood and Road Program and Flood Control Design groups.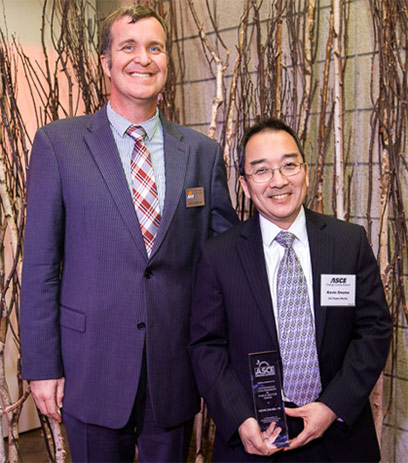 About OC Public Works

OC Public Works, a County of Orange department, delivers innovative services and infrastructure projects on a regional basis for unincorporated communities, cities and other Orange County agencies and departments. The primary mission of the department is to protect and enrich the community through efficient delivery and maintenance of public works infrastructure, planning and development services, environmental resources and consumer protection measures.

More information and updates about OC Public Works are available at www.OCPublicWorks.com. You can also follow OC Public Works on Facebook at www.facebook.com/OCPublicWorks and on Twitter at www.twitter.com/OCPublicWorks.

John Wayne Airport

Angels Baseball Exhibit At John Wayne Airport Features Historic Memorabilia

To commemorate the 56th season of Angels Baseball, John Wayne Airport is featuring the Calling All Angels exhibit in the Vi Smith Concourse Gallery, located on the Departure (upper) Level, across from Gates 2 through 5 in Terminal A, Gates 18 through 21 in Terminal C and in the free-standing display cases across from Gate 14. Ticketed passengers can view the exhibit through July 2016.

Both Angels Baseball and John Wayne Airport have a long history in Orange County and it's only fitting that the Airport be a venue where travelers have an inside look into Angels History. When traveling through John Wayne Airport, I encourage you to explore this fascinating exhibit that features a range of baseball memorabilia from the early years to the present.

Curated by Adrienne Helitzer and Tammy Lechner, the Calling All Angels exhibit is a snapshot into the journey of the Angels through the past 56 seasons, and those who have played such an important role in the efforts to be a perennial contender on the field, and a community leader off. The exhibit includes a variety of baseball memorabilia including autographed baseballs and bats, cleats and baseball guides.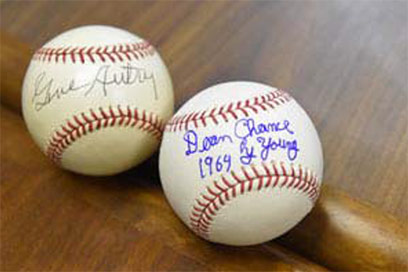 Artifacts found in the Calling All Angels Exhibit

More images can be seen here.

CalOptima

CalOptima Seeking Volunteers for Openings on MAC and OCC MAC

Applications Available Online Starting on February 29.
Submissions Deadline is April 1.

Are you a CalOptima member or do you help CalOptima's members? If you do, you may be interested in volunteering on CalOptima's Member Advisory Committee (MAC) or OneCare Connect Member Advisory Committee (OCC MAC).

The MAC is comprised of 15 voting members, each seat represents a constituency served by CalOptima. Those interested with knowledge of or experience with Medi-Cal are encouraged to apply. The MAC meets on the second Thursday in January, March, May, July, September and November from 2:30 p.m. to 5 p.m.

The following MAC seats are open for volunteer applicants to represent:

Children
Consumer/member
Foster children
Long-term care
Medically indigent persons
Persons with mental illness
Persons with special needs
OneCare Connect Cal MediConnect Plan (Medicare-Medicaid Plan) is a new health plan that combines Medicare and Medi-Cal benefits into one plan. The OCC MAC has 10 voting members, each seat representing a constituency served by OCC and four non-voting liaisons representing county agencies, collaborating on the implementation of OCC. The OCC MAC meets monthly, on the fourth Thursday of every month from 3 p.m. to 5 p.m.

The following OCC MAC seats are open for volunteer applicants to represent:

OCC member/family member
Seniors
Community based adult services (CBAS) provider
Long-term care facility
Member advocate
CalOptima provides publicly funded health plan coverage for low-income families, seniors and people with disabilities in Orange County. Both committees provide input on behalf of CalOptima members to the CalOptima Board of Directors and staff. All MAC and OCC MAC positions are voluntary without pay.

On February 29, additional information and application forms will be available on CalOptima's website at www.caloptima.org in the About Us section. For applicants to be considered, CalOptima must receive by Friday, April 1, 2016, a résumé or bio, as well as the following forms completely filled out: application, limited privacy waiver, and authorization form. For questions about the MAC or OCC MAC, please contact Becki Melli at 714-246-8635 or bmelli@caloptima.org.

Dana Point Harbor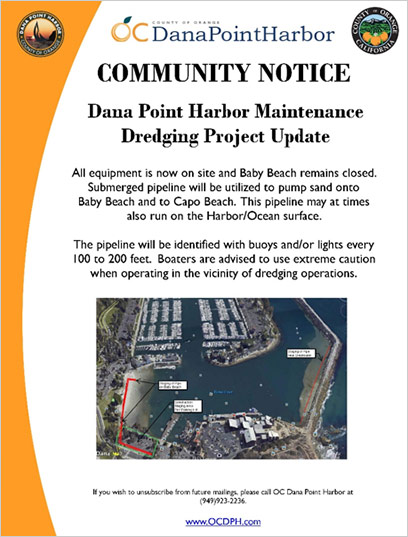 Click on the image above to view a PDF version.

OC Animal Care/Pet of the Week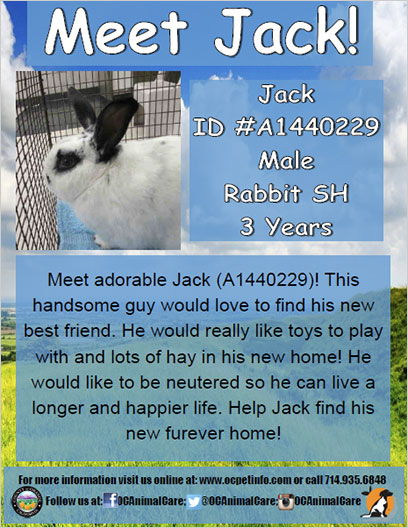 Click on the image above to view a PDF version.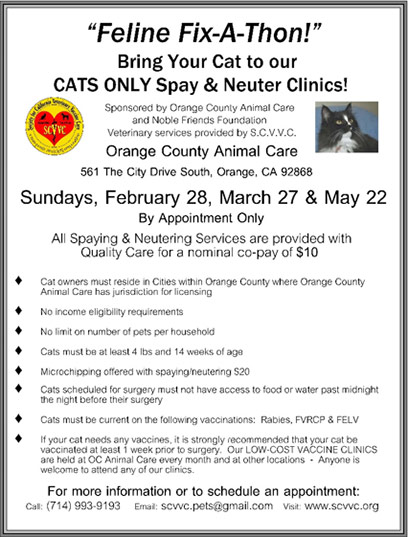 Click on the image above to view a PDF version.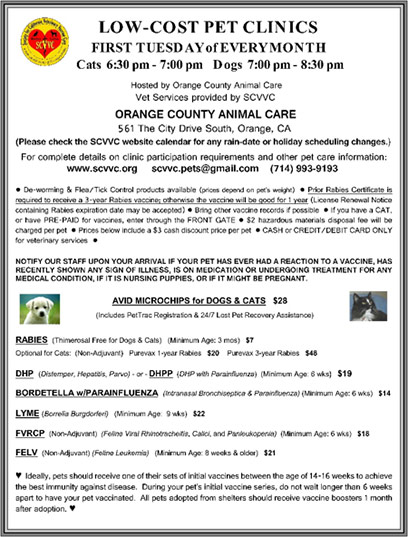 Click on the image above to view a PDF version.

Out and About South County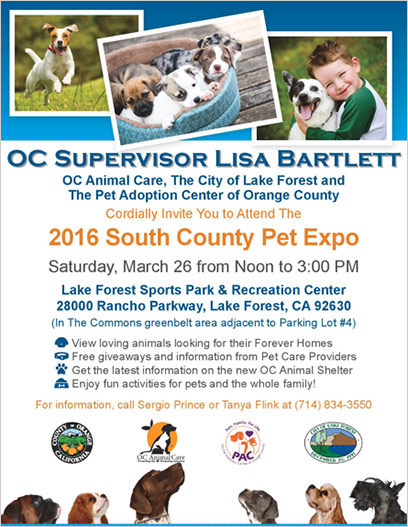 Click on the image above to view a PDF version.

Dana Point: Festival of Whales

Southern California's summer tourists may have come and gone, but this winter a different type of tourist will be traveling along the West Coast and heading to Baja during its annual migration: the majestic California Gray Whale. The whales begin their migration in late November, but from March 5 – 6 and 12 – 13 hundreds of these 35-ton leviathans will splash through the seaside community of Dana Point, California – the West Coast's premier location to meet and greet these incredible creatures during the 
45th Annual Dana Point Festival of Whales.

Festival highlights include an opening day parade, Street Fair, art and craft shows and sales, classic car exhibits, paddling and sailing opportunities, sailing regatta, build-a-boat competition, sand sculpting, concerts on land and water, environmental activities, educational opportunities, interpretive crafts, kids activities, fun food, and of course, whale watching excursions on a variety of vessels or whale watching from breathtaking Dana Point Headlands Conservation Park.

Join the pod and the fun at the 45th Annual Dana Point Festival of Whales! For details, click here.

Dana Point: The Dana Point Symphony

The Dana Point Symphony will perform Saturday February 27 at 7:30 pm for their 5th anniversary season at St. Edward's Church located at 33926 Calle La Primavera Dana Point, 92629. The DPSO is comprised of talented members from all over Southern California, including musicians from Orange, San Diego, and Los Angeles counties. Each member of the orchestra holds a unique wealth of expertise and experience on their chosen instruments. The DSPO brings soloists from around the world to the Dana Point stage. The cost will be $60 with a season pass (4 concerts); $20 Adults; $15 Students, Senior, and Military. For more information click here.

Laguna Beach: Laguna Bluebelt Coalition Announces 2016 Winners from 5th Annual Photo Contest

The Laguna Bluebelt Coalition, dedicated to preserving the health of Laguna Beach's marine habitats, has announced the winners of its 5th Annual Photo Contest. The contest focuses attention on Laguna's marine protected areas to educate and gain public support for their restoration and protection. Over 70 photos were submitted, and the winners were recognized in two categories:

Amateur:

First Place: Rich German, "Gray Whales-Sunrise from the Bottom of the Sea"
Second Place: Tim Williams, "Curious Male Sheephead"
Third Place: Charlie Dickerson, "Rush"
Honorable Mention: David Zimmerman, "Beach Vibes"
Honorable Mention: Scott Dreslinski, "Shaws Cove"
Professional:
First Place: Hugh Foster, "Passing Time"
Second Place: Dale Kobetich, "Last Splash of the Day"
Third Place: Mark Sanderson, "Woods Cove Twilight"
Honorable Mention: Scott Brashier, "Fall Morning Beauty"
Honorable Mention: Brandon Sears, "Wave Goodnight"
See all the winners at lagunabluebelt.org, and all photo entries will be posted on the Laguna Bluebelt Facebook page.

The popular Artist Reception will be held on June 10 from 4:30-6:00 to honor the winners at Gallery Q Community Center. Winning photos will be on exhibit from May 23-July 1.

San Clemente: Meet the Mayor

The public is invited to attend the Meet the Mayor event. San Clemente Mayor Bob Baker will be greeting and meeting people Saturday February 27 from 8:30 am to 9:30 am at Panera Bread located at 802 Avenida Talega San Clemente, 92673. For more information click here.

Irvine: Irvine Has Heart

The City of Irvine, in partnership with Second Harvest Food Bank, will host "Irvine Has Heart," a community food drive, from February 12 through March 31 to help families and seniors in need. The goal of the drive is to collect 3,500 pounds of canned food items. Collection barrels will be available at various City facilities, libraries, and faith based organizations. For additional program information, call 949-724-6680. For more information click here.

Last but not least this week I:

Participated in the Orange County Transportation Authority Board of Directors meeting.
Chaired the Orange County Board of Supervisors meeting.
Spoke as the featured speaker at the Orange County Log Cabin Republicans monthly meeting.
Participated in the TCA Joint Finance & Investment meeting.
Attended the Lake Forest State of the City & Meet the Mayor event.
Participated in the Orange County Fire Authority Board meeting.
Participated in the TCA Joint Strategic Planning Ad-Hoc.
Toured the Emergency Department of St. Joseph's Hospital in Orange.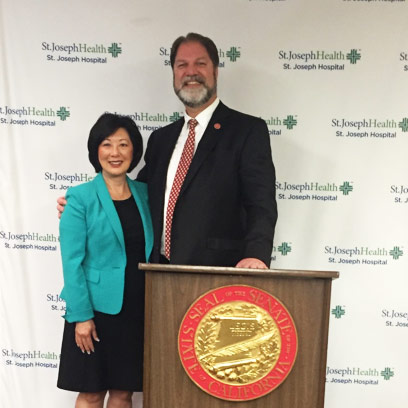 Participated in Senator Moorlach's SB1273 Press Conference held at St. Joseph's Hospital.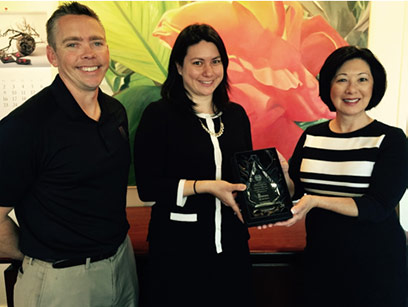 Presenting award to Paul Simonds and Regina Lugani of SoCalGas in appreciation of Sempra Energy's sponsorship of my South County Veterans Summit.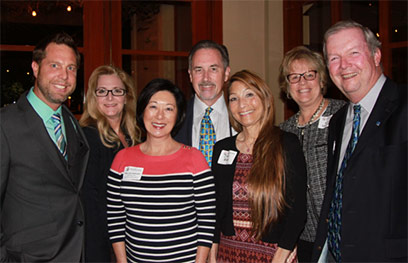 With Orange County Log Cabin Republicans.



With Lake Forest Mayor Andrew Hamilton (5th from left), Mission Viejo Councilman Greg Raths (6th from left), and Lake Forest Mayor Pro Tem Scott Voigts (front center) at the Lake Forest State of the City Address.



My Staff:

Toured the Samueli Academy, a public high school in partnership with the Orangewood Children's Foundation.
Attended the United Way Face 2024 Report.
Toured the 211 OC facility.
Presented a certificate of recognition in honor of the Dairy Fork Wetland Restoration Groundbreaking in Aliso Viejo.
Participated in a South County Senior Summit planning meeting.
Presented a certificate of recognition in honor of the ribbon cutting ceremony for Homewood Suites by Hilton in Aliso Viejo.


Homewood Suites by Hilton ribbon cutting in Aliso Viejo.

South County Elected Officials in the Community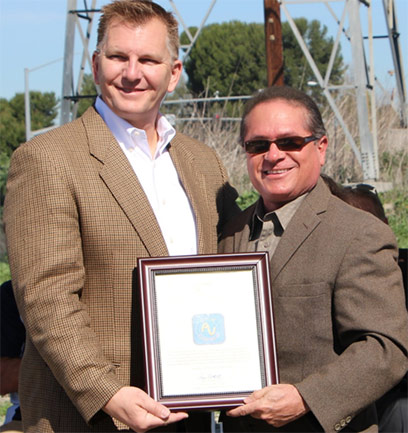 Presenting certificate of recognition to Aliso Viejo Mayor Mike Munzing (left) in honor of the Dairy Fork Wetland Restoration groundbreaking ceremony.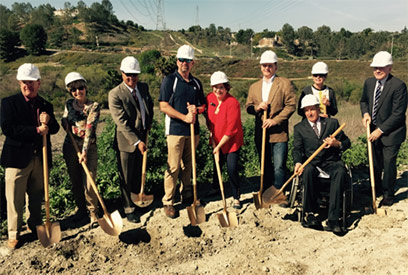 Aliso Viejo Councilman Bill Phillips (left), Laguna Woods Mayor Pro Tem Shari Horne, Aliso Viejo Councilman Ross Chun, Aliso Viejo Mayor Pro Tem Dave Harrington, Laguna Hills Mayor Barbara Kogerman, Aliso Viejo Mayor Mike Munzing, Lake Forest Mayor Pro Tem Scott Voigts, Laguna Woods Councilwoman Carol Moore, and Laguna Woods Mayor Noel Hatch at the Dairy Fork Wetland Restoration groundbreaking ceremony in Aliso Viejo.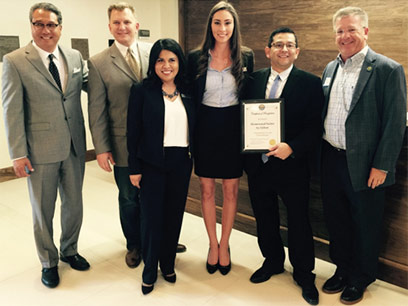 Aliso Viejo Councilman Ross Chun (left), Mayor Mike Munzing and Councilman Bill Phillips (far right) at Homewood Suites by Hilton ribbon cutting.

For questions or comments regarding Supervisor Bartlett's E-Newsletter please contact the Supervisor's office staff at: (714) 834-3550 or Sara.May@ocgov.com.