County Connections

County of Orange Selected to Attend National "Stepping Up" Summit

The County of Orange has been selected following a highly competitive process to participate in the National "Stepping Up" Summit aimed at reducing the prevalence of individuals with mental illnesses in jail, to be held in April in Washington DC. The initiative was created last year by the National Association of Counties with partners from the Council of State Governments' Justice Center and the American Psychiatric Association Foundation.

The Orange County Board of Supervisors fully supported the initiative by approving a resolution in May 2015 to encourage efforts by the Sheriff's Department and Health Care Agency to enhance collaboration toward reducing the number of people in jails with mental illness and co-occurring substance use.

"Jails across the nation serve an estimated two million people each year with serious mental illnesses, almost three-quarters of whom also have substance use disorders," Orange County Sheriff Sandra Hutchens said. "We look forward to sharing our strategies to change the way these folks are linked to treatment; break the cycle of recidivism; and support the road to recovery – as well as the tremendous opportunity to learn from the successful approaches shared at the Summit by other local government organizations."

These types of collaborative initiatives are essential as we look across the country at best practices and sharing successful strategies for the common challenges that we face.

County representatives attending the Summit include Sheriff Hutchens, Chief Probation Officer Steven Sentman, Deputy Director of Behavioral Health Services Mary Hale, Deputy Director of Correctional Health Kim Pearson and Supervisor Todd Spitzer.

To learn more, please visit http://www.naco.org/resources/programs-and-initiatives/stepping-initiative

County Hosts Meeting Over Future of AWMA Bridge

The County of Orange has invited parties interested in keeping open a popular bridge allowing through-traffic between Laguna Niguel and Aliso Viejo to resolve a lingering dispute over its access and future ownership.

The bridge is owned by the South Orange County Wastewater Authority (SOCWA). It sits over Aliso Creek on land deeded to the County in 1979 for the Aliso & Woods Canyon Wilderness Park.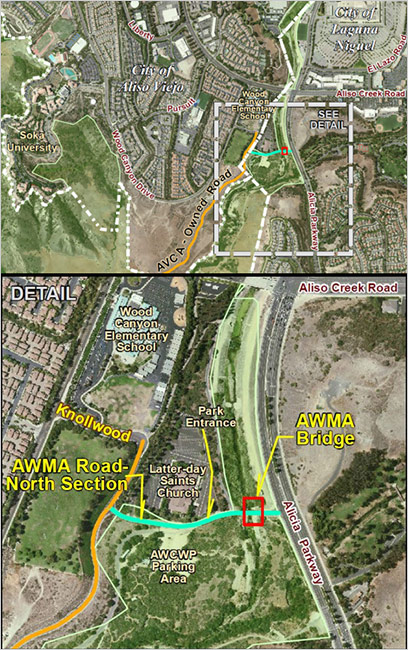 Detailed map of image above
SOCWA has said it no longer needs the bridge and intends to close it unless the County or another entity assumes ownership. SOCWA already has restricted the bridge to one-way traffic and at times has posted a security guard.

This bridge has been a community asset for decades and people rely on it every day to reach a variety of destinations. County staff have arranged a stakeholder meeting to take place on March 16 to bring the various parties to the table.

We appreciate the public's desire to keep using the bridge as one of the ways into our wilderness park. We believe all of the stakeholders – the County, the cities of Laguna Niguel and Aliso Viejo, the church and the school district – should sit down and find an equitable way to protect continued access.

According to a recent traffic study, half of those using the bridge do so as a shortcut between Alicia Parkway in Laguna Niguel and Aliso Canyon Road in Aliso Viejo. Another 21 percent use it to reach the Church of Jesus Christ of Latter-day Saints, with another 16 percent driving to and from Wood Canyon Elementary School. The remaining 13 percent use it to reach the County wilderness park or SOCWA's wastewater treatment plant.

The bridge was built in 1979 to get workers to and from the wastewater treatment plant that operates along Aliso Creek. SOCWA inherited the bridge when the authority formed in 2001 and assumed responsibility for the Aliso Watershed Management Agency, for which Awma Road is named. The bridge is about 80 feet long by 29 feet wide and constructed of glue-laminated timber with concrete supports. SOCWA has restricted access to the bridge at least twice since 2010. Late last year, SOCWA asked the County to take over responsibility for building a new structure and to improve Awma Road to County standards.

The County has estimated the cost of replacing the bridge at $6 million. SOCWA has offered to cover $1 million of the cost in exchange for being able to continue to use it.

The Municipal Water District of Orange County Promotes EPA's "Fix a Leak Week"

As part of the U.S. Environmental Protection Agency's (EPA's) ongoing We're for Water campaign, this year's Fix a Leak Week encourages Americans to help put a stop to the more than 1 trillion gallons of water wasted from household leaks each year.

Sponsored by EPA's WaterSense® program, Fix a Leak Week is March 14 through 20, 2016. In support of We're for Water, the Municipal Water District of Orange County is promoting finding and fixing residential leaks in Orange County.

"Leaks can account for more than 10,000 gallons of water in an average home every year—the amount of water it takes to wash 270 loads of laundry," water officials advise. "As a WaterSense partner, we are encouraging consumers to find and fix leaks to save water in our community."

To help save water for future generations, MWDOC is asking consumers to check, twist, and replace:

Check for leaks. Look for dripping faucets, showerheads, sprinklers, and other fixtures. Also check for toilets with silent leaks by putting a few drops of food coloring into the tank, waiting 10 minutes, and seeing if color appears in the bowl before you flush. Don't forget to check irrigation systems and spigots too.
Twist and tighten hose and pipe connections. To save water without a noticeable difference in flow in your bathroom, twist on a WaterSense labeled faucet aerator.
Replace the fixture if necessary. Look for WaterSense labeled models, which are independently certified to use 20 percent less water and perform as well as or better than standard models.
In many cases, fixture replacement parts pay for themselves quickly and can be installed by handy do-it-yourselfers or local plumbing professionals. Irrigation professionals certified through a WaterSense labeled program can also check your systems for leaks. Visit www.epa.gov/watersense to find WaterSense labeled products or an auditor in your area. For more information on Fix a Leak Week, visit www.epa.gov/watersense.

County Department Highlights

OC Moves

I-5 South County Closures at Avenida Pico

As you know, construction work is underway on the I-5 South County Improvement Project. This 5.7 mile project extends from Avenida Pico in San Clemente to San Juan Creek Road in San Juan Capistrano.

Day time pile driving for the bridge widening will take place intermittently, between 7 am and 5 pm Monday through Saturday for the next several weeks. There will be a full nighttime closure of Avenida Pico at the I-5 Freeway as well as the closure of the southbound off-ramp from the I-5 to ensure the safety of working crews and the traveling public.

There will be two closures within the next week, which will take place at:

11 pm Friday, March 4th, to 5 am Saturday March 5th and
11 pm Tuesday, March 8th, to 5 am Wednesday March 9th
In addition to the Avenida Pico street closures, the southbound off-ramp from the I-5 also will be closed to ensure the safety of our crews and the traveling public. During the construction the speed limit on I-5 from San Juan Creek Road to Avenida Palizada will be reduced to 55 mph. For real time closure and detour updates visit octa.net/5southCountyDetourmap. Please travel safely!

Health Care Advisory

Not Too Late to Vaccinate Against the Flu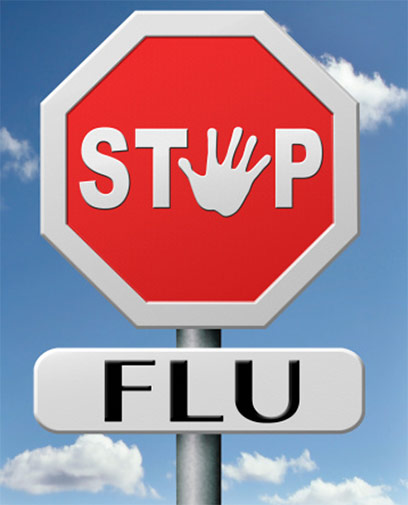 The County of Orange Health Care Agency (HCA) has seen a dramatic increase in the number of flu cases reported in recent weeks as well as six deaths due to flu in residents under age 65, likely related to the fact that two strains of the virus are making an impact at the same time.

"Even if you've already gotten sick, there's a chance you could fall ill again with a different strain," said Dr. Matthew Zahn, HCA's Director of Epidemiology. "But the good news is that this year's vaccine is highly effective in preventing both influenza A and B. So, it's still a good idea to be vaccinated if you haven't been already."

Health officials from the Centers for Disease Control and Prevention (CDC) have also reported that this year's vaccine has been 59% effective – as compared with last year's efficacy of 23%.

Flu vaccine (flu shot or nasal spray) is available from health care providers, clinics and pharmacies throughout Orange County. Contact your health care provider for more information or use the flu vaccine finder at http://ochealthinfo.com/phs/about/family/flu.

CalOptima

CalOptima Seeking Volunteers for Openings on MAC and OCC MAC

Are you a CalOptima member or do you help CalOptima's members? If you do, you may be interested in volunteering on CalOptima's Member Advisory Committee (MAC) or OneCare Connect Member Advisory Committee (OCC MAC).

The MAC is comprised of 15 voting members, each seat represents a constituency served by CalOptima. Those interested with knowledge of or experience with Medi-Cal are encouraged to apply. The MAC meets on the second Thursday in January, March, May, July, September and November from 2:30 p.m. to 5 p.m.

The following MAC seats are open for volunteer applicants to represent:

Children
Consumer/member
Foster children
Long-term care
Medically indigent persons
Persons with mental illness
Persons with special needs
OneCare Connect Cal MediConnect Plan (Medicare-Medicaid Plan) is a new health plan that combines Medicare and Medi-Cal benefits into one plan. The OCC MAC has 10 voting members, each seat representing a constituency served by OCC and four non-voting liaisons representing county agencies, collaborating on the implementation of OCC. The OCC MAC meets monthly, on the fourth Thursday of every month from 3 p.m. to 5 p.m.

The following OCC MAC seats are open for volunteer applicants to represent:

OCC member/family member
Seniors
Community based adult services (CBAS) provider
Long-term care facility
Member advocate
CalOptima provides publicly funded health plan coverage for low-income families, seniors and people with disabilities in Orange County. Both committees provide input on behalf of CalOptima members to the CalOptima Board of Directors and staff. All MAC and OCC MAC positions are voluntary without pay.

Additional information and application forms will be available on CalOptima's website at www.caloptima.org in the About Us section. For applicants to be considered, CalOptima must receive by Friday, April 1, 2016, a résumé or bio, as well as the following forms completely filled out: application, limited privacy waiver, and authorization form. For questions about the MAC or OCC MAC, please contact Becki Melli at 714-246-8635 or bmelli@caloptima.org.

Dana Point Harbor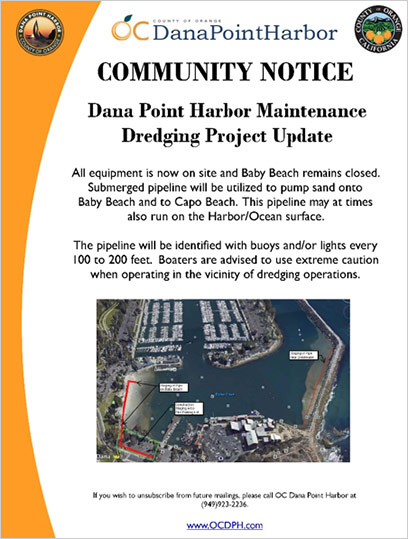 Click on the image above to view a PDF version.

OC Animal Care/Pet of the Week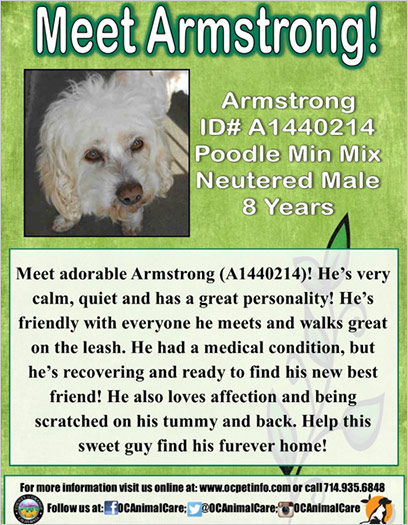 Click on the image above to view a PDF version.

Out and About South County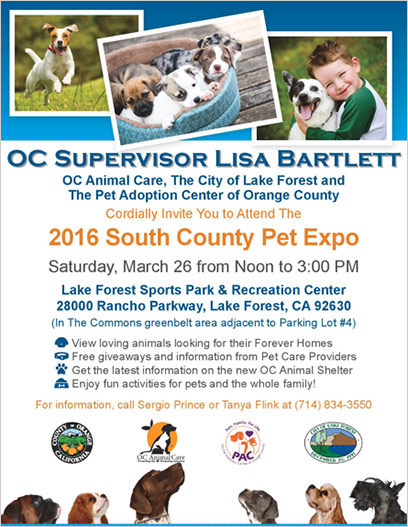 Click on the image above to view a PDF version.

Dana Point: Festival of Whales

Join the pod and the fun at the 45th Annual Dana Point Festival of Whales! For details, click here.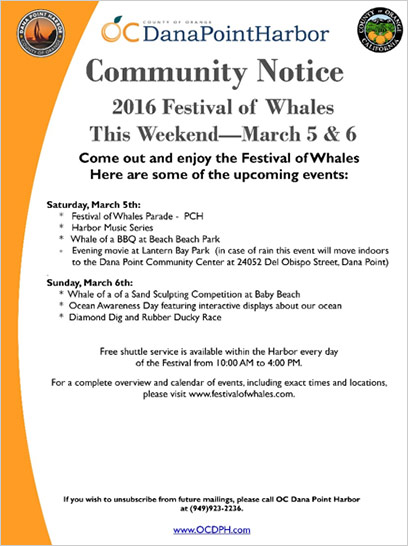 Click on the image above to view a PDF version.

San Juan Capistrano: Swallows Day Fiesta Grande

This night of Old West entertainment consists of four contests rolled into one! Best Dressed Old West Man, Best Dressed Old West Woman, Best Belt Buckle, and the Hairiest Man (best moustache and/or beard). So don your finest Old West outfit, belt buckle or facial hair and enter one or more of the contests. There is a $5 entry fee per category for each contestant entered.

For the more timid, spectators are always welcome at the hilarious Fiesta Grandé.

The event will be held on March 9, 2016 from 6:00 p.m. to 9:00 p.m. at the Swallow's Inn in San Juan Capistrano. For more information call 949-493-1976.

Laguna Niguel: MLB Pitch, Hit and Run

Pitch, Hit & Run is an exciting baseball and softball skills competition that provides boys and girls, ages 7 to 14, an opportunity to showcase their pitching, hitting and running abilities and will be taking place from 12:00 pm to 2:00 pm at the Chapparosa Park, Ballfields 25191 Chapparosa Park Road Laguna Niguel, 92677. Boys and girls will compete separately in four age groups: 7/8, 9/10, 11/12, and 13/14. Top scorers in each age group advance to a sectional competition, with the possibility of competing in the Pitch, Hit & Run National Finals to take place during the 2016 ALL-STARS. For more information click here.

Irvine: Garden Workshop

The public is invited to attend a garden workshop for planning and planting the small space veggie garden. The workshop will take place Saturday, March 5 at 10:00 am at Orange County Great Park Farm + Foodlab located at 6950 Marine Way Irvine, 92618. The workshop is free and is for ages 12+. For more information click here.

Last but not least this week I:

Attended the Orange County Business Council (OCBC) Sacramento Advocacy Trip and sat in on multiple group meetings with California legislators.
Chaired the Orange County Board of Supervisors meeting.
Participated in the TCA Foothill Eastern Mobility Ad-Hoc.
Participated in the OCTA Environmental Oversight Committee meeting.
Participated in the CalOptima Board meeting.
Presented a certificate of recognition to Ilse Byrnes at the San Juan Capistrano State of the City.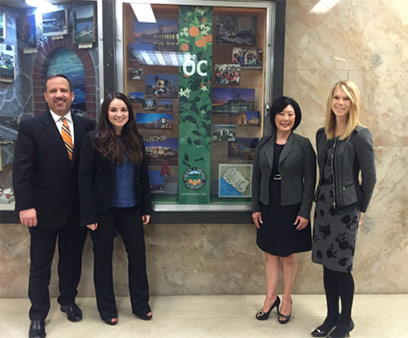 At the Capitol Building in Sacramento, in front of the Orange County display.




Presenting a Board resolution to representatives of Social Services Agency and Health Care Agency in recognition of Social Work Month.




Presenting a Board resolution to representatives of Orange County Waste & Recycling and Orange County Department of Education's Inside the Outdoors in recognition of receiving the Golden Bell Award from the California School Boards Association and the Governor's Environmental and Economic Leadership Award for their Project Zero Waste program.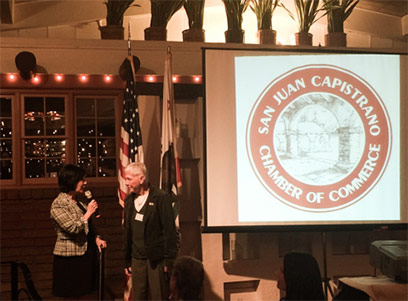 Presenting a certificate of recognition to Ilse Byrnes, the 2016 Arts, Culture, and Education Awardee at the San Juan Capistrano State of the City.



My Staff:

Attended the OCBC Sacramento Advocacy Trip.
Toured the San Diego Humane Society and County Animal shelters.
Attended the Water Advisory Committee of Orange County meeting.
Presented a certificate of recognition in honor of the Captain's Chair Ribbon Cutting in Dana Point.
Presented a certificate of recognition in honor of the Strength in Support Ribbon Cutting in Laguna Hills.
Presented a certificate of recognition in honor of the Cox Communications Ribbon Cutting in Foothill Ranch.
Presented a certificate of recognition in honor of the Oso Creek Trail Ribbon Cutting in Laguna Niguel.
Attended RH Dana Elementary's 50th Anniversary Celebration.
Attended the Laguna Niguel Chamber's Government Affairs Committee meeting.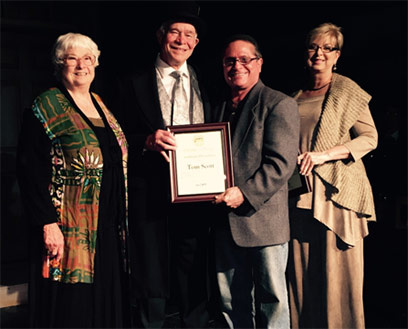 Presenting a certificate of recognition to BJ Scott (left) and Beverly Blake (far right) in honor of the 25th anniversary of Camino Real Playhouse in San Juan Capistrano, and to Tom Scott (second from left) upon receiving the Playhouse's Life Achievement Award.

South County Elected Officials in the Community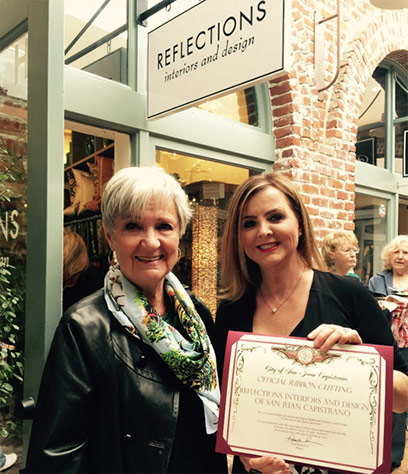 San Juan Capistrano Mayor Pro Tem Kerry Ferguson (left) at Reflections Interiors and Design ribbon cutting.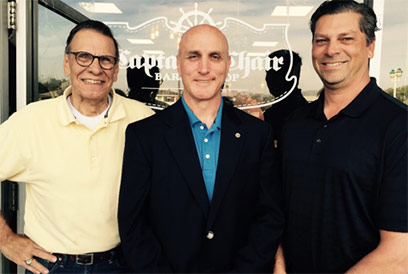 Dana Point Councilman Carlos Olvera (left), Mayor Pro Tem Richard Viczorek, and Councilman Joe Muller at Captain's Chair Barbershop ribbon cutting.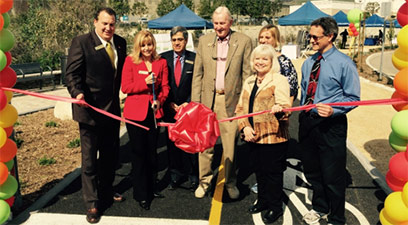 Mayor Pro Tem Jerry Slusiewicz (left), Mayor Laurie Davies, and Councilmembers Fred Minagar, Jerry McCloskey and Elaine Gennawey at Oso Creek Trail ribbon rutting.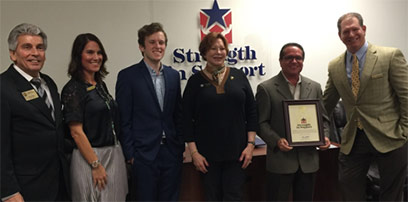 Laguna Hills Mayor Barbara Kogerman (center) at Strength in Support ribbon cutting.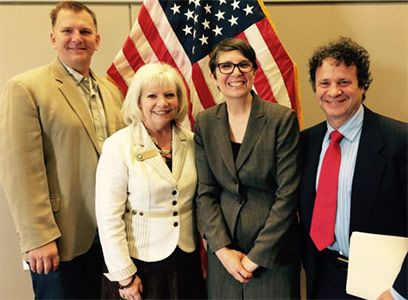 Aliso Viejo Mayor Mike Munzing (left), Laguna Niguel Councilwoman Elaine Gennawey, Capistrano Unified School District Superintendent Kirsten Vital, and Laguna Beach Mayor Steve Dicterow at the Laguna Niguel Chamber of Commerce Government Affairs Committee meeting.

For questions or comments regarding Supervisor Bartlett's E-Newsletter please contact the Supervisor's office staff at: (714) 834-3550 or Sara.May@ocgov.com.