Fifth District Dispatch

Welcome to the Fabulous Fifth District Dispatch!

Thank you for subscribing to my weekly e-newsletter. The Fifth District Dispatch includes information from County departments, regional boards I represent, transportation highlights and upcoming events in South County.

Please add me on Twitter @OCSupBartlett and Facebook @SupervisorLisaBartlett to receive regular social media updates.

It is my honor to represent you!

Sincerely,

Lisa Bartlett
Supervisor, 5th District
Orange County Board of Supervisors

County Connections

Voting Now Open for "Love Orange County" Photo Contest

Public voting for the winner of the "Love Orange County" Photo Contest is currently underway. Visit the County of Orange Facebook page between now and 5 PM on March 27, and vote by "liking" your favorite photo. Each "like" on one of the top three photos in the original post shared by the County of Orange counts as one vote. You are welcome to tag your friends in the comments below the post to encourage voting.

The winner of the "Love Orange County" Photo Contest will receive a certificate of recognition from the County and will have his/her winning photo featured in the lobby of the County Hall of Administration. The contest, which is being run by County Executive Office Communications, began February 14 and accepted photo submissions through March 14. For more information, please visit the "Love Orange County" Photo Contest webpage.

South County Deputy Helps Find Homes for Homeless

Orange County Sheriff's Deputy Chet Parker was recently featured on NBC4's Honoring Southern California Everyday Heroes page. In just two years as the homeless liaison in Lake Forest, Deputy Parker has helped 49 individuals find homes and reunite some of them with their families. To read the full story, please click here.

DUI Enforcement Patrols This Weekend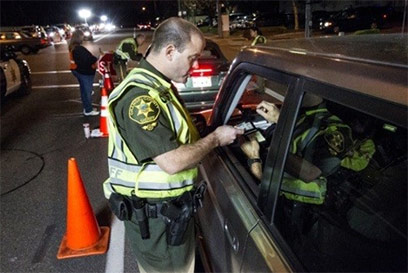 Deputies from the Orange County Sheriff's Department's DUI Enforcement Team will be deploying this weekend to stop and arrest alcohol and drug-impaired drivers in the Department's ongoing traffic safety campaign.

DUI Saturation Patrols will deploy from 7 p.m. Friday, March 24, through 3 a.m. Saturday, March 25, in areas with high frequencies of DUI collisions and/or arrests in the cities of Dana Point and San Clemente.

Officers will be looking for signs of alcohol and/or drug impairment. When possible, specially trained officers will be available to evaluate those suspected of drug-impaired driving, which now accounts for a growing number of impaired driving crashes.

Drivers are encouraged to download the Designated Driver VIP, or "DDVIP," free mobile app for Android or iPhone. The DDVIP app helps find nearby bars and restaurants that feature free incentives for the designated sober driver, from free non-alcoholic drinks to free appetizers and more. The feature-packed app even has social media tie-ins and a tab for the non-DD to call Uber, Lyft or Curb.

The cost of a ride home is cheap. Those caught driving impaired can expect the impact of a DUI arrest to include jail time, fines, fees, DUI classes, license suspensions and other expenses that can exceed $10,000, not to mention the embarrassment when friends and family find out.

Funding for this DUI operation is provided to the Orange County Sheriff's Department by a grant from the California Office of Traffic Safety, through the National Highway Traffic Safety Administration, reminding everyone to 'Report Drunk Driver – Call 9-1-1'.

OC Moves

Transportation Corridor Agencies Celebrate 25 Years of Environmental Preservation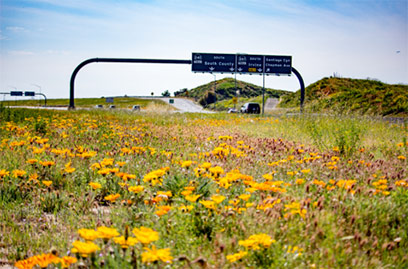 For a quarter century, the Transportation Corridor Agencies (TCA) have preserved Orange County's scenic beauty and healthy ecosystems while building and operating the largest network of toll roads in California. TCA protects the natural resources of more than 2,000 acres of habitat and, with the help of community and agency partners, have created a connected network of permanent open spaces across nearly 40,000 acres in the county.

TCA built the first successful native habitat for a federally listed bird species on a closed landfill. Transformed a narrow concrete drainage ditch into a thriving wetland and coastal sage scrub community that serves as a major wildlife corridor. And built a state-of-the-art and award-winning wildlife fence to keep drivers and area wildlife safe along The Toll Roads.

Visit TheTollRoads.com/Environmental to learn more about these and all of TCA's environmental initiatives in a new report laden with photos highlighting the beauty of the places TCA protects and showcasing our award-winning achievements over the past two-and-a-half decades.

John Wayne Airport

Frequently Asked Questions on FAA's NextGen – Southern California Metroplex

The FAQ below has been created by John Wayne Airport to provide information on the FAA SoCal Metroplex Project. To enlarge the FAQ, simply click on the image.

For more information on the FAA SoCal Metroplex project, please click SoCal Metroplex Questions and Answers.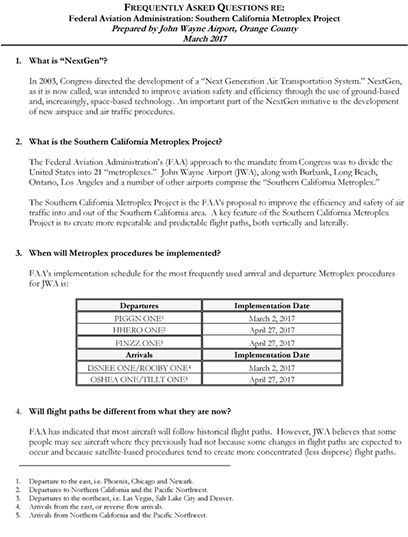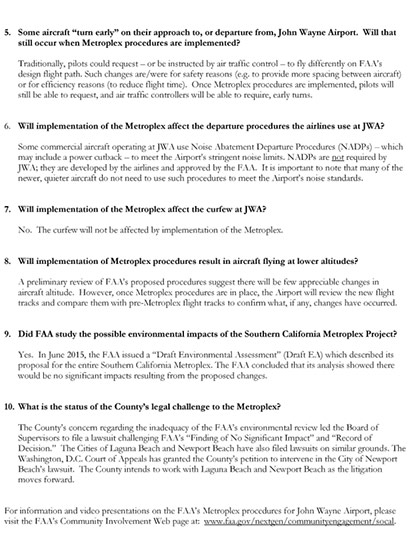 Click on the image above to view a PDF version.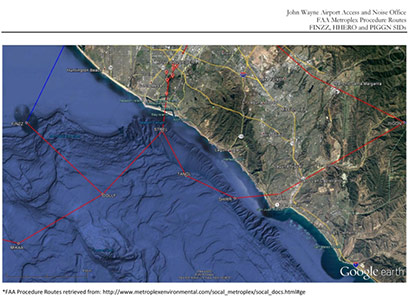 Click on the image above to view a PDF version.

OC Clerk-Recorder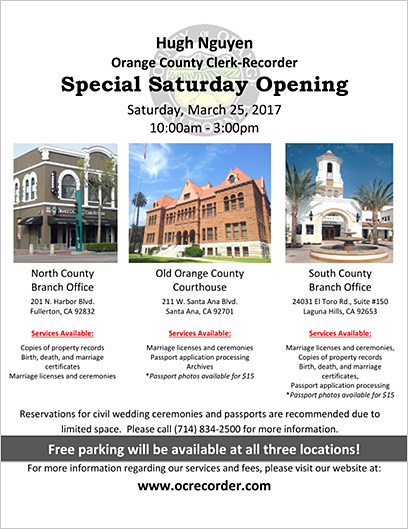 OC Animal Care/Pet of the Week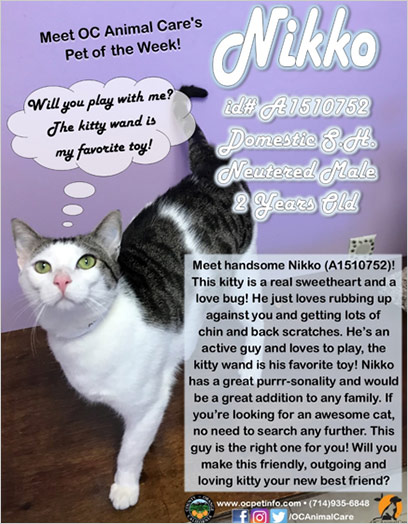 Click on the image above to view a PDF version.

OC Animal Care Night at the Honda Center
This Sunday, bring the family to the Honda Center for OC Animal Care Night! From 4pm – 6pm, you can interact with shelter dogs and talk to shelter staff, who will be accepting donations for its furry residents. See the flyer below or visit www.ocpetinfo.com for details.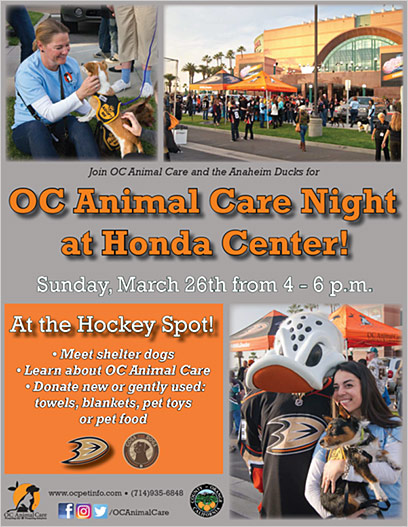 Click on the image above to view a PDF version.

Out and About In South County

Aliso Viejo: Soka International Festival May 6

Soka University will celebrate the 16th Annual International Festival from 10:30 AM to 5:00 PM on Saturday, May 6. Enjoy 900 musicians and dancers performing on four stages, and over 250 non-profit, craft and business exhibitors. The 2017 International Festival is part of Orange County's Imagination Celebration and will feature lots of international food, exhibitors, games and activities, art exhibitions and sales, a children's play and arts area, student projects, and much more. Mark your calendars and be sure to visit my County Information Booth while at the Festival! For more information, please click here.

Mission Viejo: A Walk in their Shoes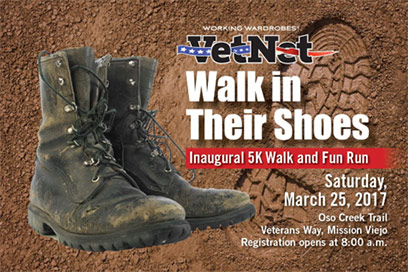 Working Wardrobes is a non-profit aimed at helping men, women, young adults and veterans overcome difficult barriers so they can achieve the dignity of work. They are hosting their first 5K Walk and Fun Run on Saturday, March 25, in Mission Viejo to benefit our community's veterans. For more information and to register, please click here.

Rancho Santa Margarita: The Write Direction Workshop for High Schoolers

The Write Direction is hosting a free workshop on where students can learn tips on how to ace interviews and write a winning student résumé. Students will participate in mock interviews; practice a business handshake; learn professional etiquette tips; and begin writing a résumé. The workshop will be held on April 3 at RSM Library from 3:30 to 5:30 PM. Please register in advance at www.thewritedirection.org.

San Juan Capistrano: Swallows Day Parade and Mercado Street Fair

The 59th Annual Swallows Day Parade and Mercado Street Fair will be held on Saturday, March 25. The Parade begins at 11 AM and takes place throughout downtown San Juan Capistrano. The Swallows Day Parade is one of the nation's largest non-motorized parade. This is a spectacular event you will want to attend! For more information, please click here.

The Anti-Cancer Challenge

I am happy to announce that my office has joined the fight against cancer as an Anti-Cancer Challenge Supporting Organization. You can ride, run, or volunteer for a cancer-free world and fundraise for lifesaving cancer research on June 11, 2017 at Angel Stadium. Proceeds benefit UCI's Chao Family Comprehensive Cancer Center. Learn more about the challenge and how you can get involved, and register today at Anti-CancerChallenge.org.

Orange County Triathlon/Duathlon...Mark Your Calendar!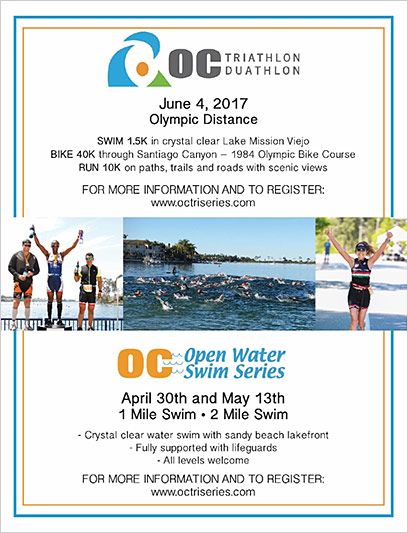 This week I:

Participated in the TCA Joint Financial & Investment and Joint Strategic Planning Ad Hoc meetings.
Hosted the South County Sheriff Contract Cities Working Group meeting in Mission Viejo.
Participated in the OCFA Executive and Board meetings.
Provided a Proclamation and Certificates of Recognition to the Capistrano Valley High School (CVHS) Cougars varsity basketball team and coaching staff upon winning the 2017 CIF-SS Championship.

My Staff:

Presented a Certificate of Recognition in honor of the Trip Designs ribbon cutting in Mission Viejo.
Presented a Certificate of Recognition in honor of the Ruby's ribbon cutting at the Outlets at San Clemente.
Presented a County update at the Laguna Niguel Republican Women Federated meeting.
Attended the Association of California Cities-Orange County (ACC-OC) Legislative & Regulatory Committee meeting.
Attended the South Orange County Economic Coalition's March meeting.
Attended the Orange County Sheriff's Department Medal of Valor Luncheon.
Attended the St. Joseph's Day and Return of the Swallows Celebration at Mission San Juan Capistrano.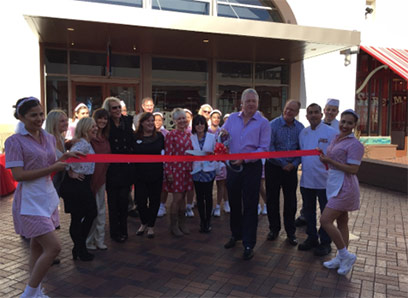 Steve Craig (Craig Realty Group) cutting the ribbon at the Ruby's ribbon cutting at the Outlets at San Clemente.

South County Elected Officials in the Community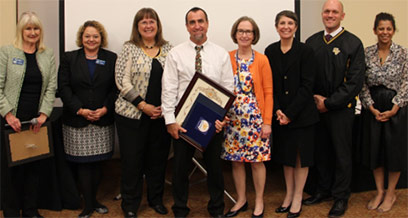 Mission Viejo Councilwoman Trish Kelly (left) and Mayor Wendy Bucknum, CUSD Board President Martha McNicholas, CVHS Varsity Basketball Head Coach Brain Mulligan, CUSD Board Vice President Gila Jones and Superintendent Kirsten Vital, CVHS Principal Josh Hill and Vice Principal Dipali Potnis at the CVHS varsity basketball team victory banquet.



San Juan Capistrano Mayor Kerry Ferguson and Mission San Juan Capistrano Executive Director Mechelle Lawrence-Adams at the St. Joseph's Day and Return of the Swallows Celebration.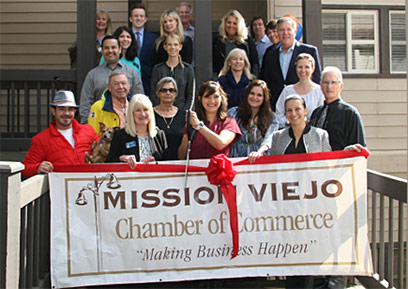 Mission Viejo Councilwoman Trish Kelley (front row, second from left) and Councilman Greg Raths (top right) at the Trip Designs ribbon cutting.

For questions or comments regarding Supervisor Bartlett's E-Newsletter please contact the Supervisor's office staff at: (714) 834-3550 or Tanya.Flink@ocgov.com.